Two of the best parts of online gambling are highly volatile releases with huge win potential, and the thought of winning a jackpot. In the past couple of years, providers like Big Time Gaming and Relax Gaming have combined the two, and today we'll be focusing on the latter, and their Dream Drop Jackpot. With 7 Dream Drop releases already under their belt, Relax aren't slowing down, and now it's their 2021 Templar Tumble that's getting the VIP treatment, in Templar Tumble 2 Dream Drop. With a fixed RTP of 94.0% (12% Jackpot Contribution), this highly (5/5) volatile release can produce wins (excluding Dream Drop) up to 20,000x bet.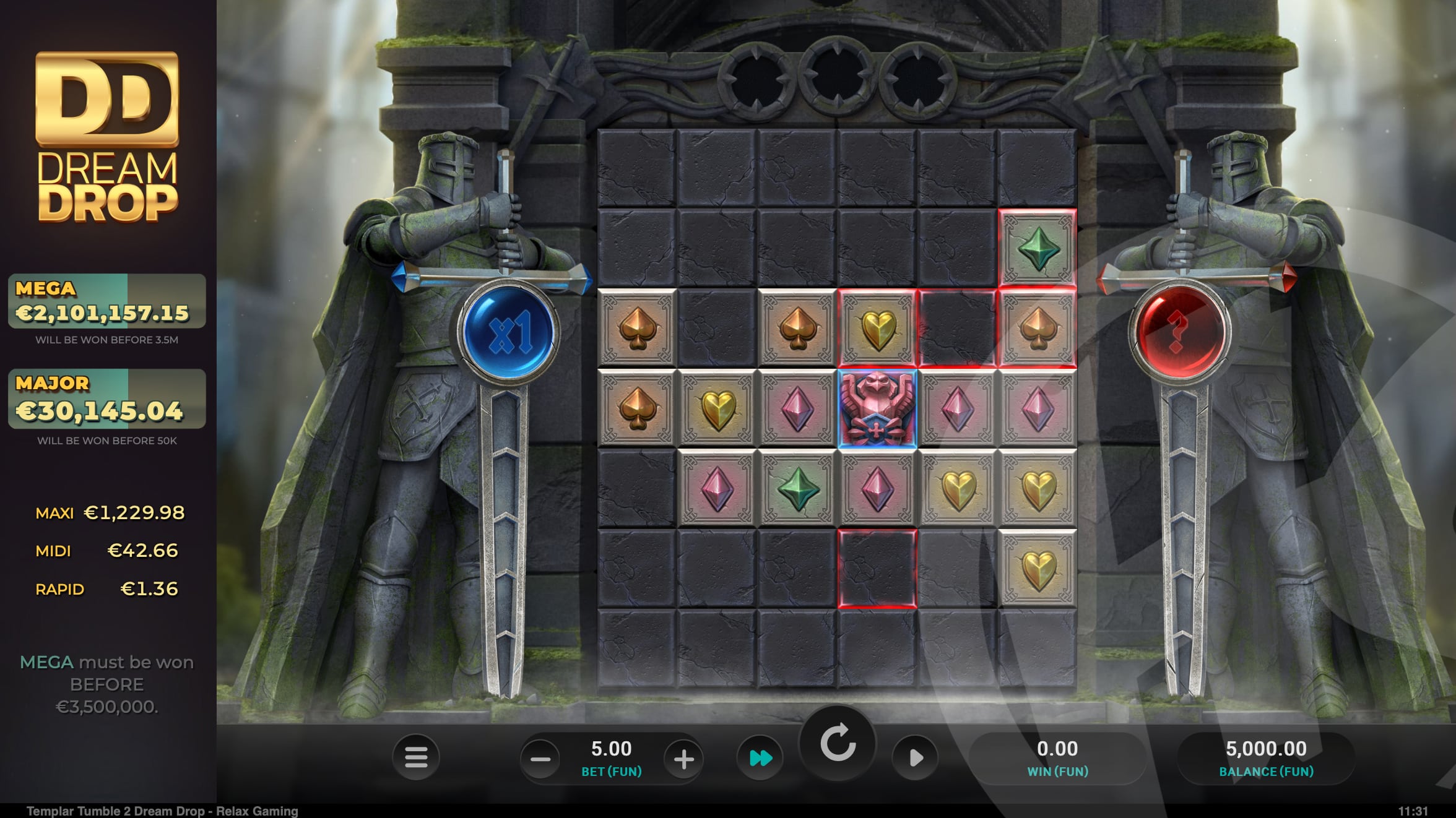 There's no denying Templar Tumble graphics have had an upgrade for this sequel. I guess it's all down to preference, but for me Relax are one of the best in the industry for artwork and animation, if not the best, and Templar Tumble 2 continues this success. Everything in this cathedral is encased in a deep graphite stone, with statues to either side of the reels, and light coming from the back. There are no tricks missed with these guys, so we even have little flecks of dust falling in the light, and some fog floating around the bottom. Dream Drop sits to the left of the screen, keeping out of the way until it needs to kick into action, and audios tie the whole thing together, with music and sound effects working to really produce an immersive experience.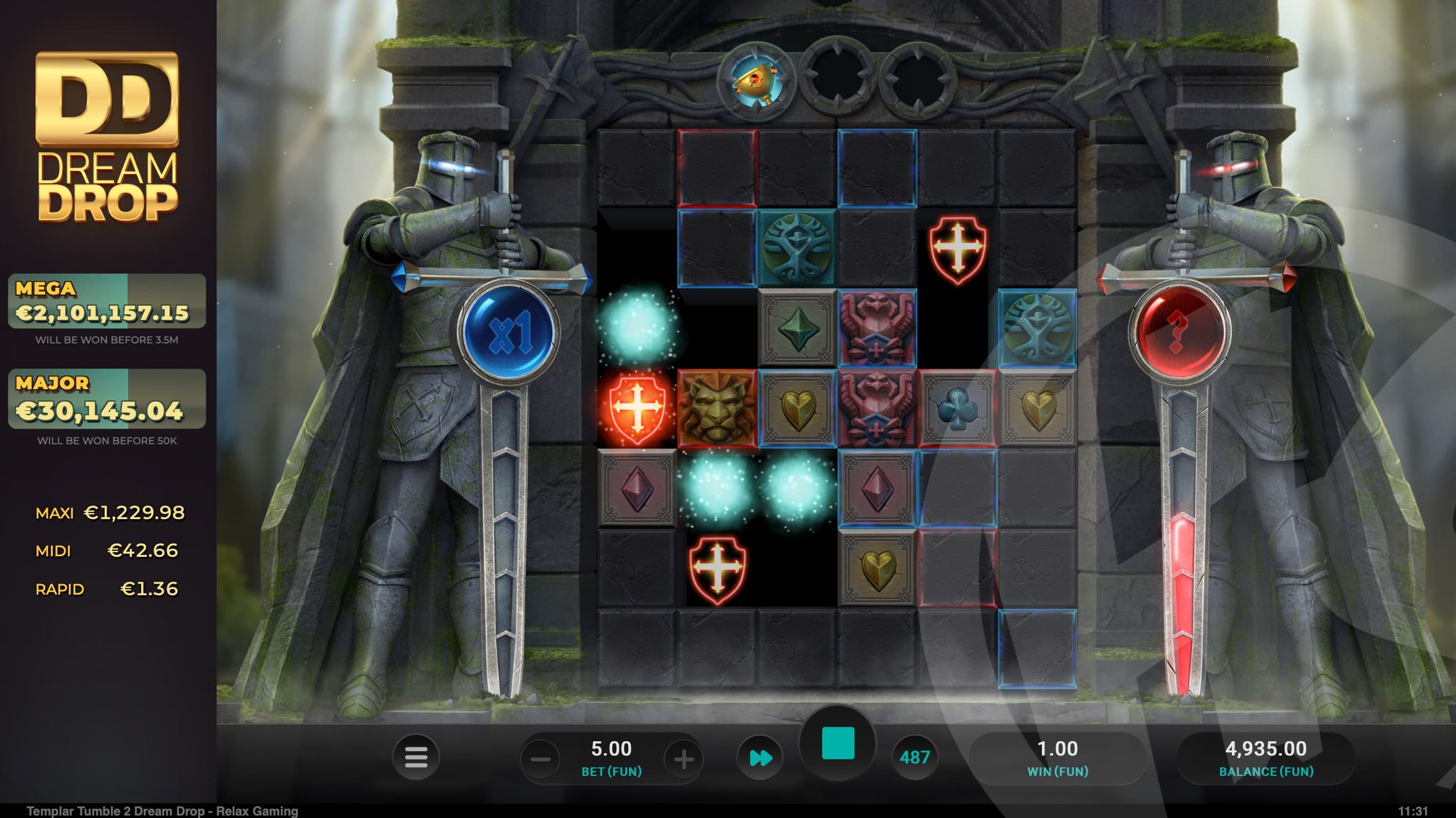 Templar Tumble 2 Dream Drop Base Features
Taking place across 6 reels, wins are formed on Templar Tumble 2 Dream Drop by matching at least 3 symbols on adjacent reels, beginning with the leftmost reel. Each reel can hold up to 7 symbols, producing 117,649 ways to win, and symbols available begin with non premiums – red, green, blue, orange, and yellow stones in diamond, club, spade, and heart shapes. Land 3 of a kind of any non premium to see wins of 0.10x bet, increasing to wins of 0.40x bet for 6 of a kind matches. At the premium end, we have Yggdrasil trees, ravens, and lions – all of which award wins of 0.30x bet for 3 of a kind matches, up to wins of 1x bet for 6 of a kind. Finally, we have helmets – land 3, 4, 5, or 6 helmets to see wins of 0.50, 1, 1.50, and 2x bet, respectively.
As the name suggests, one of the main elements in Templar Tumble 2 is the Tumble mechanic. On every spin, all symbols involved in a win will be removed from the reels, with remaining symbols dropping to the bottommost position on their respective reels. New symbols will then drop in from above to fill any gaps, giving the potential for new wins to be produced. Tumbles continue until no new wins form.
Whilst each reel can hold between 2 and 7 symbols, all 7 positions are always visible, and any that do not hold pay symbols will hold stone blockers. Any time symbols are removed from the reels through Tumbles, they will destroy any adjacent stone blockers, thus increasing the ways to win – up to a maximum of 117,649 ways.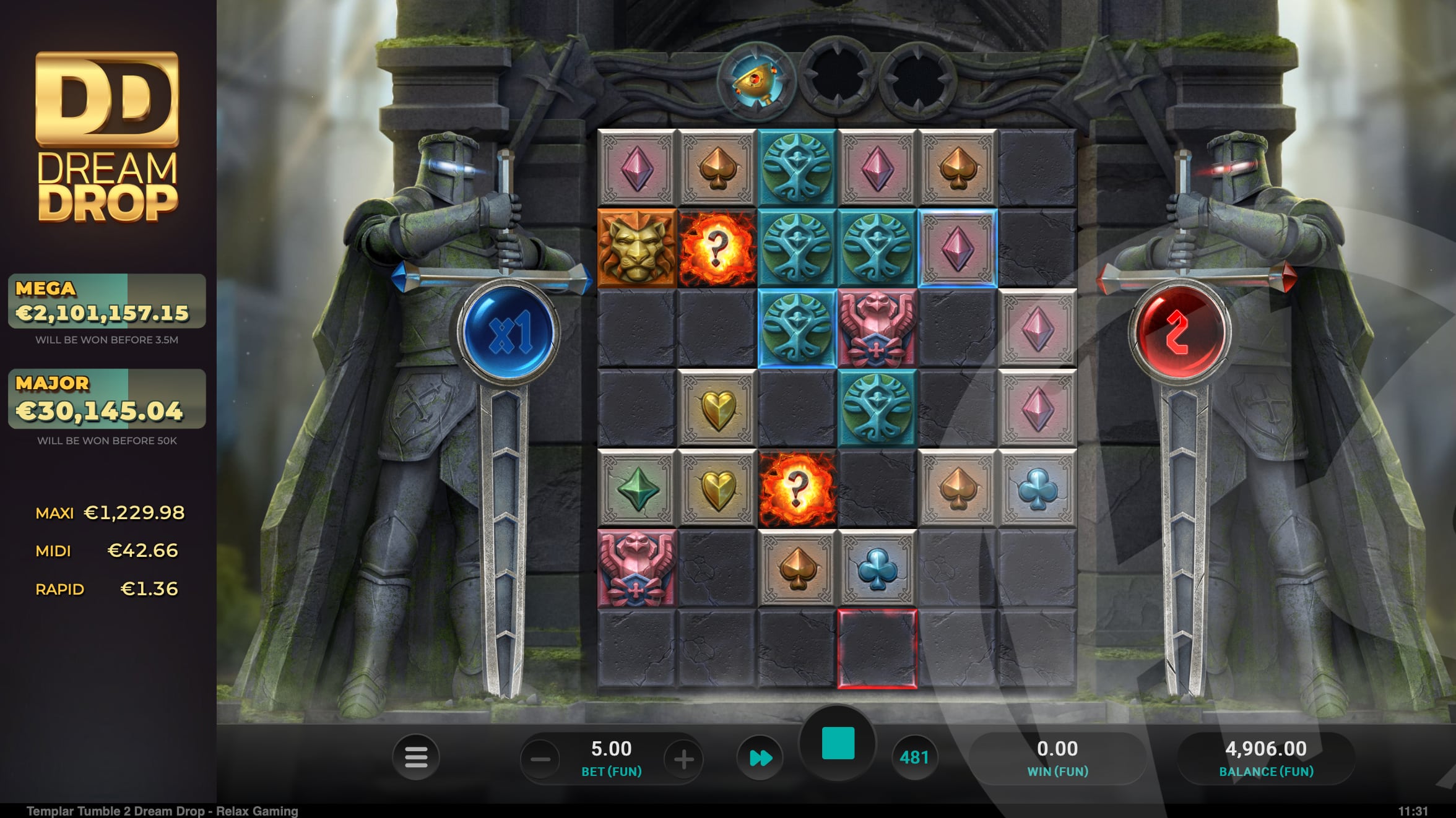 Both of these elements work hand in hand with the Marked Symbols available in Templar Tumble 2 – wherein both symbols and blockers can land with a red or a blue frame around them. When the relevant symbol or blocker is destroyed, their frames will be collected, adding +1 unit towards their respective collection at either side of the reels. When 5 of either colour has been collected, the first level of the feature is activated. For every 5 frames collected thereafter, the features progress through levels. Features are awarded when all Tumbles have finished:
Blue Frames – progress a win multiplier, increasing by +x1 for each level achieved.
Red Frames – award mystery symbols through Mystery Reveal, triggering 2 for each level achieved. After triggering, the feature level must increase in order to be awarded again in the same spin.
Mystery Reveal can reveal any regular pay symbol, or a coin with values between 1-100x bet, awarding their value instantly as a cash prize.
When all blockers are removed from the reels, only 3 frames are required to progress either feature through levels. When a game round ends, both collections are reset.
Jackpot Spins can be triggered randomly during the base game of Templar Tumble 2, and will play out as an additional spin before the normal spin plays. The Dream Drop area will light in gold, and all regular pay symbols will be removed from the reels, with only DD symbols or blockers able to land. The Dream Drop Bonus is triggered if a DD symbol lands on all 6 reels. If this happens, players will enter the Jackpot Round.
During the Dream Drop Bonus, players will be taken to a screen with 5 reels, capable of holding 2-4-5-3-2 symbols, each of which are linked to a Jackpot. Both Golden DD symbols can land, or plain blocks – which are then destroyed.  Spins continue to be awarded until one of the reels has been filled with DD symbols, thus awarding the associated Jackpot:
Rapid – €1 seed (2 Golden DD symbols required)
Midi – €5 seed (2 Golden DD symbols required)
Maxi – €100 seed (3 Golden DD symbols required)
Major – €25,000 seed (4 Golden DD symbols required)
Mega – €500,000 seed (5 Golden DD symbols required)
You are guaranteed to win one Jackpot, and each jackpot has different seed values, listed above. The Mega Jackpot will eventually reach €10million, as Relax Gaming are levelling up the Dream Drop every two wins, increasing the prize by €500,000, until it reaches this astonishing maximum value.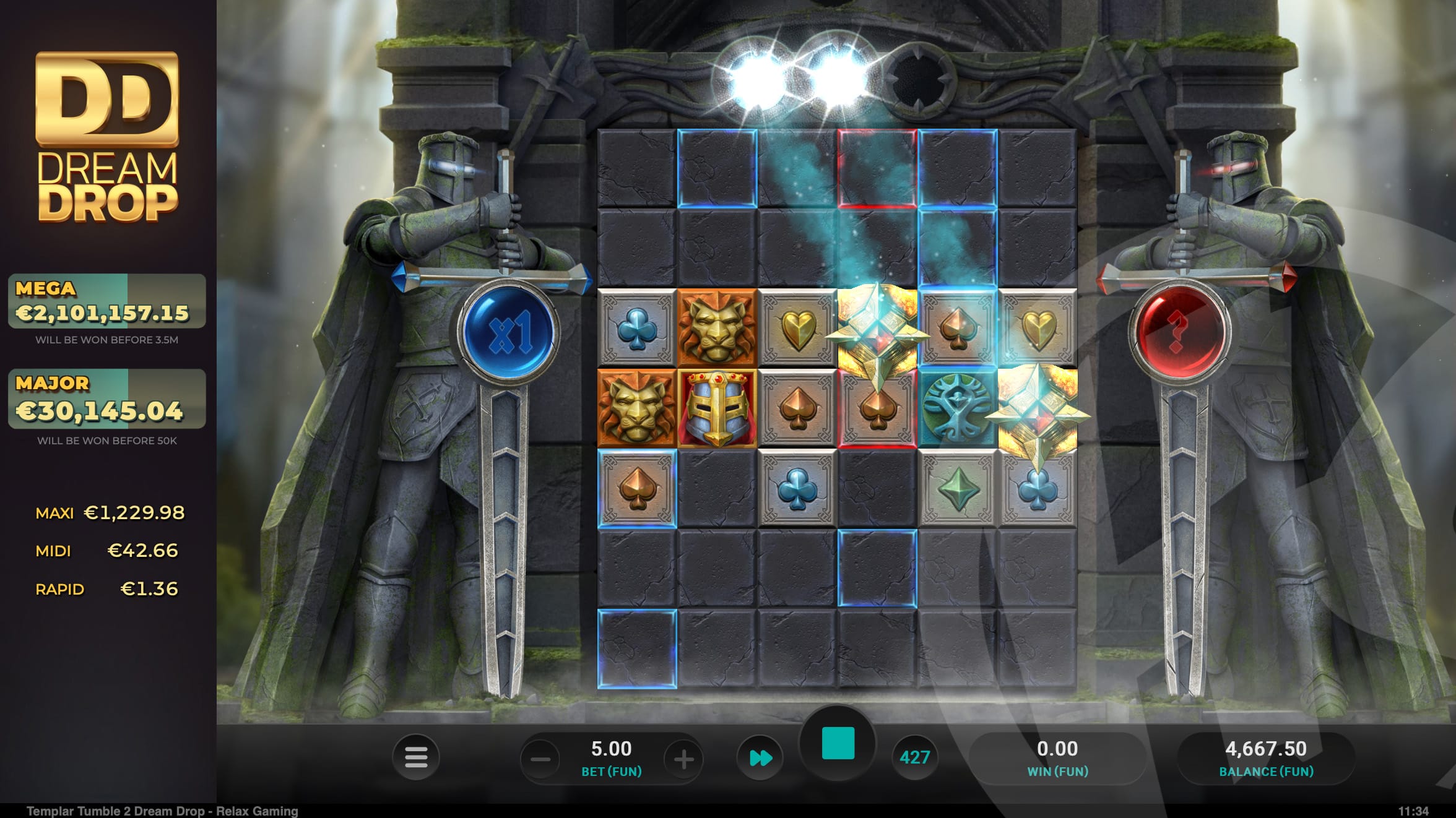 Templar Tumble 2 Dream Drop Bonus
Any Scatters that land will be removed from the reels and collected during Tumbles, triggering Free Spins once 3 have been collected. 10 Free Spins will be awarded. Any progress on the Win Multiplier or Mystery Reveal meters will be transferred from the base game to Free Spins. Everything stays more or less the same during Free Spins, except collection progress does not reset between Free Spins on either meter, and any triggered features are awarded at the end of every Free Spin.
Every Scatter that lands during Free Spins will award +1 spins.
The maximum win available in Templar Tumble 2 (excluding Dream Drop) is 20,000x bet. If the sum of a single game round (excluding Dream Drop) exceeds this, the game round will end and 20,000x bet will be awarded.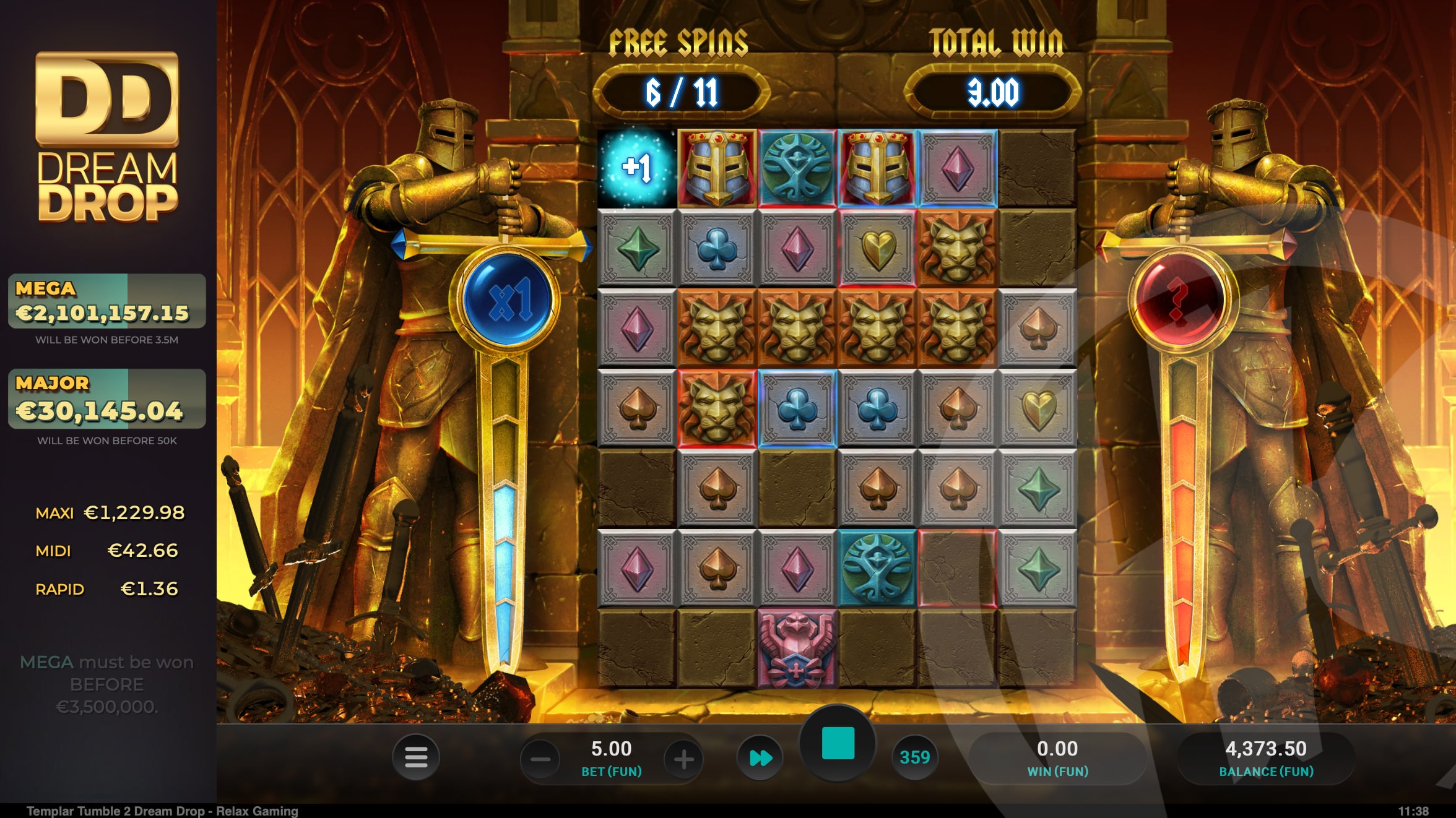 First Impression
There's something a little bittersweet about a lot of Relax Gaming's Dream Drop releases, particularly Temple Tumble 2, and now Templar Tumble 2. They're both great releases (I actually prefer Temple Tumble 2 to the original), but we can't really get a good feeling for the game on their own, because they're somewhat soured by the jackpot. That's not to say there's anything wrong with Dream Drop – it's one of the better jackpots widely available – but everyone knows a jackpot will affect a game, and in this case 12% of the 94.0% RTP is contributed to the jackpot. When you then consider that often a further 25-30% is awarded to bonus rounds, you're left with a base game potentially sitting around 50%. Of course, we don't know the RTP split in Templar Tumble 2 beyond the jackpot contribution, but it will be there somewhere.
The features available in this one work – they're tried and tested. Tumbles and increasing ways are a staple of Relax's Tumble series, and win multipliers, coin values, and Mystery Reveal all enhance this. Not necessarily in a new way – we've seen each of these elements in various Tumble releases, but here they all come together, and it definitely works.
There isn't a great deal to say on the jackpot – if you're the kind of player to lust after a Mega Jackpot, Dream Drop is as good as any, and better than most. Seed values range between €1 and €500,000 – so quite the spread, and it's not too rare for a feature to trigger, although I've only ever managed the Rapid or Midi, in demo or otherwise. I guess the last thing to cover is maths – Templar Tumble 2 is highly (5/5) volatile, with wins available (excluding Dream Drop) up to 20,000x bet, so no complaints on either front.
Look, if you like having the jackpot element and you're happy to sacrifice part of your RTP to it, Templar Tumble 2 is a great choice for you. If you're less about the jackpot and just like the features, I think other Tumble releases could do the job for you without that sacrifice. That said, as Rachel Greene once said – 'somebody has to win, and it could be us!'.
*The screenshots taken of games reviewed on this site are taken from Demo Play, as reviews are often written before games are released for real play.