For streamers, the words 'max-max' bring back some of the worst memories, and some of the best. Of course, unless you've been living under a rock for many years, you'll know that max-max refers to the attempt made to gamble Blueprint Gaming's 2018 hit, Vikings Unleashed Megaways, to maximum spins and the maximum starting multiplier in the bonus round.
Now, Blueprint Gaming are back and they've decided to reintroduce us to these same characters and this same release, now with 3 gambles to complete, meaning it's bigger and badder than ever – it's Vikings Unleashed Reloaded.
With an RTP of 96.0%, this highly volatile release is capable of producing wins up to 50,000x bet (or £250,000 – whichever comes first).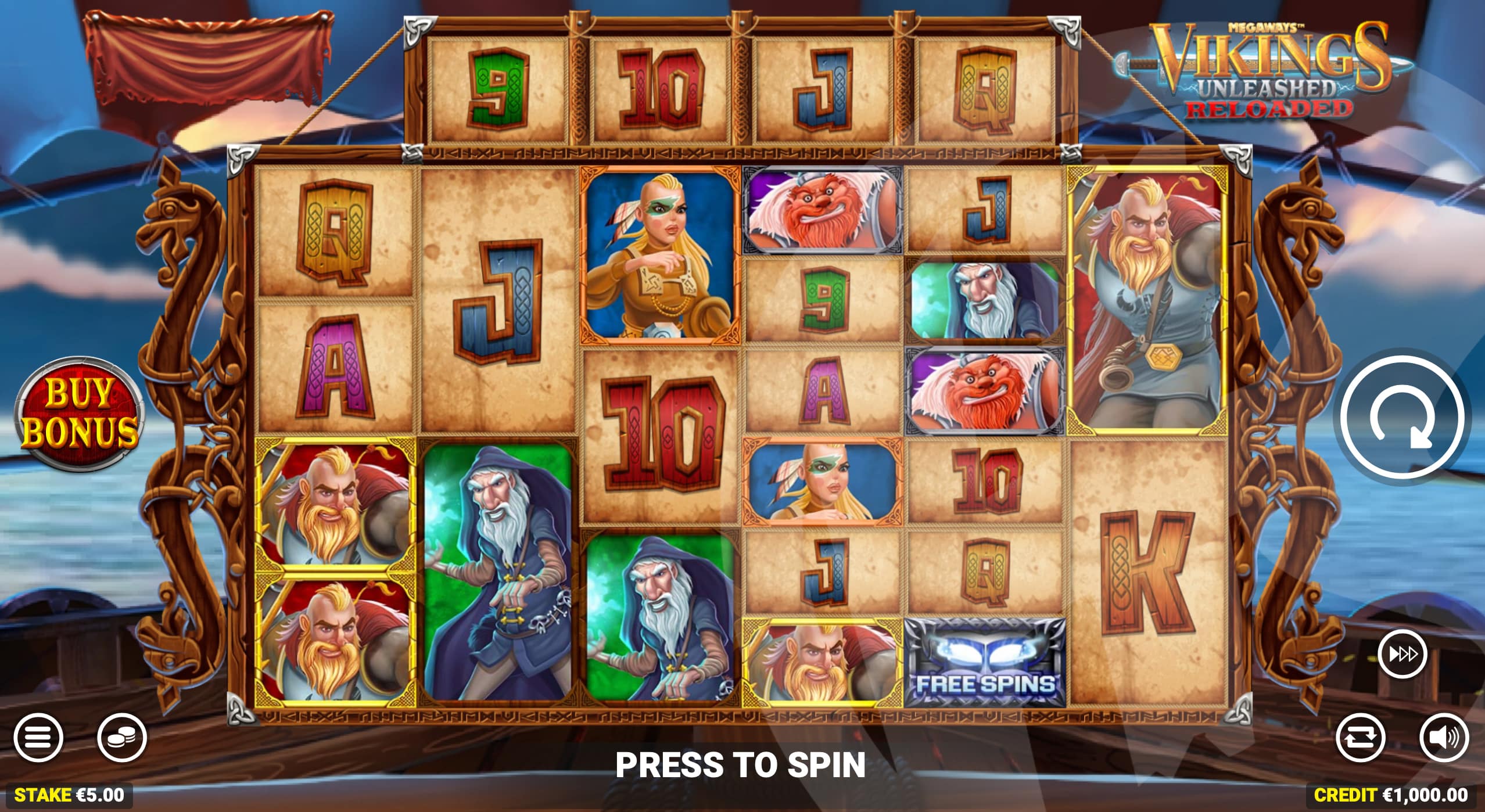 Visually, things haven't changed much in Vikings Unleashed Reloaded. We're in the same setting – on a wooden viking ship at sea, with the same characters we met the first time around.
It really feels like Blueprint Gaming have put all of the work into building this new maths model with the new gambles on offer and are happy to keep things familiar, which is a fine approach – especially given that even the name hasn't changed, with only 'reloaded' tacked on the end. Finally, the same soundtrack we enjoyed the first time around comes in to tie it all together.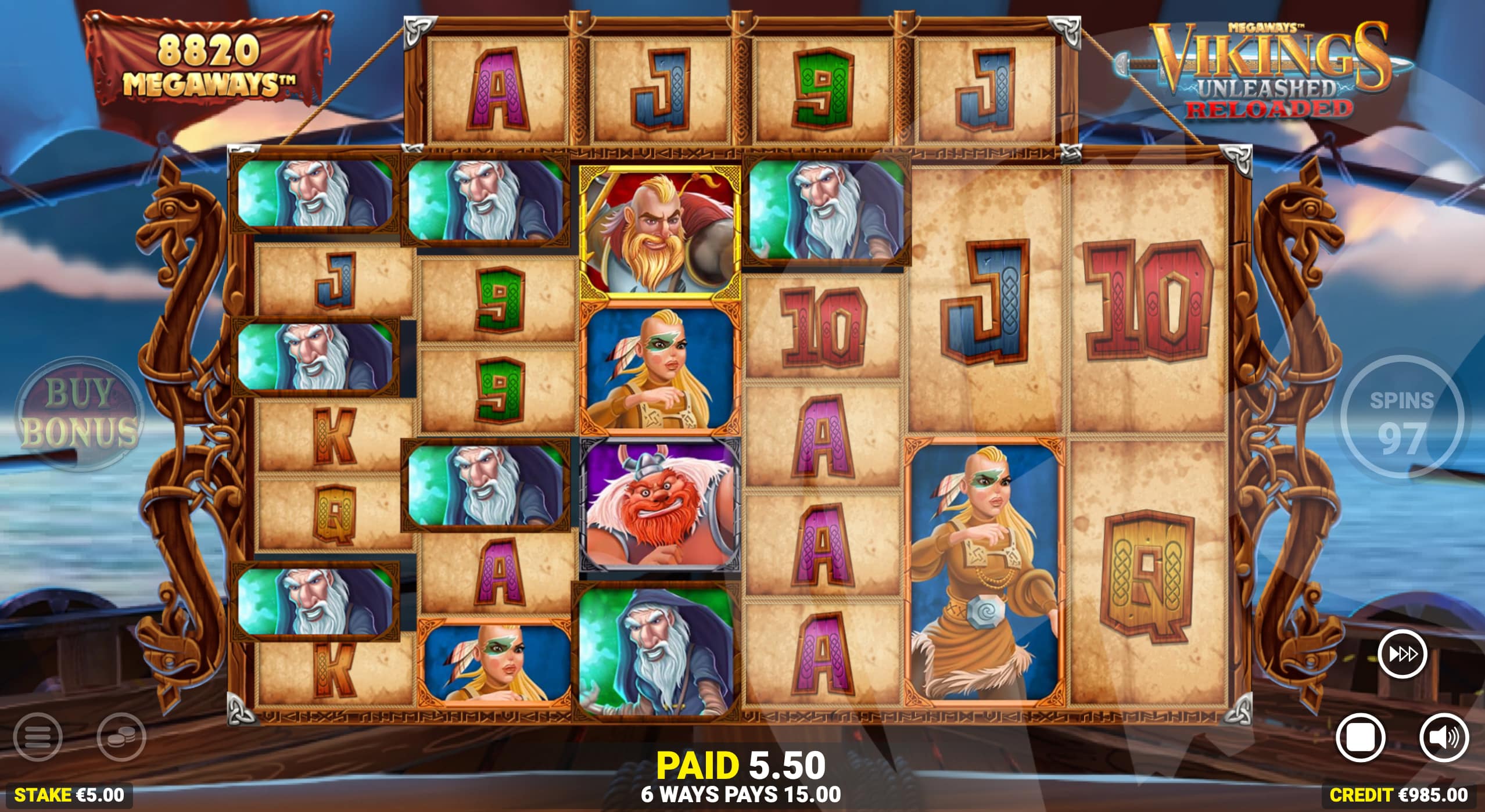 Vikings Unleashed Reloaded Base Features
Taking place across 6 reels, wins are formed on Vikings Unleashed Reloaded by matching at least 2 or 3 symbols on adjacent reels, beginning with the leftmost reel. Each reel can hold up to 7 symbols, including the top reel, producing a maximum of 117,649 ways to win.
Symbols available begin with non premiums, with 9s, 10s, Js, Qs, Ks and As, awarding wins up to 1.75x bet for 6 of a kind matches. Premium symbols bring us 4 characters, awarding wins up to 50x bet for 6 of a kind matches, whilst Wild symbols are also available to substitute for all symbols except Free Spins symbols.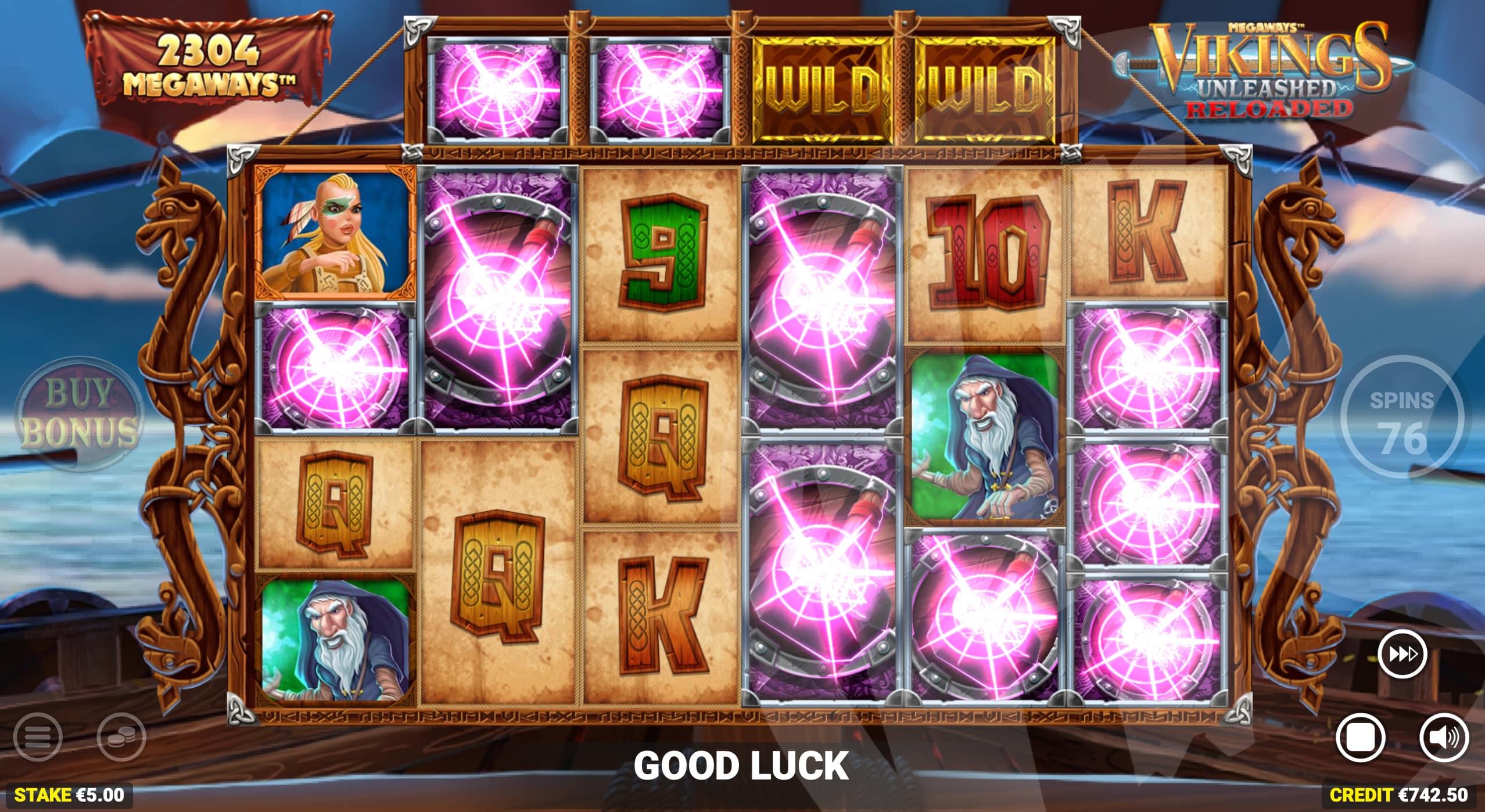 Cascades
There are a few things to cover in Vikings Unleashed Reloaded, beginning with cascades. On every spin, all symbols involved in a winning combination will be removed from the reels, with all remaining symbols dropping down to the bottommost available position on their respective reels.
New symbols will then drop in from above to fill the remaining gaps, with cascades continuing until no new wins are formed.
Mystery Symbols
Next up are Mystery symbols, which are hammer symbols that can land on any reel. When Mystery symbols land in view, they will all reveal the same symbol.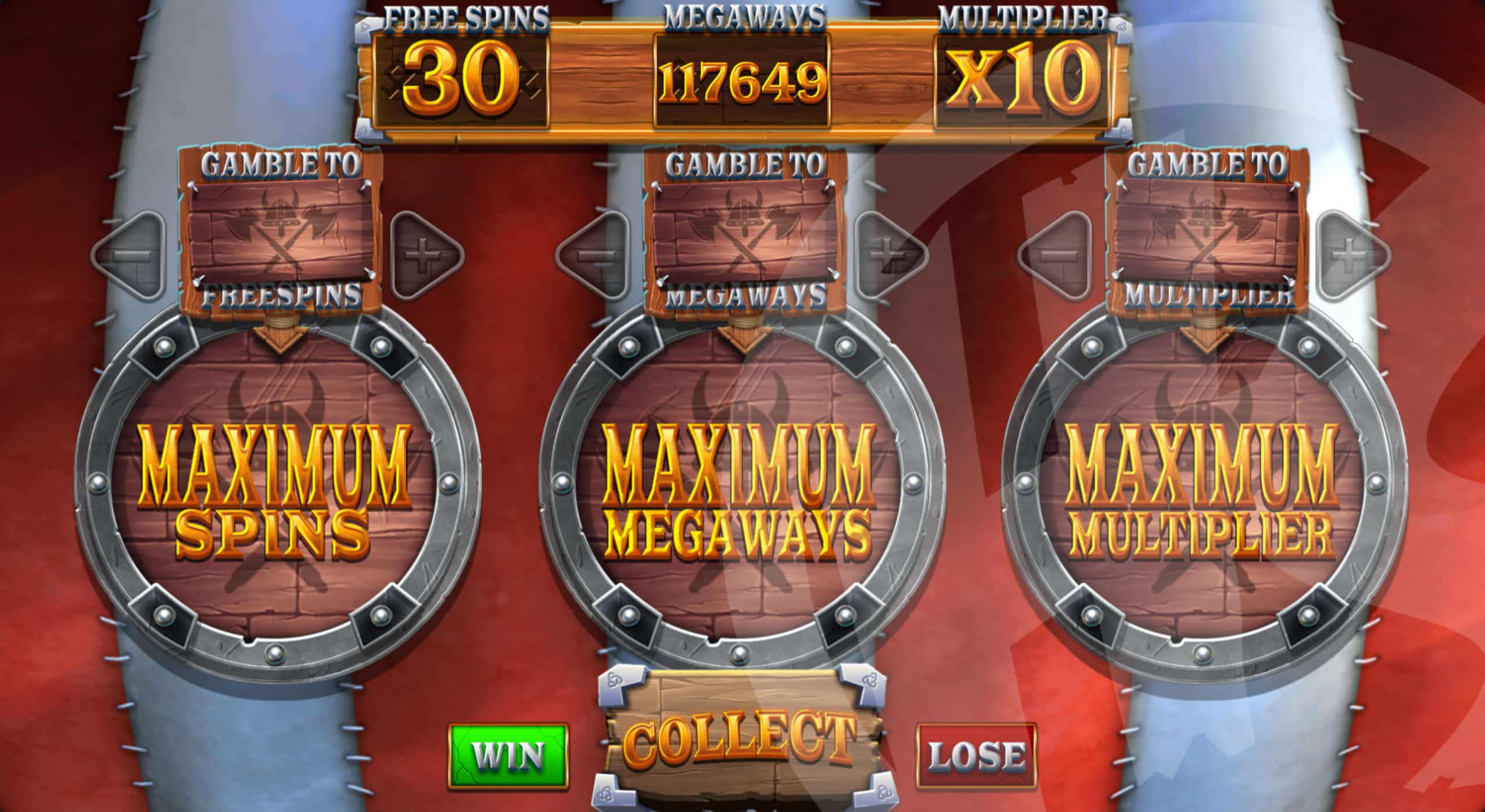 Vikings Unleashed Reloaded Bonus
Land 4 or more Free Spins symbols to trigger 12 Free Spins, with an additional +5 spins awarded for every Free Spins symbol beyond the fourth.
Before starting Free Spins, players are first given the opportunity to gamble to enhance their bonus round.
Free Spins – players can gamble up to 30 spins.
Multiplier – players can gamble up to a x10 starting multiplier.
Minimum Megaways – players can gamble up to 117,649 minimum ways to win, which guarantees maximum Megaways on every spin.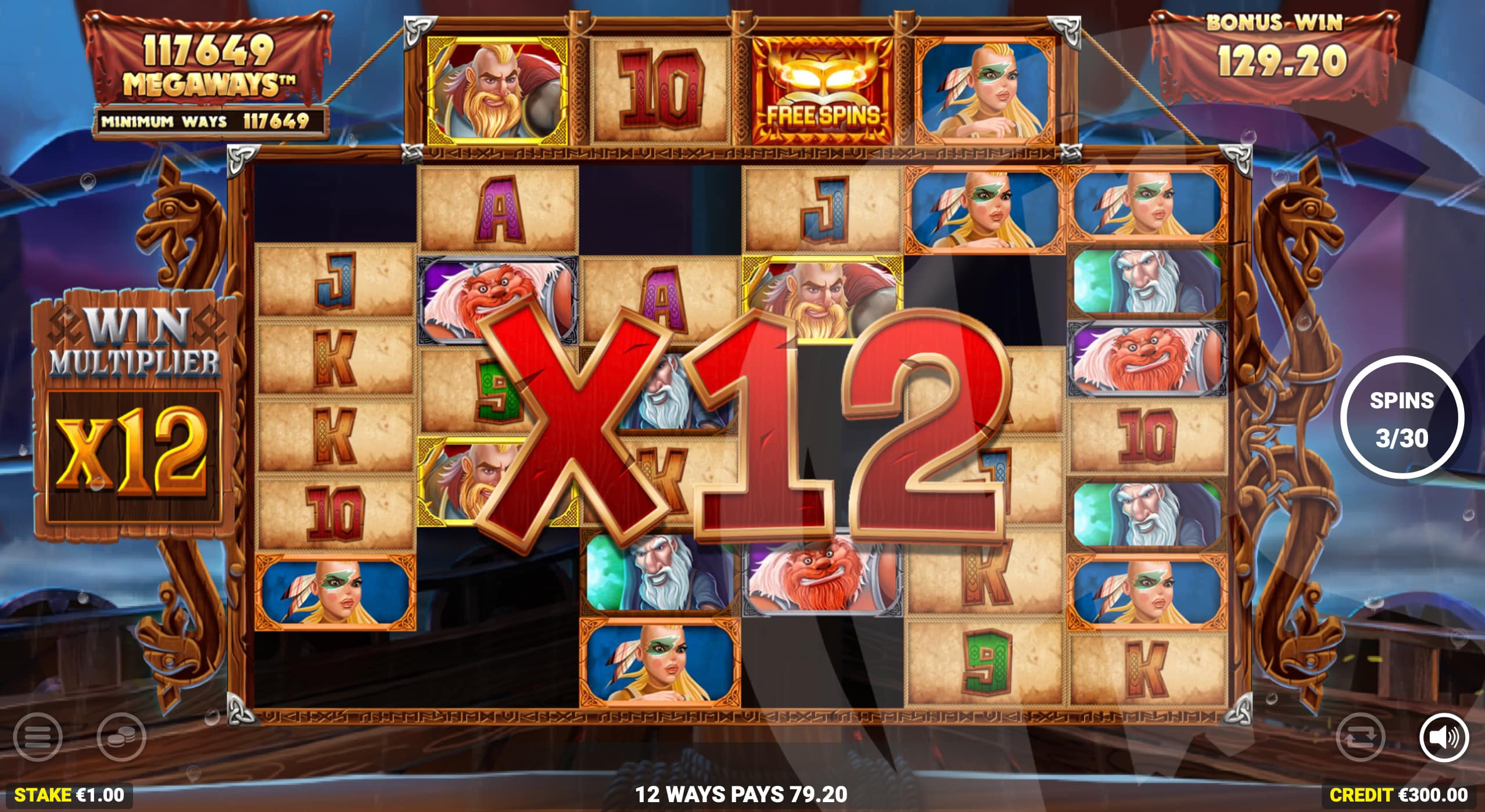 As with its predecessor, players in Vikings Unleashed Reloaded can choose to gamble each wheel once or to the very end, maxing it out.
Where we do have a change is that players can now use the + and – buttons to make different gambles, advancing through multiple stages at once, rather than having to gamble in increments of +1.
Each of the 3 gambles are carried out on a wheel with green representing the chance of winning and red representing the chance of losing. Once a wheel reaches its maximum level it cannot be gambled any further. Losing any gamble on any wheel forfeits the entire bonus round.
Players do not have to undertake any gambles and can instead collect what they have been awarded.
Win Multiplier
During Free Spins a win multiplier comes into play.
This win multiplier increases by +1 for each winning cascade and has no upper limit.
Mystery symbols can continue to land during Free Spins, whilst Free Spins symbols can land on the top reel only. When 3 or 4 Free Spins symbols land in view an additional +5 or 10 spins are awarded respectively.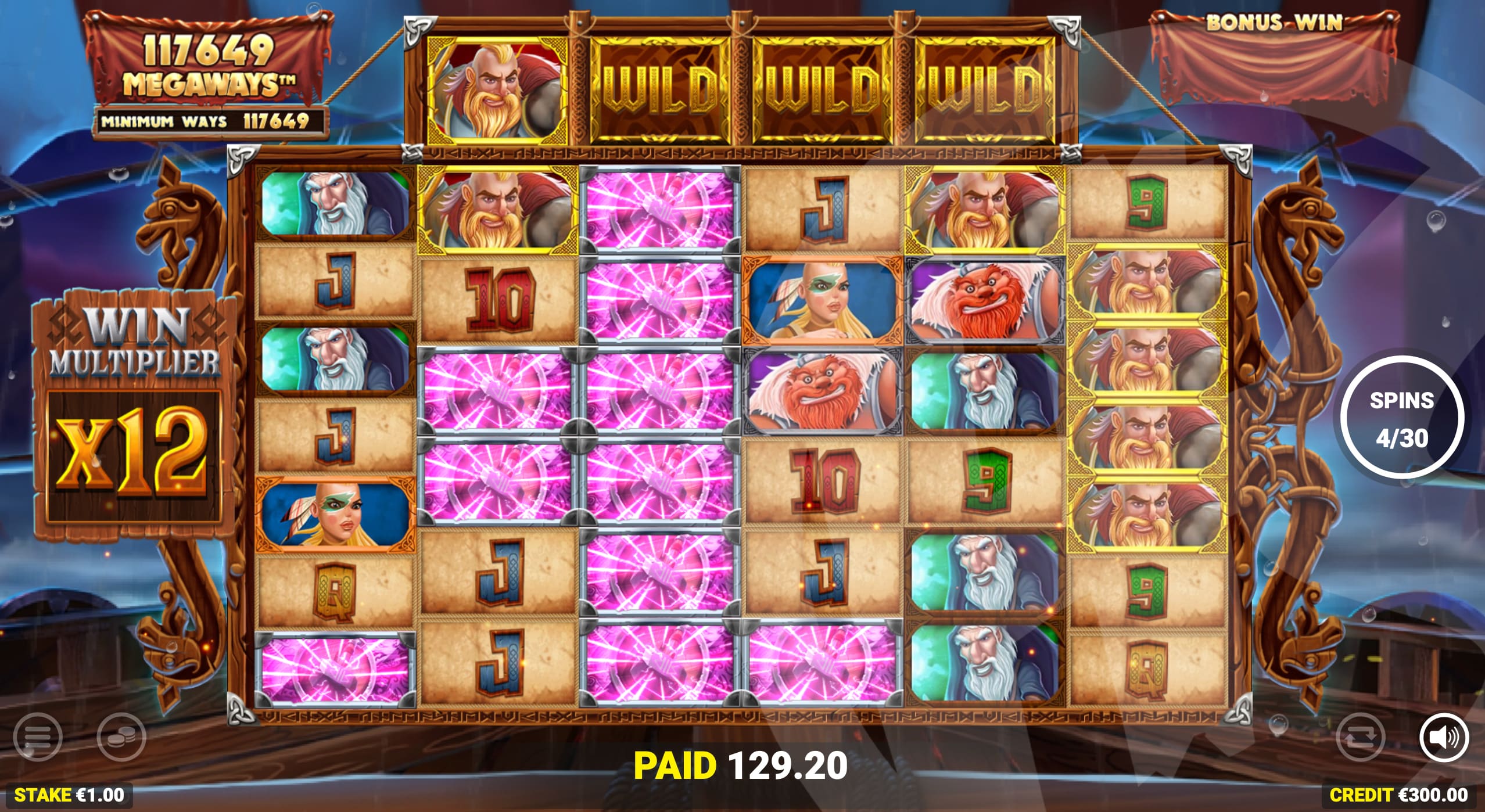 Buy Bonus
Players in appropriate regions can take advantage of the following Buy Bonus options.
8 Free Spins – 32x bet
12 Free Spins – 70x bet
19 Free Spins – 175x bet
27 Free Spins – 350x bet
Every Buy Bonus option starts with a x1 multiplier and 324 minimum Megaways.
The maximum win available in Vikings Unleashed Reloaded is 50,000x bet, or £250,000 (or currency equivalent). If the sum of a single game round exceeds either of these values, the game round will end and either 50,000x bet or £250,000 will be awarded – whichever is lower.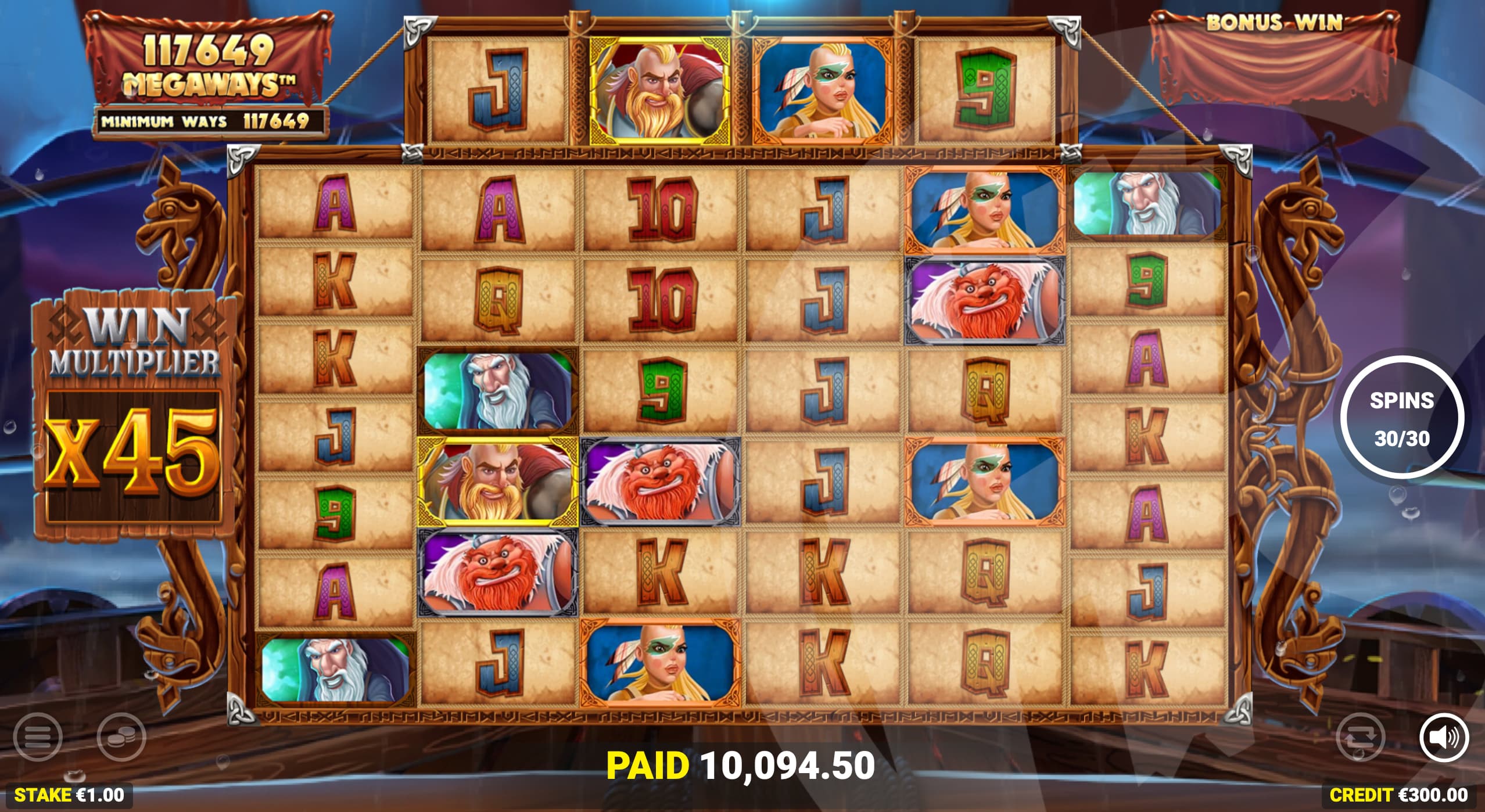 First Impression
There isn't a great deal to say about Vikings Unleashed Reloaded that wasn't said about the original. As far as base game play goes, cascades and Mystery symbols help to keep things ticking over – but it's Free Spins you're really waiting for, in which an unlimited win multiplier comes into play.
Of course, Free Spins are enhanced by the gamble feature that is offered beforehand – the core of the entire game. Where before we had the opportunity to gamble for additional spins and a higher starting multiplier, we now have the ability to gamble for additional spins (and more of them), a higher starting multiplier, and minimum guaranteed Megaways. Maxing out all 3 will award 30 spins, with a x10 starting multiplier and 117,649 ways to win on every spin.
Still as brutal as ever, with the Megaways gamble feeling harsher than we though possible, it can take a number of attempts to get anywhere close to what will now be considered max-max-max, but a number of Buy Bonus options available for players in appropriate regions does offer a fast track to this. Looking at the price difference to buy 8 spins compared to 27, you really get a reel for how much this bonus round could be worth.
Also helping things along is the ability to increase gambles, taking a greater risk but progressing faster. Where Bison Rising Megaways Build a Bonus gave players the ability to construct their own bonus and pay the relevant price, Vikings Unleashed Reloaded offers nothing of the sort – the only way to get to the aforementioned max-max-max will be to gamble. On the one hand, this does mean luck makes the optimum setup achievable to everyone regardless of budget, but on the other it does mean a lot of wasted bonus rounds as gambles inevitably lose.
What you can see in the screenshots above, though, is that this can certainly be a rewarding venture when your luck comes in. When the right combinations occur overall, wins are possible up to 50,000x bet or £250,000 – whichever comes first.
Finally, maths is highly volatile and RTP options are available up to 96.0%, so as always it's worth checking this. If you liked Vikings Unleashed Megaways and you fancy a bigger challenge, Vikings Unleashed Reloaded is the perfect choice – although it's not for the faint of heart.
*The screenshots taken of games reviewed on this site are taken from Demo Play, as reviews are often written before games are released for real play.