Big Time Gaming introduced us to the latest progressive jackpot to hit the iGaming sector in May 2021, with the revamped version of what is arguably their most popular release, resulting in Bonanza Megapays. Containing four jackpots with seed values as high as €300,000, Bonanza Megapays took one of the most iconic releases of all time, and elevated it to levels we could really get excited about. At the time, Big Time Gaming teased us with the knowledge of some of their equally revered releases being given the Megapays touch before the year's end, and now we can finally check the second in the list out. I can't give you a clue, but maybe you could phone a friend? Of course, it's Who Wants To Be a Millionaire – more commonly referred to as just Millionaire. That's right, say hello to Millionaire Megapays, wherein wins in excess of 72,000x bet are possible in this highly volatile, 96.38% RTP release.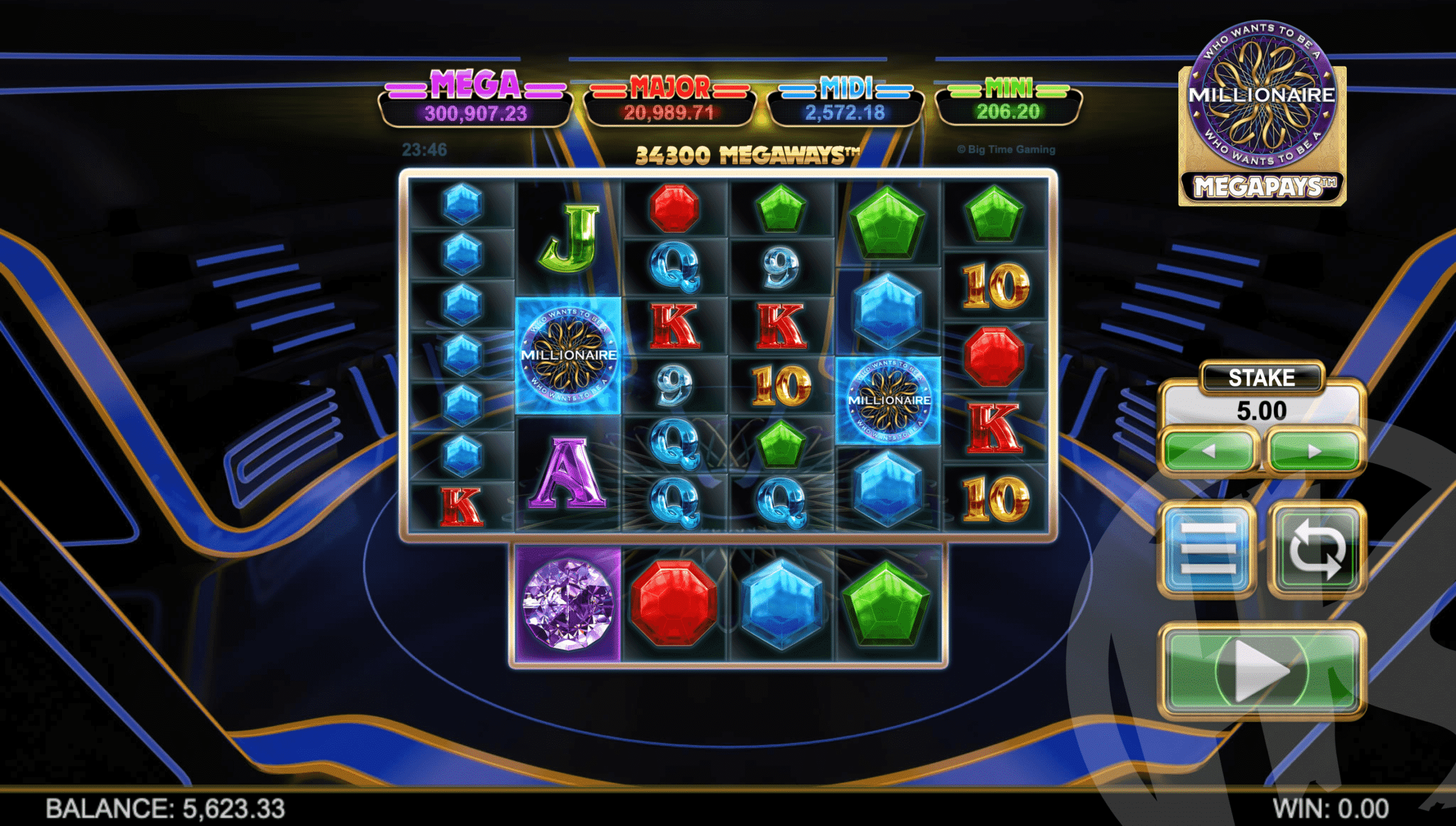 If you're not familiar, Who Wants To Be a Millionaire is a television show which offers players the chance of answering a series of questions in a bid to climb as high as £1million on a prize ladder. Debuting in Britain in 1998, and still running today in 2021, Who Wants To Be a Millionaire proved so successful there have been international variants shown in 160 countries worldwide – a tried and tested choice for a slot game, then. On a visual front, Millionaire Megapays is more or less Millionaire Megaways, with the action taking place in a location all too similar to the studio of the show, although things are more zoomed out this time around, to allow room for those four lucrative pots above the reels. Things are a bit sharper in the revamp, with the spotlights seeming infinitely more noticeable in the Megapays edition, however given how crisp the graphics were in the 2018 original, there wasn't much room available for improvement.
Millionaire Megapays Base Features
Who Wants To Be a Millionaire Megapays remains a Megaways slot, but given the title is already a mouthful there's no mention of the original iconic mechanic. That said, Millionaire Megapays still takes place across 6 reels (plus the horizontal reel at the bottom of the reels), where between 2 and 7 symbols can land on each reel, for a total potential of 117,649 ways to win. Wins are formed by landing 3+ matching symbols on consecutive reels, beginning at the leftmost reel.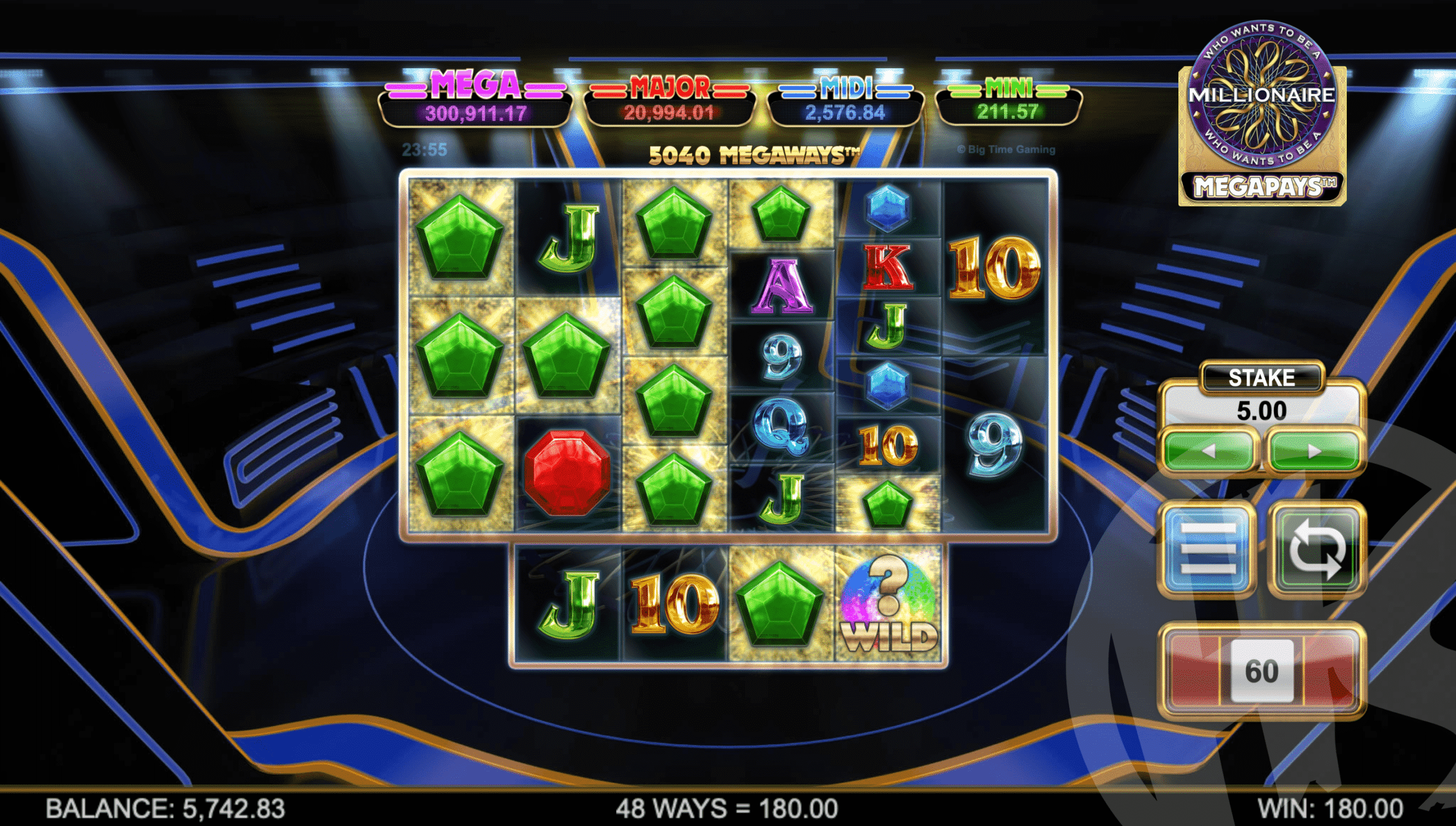 Helping to form these wins are the same host of symbols we came to recognise from the original, with 9, 10, J, Q, K and As awarding players between 0.8 and 1.75x bet for 6 of a kind wins. Moving into the premium end of the pay table, we are greeted with green pentagon gems and blue hexagons, both of which pay 2x bet for 6 of a kind, followed by red octagon gems, 6 of which pay 7.5x bet. Landing 6 of a kind purple diamonds will reward players with wins of 50x bet, whilst this topmost symbol also pays for 2 ways. Finally, multicoloured question mark wilds substitute for all symbols except Scatters, which are represented by glowing blue logos.
Reactions help to keep things ticking over during the base game, meaning every symbol involved in a winning combination will be removed from the reels, allowing new symbols to drop down in their place (or move in from the right on the extra, bottom reel). This allows more wins to be formed, with reactions continuing until no more wins are possible.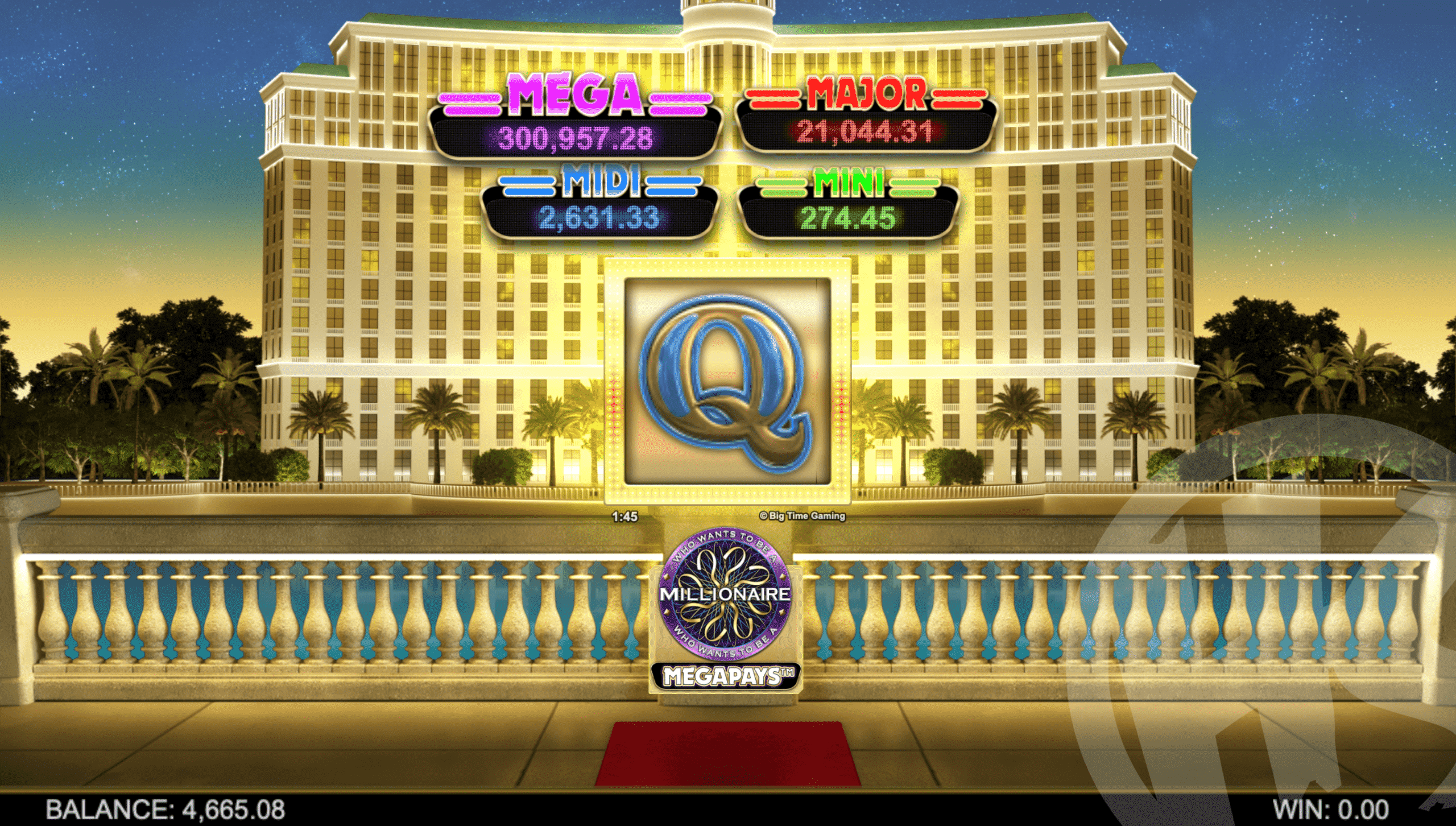 Megapays
Given the original remains available (along with a follow up of Millionaire Mystery Box, if that's your thing), players will be visiting this release for one reason, and one only – Megapays. Seemingly simple to trigger, and easy to miss, the progressive jackpot feature relies on the word Megapays within the logo in the top right of the screen. Light this word up from start to finish in pink, and you'll find yourself in with a chance to win between €100 and €300,000, at a minimum. The Megapays feature is randomly triggered and does not rely on any particular win size, or amount of Reactions.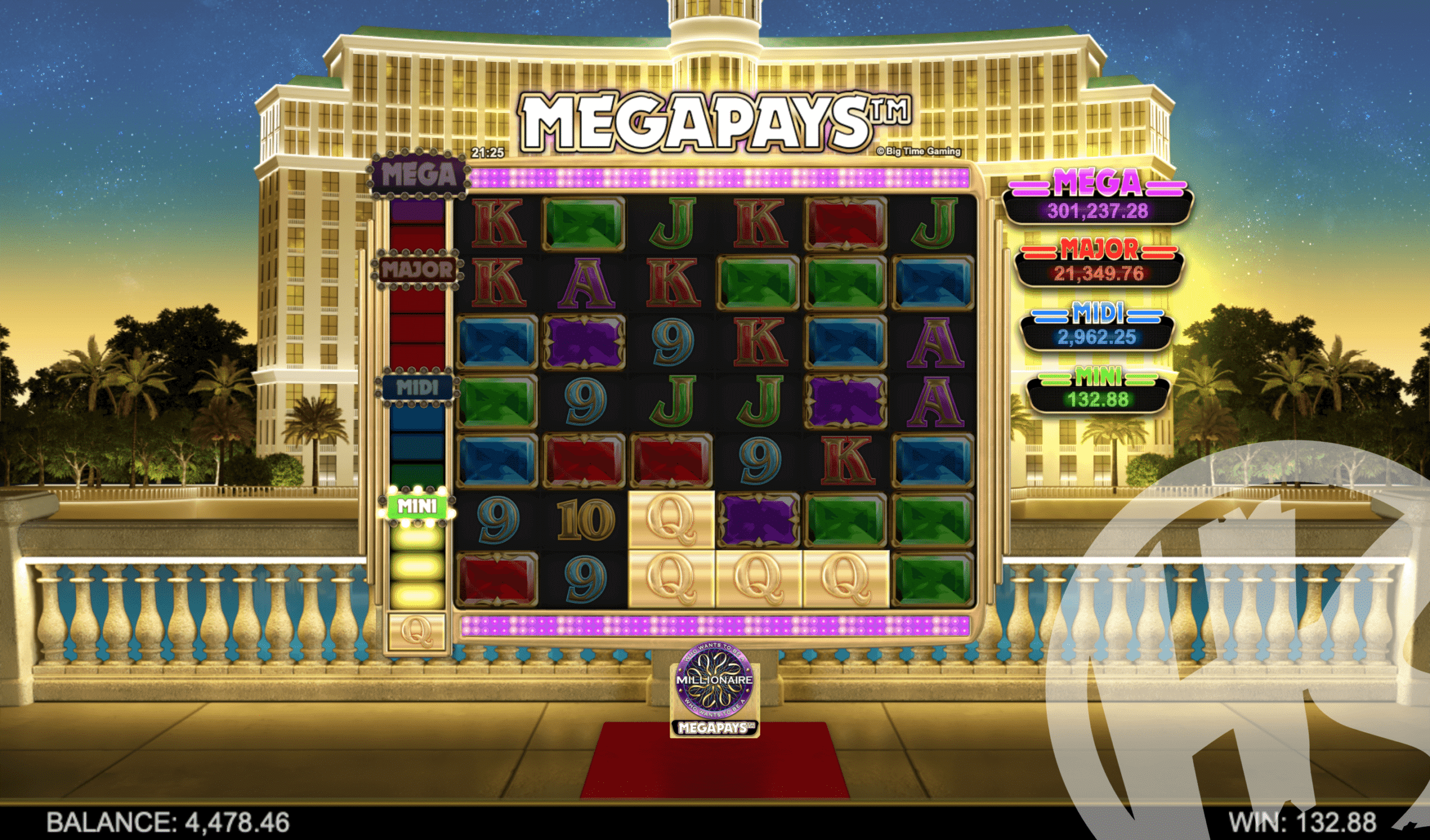 Upon triggering Megapays, players will have a symbol selected at random for them, with any symbol between 9-A revealed. The action will then move to the front of a suspiciously Bellagio looking hotel, and a 6×7 reel space will spin. Any time the previously chosen symbol lands, players are awarded one more respin. Landing 4 or more will award one of the progressive jackpots:
4-7 Symbols: Mini Jackpot
8-11 Symbols: Midi Jackpot
12-14 Symbols: Major Jackpot
15+ Symbols: Mega Jackpot
The jackpots have seed values, meaning they will reset to the same amount each time they have been won:
Mini Jackpot: €100
Midi Jackpot: €1500
Major Jackpot: €20,000
Mega Jackpot: €300,000
Any spin which does not land a selected symbol will cause the Megapays feature to end, regardless of if a jackpot has been won or not.
Millionaire Megapays Bonus
Alongside the Megapays feature, players can trigger a free spins round by landing 3+ Scatter symbols anywhere in view, which then begins the Hot Seat Free Spins Gamble. 3 Scatters award 8 free spins, and any additional Scatters will start the player further up the Hot Seat gamble, wherein players have the option to gamble as high as 50 free spins.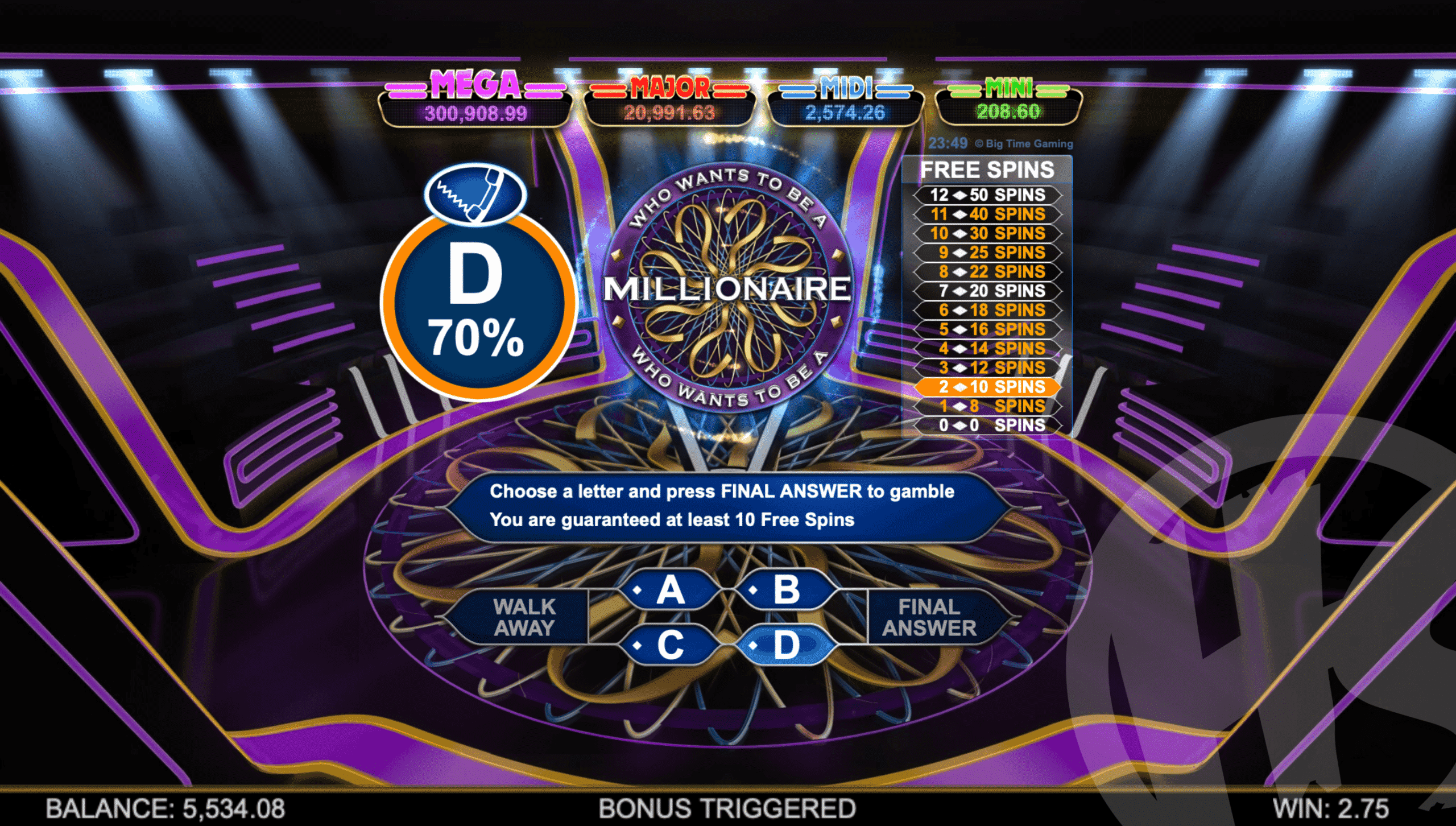 During the Hot Seat Free Spins Gamble, players will be taken to a screen with four options – A, B, C or D, similarly to the game show. To gamble for a higher amount of spins, players need to select one of these options and click 'Final Answer'. Alternatively, players can select 'Walk Away' to leave with the amount of spins they currently have. Each successful answer will increase a player 1 rung on the ladder, and an incorrect answer may result in a loss of spins. The gamble ladder is as follows:
50 Spins
40 Spins
30 Spins
25 Spins
22 Spins
20 Spins
18 Spins
16 Spins
14 Spins
12 Spins
10 Spins
8 Spins
0 Spins
The start point of a 3 Scatter trigger is 8 spins, and there are two safety nets on the ladder, at rung 2 and rung 7, or 10 Spins and 20 Spins as we know them. Once a player reaches either of these points, even if they lose a future gamble they are guaranteed the respective amount of spins. As rung 2 and rung 7 are risk-free gambles, they require an answer.
To keep the Hot Seat Free Spins Gamble interesting, and to further tie things into the famous game show, 3 Lifelines are active, and players will be given 1 of these during every gamble:
50/50: 2 incorrect answers are removed.
Ask the Audience: All answer odds are revealed.
Phone a Friend: The most likely answer is revealed.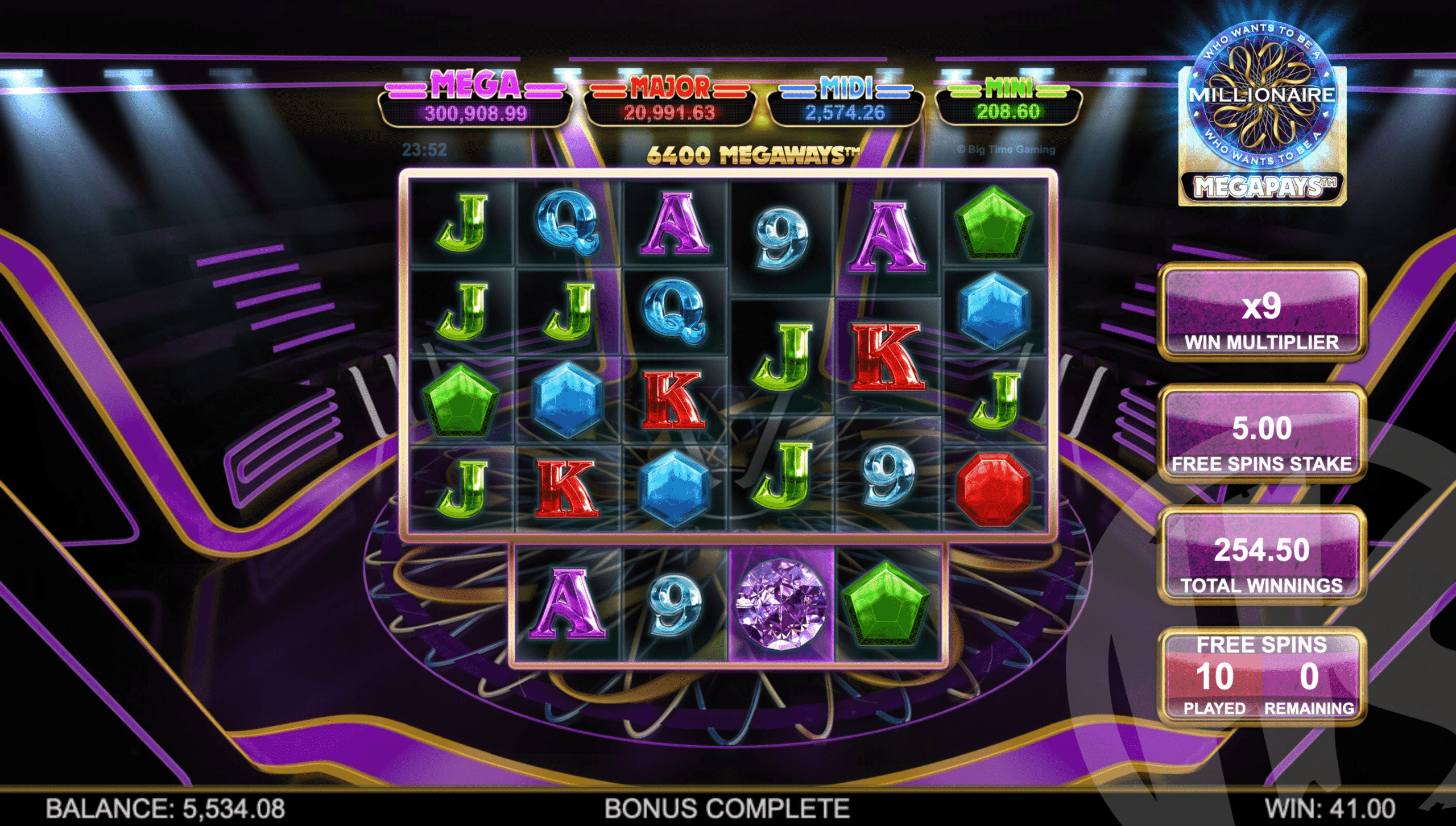 During free spins, things continue much the same as the base game, with wilds in play and Reactions continuing as normal. However, working alongside these features is an unlimited win multiplier, beginning at x1 and incrementing by +1 for every reaction.
The extra, bottom reel is the only place Scatter symbols may appear during free spins. Landing 3 or 4 Scatters awards an extra 4 or 8 free spins, respectively. Megapays cannot trigger during free spins.
First Impression
Who Wants To Be a Millionaire is right up there with Bonanza in terms of how frequently requests come pouring in during live streams, so it makes sense that this is the second release to be hit with the Megapays magic. Often regarded as an "easier" bonus, players love the action of Millionaire, whilst still feeling as though the chance of 50 spins is there. Throw in that we consider the original to be a generous release, good for wagering, and it's not surprising that players are already excited at the prospect of progressive jackpots being added on top.
Of course, things won't play out exactly the same way since there are progressive jackpots available, so if aiming for a pot isn't your thing, you're probably better sticking to the original. However, if you don't mind sacrificing some of the base action for the chance of triggering a pot, then this one will be a great fit for you. Free Spins still contain a huge amount of potential, with wins up to 72,130x bet available, and let's remember how many huge wins we've seen from less than 50 spins, so if you aren't feeling particularly brave, you don't need to risk it all the way to reap some hefty rewards. On the other side, we know all too well how grim it is to be shown an 89% chance of winning, only to lose, but that's the game – it keeps things exciting.
Overall RTP is great at 96.38%, and high volatility levels mean we're sure to be kept entertained with this one. Working the same way as Bonanza Megapays means contributions will come from each stake bet, with contributions in Bonanza Megapays amounting to 0.51%, so stake will matter when we consider the chances of triggering the jackpots, the highest of which seeds at an impressive €300,000. Who Wants To Be a Millionaire is a great choice to extend the Megapays family, with improved graphics and the same excitement we remember from it's release in 2018.
*The screenshots taken of games reviewed on this site are taken from Demo Play, as reviews are often written before games are released for real play.