We've all dreamt of hitting the jackpot, but for each of us that means something different. The most optimistic of gamblers may dream of hitting a lottery jackpot, worth hundreds of millions. When we consider online slots the jackpots available may seem tame in comparison, but still capable, and succeeding, at changing lives continually.  For some of us, when we think of a jackpot we think of the "maximum win" available within a slot. This amount varies, from around 1,000x in a low-variance Blueprint Gaming slot, rising to 150,000x, the biggest regular win amount available in any slot, provided by Nolimit City in their 2021 release San Quentin xWays. However, alongside the regular maximum win, commonly referred to as jackpots, there is a whole other category of slots available with progressive jackpots, far surpassing any of the maximum wins available in regular slots. Jackpot slots are varied, but the most popular are progressive jackpots, with the two most popular slots reserved for Jackpot King, and Mega Moolah.
Jackpot King & Other Jackpots
Alongside standard progressive jackpots, an array of other jackpots are available, including Drops and Wins from Pragmatic Play, and "must-fall" jackpots, which do exactly what they say on the tin – they must be won before they reach a certain amount. For example, a Major Jackpot may have a value of €1,487 when you launch a slot game, and underneath it may say "Must be won by €1,500". This means the value of that jackpot cannot surpass €1,500, and someone has to win it before that moment. Important to understand though, these jackpots can pay at any point before it reaches it's "must fall" moment – players are not always guaranteed to win that maximum amount.
Jackpot slots are now so popular that many casinos operate their own jackpots in the background, in which players are entered through playing certain games. LeoVegas and PartyCasino are two casinos that offer jackpots through playing regular slots on their site, and players will randomly trigger the jackpot at any point. Casino jackpots can be smaller values, with some players winning €5-50 at random. Still, a nice extra feature.
Alongside this, Big Time Gaming, one of the biggest providers worldwide, have announced their entry into the Progressive Jackpot scene with the release of Bonanza Megapays. We have a review available here.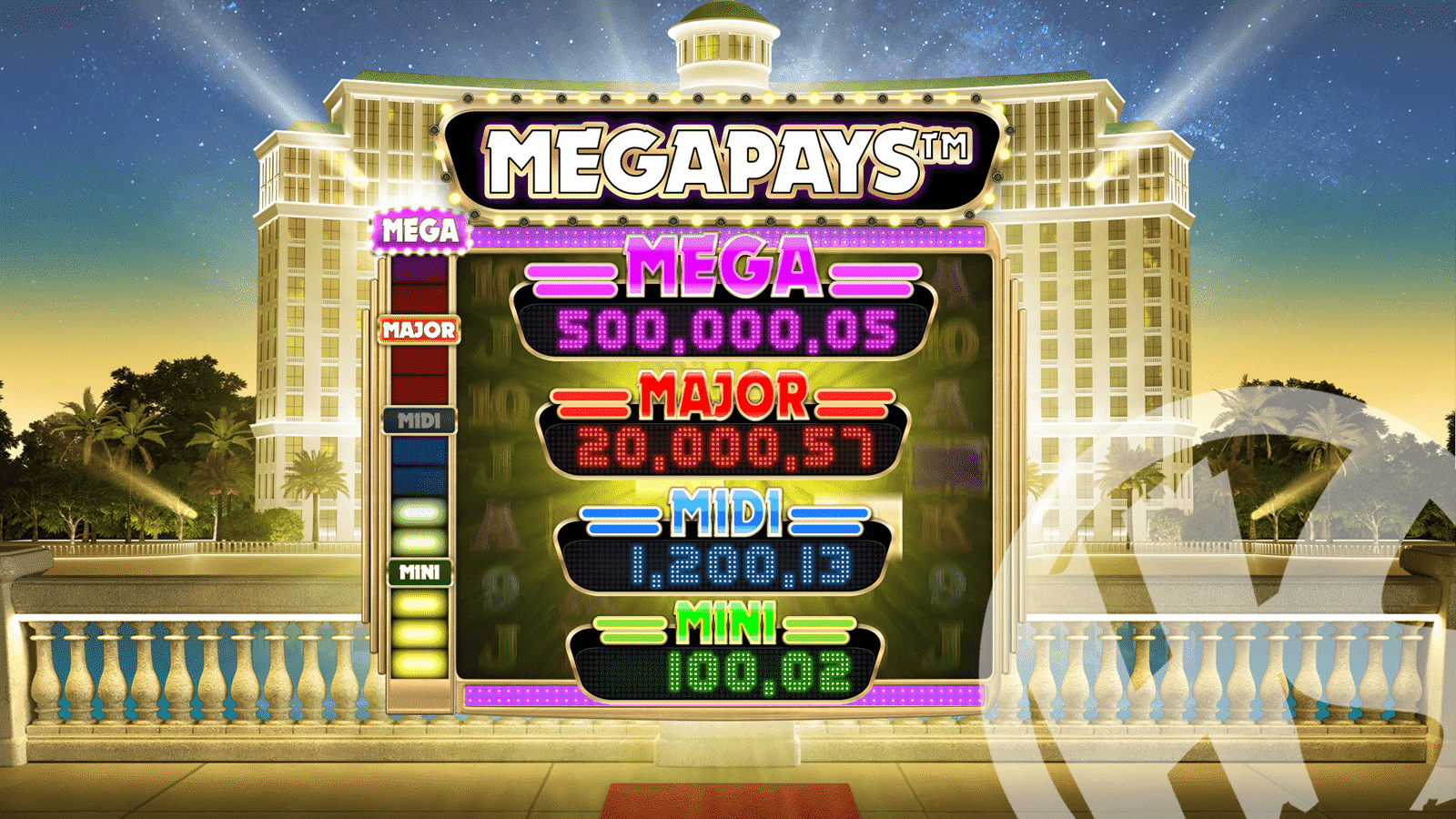 How Do Progressive Jackpots Work
Progressive Jackpots take a small portion of each bet, and adds it to the jackpot. Usually, this is done across many different games (for example, a variety of Jackpot King slots, or every Mega Moolah slot), and bets are taken from many players across the world playing at once, often across multiple casinos. The jackpot continues to get bigger, which leads to it's name, and continues to grow until eventually someone wins, which can be achieved in many ways:
A jackpot dropping in at random.
A bonus jackpot feature.
Some progressive jackpots only allow jackpots when playing on the maximum stake, but most cater to players of all stakes.
Once a player has won the jackpot amount, the jackpot will reset to it's "seed value", often in excess of half a million pounds, rather than reverting to 0.
Biggest Progressive Jackpot Winners
As recently as April 2021, one lucky Mega Moolah player scooped a jackpot of €18,247,797.21. Some of the biggest Mega Moolah winners to date include:
In October 2015, British soldier Jon Heywood staked 20p, and was rewarded with the jackpot of £13.2million, achieving the Guinness World Record for the highest payout in a single spin from an online slot machine at that time. After his win, Jon stated: "It's all so surreal and I can't come to terms with it just yet. I just keep staring at my screen and seeing this huge number in my casino account."
Rawiri Pou, from New Zealand, won NZ$10,144,395.82 in June 2016. At just 27 years old, the fast-food worker said he couldn't believe it was real, saying "I've been in shock since I won and it is literally going to change my life. There is so much my family and I can do with this money and it couldn't have come at a better time. We are so overwhelmed and happy."
M.G from Canada won CA$11,633,898.44 in November 2016. Speaking afterwards, M.G said "Wow thank you so much! This is obviously life changing! I cannot believe it! I will definitely be buying a nice big house and a vacation cottage! And taking my entire family on a first class trip to Africa! This will mean great Christmas presents for everyone!"
In October 2019, a father of 8 from the United Kingdom spent £58 on the Reel King slot, and scooped a huge jackpot win of £3.75million. Speaking afterwards, he said "I think we woke the whole neighbourhood. It was unreal – you don't expect to win that, just under four million quid. I called my bank to check whether the money had gone in, and while I was talking to them the money started flowing in. In the space of five minutes while I was in the bank, all the money was there." On a responsibility note, he stated: "I've barred myself from going back on Bet365 already – I'd rather go and spend my money."
Just this year, in May 2021, one lucky PokerStars Casino player broke the Jackpot King record, landing a win of €8.1million. Jo Purvis, Director of Key Accounts and Marketing UK at Blueprint Gaming, had this to say:
"Jackpot King is attracting a lot of interest from across the industry right now and this will only continue as we introduce the progressive system to more of our player-favourite games, as well as a brand-new game that uses our engaging Prize Lines mechanic."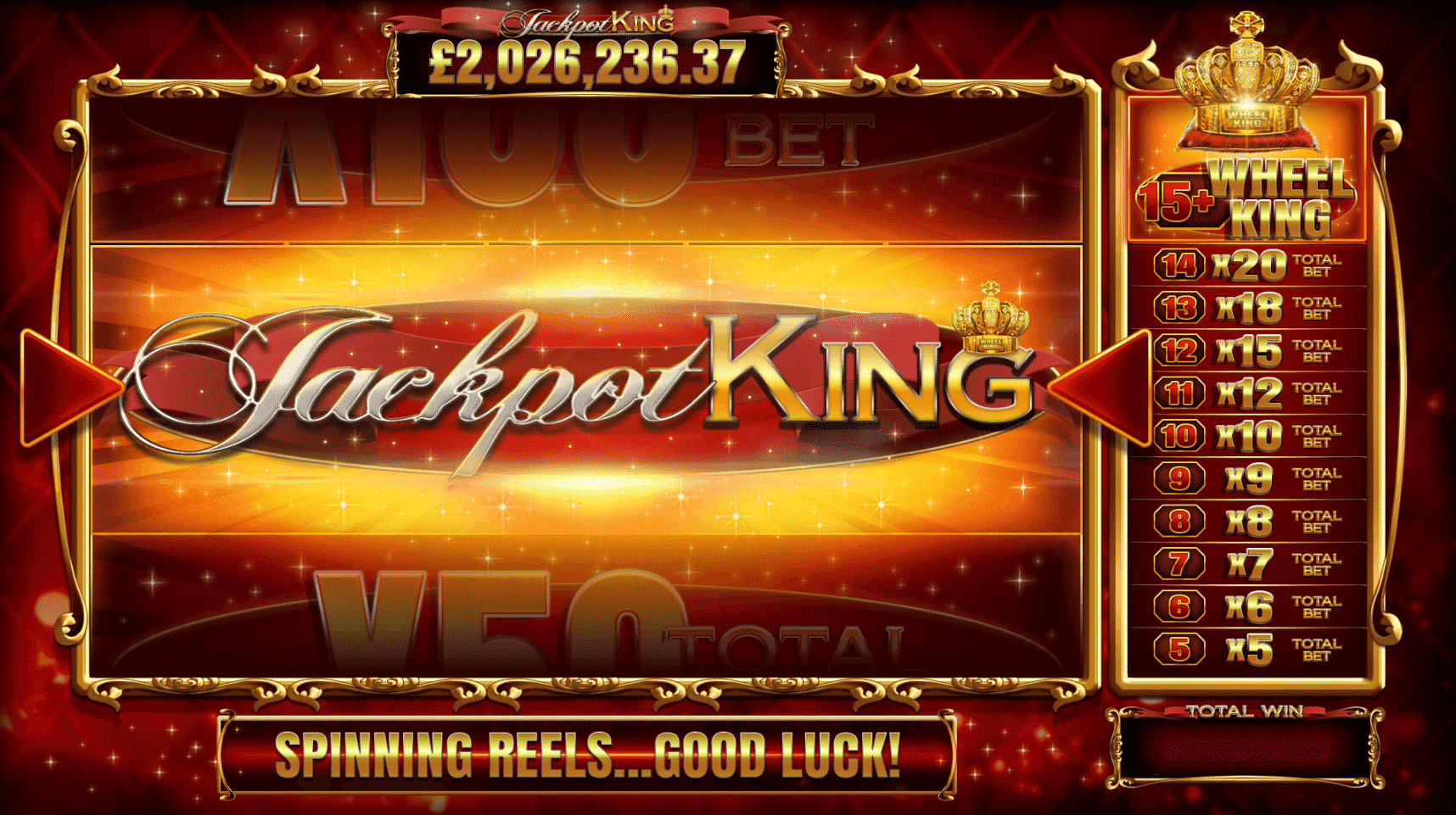 Blueprint Gaming's Jackpot King
Although Mega Moolah offers the biggest progressive jackpots widely available, Blueprint Gaming's Jackpot King series still attracts the most requests from players in our experience. This could be down to that fact that Jackpot King versions of regular, and popular, slots are available, meaning players can find their favourite games with a jackpot as an added bonus.
When playing a Jackpot King game, players need to land 5 Jackpot King symbols to trigger the Jackpot King feature. At this point, they are taken to a separate screen, where reels spin and symbols land to progress further on the prize ladder on the right hand side. Each time no more crown symbols land, players have a choice of 4 symbols, which may award them a respin, immediate progression to Wheel King, or the feature may end. If 15+ symbols land, players are awarded Wheel King, which spins a jackpot wheel awarding an x-win prize value, or one of the 3 available jackpots: Regal Pot, Royal Pot, or the all important Jackpot King. The Jackpot King series has over 60 games in it's arsenal, and some of the most popular Jackpot King slots include:
The Goonies
Ted
Top Cat
Fishin' Frenzy
Diamond Mine Megaways
Eye of Horus Megaways
Buffalo Rising Megaways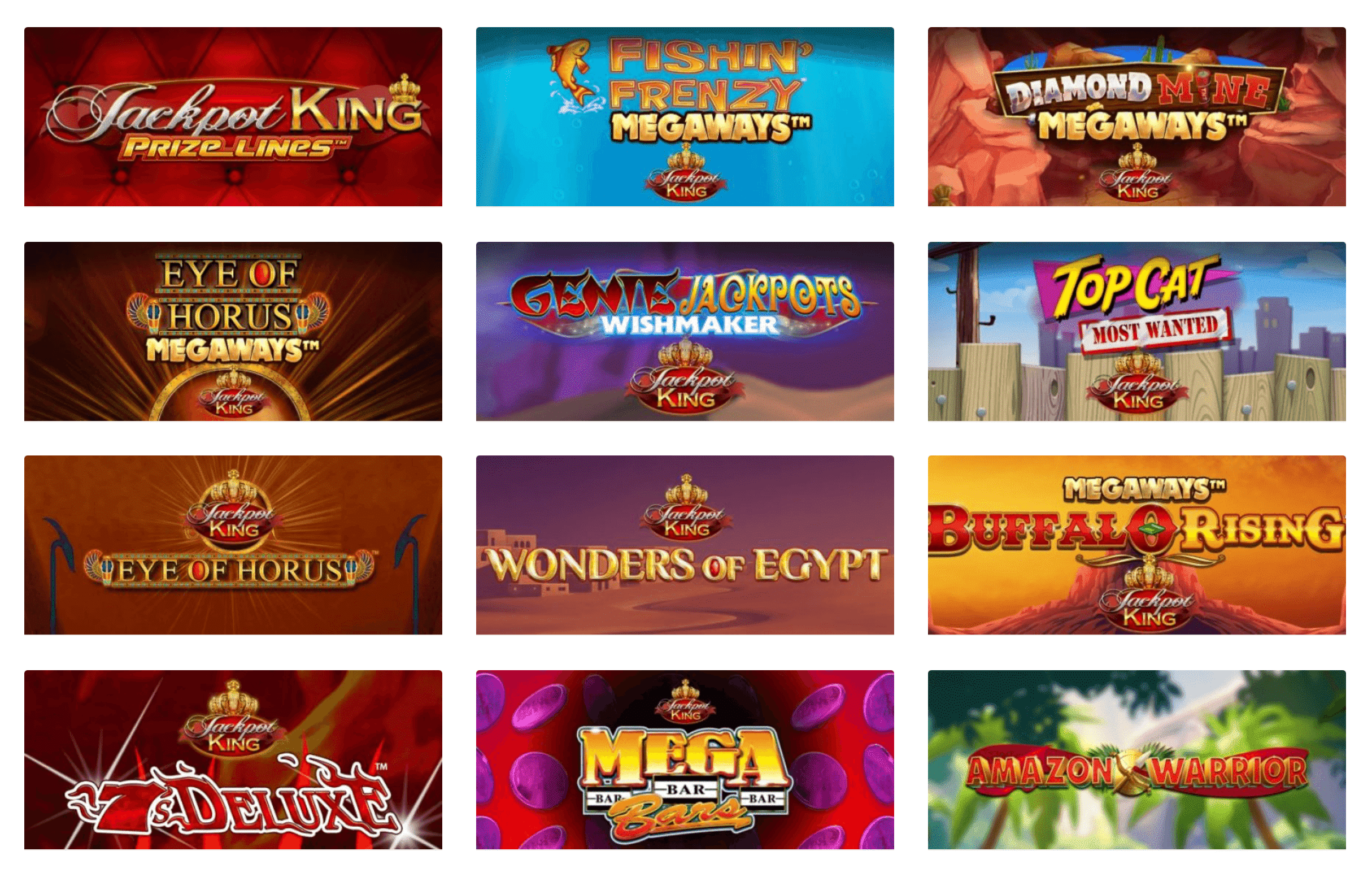 So Is It Worth It?
This seems to be the main question surrounding progressive jackpot slots, with many players feeling the hit to the RTP on a progressive jackpot slot makes the whole thing less worthwhile. Regulations and restrictions in place help us to understand this better, and for this example we will use the United Kingdom Gambling Commission as an example. They clearly state within their Remote Technical Standards that base game RTP must be measured independently from a Progressive Jackpot RTP, saying:
"Segregating base game activity from bonus features or progressive jackpots: Where games are designed with complex bonus features the ability to monitor the game at both a base game and feature game level should be included. This will be particularly important where the feature has a large effect on the overall game's RTP and is certainly important where a game implements a skill component in the feature (as the skill RTP component will vary greatly depending on players' actions) […] Similarly for games connected to progressive jackpots, the base game should be measured independently of the progressive component. "
This should help to put players minds at ease. Although a Progressive Jackpot game RTP may be lower than the same game RTP without the jackpot, we can be assured that this information will be made clear, by the RTP displayed. We do not need to worry that the jackpot is having an unknown effect on our game play. Players should also be aware that the more volatile the game, the more tolerance regulating bodies are prepared to accept, and as more spins are taken, less tolerance is awarded (available here). If you would rather have a higher RTP knowing that your maximum win is capped, then you'll enjoy Blueprint Gaming's range of games without the jackpot feature, whereas if you're prepared to sacrifice a small portion of your RTP for the chance of those once in a lifetime jackpots, you'll enjoy the Jackpot King Series. However, the odds may seem against you, as often the odds of winning a Progressive Jackpot are millions to one, with the odds of winning a Mega Moolah jackpot sitting at 50 million to 1.
You can read more on the effect RTP will have on your play, both short term and long term, in our recent article Slots, Jackpots, Volatility and RTP.