Pragmatic Play are a provider that don't hold back with new releases, often offering significantly more new slots than their competition each year. The expectation would be that with so many releases under your belt you'd begin to run out of ideas, but the team are showing no signs of slowing down. In their upcoming release, Wild Hop & Drop, they offer us their take on a feature well known to players – a growing (dare I say 'fat'?) Wild Symbol. With an RTP of 96.46% (95.33% and 94.44% also available), players can see wins up to 5,000x bet in this highly volatile release.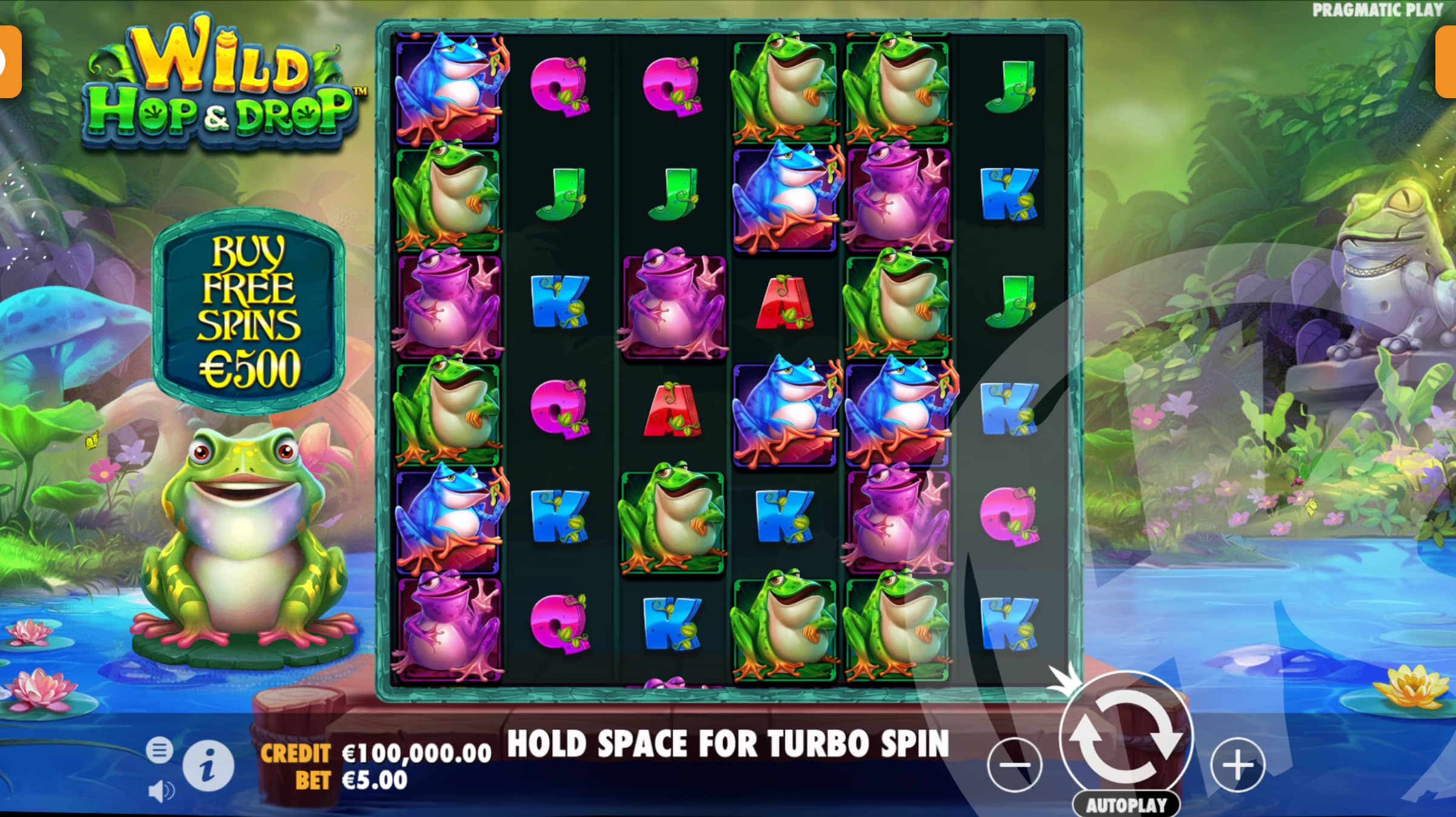 Wild Hop & Drop takes place on a lake, with an extremely photogenic frog to the side of the reels, sitting waiting patiently on a water lily leaf until he's called to hop into action. The whole thing is bright, colourful, and just cheerful to look at, with water lilies, butterflies, rays of sunlight, a little frog statue, and flowered foliage as far as the eye can see. I know we often praise studios prepared to push the boundaries and explore darker themes, but there is something nice about looking at such colourful imagery. Audios take on an almost magical feeling, heightening the atmosphere even further.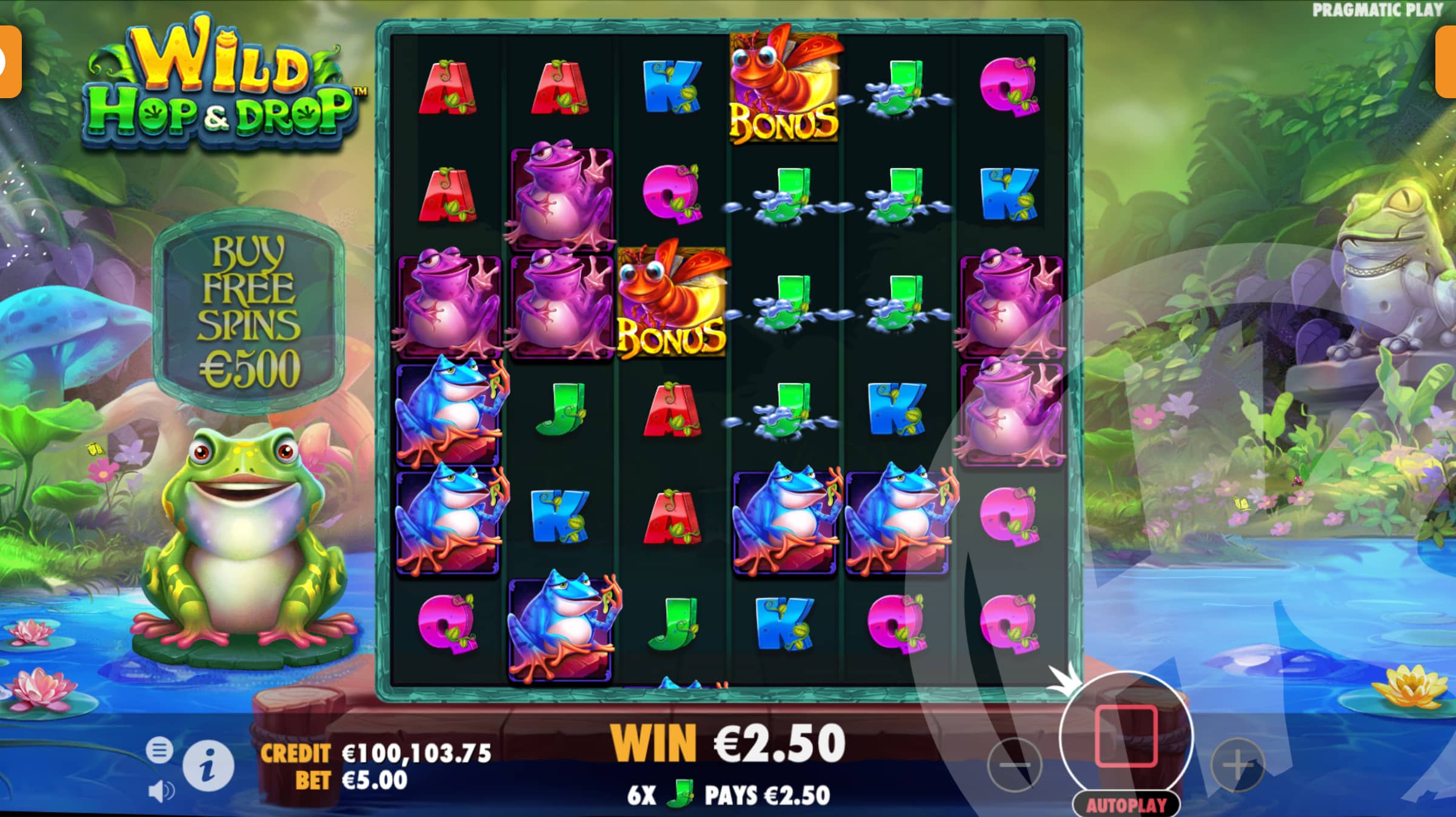 Wild Hop & Drop Base Features
Taking place on a 6×6 grid, Wild Hop & Drop utilises a cluster pays mechanic – meaning wins are formed by matching a cluster of at least 6 symbols connecting horizontally or vertically, anywhere on the reels. Symbols available begin with non premiums – J, Q, K and A. Land a cluster of 6 non premiums to see wins between 0.50 and 1.25x bet, with values increasing as 7, 8, 10, 14, 17, 22, and 26+ symbols connect. At the highest point, a cluster of 26 or more non premiums can pay between 20 and 40x bet.
When looking at premiums, we meet 3 frogs – blue, purple, and green, Landing clusters of 6 of any frog will see wins between 2 and 4x bet, with values continuing to increase as 7, 8, 10, 14, 17, 22, and 26+ symbols connect. If you're lucky enough to see a cluster of 26 or more frogs, you'll see wins between 60 and 200x bet. Finally, there is a frog Wild Symbol (the same frog that sits to the side of the reels), who substitutes for all symbols except Bonus Symbols, which have a little red firefly upon them. The Wild Symbol can land on any reel, and at his largest size can produce wins of 5,000x bet, but we'll explain more on all of this below.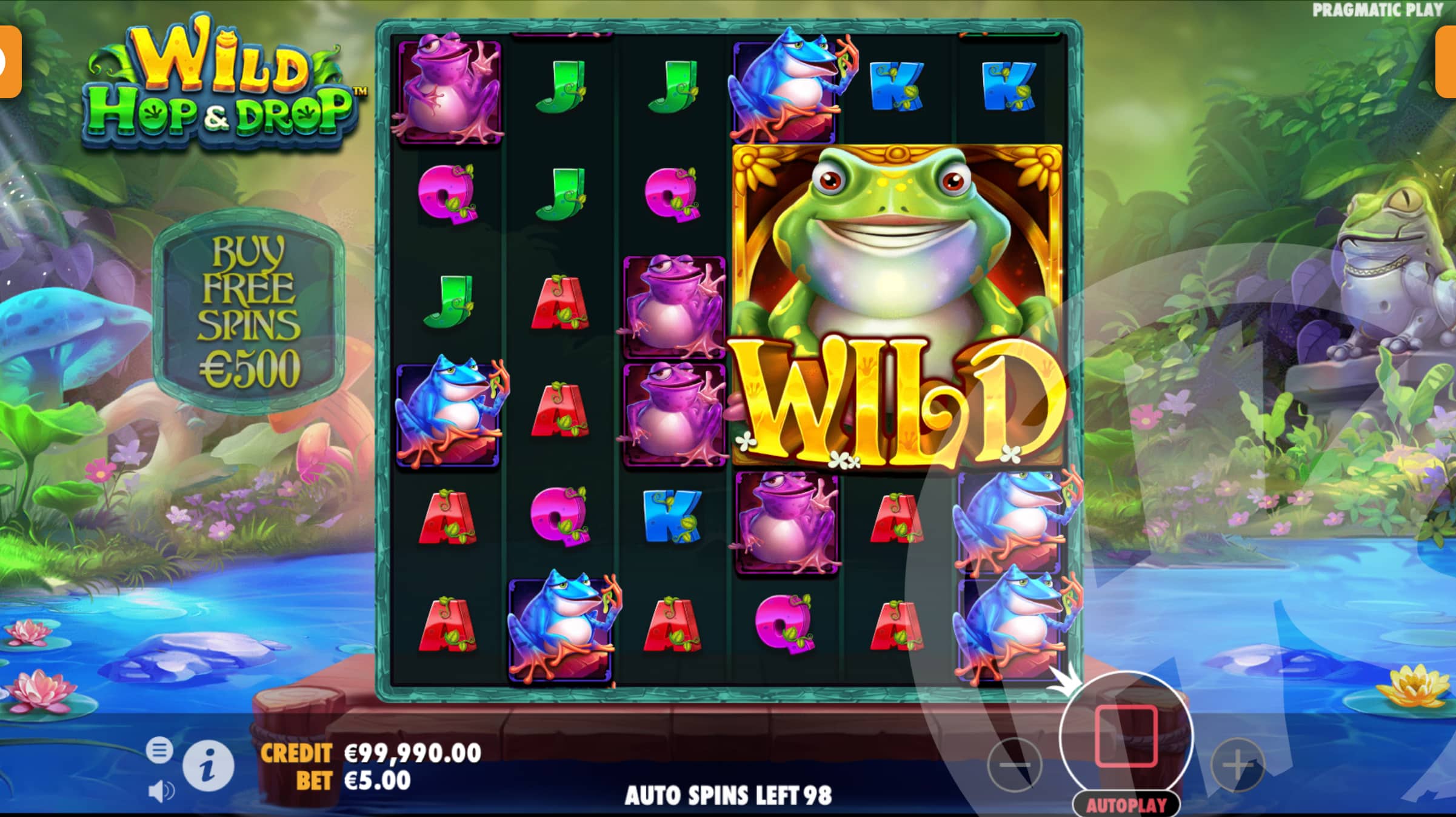 On any spin, the frog to the size of the reels can hop onto the reels as a Wild Symbol. Capable of landing on any reel, the Wild Symbol can be 1×1, 2×2, 3×3, 4×4, 5×5, or 6×6 in size. The Wild Symbol substitutes for all other symbols (except Firefly Bonus Symbols) to form winning clusters – unless it is 6×6 in size. Once it is the maximum size of 6×6, it pays as a Wild Symbol only, awarding wins of 5,000x bet – the maximum win available in Wild Hop & Drop.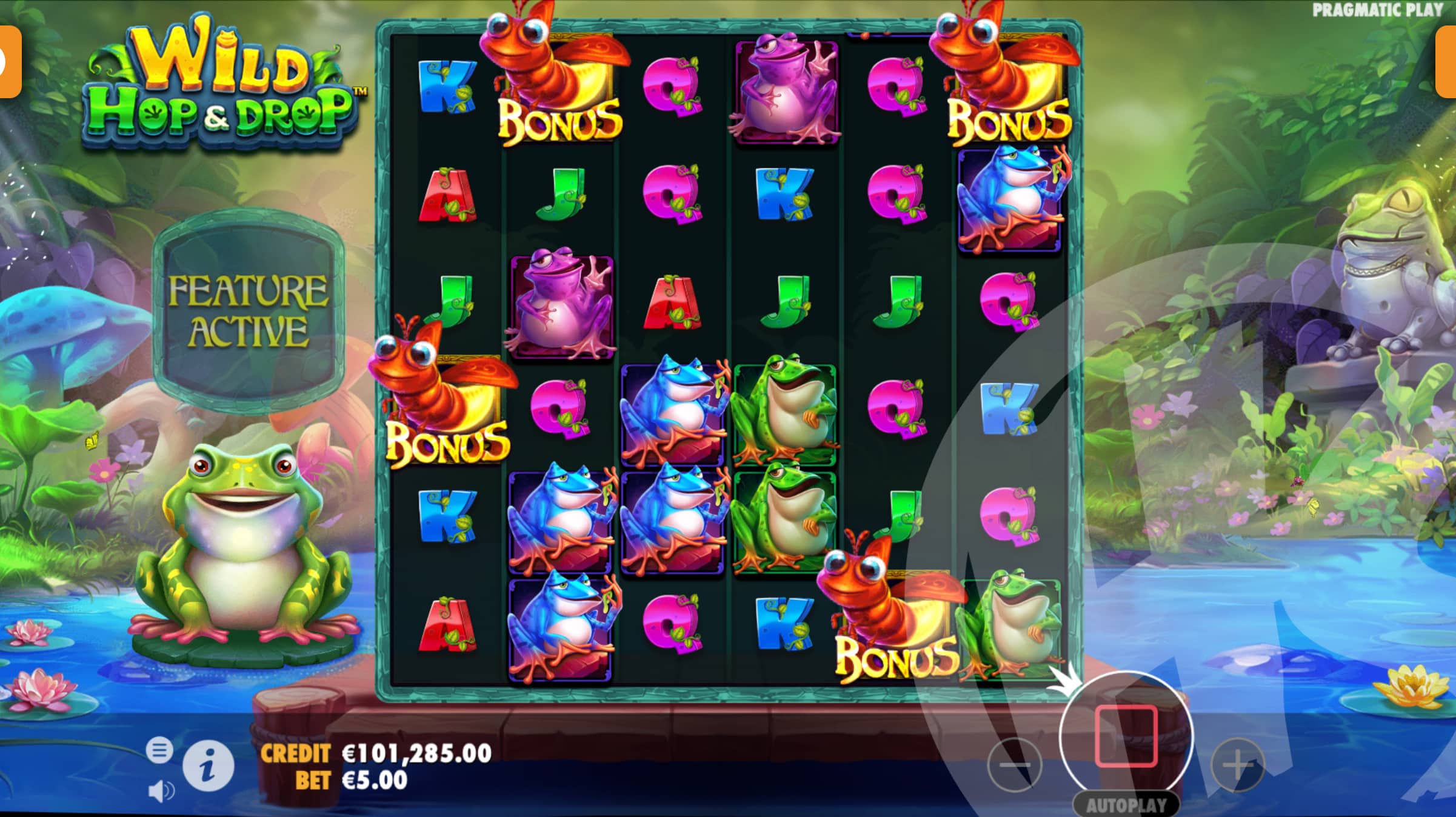 Wild Hop & Drop Bonus
Land 4 or more Firefly Bonus Symbols to trigger 6 Free Spins, where things turn to nighttime, with a real ethereal atmosphere. The Free Spins feature in Wild Hop & Drop is progressive – as indicated by the counter to the side of the reels. At the beginning of Free Spins, the counter is filled with empty spaces – these identify the possible sizes of Wild Symbols, and what is needed to increase the size of the Wild.
The Wild Symbol will grow from 1×1 in size, through 2×2, 3×3, 4×4, 5×5, up to a maximum of 6×6 in size. Throughout Free Spins, any Bonus Symbols that land will be collected – players need to collect 4 Firefly Bonus Symbols at each stage to upgrade the Wild size.
It is possible to trigger Free Spins with 5 or 6 Firefly Bonus Symbols. When this happens, the additional 1 or 2 Bonus Symbols will be collected before Free Spins begin. However, the triggering 4 Bonus Symbols will never be collected.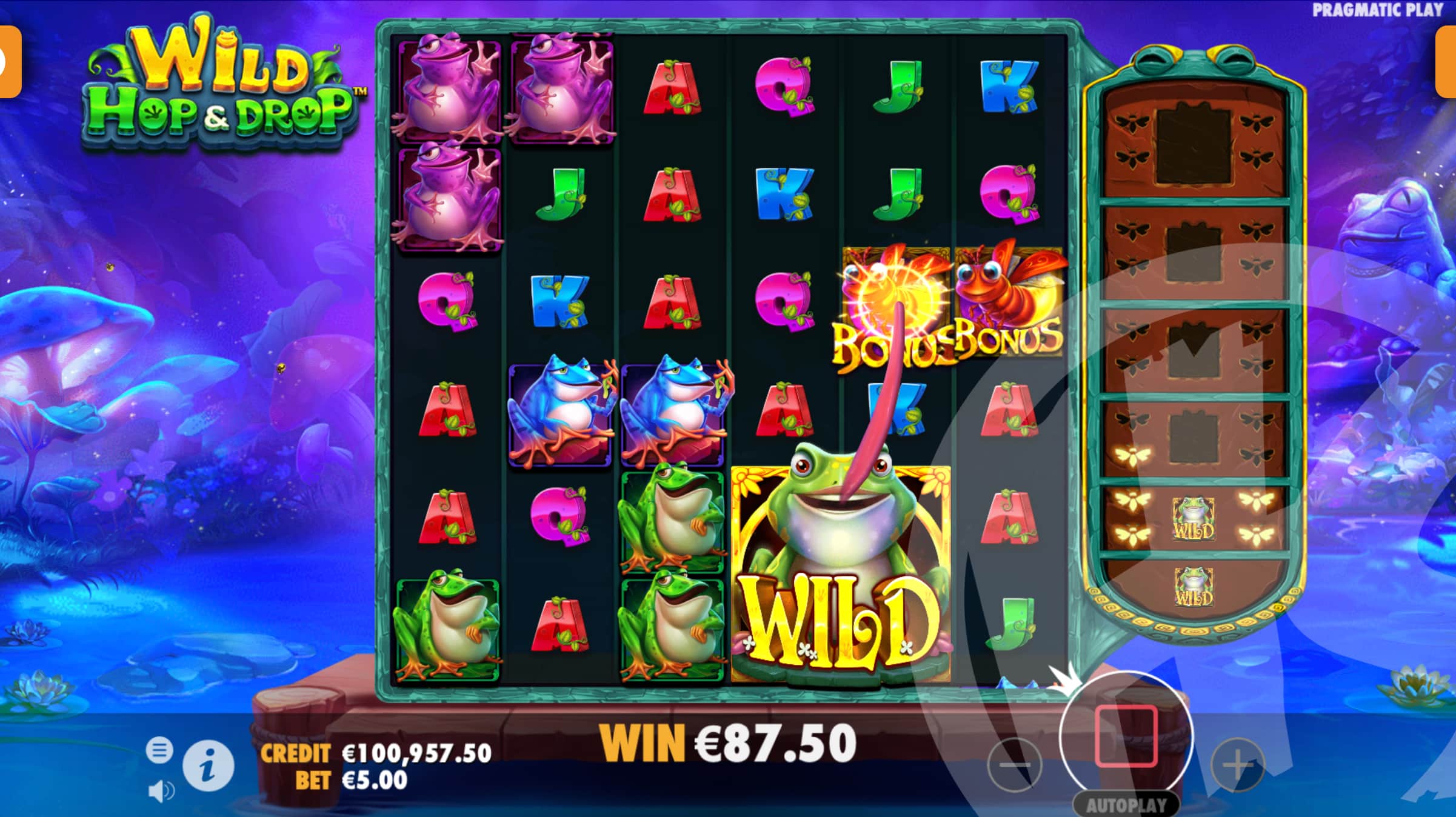 Between each Free Spin, the Wild Symbol will hop to a random position on the reel. Alongside this, each time the size of the Wild Symbol has been upgraded, players will be awarded between +1 and +3 additional spins, at random.
At the final level, when the Wild Symbol moves to 6×6 in size, only +1 spins will be awarded, but this is inconsequential as a 6×6 Wild Symbol awards the win cap.
Players in appropriate regions can skip straight to the action with the Feature Buy – for a cost of 100x bet, you guarantee Free Spins, with 4, 5, or 6 Bonus Symbols awarded randomly.
The maximum win available in Wild Hop & Drop is 5,000x bet. If the sum of a single game round exceeds this, the game round will end and 5,000x bet will be awarded.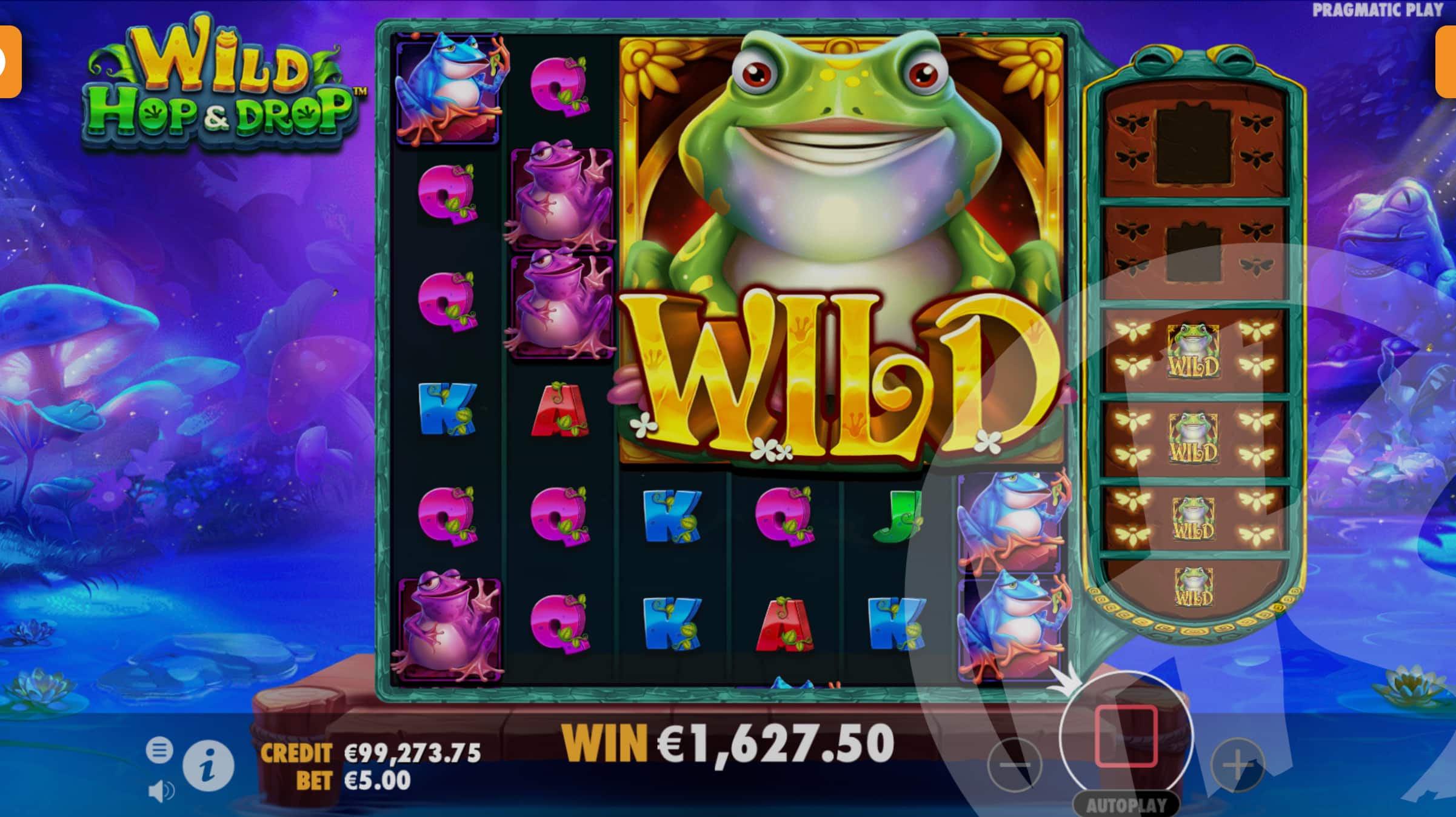 First Impression
There's no denying that Wild Hop & Drop isn't exactly a unique idea – if you're familiar with the Push Gaming fat series, you'll have recognised this straight away. That said, we've already seen other studios attempt growing symbols through collection – namely Print Studios Royal Potato. It's a tried and tested mechanic, and it works, so it's no surprise Pragmatic have turned their hand to it.
There are still some differences with this release – most notably that the Wild Symbol is a Roaming Wild, rather than sticking in place, and that this is a cluster pays release. Both of these things remove the risk of getting your Wild trapped in the wrong place, watching in pain as your final few spins are dead. We also have a random number (between 1-3) of spins awarded between each stage, rather than a set amount, so that can really affect how the bonus plays out. This of course excludes the 6×6 stage where only +1 spin is awarded, but with the 6×6 stage guaranteeing the maximum win in 1 spin alone, this is no issue.
Graphics are bright and genuinely really nice to look at, and in my experience of buying the bonus, it isn't rare to progress through the stages. Things are still highly volatile in this release, rated 5/5 by the team, but with wins up to 5,000x bet on offer, especially in the base game, things don't seem quite as bad. Even RTP options, which Pragmatic frequently go quite low on, are between 94.44% – 96.46% – none of which we can complain too heavily about.
Unsurprisingly, if you like Pragmatic and the way their build their games, in particular their maths, then you'll more than likely enjoy this release. Slightly more surprisingly, this release might bring fans of the Push Gaming fat mechanic to the Pragmatic side – but who says we can only have one growing symbol game we love?
*The screenshots taken of games reviewed on this site are taken from Demo Play, as reviews are often written before games are released for real play.