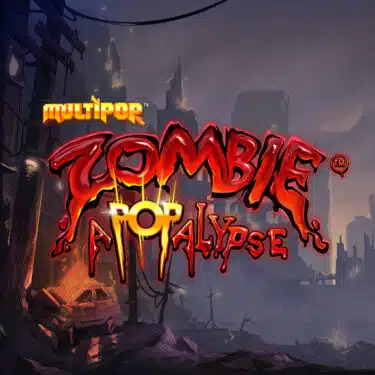 Zombie aPOPalypse
Game Provider: AvatarUX
Release Date: Available Now
Zombie aPOPalypse
Game Studio AvatarUX
Release date Available Now
RTP 96.0%
RTP Feature Buy 96.0%
Paylines Up To 6,250
Volatility High
Min Bet 0.20
Max Bet 50
Max. Win 20,000x
Rating 8.6/10
AvatarUX are among the few providers to have created a mechanic so popular it has led not only to more than a dozen games, but it has actually been licensed by other studios. Of course, I'm talking about their PopWins mechanic – first released in PopRocks, and most recently in CritterPop. However, it seems it's out with the old and in with the new, as for the first time in 13 releases the team are leaving PopWins behind to introduce us to their new mechanic, MultiPop – in Zombie aPOPalypse. With a fixed RTP of 96.0%, this highly volatile release is capable of producing wins up to 20,000x bet.
With a game called Zombie aPOPalypse, where else could you expect to be other than a dystopia wherein chaos and zombies run rampant? Things are dark and manic in Zombie aPOPalypse – by the way, the name of which gets no easier to type no matter how often you do so. Graphics are exactly the standard you'd expect from AvatarUX, with an interesting comic book style. Audios are fairly tame, but set the scene exactly as they should – with the right sound effects to bring the atmosphere to life.
Zombie aPOPalypse Base Features
Taking place across 5 reels, wins are formed on Zombie aPOPalypse by matching at least 3 symbols on adjacent reels, beginning with either the leftmost or rightmost reel, as wins pay both ways. Symbols available begin with non premiums, with Qs, Ks, and As. Land between 3 and 5 of a kind of any non premium to see wins between 0.10 and 0.40x bet, with this increasing to values between 0.15 and 0.50x bet when landing 3-5 of a kind of our mid range symbols – locks of hair, footballs, and baseball caps. At the premium end, we meet 5 characters – all of whom I assume are trying to outrun zombies (are zombies fast? I imagine them to be really slow). Anyway, land 3 of a kind of any premium to see wins between 0.20 and 0.50x bet, with this increasing to values between 0.75 and 2x bet for 5 of a kind matches. These values may seem low, but remember – this is a MultiPop game, so you know there are multipliers to come.
Alright, the first thing to cover is the increased bet. By betting an additional 25% per spin, players can double the chance of triggering Free Spins. Now, onto MultiPop. There are no PopWins in this release, so reels being with 4 symbols on each, and throughout the base game will always have 4 symbols on each – producing 2,048 ways to win (remember, wins pay both ways).
However, each symbol involved in a win will be replaced by a new symbol – like a Cascade, Tumble, Reaction – we know all the names. There are 20 symbol spaces, or cells, on the reels. When a symbol is replaced, the cell, and therefore the new symbol, then has a multiplier applied to it. Each cell begins with no multiplier (x1), and each time the symbol inside is replaced the multiplier increments by +x1. So, the first time a symbol is replaced, the new symbol will have a x2 multiplier applied. This continues, until no new wins are formed. When a cell reaches x5 in the base game, it cannot increment any further, but it can continue to be replaced if it is involved in a win, being replaced by a new x5 symbol each time.
Infectious Multipliers are triggered when any cell reaches x5 in the base game. At this point, between 4-12 cells will be chosen to have their multiplier incremented by +x1. These cells will be chosen at random, but cells that do not have any multiplier (x1) will be prioritised.
Zombie aPOPalypse Bonus
Land at least 3 Scatters to trigger Free Spins:
3 Scatters – Level 1 (10 Free Spins)
4 Scatters – Level 2 (12 Free Spins)
5 Scatters – Level 3 (15 Free Spins)
At the beginning of Free Spins, players who have landed 3 or 4 Scatters can choose to gamble up to 15 Free Spins by spinning the Gamble Wheel. Players who have landed 3 Scatters will have the opportunity to collect, or gamble to 12 Free Spins, and then can either collect, or gamble again to 15 Free Spins. Players who have landed 4 Scatters can collect or gamble to 15 Free Spins.
If the gamble loses, players will return to the base game without playing any Free Spins. The Gamble Wheel can land on a special Golden Field, which awards 16 Free Spins on the first gamble, and 20 Free Spins on the second gamble, rather than 12 and 15 respectively.
During Free Spins, the grid is increased to house 5 symbols on each reel, giving 6,250 ways to win. Ways to win are set in Free Spins – gambling for a higher level does not give more ways to win, as it has in some PopWins releases in the past.
Things continue much the same in Free Spins as in the base game, except cell multipliers can now reach a maximum of x10, rather than x5, and do not reset between spins. Additionally, filling every cell with at least a x2 multiplier awards an additional +2 Free Spins. If you're struggling to follow things with so many multipliers active, your last few cells without a multiplier will glow green, so you know what to look for.
Players in appropriate regions can get stuck straight in with two bonus buy options:
100x bet – Gamble up to 15 Free Spins (begins 10 Free Spins)
1oox bet – Level 1 (10 Free Spins)
500x bet – Level 3 (15 Free Spins)
The maximum win available in Zombie aPOPalypse is 20,000x bet. If the sum of a single game round exceeds this, the game round will end, and 20,000x bet will be awarded.
First Impression
It's weird how you just get used to certain things in life, isn't it? We play so many different games every week, and yet it still felt strange every time I achieved a win in Zombie aPOPalypse and didn't see the reels expand. I've become so accustomed to PopWins, I just expect it now from the team. That said, it's good to see something different – a breath of fresh air, if you will.
So, I guess the main question is – are MultiPop wins as exciting as PopWins wins? I would say so, but the vibe is very different. Where you're looking for stacks of winning symbols in the previous releases from the team, suddenly it's all about the multipliers – you only really need one symbol on each reel to see huge wins, but you now want them in specific cells. It's different, but it's just as exciting, and an obvious example that AvatarUx are by no means one trick ponies.
There's an obvious improvement in potential during Free Spins with cells now capable of building to x10, additional Free Spins being awarded, and an extra cell and symbol per reel. To put things into perspective, landing just a single 5 of a kind win when all cells are x10 would produce 100,000 ways of that one symbol – easy to see now how wins up to 20,000x bet are possible, right?
That max win doesn't come easy – 1 in 11.363million spins, to be exact – and things are highly volatile, although this is mitigated by a fixed RTP of 96.0%, which we know is all too rare these days. Finally, audiovisuals are great, although they do make it slightly difficult to track multiplier action when things get very busy – it's more a sit back and enjoy it kind of journey.
If you liked PopWins, there's a very good chance you'll love MultiPop. However, things are different enough that if PopWins didn't twist your arm, this one just might.
*The screenshots taken of games reviewed on this site are taken from Demo Play, as reviews are often written before games are released for real play.