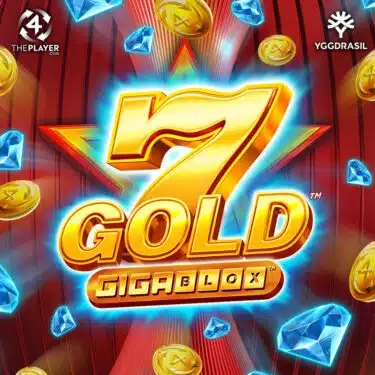 7 Gold Gigablox
Game Provider: 4ThePlayer
Release Date: Available Now
7 Gold Gigablox
Game Studio 4ThePlayer
Release date Available Now
RTP 94.0% - 96.0%
RTP Feature Buy 96.0%
Paylines Up To 46,656
Volatility Super High
Min Bet 0.10
Max Bet 10
Max. Win 70,000x
Rating 8/10
Back in 2021, 4ThePlayer teamed up with Yggdrasil Gaming, utilising the Gigablox mechanic in a sequel to their 2019 release 9k Yeti – resulting in 90k Yeti Gigablox, which offered players wins up to 90,000x bet. Alongside the Gigablox mechanic, 90k Yeti came with a host of features including Giga Summon, Yeti Reveal, and Snowstorm. Now these teams are coming together again, as 4ThePlayer bring us 7 Gold Gigablox – packed full of similar features to those we already know and enjoy. This release is extremely volatile, with an RTP of 96.0% at its highest, and wins available up to 70,000x bet.
Visually, things are pretty much exactly what you'd expect if you took an old Vegas style slot machine, and gave it a serious upgrade. It's all classic – 7s, clovers, cherries, diamonds, suits, dice, bells – you name it, it's got it. Don't be fooled by the classic theme though, everything is pretty slick in 7 Gold Gigablox, with superb graphics. Audios are upbeat, electronic, and bring everything into a more modern world.
7 Gold Gigablox Base Features
Taking place across 6 reels, wins are formed on 7 Gold Gigablox by matching at least 3 symbols on adjacent reels, beginning with the leftmost reel. Each reel can hold a maximum of 6 symbols, producing 46,656 ways to win, and symbols begin with non premiums – green clubs, blue diamonds, red hearts, and black spades. Land 3 of a kind of any non premium to see wins between 0.10 and 0.20x bet, increasing to values between 0.40 and 0.50x bet for 6 of a kind. In the mid range, we have clovers, cherries, dice, poker chips, and bells, awarding wins between 0.20 and 0.60x bet for 3 of a kind, increasing to wins between 0.80 and 1.50x bet for 6 of a kind matches. Premiums are gold bars and dollar signs – both of which award wins between 0.70 and 2x bet for matches between 3 and 6 of a kind. Finally, Wild symbols are available, substituting for all symbols except Free Spin symbols and '7' Scatters, and red glass tiles – which act as blockers on the reels to limit the number of ways to win.
Speaking of which, the final symbol available is the Golden '7' – where this release gets its' name from. By collecting '7' symbols, players can win cash prizes up to 70,000x bet. To the left of the reels a ladder is in view, showing which prizes are possible – 1, 5, 15, 30, 100, 300, 1,000, 3,000, 10,000, and 70,000x bet for landing 5, 6, 7-8, 9-11, 12-15, 16-19, 20-24, 25-29, 30-35, and 36 '7' symbols in view, respectively.
Keeping things moving forward in the base game are 3 in-reel features, alongside the actual Gigablox mechanic. Gigablox appear as larger than usual symbols, beginning at 2×2 and increasing as high as 6×6. Once landed, Gigablox symbols will break down to pay wins.
The following in-reel features are possible in 7 Gold Gigablox, which those of you who enjoyed the last 4ThePlayer Gigablox release may recognise:
Lights Reveal – Glass symbols are removed, revealing winning symbols.
Lights Shuffle – Reels are shuffled after landing, to create wins.
Giga Summon – Calls a Gigablox reel either 4×4, 5×5, or 6×6 in size.
7 Gold Gigablox Bonus
Land at least 5 Free Spin symbols to trigger Free Spins – each of the 5 triggering Scatters in view will award +1 spins, with every additional Scatter awarding a further +1 spins. Every Scatter that lands during Free Spins will also award +1 spins.
Things are very simple in Free Spins – all glass symbols are removed, producing the maximum of 46,656 ways to win for the duration of the feature. Additionally, there is an enhanced chance of landing the following 2 features which carry over from the base game:
Lights Shuffle – Reels are shuffled after landing, to create wins.
Giga Summon – Calls a Gigablox reel either 4×4, 5×5, or 6×6 in size.
At least one of the above features is guaranteed to take place during Free Spins.
Players in appropriate regions can fast track this action with the following Buy Feature modes:
5 Free Spins – 60x bet
10 Free Spins – 120x bet
20 Free Spins – 240x bet
Giga Summon – 150x bet
The maximum win available in 7 Gold Gigablox is 70,000x bet. If the sum of a single game round exceeds this, the game round will end and 70,000x bet will be awarded.
First Impression
There are a lot of similarities between 7 Gold Gigablox and 90k Yeti – we more or less covered these above though. Of course, the main difference is in the potential – here we have wins available up to 70,000x bet, whereas 90k Yeti offered wins up to 90,000x bet. No big deal though – this isn't a sequel, so no need really to compare the two.
The theme here is, as I said, about as classic as you can get, and that will no doubt appeal to many players. The features available, in particular the in-reel features, work well with the theme, offering plenty of excitement to keep things ticking over until Free Spins trigger. The addition of the Gold 7 ladder is where the maximum win comes into play, although going by the pay table and the potential 46,656 ways to win, it seems possible to achieve the maximum win outside of the ladder.
Maths is described as extremely volatile, and RTP at its highest is 96.0%, although lower versions are available, so as always it's worth checking. Alongside this, thanks to 4ThePlayer's SLOT STATS™ we know that after 100 spins, the average best win provided is:
All Players: 50x bet
1 in 10 Players: 186x bet
1 in 100 Players: 515x bet
1 in 1000 Players: 1,671x bet
There's nothing particularly new in this one, but that doesn't mean it doesn't come together for an overall enjoyable experience – one sure to please fans of both 4ThePlayer and the Gigablox mechanic.
*The screenshots taken of games reviewed on this site are taken from Demo Play, as reviews are often written before games are released for real play.