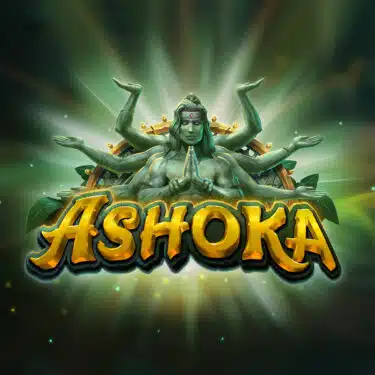 Ashoka
Game Provider: ELK Studios
Release Date: Available Now
Ashoka
Game Studio ELK Studios
Release date Available Now
RTP 94.0%
RTP Feature Buy 94.0%
Paylines Scatter Pays
Volatility High
Min Bet 0.20
Max Bet 100
Max. Win 25,000x
Rating 8.5/10
I tend to complain when I review the generic fish, Egyptian, or Irish releases that we're treated to year on year, but at least with those releases I don't have to do a lot of research to understand the choice of theme. One studio that tend to go out of left field with these choices, meaning some research is required, is ELK Studios – recently going for Nepalese mountains in Katmandu X, a farm house in Rabbit Royale, and pirates that have taken over the high seas in Pirots. Today, the focus is on a descendant of Ashoka. If you aren't familiar with Ashoka, he was the third emperor of the Maurya Empire of the Indian subcontinent, as early as 268 BCE. Now we join his descendent, the Tiger King, and his sacred White Tiger in  a fight for good – in Ashoka. With a fixed RTP of 94.0%, this highly (8/10) volatile release offers wins up to 25,000x bet.
There's an interesting look to Ashoka, with an eight-armed statue to the left of the reels and a skull to the right. Other than this, everything is a bit of a murky green colour with leaves and bronze elements throughout. The reels themselves are also encased in bronze with intricate designs, containing a variety of symbols including gems, skulls, tigers, and statuesque Wilds. A bold soundtrack ties it all together, fitting in well with the overall feel. All in all, quite traditionally ELK, sticking to the theme in the process.
Ashoka Base Features
Taking place across 6 reels, wins are formed on Ashoka by landing at least 8 matching symbols in any position on the reels – using Scatter Pays. Symbols pay for 8, 9, 10, 11, 12, 13, 14, or 15+, and begin with non premiums, with Js, Qs, Ks, and As, awarding wins between 0.10 and 0.20x bet for 8 symbols in view, increasing to values between 3 and 6x bet for 15+ symbols in view. At the premium end, we have blue, green, orange, and red gems, awarding wins between 0.30 and 2x bet for 8 symbols in view, increasing to values between 15 and 50x bet for 15+ in view. Finally, tigers are the highest paying symbol, awarding wins between 5 and 100x bet for landing between 5 and 15+ symbols in view.
Alright, so the first thing to cover in Ashoka is the Avalanche mechanic. On every spin, all symbols involved in a win will be removed from the reels. All remaining symbols will then drop to the bottommost available position on their respective reels, with new symbols dropping in from above to fill the remaining gaps. Avalanches continue until no new wins are formed.
Some reel positions will be closed off by stone blocks at the beginning of every spin. Any stone blocks which are vertically adjacent to winning symbols will also be removed from the reels during Avalanches, producing more symbol positions.
Next up are Wild symbols, which can land in 3 forms:
Wild Symbols – regular Wilds substitute for all paying symbols.
Charged Wilds – charged to stay on the reels for 3 wins.
Big Wilds – appear in size 2×2 or 3×3.
If Big Wilds land with a space beneath them, they will fill the space with 1×1 instances of themselves.
Finally, it's Multiplier symbols. Multiplier symbols can land in any position on the reels, activating the win multiplier which sits to the side of the reels. The win multiplier will be activated provided there is at least one winning combination in view, in which case the value attached to the Multiplier symbol will be added to the win multiplier value. The Multiplier value will then be deactivated and removed with winning symbols.
It is also possible to land Super Multiplier symbols. These work in the same way as regular Multiplier symbols, but they are not removed with winning symbols, instead remaining on the reels to reactivate and re-add their value to the win multiplier value each time a new Avalanche occurs. Super Multiplier symbols will remain on the reels when entering the Bonus Game.
There's no official list of possible Multiplier symbol values, but in our testing we did see values up to x100.
Ashoka Bonus
Landing 3 active Bonus symbols on the reels will activate the Bonus Game, in which case 10 Free Drops are awarded. Bonus symbols are represented by skulls, and can be trapped behind the stone blocks on the reels. In order to activate a trapped Bonus symbol they must be vertically adjacent to a winning symbol. It is also possible to land Bonus symbols as normal in a symbol drop.
Everything continues as normal during the Bonus Game, except the win multiplier retains its value when it is deactivated. Each time a new Multiplier symbol lands, the win multiplier will reactivate from its previous point. Any Super Multiplier symbols will also remain on the reels between Free Drops, continuing to reactivate between drops and Avalanches.
Landing 2 or 3 Bonus symbols during the Bonus Game will award an additional +5 or +10 Free Drops respectively. These Bonus symbols must also be active, following the same rules as above.
Players in appropriate regions can take advantage of the following X-iter options:
Bonus Hunt (increased bonus chance) – 3x bet
Charged Wilds (all Wilds will be Charged Wilds) – 10x bet
Super Multiplier (guaranteed Super Multiplier for one round) – 25x bet
Bonus Game – 100x bet
Super Bonus Game (guaranteed Super Multiplier) – 500x bet
The maximum win available in Ashoka is 25,000x bet. If the sum of a single game round exceeds this, the game round will end and 25,000x bet will be awarded.
First Impression
There's plenty happening in Ashoka, in the typical ELK Studios way – utilising Big Symbols and Charged Wilds like many releases that have come before. These elements, along with Multiplier symbols, make up the bulk of the excitement in the base game, aided by Avalanches and the opportunity to remove stone blocks – although this doesn't actually increase ways to win per se, since this release uses Scatter Pays. The assumption is that the chance of landing winning combinations is increased as blocks are removed, although this isn't specified.
Moving into Free Drops sees excitement kicked up a notch, with multipliers reactivating from their previous point each time a new Multiplier symbol lands, and Super Multiplier symbols remaining on the reels between drops. The only slight negative is that the win multiplier lights up to alert you that a Multiplier symbol is going to land before it does, which seems a strange choice. Regardless though, when the right combinations land wins are possible up to 25,000x bet.
Finally, maths is highly (8/10) volatile, and RTP is fixed at 94.0% – something that has been discussed to death, but it is what it is. If you're looking for a release with big multiplier potential and a traditionally ELK feel to it, Ashoka is a great option.
*The screenshots taken of games reviewed on this site are taken from Demo Play, as reviews are often written before games are released for real play.