After dealing with parrots who fought back against their pirates in Pirots, ELK Studios went searching for some much needed calm in the Nepalese mountains of Katmandu X. It seems the team found the peace they were looking for though, as they're geared up and ready to bring us more feisty animals – specifically ballistic bunnies, in Rabbit Royale. It's time to forget everything you think you know about rabbits and how gentle they may seem, as these rabbits are determined to get what they want – and they've warned that wire, traps, and poison won't stop them. With a fixed RTP of 94.0%, this highly (8/10) volatile release can produce wins up to 25,000x bet.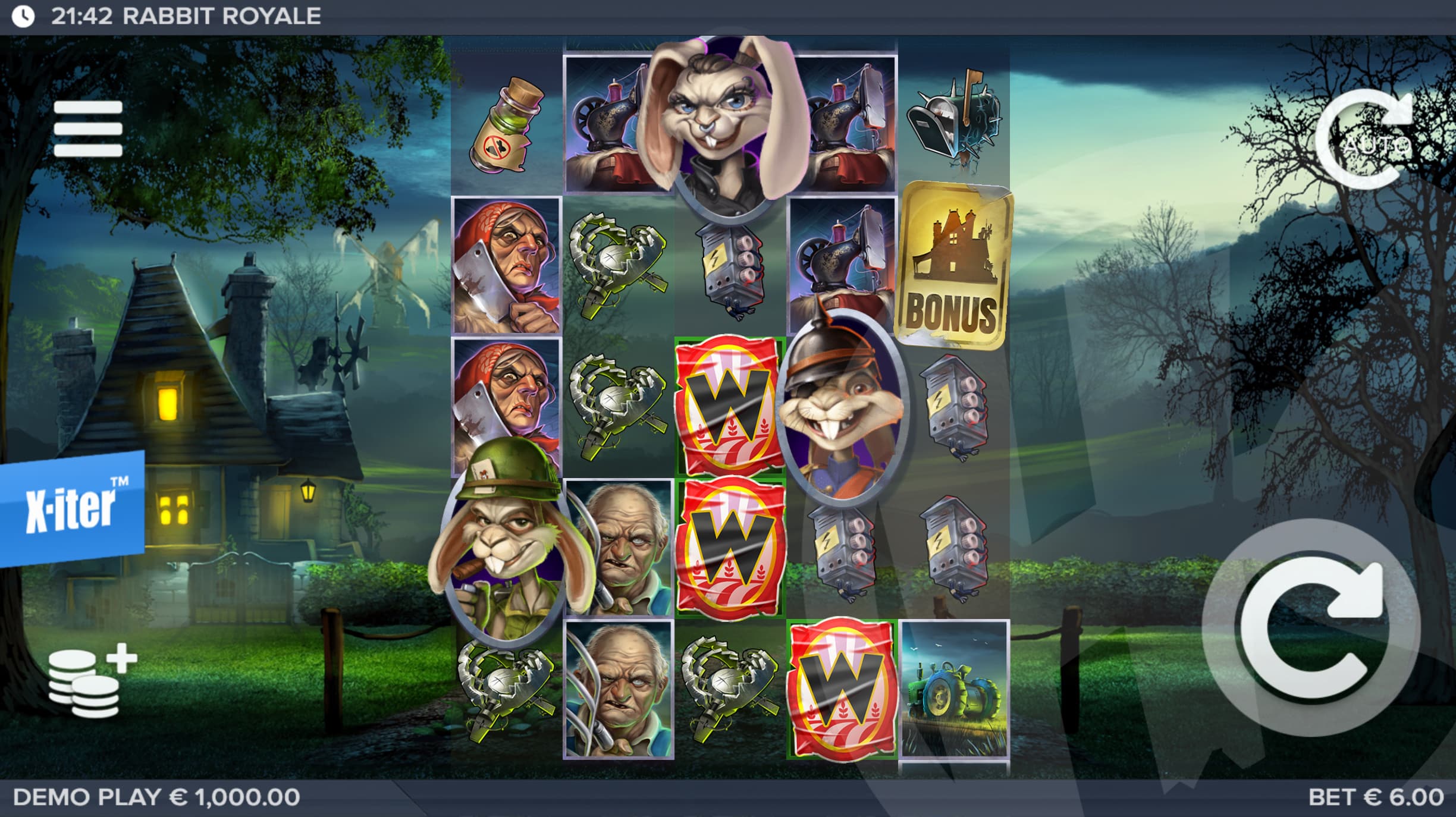 It's all quite gloomy in Rabbit Royale. We're in front of a large house on a plot of land, lit dimly from the inside, with trees in the foreground and dense wooded mountains in the background. On the reels we see traps, tractors, barbed wire, and signs, along with an elderly man and woman holding a pitchfork and cleaver. Best I can tell, this couple own this farm house and they're doing everything they can to keep the rabbits away from their carrots – quite an interesting story, which translates into a quirky looking release. Sounds are initially quite eerie, but they pick up once features start to interact. Unsurprisingly, they work – ELK are one of the best in the business for music and sound effects, after all.
Rabbit Royale Base Features
Taking place across 5 reels, wins are formed on Rabbit Royale by matching at least 3 symbols on adjacent reels, beginning with the leftmost reel, across 1 of 259 fixed lines. Symbols available begin with non premiums, with traps, barbed wired postboxes, poison vials, and an electrical item, awarding wins between 0.10 and 0.50x bet for matches between 3 and 5 of a kind. In the mid range we have a tractor and sewing machine, awarding wins between 0.30 and 1x bet, again for matches between 3 and 5 of a kind. For premiums, we have an armed man and woman, awarding wins between 0.50 and 1x bet for 3 of a kind matches, increasing to values between 2.50 and 5x bet for 5 of a kind wins. Finally, Wilds are available to substitute for all symbols except Bonus symbols, rabbits, or carrots.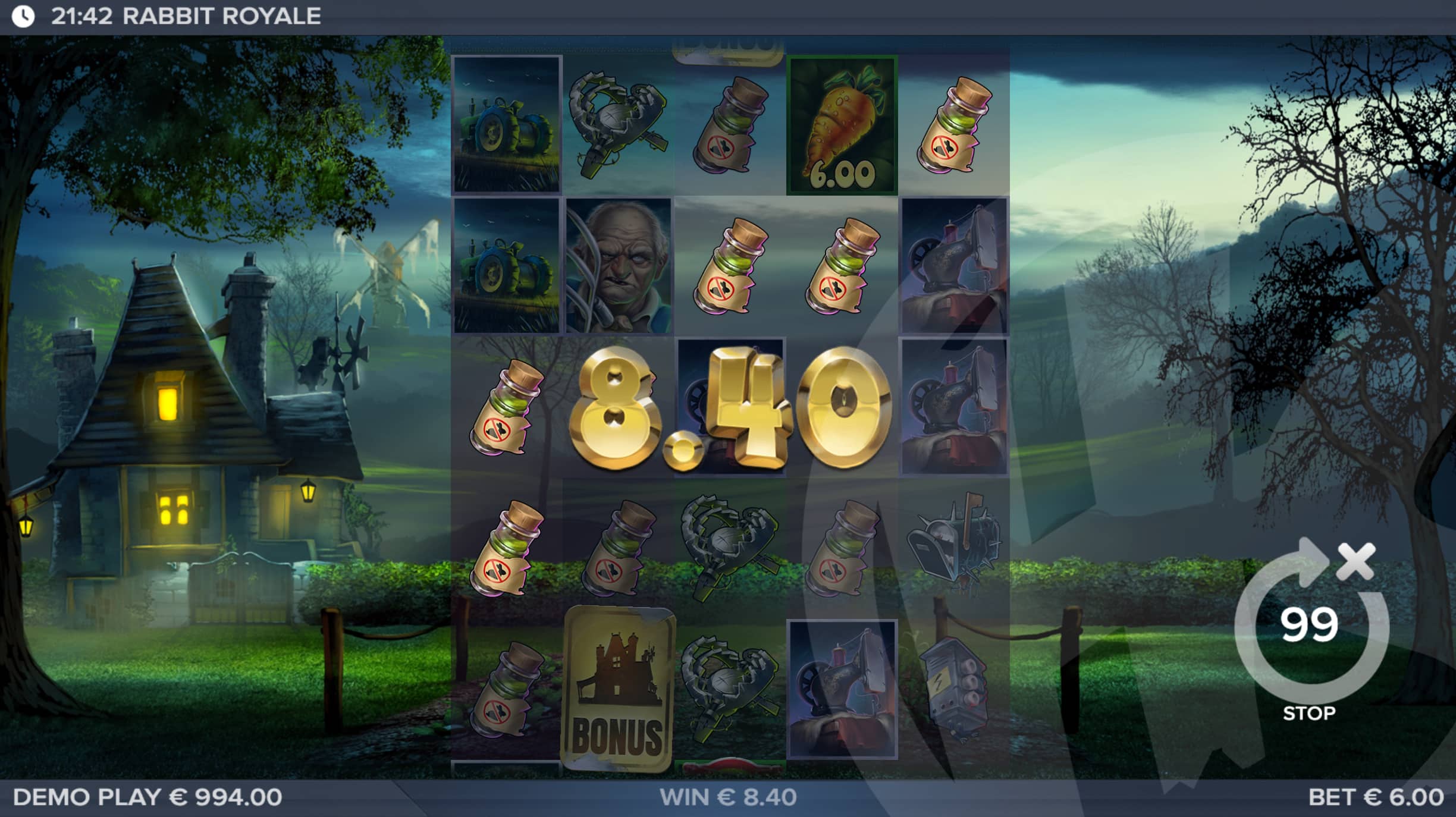 Rabbit Royale is one of the more simpler releases in the ELK Studios catalogue, with Rabbit Respins making up the entirety of the excitement. On any spin, you may see carrots land on the reels, accompanied by a cash award. Wilds will also reveal a carrot if they are involved in a win. Alongside these carrots, you will see rabbits. When a rabbit and carrot land on the reels at the same time, Rabbit Respins are awarded. The rabbit will collect the cash values of all carrots in view, and the reels will respin. It is possible to land additional rabbits during respins. Respins continue for as long as rabbits collect carrots, or face off against other rabbits – which we'll explain next.
Each time reels respin, the rabbit in view will move to a new, adjacent position (moving one position left, right, up, down, or diagonally in any direction). However, it is possible to have up to 5 rabbits in view. All rabbits will collect all carrot values individually. When two rabbits end up in adjacent positions (after they have both moved) beside each other or above and below each other, they will face off in Super Collect. One rabbit will collect the value of the other, and then the second rabbit will collect the total new value of the first, essentially collecting the other rabbit's original value and doubling its own.
When respins have ended all collected rabbit values will be paid.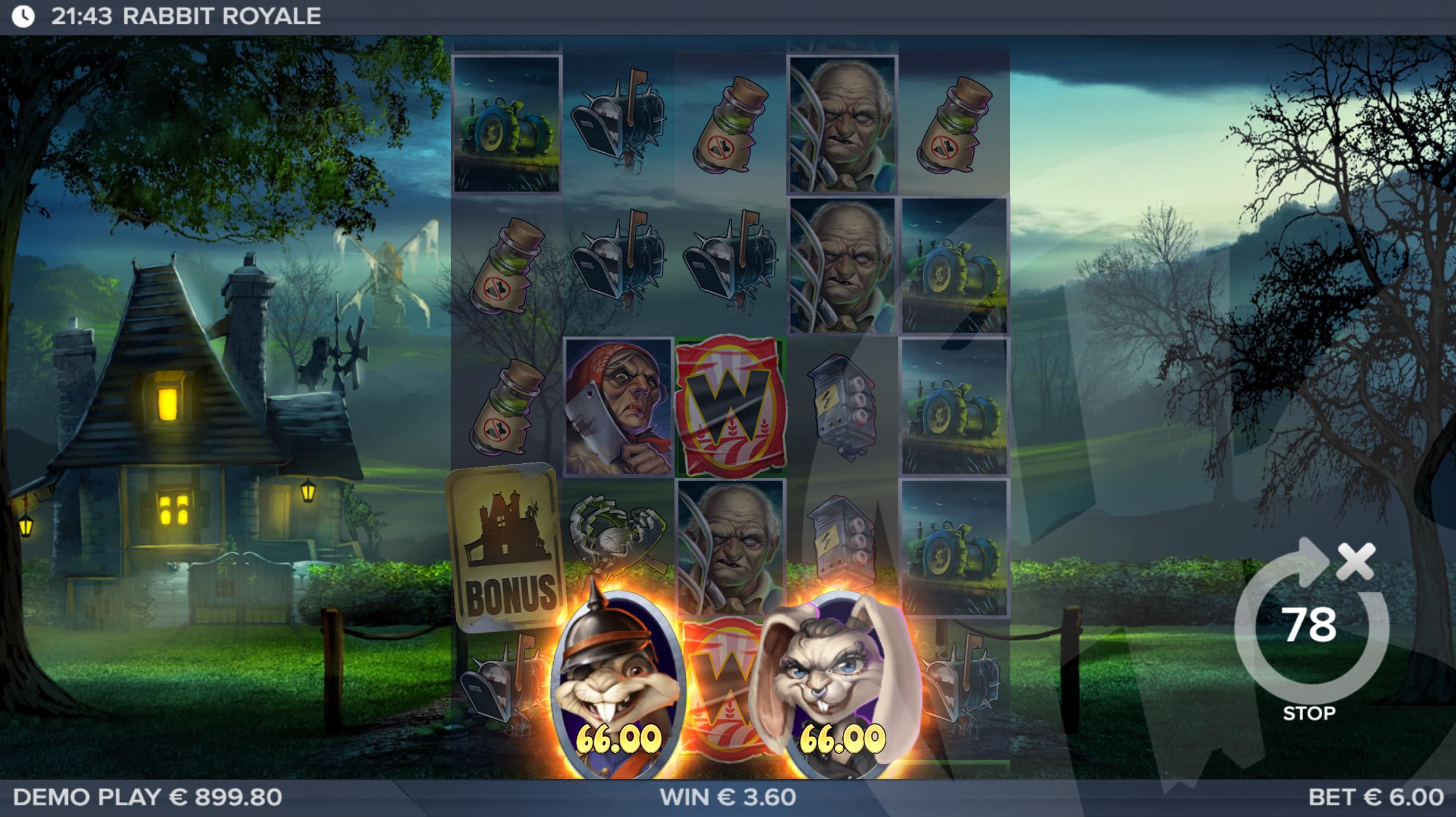 Rabbit Royale Bonus
Land 3, 4, or 5 Bonus symbols to trigger 3, 4, or 5 spins with 1, 2, or 3 sticky rabbits, respectively. If there have been any rabbits active during the base game spin in which the Bonus was triggered, those rabbits will carry over in addition to rabbits awarded in the Bonus.
Each Bonus symbol that lands during free spins will award an additional +1 spins. Again, you can land 3, 4, or 5 Bonus symbols to trigger 3, 4, or 5 additional spins with 1, 2, or 3 additional sticky rabbits, however if the maximum of 5 rabbits has been reached, only spins will be awarded.
During the Bonus, all rabbits are sticky and will remain on the reels for the duration. Free spins are not consumed during Rabbit Respins. Aside from this, everything continues as normal with Wilds involved in wins revealing carrots, and rabbits facing off against each other in Super Collect.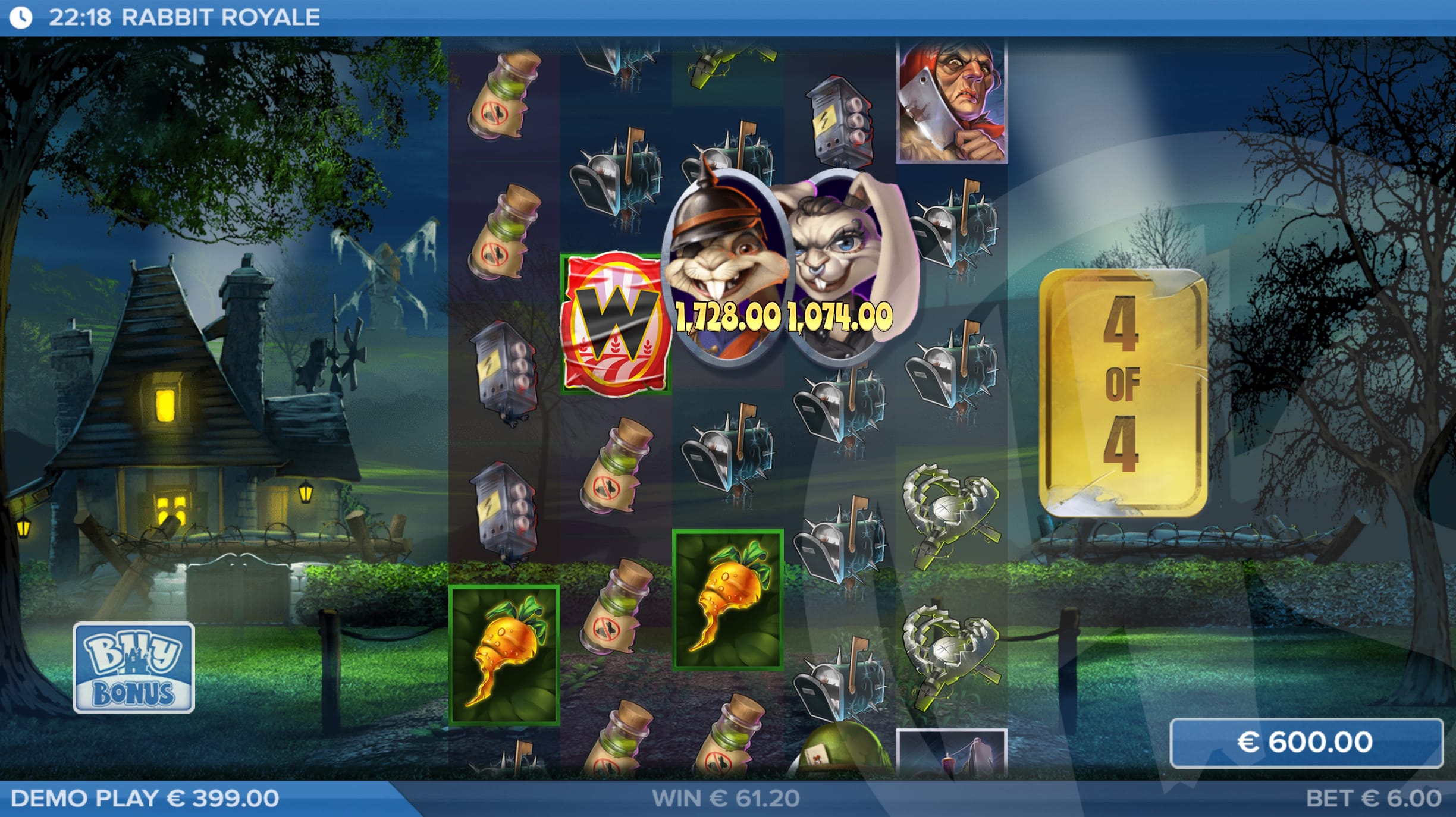 Players in appropriate regions can take advantage of the following X-iter options:
Bonus Hunt (more than double the chance to trigger Bonus) – 2x bet
Rabbit Respins (guaranteed rabbit collect) – 10x bet
Double Trouble (guaranteed rabbit collect, guaranteed 2 rabbits) – 25x bet
Bonus Game (guaranteed at least 1 sticky rabbit) – 100x bet
Super Bonus Game (guaranteed 3 sticky rabbits) – 500x bet
The maximum win available in Rabbit Royale is 25,000x bet. If the sum of a single game round exceeds this, the game round will end and 25,000x bet will be awarded.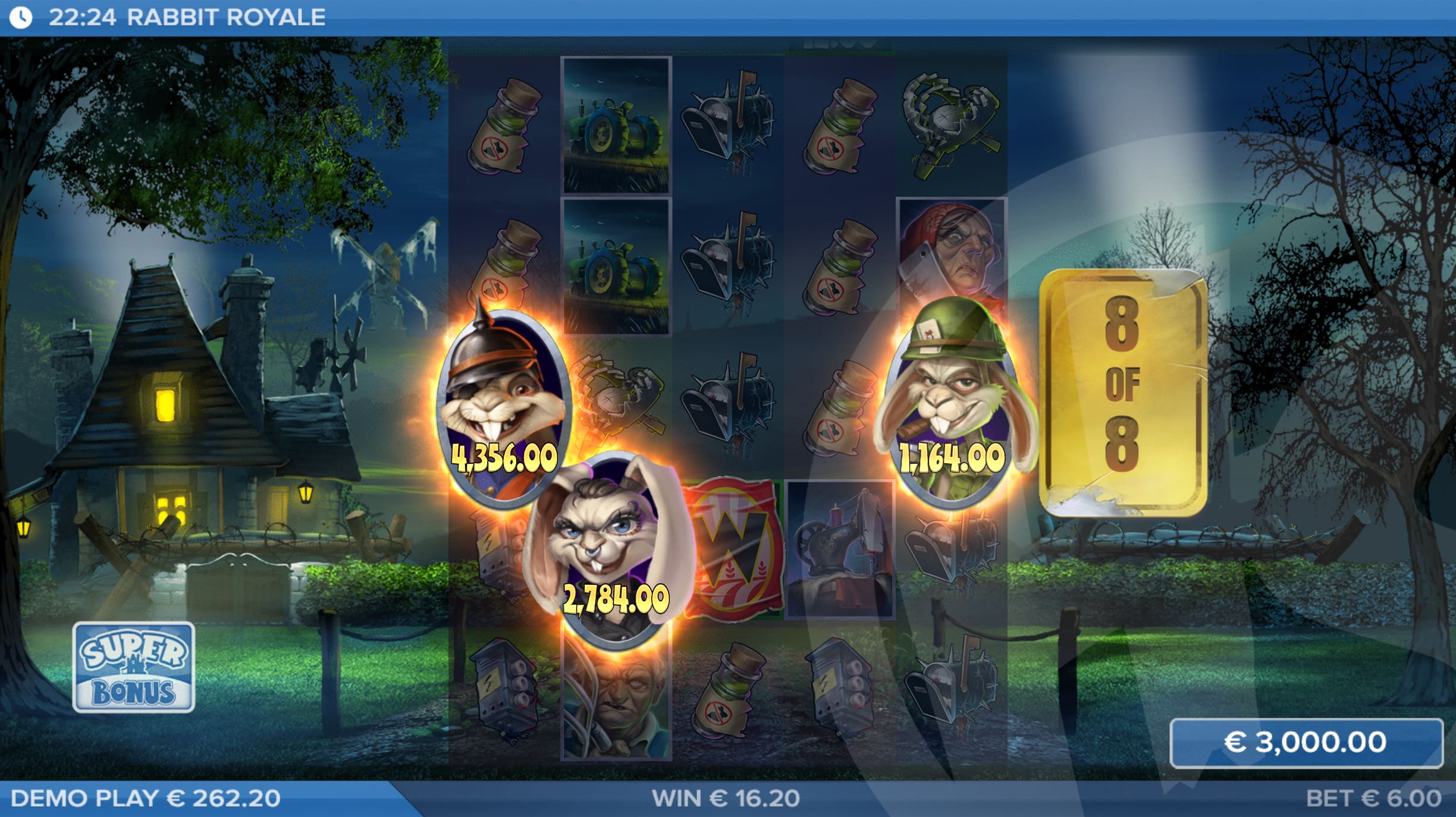 First Impression
Simple, right? Compared to some of this team's other releases, like Nitropolis 4, Rabbit Royale is a stark contrast – merely offering one feature that gets improved and enhanced as things progress. Rabbit Respins work, there's no denying that – they take on that classic fish game styled element to collect cash values, which is always a popular approach. It's when rabbits come together and Wilds start revealing additional carrots that things get exciting – particularly when rabbits face off in Super Collect, adding values then collecting, like a rabbit version of the Money Train payer-collector, but much more intense as the pause seems that little bit longer.
When things move into the Bonus Game they get even more exciting with rabbits now sticky on the reels and any respins awarded not depleting the free spins remaining. Land Bonus symbols to trigger additional spins and potentially even additional rabbits up to a maximum of 5, and it's easy to see how this release is capable of producing wins up to 25,000x bet.
Finally, maths is highly (8/10) volatile, and RTP is fixed at 94.0% – a common complaint about ELK Studios and one we can't be bothered to discuss anymore, but it does knock the score down slightly. If you can look past that though, Rabbit Royale offers a unique, quirky experience that in some ways is like what we already have, but in most ways is unlike anything we've seen – and it's very fun.
*The screenshots taken of games reviewed on this site are taken from Demo Play, as reviews are often written before games are released for real play.