It's time to make a return to one of the more unique mafias of our time – the monkey mafia. Of course, if you're an established player you'll already be familiar with this simian group, presented to us courtesy of Relax Gaming in 2022. We're not looking at a sequel today per se, more of an addition, as the team at Relax Gaming have decided to add their flagship jackpots, Dream Drop Jackpots, to this popular release and bring us Banana Town Dream Drop. If you aren't already familiar with the game we'll cover everything there is to know, but if you are you can skip to the Dream Drop section of this review for a simple refresher. Anyway, Banana Town Dream Drop comes with a fixed RTP of 94.0% (12% jackpot contribution), a highly (5/5) volatile maths model, and win potential up to 10,000x bet (excluding jackpots). If you're less of a jackpot chaser and would rather opt for a higher RTP, the original Banana Town also has a fixed value – although in that case it's 96.12%.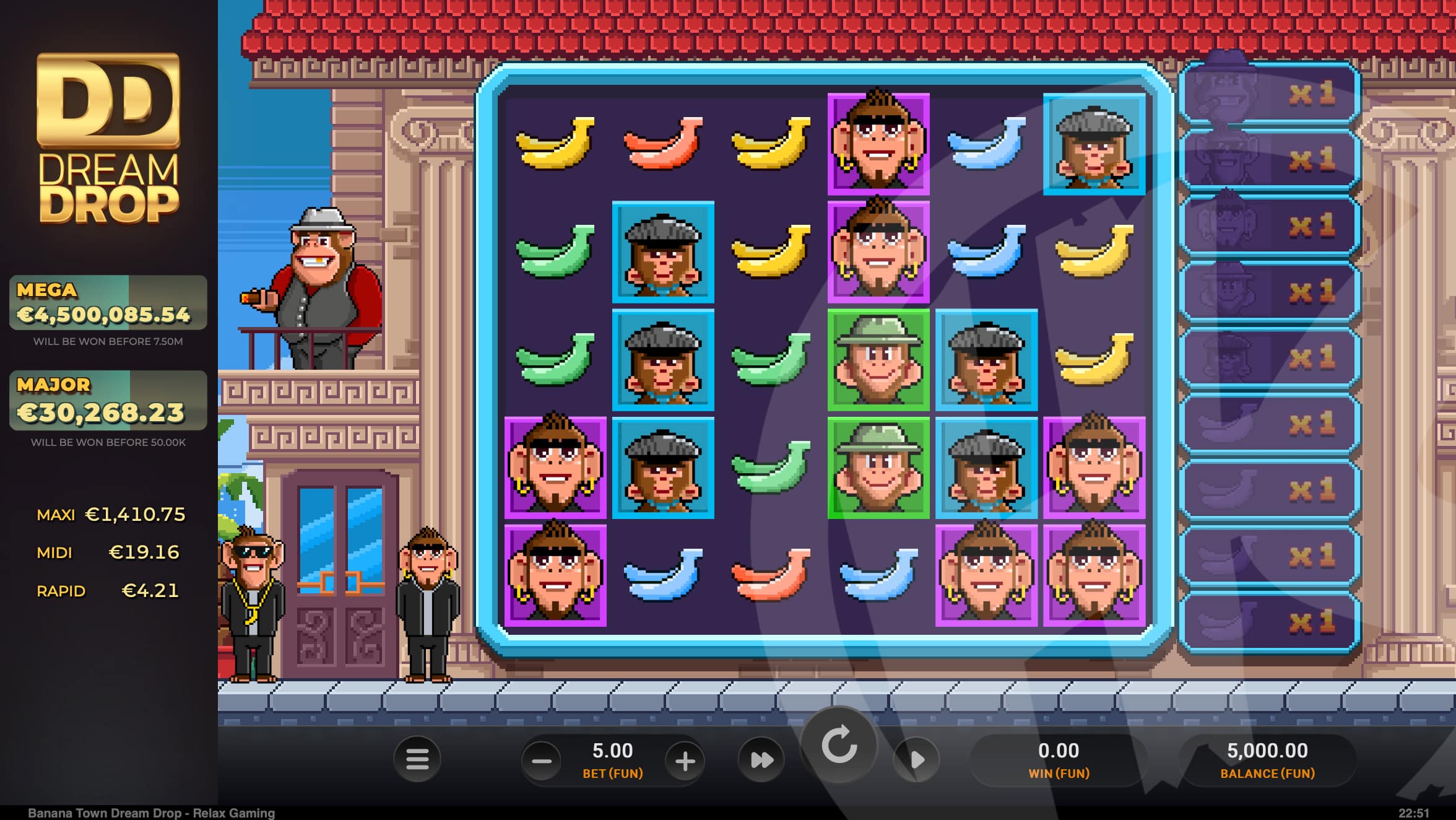 Nothing is really different in Banana Town Dream Drop, which has retained its distinctive pixellated art form from the original. From backgrounds, symbols, and characters to music and sound effects, everything is unchanged. This isn't a surprise – the team seem to be taking two clear pathways with Dream Drop, either offering an entirely new release (sometimes in both a jackpot and regular version) like Beellionaires Dream Drop, or adding the jackpots to an already established release in their catalogue. It's the former today, which means the expectation was for graphics and sounds to remain the same. This doesn't diminish the fact that Banana Town Dream Drop looks and sounds fantastic with a uniquely entertaining style – it just won't feel new if you've played its predecessor. What is new is the Dream Drop area to the left of the reels, showing off the value of each jackpot, and when it must be won.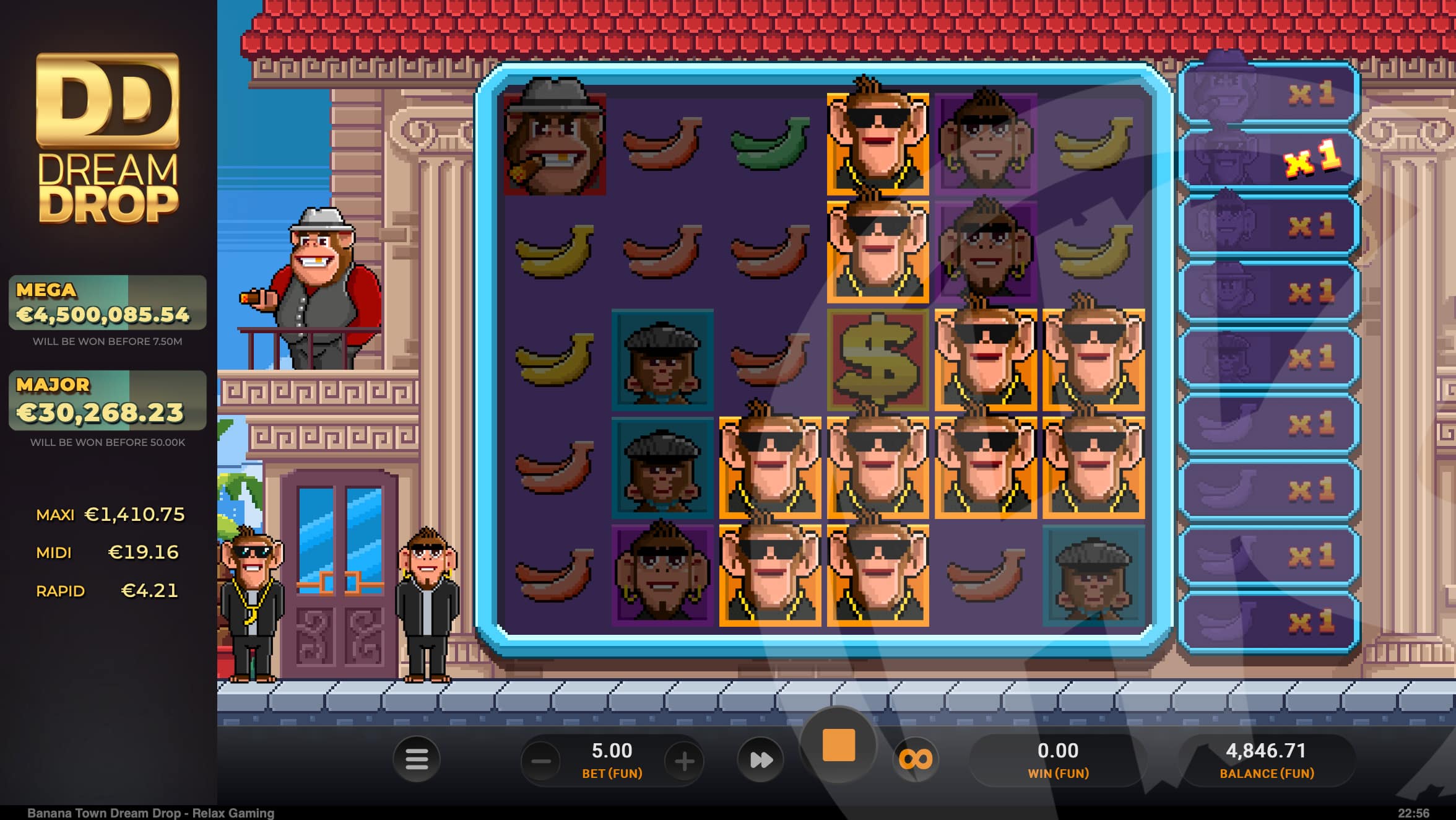 Banana Town Dream Drop Base Features
Taking place across 6 reels, wins are formed on Banana Town Dream Drop by landing 8 or more matching symbols anywhere on the reels. There are no win lines or win ways, and instead we use Scatter Pays to calculate wins. Symbols pay for 8+, 10+, or 12+, and begin with non premiums, with four bananas – blue, green, red, and yellow. Land 8 or more of any non premium in view to see wins of 1x bet, increasing to values between 4 and 6x bet for landing 12 or more in view. At the premium end we meet the monkey mafia, with a blue, green, purple, and yellow monkeys. Land 8 of any of these symbols in view to see wins between 2 and 4x bet, increasing to values between 8 and 12x bet for landing 12 or more in view. Finally, the red monkey is the highest paying symbol (and the don, I guess?), awarding wins between 8 and 24x bet for between 8 and 12+ symbols in view.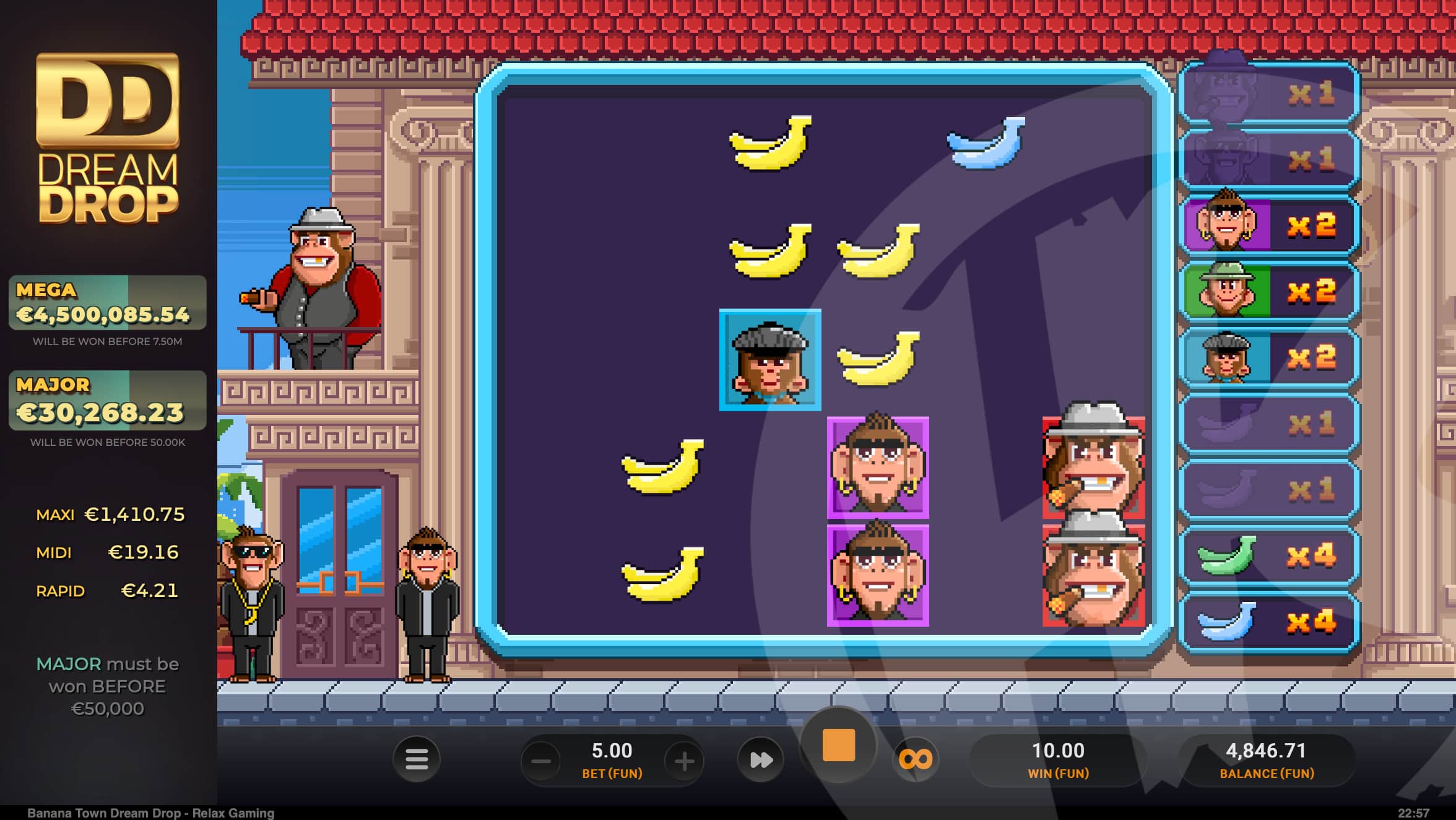 Alright so there's one main base game feature in Banana Town Dream Drop – the Multiplier Upgrade, which works alongside cascades. On every spin, all symbols that form wins will be removed from the reels. All remaining symbols will then drop down to the bottommost available position on their respective reels, with new symbols dropping in from above to fill remaining gaps. Cascades continue until no new wins are formed.
Now, where the Multiplier Upgrade feature comes in is that when symbols are removed from the reels they will upgrade the multiplier applied to future wins of their type. To the side of the reels is a complete list of all symbols, and you'll notice they all say 'x1' next to them. This is because every winning combination for each symbol starts at x1. Each time a new winning combination is formed with say, yellow bananas, the multiplier of the yellow banana will be increased. Multiplier values are doubled after each win on the symbol but capped at x64 – so each symbol can have values of x1 (no value), x2, x4, x8, x16, x32, or x64 (max).
It is possible that at the start of any spin a certain number of symbols can have their multipliers upgraded randomly. This can be any symbols and any value – with it even being possible to see each symbol upgraded to max for the current spin.
Multipliers reset ahead of the next paid spin.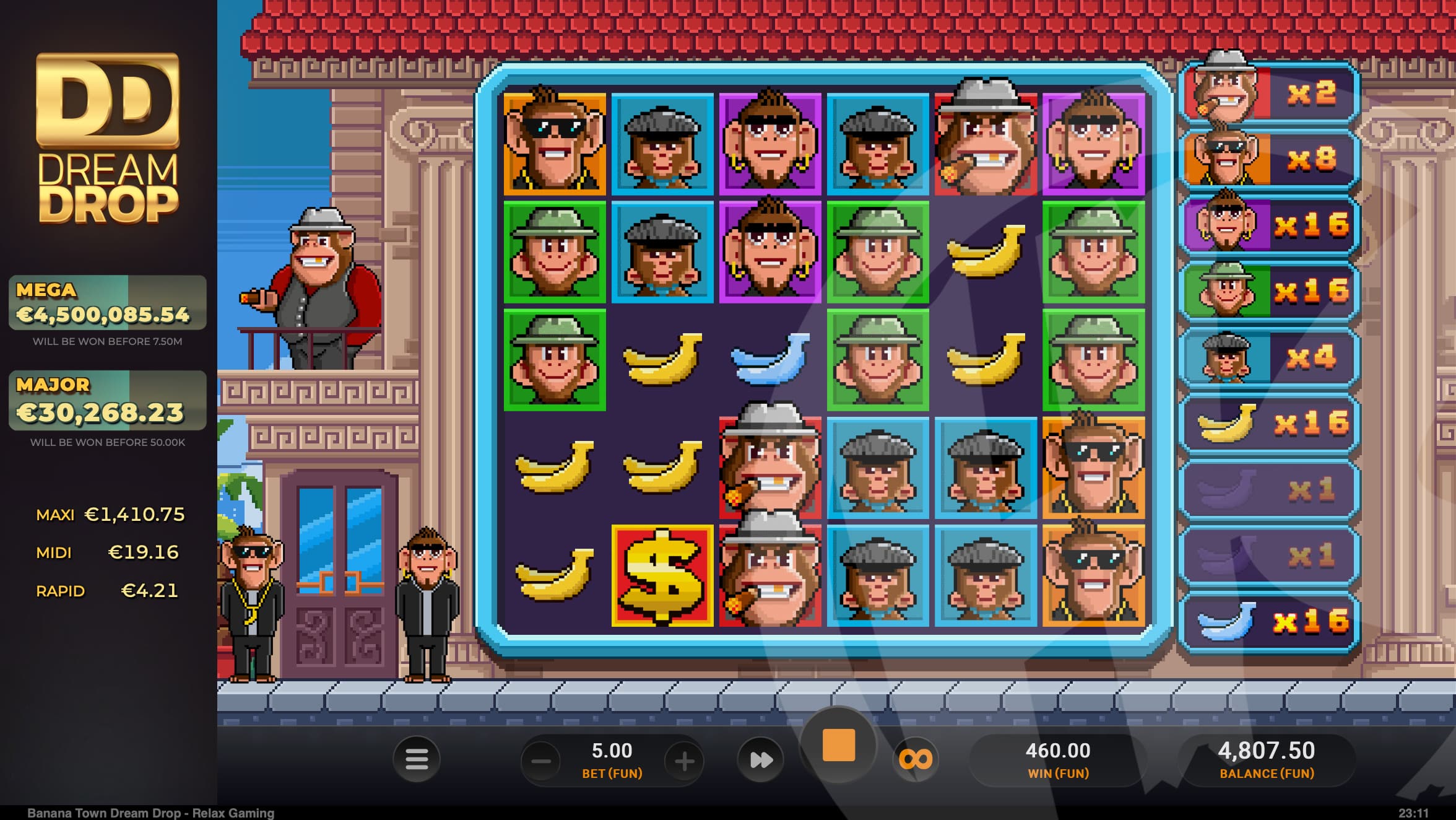 The other obvious feature is the Dream Drop Bonus, which can be triggered randomly before any normal spin. When this feature has the potential to trigger a crate will appear in the middle of the screen. If the crate is empty the spin continues as normal, but if the crate contains bananas the Dream Drop Bonus is triggered.
Players are then taken to a new screen, where a number of wooden crates sit atop clouds. There are 15 crates in total. The aim is simple – select crates, which will reveal Jackpots. Once you have revealed 3 of the same Jackpot, its value will be awarded and the Dream Drop Bonus will end.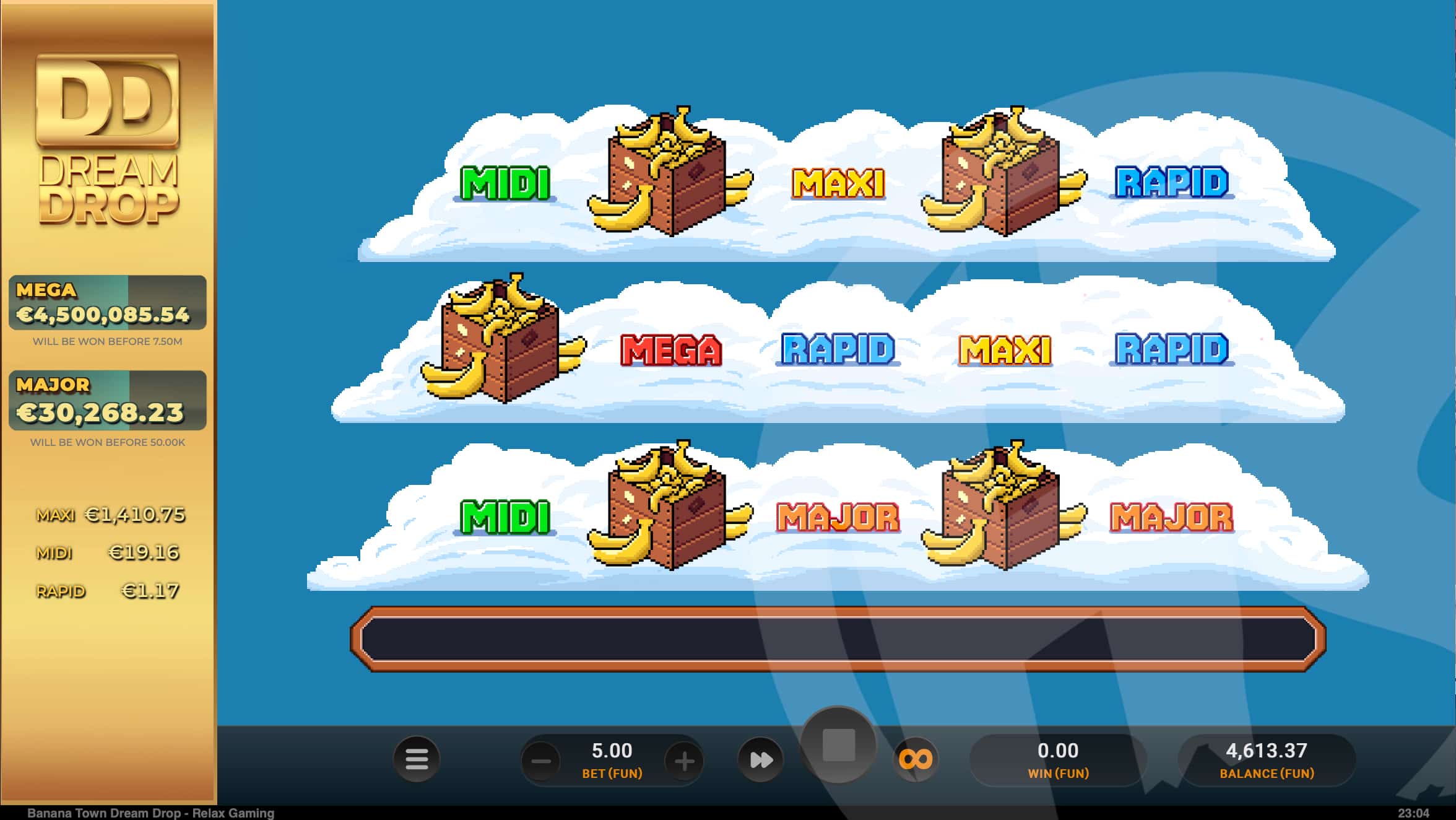 There are 5 possible Jackpots:
Rapid – €1 seed
Midi – €5 seed
Maxi – €100 seed
Major – €25,000 seed
Mega – €500,000 seed
You are guaranteed to win one Jackpot in the Dream Drop Bonus. After the Dream Drop Bonus has ended, the regular spin that was interrupted will be played out.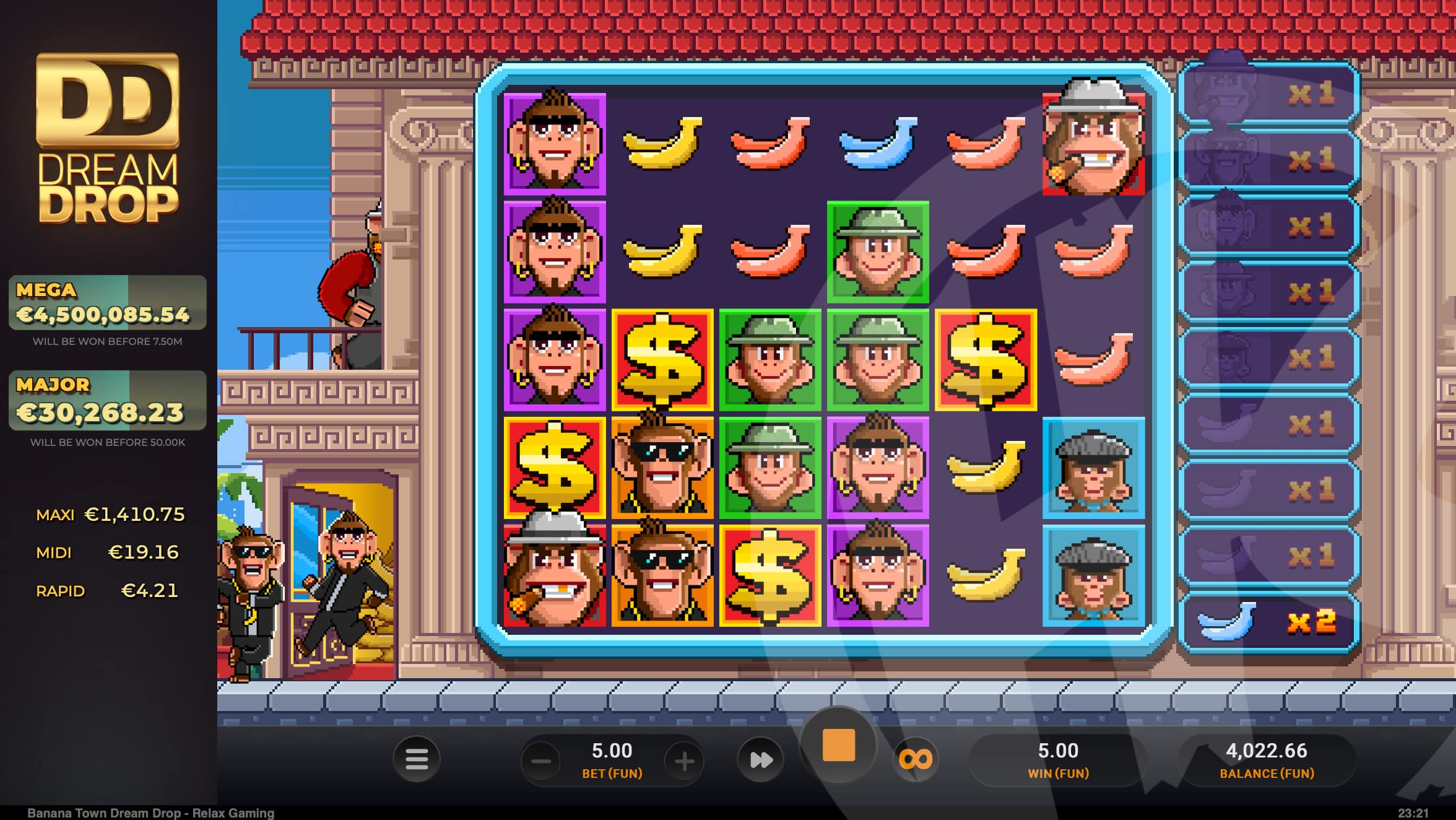 Banana Town Dream Drop Bonus
Land 3 '$' Bonus symbols to trigger 8 Free Spins, with an additional +1 spin awarded for each Bonus symbol that lands beyond the third. Any symbol multipliers that had been built up or upgraded prior to triggering Free Spins will be moved over into the feature.
Everything continues as normal during Free Spins, except symbol multipliers do not reset between spins, and each Bonus symbol that lands will award an additional +1 spin.
There is no Buy Feature option available in Banana Town Dream Drop, as is usually the case in Dream Drop Jackpot releases. There is, however, a Buy Feature option in Banana Town, which costs 100x bet.
The maximum win available in Banana Town Dream Drop is 10,000x bet (excluding jackpots). If the sum of a single game round exceeds this, the game round will end and 10,000x bet will be awarded.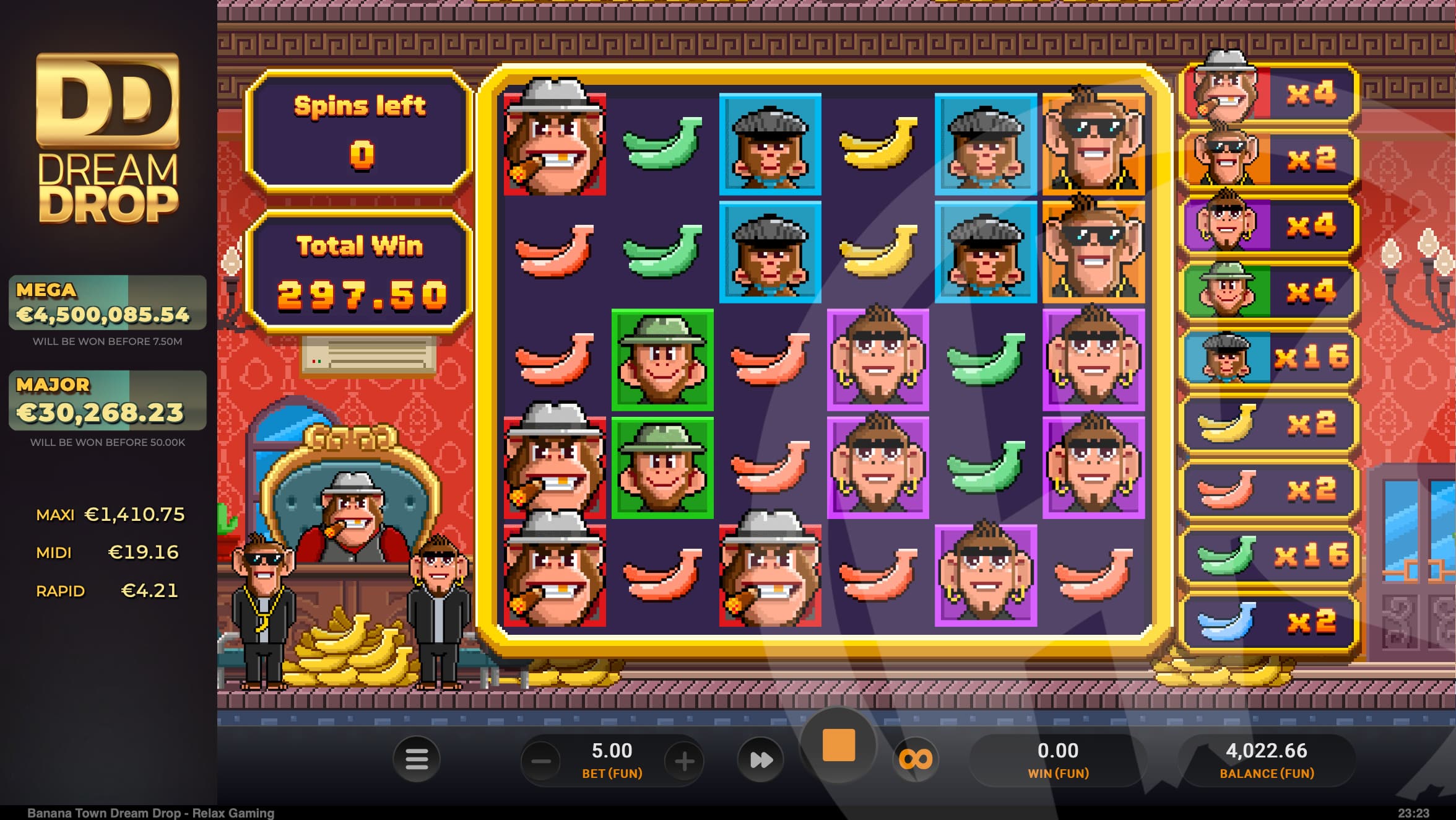 First Impression
Ah, what to say? I guess I could do a full conclusion here since we never actually reviewed the original Banana Town, but it's hard to believe I'd be swaying anyone – you've all made your minds up on this one by now. Let's keep it brief. Banana Town, and by extension Banana Town Dream Drop, is one of the most distinctive releases thanks to its audiovisuals – reminiscent of Santa's Stack and Hellcatraz from this same team, and the one that started it all – Flamebusters from Thunderkick.
Gameplay is kept exciting in the base game thanks to the Multiplier Upgrade feature working hand in hand with cascades to increase multipliers as high as x64. Don't forget it is possible to have symbol multipliers randomly upgraded at the beginning of a spin – it's even possible for every multiplier to be upgraded to their maximum possible value. With these multipliers moving into Free Spins, it's easy to see how there's plenty of excitement through this one feature. Things kick up another notch in Free Spins themselves, with multipliers not resetting between spins, and additional spins being awarded for each Bonus symbol in view – a common occurrence. When the right combinations land, wins are possible up to 10,000x bet (excluding jackpots).
Finally, maths is highly (5/5) volatile and RTP is fixed at 94.0% (12% jackpot contribution), although don't forget the original is still available and fixed at 96.12%. If you were a fan of this release when it first came out, the additional potential of being able to win jackpots worth millions of euros could give it a whole new allure.
*The screenshots taken of games reviewed on this site are taken from Demo Play, as reviews are often written before games are released for real play.