With thousands of online slots to choose from, it goes without saying that no one player has tried every game out there. Alright, so we don't know this for sure, and maybe some player has taken one spin on every game to land this achievement, but it's highly unlikely. There are some games however, that have been tried by almost every player – even just once. The obvious examples of this are releases like Starburst or Book of Dead, since new sign ups are usually given free spins to be used on these games as part of their welcome offer. What is more impressive though, is that there are games that almost every player has tried through choice – as a result of word of mouth and general reputation. One example? Big Time Gaming's 2016 release, Bonanza. It's hard to say what made Bonanza so popular. The team's flagship Megaways mechanic certainly helped, but it became almost a challenge to hunt for the GOLD – one that many players decided to take on. As Big Time Gaming prepare for their Outlaw release, they're already looking ahead to Christmas, having revamped Bonanza to bring it in line with the festive season, in Christmas Bonanza. With wins available up to 26,000x bet, this highly (5/5) volatile release comes with two RTP options – 96.0% and 96.11%.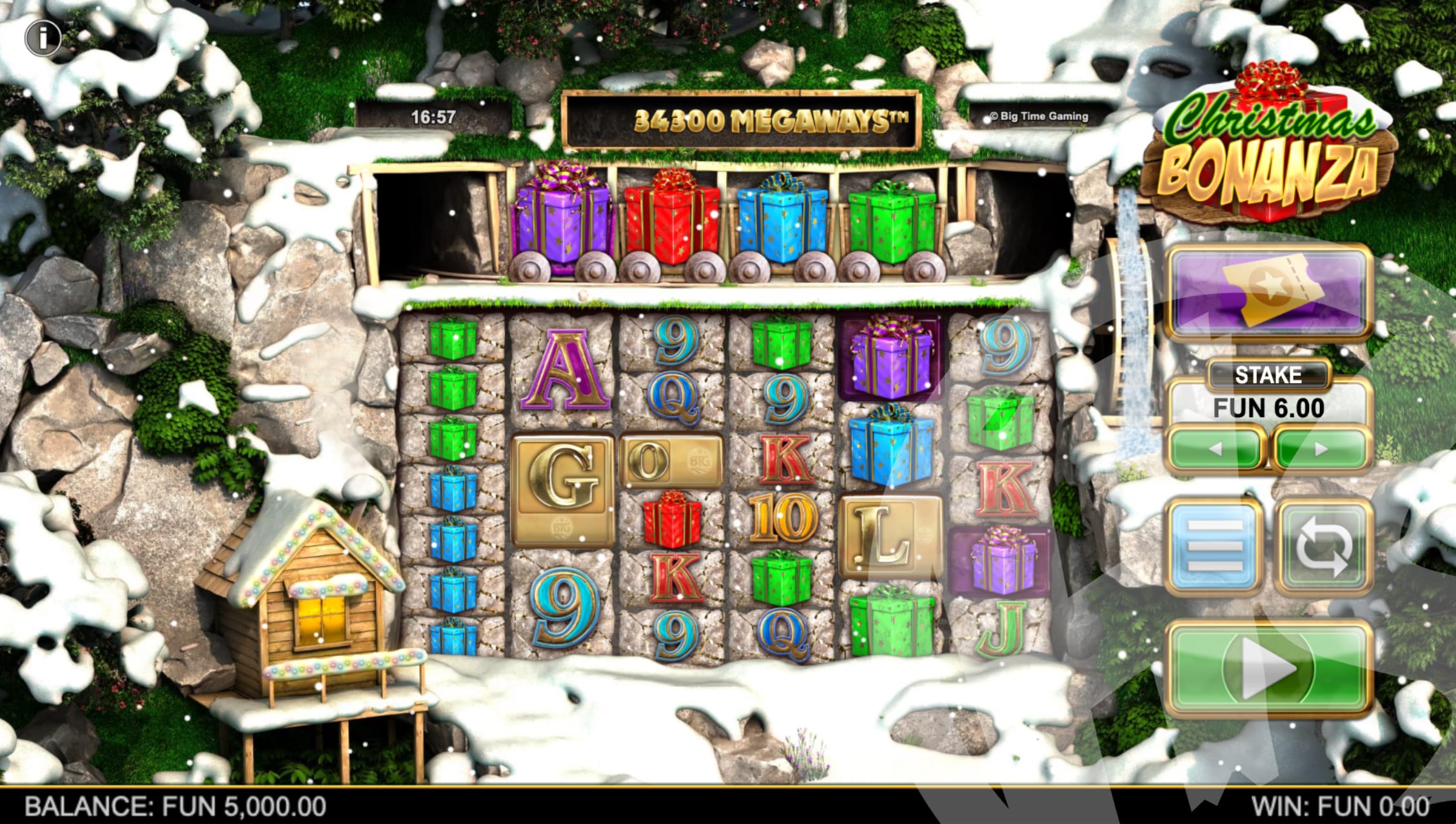 Visually, it's all very much the same as the original Bonanza – a little shack to the left of the reels, which are enclosed in stone on a mountainside, with vibrant green grass and a waterfall sitting to the right of the reels. What has changed now though is that the mountainside is covered in a fairly sparse layer of snow, with snow also falling quite slowly over the whole picture. The shack has had fairy lights added to it, along with a fire inside that produces smoke from the chimney, and what were our four high paying gem symbols have now been replaced with gift boxes, which are the final visual seasonal element. Audios are again similar to the original, with the additional of sleigh bells – still distinctively Bonanza-y, but every so slightly jolly.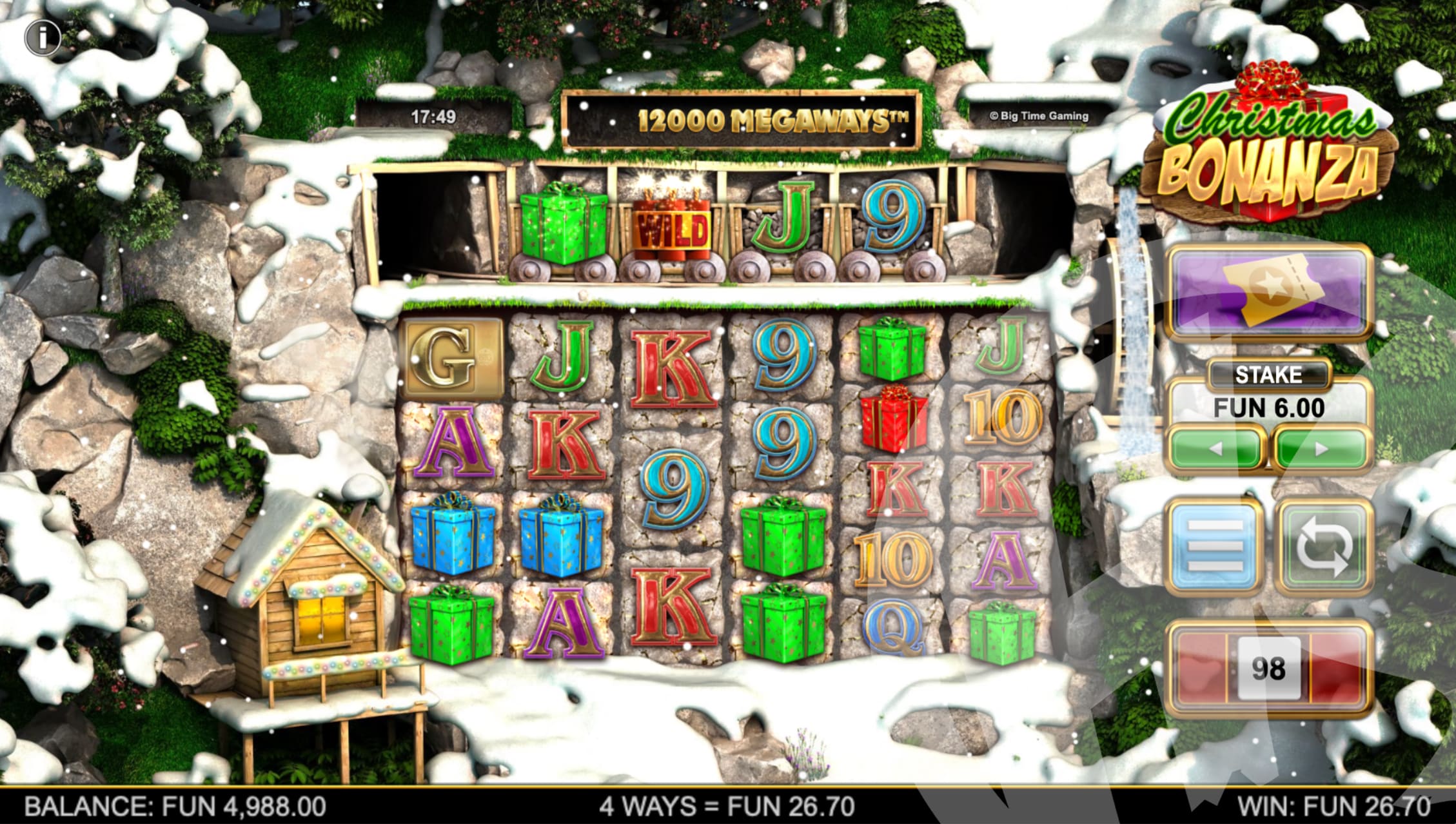 Christmas Bonanza Features
Taking place across 6 reels, wins are formed on Christmas Bonanza by matching 2 or 3 symbols on adjacent reels, beginning with the leftmost reel. Each reel can hold up to 7 symbols (including the top row of carts above reels 2-5), producing a maximum of 117,649 ways to win. Symbols available begin with non premiums, with 9s, 10s, Js, Qs, Ks, and As, awarding wins between 0.10 and 0.20x bet for 3 of a kind, increasing to values between 0.80 and 1.75x bet for 6 of a kind. At the premium end, we now have four presents to keep things in line with the theme, although they still retain their classic colours, which have come to be the colours of all Big Time Gaming premium symbols – green, blue, red, and purple. Starting with green, blue, and red presents, wins between 0.25 and 1x bet will be awarded for 3 of a kind matches, increasing to values between 2 and 7.50x bet for 6 of a kind. Purples round off the regular pay table, and are also the only symbol to pay for 2 ways – land 2, 3, 4, 5, or 6 purple presents to see wins of 2, 5, 10, 25, or 50x bet, respectively.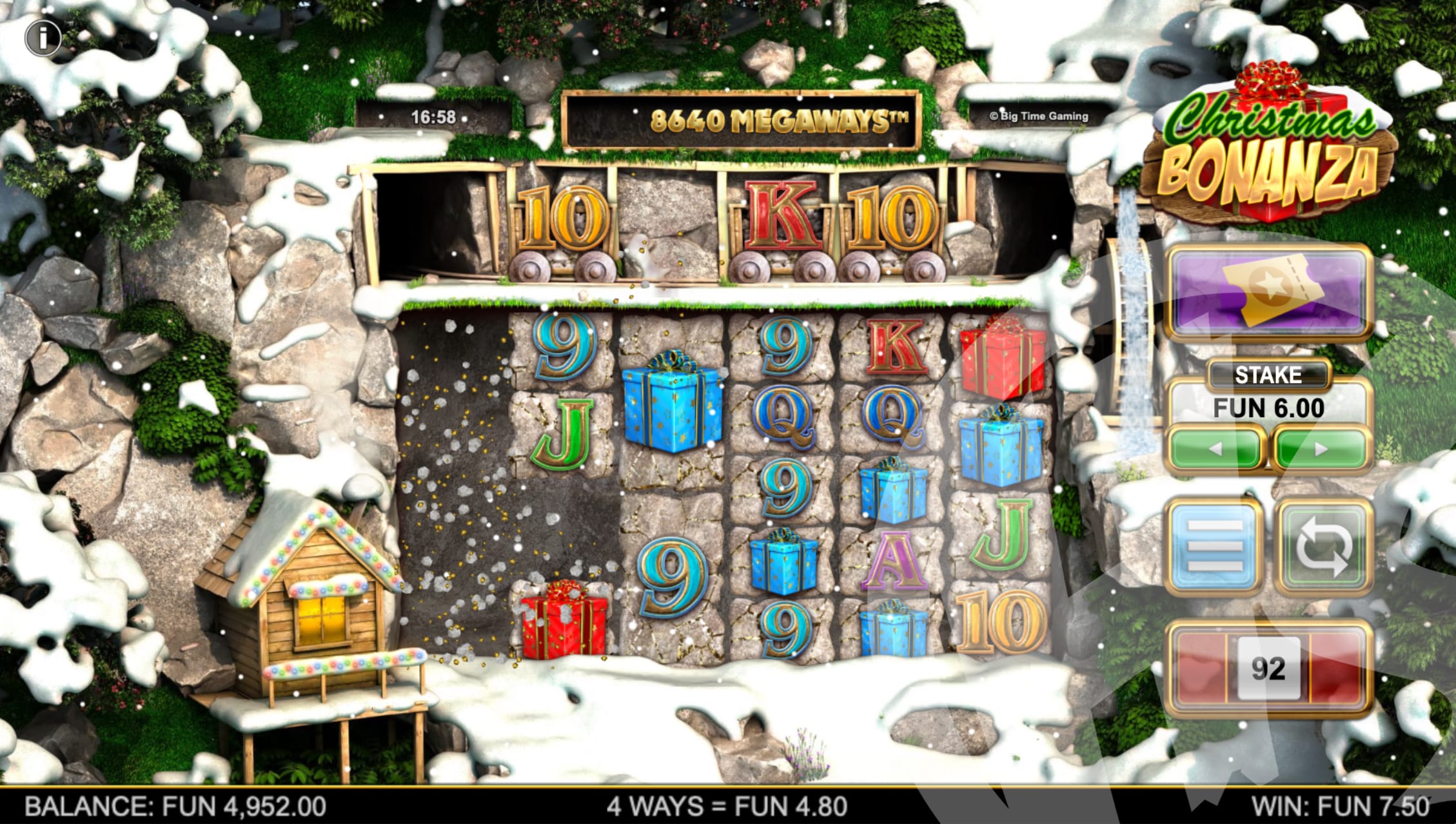 Bonanza has always been quite a simple release, and Christmas Bonanza hasn't done much to change things, except in audiovisuals. As a result, there are still two main aspects driving the base game forward – Reactions and Wilds. On every spin, all symbols involved in a win will be removed from the reels with Reactions. Remaining symbols will then drop to the bottommost available position on their respective reels, and new symbols will drop in from above to fill the remaining gaps – or carts will move in from the right on the top row. Reactions continue until no more wins are formed.
Amongst the four carts on the top row, it is possible to land up to 4 Wild symbols. Wilds substitute for all symbols except Scatters.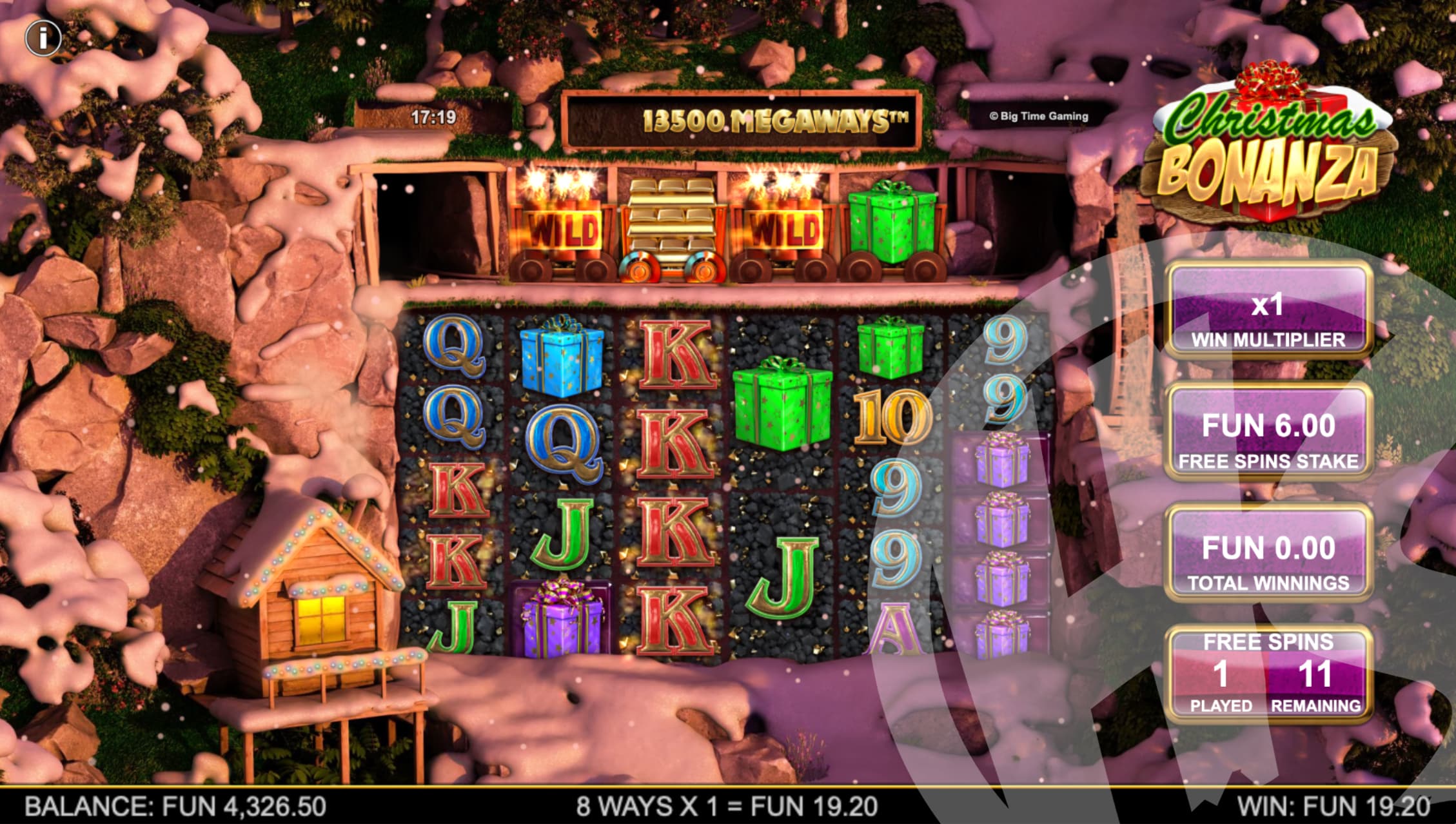 Christmas Bonanza Bonus
Land 4 GOLD Scatters to trigger 12 Free Spins, with an additional +5 spins for each Scatter that lands beyond the fourth – these are labelled as +5.
During Free Spins, a win multiplier is active. This begins at x1, and increments by +1 for each Reaction that occurs. There is no limit to how high this multiplier can climb. Aside from this, everything continues as it does in the base game, with Reactions and Wilds making up a decent portion of the excitement.
Land 3 or 4 Free Spin Scatters during Free Spins to trigger an additional +5 or 10 spins, respectively Free Spin Scatters can only land in carts on the top row.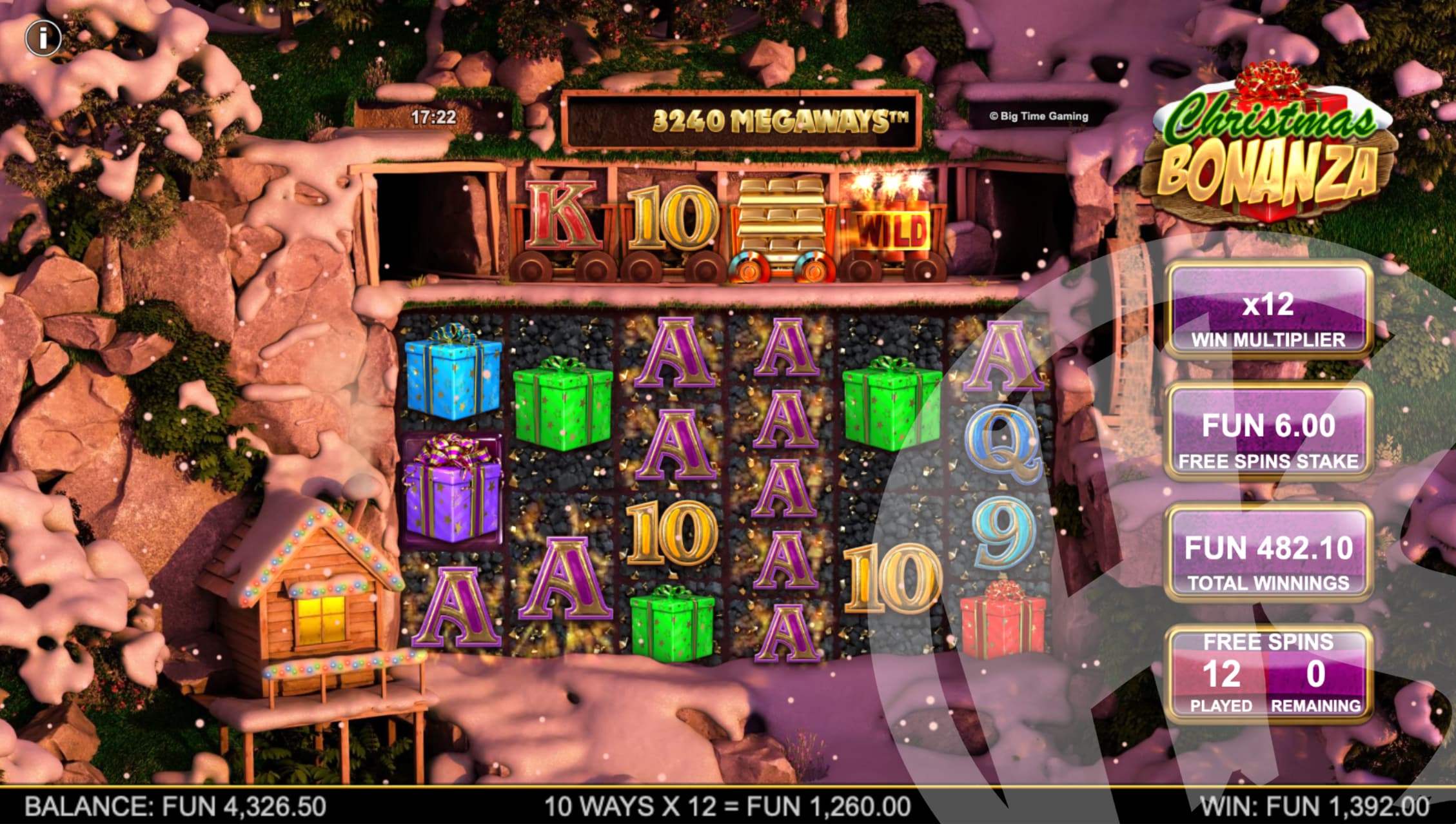 Players in appropriate regions can fast track some of this action with the Bonus Buy option. For a cost of 90x bet, 12 Free Spins will be awarded. When buying Free Spins, spins will start immediately – you will not see the triggering spin, and there is no option to trigger any more than 12 spins.
Although Big Time Gaming often make the choice not to put a win cap on their releases, the highest simulated win so far in Christmas Bonanza has been 26,000x bet.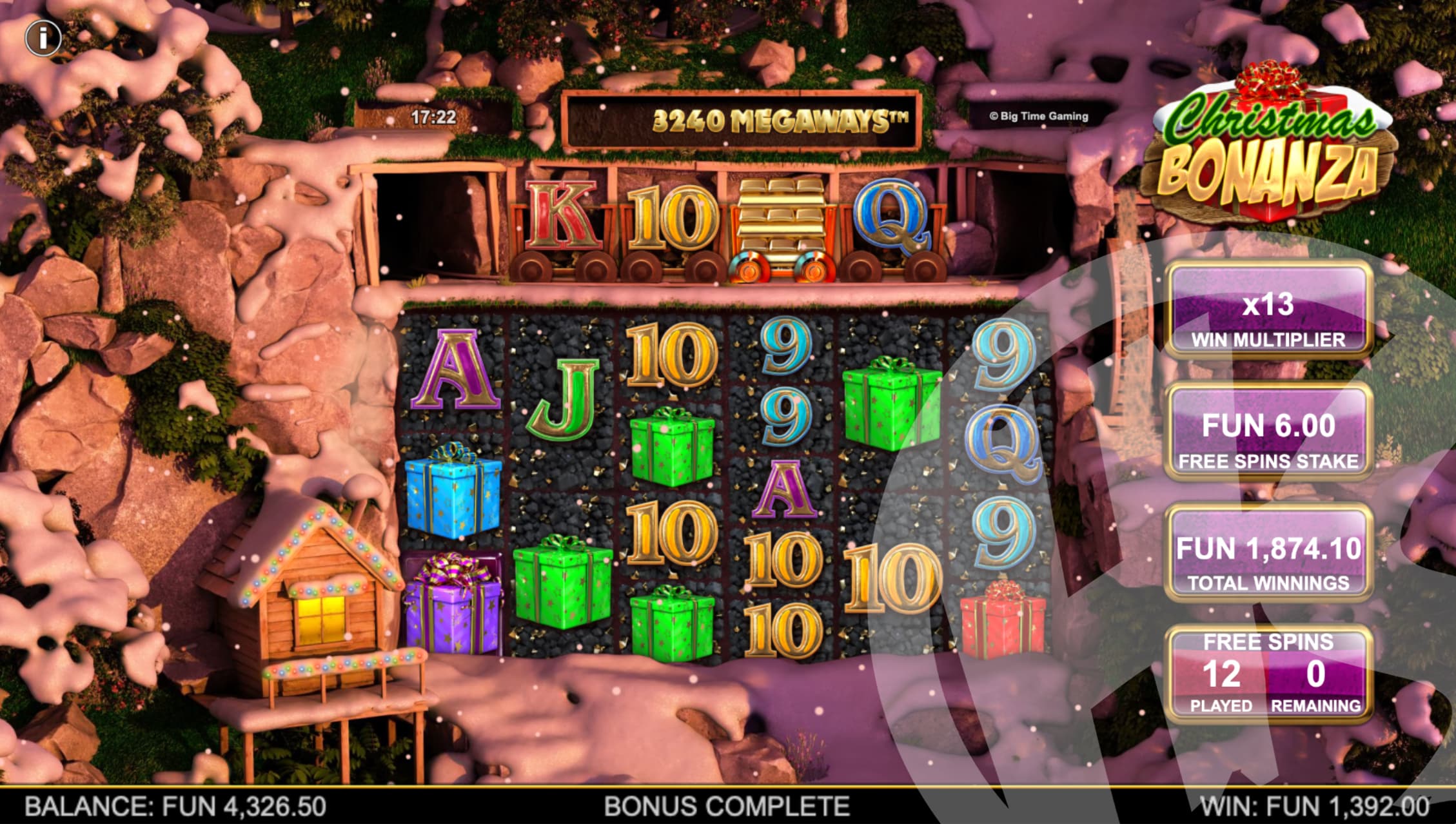 First Impression
Look, there isn't anything we could say about Christmas Bonanza that we wouldn't be saying about Bonanza. There haven't really been any changes, other than thematically, and through the addition of a bonus buy. That said, usually when a 'new version' of a game comes out, players look for changes and seem quite disappointed when there isn't anything new – but I think with this one, players will breathe a sigh of relief upon hearing that the heart of Bonanza has been left well alone.
Gameplay is as it always has been. Wilds and Reactions keep the base game ticking over, but Free Spins are where things really take off, with 12 Free Spins and an unlimited win multiplier – simple, but potent.
This is one of the most popular releases of all time – every Megaways game we know and love, with all of their features and bells and whistles basically came from here. It's like that grandparent that hasn't progressed with the times, but you wouldn't change them for the world. That's Bonanza, and it shouldn't be changed. It wasn't changed when Bonanza Megapays was released, and it hasn't been changed in Christmas Bonanza.
Statistically, things remain as solid as ever, with a highly (5/5) volatile maths model, RTP options of 96.0% and 96.11%, and a maximum simulated win so far of 26,000x bet. No complaints on this front from us.
If you love Bonanza, but you always though 'wow, this could use some snow', or maybe a bonus buy, this one will be a dream come true.
*The screenshots taken of games reviewed on this site are taken from Demo Play, as reviews are often written before games are released for real play.