Yggdrasil Gaming partner Peter & Sons are one of the more distinctive studios out there – when you see one of their releases, you just know it's theirs. Throughout their time on the market, they've made use of Yggdrasil's Gigablox mechanic on two occasions, and now they're turning their hand to MultiMax, in Dungeon Tower MultiMax. With an RTP of 96.10% at its' highest, Dungeon Tower MultiMax is highly volatile, with wins available up to 20,000x bet.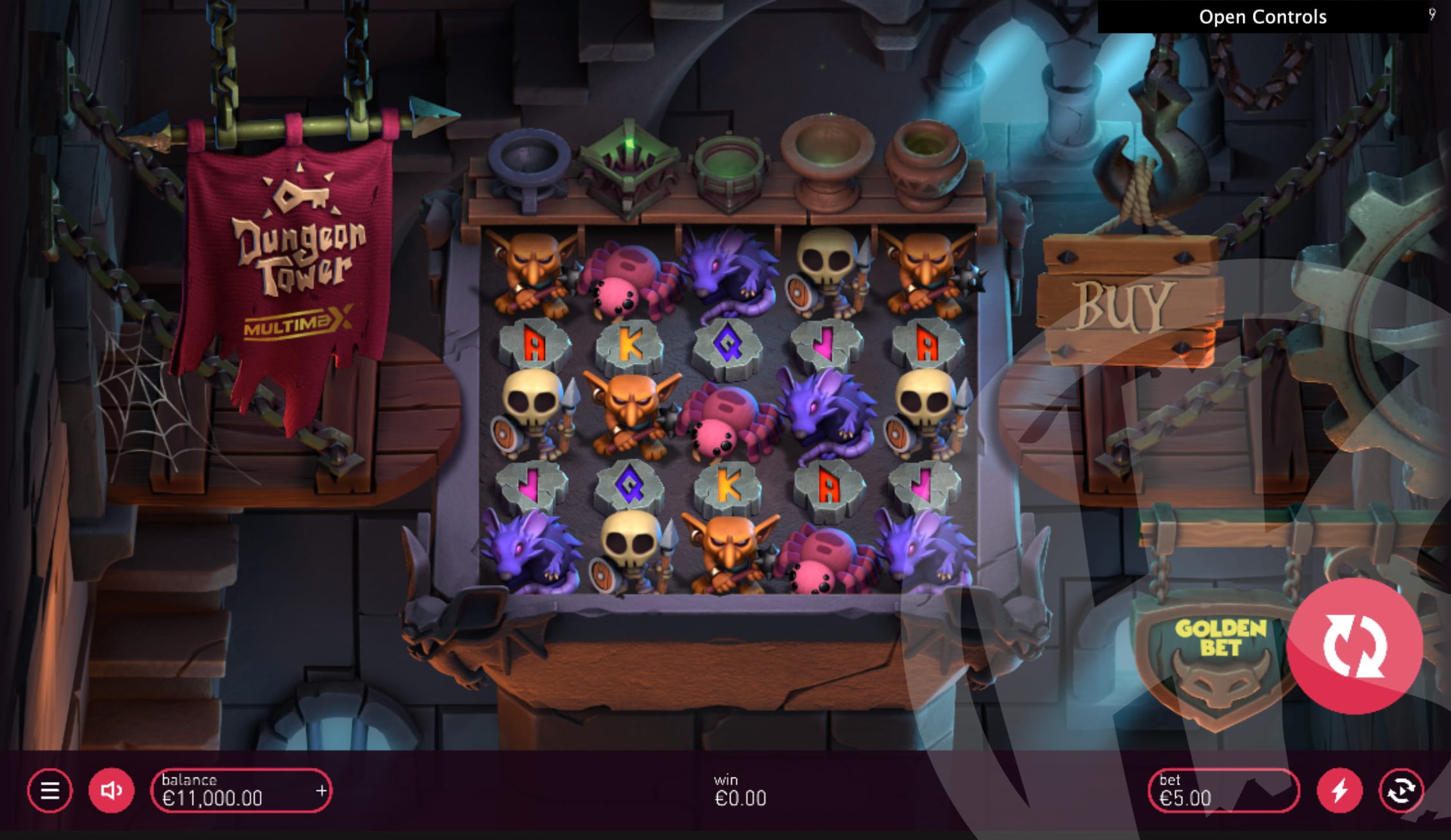 Visually things are, as I said, distinctive – in a slightly different way. We're in a tower in the dungeons of Mount Argol according to the information provided, with creatures that guard hidden treasures of the once great King – seemingly spiders, goblins, skeletons, and rats. Everything is pretty dark, with cobwebs in view, and the whole thing has a real 3D look to it, which is pretty cool, but the result is that the reels are, unfortunately, pretty small. Audios are fairly spooky, and tie the whole thing up into one neat little package.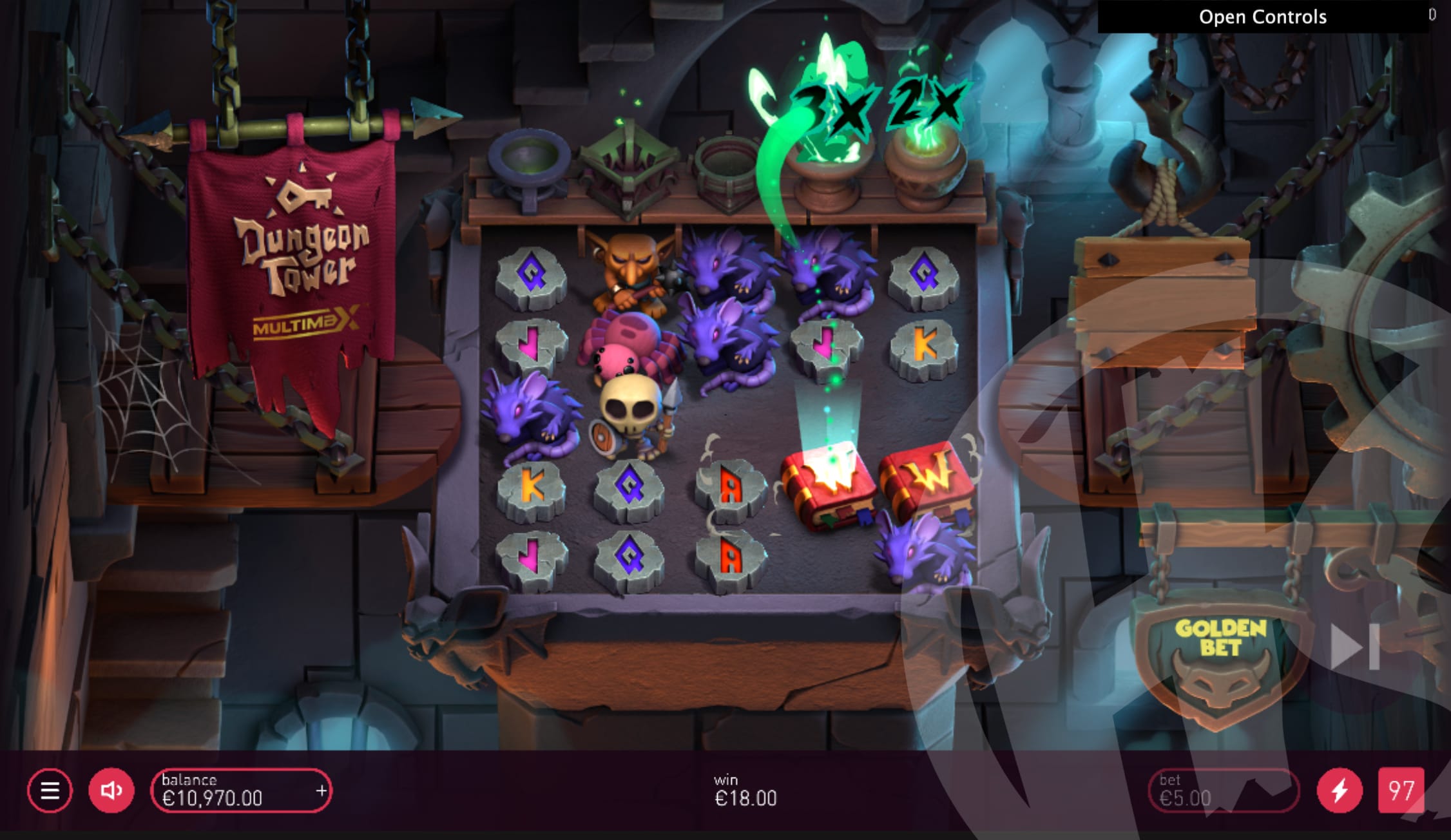 Dungeon Tower MultiMax Base Features
Taking place across 5 reels, wins are formed on Dungeon Tower MultiMax in the Grid by landing 3 or more linearly matching symbols, horizontally or vertically. Basically, a line of 3 symbols, starting from any point – like Moon Princess, if you've played it. Symbols available begin with non premiums, with Js, Qs, Ks, and As, awarding wins of 0.20x bet for 3 of a kind matches, increasing to 0.70x bet for 5 of a kind. At the premium end, we have spiders, rats, skeletons, and goblins, awarding wins between 0.20 and 0.50x bet for 3 of a kind, increasing to values between 1.10 and 2.30x bet for 5 of a kind. Finally, Wild Books are available, substituting for all symbols except Scatters, and awarding wins of 0.50, 1.10, and 2.30x bet for 3, 4, and 5 of a kind, respectively.
The first thing to cover in Dungeon Tower MultiMax is the Cascade mechanic, which works hand in hand with the aforementioned Wild Books. On every spin, any symbols involved in a win will be removed from the reels, and 1-3 Wild Books will be placed in the empty positions. After Wild Books have been placed, symbols that were not removed will drop down to the lowest available position on their reels, and new symbols will drop in from above to fill any remaining gaps – giving the potential for more wins to be formed. Cascades continue with Wild Books being added until no more wins are formed. Any Wild Books are removed before the next spin.
Next, it's the MultiMax feature. Each reel has a multiplier at the top of it – the reel multipliers. When 1-3 Wild Books are added during Cascades, they will increase reel multipliers – each Wild Book that lands on a reel will increase its' respective multiplier by +1. When winning combinations are being calculated, any vertical wins will be multiplied by their reel multiplier, and any horizontal wins will be multiplied by the value of all multipliers on reels they cross – if more than one multiplier is active, they are multiplied together before being applied to horizontal wins. Reel multipliers reset to x1 ahead of the next spin.
Finally for the base game, players have the opportunity to activate Golden Bet. By betting an additional 20%, the chance of triggering Free Spins naturally is doubled.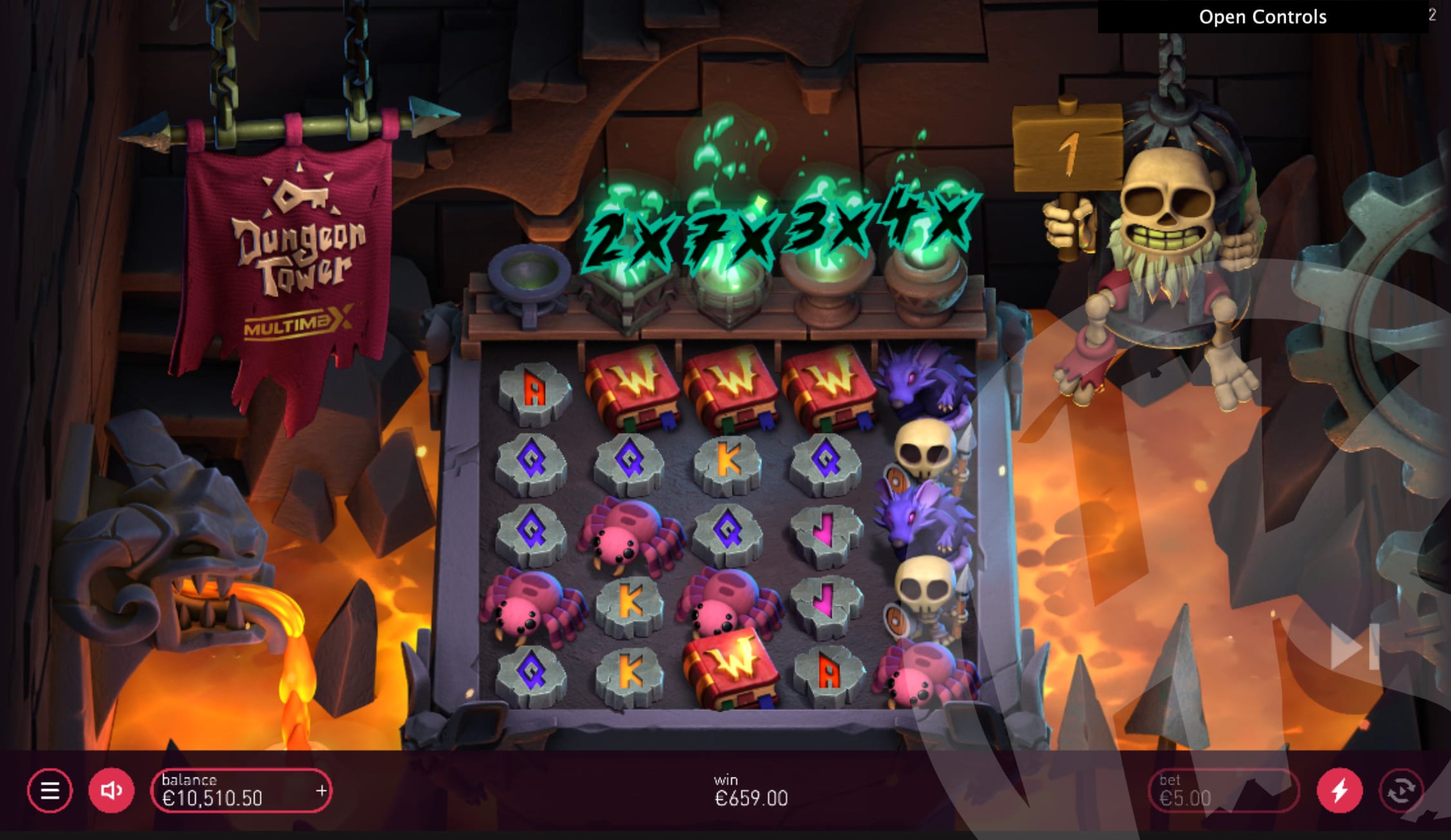 Dungeon Tower MultiMax Bonus
Land 3, 4, or 5 key Scatters to trigger 7, 9, or 11 Monster Free Spins, respectively. During Monster Free Spins, things continue in the same way as the base game – 3 or more linearly matching symbols (horizontally or vertically) to form wins, winning symbols removed during cascades, 1-3 Wild Books added, and each Wild Book increases its' respective reel multiplier by +1 – you know the drill. However, during Monster Free Spins, the reel multipliers are not reset between spins, and will persistently grow throughout the whole feature.
Players in appropriate regions can buy free spins for a cost 0f 80x bet. When free spins have been bought, 7, 9, or 11 Free Spins will be triggered randomly.
The maximum win available in Dungeon Tower MultiMax is 20,000x bet. If the sum of a single game round exceeds this, the game round will end and 20,000x bet will be awarded.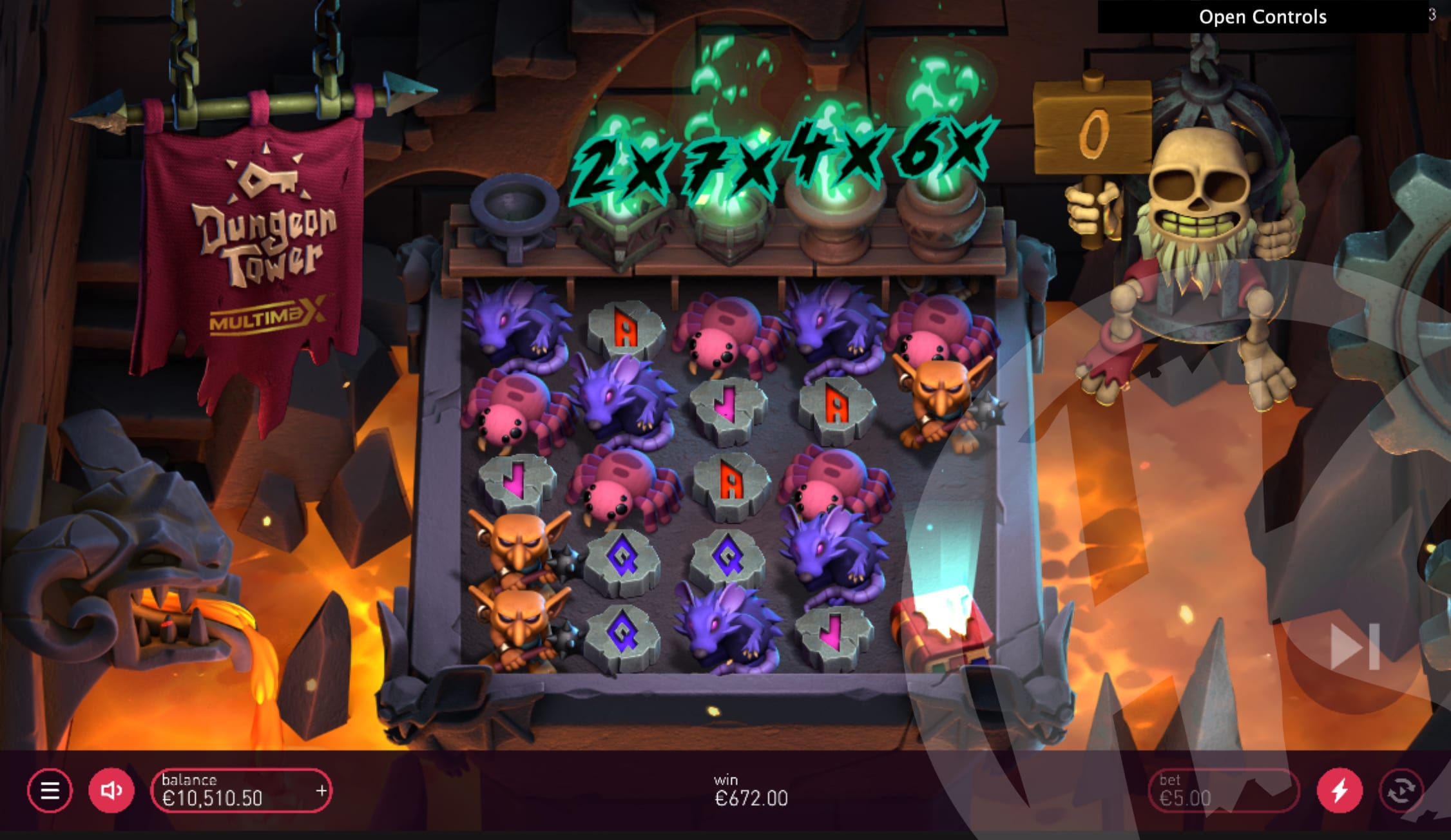 First Impression
The features in Dungeon Tower work – wins formed in lines of 3 horizontally and vertically is already known to go hand in hand with appearing Wilds, which we've seen in releases from Play'n GO like Moon Princess, Rise of Olympus, or Sisters of the Sun. This then does work with increasing reel multipliers, especially with multiple multipliers multiplying together for horizontal wins. That said, I'm going to return to what I said earlier – I just don't really understand why the reels are so small. I mean, just looking at the photos there is so much room available to increase the reel size, so I'm not sure why they chose not to.
Maths is highly volatile, and wins are available up to 20,000x bet. RTP at its' highest is 96.10%, but lower versions are available, so players who prioritise this in their gameplay should check this beforehand.
I don't know why I don't really have much to say on this one. It's nice, and it works. The artwork is just as great as you'd expect from this team, and music does the job. I'm not sure who this one will appeal to – definitely fans of Peter & Sons, definitely fans of MultiMax, maybe fans of Moon Princess? I think it's worth a go regardless of your preferences – if you can handle squinting a little.
*The screenshots taken of games reviewed on this site are taken from Demo Play, as reviews are often written before games are released for real play.