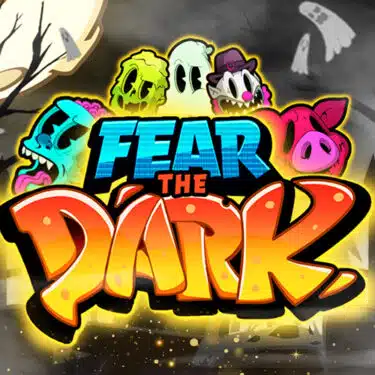 Fear the Dark
Game Provider: Hacksaw Gaming
Release Date: Available Now
Fear the Dark
Game Studio Hacksaw Gaming
Release date Available Now
RTP 92.36% - 96.25%
RTP Feature Buy 96.41%
Paylines Cluster Pays
Volatility Medium
Min Bet 0.10
Max Bet 100
Max. Win 5,000x
Rating 8.4/10
One of the most common fears in children is a fear of the dark, but as an adult it's hard to understand why the dark used to scare you so much. When you're at home in your own bed, should it be so terrifying to not be able to see? Somehow, it still was. Maybe it was the fear of monsters under the bed or in the closet, but whatever the reason there are children all over the world who refuse to sleep without a light. Hacksaw Gaming are reminding us of this fear today, as they leave behind the tropical landscape of Keep 'em Cool for something a bit darker in Fear the Dark. It seems that Hacksaw are going out of their way to remind us that just because something looks frightening, that isn't always the case though, as we're greeted with some monsters that we are assured are friendly. With RTP options up to 96.25%, this medium (3/5) volatility release can produce wins up to 5,000x bet.
We're in a cemetery today – somewhere most of us would feel a bit iffy of being trapped in the dark. It's nighttime, which means most of the background is black covered by a thick grey fog, although you can just make out some gravestones and iron railings to the front. Trees sweep over from the side, as little ghosts pop up and down. Apart from that, we have a variety of the aforementioned friendly monsters on the grid, and an upbeat yet eerie soundtrack to help tie everything together.
Fear the Dark Base Features
Taking place on a 6×6 grid, wins are formed on Fear the Dark by matching clusters of 5 or more symbols, touching horizontally or vertically. Symbols pay for 5, 6, 7-8, 9-10, 11-13, or 14+, and begin win non premiums, with five bright white clipart styled symbols. Land clusters of 5 non premiums to see wins between 0.10 and 0.30x bet, increasing to values between 12.80 and 28x bet for clusters of 14+. At the premium end we have a ghost and four monsters, awarding wins between 0.50 and 1.50x bet for clusters of 5, increasing to values between 40 and 120x bet for clusters of 14+.
It's all quite simple in Fear the Dark, with one feature carrying all of the weight – Full Moon mode. First though, we'll quickly cover cascades. On every spin, all symbols involved in winning combinations are removed from the grid. Remaining symbols will then drop down to the bottommost available position on their respective reels, with new symbols dropping in from above to fill the remaining gaps. Cascades continue until no new wins are formed.
Now for Full Moon mode. Land a Moon Man Scatter symbol to trigger this feature. During Full Moon mode, between 2-5 symbols above the grid will be activated and given multipliers. Only the five high paying symbols can be activated. These symbol multipliers will then be applied to all wins involving the relevant symbols for as long as they are active.
Once the grid has settled and cascades have finished with no new wins occurring, the symbol multipliers are deactivated one by one, from left to right. Each time a multiplier is removed all instances of the relevant symbol will be removed from the grid, along with all low paying symbols. This continues until all symbols have been deactivated, at which point Full Moon mode will end. Is is possible that a Moon Man Scatter symbol will land during Full Moon mode, at which point additional symbols can be activated, or the already activated symbols can have their multipliers increased.
Possible multiplier values in Full Moon mode are – 2x, 3x, 4x, 5x, 6x, 7x, 8x, 9x, 10x, 15x, 20x, 25x, 50x, or 100x.
Fear the Dark Bonus
Land 3 or 4 FS Scatter symbols to trigger 10 or 15 spins in the Alone in the Dark Bonus. During this feature, there is an increased chance of landing Moon Man Scatter symbols to activate Full Moon mode. Additionally, each time a FS Scatter symbol lands an additional +4 spins are awarded.
Once all spins have been used, the candles around the grid are extinguished, and players will enter Darkness Spins. Each time this mode is entered or reset +2 spins are awarded. Before the first Darkness Spin, the grid shrinks to 4×4, then it shrinks to 2×2 before the second. If a Moon Man Scatter symbol lands in the new grid size, Full Moon mode is triggered, and Darkness Spins are reset, with an additional +2 spins awarded.
If a FS Scatter symbol lands during Darkness Spins, the grid will be enlarged back to 6×6, the regular +4 spins are awarded, and Darkness Spins will then begin again after the additional +4 spins have ended. When Darkness Spins end without a FS or Moon Man Scatter symbol, the feature ends.
Players in appropriate regions can take advantage of the following Buy Bonus options:
Bonus Hunt FeatureSpins (5x more likely to trigger a bonus) – 3x bet (96.41% RTP)
Moon Man FeatureSpins (at least 1 Moon Man Scatter guaranteed) – 40x bet (96.25% RTP)
10 Free Spins – 100x bet (96.23% RTP)
15 Free Spins – 150x bet (96.25% RTP)
The volatility for every option is high, with the exception of 15 spins, which has a medium rating. The RTP options above are based upon the 96.25% RTP setting.
The maximum win available in Fear the Dark is 5,000x bet. If the sum of a single game round exceeds this, the game round will end and 5,000x bet will be awarded. This win is only available during the Alone in the Dark Bonus.
First Impression
I've said it before, but it bears repeating – Hacksaw Gaming really do have two very distinctive styles. On the one hand, we've got Keep 'em Cool, Frank's Farm, and Pug Life. On the other hand, we have Bloodthirst, RIP City, and now Fear the Dark – the darker side of this team. No matter what side we're on though, audiovisuals are great, so it's more of an observation than anything else.
Considering all of the excitement in Fear the Dark is wrapped up in Full Moon mode, the feature does a great job of keeping things moving forward in the base game – especially with multipliers up to 100x. In the bonus there's no obvious improvement in terms of multipliers, but there is a higher chance of triggering this feature, along with the opportunity for re-triggers throughout, and in Darkness Spins. When the right combinations land, wins are possible up to 5,000x bet – although remember, this is only possible in the bonus.
Finally, maths is rated as medium (3/5) volatility, and RTP options are available up to 96.25%, so as always it's worth checking this. If you're a fan of Hacksaw and the work they do, Fear the Dark is a simple yet great option.
*The screenshots taken of games reviewed on this site are taken from Demo Play, as reviews are often written before games are released for real play.