Well, after their brief foray into suburban life in The Dog House Multihold, and farmyard life in Rabbit Garden, it's back to Egypt again with the minds of Pragmatic Play. With hundreds of releases in their catalogue, it's no surprise this team have been to the most popular slot locations and back multiple times over. In fact, it's no surprise that they continue to visit the same specific locations and utilise the same well-known deities as they offer traditional takes in releases like this one. Today, Pragmatic Play are taking us to Giza, home of 3 of the most iconic pyramids ever known, in Gods of Giza – aided by Anubis and Horus in our search for jewels. With RTP options up to 96.01%, this highly (5/5) volatile release can produce wins up to 5,000x bet.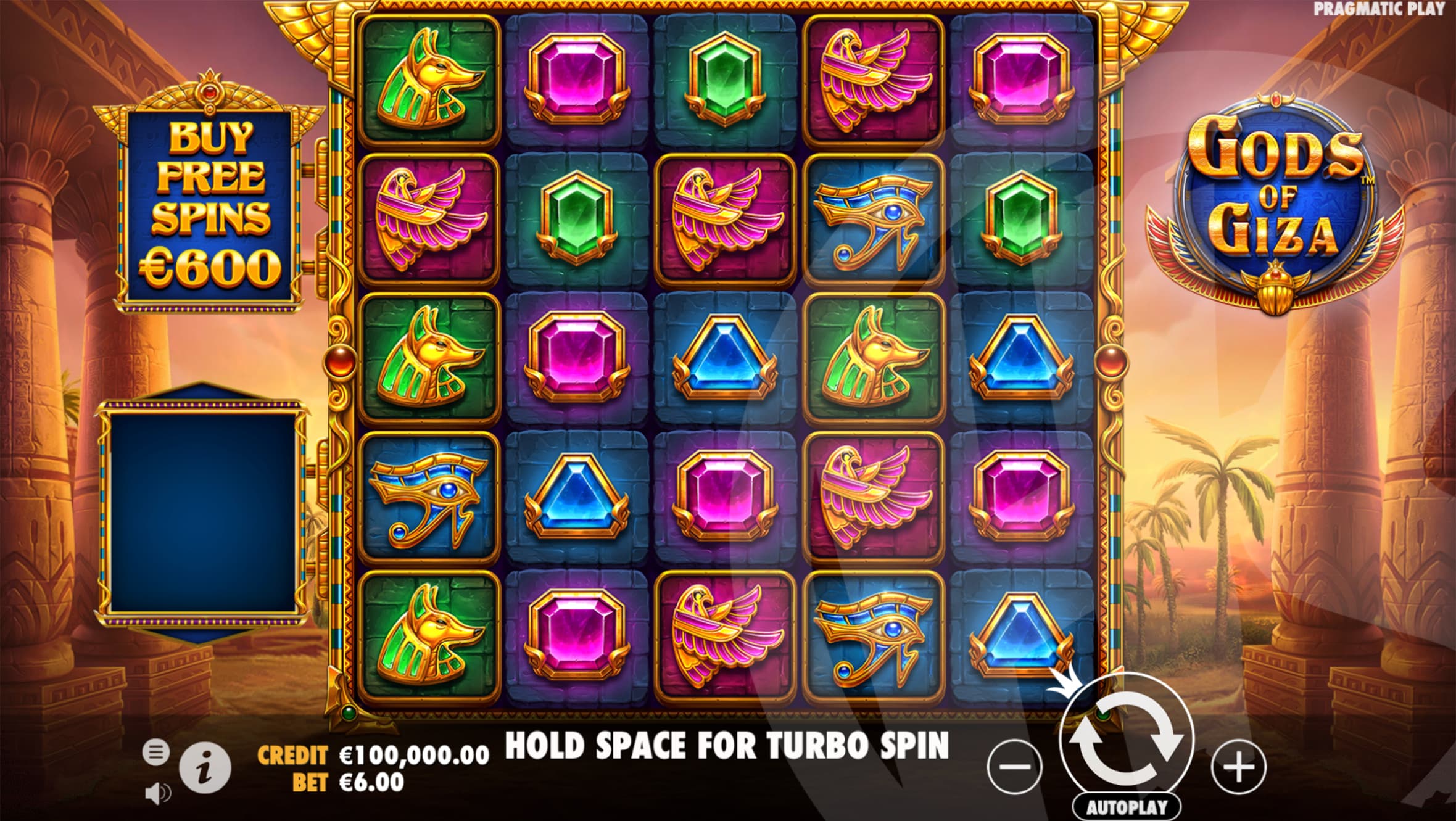 Like I said, it's a traditional approach in Gods of Giza, with bright gold surrounding the reels and a sandy, palm tree filled background in the distance. Temple or monument walls stand to either sides of the reels, on which we see jewels and various Egyptian imagery. It's a pretty picture, and one that will certainly pique the curiosity of fans of Pragmatic Play, and in particular their Egyptian releases. It's all finished off with a fitting soundtrack – exactly what you'd expect, so not too out there, but it works.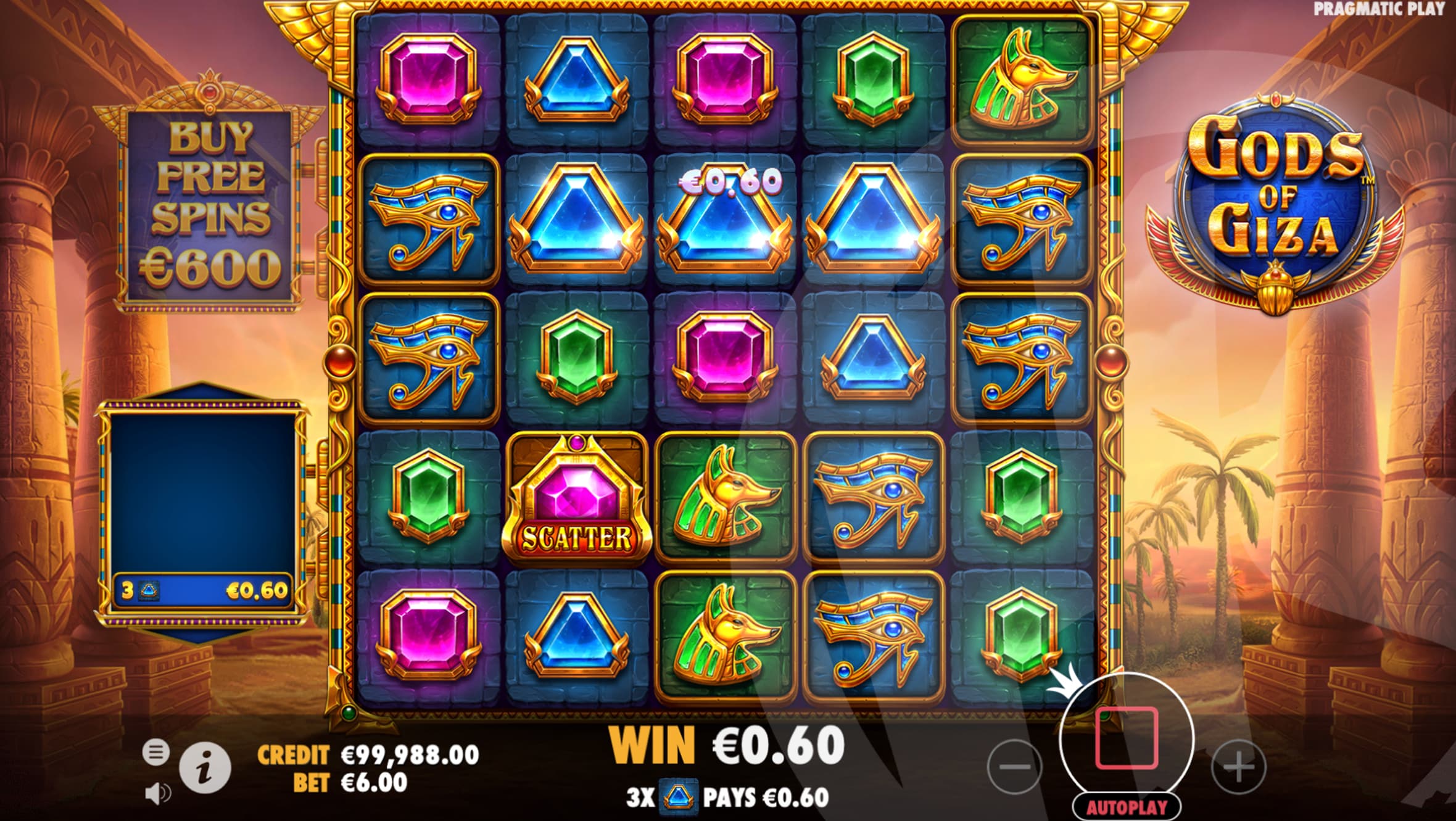 Gods of Giza Base Features
Taking place on a 5×5 grid, wins are formed on Gods of Giza by matching at least 3 symbols in a line horizontally or vertically, starting from any position on the reels – like Moon Princess or Dungeon Tower MultiMax, if you're familiar with those. Symbols available begin with jewels, with a blue, green, and pink stone gem, awarding wins between 0.10 and 0.30x bet for 3 of a kind matches, increasing to values between 2 and 3x bet for 5 of a kind wins. At the premium end, we have a blue eye of Horus, a green Anubis, and a pink Horus. Land 3 of a kind of any premium to see wins between 0.40 and 0.60x bet, increasing to values between 10 and 20x bet for 5 of a kind matches. Finally, Wild symbols are available, substituting for all symbols except Scatters and awarding wins between 1 and 25x bet for matches between 3 and 5 of a kind.
So the first thing to cover in Gods of Giza is the Tumble feature. On every spin, all symbols involved in a winning combination will be removed from the reels, with all remaining symbols dropping down to the bottommost available position on their respective reels. New symbols will then drop in from above to fill any remaining gaps. Tumbles continue until no new wins are formed.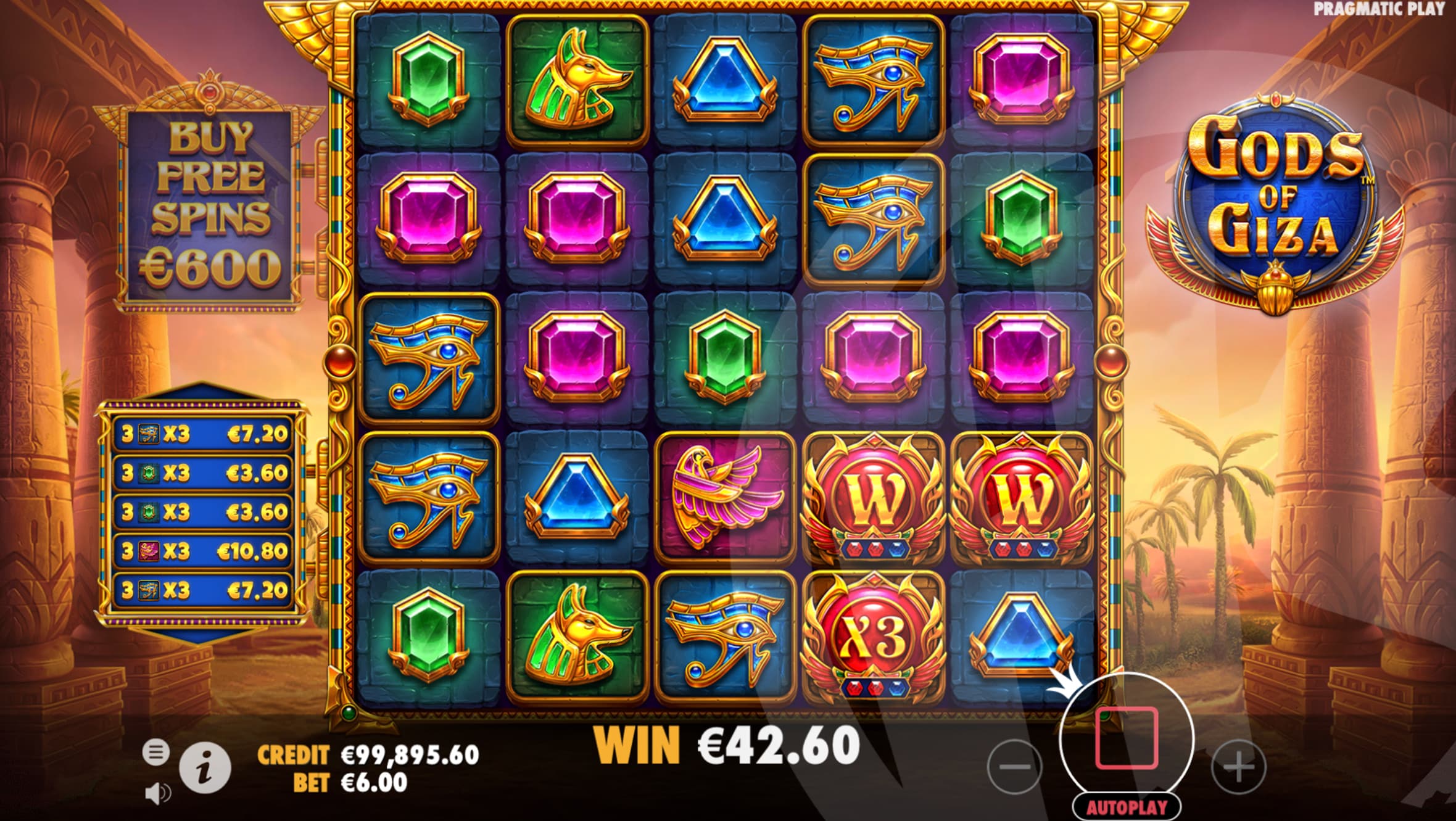 Working hand in hand with Tumbles are Depleting Wilds. Each time at least one winning combination without a Wild symbol occurs, one Wild symbol will appear in an empty position during Tumbles. Any Wild will remain on the reels for 3 subsequent wins in a single Tumble sequence, or until the spin has ended. Wilds will drop down to the bottommost available position on their reel during Tumbles like regular symbols.
Wilds can carry a multiplier, which will be applied to all winning combinations in which the Wild has been used. If two or more Wilds are involved in the same winning combination, their values will be multiplied together. The same Wild can form part of multiple winning combinations. Possible Wild multipliers are – x2, x3, x5, x7, or x10.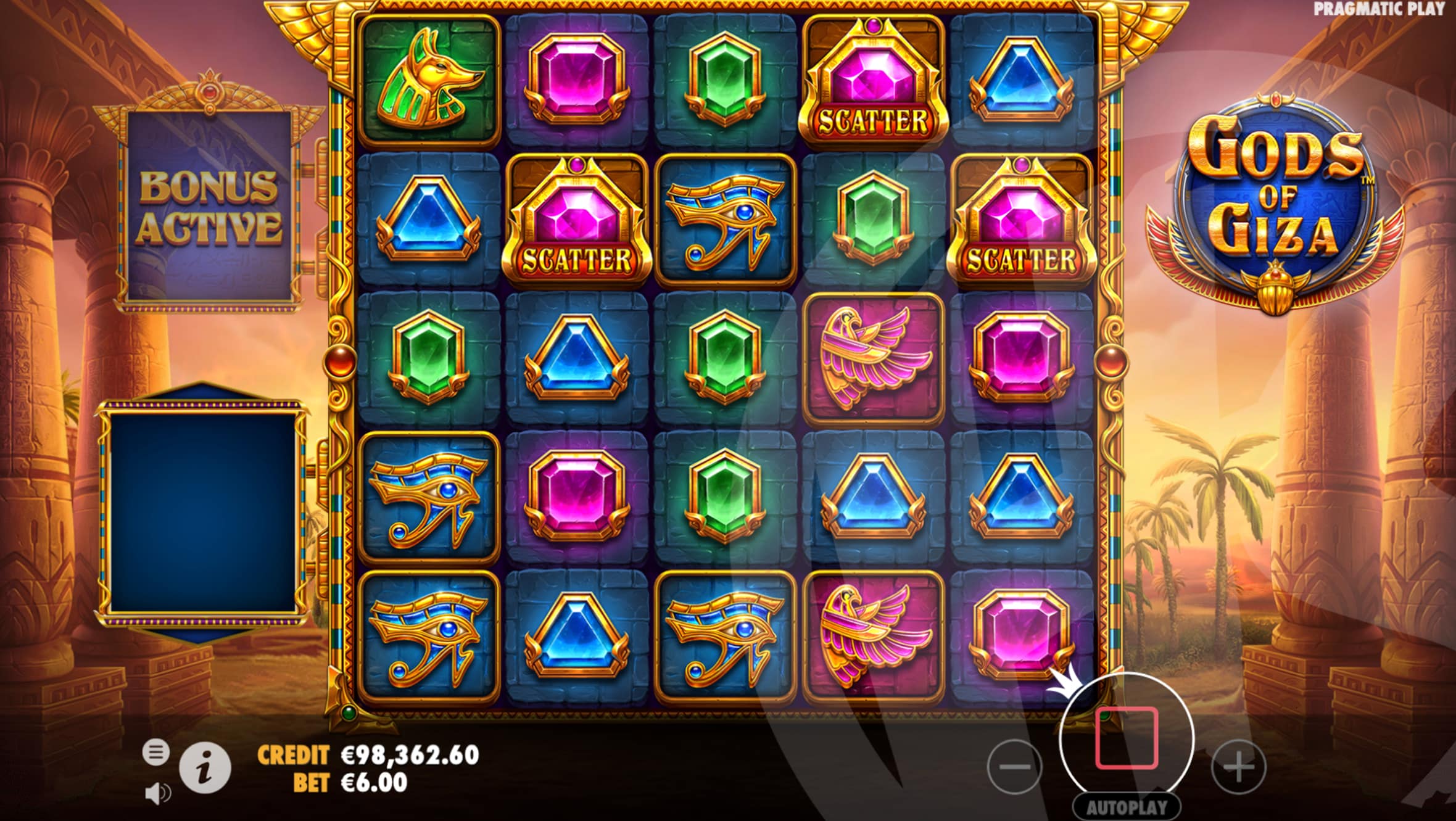 Gods of Giza Bonus
Land 3 Scatters to trigger 10 Free Spins. For each additional Scatter in view beyond the third, an additional +5 spins will be awarded. It is possible to land a Scatter in every reel position, making 25 in total, which will award 120 spins.
During Free Spins, it is guaranteed that at least one Wild symbol will appear after the first spin, before any Tumbles occur. If a win occurs during the first spin, this does not change anything, but it does mean that if no win occurs at least one Wild symbol is guaranteed to be added in a random position. It is also possible throughout Free Spins that Wild symbols will be added in random positions on any spin.
Everything else continues as normal during Free Spins, except Wilds now stay on the reels for 5 subsequent wins in a single Tumble sequence, or until the spin has ended.
Land 3 Scatters during Free Spins to trigger an additional +5 spins.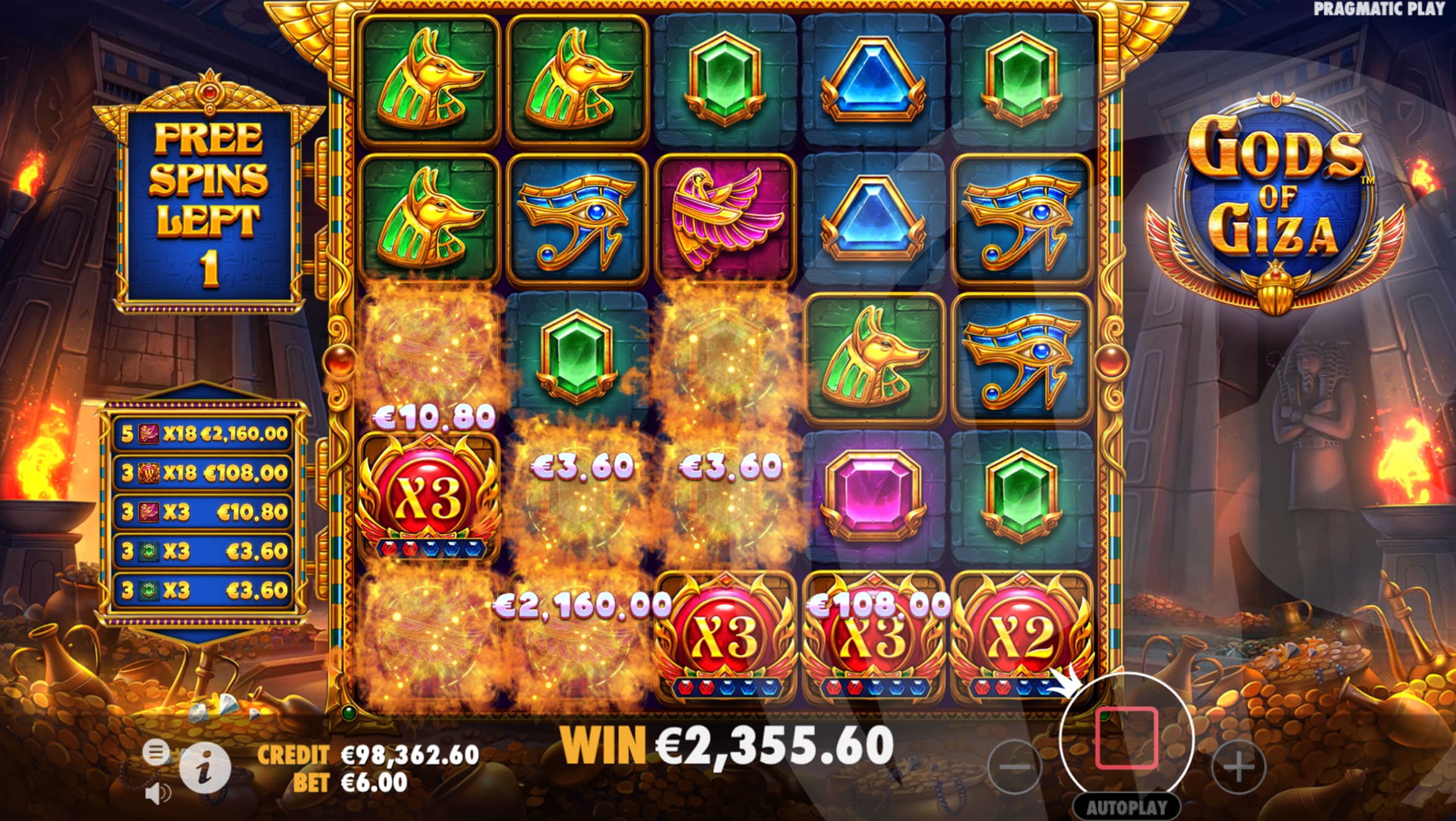 Players in appropriate regions can skip to the action with the option to Buy Free Spins, wherein for a cost of 100x bet, they are guaranteed that 3, 4, or 5 Scatters will land, awarding 10, 15 or 20 spins respectively. When buying Free Spins, RTP remains the same.
The maximum win available in Gods of Giza is 5,000x bet. If the sum of a single game round exceeds this, the game round will end and 5,000x bet will be awarded.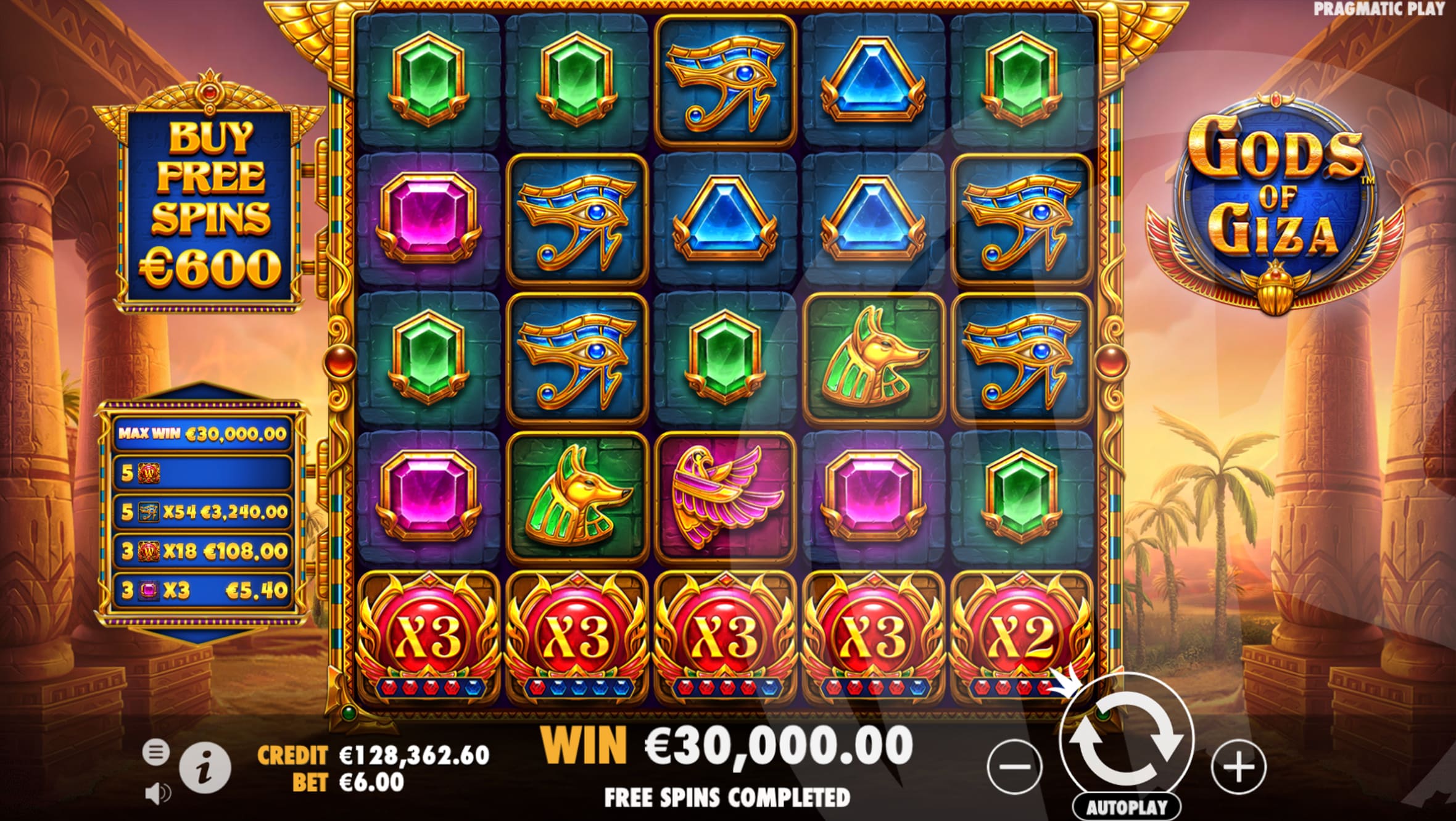 First Impression
Gods of Giza is an interesting release in that it doesn't really offer us anything we haven't seen before, but it does offer it in a nice way. Audiovisuals are slick as always, making this release a pretty picture to look at if nothing else. During the base game, forming wins could seem complicated at first if you aren't familiar with these kinds of pay mechanics, but it doesn't take long to get used to. On this side of things, Depleting Wilds and Tumbles carry the bulk of the weight.
When you move into Free Spins though, things are slightly more interesting – especially if you're the player fortunate enough to trigger 120 spins. Depleting Wilds now stay on the reels for 5 subsequent wins, but can also be added randomly when no wins occur. When the right combinations land, wins are possible up to 5,000x bet – and if you don't believe us, look at the picture above – our first natural max win when testing a new release!
Finally, maths is highly (5/5) volatile and RTP options are available up to 96.01%, so as always it's worth checking this. If you're a fan of Egypt, Wild symbols, or Pragmatic Play in general, there's something here to make you happy.
*The screenshots taken of games reviewed on this site are taken from Demo Play, as reviews are often written before games are released for real play.