Each year holidays come and go, and so do the slot releases that come with them. Halloween, Christmas, Valentine's Day – no matter the season, we're always treated to a few specifically themed games. With St Patrick's Day having come and gone though, there's no sign of Irish slots drying up, with these releases continuing to make up a significant portion of our options year on year. This time, AvatarUX are turning their attention to the Emerald Isle as they release their 19th PopWins release. After recent successes in ReefPop, LooneyPop, and HelioPOPolis, AvatarUX show no signs of slowing down on their flagship mechanic as they bring us Pop O'Gold – with a new StickyPop mechanic to sink our teeth into. With RTP options up to 96.10%, this highly volatile release can produce wins up to 20,000x bet.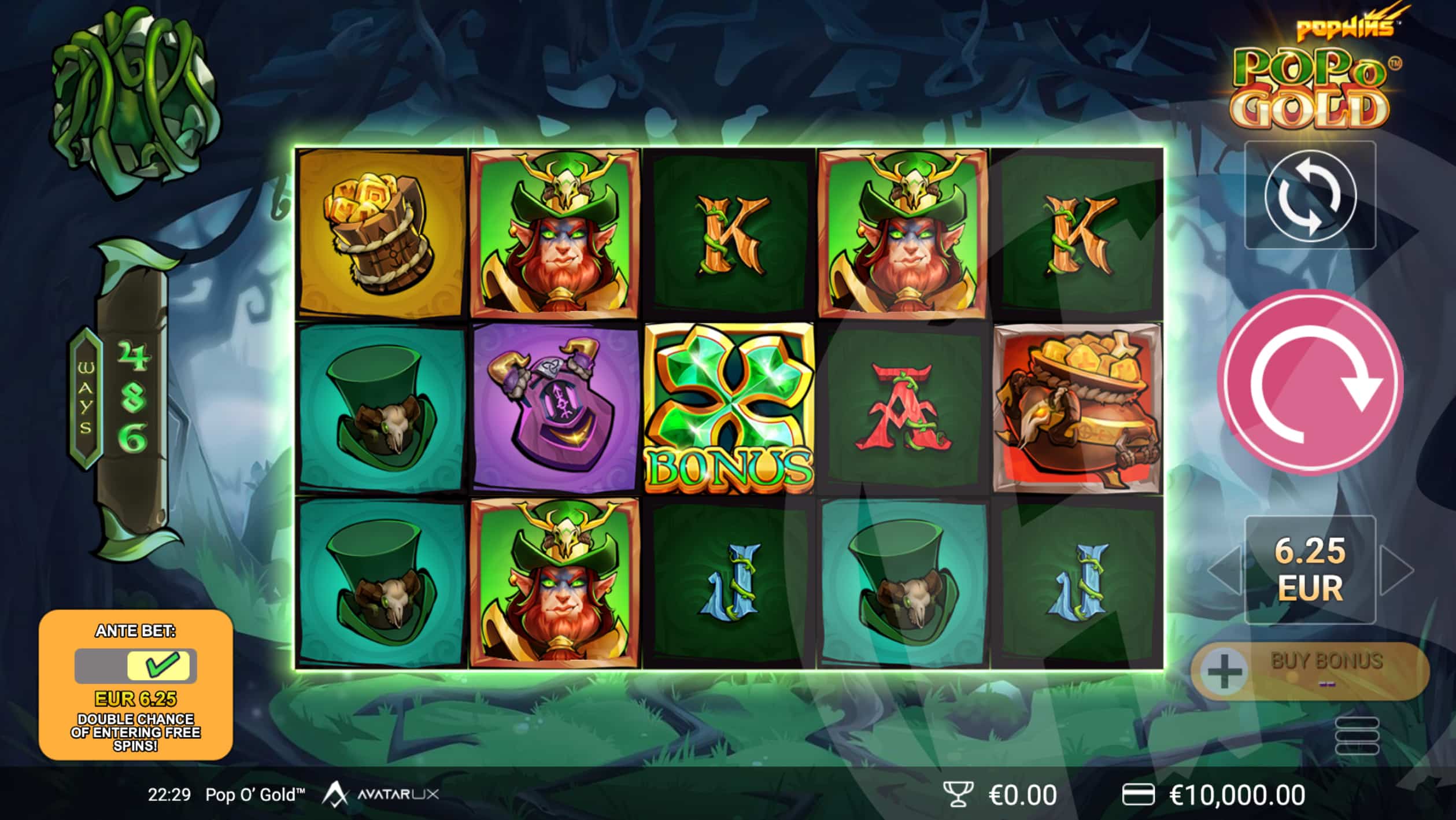 Everything is quite stereotypically Irish in Pop O'Gold but a lot darker than we're used to, with a deep green look to the whole thing. We're in an enchanted forest, with a mixture of Celtic stylings and foliage carrying the bulk of the responsibility in making you think of Ireland, and symbols doing the rest of the work – beers, leprechauns, pots of gold, hats, you get the gist. Apart from that, things are exactly what you'd expect, looking distinctively pop-y, with a soundtrack that fits the artwork.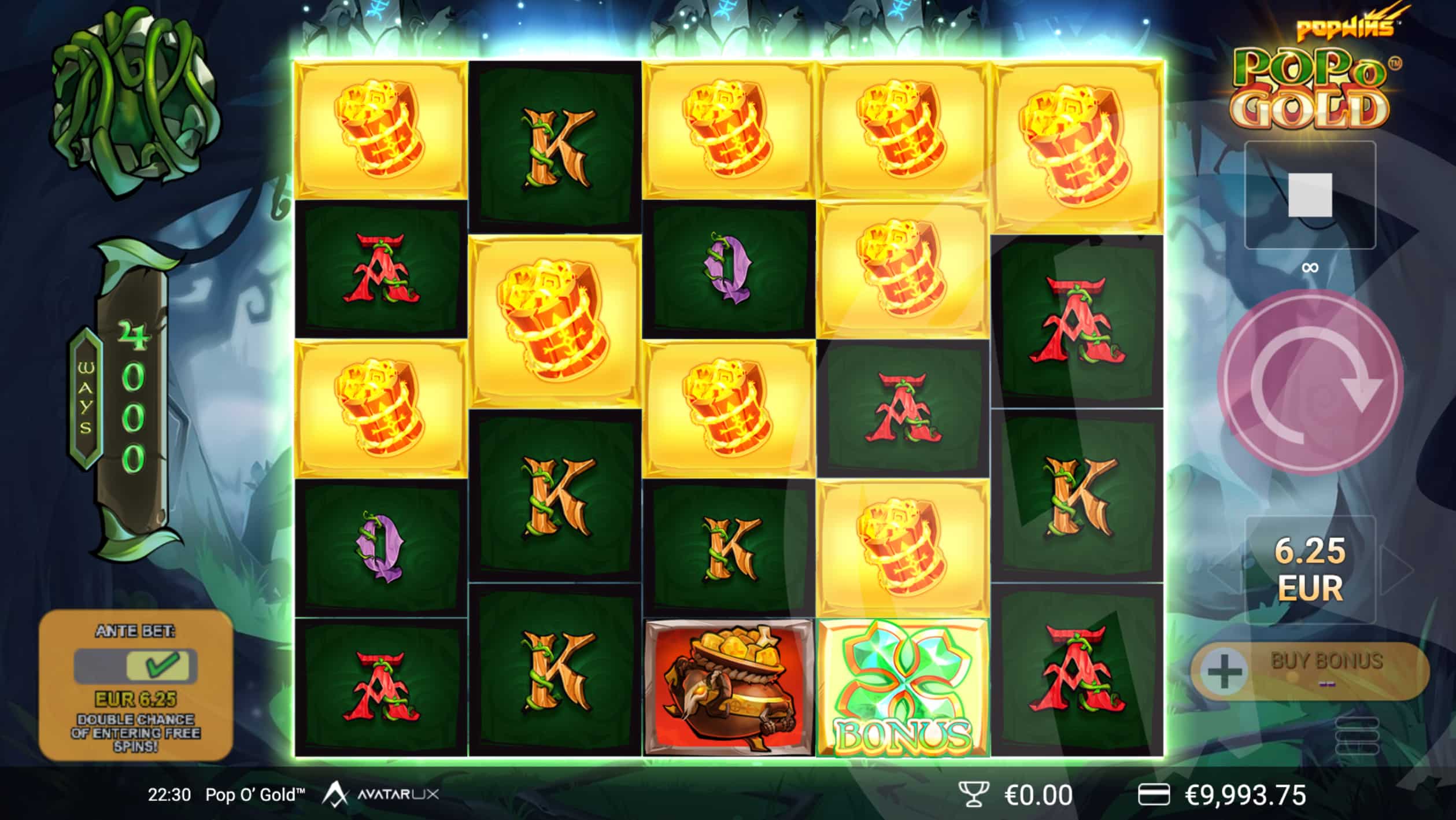 Pop O'Gold Base Features
Taking place across 5 reels, wins are formed on Pop O'Gold by matching at least 3 symbols on adjacent reels, beginning with the leftmost or rightmost reel – as wins pay both ways. Each reel begins with 3 symbols, producing 486 ways to win, although with reel expansion players can see up to 6,250 ways to win in the base game and 33,614 ways to win in Free Spins. Symbols available begin with non premiums, with Js, Qs, Ks, and As, awarding wins between 0.05 and 0.60x bet for matches between 3 and 5 of a kind. In the mid range we have hooks, hats, shields, and beers, awarding wins between 0.20 and 1.50x bet, again for matches between 3 and 5 of a kind. Premiums are pots of gold and spooky looking leprechauns, awarding wins of 0.30x bet for 3 of a kind matches, increasing to values of 2.50x bet for 5 of a kind wins. Finally, Celtic Bonus Scatter symbols are available.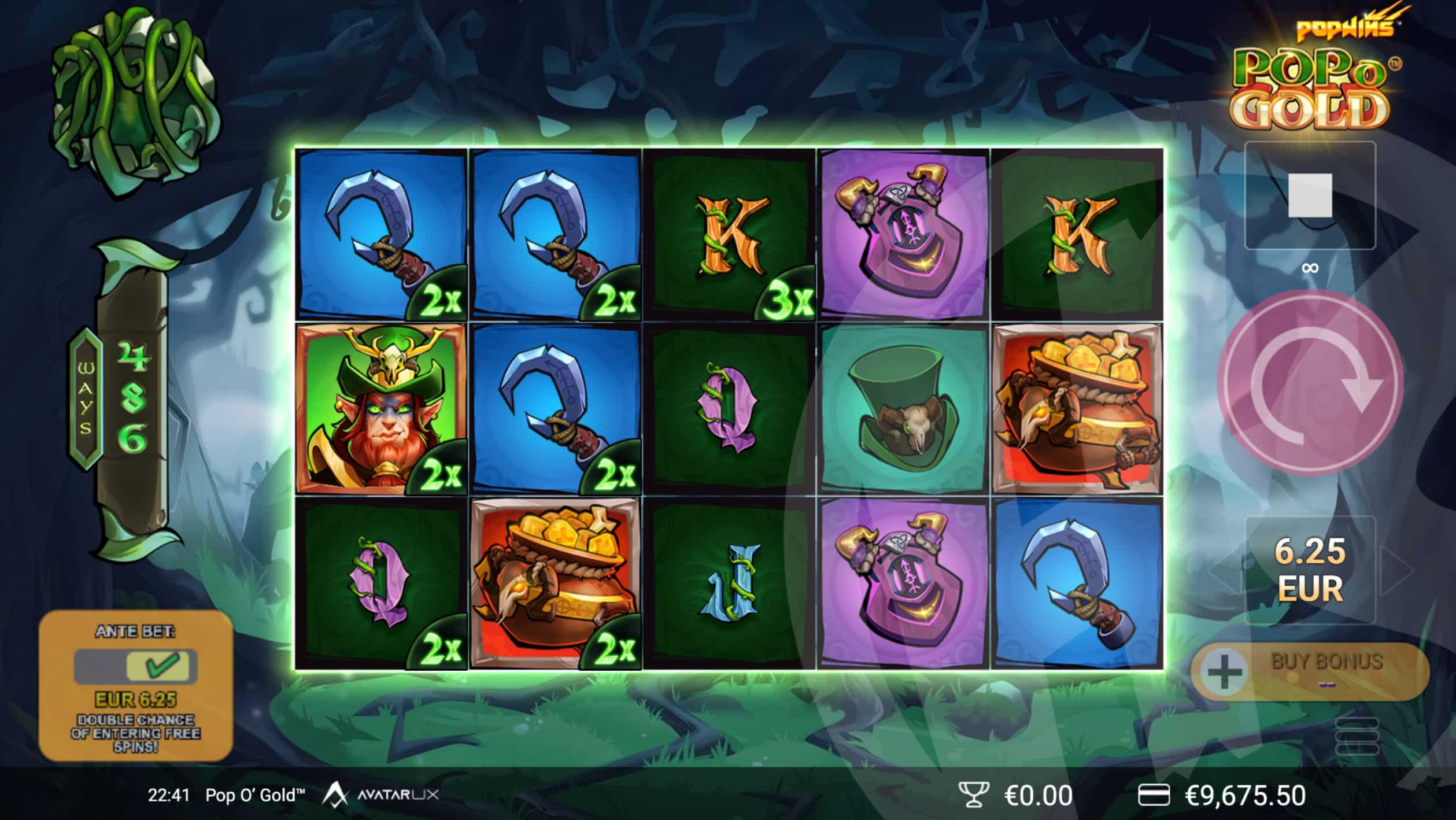 The first thing to cover in Pop O'Gold is the Ante Bet. By betting an additional 25%, players can double their chance of entering Free Spins. The option to Buy Bonus is disabled when Ante Bet is active.
Next are Split Symbols. Frequently, a random symbol or symbols can land on the reels with a split multiplier. This multiplier will increase the symbol value by the number shown. In the base game, Split Symbols can be 2x or 3x. It is possible that any symbol may be split.
Working alongside Split Symbols are Boosted Reels. At the beginning of each spin, it is possible that 2 or more reels may randomly become boosted. When a reel is boosted, all symbols on the reel will be split. It is possible to boost up to 5 reels at once.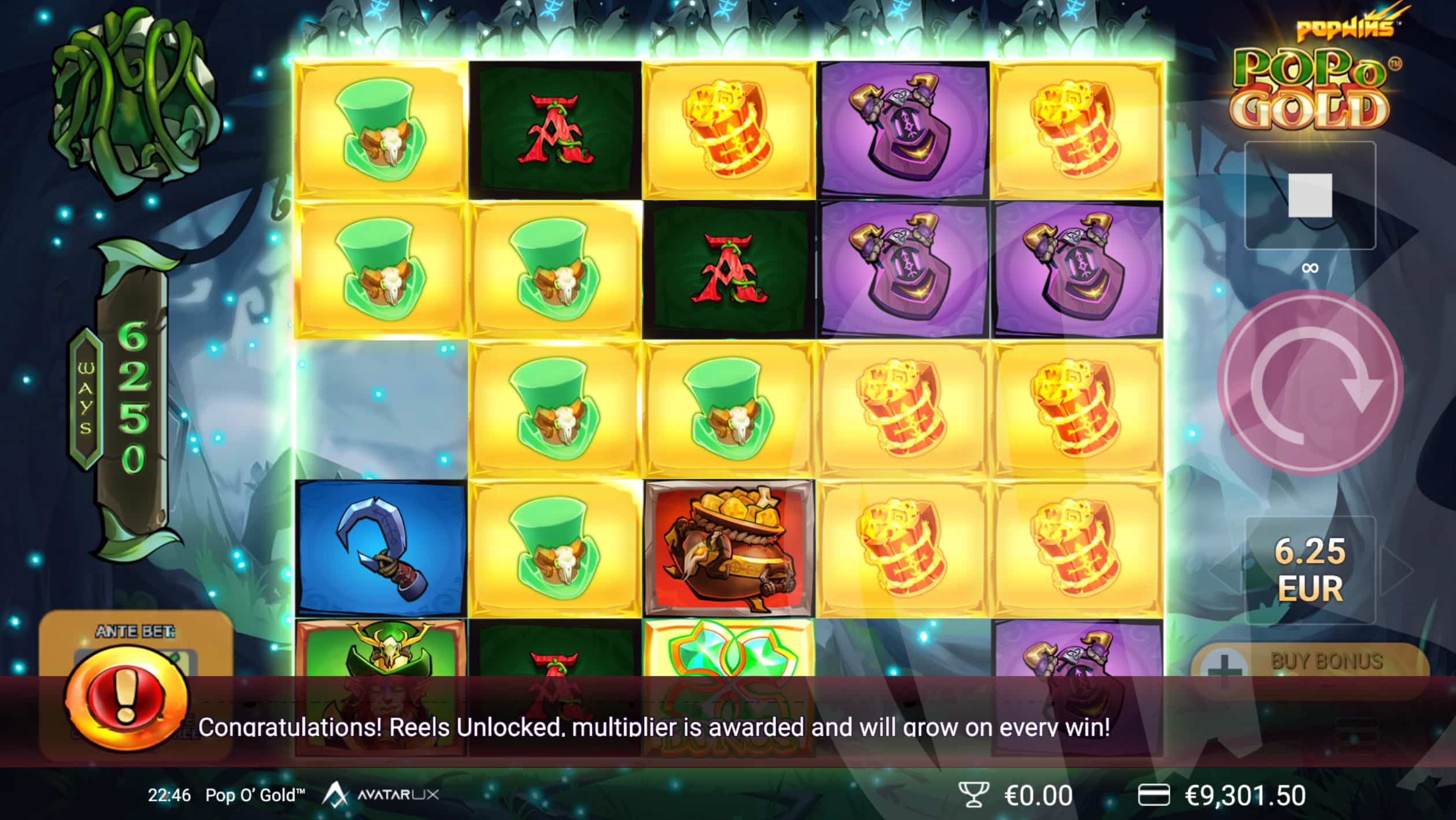 Alright, now the important bit. Pop O'Gold comes with a new mechanic for players to enjoy – StickyPop. With StickyPop, on every spin all symbols involved in a win will stick on the reels, remaining in position for a spin cycle.
This works hand in hand with the PopWins mechanic we're used to. As winning symbols are stuck into position, their respective reels will be increased in size, creating one free position as the reels re-spin. Simultaneously, all non winning symbols are removed from the reels and replaced with new symbols at random during re-spins. This StickyPop PopWins process continues until there have been no new winning symbols stuck into place, at which point wins are awarded.
In the base game, reels can expand to hold 5 symbols each, producing 6,250 ways to win – as both ways pay. When all reels have been expanded to their maximum height a global multiplier of x2 is awarded, increasing by +x1 for each win in a spin cycle.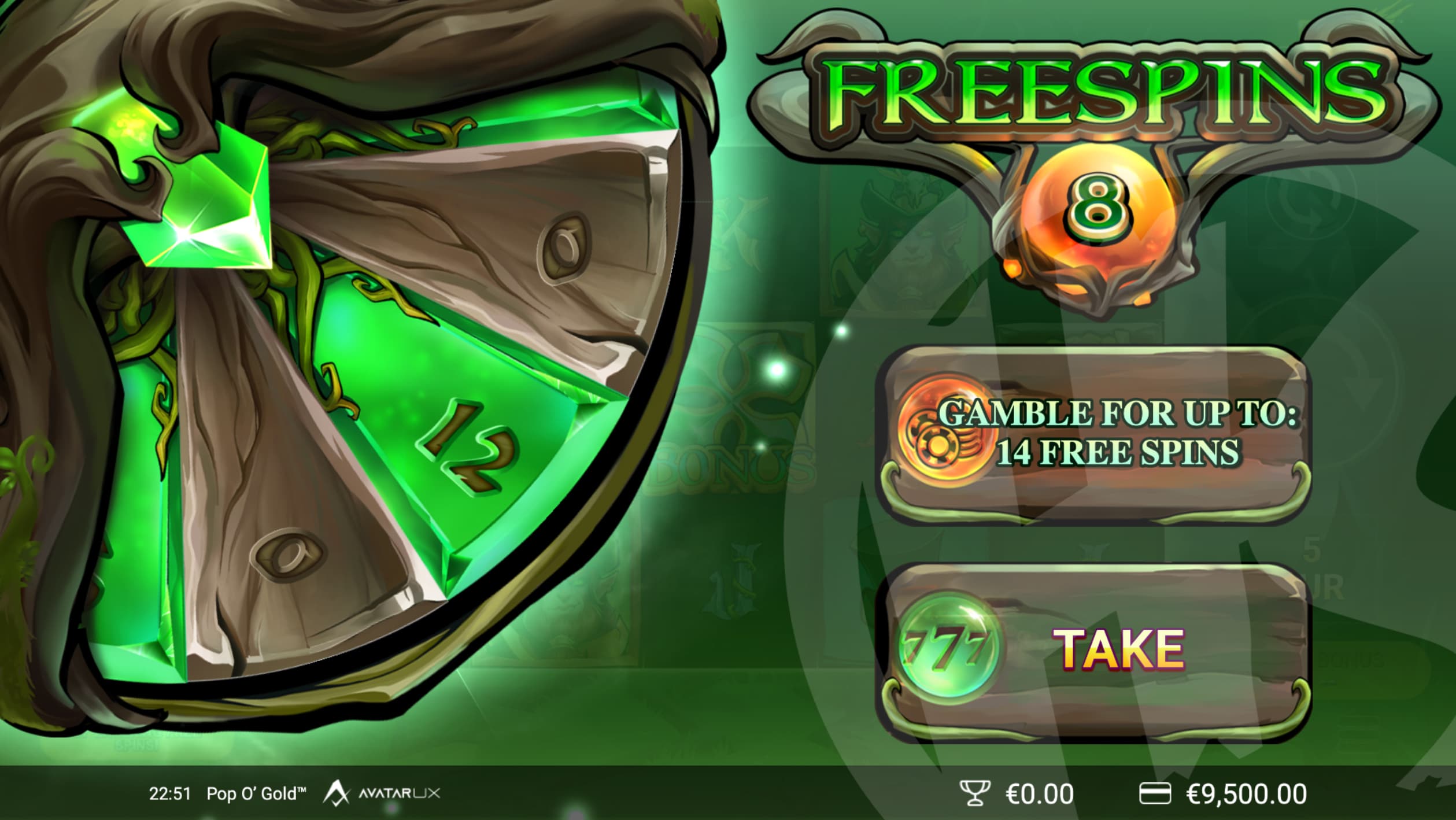 Pop O'Gold Bonus
Landing 3, 4, or 5 Bonus symbols to trigger 5, 8, or 12 Free Spins respectively. Before playing Free Spins, players have an opportunity to increase their starting spins by gambling on the Enchanted Gamble Wheel:
Gamble Wheel 1 – Increase starting spins from 5 to 8.
Gamble Wheel 2 – Increase starting spins from 8 to 12.
Each gamble has a special golden field. On the first gamble, this awards 10 spins, whilst on the second it will award 14 spins. If the golden field is awarded in gamble 1, there is no opportunity to use gamble 2.
Players can collect without gambling at all, or may collect after gambling once. If 4 Bonus symbols land, players will be taken straight to gamble 2, whilst players will have no opportunity or need to gamble if 5 Bonus symbols land. Losing the gamble will forfeit the bonus, and you will return to the base game without playing any Free Spins.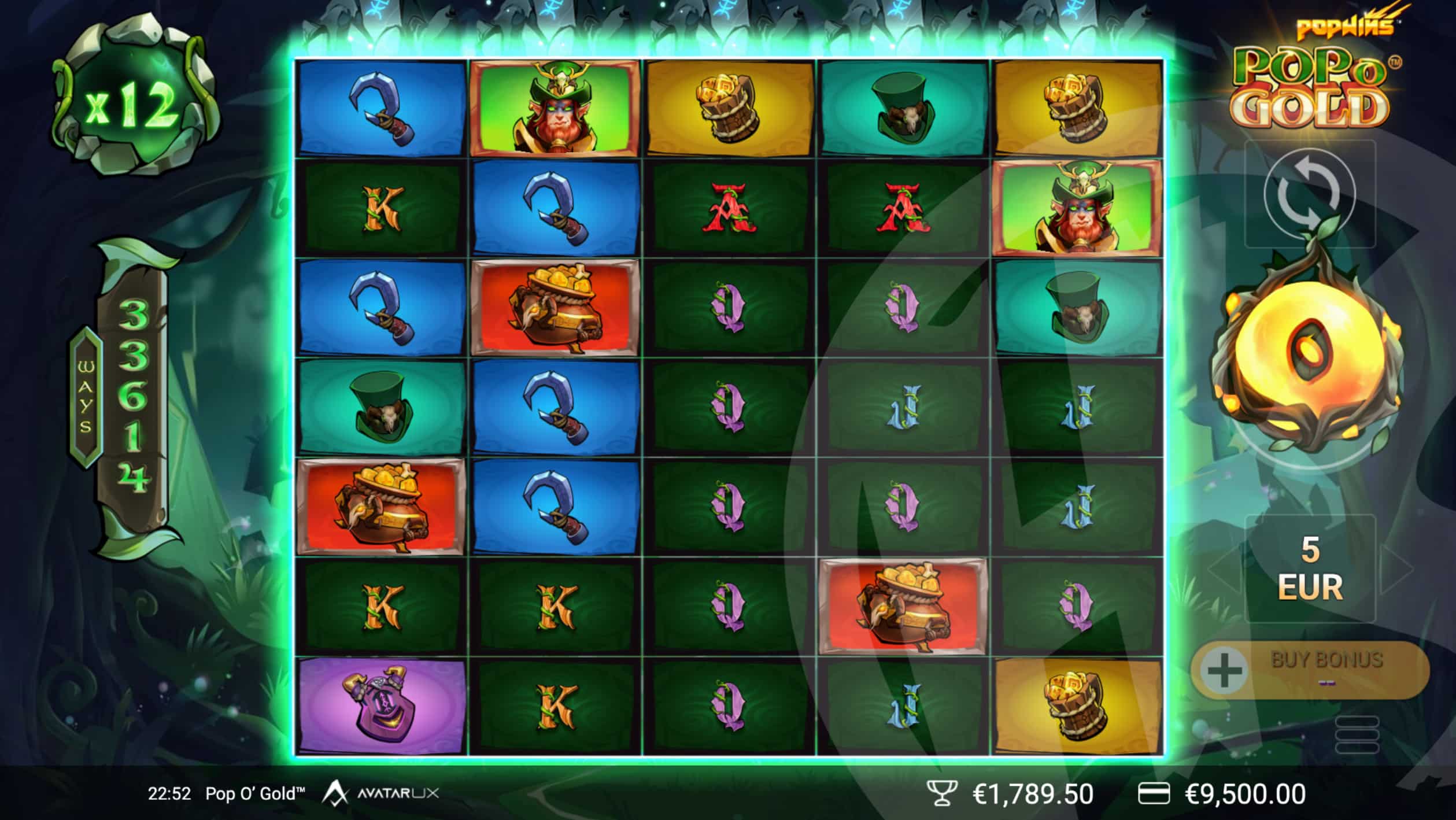 There are a few things to be aware of in Free Spins. Firstly, each reel contains 4 symbols at their starting point, producing 2,048 ways to win. Secondly, reels do not reset in height between spins – instead they will reset to the height of the shortest reel. Thirdly, the chance of reels being boosted is increased during Free Spins. Finally, reels can reach a maximum height of 7 symbols each, producing 33,614 ways to win – as both ways pay.
When all reels reach this height of 7 symbols tall an additional +2 spins are awarded, and a x2 global multiplier is introduced. This multiplier will increase by +x1 for each win until Free Spins have ended, and will not reset between spins. Aside from this, everything continues as normal, with StickyPop remaining active.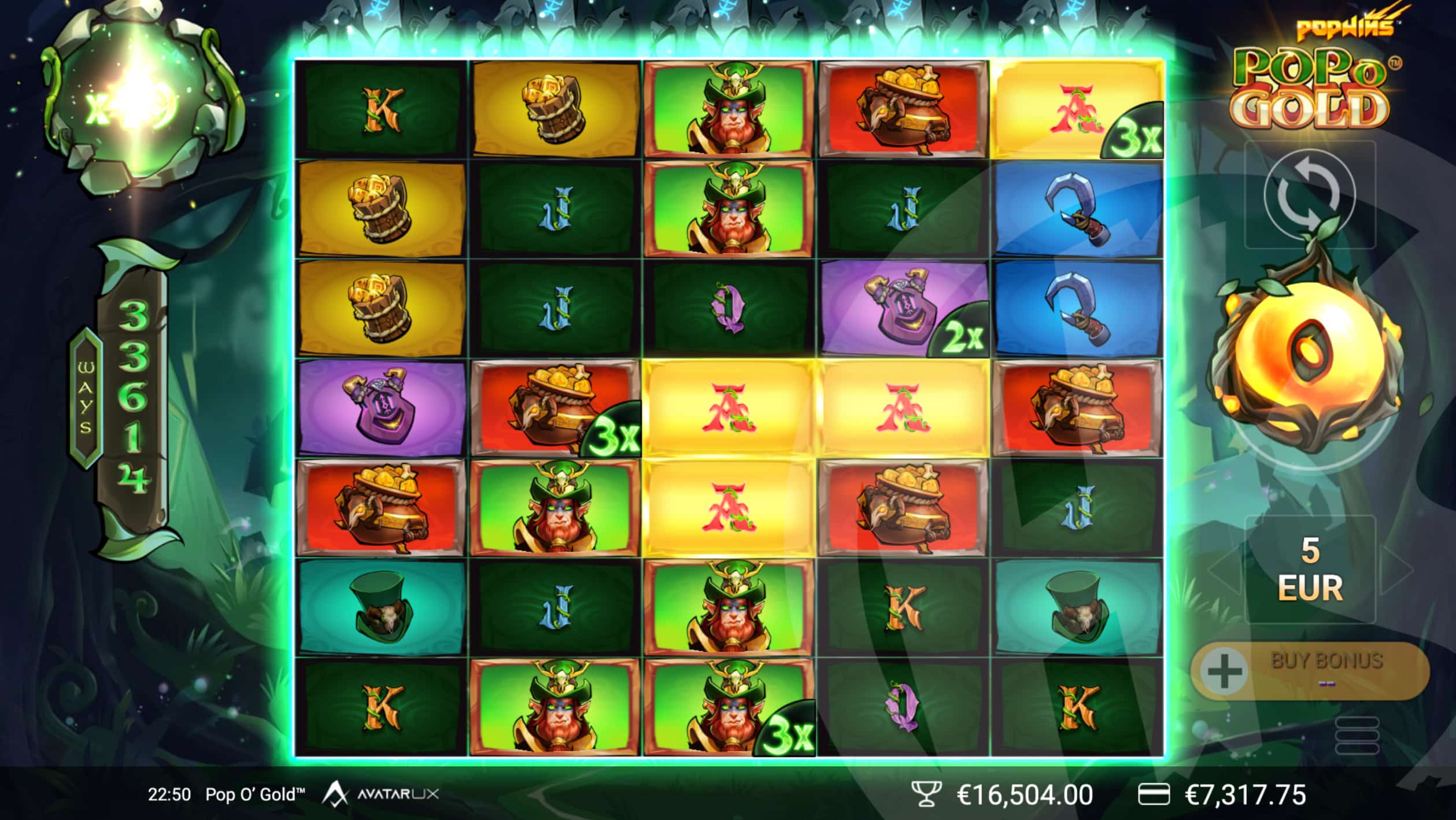 Players in appropriate regions can skip straight to the action with 3 Buy Bonus options:
Magic Bonus (5 spins) – 100x bet
Enchanted Gamble Wheel (up to 14 spins) – 100x bet
Max Magic Bonus (12 spins) – 400x bet 
The maximum win available in Pop O'Gold is 20,000x bet. If the sum of a single game round exceeds this, the game round will end and 20,000x bet will be awarded.
First Impression
AvatarUX certainly don't seem like they'll be going easy anytime soon on the PopWins front, but as far as players go it's a non-issue since the pop releases continue to be received with open arms. On an imagination front, Pop O'Gold makes one of its boldest statements in art, taking on one of the darkest looks at Ireland we've seen in a while with artistic license forming one of the most enjoyable parts of this release.
Of course, we do have something new to look at in this release – StickyPop, the team's new mechanic that works to lock symbols into place and facilitate larger win opportunities. Established players will be more than familiar with this format, but it is one that ties in well with expanding reels and wins paying both ways – a winning combination.
StickyPop works great in the base game, particularly alongside the Base Game Unlock and Ante Bet, but it really kicks up a notch during Free Spins, where reels only reset to the smallest reel height and players have the potential up to unlock win multipliers. When the right combinations land, wins are possible up to 20,000x bet.
Finally, maths is highly volatile and RTP options are available up to 96.10%, so as always it's worth checking this. It's hard to know how much life PopWins has left in it, but StickyPop adds a new dimension that keeps it going a little bit longer.
*The screenshots taken of games reviewed on this site are taken from Demo Play, as reviews are often written before games are released for real play.