You know how people say 'I can't believe it's Monday again, it comes around quicker every week' or something to that effect? Well, we're feeling a little like that right now as, believe it or not, we're back again with another PopWins release from the team at AvatarUX. I believe this one now marks number 18 in this series, so there's no denying that AvatarUX know when they have something popular in the palm of their hand. After the team's recent success in HipHopPop and HelioPOPolis, and success in review form for LooneyPop, we're taking a bit of a side step into ReefPop – an aquatic adventure that comes with a fixed RTP of 96.0%, a highly volatile maths model, and win potential up to 10,000x bet.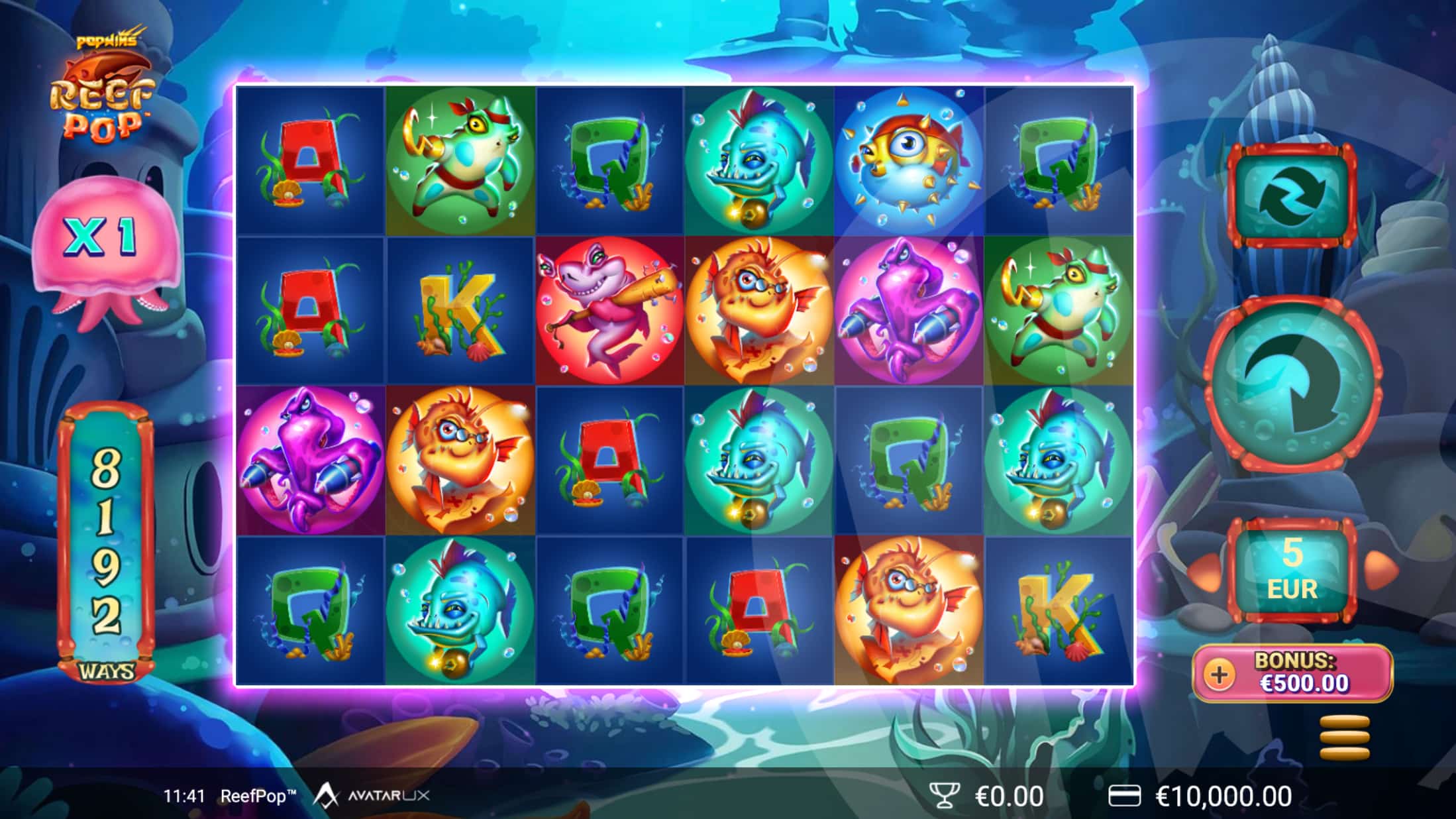 There's an interesting look to ReefPop – we're under the sea, which is to be expected, but symbols immediately draw attention. There are a bunch of sea creatures, each with various items – including weaponry like nail covered baseball bats, bombs, and rockets, and other items like maps and hooked hands, or fins I guess. Aside from this, everything is pretty much what you'd expect, with rocks, shells, seaweed, coral, jellyfish, bubbles, and all the rest of the stereotypically watery elements. It's all topped off with a fairly foreboding soundtrack, solidifying the uniqueness.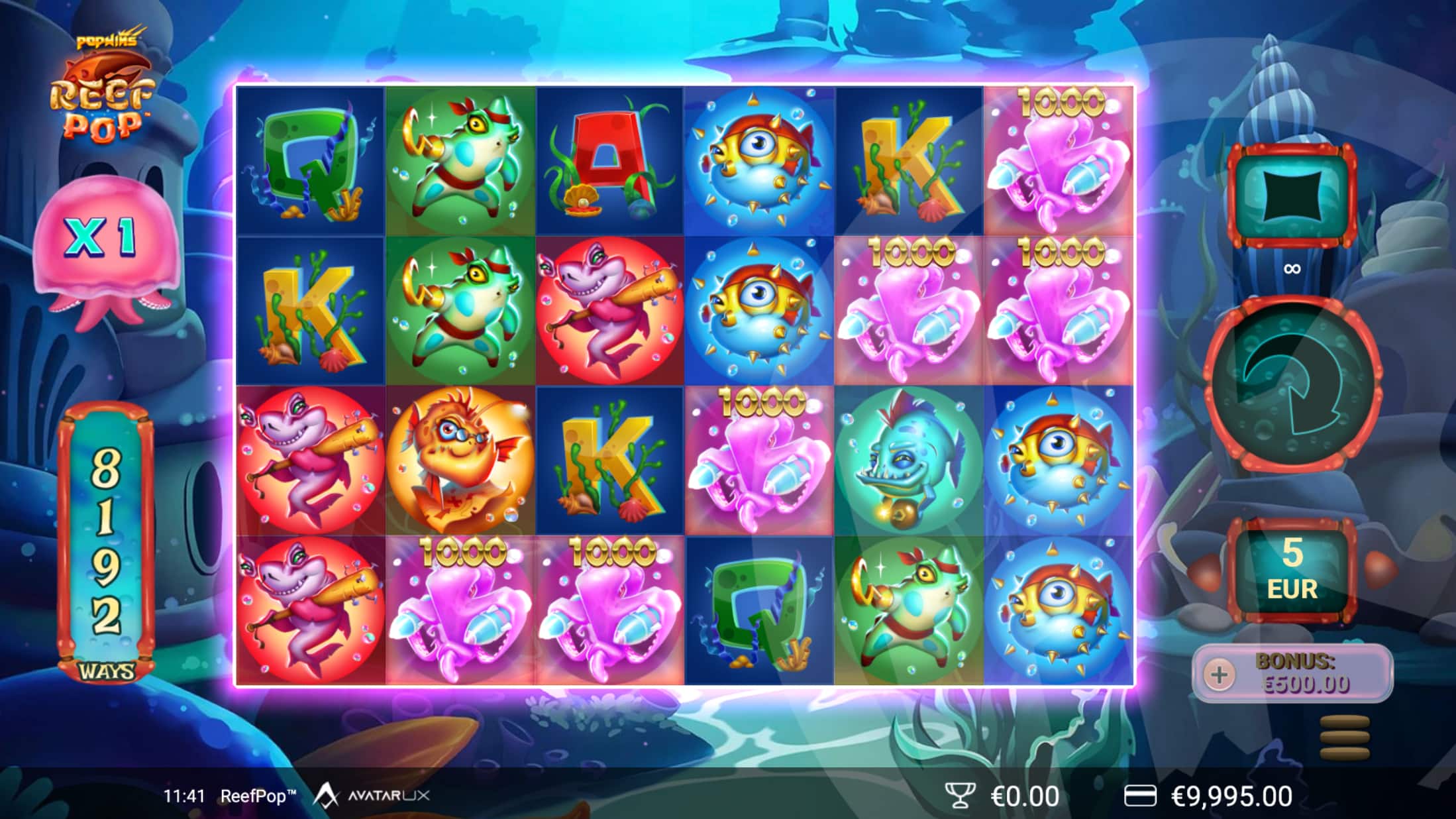 ReefPop Base Features
Taking place across 6 reels, wins are formed on ReefPop by matching at least 3 symbols on adjacent reels, beginning with the leftmost or rightmost reel – as wins pay both ways. Each reel begins with 4 symbols, producing 8,192 ways to win, although with reel expansion players can see up to 93,312 ways to win in the base game and 524,288 ways to win in Free Spins. Symbols available begin with non premiums, with Qs, Ks, and As, awarding wins between 0.10 and 0.60x bet for matches between 3 and 6 of a kind. In the mid range we have frogs, puffer fish, and piranhas, awarding wins between 0.20 and 1x bet, again for matches between 3 and 6 of a kind. At the premium end, we have what looks to be hammer head sharks, angler fish, and octopuses – land between 3 and 6 of a kind of any premium to see wins between 0.30 and 1.50x bet. Finally, the highest paying symbol is the golden shark, awarding wins of 0.60, 1, 2, or 3x bet for 3, 4, 5, or 6 of a kind.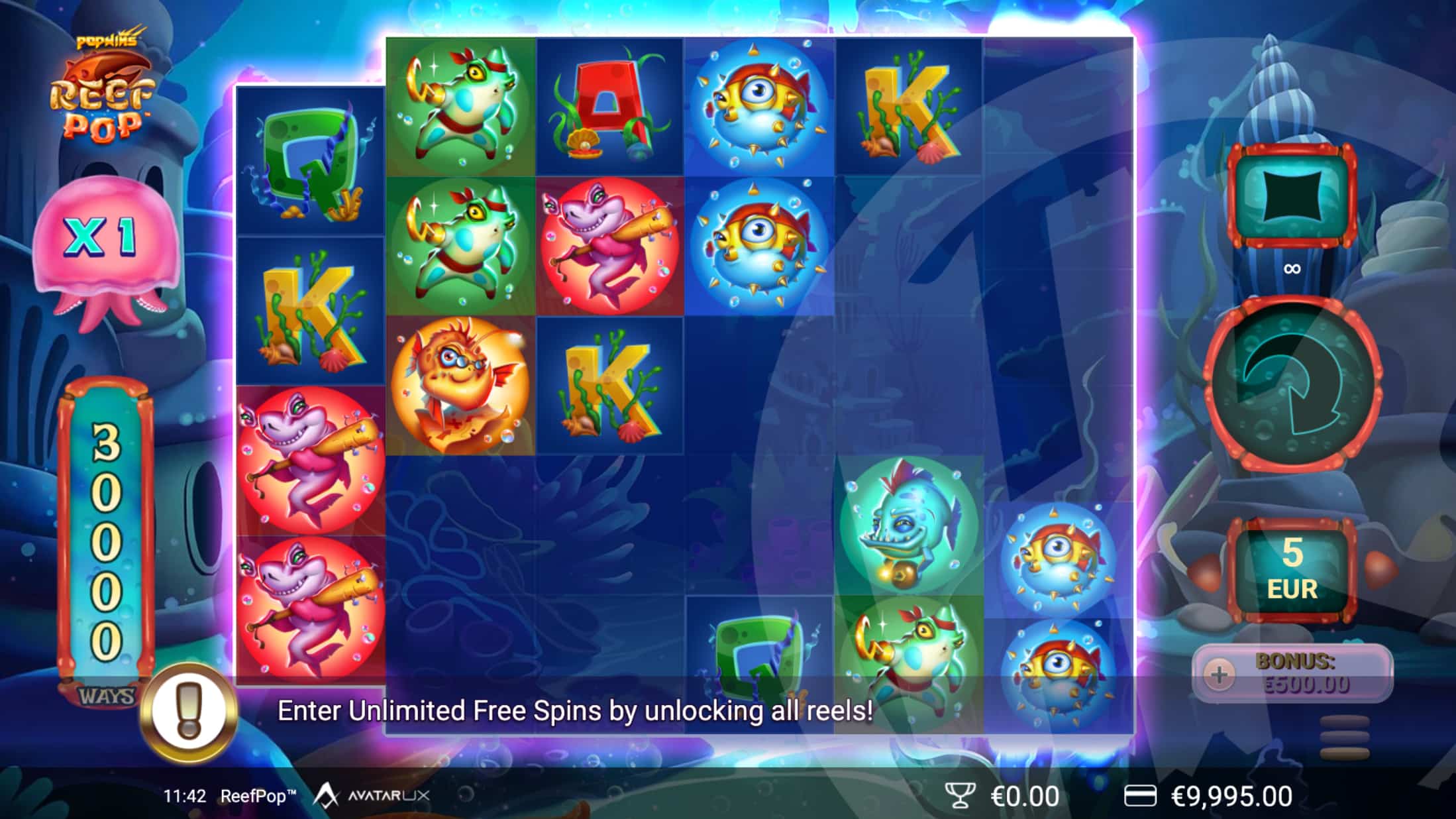 So, really the only feature in the base game of ReefPop is the PopWins mechanic itself. On every spin, all symbols involved in a winning combination will be removed from the reels and replaced by two new symbols. This increases the heights of any relevant reels, and subsequently the ways to win. In the base game, reels can expand to hold 6 symbols each, producing 93,312 ways to win – as both ways pay. In Free Spins, reels can hold up to 8 symbols with both ways pays, producing 524,288 ways to win. PopWins continue until no more wins are formed, and when they have finished reels will reset to their original height ahead of the next paid spin.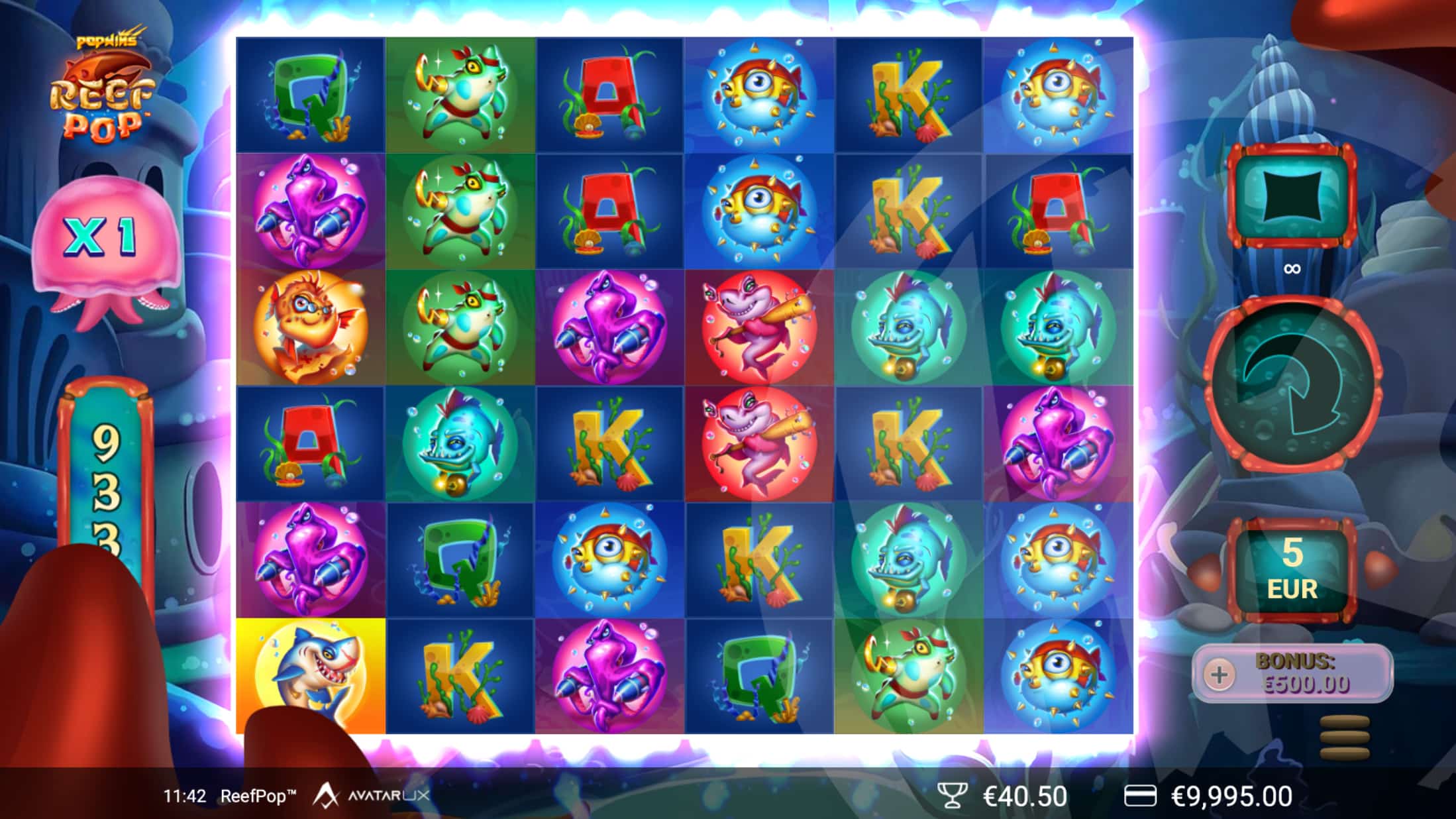 ReefPop Bonus
Expand every reel within the base game to the maximum of 6 symbols high to trigger Unlimited Free Spins. Before entering Free Spins, players can play the gamble wheel to try to increase the starting number of win ways. Free Spins begin with all reels 4 symbols high as standard, however players can increase this starting point as high as 6 symbols per reel:
Gamble Wheel 1 – Increase each reel to 5 symbols high, or 31,250 ways to win.
Gamble Wheel 2 – Increase each reel to 6 symbols high, or 93,312 ways to win.
Players can collect without gambling at all, or may collect after gambling once. Losing the gamble will forfeit the bonus, and you will return to the base game without playing any Free Spins.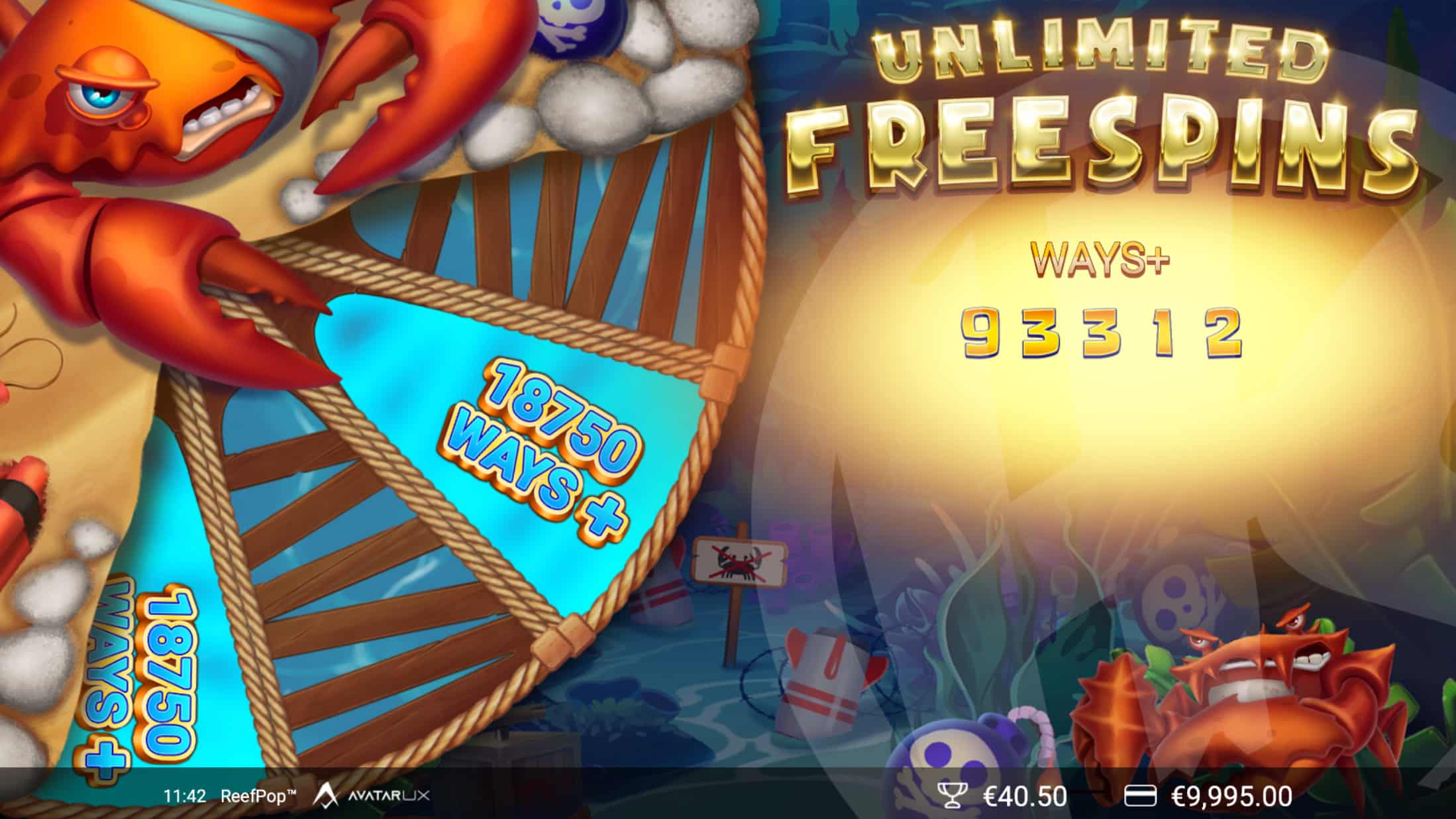 During Unlimited Free Spins, players begin with 3 lives. Each losing spin decreases this counter by -1, whilst each spin involving a win will reset this counter to 3. Working alongside free spins is an increasing multiplier, which does not reset between spins. Each spin increases the multiplier by +1 after wins have been paid. Spins that do not involve a win will also increase the multiplier by +1.
Things work pretty much the same way during Free Spins, except that reel heights do not reset between spins – rather, reels will only be reset to the shortest reel height currently on the reels. Reels can unlock as high as 8 symbols in free spins, or 524,288 ways to win – as both ways pay.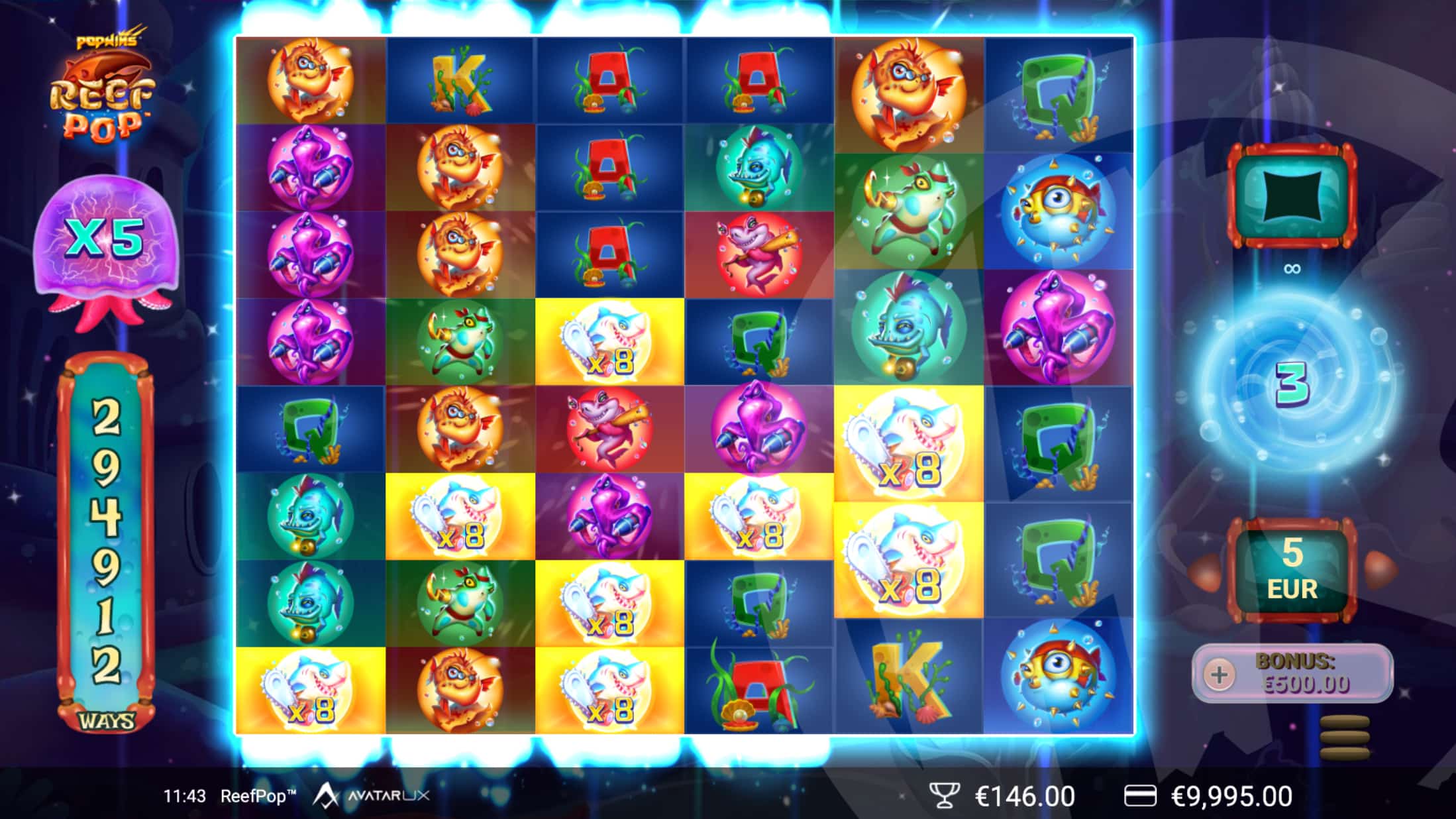 Golden Sharks, the highest paying symbol available, will have a multiplier attached during free spins. This multiplier will be applied to every golden shark on the reels, and is determined by the number of said symbol in view. Each golden shark that lands on the reels will count for x1 towards the multiplier – meaning if 5 golden sharks are in view, each will have a x5 multiplier attached.
Unlocking all reels to maximum height will increase the golden shark value, with each one then worth +x2 – where 5 sharks in view would each have a x10 multiplier attached.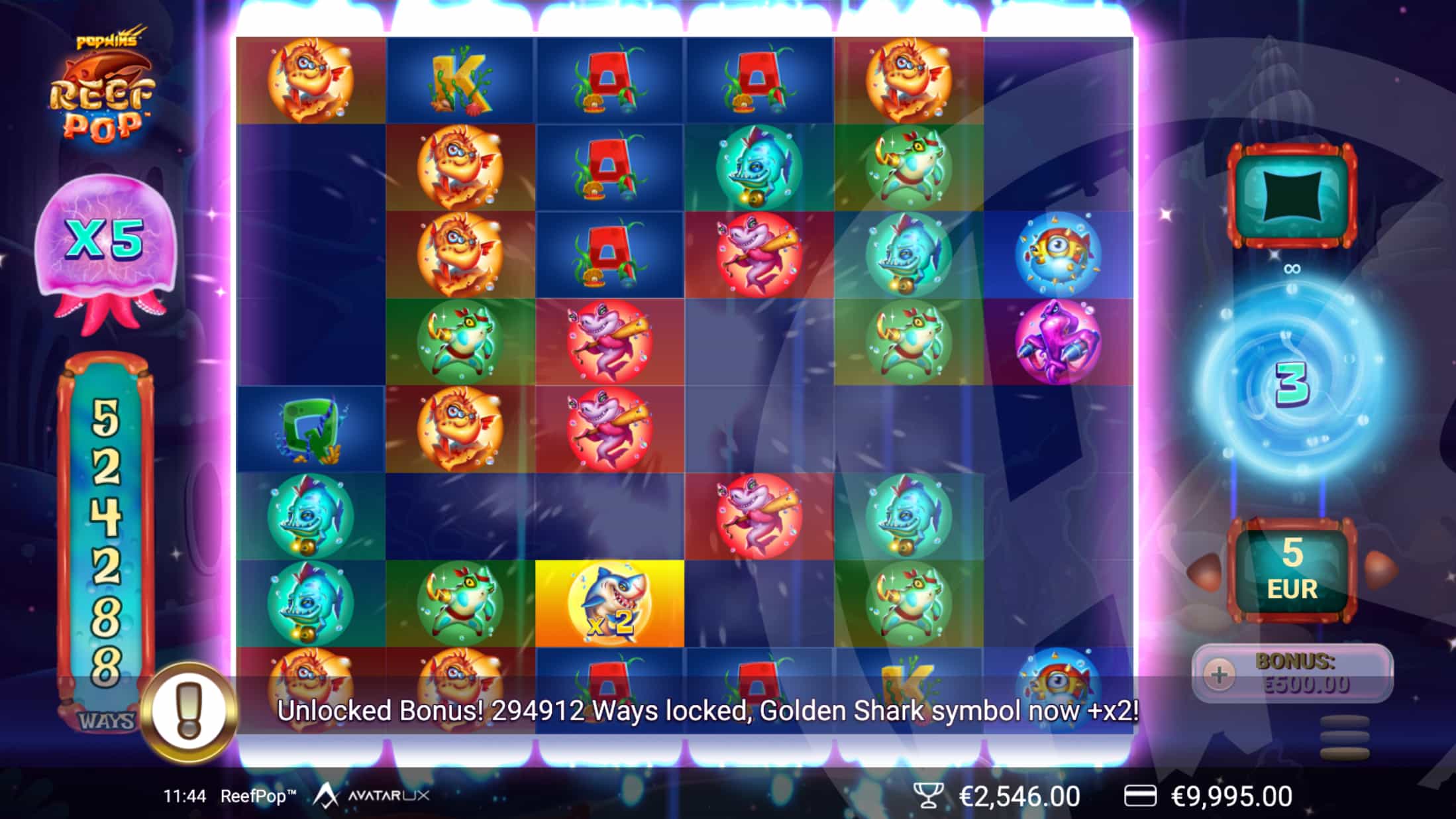 Players can take advantage of the following Buy Bonus options:
Unlimited Free Spins – 100x bet
Unlimited Free Spins (gamble up to 93,312 ways to win) – 100x bet
Max Reward (93,312 ways to win) – 400x bet
The maximum win available in ReefPop is 10,000x bet. If the sum of a single game round exceeds this, the game round will end and 10,000x bet will be awarded.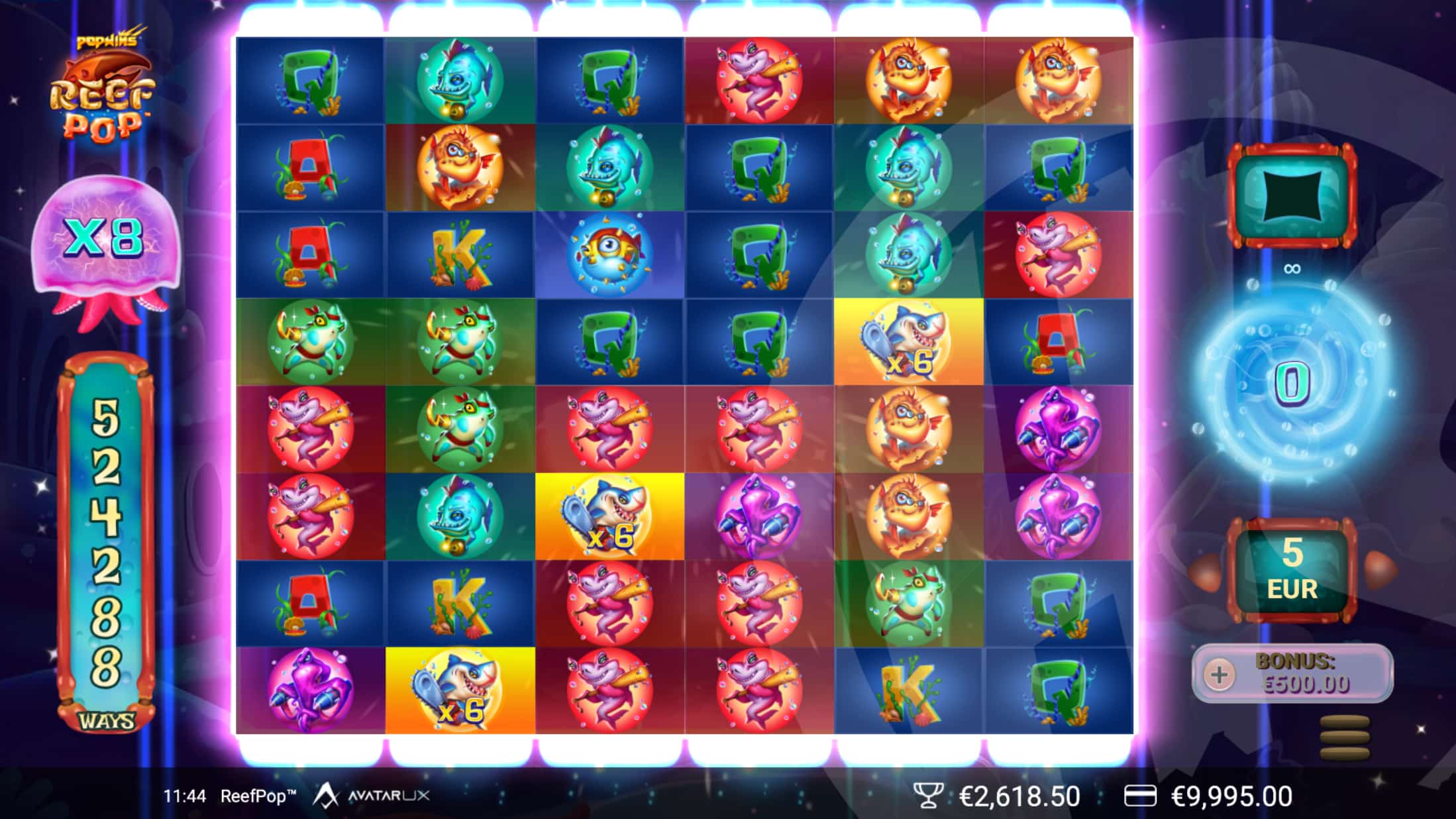 First Impression
There's nothing overtly complex about ReefPop – especially if you were a fan of the team's 2021 release, PiggyPop. Strictly speaking, ReefPop is simply a reskin, with the same reel sizes, features, and mechanics on offer. In the base game, things are pretty much what you expect from any PopWins release, with increasing reels, increasing ways to win, and both ways pays available. Things get considerably more interesting in Free Spins, with reel heights not fully resetting between spins, an increasing win multiplier, and Golden Shark multipliers available. When the right combinations land, wins are possible up to 10,000x bet.
Whilst the mechanics and features may have been taken from PiggyPop, there's nothing rehashed about the maths model in this one, with ReefPop receiving a complete makeover in statistical form. This includes a hit frequency of 18.95%, and a bonus frequency of 1 in 172 spins.
Finally, maths is highly volatile and RTP is fixed at 96.0% – great. There's not much left to say on this one – if you liked the features of PiggyPop but fancy a different experience thanks to the maths, ReefPop is perfect for you.
*The screenshots taken of games reviewed on this site are taken from Demo Play, as reviews are often written before games are released for real play.