ELK Studios are one of the more interesting providers on the market. Whilst they do have a few singular games like their recent release Sumo Sumo, they've built a catalogue over the years that is now easily separated into categories, or series. From their Gold series which most recently saw Avalon Gold, to Sam's series with the recently released Book of Sam, to their Toro series, with Buffalo Toro serving as the most recent addition, to the 7s series in which we saw Freeway 7 – the team like a series. Even aside from these, this studio specialises in sequels, with Tropicool 2, Cygnus 2… Well, you get the gist. Needless to say, ELK know when they're on to a good thing, and today we're looking at another of of their most popular series, as they prepare to release Nitropolis 4. With a fixed RTP of 94.0%, this highly (8/10) volatile release can produce wins up to 50,000x bet.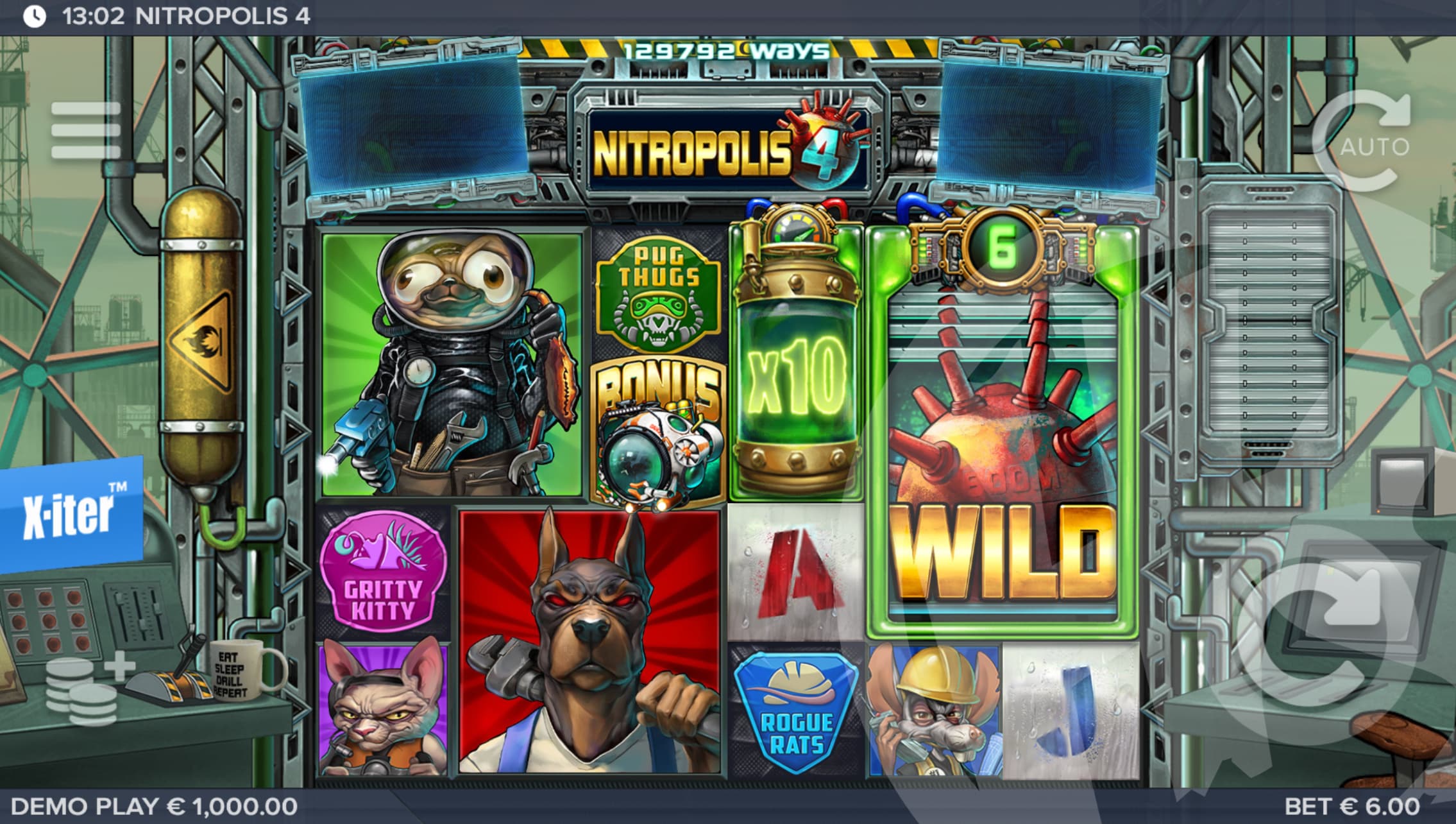 Visually, it's everything you'd expect from an ELK Studios Nitropolis release. It's quite interesting how this team can produce series that are so vastly different aesthetically – I'd believe you if you told me they had separate teams working individually on each series, and they very well might. I digress though, because in any regard it looks good – industrial, with a lot of metal, pipes, and skyscrapers in the background, so we're in some sort of construction-esque site, with a clipboard and a mug that says 'eat sleep drill repeat'. Audios are heavy but entrancing – so much so that you're instantly excited to hear the big win count up, when it comes.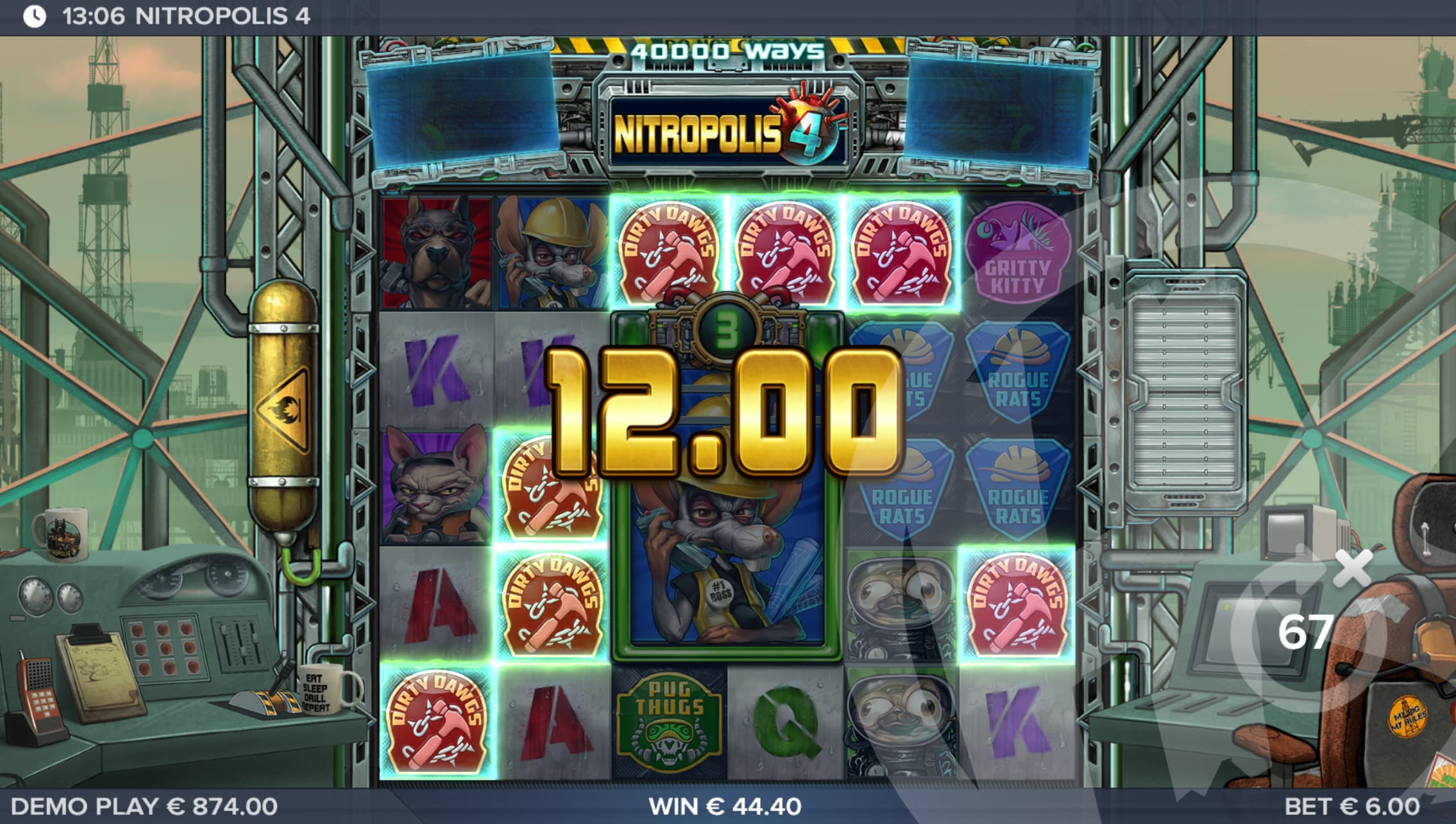 Nitropolis 4 Base Features
Taking place across 6 reels, wins are formed on Nitropolis 4 by matching at least 3 symbols on adjacent reels, beginning with the leftmost reel. Each reel begins with 4 symbols on it, producing 4,096 ways to win – although this can increase exponentially thanks to Nitro Reels and Both Ways Nitro Booster, which we'll get to soon. Symbols available begin with non premiums, with Js, Qs, Ks, and As, awarding wins between 0.10 and 0.30x bet for matches between 3 and 6 of a kind. In the mid range we have four emblems – Rogue Rats, Pug Thugs, Gritty Kitty, and Dirty Dawgs. Land 3 of a kind of any of embelm to see wins between 0.15 and 0.20x bet, increasing to values between 0.80 and 1x bet for 6 of a kind matches. At the premium end, we have the creatures to match the emblems – rats, pugs, cats, and dogs. Land 3 of a kind of any of these animals to see wins between 0.50 and 1.50x bet, increasing to values between 1.25 and 3x bet for 6 of a kind. Finally, Wild symbols are available, substituting for all symbols except Bonus symbols and Super Bonus symbols.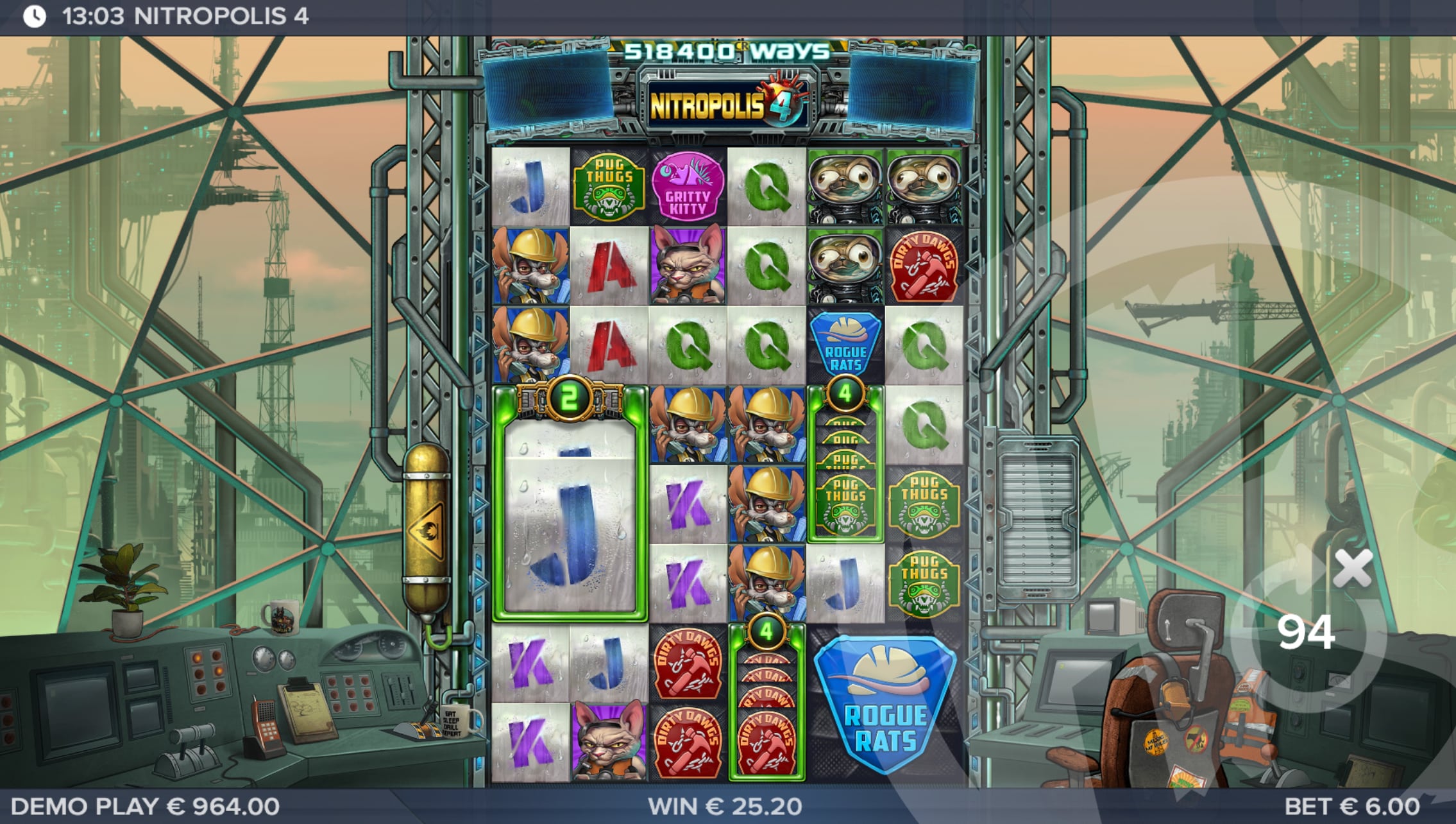 Alright, so the first thing to cover in Nitropolis 4 is the Avalanche feature. On every spin, all symbols involved in a win will be removed from the reels. All remaining symbols then drop to the bottommost available position on their respective reels, with new symbols dropping in from above to fill any remaining gaps. Avalanches continue until no more wins are formed. During this process, an additional row of symbols is added when winning symbols are exploded from the reels – up to a maximum of 8 symbols per reel, or 262,144 ways to win.
Next up are Big Symbols and Nitro Reels. With Big Symbols, Super symbols of 2×2 and Mega symbols of 3×3 can occur in any spin or symbol drop. Meanwhile, Nitro Reels cover two symbol positions and contain a stack of matching symbols – either 4, 6, 8, 10, or 12. It is also possible to land Big Nitro Reels, which cover six symbol positions, and contain either 2, 3, 4, 5, or 6 Super symbols that are 2×2 in size.
Additionally, it is possible to land Nitro Multipliers, which again cover two symbol positions. Nitro Multipliers contain multipliers of 4x, 6x, 8x, 10x, or 12x, and multiply all winning combinations in view.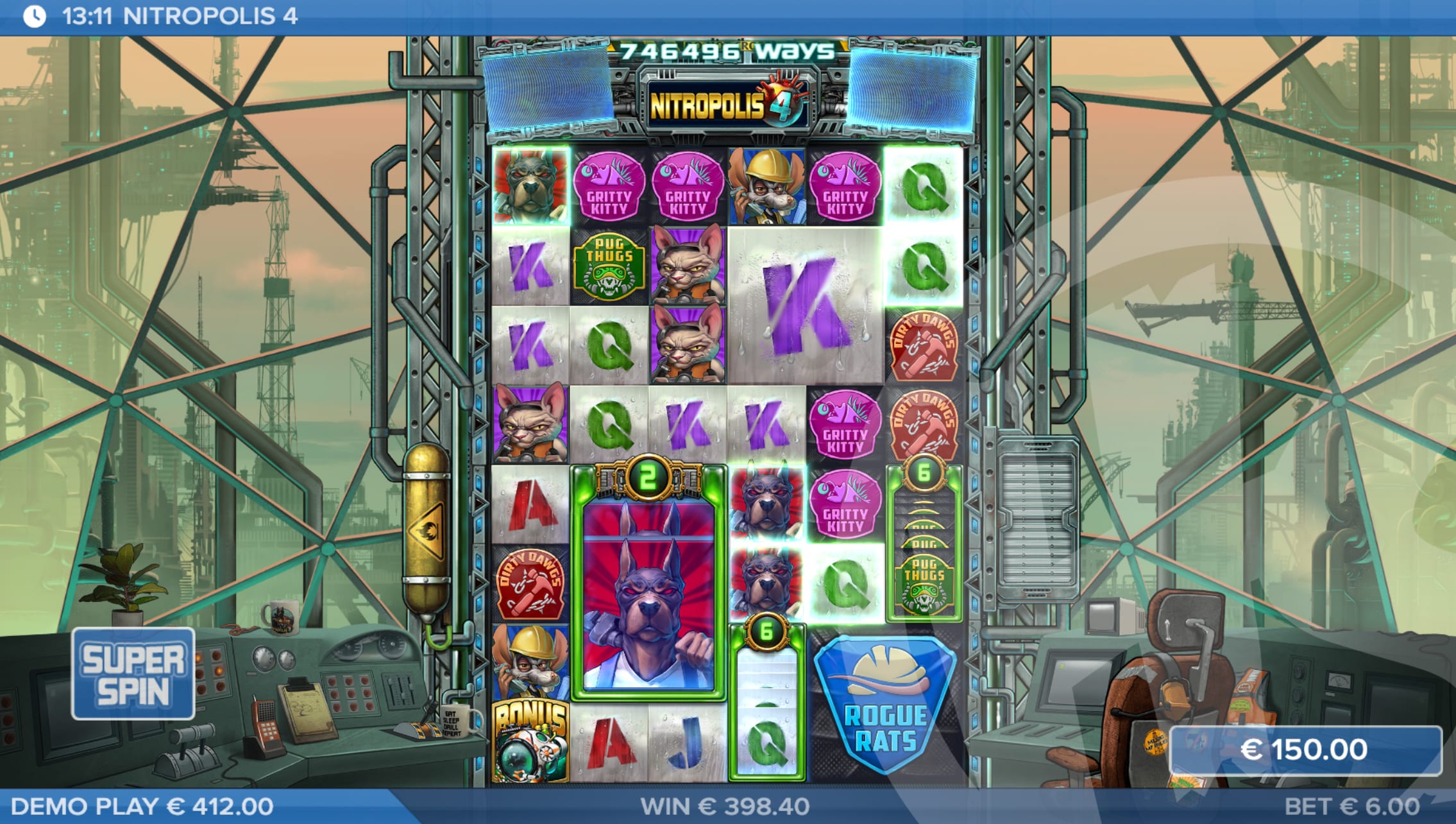 The final aspect of the base game to cover is the Nitro Booster feature. Above the reels, there are two screens – one to the left and one to the right. These can each add any of the following 8 features to the main reels randomly:
Redrop – Nitro Reels, Nitro Multipliers, Wild symbols, and Bonus symbols are kept on the reels, but all other symbols are removed, with a new drop awarded.
Both Ways – Wins pay from left to right and right to left.
Max Rows – All reels expand to their maximum 8 symbol height.
Nitro Wild – An existing Nitro Reel in view is filled with Wild symbols.
Garbage Collect – All instances of a randomly selected symbol in view are removed.
Nitro Upgrade – An existing Nitro Reel in view is upgraded, with additional symbols added to it.
Nitro Appear – A Nitro Reel of any size is placed randomly on the reels, replacing the symbols that were in the position it now takes.
Nitro Match – An existing Nitro Reel in view is matched with a random symbol in view, and the Nitro Reel is filled with that symbol.
Nitropolis 4 Bonus
Land 3, 4, 5, or 6 Bonus symbols to trigger 8, 12, 16, or 20 spins, respectively. During the Bonus, the Safety Level comes into play. For every new spin that results in a win, the Safety Level increases by one row – that is, the minimum number of symbols per reel increases by one, increasing the starting ways to win. Every subsequent spin then begins at the new Safety Level.
All Nitro Reels are sticky during the Bonus. By triggering with at least 1 Super Bonus symbol, the Super Bonus is awarded, wherein all spins are played with Max Rows and Both Ways Nitro Booster activated. Nitro Reels are also sticky during the Super Bonus.
Either Bonus can be retriggered by landing 3, 4, 5, or 6 Bonus symbols – in which case an additional +8, 12, 16, or 20 spins will be awarded, respectively.
Players in appropriate regions can take advantage of the following X-iter options:
Bonus Hunt (more than double the chance of triggering a Bonus) – 2x bet
Nitro Booster (one spin with two guaranteed features every time the Nitro Booster activates) – 10x bet
Super Spin (one spin with Max Rows and Both Ways activated) – 25x bet
Bonus Game – 100x bet
Super Bonus Game – 500x bet
RTP is unchanged when using X-iter.
The maximum win available in Nitropolis 4 is 50,000x bet. If the sum of a single game round exceeds this, the game round will end and 50,000x bet will be awarded.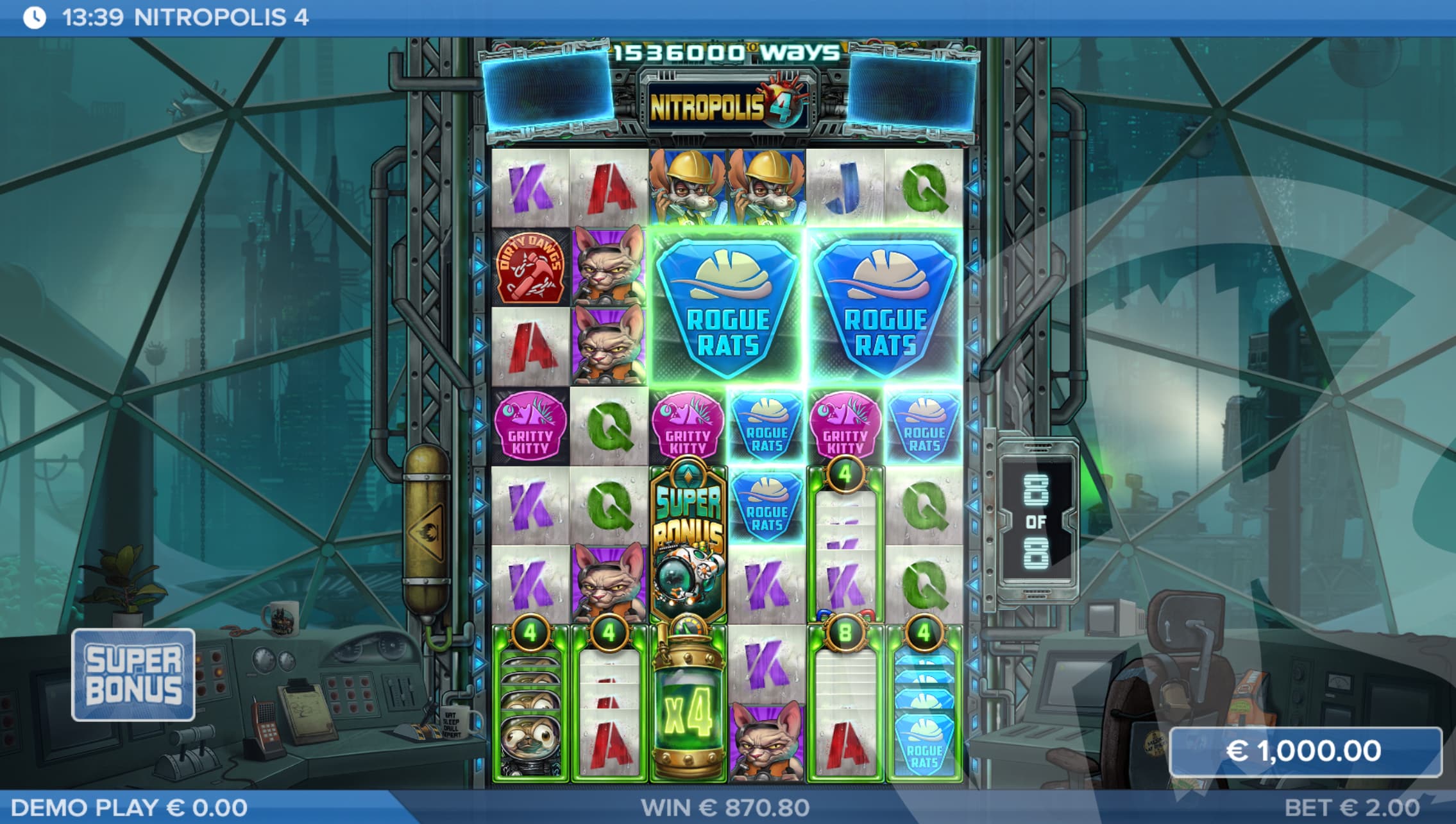 First Impression
So far, there's been nothing quiet about the Nitropolis series, and Nitropolis 4 proved to be no different. We came into this one with big expectations, but thankfully weren't disappointed. Whether you're a fan of the series or not, there's no denying that it has style – a bold, disobedient style.
There's plenty happening in the base game to keep things ticking over. From Nitro Reels to Big Symbols, Avalanches, and Nitro Booster, there's no way any player could find things boring. When we move into the Bonus though, things really kick up a notch, with sticky Nitro Reels or, in the case of the Super Bonus, sticky Nitro Reels, Max Rows and Both Ways. When the right combinations hit, wins are possible up to 50,000x bet. Maths, however, is highly (8/10) volatile, and if the series so far is anything to go by, things certainly won't be a walk in the park.
Finally, RTP. The positive is that this value is fixed, whilst the negative is that it's fixed at 94.0%. You know the score by now – ELK Studios made this decision a while back and are sticking to it. We cover it in every review, so by now you'll know your feelings – especially if your favourite casino tends to opt for the 94% version even if a 96% is available, in which case there's no real issue. There's no use flogging a dead horse here – it is what it is.
There's a lot more that could be said, but we'll leave it at this – Nitropolis 4 is another great addition to a unique series, and if you've been a fan so far, you'll love sinking your teeth into this one.
*The screenshots taken of games reviewed on this site are taken from Demo Play, as reviews are often written before games are released for real play.