Push Gaming are one provider to have built a catalogue that is not only stellar in design and execution, but offers variety in themes and mechanics – whether this be the jumping Wilds available in Jammin' Jars, our favourite Fat symbols, the more recent Mad Cars, or the mystery stacks offered to us previously in Mystery Museum. It's the latter of these that carry over into today's focus, Mystery Mission – To The Moon, wherein we're on a mission for galactic treasures, exploring the outer reaches of the galaxy in the process. Highly volatile, with RTP options up to 96.25%, this release is capable of producing wins up to 10,000x bet.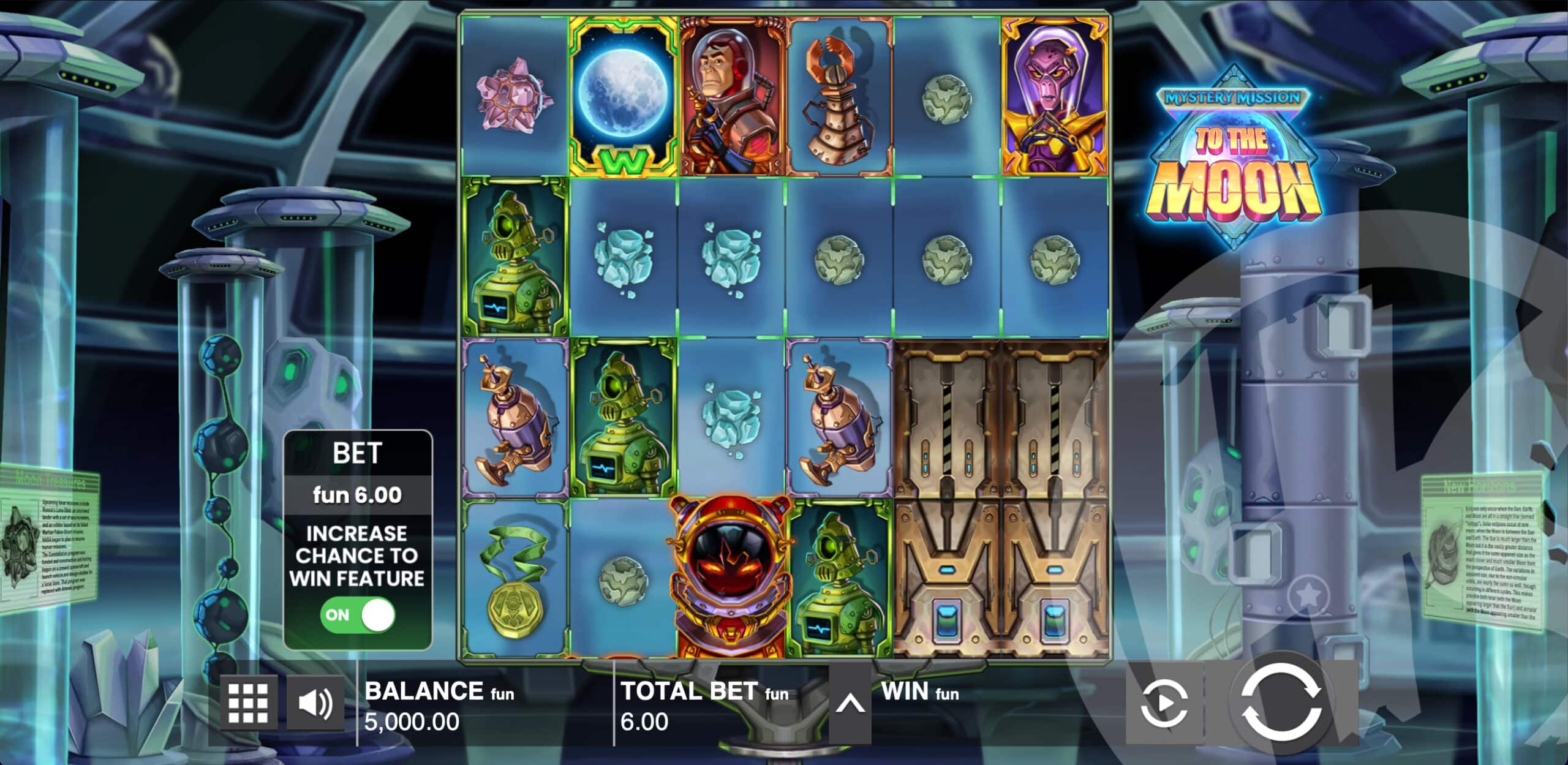 Visually – well, it all just looks great. It's always harder to offer a review on graphics in a new release, given that art and creativity is entirely subjective, but I struggle to believe any player is going to look at this one and not think it looks fantastic – regardless of what they think about the features available. As usual, Push Gaming have left no stone unturned – more and more becomes noticeable the longer you play, like the stars in the distance, the little signs exploring some of the planetary objects discovered thus far, and the skeleton of, well – something, in a jar. It all comes together into something really interesting and well developed, tied together by exactly the kind of alien sounds you'd expect when you begin a journey across the galaxy.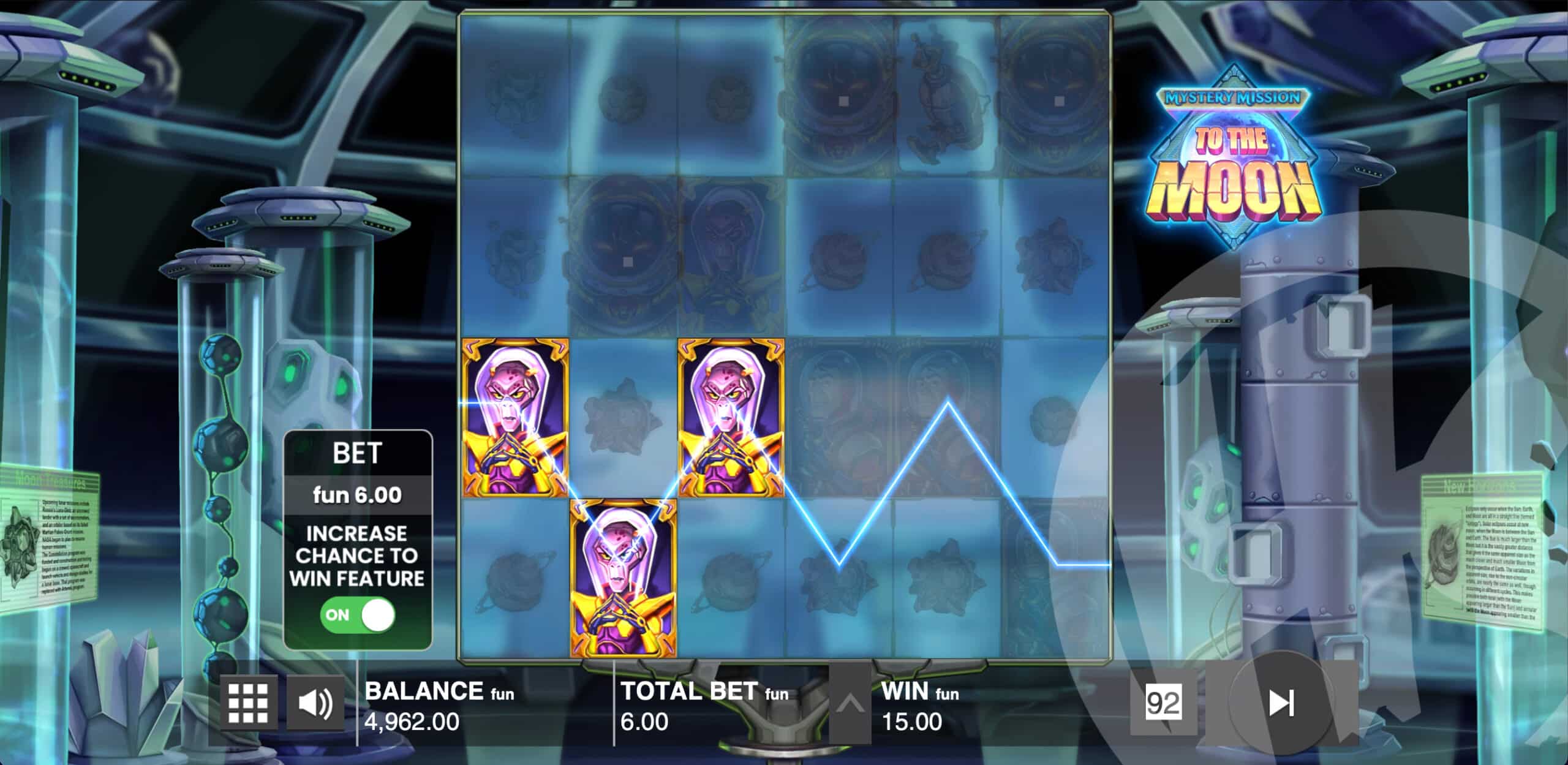 Mystery Mission – To The Moon Base Features
Taking place across 6 reels, wins are formed on Mystery Mission – To The Moon by matching at least 3 symbols on adjacent reels, beginning with the leftmost reel, across 1 of 20 fixed win lines. Symbols available begin with non premiums, with four planetary objects awarding wins between 0.30 and 5x bet, for matches between 3 and 6 of a kind. In the mid range, we have medals, claws, and laser guns – land 3 of a kind of any of these to see wins between 0.60 and 1x bet, increasing to values between 15 and 25x bet for 6 of a kind. High paying symbols are made up of 3 characters beginning with our two allies – the robot and the astronaut, followed by a much more menacing creature – the Golden Martian. Landing 3 of a kind of any of these three characters will award wins between 2 and 3x bet, increasing to values between 50 and 100x bet for 6 of a kind matches. At this point, we meet our most fearful opponent as the super high paying symbol – the Mystery Martian, master of the Golden Martian. Land 3, 4, 5, or 6 Mystery Martians to see wins of 10, 25, 75, and 500x bet, respectively. Finally, Wild Moons are available, substituting for all symbols except Mystery Stacks, and awarding wins of 10, 25, 75, and 500x bet for 3, 4, 5, and 6 of a kind, respectively.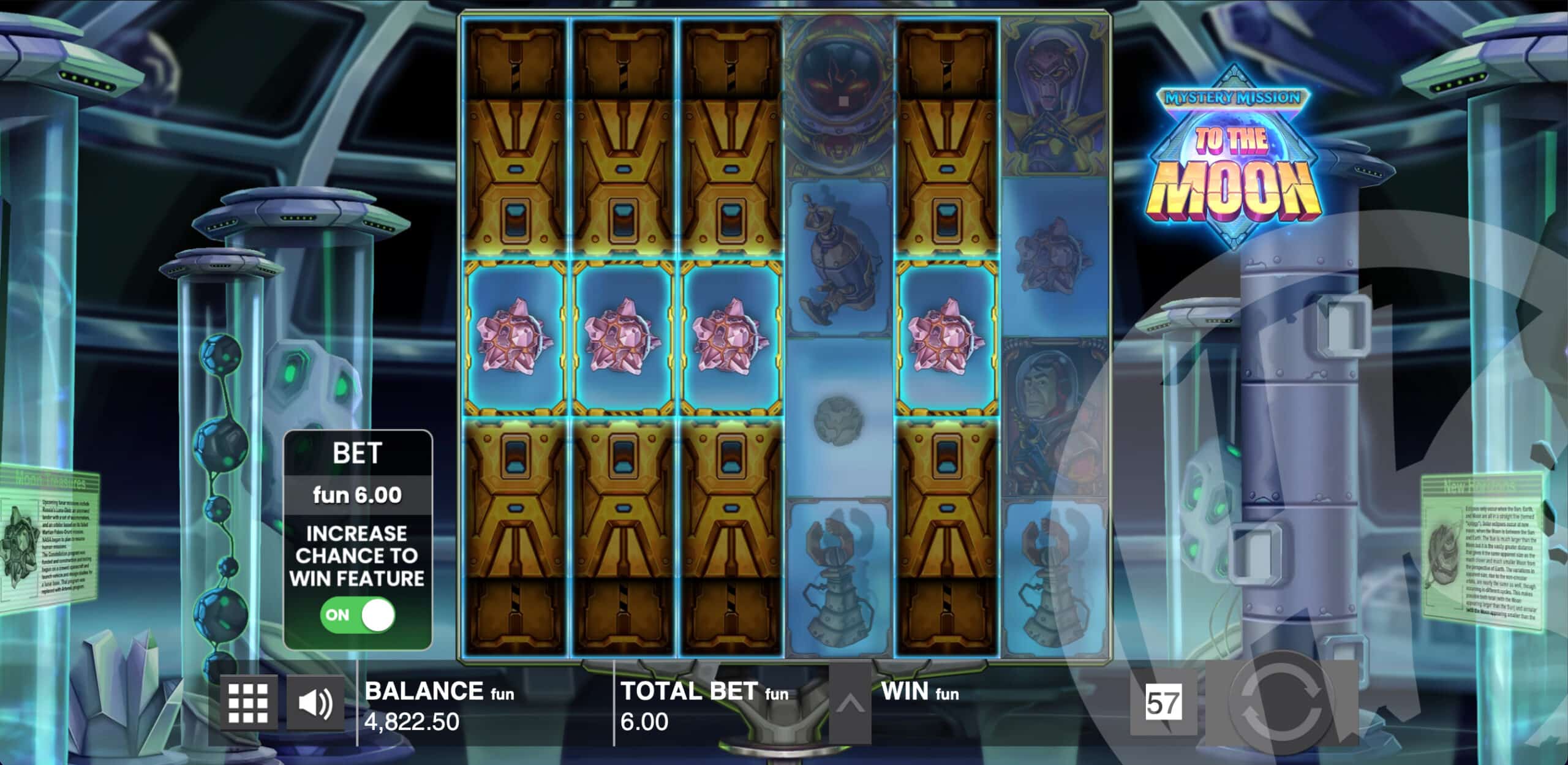 The first thing to cover here is the Ante Bet – by betting an additional 20%, the chance of triggering Free Spins is increased, although by just how much is not made clear. Symbol payouts are unaffected by the Ante Bet.
Aside from this, there's really only one feature driving Mystery Mission – To The Moon on it's cross-galaxy journey, and that is the Mystery Stack, which fans of Mystery Museum will immediately recognise. Mystery Stacks are mystery symbols that can land in any position on the reels. During the base game, if 3 or more Mystery Stacks land anywhere in view, they will nudge to fill their respective reel, and turn gold. After all winning combinations have been paid, they will then reveal any paying symbol, except Wild Moons. All Mystery Stacks reveal the same symbol.
When symbols have been revealed, they will be paid across all 20 win lines, regardless of whether they have formed a match on consecutive reels from left to right – like a book game.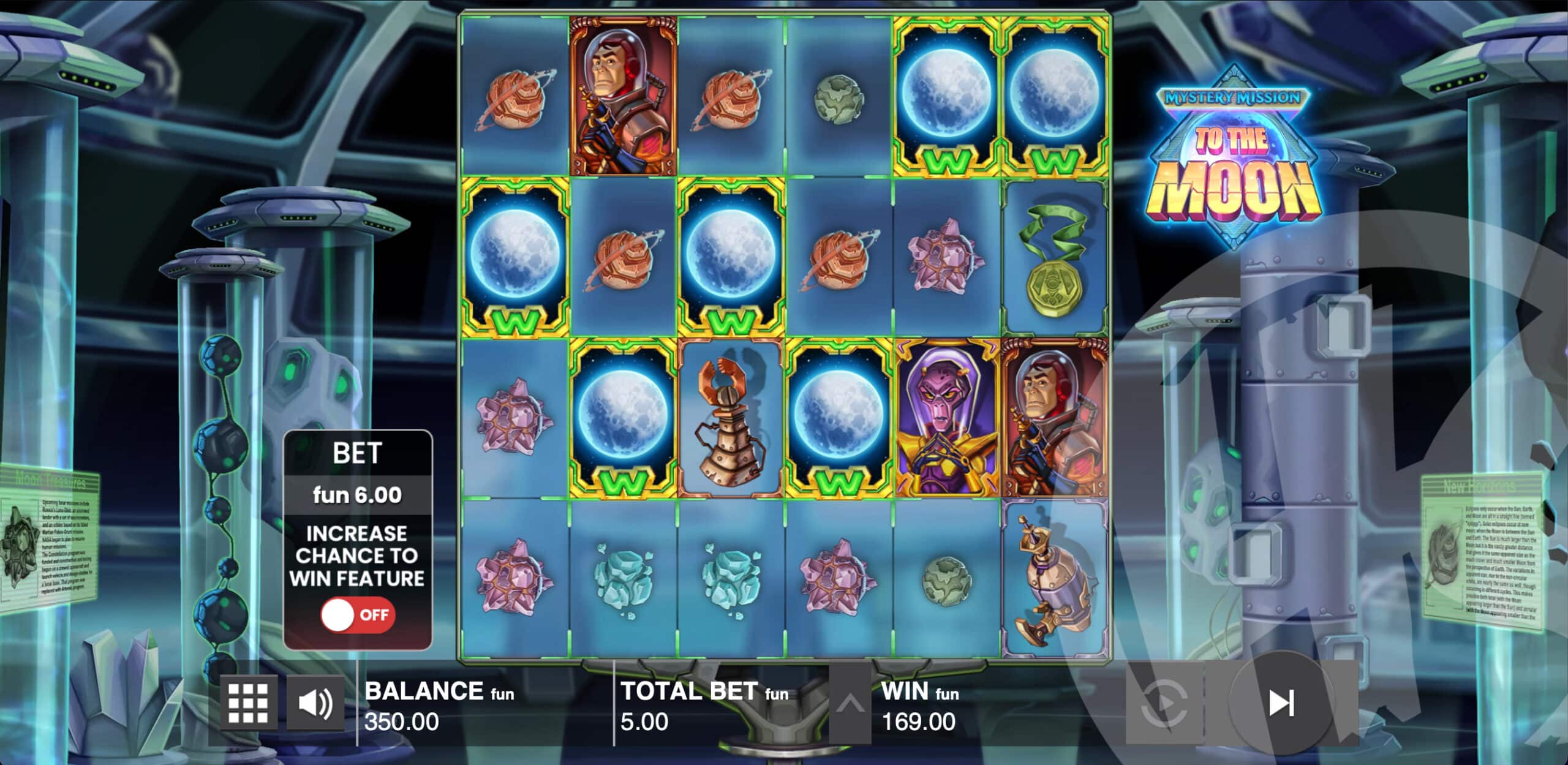 Mystery Mission – To The Moon Bonus
Wild Moons, alongside acting as Wild symbols, act as Scatter symbols. If 3, 4, 5, or 6 Wild Moons land in view, 8, 10, 12, or 14 Free Spins are triggered, respectively. During Free Spins, things continue much in the same way as the base game, with Mystery Stacks acting as the driving force behind excitement.
However, during Free Spins, Mystery Stacks will always nudge fully into view, regardless of how many have landed. Each time a Mystery Stack lands, it nudges into view and locks onto the reel, remaining there for the duration of Free Spins. Alongside this, each Mystery Stack that lands will award an additional +1 spins.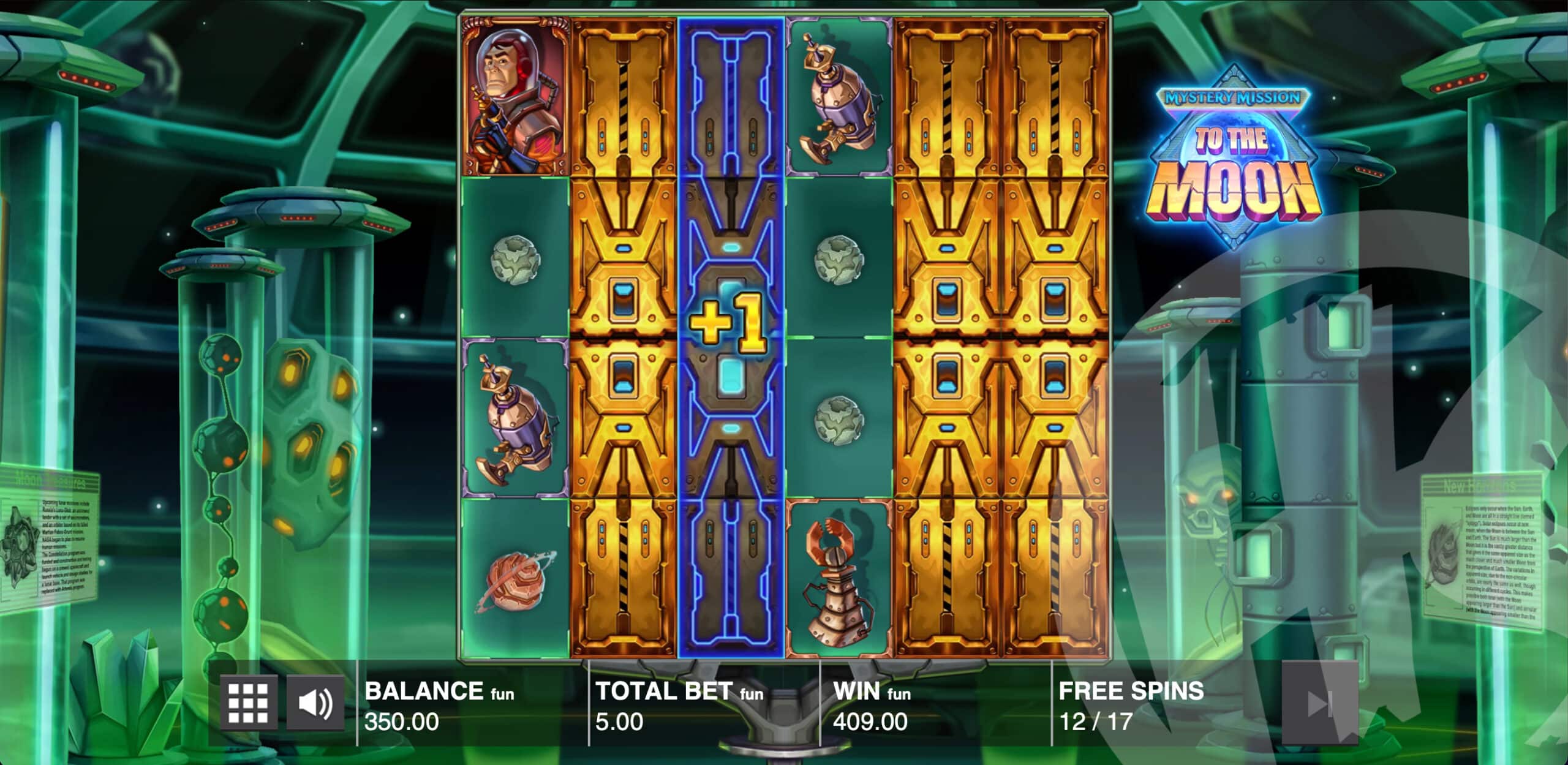 Mystery Stacks will always reveal a symbol from the moment they first nudge into view, but once 3 have landed and locked on the reels, they will turn gold, and will now spin in each symbol they will reveal, teasing as a big win is now possible.
It is possible to land a Mystery Stack on every reel. Mystery Stacks will reveal any paying symbol, except Wild Moon symbols.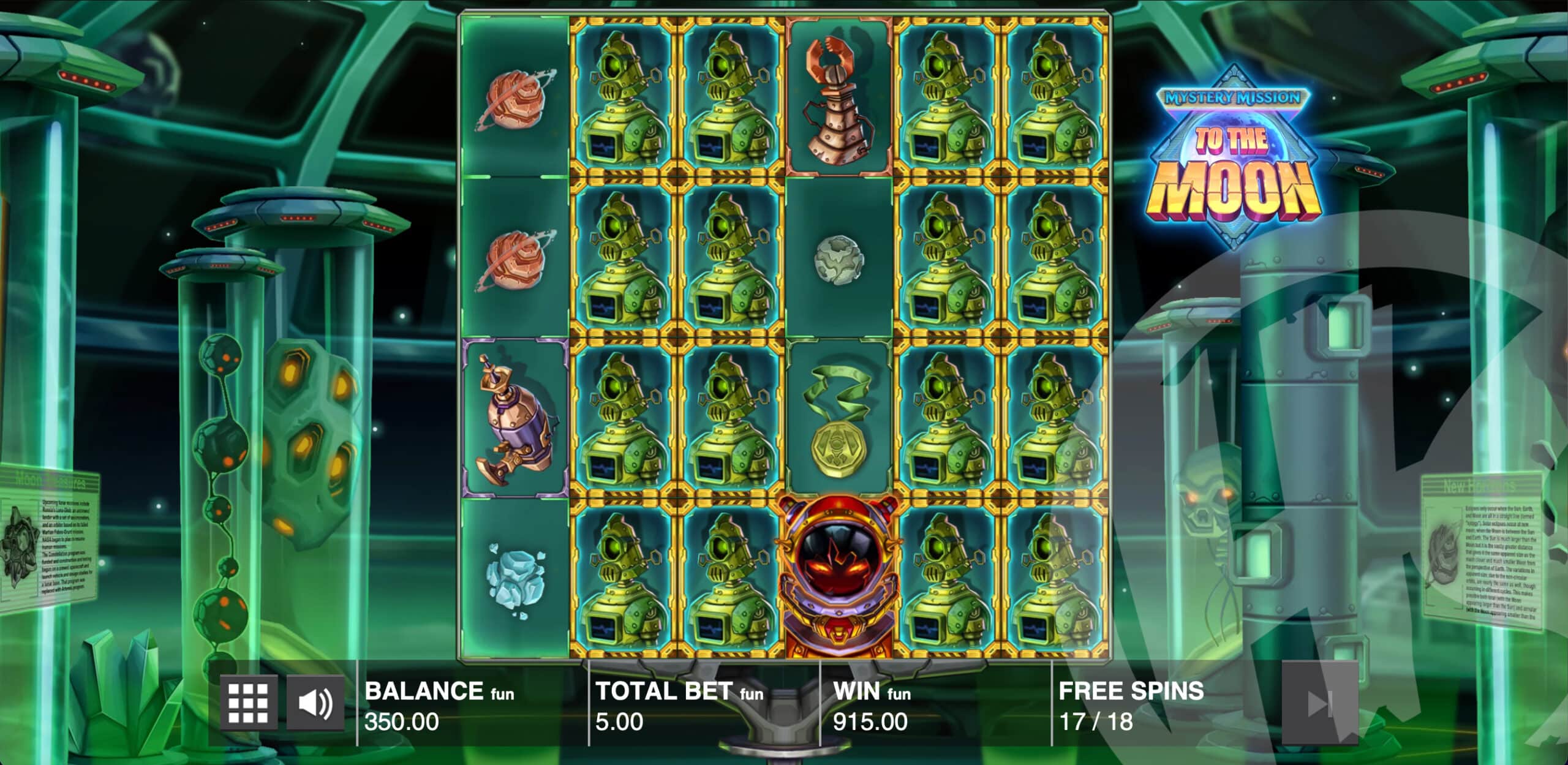 Finally, the following Bonus Buy options are available to players in appropriate regions:
102x bet – 3 Wild Moons (96.30%)
161x bet – 4 Wild Moons (96.47%)
237x bet – 5 Wild Moons (96.54%)
332x bet – 6 Wild Moons (96.61%)
200x bet – 3 or more Wild Moons (96.65%)
By opting into one of these Bonus Buys, a spin will be triggered with the relevant number of Wild Moons – any regular wins achieved through a Wild Moon will be paid before the feature begins.
The maximum win available in Mystery Mission – To The Moon is 10,000x bet. If the sum of a single game round exceeds this, the game round will end, and 10,000x bet will be awarded.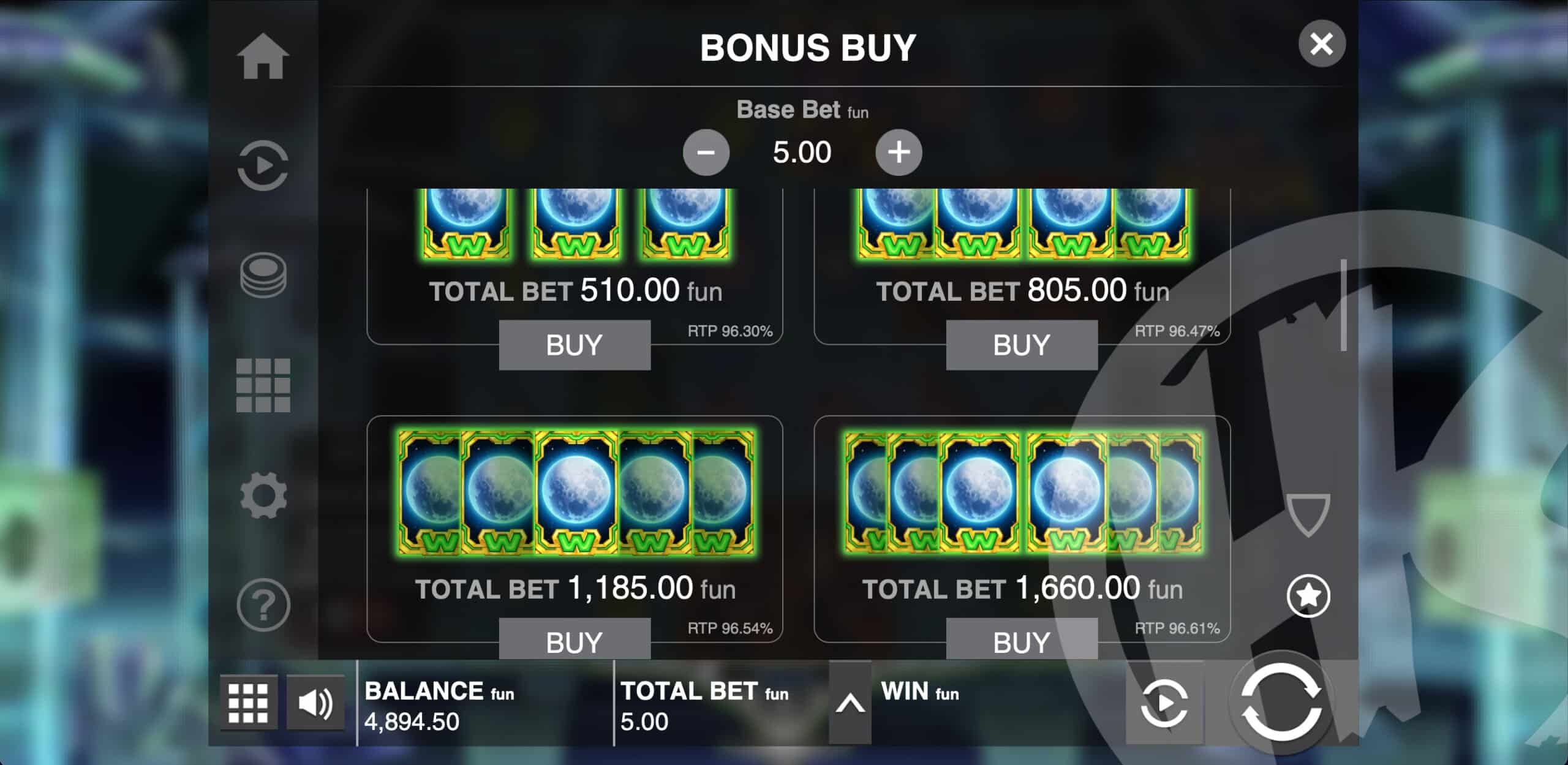 First Impression
Alright so full disclosure – I didn't really like Mystery Museum, but from the moment I opened Mystery Mission – To The Moon, I wanted to like it. I don't know if it's because I've always had somewhat of a fascination with all things space, and the theme was calling to me, or just the overall improvement in graphics, but I knew I wanted to like it from the very start – and it didn't disappoint.
There are obviously improvements all round from Mystery Museum – to be expected, given how much time has passed. But it just felt like, even from first sight, Mystery Mission – To The Moon had more of a fighting spirit than its' predecessor did. There are more reels, more win lines, brighter symbols, and audios just bring it all together really well.
Mystery Stacks keep the base game ticking over, but it really is all about Free Spins, where Mystery Stacks remain on the reels and award additional spins. That said, it kind of feels like each time a symbol is being revealed, it just misses a premium – and each time this happens I find myself even more frustrated. Then, out of nowhere, a premium does reveal, and suddenly all is forgiven as the win clocks up. With the right combinations, wins are possible up to 10,000x bet – nothing whatsoever to complain about.
With 5 Bonus Buy options available, there's plenty on offer for each player – but I must admit I was surprised that when opting for the 6 Scatter option there is no head start on stacks, just extra spins. Obviously Push Gaming are a reputable provider, so I know the maths is correct, but I kind of feel like I'd rather have a head start on stacks, but fewer spins, even if the cost were higher – that might just be me though. The saving grace of this is that with 6 Wild Moons landing, it is possible to have a trigger value up to 500x bet, should they land in the right position. Finally, things are highly volatile, with RTP options up to 96.25%, so as always it's worth checking this.
Mystery Mission –  To The Moon is one giant leap from Mystery Museum, and will suit both those who loved the latter, and those who were less than impressed.
*The screenshots taken of games reviewed on this site are taken from Demo Play, as reviews are often written before games are released for real play.