If there's one provider that has gotten their money's worth out of a good idea, it's AvatarUX and their PopWins mechanic – one of the most popular flagship mechanics we've ever seen, save maybe for Big Time Gaming and their Megaways mechanic. First released through PopRocks, the PopWins mechanic has carried us through the likes of CherryPop, HippoPop, PapayaPop, PiggyPop, and most recently, CritterPop. The list goes on, and includes other providers who have licensed this mechanic, but unfortunately we don't have all day to explore everything PopWins has been part of. What we do know is that we're back once again, this time with KokeshiPop – based around the Japanese children's toy. With a maths model rated medium volatility, this release comes with RTP options up to 96.09%, and win potential up to 10,000x bet.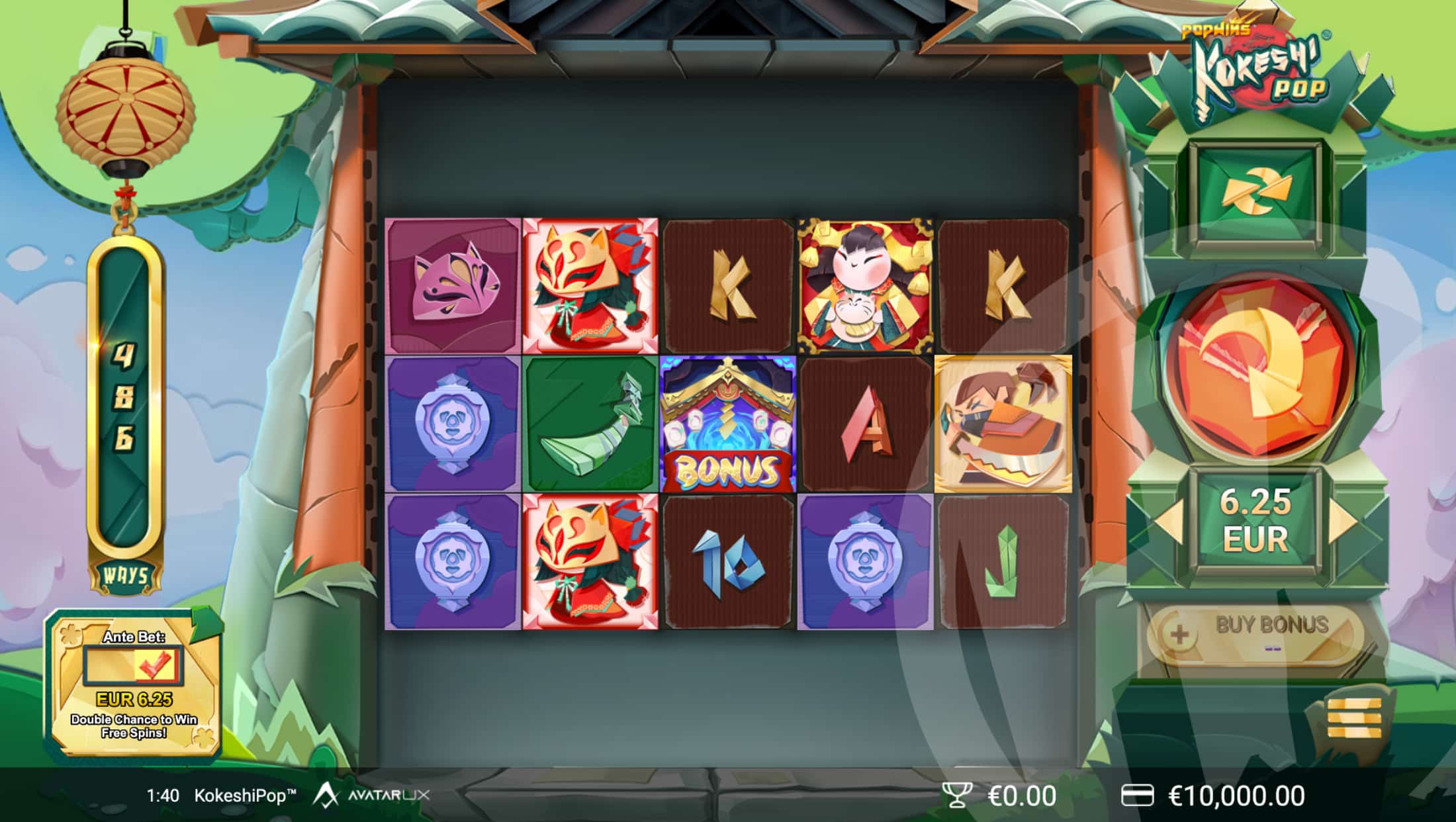 There's one thing about the team at AvatarUX – they stick to a theme. KokeshiPop encompasses everything you'd expect it to, and then some – from the doll like symbols on the reels, to the background, and even their user interface, which they personalise for every release, rather than following the curve and sticking to the same colour scheme of black or grey. Everything in this one is very pretty to look at – albeit at times confusing when so many symbols are on the reels. Audios aren't too out there – kind of exactly what you'd expect in an Asian themed release, but tie everything together.
KokeshiPop Base Features
Taking place across 5 reels, wins are formed on KokeshiPop by matching at least 2 or 3 symbols on adjacent reels, beginning with the left or rightmost reel, as wins pay both ways (although 5 of a kind matches only pay one way). At their starting point, all reels can hold 3 symbols, which produces 486 ways to win. Symbols available begin with non premiums, with origami styled 10s, Js, Qs, Ks, and As – awarding wins between 0.20 and 1x bet for matches between 3 and 5 of a kind. In the mid range we have lanterns, swords, and cats, awarding wins between 0.40 and 1.50x bet, again for matches between 3 and 5 of a kind. Next up, at the premium end, we have 3 Kokeshi styled characters, awarding wins between 0.60 and 2x bet, for wins between – you guessed it – 3 and 5 of a kind. Finally, we have one super high character symbol which pays for 2, 3, 4, and 5 ways, awarding wins of 0.20, 1, 2, and 5x bet, respectively, followed by a Wild cat symbol, which substitutes for all other symbols and appears only during Free Spins, and a Bonus symbol.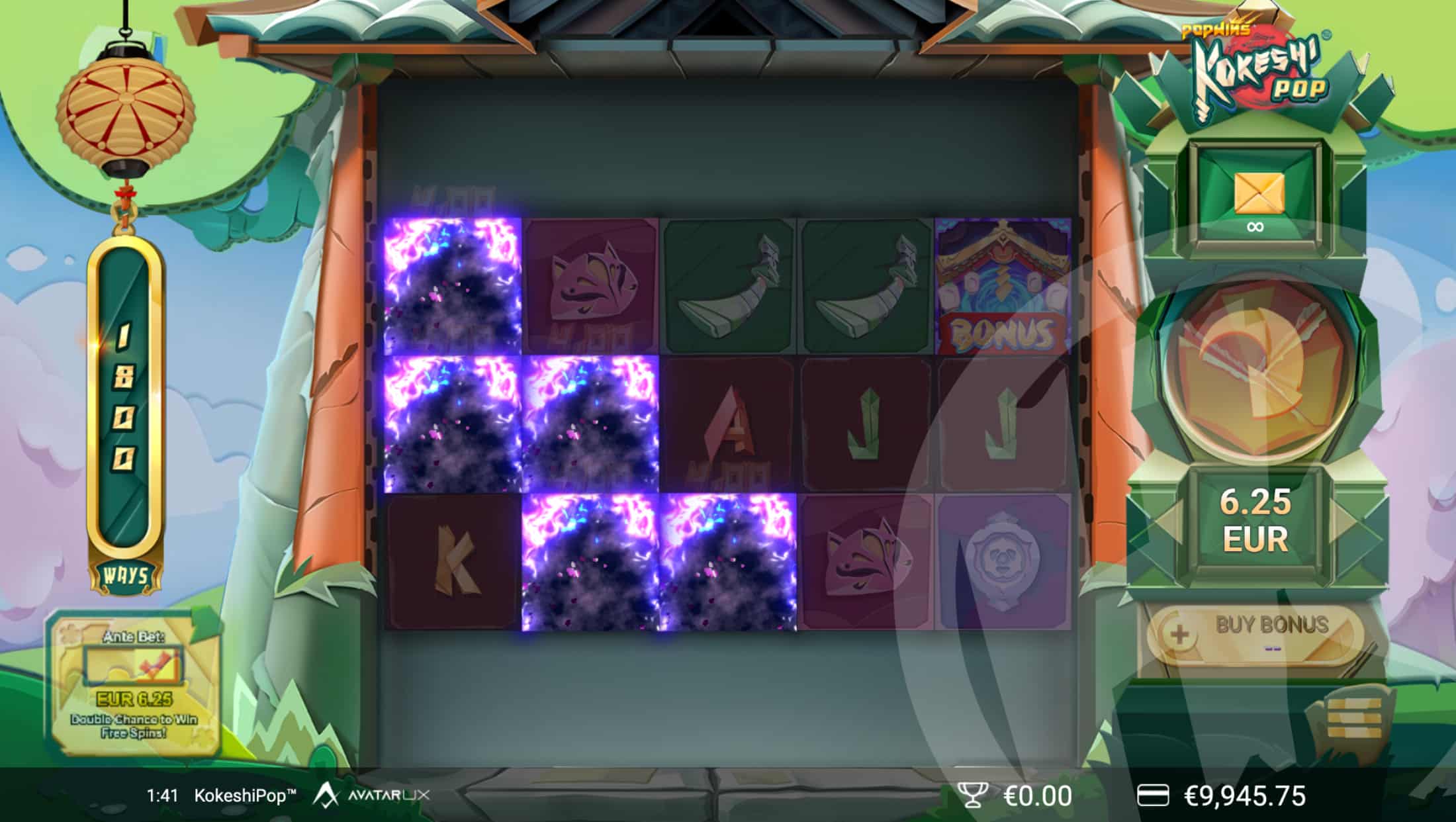 Alright so the first thing to cover here is the Ante Bet – by betting an additional 25%, players can double their chance of triggering Free Spins naturally. Symbol payouts are unaffected by the Ante Bet.
Next up is the PopWins mechanic itself. If you've been here before, you'll know how this works, but let's recap for those who are new – on every spin, all symbols involved in a winning combination will 'pop' off the reels and be replaced by 2 new symbols – thus increasing the ways to win. In the base game, each reel can increase to hold a maximum of 6 symbols, producing 15,552 ways to win – when considering that both ways pay. PopWins continue until no more wins are formed, and when they have finished, reels will reset to their original height ahead of the next paid spin.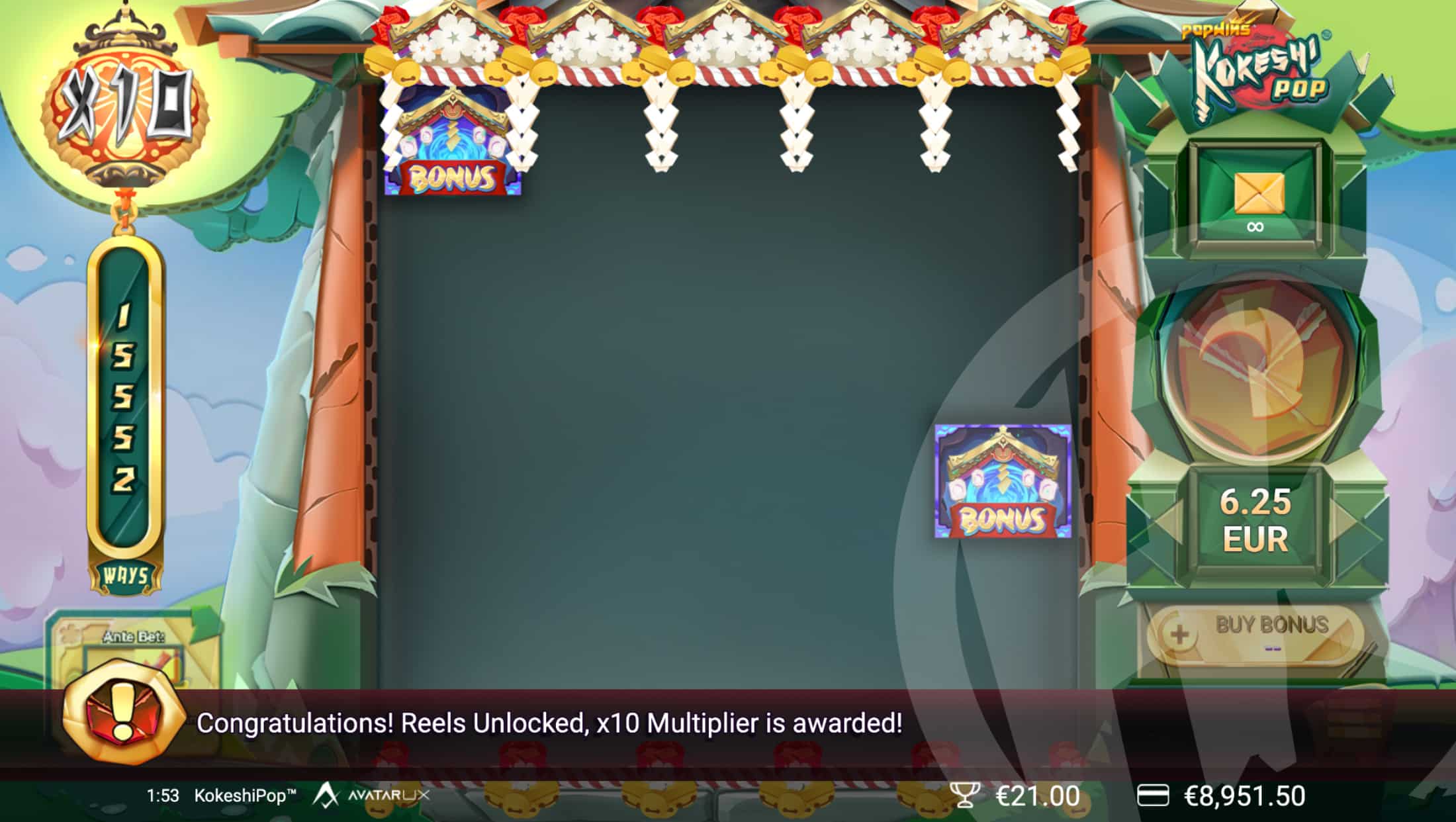 The main feature available in KokeshiPop comes in the form of a win multiplier – the Kokeshi Multiplier, which works hand in hand with the PopWins mechanic. Each reel is capable of holding 6 symbols in the base game, and if all reels are unlocked to this position, a win multiplier is awarded. This multiplier will have a value of x5, x10, or x20, and will randomly be chosen on screen. This multiplier will then be applied to the next win achieved, with the multiplier then doubling for each subsequent win.
Alongside this, once all reels have been unlocked to 6 symbols high, all symbols except Bonus symbols will be removed from the reels, and replaced by new symbols – giving the chance for new wins to form. When no new wins are formed, the multiplier resets back to x1, and all reels will shrink back down to 3 symbols tall ahead of the next paid spin.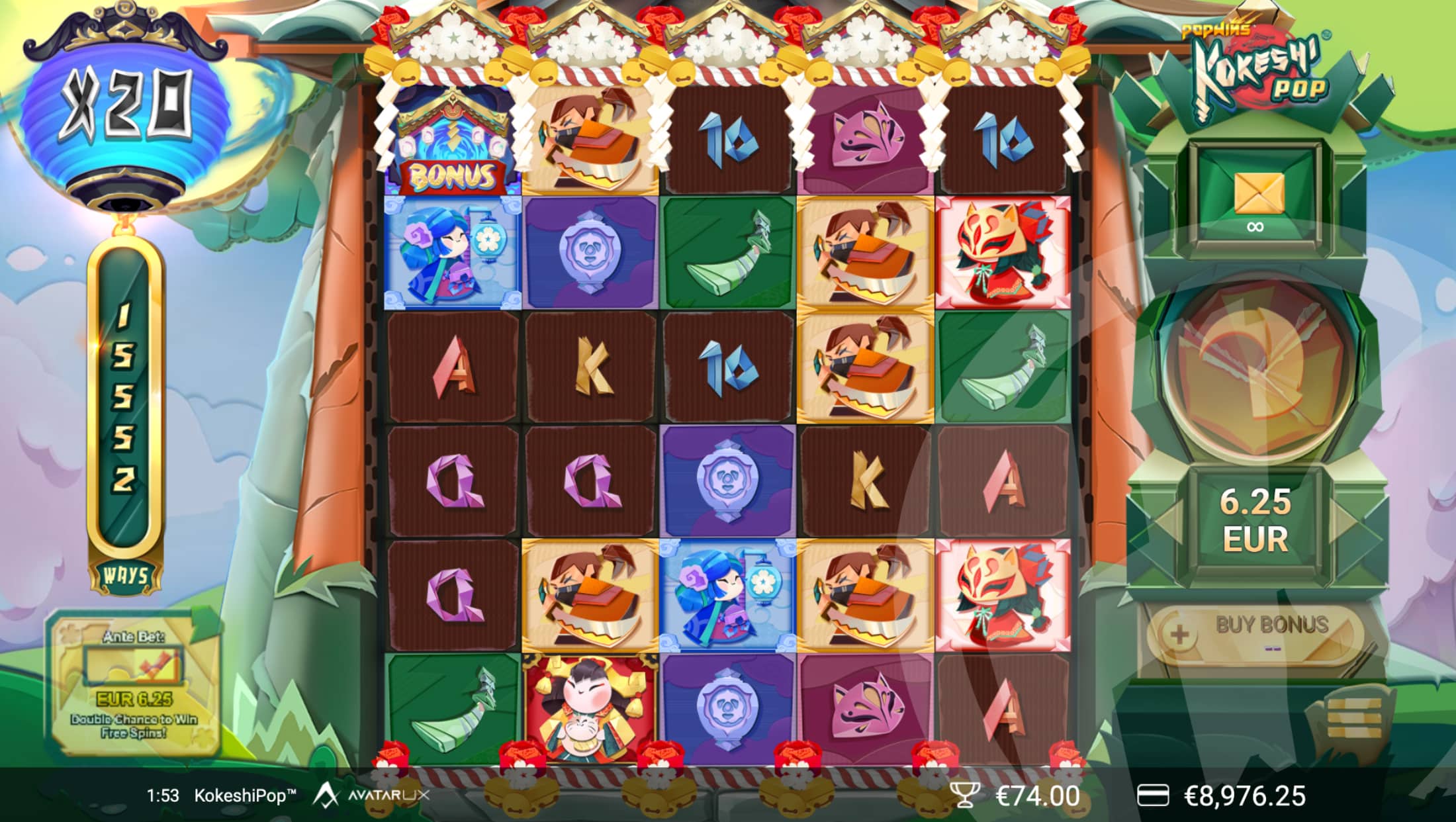 KokeshiPop Bonus
Land 3, 4, or 5 Bonus symbols to trigger 5, 8, or 12 Free Spins, respectively. At the beginning of Free Spins, players who have landed 3 or 4 Bonus symbols can choose to gamble up to 12 Free Spins by spinning the Gamble Wheel. Players who have landed 3 Bonus symbols will have the opportunity to collect, or gamble to 8 Free Spins, and then can either collect, or gamble again to 12 Free Spins. Players who have landed 4 Bonus symbols can collect or gamble to 12 Free Spins.
If the gamble loses, players will return to the base game without playing any Free Spins, however players can collect at any point. No gamble is possible when 5 Bonus symbols have landed, as 12 Free Spins are awarded.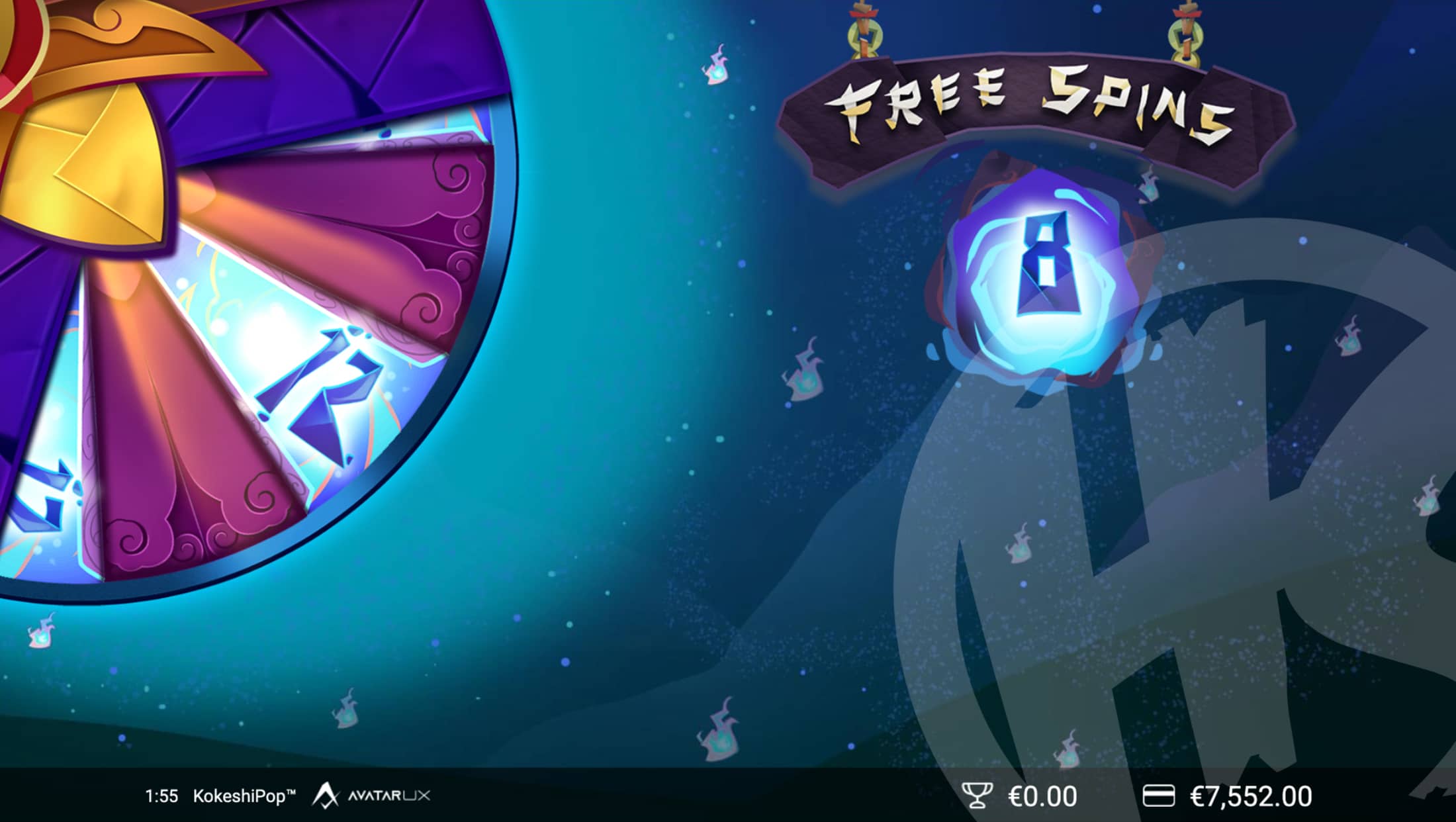 During Free Spins, reels begin at 4 symbols tall, producing 2,048 ways to win, however each reel can increase to a maximum of 7 symbols high – producing the maximum of 33,614 ways to win. Free Spins in KokeshiPop are unlike most other PopWins games on the market, in that reels will reset back to 4 symbols tall between each Free Spin, rather than resetting to the smallest reel height like in other releases.
A win multiplier is active during Free Spins. At the beginning of each spin, this multiplier is x1, with each consecutive win then doubling the multiplier, through x2, x4, x8, x16 etc. Fully unlocking all reels to 7 symbols tall will award the aforementioned Kokeshi Multiplier. A random value of x5, x10, or x20 is once again chosen, and the current win multiplier is multiplied by this value. The next win will then be multiplied by this value, with the multiplier doubling for every consecutive win.
When all reels have been unlocked, all symbols will be removed from the reels and replaced by new ones – giving the chance for new wins to form. Alongside this, unlocking all reels will award an additional +2 spins – this will happen every time reels are fully unlocked, as reels will always be reset between Free Spins.
The multiplier will reset to x1 ahead of the next Free Spin.
Players in appropriate regions can take advantage of the following two Buy Bonus options:
60x bet – 5 Free Spins (with an option to gamble to 8 or 12)
240x bet – 12 Free Spins
In the demo play version we had access to, the 240x bet Buy Bonus option was only available up to €3 stake, and was removed once the stake surpassed this amount. This may be a permanent rule, or may be casino specific.
The maximum win available in KokeshiPop is 10,000x bet. If the sum of a single game round exceeds this, the game round will end and 10,000x bet will be awarded.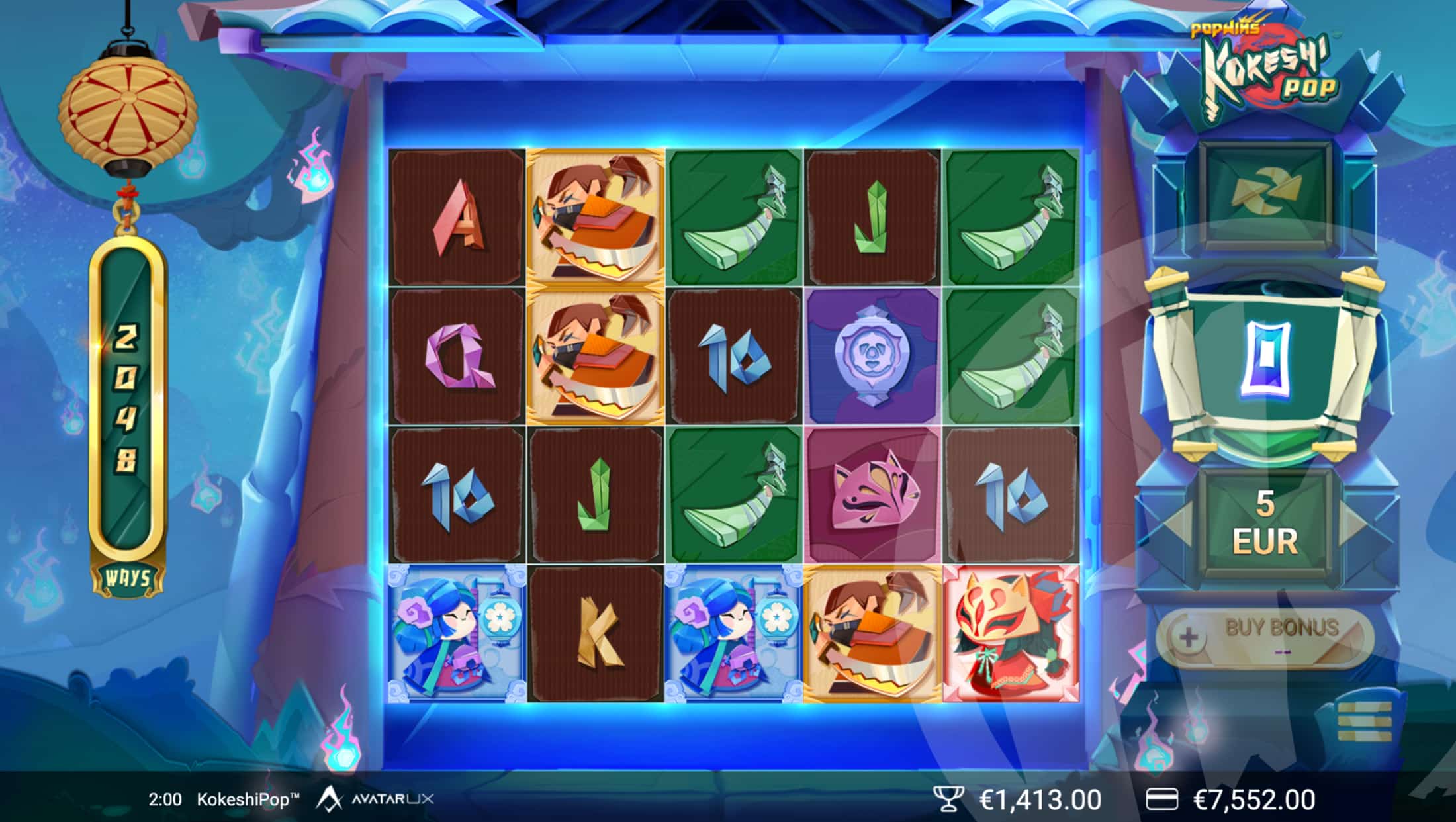 First Impression
I meant what I said – AvatarUX are definitely getting their money's worth from PopWins. What does reflect really well on the team is that they are continually finding ways to tweak or improve the PopWins mechanic between each release, rather than just resorting to a new theme but the same features. In this instance, it's a Kokeshi Multiplier, and reels that reset during Free Spins, in an interesting twist.
Gameplay is enjoyable as it ever has been in this series, and produces the kind of excitement you'd expect. The Kokeshi Multiplier goes most of the way towards producing this, especially when the x20 multiplier is triggered, and all symbols are removed from the reels. With the multiplier then doubling on every subsequent win, things can really heat up – in a way reminiscent of Raptor DoubleMax, or the more recent Florageddon! from Yggdrasil Gaming, except the multiplier doesn't stick – ah well.
Moving into Free Spins, and interestingly it doesn't really feel like things heat up, because reels are reset between each spin. This is offset though by an additional +2 spins every time reels are fully unlocked, and another chance at a x5, x10 or x20 multiplier – which multiplies the current multiplier value, and doubles on every subsequent win. In testing, this didn't seem like something that happens rarely – I think we triggered the additional +2 spins 3 or 4 times in one bonus round. On the whole, this all helps to produce wins up to x10,000 bet.
Maths is of medium volatility, with RTP options available up to 96.09%, so as always it's worth checking this. If you're a PopWins fan, you'll like this one. If you haven't been convinced yet, AvatarUX are offering you yet another opportunity to change your mind.
*The screenshots taken of games reviewed on this site are taken from Demo Play, as reviews are often written before games are released for real play.