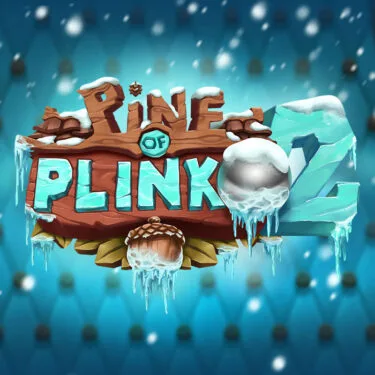 Pine of Plinko 2
Game Provider: Print Studios
Release Date: 07 Dec 2023
Pine of Plinko 2
Game Studio Print Studios
Release date 07 Dec 2023
RTP 96.32% - 96.49%
RTP Feature Buy 96.50% - 96.56%
Paylines 10
Volatility High
Min Bet 0.10
Max Bet 100
Max. Win 20,000x
Rating 9.2/10
As we head into the colder months, one thing we're guaranteed to see in the online slot industry is the emergence of a number of Christmas or winter releases. Often, these releases are what you would describe as 're-skins' – the artwork is changed to fit with the festive season, with the core features and mathematics remaining the same.
Print Studios are taking a different line this year though, bringing us a wintery sequel to their 2023 release Pine of Plinko – tweaked and upgraded to keep things feeling fresh, albeit chilly. Combining the fun of a plinko game with the elements of an online slot, Print Studios promise to take us to higher levels than ever before as they leave behind the terror of Darkness to bring us Pine of Plinko 2.
With a fixed RTP ranging between 96.32% and 96.49% depending on the features used (96.50% – 96.56% feature buy), this highly volatile release can produce wins up to 20,000x bet.
Pine of Plinko 2 places us in a very similar location to its predecessor. We're in a pine home in a tree within a snow covered forest as more snow falls slowly in front of the scene. The home itself has had a bit of a renovation and is now bigger than before, which you get a better angle of when you leave the Plinko Bonus. This checks out since we're told the gnomes have been hard at work making things better over the past 10 months. The lights are on inside the home, emitting a warm glow from within – a stark contrast to the snow and icicles that have formed on the outside.
Most of the attention, however, is given to the wooden reels – upon which we have upgraded versions of the old symbols, frosted over to tie in with the theme. Finally, an upbeat and actually quite festive soundtrack comes in to bring everything together. Much like Royal Potato 2, things are very similar to the original, but the upgrades are obvious.
Pine of Plinko 2 Base Features
Taking place across 5 reels, wins are formed on Pine of Plinko 2 by matching at least 3 symbols on adjacent reels, beginning with the leftmost reel, across 1 of 10 fixed win lines. Symbols available begin with non premiums, with green, yellow and purple stars, awarding wins between 0.20 and 0.30x bet for 3 of a kind matches, increasing to values between 2 and 3x bet for 5 of a kind wins.
At the premium end, we meet some wooden characters – Waley, Coney and Kingly. Land 3 of a kind of any premium to see wins between 0.60 and 1.20x bet, increasing to values between 10 and 50x bet for 5 of a kind matches. Piney remains the highest paying symbol, and he awards wins between 2 and 200x bet for matches between 3 and 5 of a kind. There are no wild symbols in Pine of Plinko 2.
Scatter Boost
There's really only one feature to cover in the base game of Pine of Plinko 2, and that's the Scatter Boost.
By betting an additional 100%, there will be extra Scatters added to the reels, and therefore the chance of triggering the Plinko Bonus is higher.
RTP ranges between 96.42% and 96.53% when using Scatter Boost.
Scatter Symbols
That's it for base game features in Pine of Plinko 2, so let's get straight into the good bit – the Plinko Bonus.
Before that, let's cover Scatter symbols.
Landing 3 or more Scatters will trigger the Plinko Bonus, but each Scatter will also have a number attached.
The sum of these numbers is the number of starting drops in the Plinko Bonus.
Scatter Re-Roll
Before the Plinko Bonus begins, players have the opportunity to re-roll some or all of their Scatters for a chance at more starting drops. Each re-roll costs money, with the price displayed on each Scatter accordingly.
This option is disabled if the number on the Scatter is too high. There isn't any concrete information on this, but from testing my understanding is that 8 is that magic number – you can re-roll as many times as you like until you reach 8 drops, at which point that Scatter cannot be re-rolled.
The option is activated and disabled on a Scatter by Scatter basis – the number on one Scatter does not affect whether or not you can re-roll another.
The maximum number of drops per Scatter is 99.
This Scatter Re-Roll feature is the reason RTP, although 'fixed', is a range value in Pine of Plinko 2. The RTP of the game with and without Scatter Boost (and the Bonus Buy) can vary slightly depending on your Scatter Re-Roll usage.
Pine of Plinko 2 Bonus
During the Plinko Bonus players are taken to a plinko game, where much like the original their only job is to use the button to drop balls into the plinko.
This can be done by clicking rapidly to drop multiple balls or by dropping one at a time. The button to drop will remain updated with the number of drops remaining at all times.
As balls drop, they may hit one of three bumpers in the centre. Each time a bumper is hit the meter above the plinko will advance.
Fully advancing the meter will award 10 more drops with double the amount of balls per drop than the previous stage.
The initial stage is 1 ball per drop, then 2, 4, 8, 16, 32, 64, 128, and finally 256 – amounting to 2,560 balls across 10 drops in the final stage.
Bumper Buckets
At the start of any stage Bumper Buckets may activate randomly.
When activated these will take the place of two of the 0.10x bet prize fields at the bottom of the plinko.
Any ball(s) that drop into the Bumper Buckets will bounce back up to the top of the plinko, potentially hitting bumpers again before landing in a new prize zone.
The same balls can drop into Bumper Buckets more than once.
Golden Ball
At the start of any stage two Golden Pockets can open randomly.
If a ball falls into a Golden Pocket the player will get one Golden Ball drop at the end of the current stage.
During the Golden Ball Drop a single ball is dropped with better prizes than usual, although there are no bumpers. Players can win up to 10,000x bet during the Golden Ball Drop. 
The Plinko Bonus will resume as normal when the Golden Ball Drop has finished.
Bonus Buy
Players in appropriate regions can skip to the action with the Bonus Buy. For a cost of 92x bet, players guarantee entry into the Plinko Bonus with at least 3 Scatters, each with a random number on it.
The Scatter Re-Roll is also available during the Bonus Buy.
RTP ranges between 96.50% and 96.56% when using Bonus Buy, depending on whether or not Scatter Re-Roll is used, and how many times.
The maximum win available in Pine of Plinko 2 is 20,000x bet. If the sum of a single game round exceeds this, the game round will end and 20,000x bet will be awarded.
First Impression
There have been a number of upgrades made to Pine of Plinko 2. It looks better, for a start. The winter theme just seems more fun than the one we had the first time around, and things just feel more luxurious, for want of a less dramatic word – particularly in the Plinko Bonus. That's just a personal opinion, but what's more important is that there have been upgrades made to game play.
In the base game, things are kept simple, although symbol wins are available up to 200x bet. It's the Plinko Bonus that is the star of the show though, and it's had a number of tweaks to keep it feeling fresh. Stages and progression through hitting bumpers remains the same, but we now have Bumper Buckets and Golden Ball Drops to look out for. These help the bonus to feel like no matter how many drops you have, you could still see big results.
The Scatter Re-Roll is the real talking point, wherein for an additional cost you can roll for the chance at more drops – up to a maximum value. Although this seems like an easy job, I think at one point in testing I re-rolled 6 or 7 times and kept rolling the same number of drops, so proceed with caution before getting stuck into this one. When everything comes up in your favour though, wins are possible in Pine of Plinko 2 up to 20,000x bet – double the potential of its predecessor.
Finally, maths is highly volatile and RTP is fixed but can range between 96.32% and 96.49% depending on your use of the re-roll feature. If you liked Pine of Plinko then Pine of Plinko 2 is perfect for you – even if it can feel a bit icy at times.
*The screenshots taken of games reviewed on this site are taken from Demo Play, as reviews are often written before games are released for real play.
Highest Rated Print Studios Slots