If you're not well versed on your Japanese history, let's have a quick recap. In feudal Japan, which lasted from 1185 AD to 1603 AD, a shinobi was a covert agent, mercenary or guerrilla warfare expert. They were also known by a name you're more likely to recognise – ninja, which means 'one who is invisible'.
According to Wikipedia, the job of a ninja included espionage, deception, siege and infiltration, reconnaissance and ambush. They were also skilled in martial arts fighting, including ninjutsu.
Suffice to say, you wouldn't want to mess with one. Print Studios, however, are leaving behind the towering walls of Cash Defense and showing us the friendlier side of the shinobi today, who are here to help us slash prizes in Shinobi Spirit.
With a fixed RTP of 96.26% (97.18% feature buy), this highly (4/5) volatile release can produce wins up to 20,000x bet.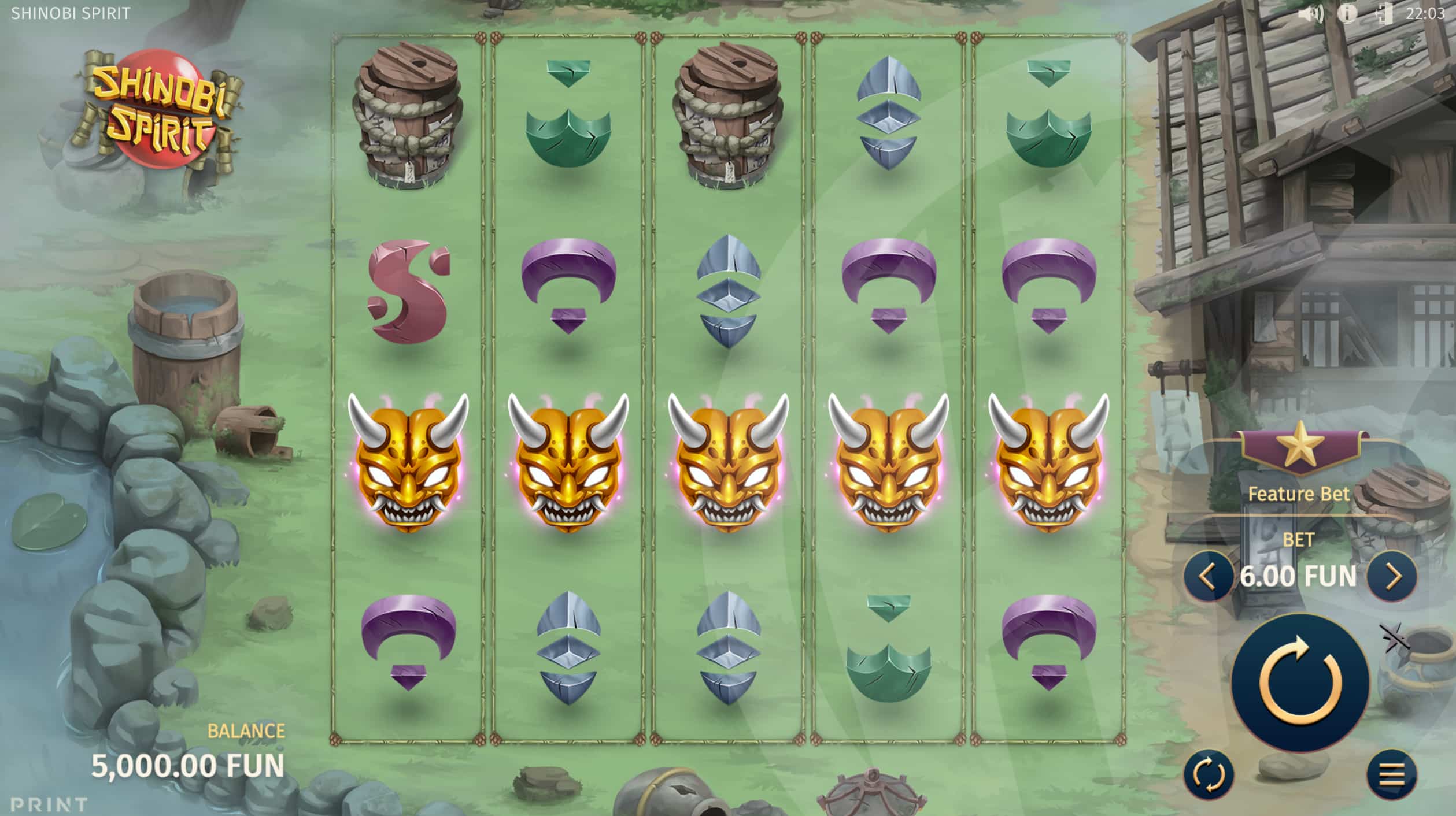 Things look very peaceful in Shinobi Spirit, which makes sense since our gameplay takes place in a forgotten ninja village in 15th century Japan. A wooden building sits to the right of the reels and a stone walled pond sits to the left, whilst everything else sits atop faded green grass, with the odd banner, bamboo, lantern or barrel scattered around.
As usual, the team at Print Studios have painted a very pretty picture in a unique kind of way, making it another release that, if you removed the reels, you might be prepared to frame and hang on your wall – a bit like what I always say about Huntress Wild Vengeance. It's all finished off with a peaceful soundtrack to tie it all together.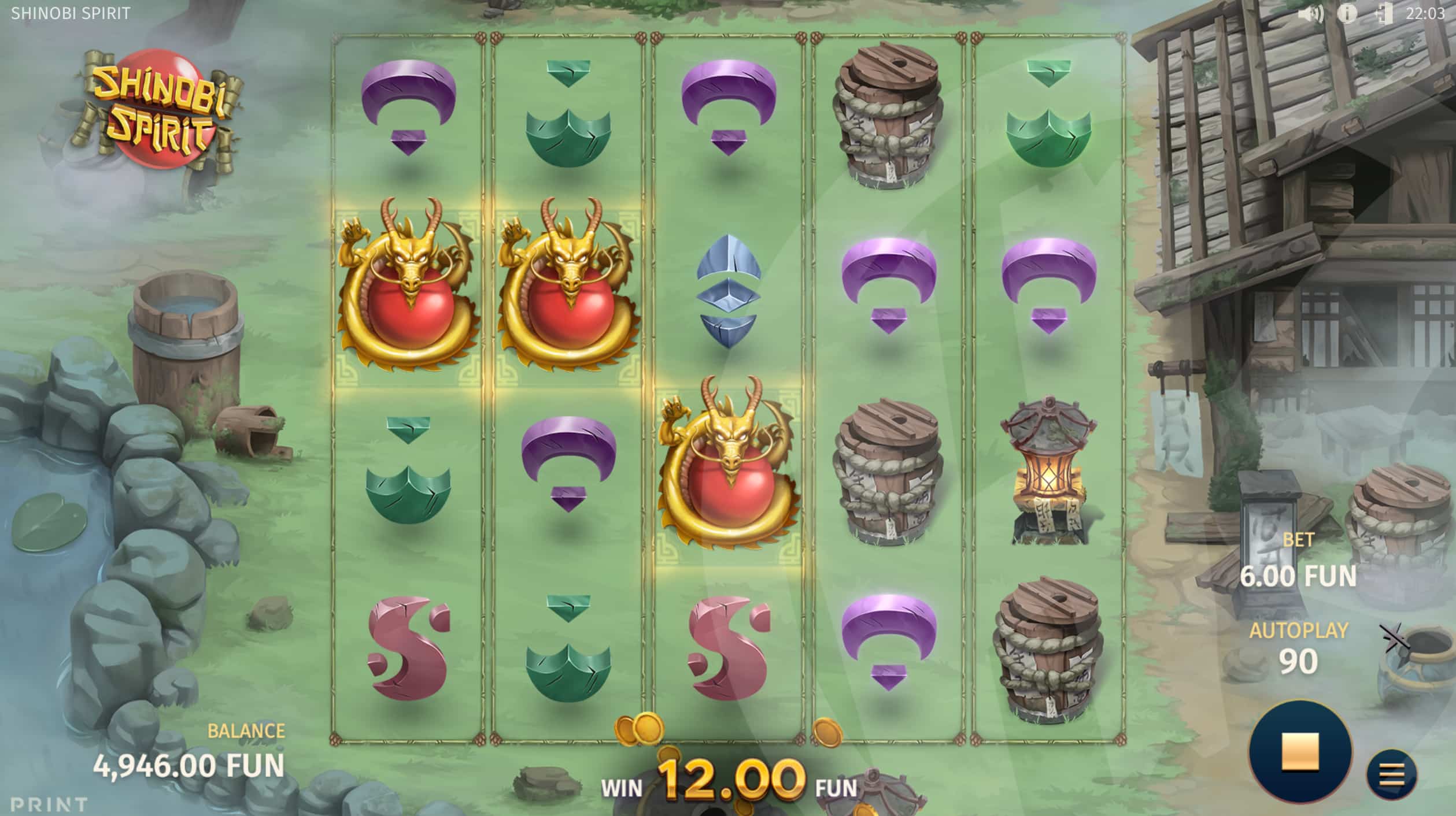 Shinobi Spirit Base Features
Taking place across 5 reels, wins are formed on Shinobi Spirit by matching at least 3 symbols on adjacent reels, beginning with the leftmost reel, across 1 of 26 fixed win lines. Symbols available begin with non premiums, with four signs that fit the theme, but aren't really recognisable – green, blue, purple and red in colour. Land 3 of a kind of any non premium to see wins between 0.20 and 0.30x bet, increasing to values between 1 and 2.50x bet for 5 of a kind matches.
In the mid range we have barrels, lanterns and bamboo, awarding wins between 0.70 and 1.50x bet for 3 of a kind matches, increasing to values between 5 and 20x bet for 5 of a kind wins. The highest paying symbol is the dragon orb, which awards wins between 2 and 100x bet for matches between 3 and 5 of a kind.
Finally, gold dragon Scatter symbols are available, awarding wins of 20 or 100x bet for 4 or 5 of a kind respectively.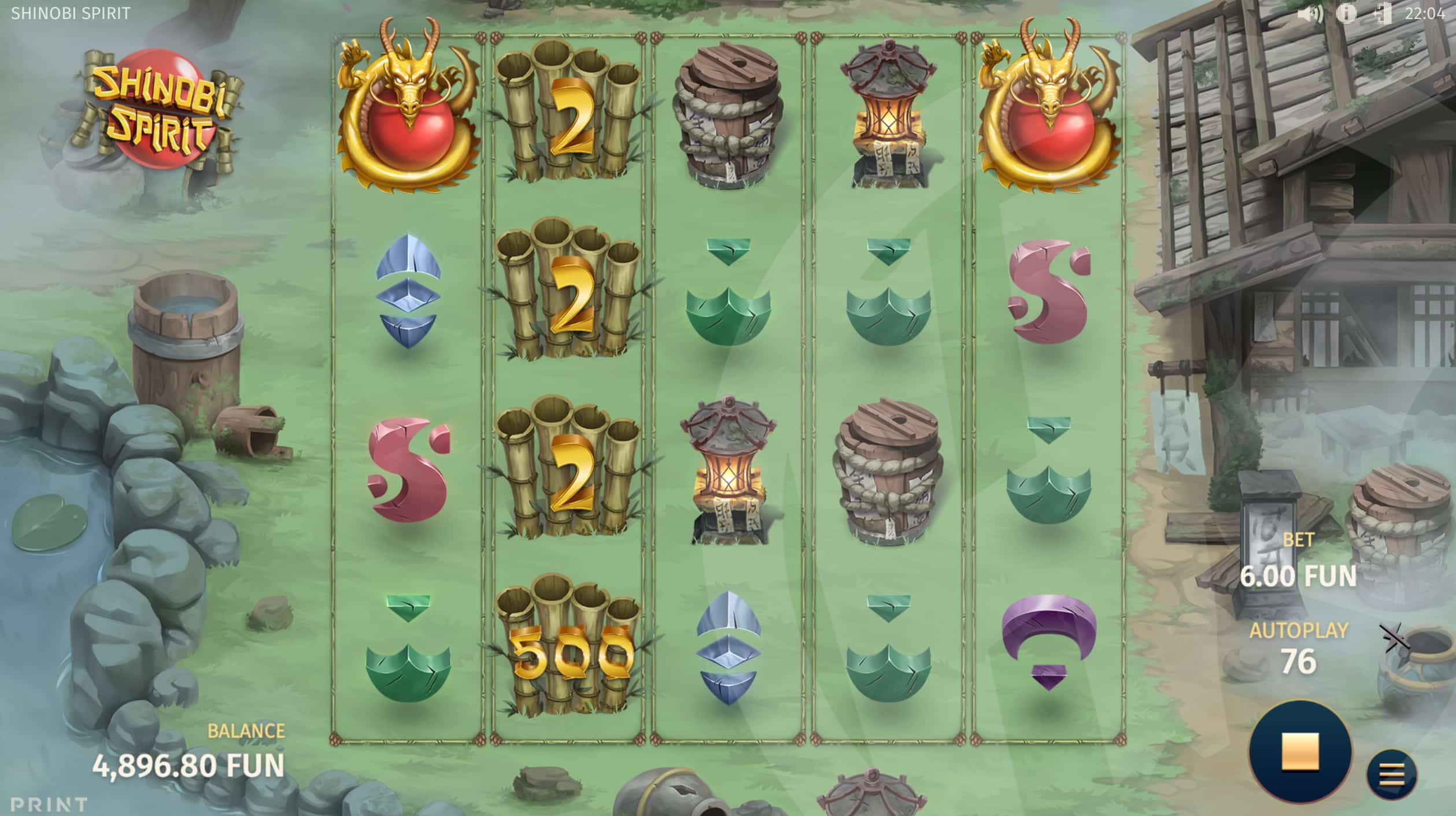 Scatter Boost
Things are quite simple in Shinobi Spirit, with only one main feature to cover. First though, there's a Scatter Boost, which can be activated for an additional cost of 50%.
When Scatter Boost is activated there will be more Scatter symbols on the reels, thereby increasing the chance of triggering the Shinobi Bonus.
RTP increases when using Scatter Boost – from 96.26% to 96.67%.
Bamboo Power
The action in Shinobi Spirit comes in the form of Bamboo Power. Bamboo Prize symbols are regular bamboo symbols with instant prize values on top. Bamboo Prize symbols can land on reels 1-4 and can have prize values of up to 1,000x bet.
These symbols work hand in hand with the Shinobi symbol, which can land on reel 5.
When a Shinobi symbol lands on reel 5, it will slash any Bamboo Prize symbol on the same row as itself, awarding its' prize value.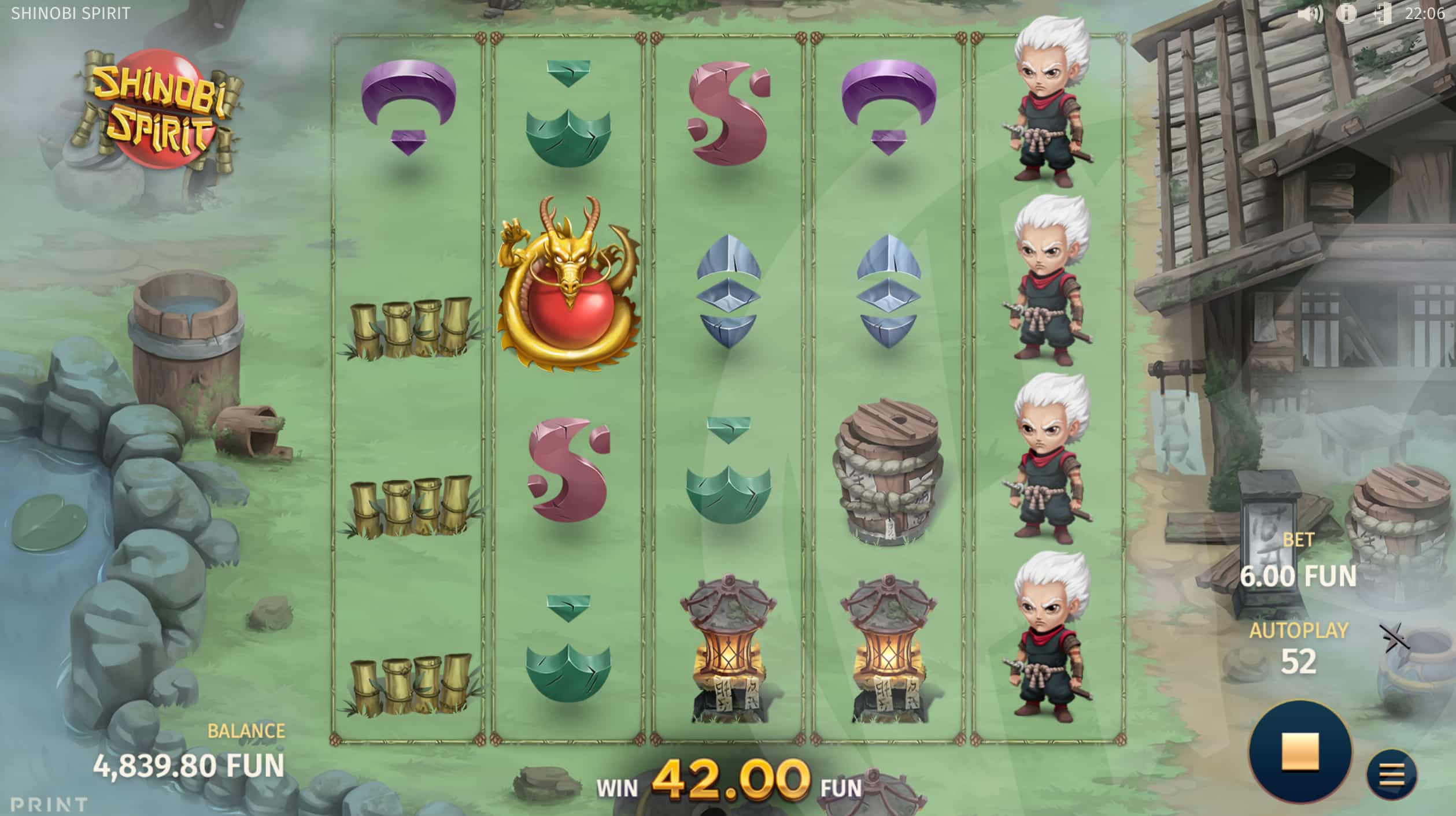 Shinobi Spirit Bonus
Land 3, 4 or 5 Scatter symbols to trigger the Shinobi Bonus. The grid will expand to 5×5 and there will be at least one Shinobi symbol in view at the start.
During this feature, it is only possible to land Bamboo Prize symbols on this grid or Event symbols, which we'll get to soon.
Shinobi symbols can only land around the edges of the grid, except the corner positions. They will always be facing inward and can only slash Bamboo Prize symbols in the direction they are pointing.
When they slash a Bamboo Prize symbol, its' prize value is awarded.
If more than one Shinobi symbol slashes the same Bamboo Prize symbol, its' prize value will double for each additional slash after the first.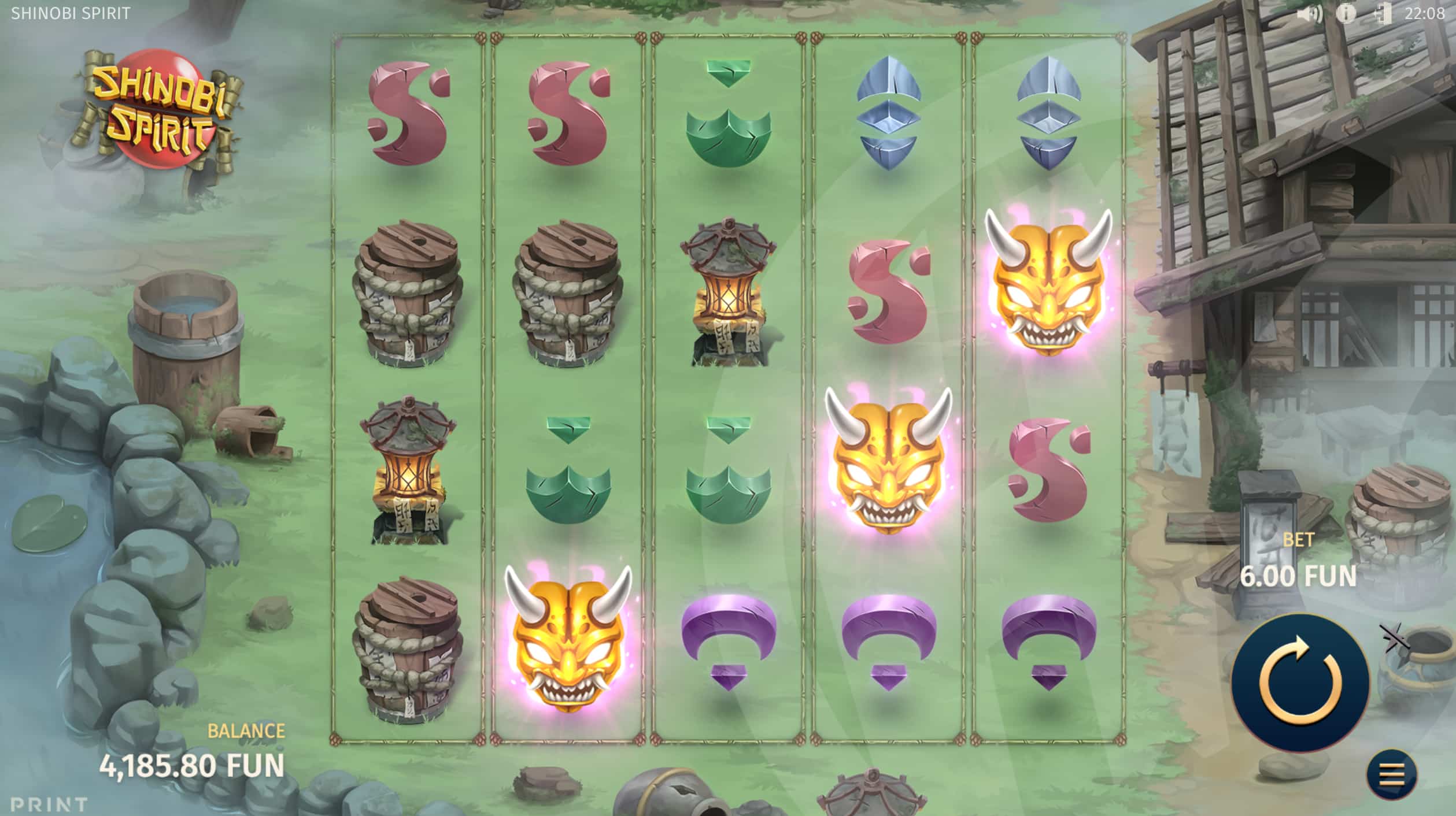 Any Bamboo Prize symbols or Event symbols that have not been slashed by a Shinobi symbol will stick in their position on the grid until they are slashed or until the bonus has ended.
At the end of any spin, all Bamboo Prize symbols can merge into one with Bamboo Prize Merge.
All Shinobi symbols start with 3 lives. For each Bamboo Prize symbol they slash, they gain 1 life back, up to a maximum of 3. When their lives reach 0, they are removed from the grid.
When no Shinobi symbols remain on the grid, the bonus will end.
Golden Shinobi
It is possible to land a rare Golden Shinobi symbol, which has 6 lives rather than 3.
When a Golden Shinobi symbol slashes a Bamboo Prize symbol, it's prize value is added to all Bamboo Prize symbols that have not been slashed.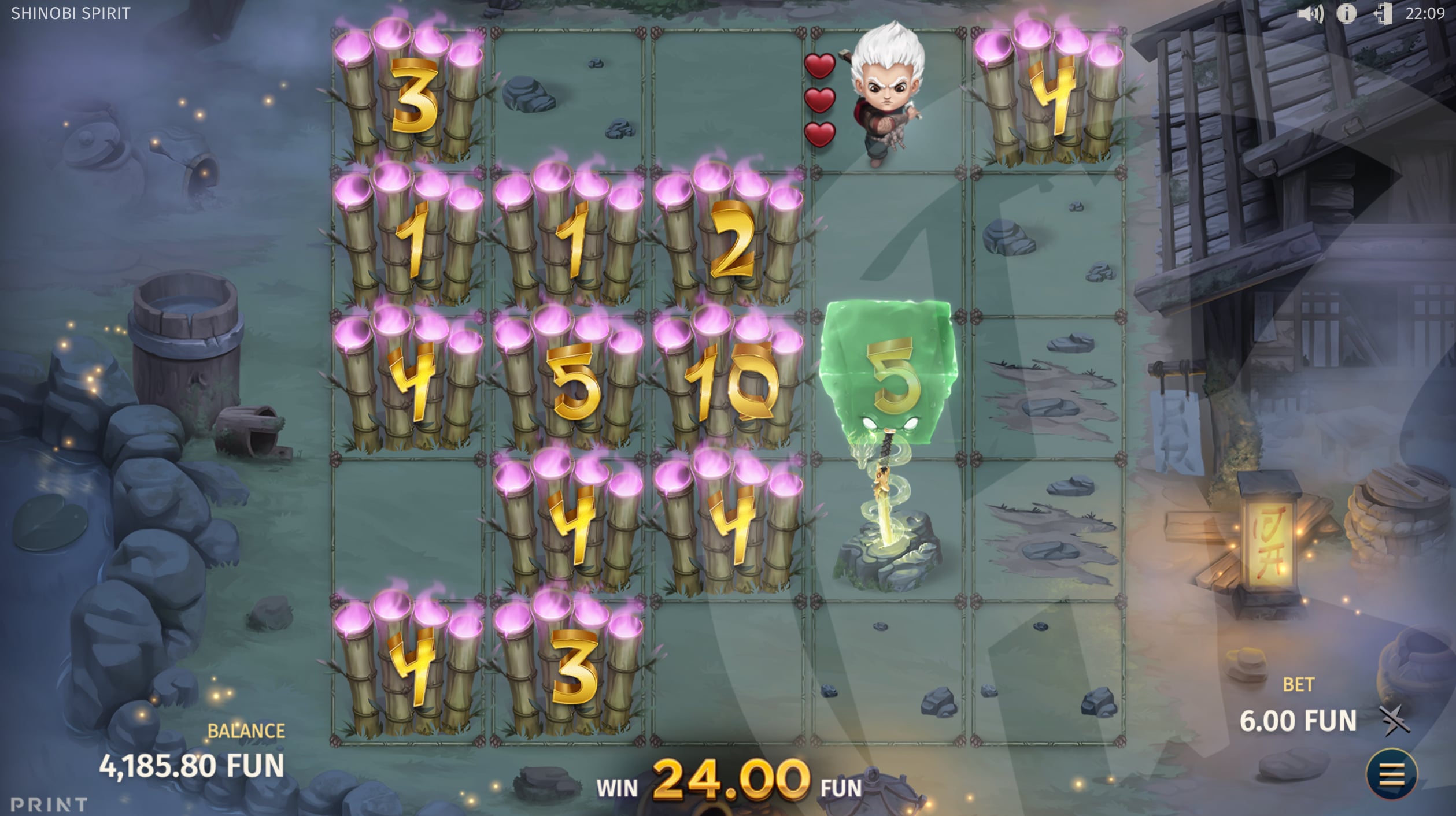 Event Symbols
Event symbols contain hidden powers which are activated when they are slashed by a Shinobi symbol.
Green Cube – adds its' prize value to all Bamboo Prize symbols that have not been slashed.
Pink Dragon – starting from this symbol's position, the Shinobi symbol will slash in the direction of the highest total prize value of Bamboo Prize symbols, continuing to slash until there are no more Bamboo Prize symbols that can be slashed in its' view.
Blue Throwing Star – the Shinobi symbol will perform an additional slash in the direction of the highest total prize value of Bamboo Prize symbols, perpendicular to its' current facing direction.
Dragon and Samurai Sword – any Bamboo Prize symbol slashed by the Shinobi symbol will be slashed twice, with this effect remaining for as long as the Shinobi symbol is present on the grid.
After being slashed and activated, Event symbols are removed from the grid.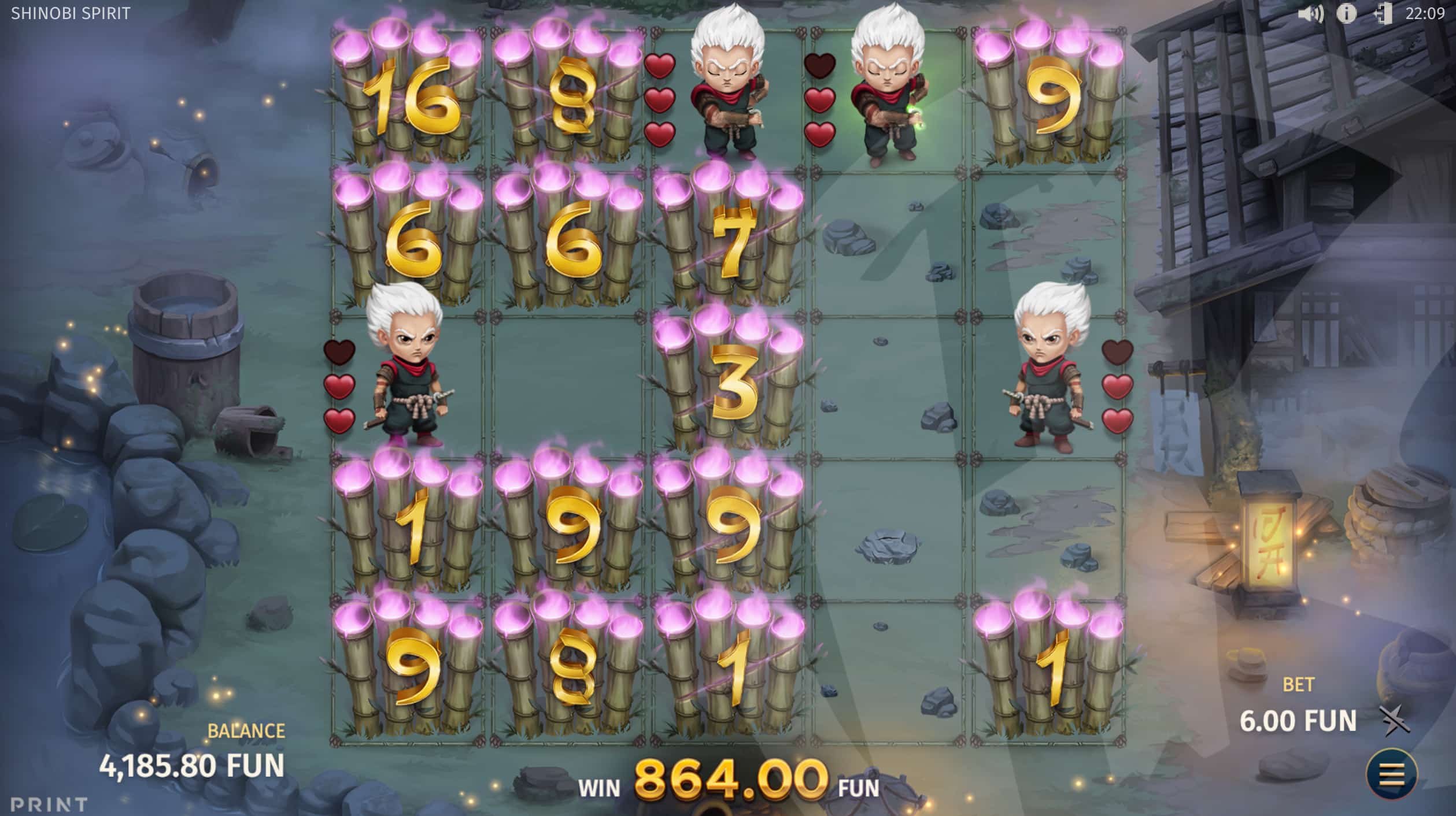 Feature Bet
Players in appropriate regions can take advantage of the Feature Bet option, wherein for a cost of 100x bet the Shinobi Bonus will be activated with 3, 4 or 5 Scatter symbols.
When using the Bonus Buy Feature Bet option, RTP will increase to 97.18%.
The maximum win available in Shinobi Spirit is 20,000x bet. If the sum of a single game round exceeds this, the game round will end and 20,000x bet will be awarded.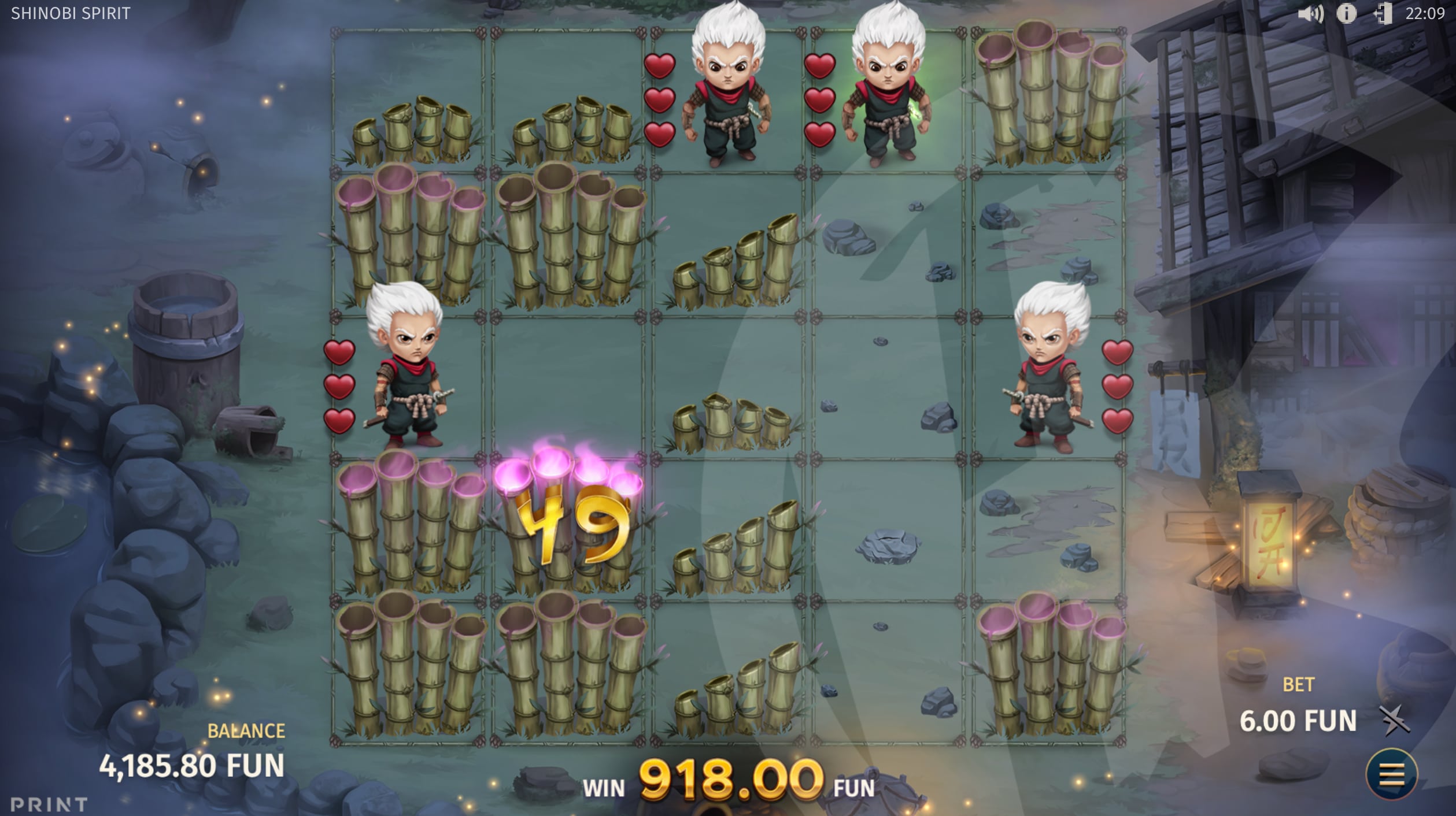 First Impression
Print Studios seem to be forging a path for themselves as a studio determined to showcase a different way of doing things. Between the video game aspect of Reapers, the theme of Royal Potato, the goats of Holy Hand Grenade or the mechanic on offer in Pine of Plinko, this team seem to be showing us that they aren't planning to do things the 'normal' way.
In Shinobi Spirit, this comes through in a new approach to collecting instant prize symbols – something that remains as popular today as the first time we saw them.
When we move into the bonus, we see this repeated alongside another new approach – on the hold and win mechanic. With Shinobi symbol lives depleting and then refilling each time they slash a Bamboo Prize symbol and hidden powers waiting to be unlocked, there's plenty happening to keep players entertained, and plenty of opportunities for things to turn around in a split second. When the right combinations land, wins are possible up to 20,000x bet.
Finally, maths is highly (4/5) volatile, and RTP is fixed at 96.26% (97.18% feature buy), so no complaints there.
If you're a fan of instant prize symbols or hold and win features and fancy a new approach, Shinobi Spirit will suit you just fine.
*The screenshots taken of games reviewed on this site are taken from Demo Play, as reviews are often written before games are released for real play.