As we enter any new season, we can usually guarantee that new slot games will be released in anticipation. Whether it's bright and sunny releases as we enter the summer months or something catered to a specific holiday, like Christmas or Valentine's Day, we always know slot releases will follow.
At this time of year, we know the Halloween releases will start to come, and now it's Print Studios time to shine – although definitely not literally – as they leave behind the quirky nature of Royal Potato 2 to introduce us to their first seasonal release.
Choosing to set aside the traditional pumpkins and gore, this team are instead taking a different approach in a release they describe will be a truly one of a kind experience that will both scare and delight the living daylights out of players – Darkness.
With a fixed RTP of 96.14% (96.79% feature buy), this highly (5/5) volatile release can produce wins up to 20,000x bet.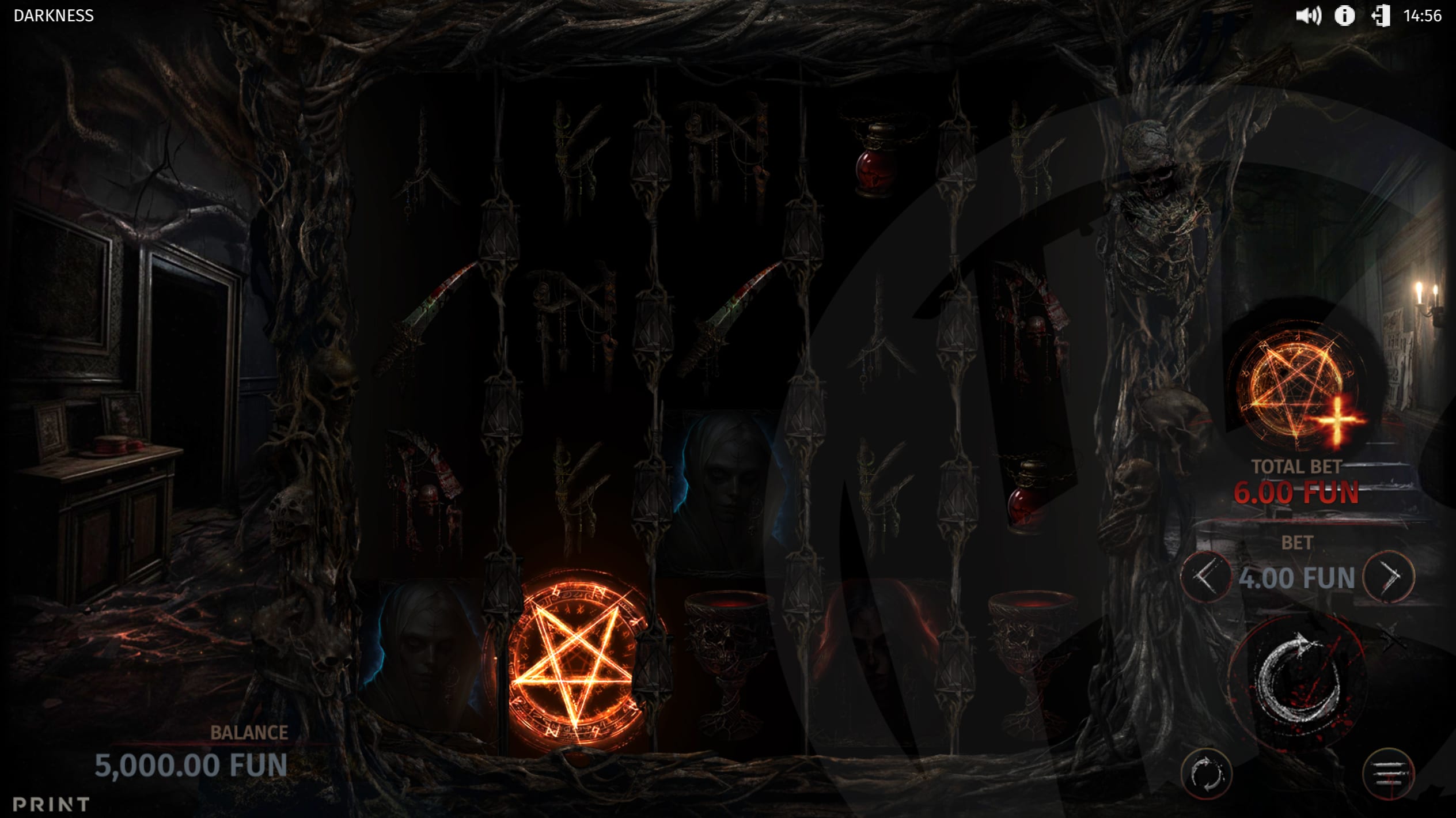 Aptly titled, we find ourselves in a barely lit house in Darkness. By the looks of what is visible in the background (if I squint hard enough), it looks to be a hallway, with stairs to the right and panelled walls to the left. It's so dark that I found myself continually attempting to turn up the brightness on my screen in an attempt to see more, before resigning myself to the fact that this one was designed to be experienced in the dark.
As the team say, every minute detail within this release has been designed to draw us into a horrifying finale, and the atmosphere is so dark that you're not quite sure if you saw something moving in the background or not. It all works to form something that is equal parts creepy and enticing, with a vibe similar to that of Nolimit City's Blood & Shadow – if you turned the dial up to 100.
It's all finished off an eerie soundtrack that wouldn't be out of place in a horror movie, helping to tie it all together.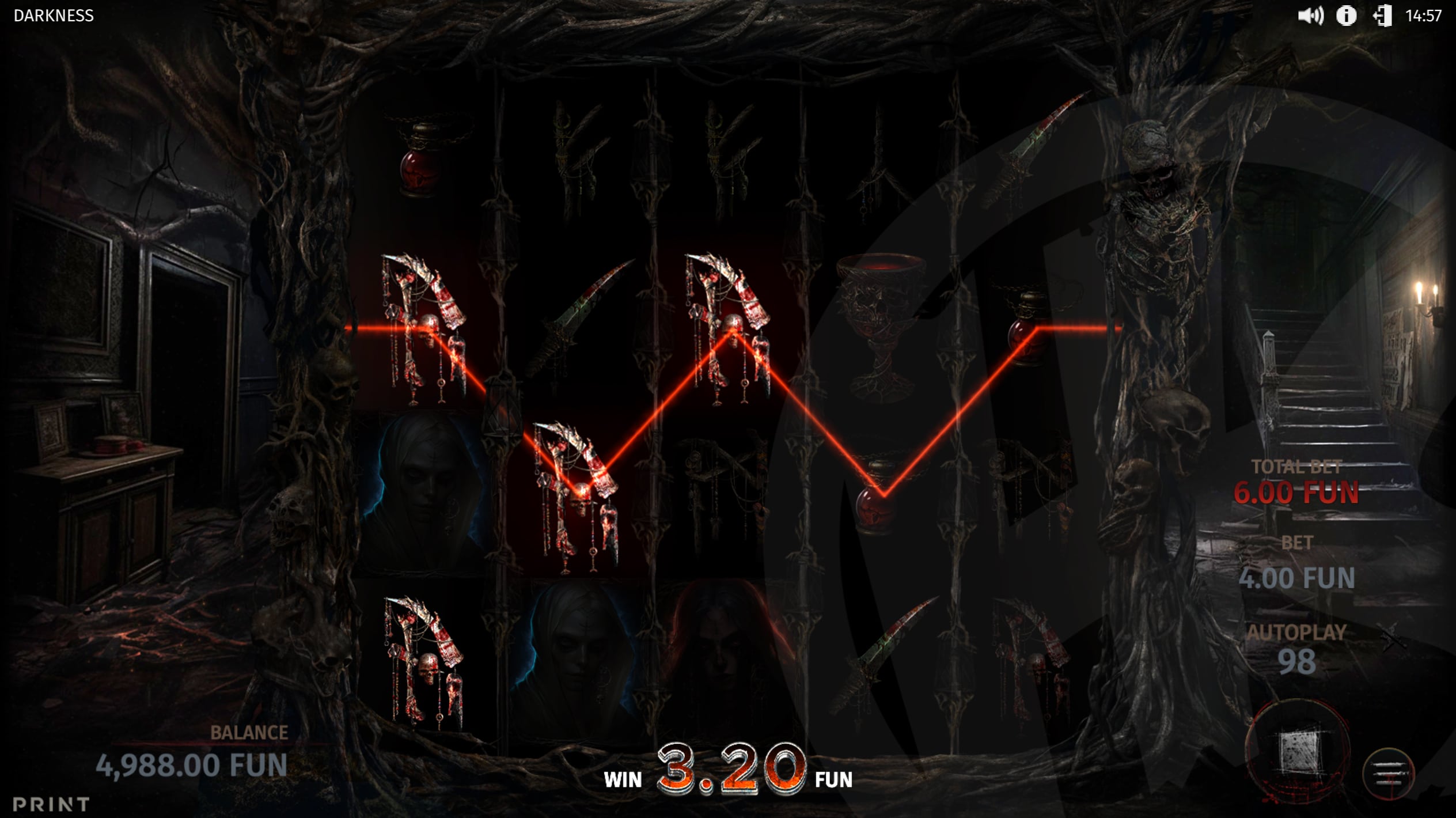 Darkness Base Features
Taking place across 5 reels, wins are formed by matching at least 3 symbols on adjacent reels, beginning with the leftmost reel, across 1 of 26 win lines. Symbols available begin with non premiums, with four kinds of Wiccan twigs – light, vibrant, noble and eldritch. Land 3 of a kind of any non premium to see wins between 0.02 and 0.04x bet, increasing to values between 0.10 and 0.20x bet for 5 of a kind matches.
In the mid range we have vials, daggers and chalices, awarding wins between 0.06 and 0.10x bet for 3 of a kind matches, increasing to values between 0.40 and 0.60x bet for 5 of a kind wins. Premiums consist of 2 characters – Isadora and Agatha, who both look like they've been to Hell and back. Land 3 of a kind of either of these characters to see wins of 0.20 or 0.50x bet respectively, increasing to values of 1 or 2.50x bet respectively for 5 of a kind wins.
We have a final creepy character to act as a Wild symbol – Dirge. Wild symbols substitute for all symbols except pentagram Bonus symbols and award wins of 5x bet for 5 of a kind matches.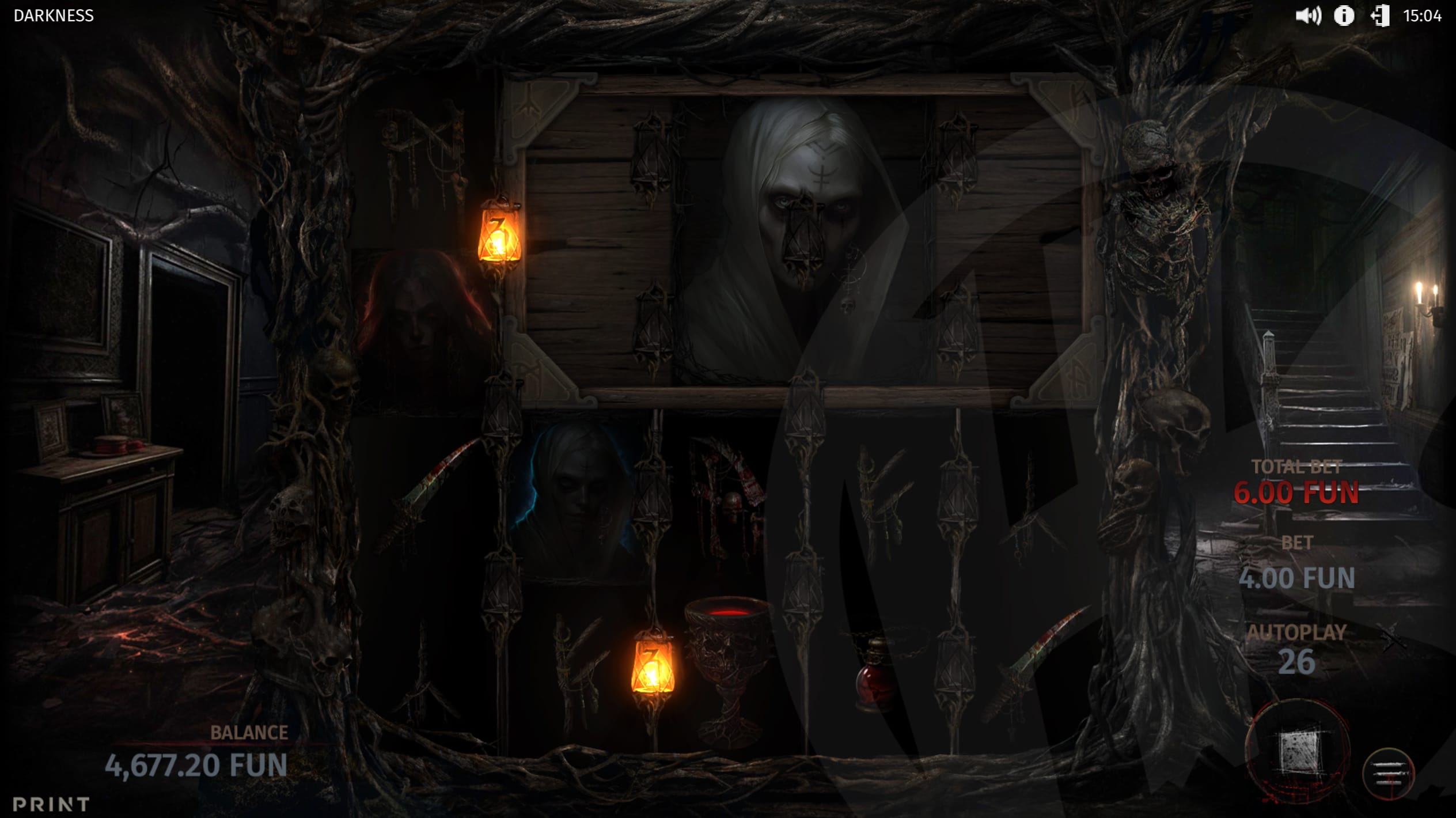 Brightness
There are a few different features to cover in Darkness, beginning with the brightness of the game. When the game loads, players are given a sliding tool to adjust the brightness between 0.5 and 1.5 – in increments of 0.10.
To get the most immersive experience, the information provided asks players to adjust the slider so the pentagram in the middle of the screen is barely visible. Once you can just see the pentagram, choose this point to play the game.
Of course, if you want to see more, you can adjust the slider to wherever you want, and brightness can also be adjusted at any point in game settings.
The screenshots in this review are taken on the brightest setting (1.5).
Scatter Boost
Next up is the Scatter Boost option, wherein by betting an additional 50% players can increase their chance of triggering the bonus game.
When Scatter Boost is activated more Bonus symbols are added to the reels, which of course increases the bonus chance, although we are not told by exactly how much this is increased.
RTP increases from 96.14% to 96.40% when using Scatter Boost.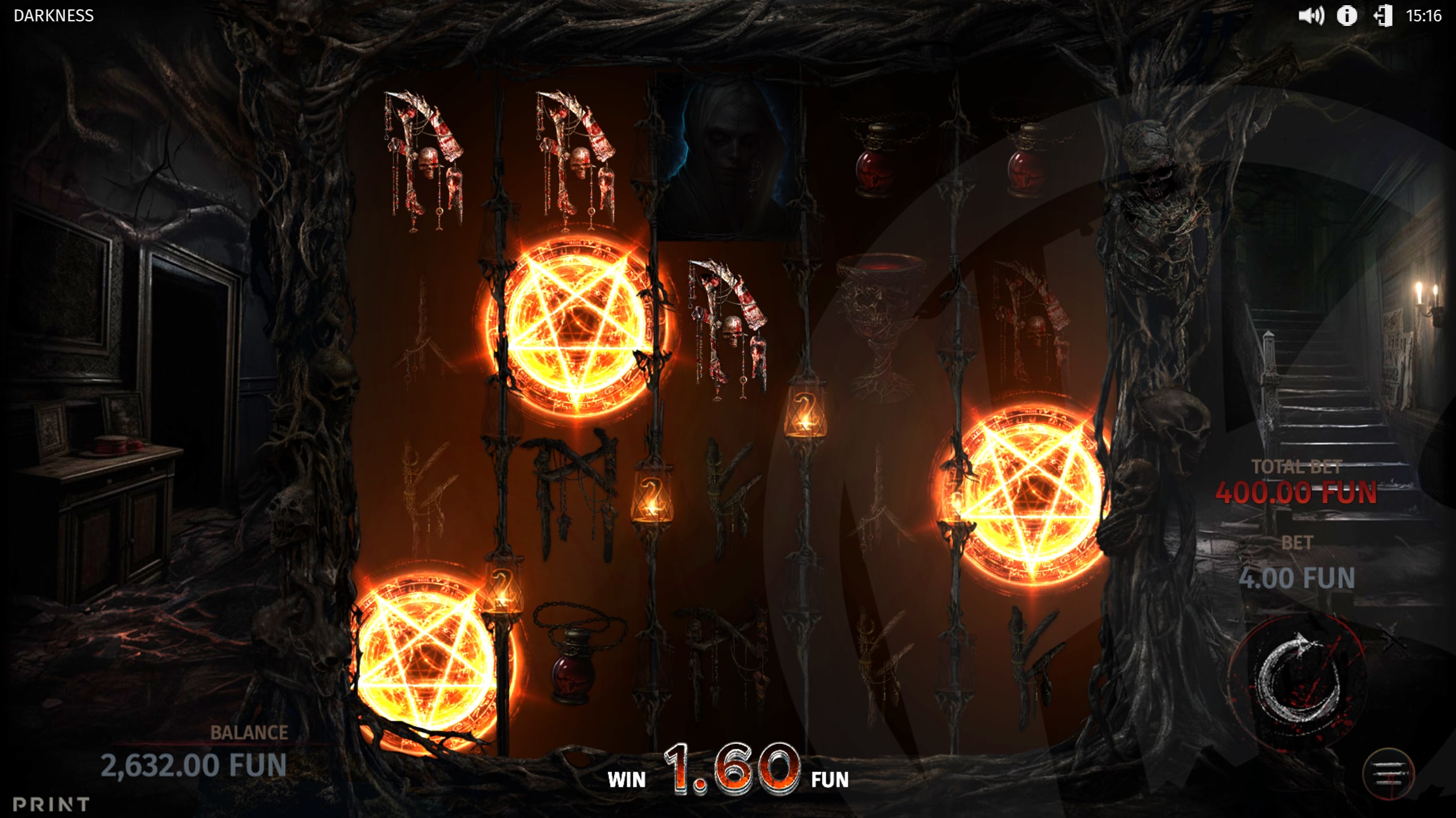 SuperSpinners
Avid fans of Print Studios will recognise SuperSpinners from releases like Huntress Wild Vengeance. There are 14 SuperSpinner positions on the reels – three between reels 1-2 and 3-4, and four between reels 2-3 and 5-6. On each spin, one or more SuperSpinners will activate, and take on a random value of 2 or more.
Any winlines crossing SuperSpinners will have their payout multiplied by the value of the SuperSpinner. If a winning combination crosses through more than one SuperSpinner, multipliers are applied independently.
SuperSpinners with no value are considered to be x1.
Giant Symbols
The last thing to cover in the base game are Giant Symbols. Randomly on any spin, Giant Symbols may land on the reels. These symbols can be any size between 3×2 and 5×4.
Once Giant Symbols land in view they will break down into individual 1×1 instances of themselves and pay as regular symbols would.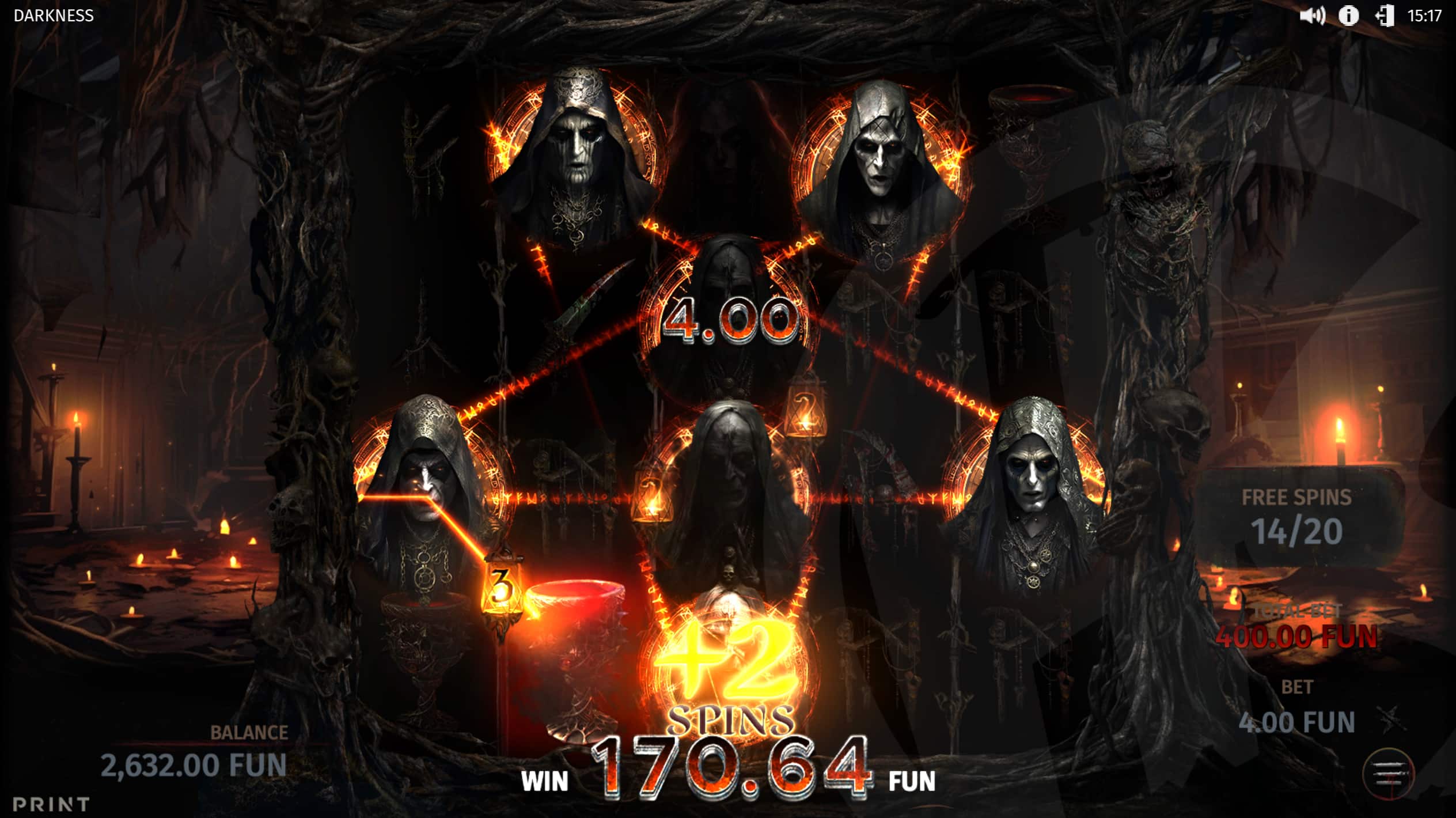 Darkness Bonus
Land 3, 4 or 5 Bonus symbols anywhere on the reels to trigger the Dark Ritual Bonus with 10, 12 or 14 spins respectively. When the bonus begins, a pentagram will be added as an overlay onto the reels with each of the 5 points marked out in an individual symbol position.
Throughout the bonus, each time a Dirge Wild symbol lands on one of these point positions an additional +2 spins will be awarded. The Wild symbol will also stick in position for the duration of spins.
If all 5 point positions contain sticky Wild symbols, Lucifer is summoned. When Lucifer is summoned the pentagram and all sticky Wilds are removed and reels 2, 3 and 4 are instead turned Wild for the remainder of the bonus.
Since an additional +2 spins are awarded for each Wild symbol landing on a point position, players are guaranteed at least 2 spins with Lucifer on the reels.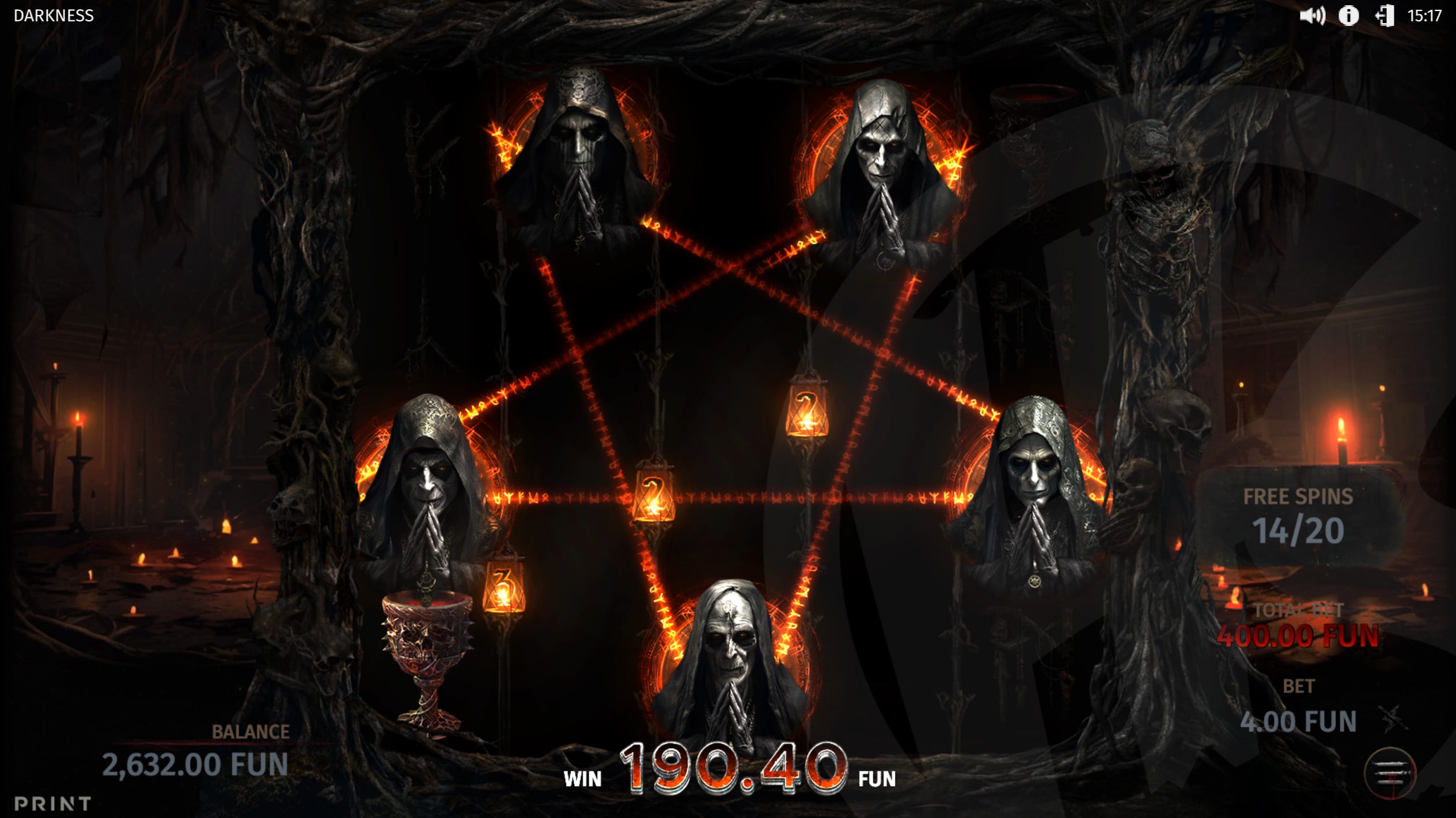 Feature Bet
Players in appropriate regions can also take advantage of the Bonus Feature Bet, wherein for a cost of 100x bet players are guaranteed that 3, 4 or 5 Bonus symbols will land in view, triggering the Dark Ritual Bonus.
RTP increases from 96.14% to 96.79% when using the Bonus Feature Bet.
The maximum win available in Darkness is 20,000x bet. If the sum of a single game round exceeds this, the game round will end and 20,000x bet will be awarded.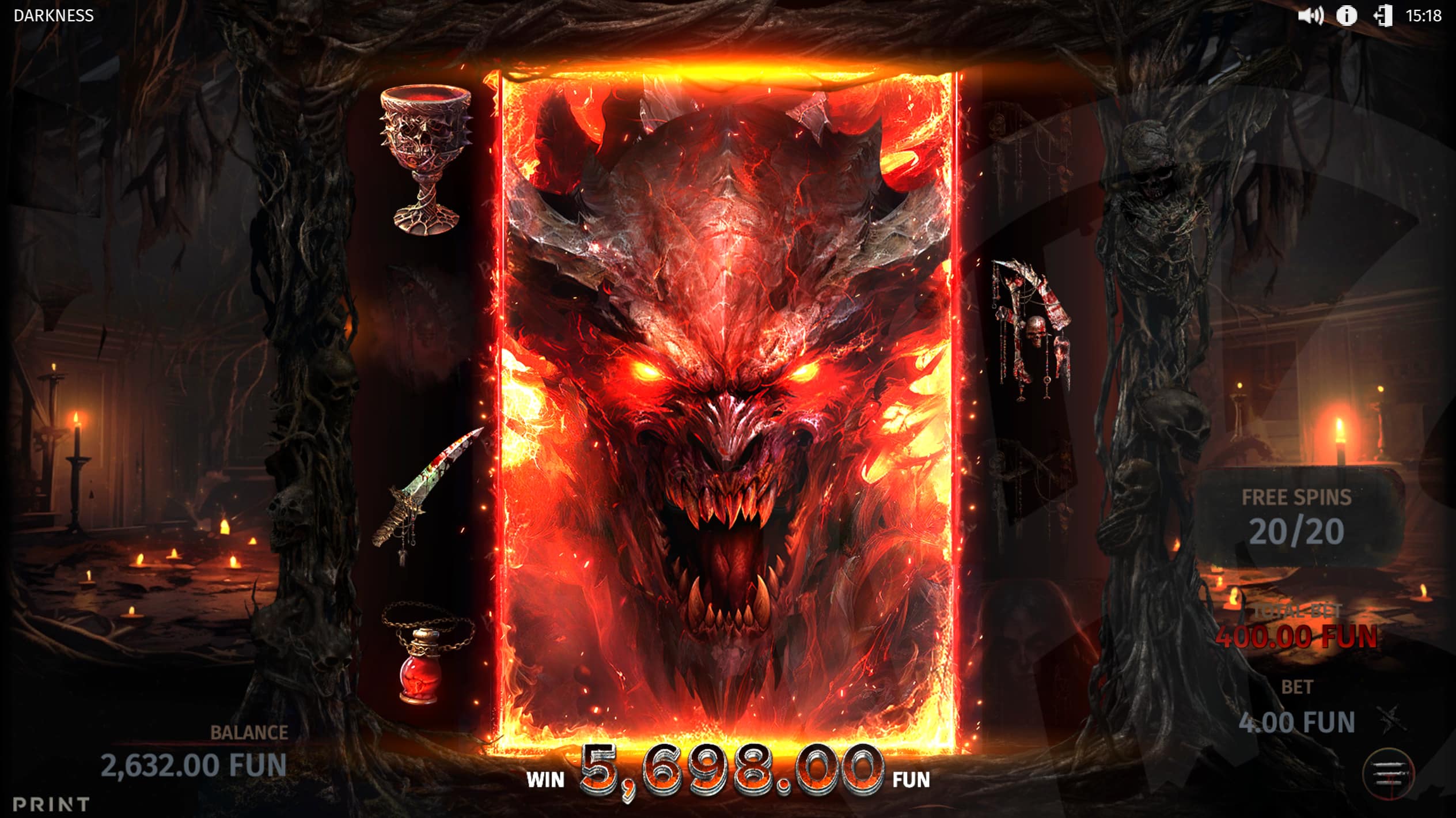 First Impression
Upon first inspection, Darkness looks like peak Print Studios, and that opinion didn't change after some extended play. Okay, visually things aren't what we're used to from this team, but the theme and every aspect of this release reinforces the almost quirky nature that we expect. It's very rarely that we get something normal or expected from Print Studios, and Darkness is no exception to this rule.
The elephant in the room is the brightness. Darkness is an experience like no other, but it does have its drawbacks. If you want to be able to see everything in view, you won't get that here. I commented above that it's somewhat similar to Blood & Shadow, but after playing this one I opened Blood & Shadow and it looked extremely bright in comparison.
You have to be happy to sit back and see what Darkness wants you to see, but if you can do that you're in for a treat, albeit a slightly scary one – it was quite the shock when a female character similar to Samara from The Ring popped up unexpectedly, made worse by the fact that I didn't actually see her again so I don't know if I imagined her.
Features and mechanics are more or less what we expect. SuperSpinners make up most of the excitement in the base game, coupled with a Scatter Boost to speed things along and new Giant Symbols that help to add an extra dimension.
The bonus game is where things really get exciting though, with something that feels a bit like a creepy combination of Holy Hand Grenade and Cash Defense. Fill all 5 point positions with Wilds and not only will you pick up an additional +10 spins along the way, but you'll get a Lucifer Wild covering the middle 3 reels for the remainder of spins. When the right combinations occur, wins are possible up to 20,000x bet.
Finally, maths is highly (5/5) volatile and RTP is fixed at 96.14% (96.79% feature buy), so no complaints there. Darkness is a great release all year round, but it's perfect for fans of high volatility as we enter the spooky season.
*The screenshots taken of games reviewed on this site are taken from Demo Play, as reviews are often written before games are released for real play.