If it were possible to own and drive a car under the sea, how would you go about getting it cleaned? Sure, we're working with a lot of hypotheticals here, but thankfully we don't have to imagine this scenario because Relax Gaming have done that for us. And, they've came to the conclusion that being underwater does not simply make your car clean, just like how the rain doesn't clean it, I guess.
So we're back to the first question – how would you get your car cleaned? I guess if you were going to, a car wash ran by sharks probably wouldn't be top of your list. Once again though, Relax Gaming are focusing on animals as they leave behind our feline friends in Fly Cats Dream Drop to bring us Shark Wash, where according to them 'the wins keep rolling and the thrills keep us going'.
With a fixed RTP of 96.06% (96.50% feature buy), this highly (5/5) volatile release can produce wins up to 5,000x bet.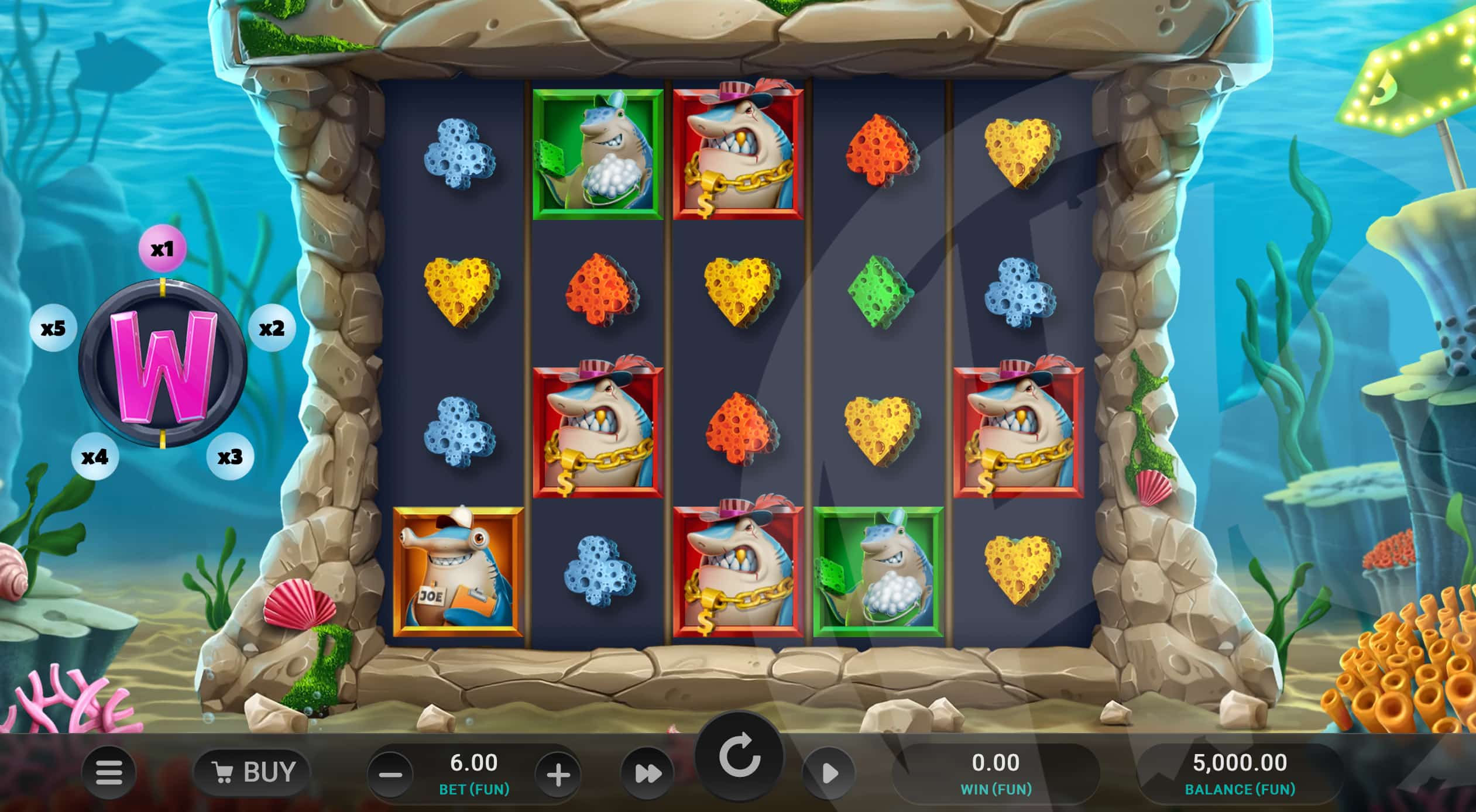 We're underwater today, in clear blue waters right on the seabed – where coral, leaves, and various rocks sit to either side of the reels, which are encased in grey stone. On the reels themselves we meet a variety of shark characters, with one holding a clipboard, one with a mop, one with a soapy bucket and sponge, and one wearing thick gold jewellery with a gold tooth – presumably the boss.
Aside from this, everything else works to remind us we're underwater, like sponge royal symbols. Finally, an upbeat yet foreboding shark-y tune comes in to tie everything together. All in all, it's nice to look at, and immediately recognisable as something this team would produce.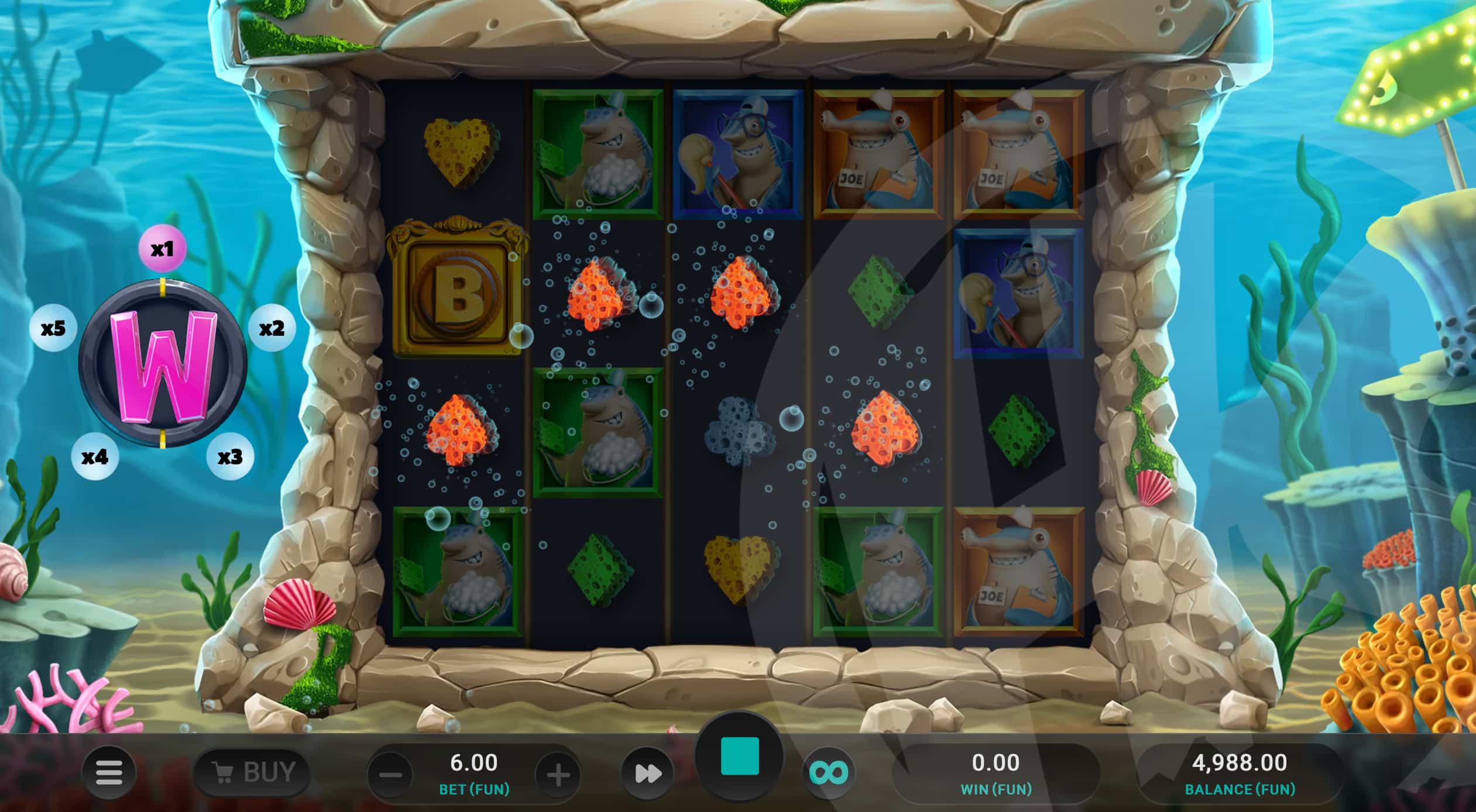 Shark Wash Base Features
Taking place across 5 reels, wins are formed on Shark Wash by matching at least 3 symbols on adjacent reels, beginning with the leftmost reel. Each reel holds 4 symbols, which produces 1,024 ways to win. Symbols available begin with non premiums, with blue clubs, green diamonds, yellow hearts, and orange spades – each designed like a sponge. Land between 3 and 5 of a kind of any non premium to see wins between 0.60 and 1.20x bet.
At the premium end we have four shark characters, each matching their non premium counterpart in colour, awarding wins between 1 and 3x bet for 3 of a kind matches, increasing to values between 2.50 and 15x bet for 5 of a kind wins.
Finally, pink Wild symbols are available, substituting for all symbols except Bonus Symbols.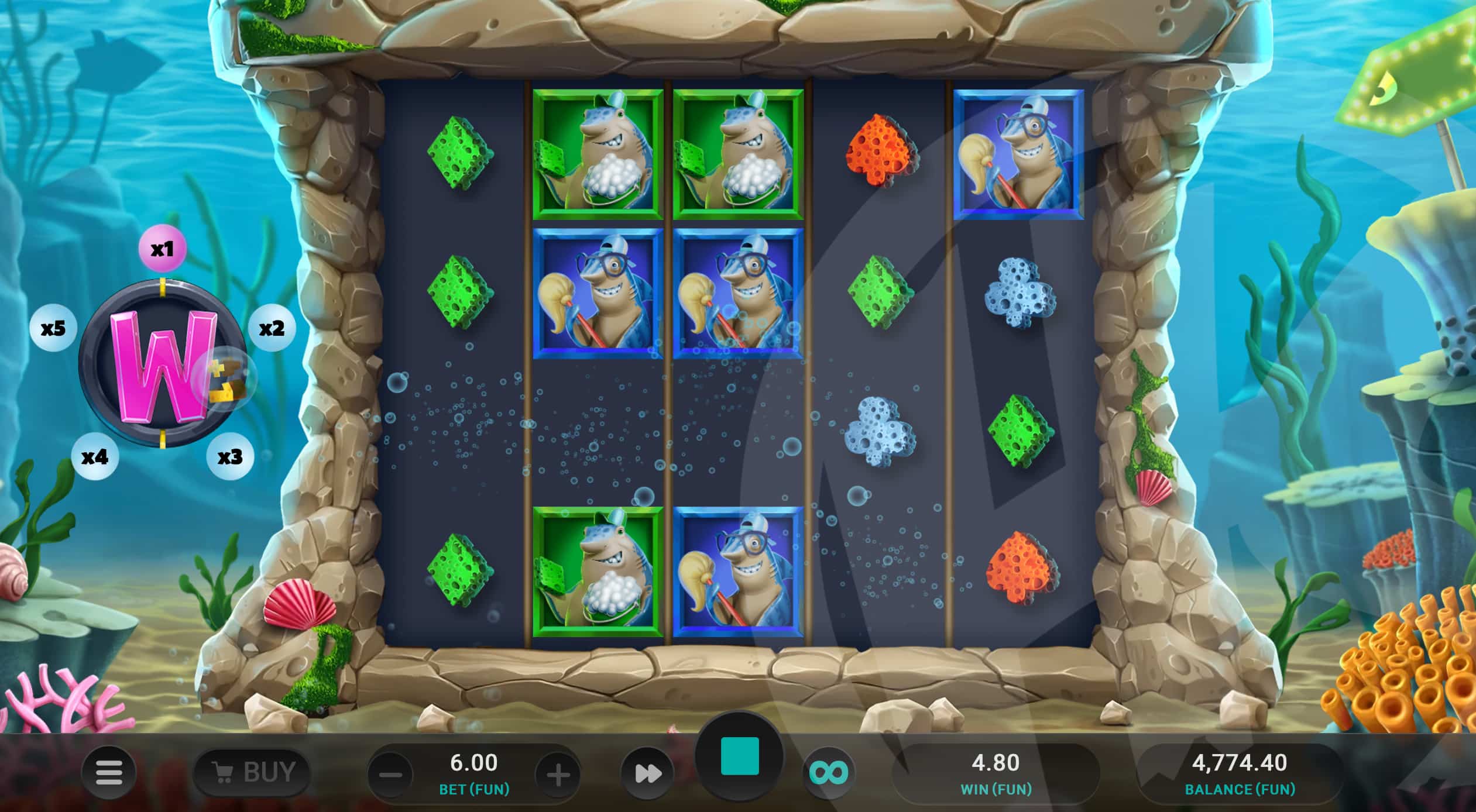 In pretty standard Relax Gaming fashion, Shark Wash is a very simple release, with just one main feature to look out for in the base game – the Countdown Wild Feature.
First though, let's cover cascades for those unfamiliar.
On every spin, all symbols involved in a win will be removed from the reels. All remaining symbols will then drop down to the bottommost available position on their respective reels, and new symbols will drop in from above to fill the remaining gaps.
Cascades continue until no new wins are formed.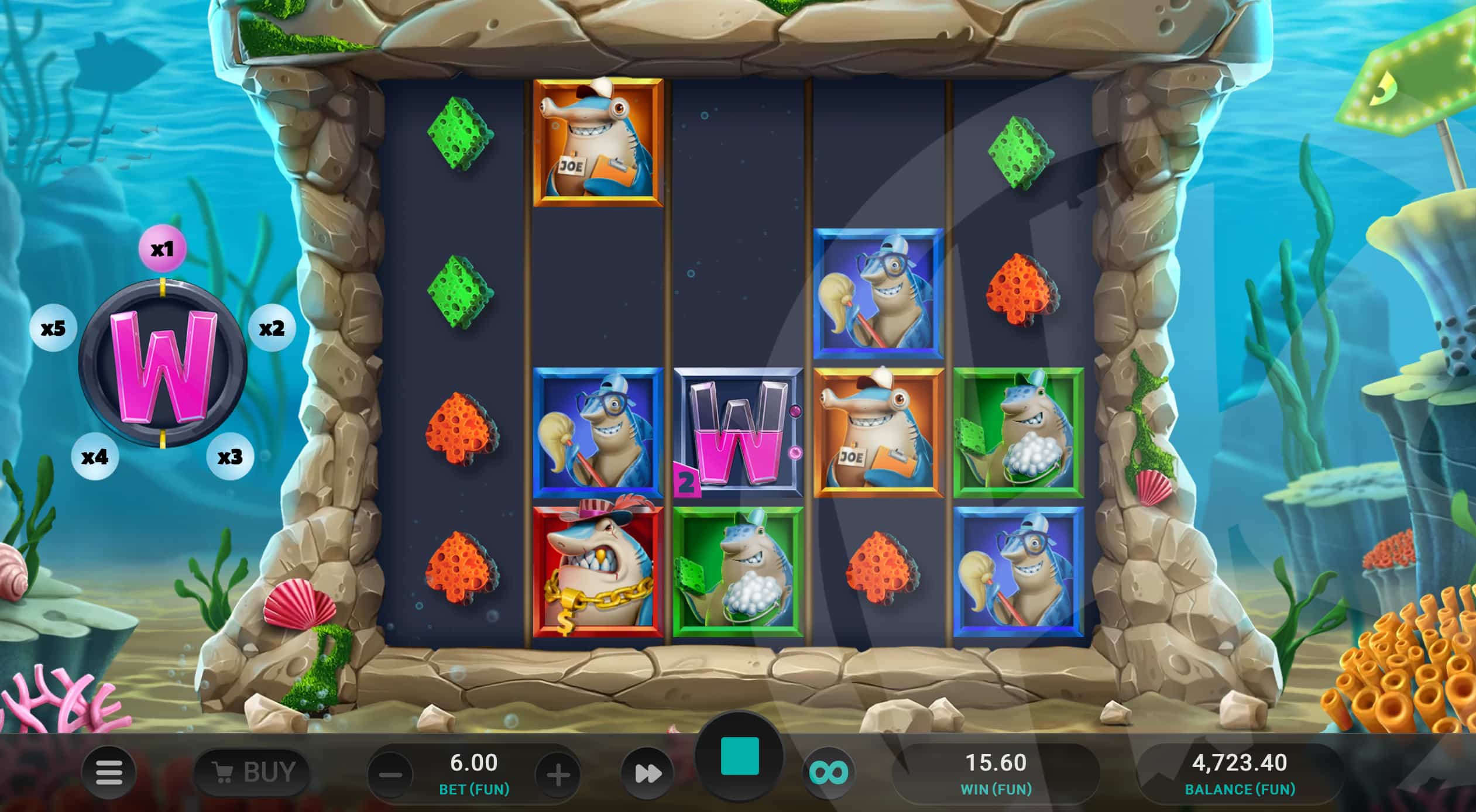 Countdown Wild Feature
Now onto the Countdown Wild Feature. Each Wild that lands on the reels will have a number attached to it between 1 and 5.
Wilds are sticky on the reels, but their number will decrease by -1 for each cascade they are won on. When the counter of a Wild reaches 0, it is removed from the reels.
To the left of the reels, there is a meter known as the Wild Meter. The value of the Wild Meter starts at x1, with two segments required to be filled to increase it to x2, thereby activating a x2 multiplier. Three segments are required to progress to x3, four are required to progress to x4, and five are required to progress to x5.
When a Wild's counter reaches 0 and it is removed from the reel, it is added to the Wild Meter and fills the number of segments equal to its counter's starting value.
Each time a new multiplier is activated by filling the required number of segments, its value will be applied to all future wins in the spin. The Wild Meter resets before the next spin.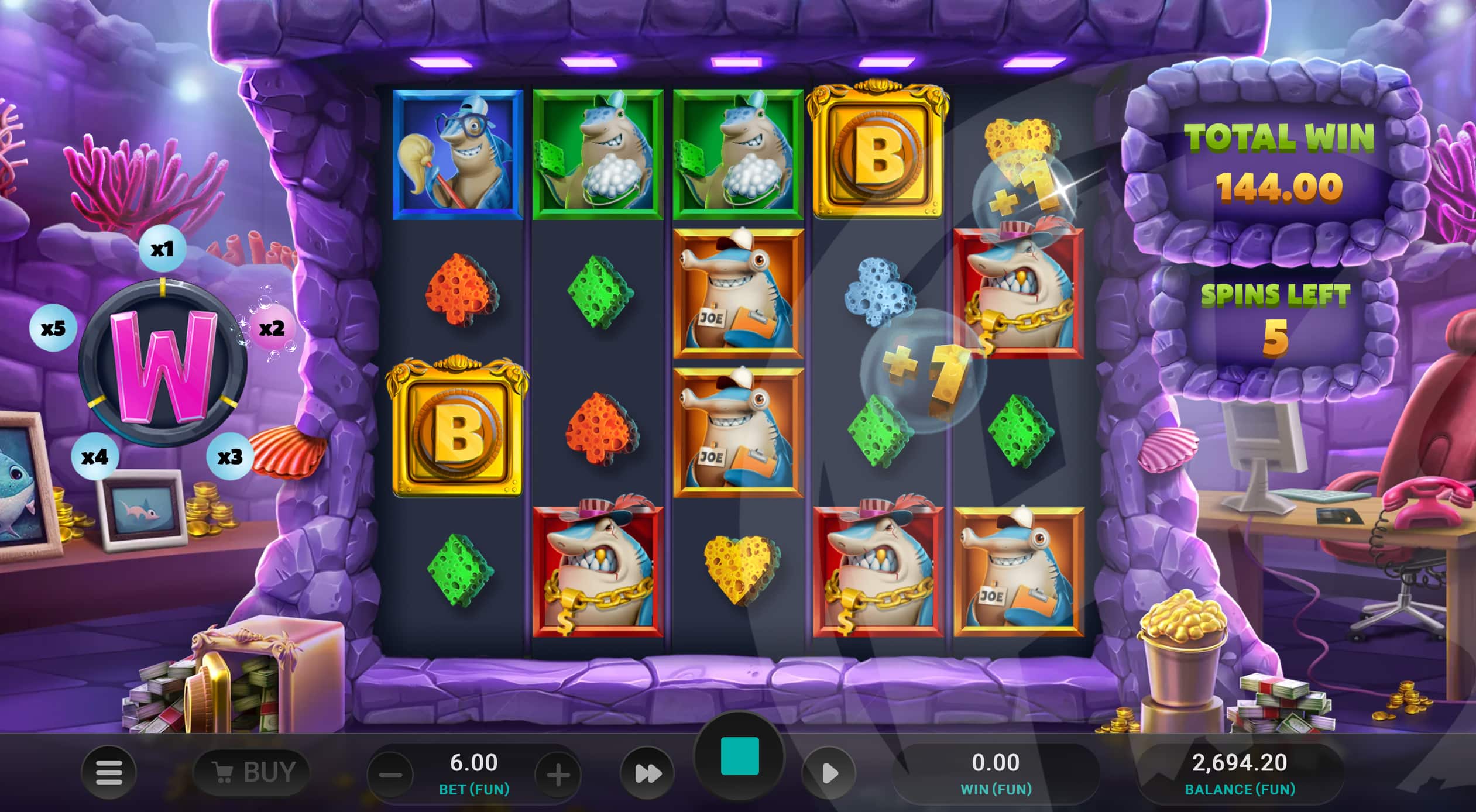 Shark Wash Bonus
Land 3, 4, or 5 Bonus Symbols to trigger 7, 10 or 15 Free Spins respectively. During Free Spins, we head into the purple hue of the boss's office – stacked high with cash and gold coins, which means this car wash must be doing well.
Additionally, the Countdown Wild Feature becomes persistent. Each Wild symbol that lands on the reels will continue to have a number between 1 and 5 applied to it, which is decreased by -1 for each cascade it is won on.
When the counter reaches 0, its starting number will be the number of segments filled on the Wild Meter.
Wild symbols will not persist between spins, but the activated multiplier on the Wild Meter will not reset between spins. The active multiplier will have its value applied to all wins for the duration of spins from the point it is activated.
Each Bonus symbol that lands during Free Spins will award an additional +1 spins.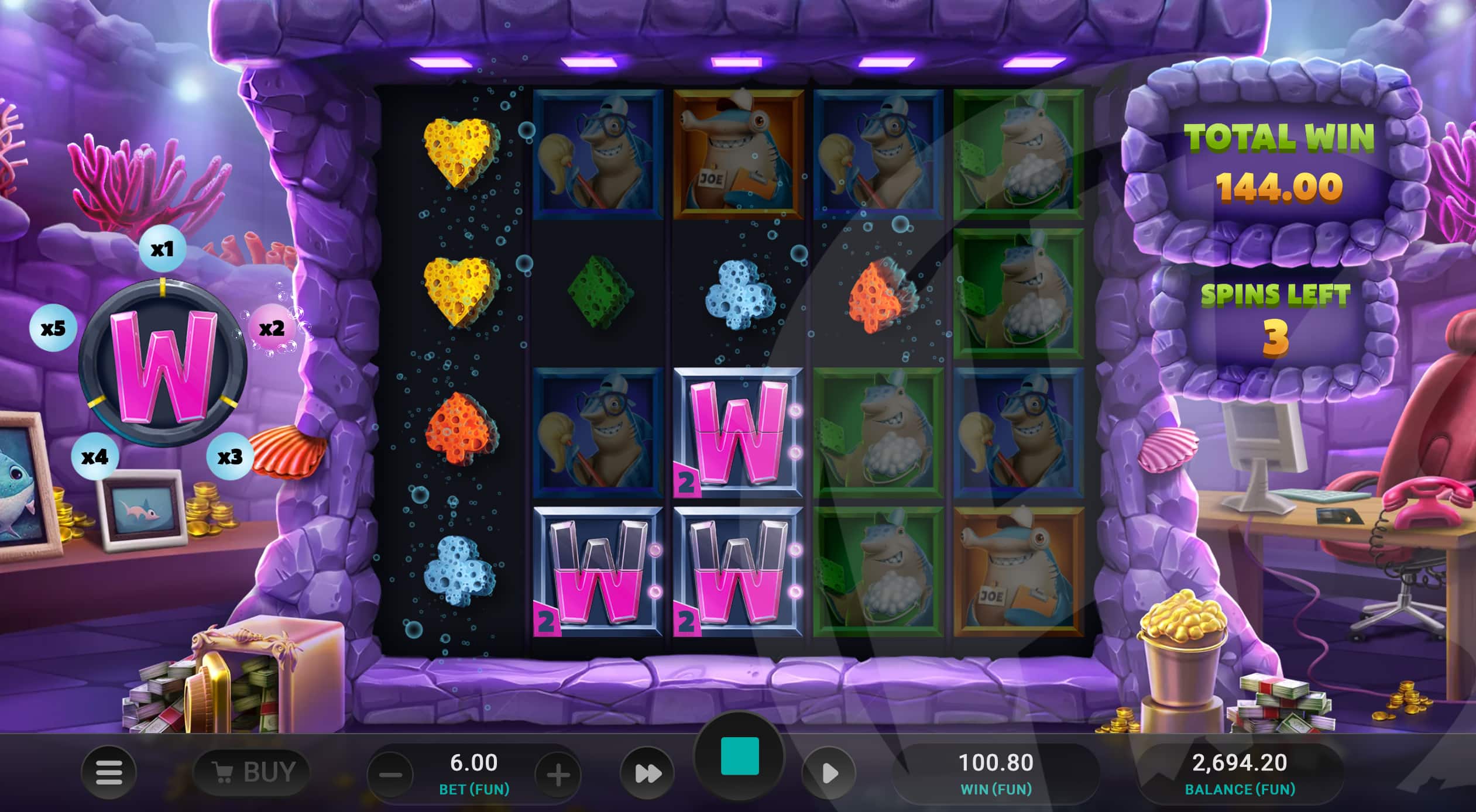 Buy Feature
Players in appropriate regions can take advantage of the Buy Feature option in Shark Wash, wherein for a cost of 80x bet, Free Spins are guaranteed to land with a minimum of 3 Bonus symbols.
When using Buy Feature, RTP will increase from 96.06% to 96.50%.
The maximum win available in Shark Wash is 5,000x bet. If the sum of a single game round exceeds this, the game round will end and 5,000x bet will be awarded.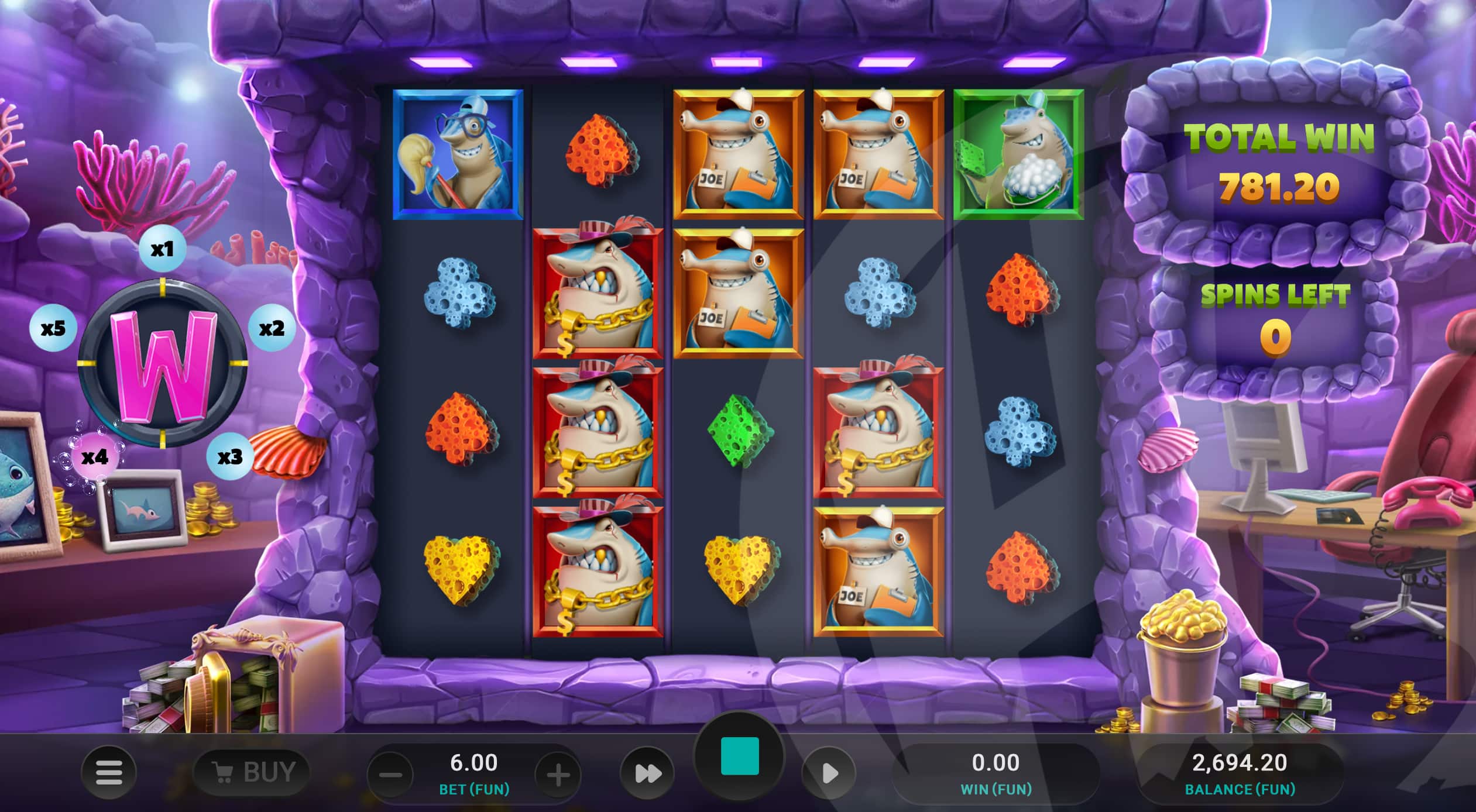 First Impression
There's nothing complex about Shark Wash – just a fun theme, great audiovisuals, and an easy to understand mechanic – in a way quite similar to the Stacked Wilds feature in Net Gains, and not just because they're both sharks.
This isn't surprising, since Relax Gaming are some of the best on the market for producing simple releases – notable in games like Wild Chapo 2, Wild Hike, and Horror Hotel, although admittedly Shark Wash doesn't pack quite as much potential as these.
In the base game, cascades and the Wild Countdown Feature help to keep things moving forward, but this excitement is greatly increased when we move into Free Spins, with the Wild Countdown Feature now persistent.
With multipliers up to x5 and additional spins available, it's not difficult to see how Shark Wash is capable of more than meets the eye. When the right combinations occur, wins are possible up to 5,000x bet.
Finally, maths is highly (5/5) volatile, and RTP is fixed at 96.06% (96.50% feature buy), so no complaints there. If you're looking for something bright and fun with a decent maximum win on offer, Shark Wash could be for you.
*The screenshots taken of games reviewed on this site are taken from Demo Play, as reviews are often written before games are released for real play.