Kick back and relax with Hacksaw Gaming, as they take us into a chilled vibe scene in their newest release. Each year, different releases come and go, with different themes and expectations, but sometimes all you want is a simple release, where no inordinate amount of thinking is required and the scenery calms you down.
Now, Hacksaw Gaming are giving us this exact picture as they leave behind the scrumptious treats of Fred's Food Truck to introduce us to Vending Machine.
With RTP options available up to 96.28%, this medium (3/5) volatility release can produce wins up to 5,000x bet.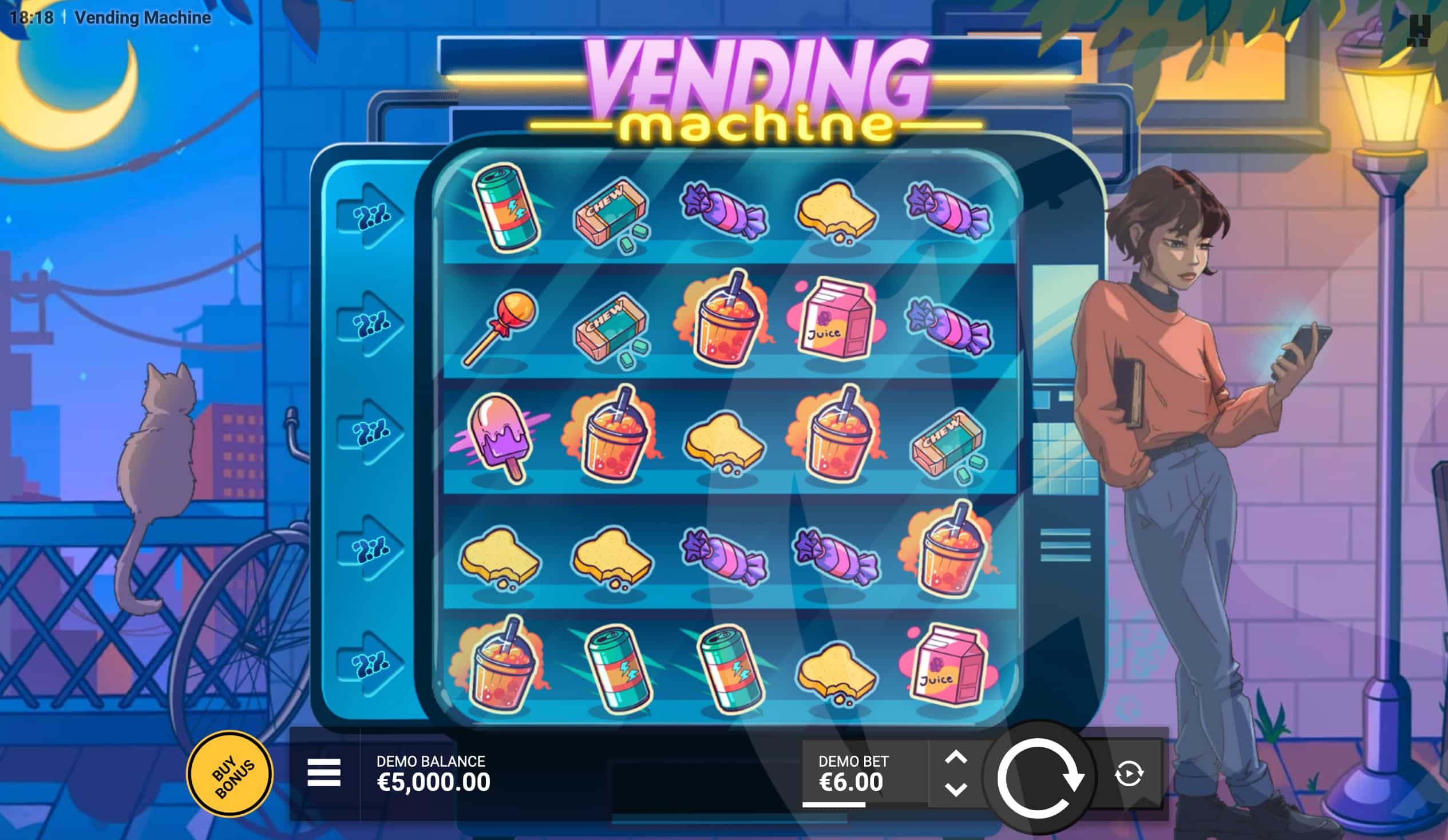 We're outside at dusk today, with a bright yellow moon visible in the deep blue sky. We're in some unspecified city, on what looks to be a rooftop area. A ginger cats sits glancing over the railing wagging its tail whilst a streetlamp provides most of our light – illuminating a young female character who has set her bicycle down to check her phone, looking suitably unbothered.
Apart from this, all of the action is on the grid, where various snacks sit inside a vending machine. Finally, a smooth soundtrack comes in to tie it all together – a nice, but pretty different setting overall.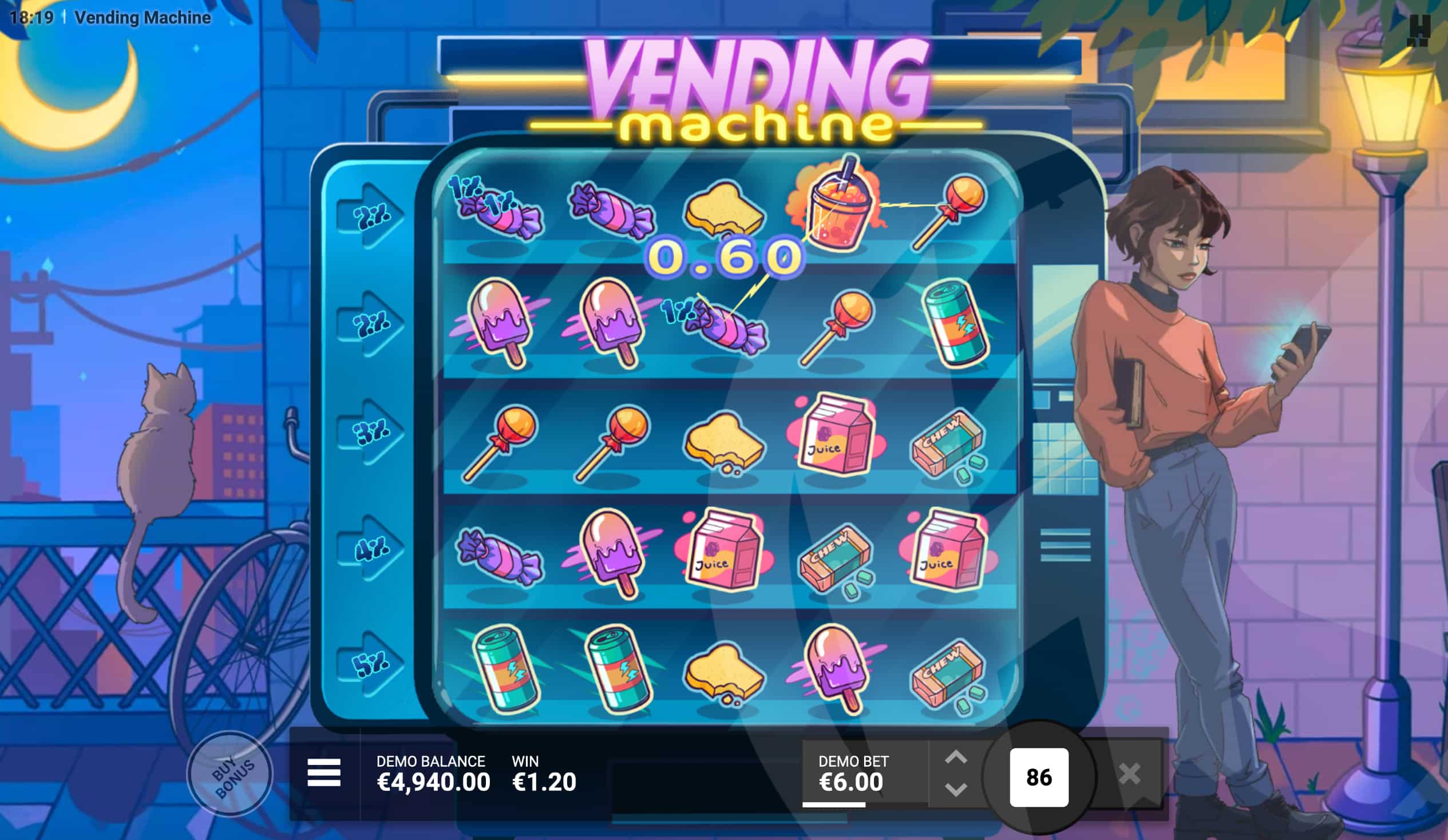 Vending Machine Base Features
Taking place across 5 reels, wins are formed on Vending Machine by matching at least 3 symbols on adjacent reels, beginning with the leftmost reel, across 1 of 35 fixed win lines. Symbols available begin with non premiums, with biscuits, sweets, chewing gum and lollipops, awarding wins between 0.10 and 2x bet for matches between 3 and 5 of a kind.
At the premium end we have ice creams, cans of fizzy drinks, cartons of juice and smoothies, awarding wins between 0.50 and 2x bet for 3 of a kind matches, increasing to values between 6 and 20x bet for 5 of a kind wins.
Finally, tubs of popcorn are Wild symbols that substitute for all symbols mentioned so far and award wins of 20x bet for 5 of a kind matches.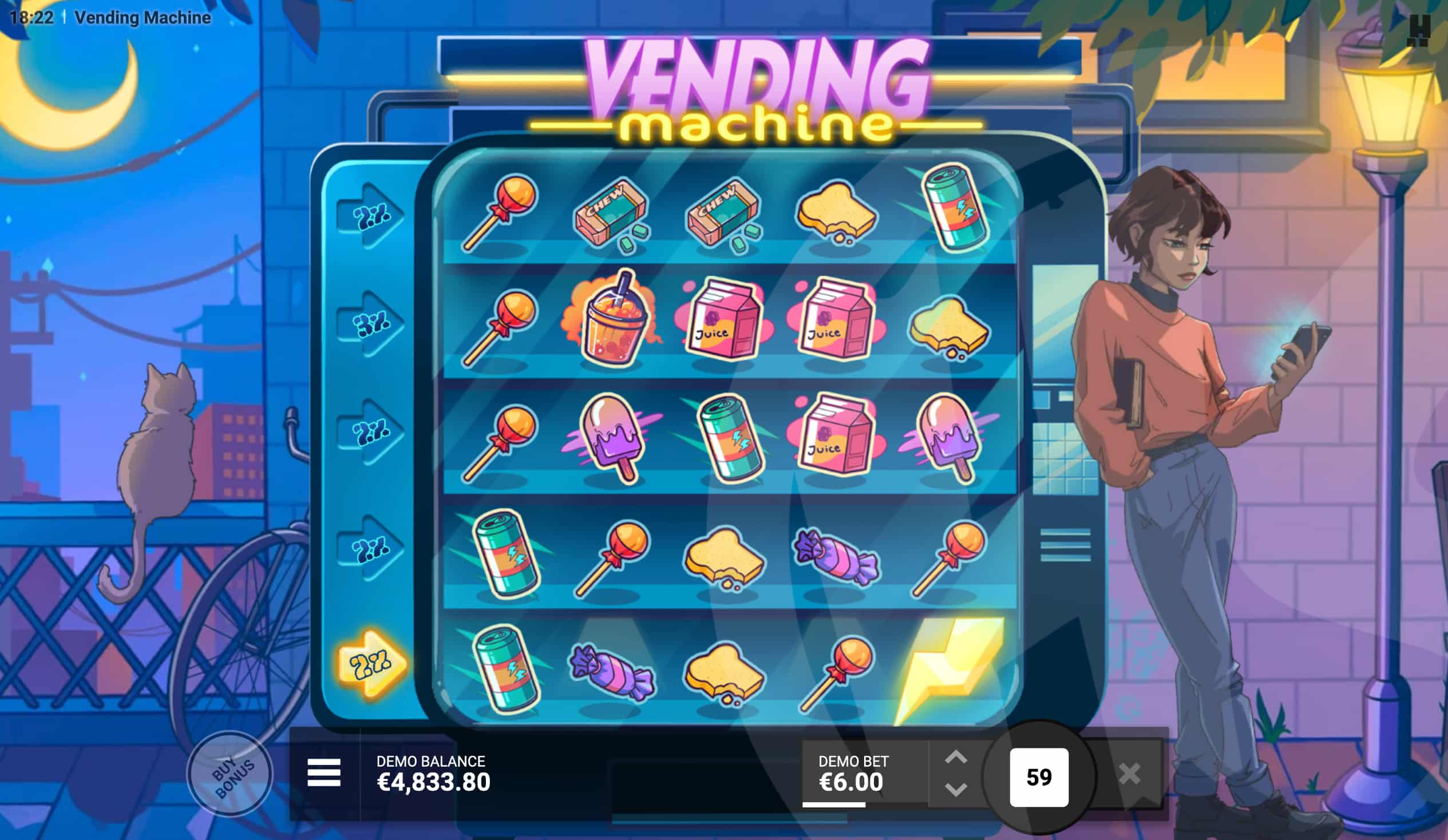 Things are quite simple in Vending Machine, so there are only a couple of things to cover beginning with cascades. On every spin, all symbols involved in a win will be removed from the grid with all remaining symbols dropping to the bottommost available position on their respective reels.
New symbols will drop in from above to fill the remaining gaps, with cascades continuing until no new wins are formed.
Whenever the grid has settled and no more winning combinations can occur, it is possible that the girl will kick the vending machine, removing all low paying symbols so new symbols can drop in from above.
Multiplier Lights
Next are Multiplier Lights. To the left of each row, there is an inactive multiplier. At the start of each spin this will take on a value between 2 and 10x at random.
Each time a win occurs, any rows involved in the win will have their multiplier increased. This increase is equal to the number of winning symbols on the row, with each winning symbol increasing the multiplier by +1.
Multiplier Boost Scatter Symbol
It is also possible to land a Multiplier Boost Scatter symbol, which multiplies the current multiplier value on the row it has landed on by x2. Land an Epic Multiplier Boost Scatter symbol to multiply the current multiplier value of all rows by x2.
When the Lightning Bolt Scatter symbol lands it will activate the row multiplier on the row it has landed on. When winning combinations occur using at least one symbol on an active multiplier row, the multiplier value is applied to the win.
If more than one active multiplier row is involved in a single win, their values will be added together before being applied.
When a Blackout Skull Scatter symbol lands, it will deactivate the multiplier for the row it has landed on.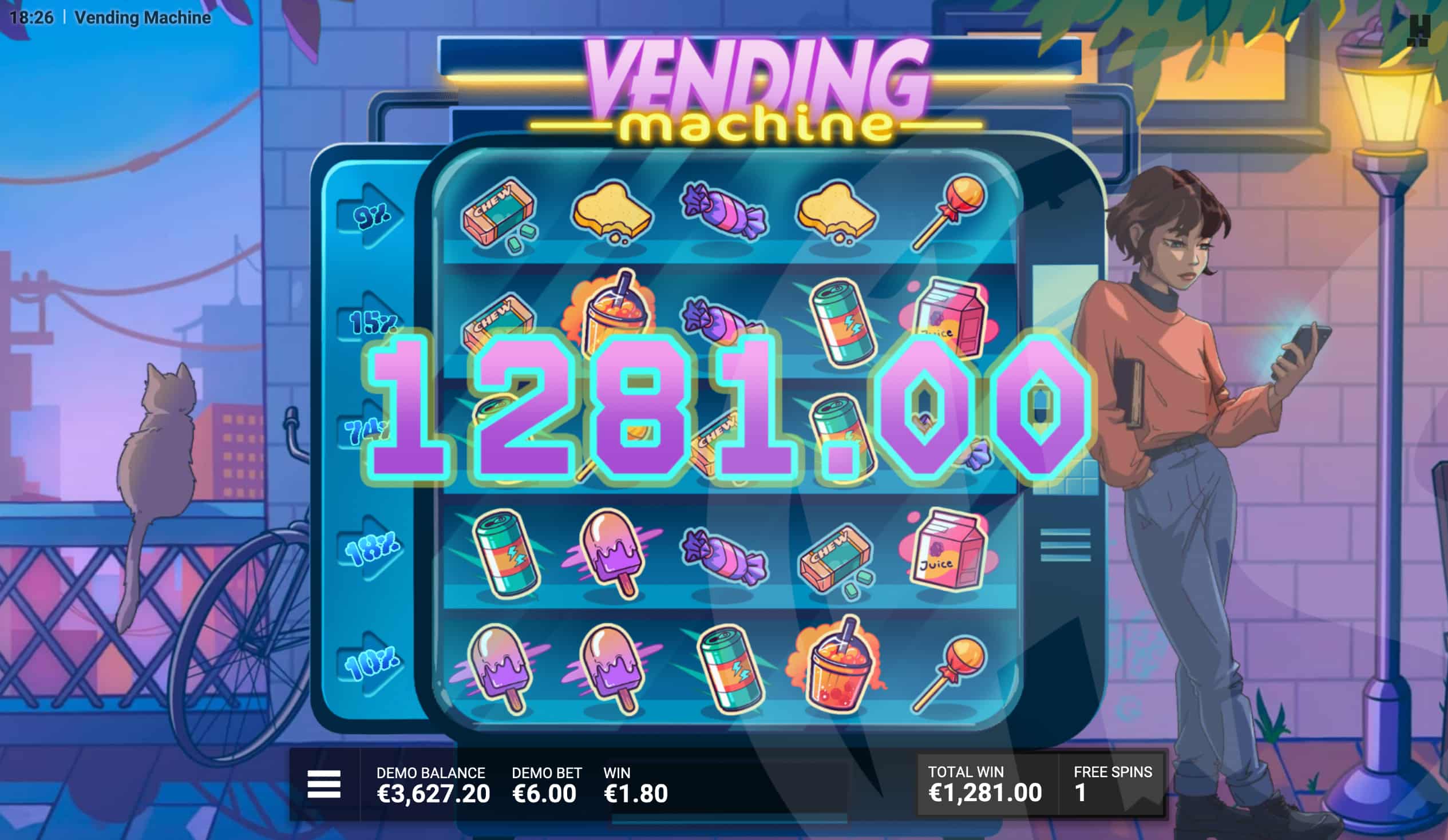 Vending Machine Bonus
Land 3 FS Scatter symbols to trigger Lo-Fi Spins. During the bonus game there are no set number of spins awarded. Instead, players begin with 3 activated rows of multiplier lights, which remain active through spins until they are deactivated.
Everything continues like the base game, with Lightning Bolt Scatter symbols activating new rows and Blackout Skull Scatter symbols deactivating rows.
The bonus game will end when all row multipliers are deactivated.
Land 4 FS Scatter symbols to trigger Spin and Chill, which works in the same way as Lo-Fi Spins except players start with all 5 rows of multiplier lights activated.
Buy Bonus
Players in appropriate regions can take advantage of the following Buy Bonus options:
Bonus Hunt FeatureSpins (5x more likely to trigger a bonus) – 3x bet (96.22% RTP)
Lo-Fi Spins – 100x bet (96.18% RTP)
Spin and Chill – 200x bet (96.25% RTP)
The volatility for all options is high. The RTP values above are based upon the 96.28% RTP setting.
The maximum win available in Vending Machine is 5,000x bet. If the sum of a single game round exceeds this, the game round will end and 5,000x bet will be awarded.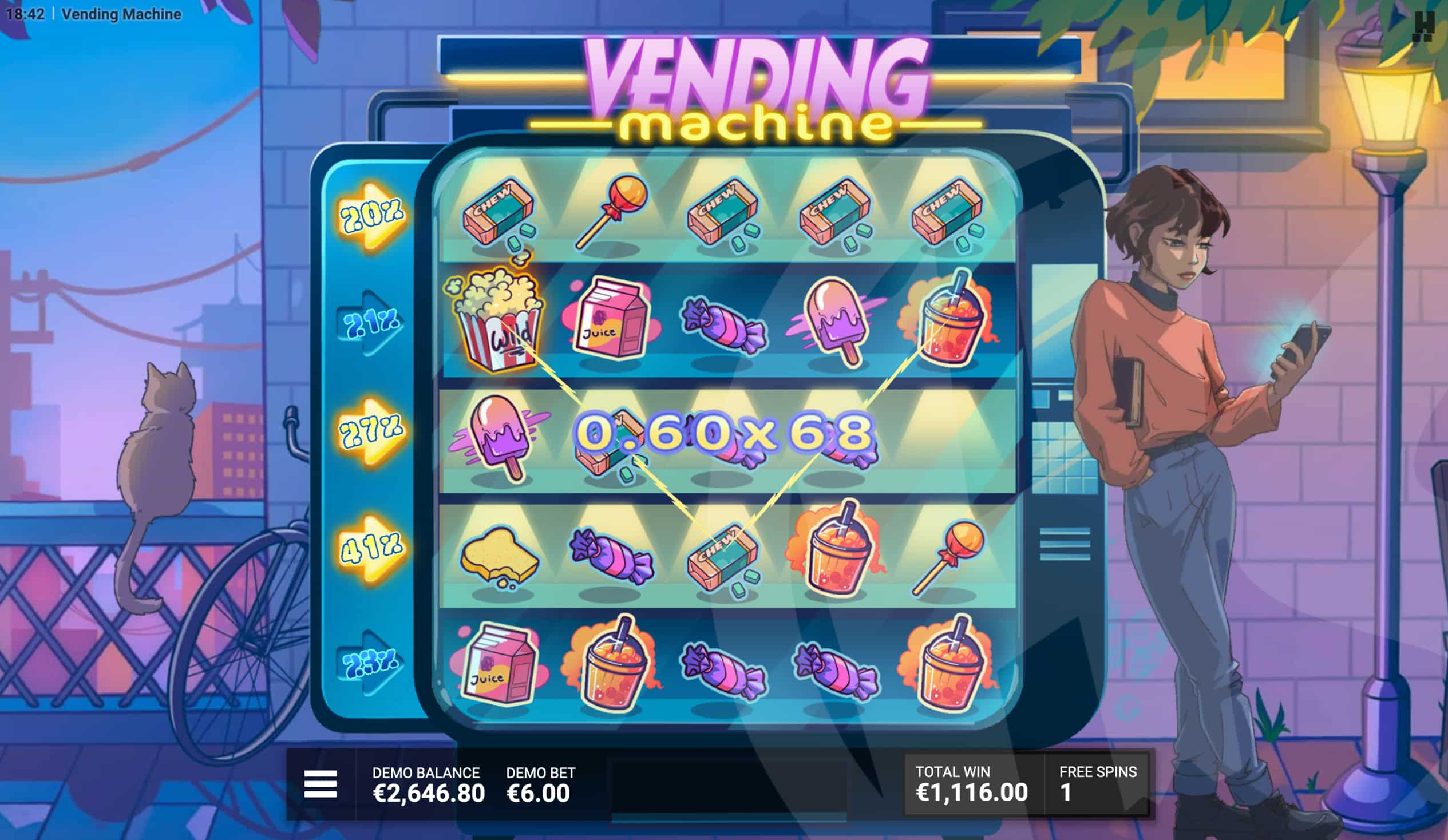 First Impression
There's nothing complex about Vending Machine – easy atmosphere, easy play. It's a new kind of vibe for Hacksaw Gaming, who tend to go extremely fun like Frank's Farm and Pug Life, or very dark like Beast Below and Cursed Seas.
This new, chilled, almost cool release isn't one they do often, but audiovisuals are nice to look at and offer a new atmosphere, so no real complaints there.
All of the action relies on cascades working alongside row multipliers, which in the base game is kept interesting by a frequent number of Lightning Bolt Scatter symbols landing in view.
In either bonus game, we see these activated row multipliers not resetting between spins, with the capability to build values up pretty high thanks to winning symbols and Multiplier Boost Scatter symbols. With new rows activating as older rows deactivate, either feature can continue for quite some time. When the right combinations land, wins are possible up to 5,000x bet.
Finally, maths is rated medium (3/5) volatility and RTP options are available up to 96.28%. If you're looking for something effortlessly cool that puts all of the focus on multipliers, Vending Machine was made for you.
*The screenshots taken of games reviewed on this site are taken from Demo Play, as reviews are often written before games are released for real play.