The phrase 'Densho' is a Japanese term which means 'to pass on to the next generation', or leave a legacy. There isn't a great deal more information available online since Densho is also the name of a non-profit organisation, but that's fine – Hacksaw Gaming are giving us their interpretation to think about.
Leaving behind the mischievous Smokey from Le Bandit, Hacksaw Gaming are inviting us on a mission to shape our own legacies, accompanied by beautiful depictions of the natural world, in Densho.
With RTP options up to 96.33% (96.37% feature buy), this highly (4/5) volatile release can produce wins up to 10,000x bet.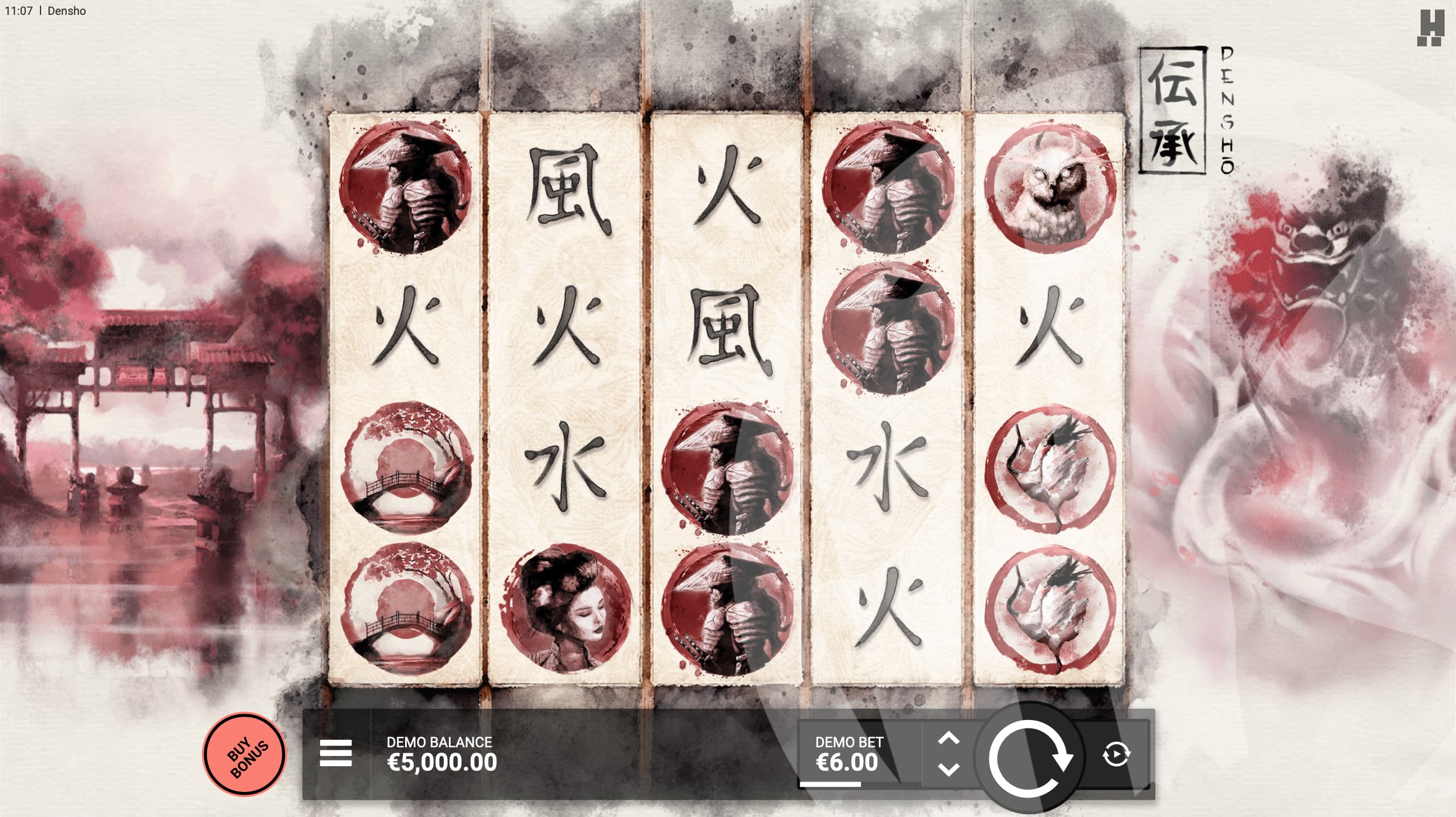 'Beautiful depictions' doesn't quite do Densho justice – the background is a collection of images that wouldn't be out of place inside a frame in our own homes. Creatures, trees, lakes and mountaintops are amongst those displayed, with images fading in and out as we play to give us as much to look at as possible.
This watercolour artistic style continues onto the reels, upon which we have Japanese characters and more depictions of nature. The beautiful artwork is aided by a subtle soundtrack, producing something that is wholly different than we're used to from this team, but a nice change of pace nonetheless.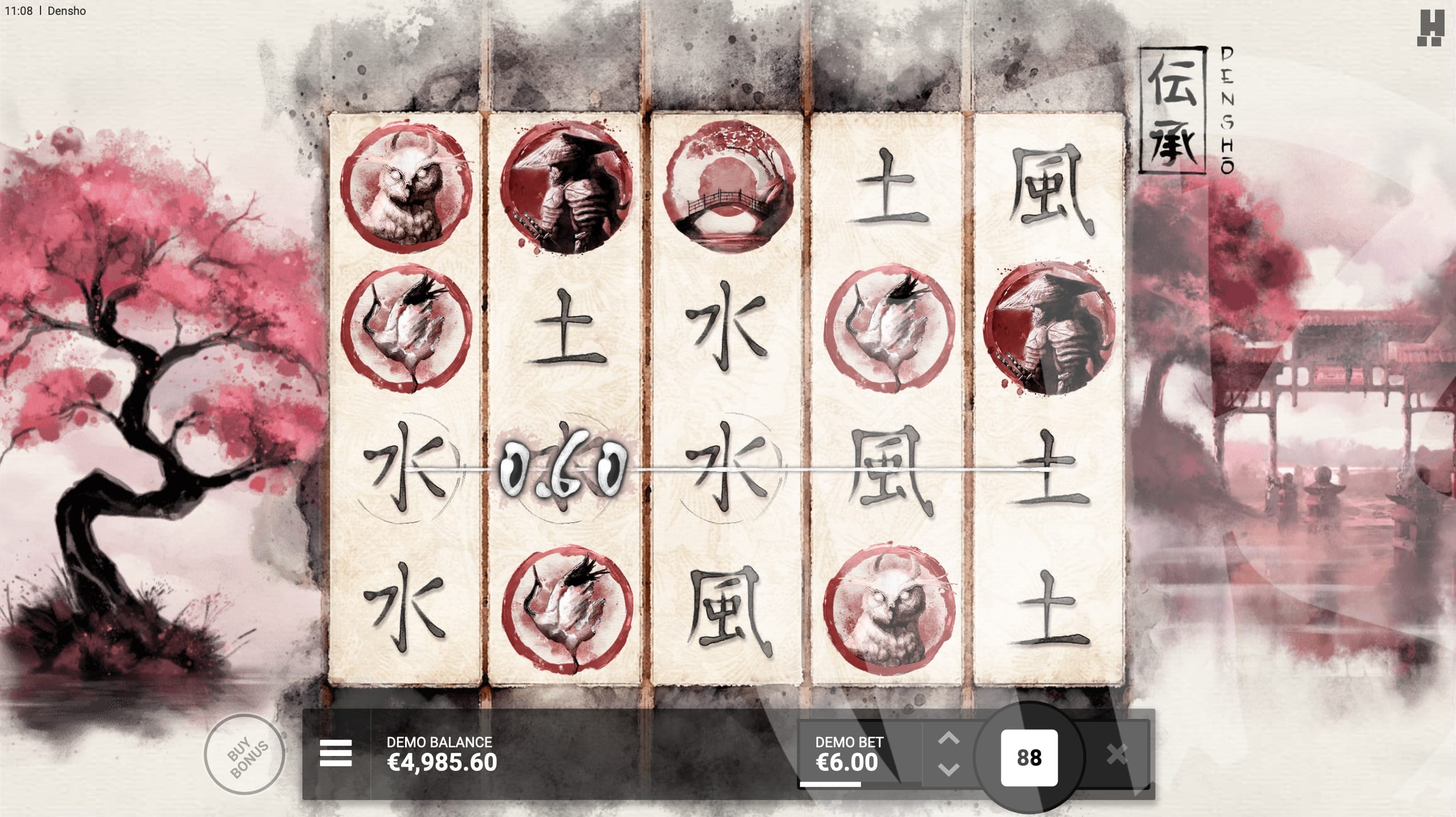 Densho Base Features
Taking place across 5 reels, wins are formed on Densho by matching at least 3 symbols on adjacent reels, beginning wiht the leftmost reel, across 1 of 10 fixed win lines. Symbols available begin with 4 Japanese characters, awarding wins between 0.10 and 2x bet for matches between 3 and 5 of a kind.
At the premium end we have bridges, birds, cats and women. Land 3 of a kind of any of these symbols to see wins between 1 and 2x bet, increasing to values between 10 and 15x bet for 5 of a kind matches. The highest paying symbol is that of a male warrior-type character, awarding wins between 3 and 20x bet for matches between 3 and 5 of a kind.
Finally, we have mountaintop Wild symbols which substitute for all symbols except FS Scatter symbols, awarding wins of 20x bet for 5 of a kind matches.
Like most Hacksaw Gaming releases, Densho is quite simple, which means there's only one feature to cover in the base game – Densho symbols, which become Wild Multiplier Reels.
Wild Multiplier Reels
When a Densho symbol lands on the reels, it will expand into a full reel Wild if its expanded self would be part of at least one winning combination. As it expands, it will reveal a multiplier value – this value is applied to all wins the Wild Multiplier Reel is part of.
If more than one Multiplier Reel is part of a win, their values will be added together before being applied.
There are 3 Densho symbols available, each with their own possible values.
Common Densho – 2-10x
Rare Densho – 5-10x, 15x, 20x, 25x or 50x
Legendary Densho – 10x, 15x, 20x, 25x, 50x or 100x
Only one Densho symbol can land per reel.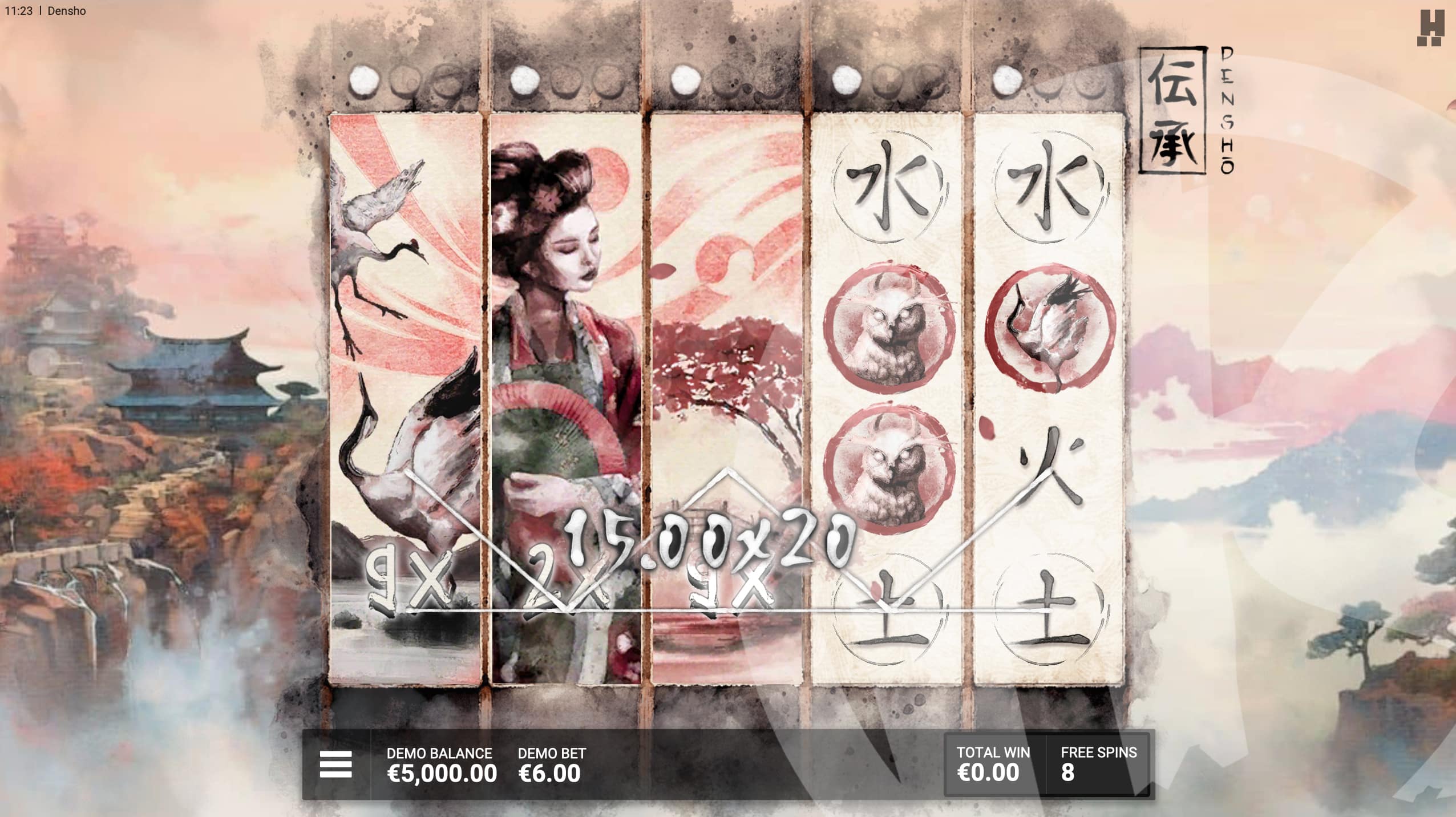 Densho Bonus
Land 3 FS Scatter symbols to trigger 10 Free Spins. During this bonus game, there is a progression tracker above each reel. This progression tracker indicates the lowest possible quality of Densho symbol that can land on the reel, and therefore the lowest multiplier that can be revealed.
Densho symbols have 1, 2 or 3 circles on their symbol to indicate which level they are (along with the size of the bird), so this directly correlates to the number of circles highlighted in the progression tracker.
Landing Upgrade symbols will highlight an extra circle on the progression tracker above the reel the Upgrade symbol has landed on, progressing it to the next level. These progression trackers do not reset between spins.
Land 2 or 3 FS Scatter symbols to trigger an additional +2 or +4 spins.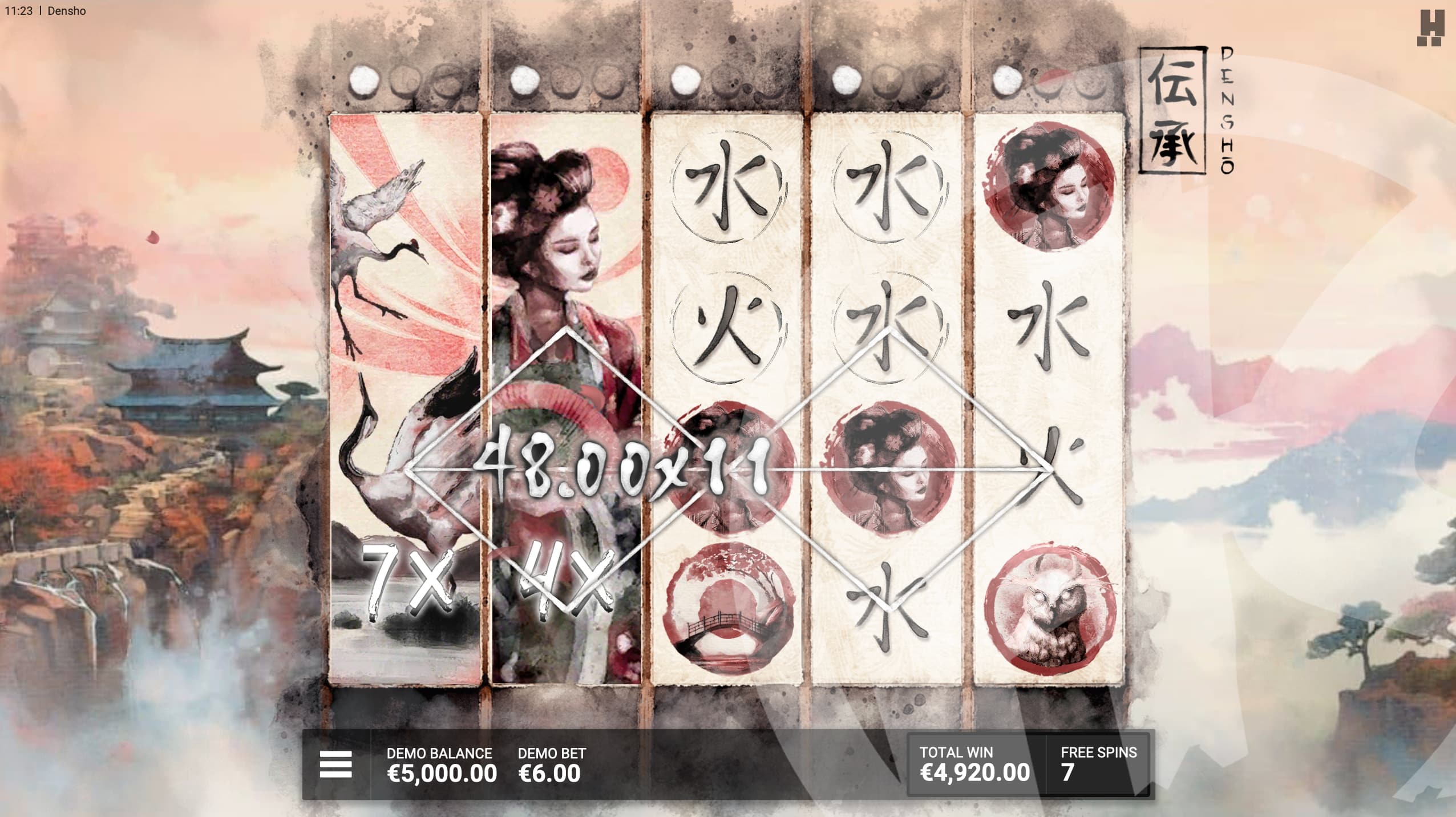 Super Free Spins
Land 4 FS Scatter symbols to trigger 10 Super Free Spins.
Everything continues in the same was as regular Free Spins, except that all progression meters start with 2 circles highlighted (level 2) in Super Free Spins – therefore the minimum quality of Densho symbol that can land on any reel is the Rare Densho, with minimum multiplier values of 5x.
Land 2 or 3 FS Scatter symbols to trigger an additional +2 or +4 spins.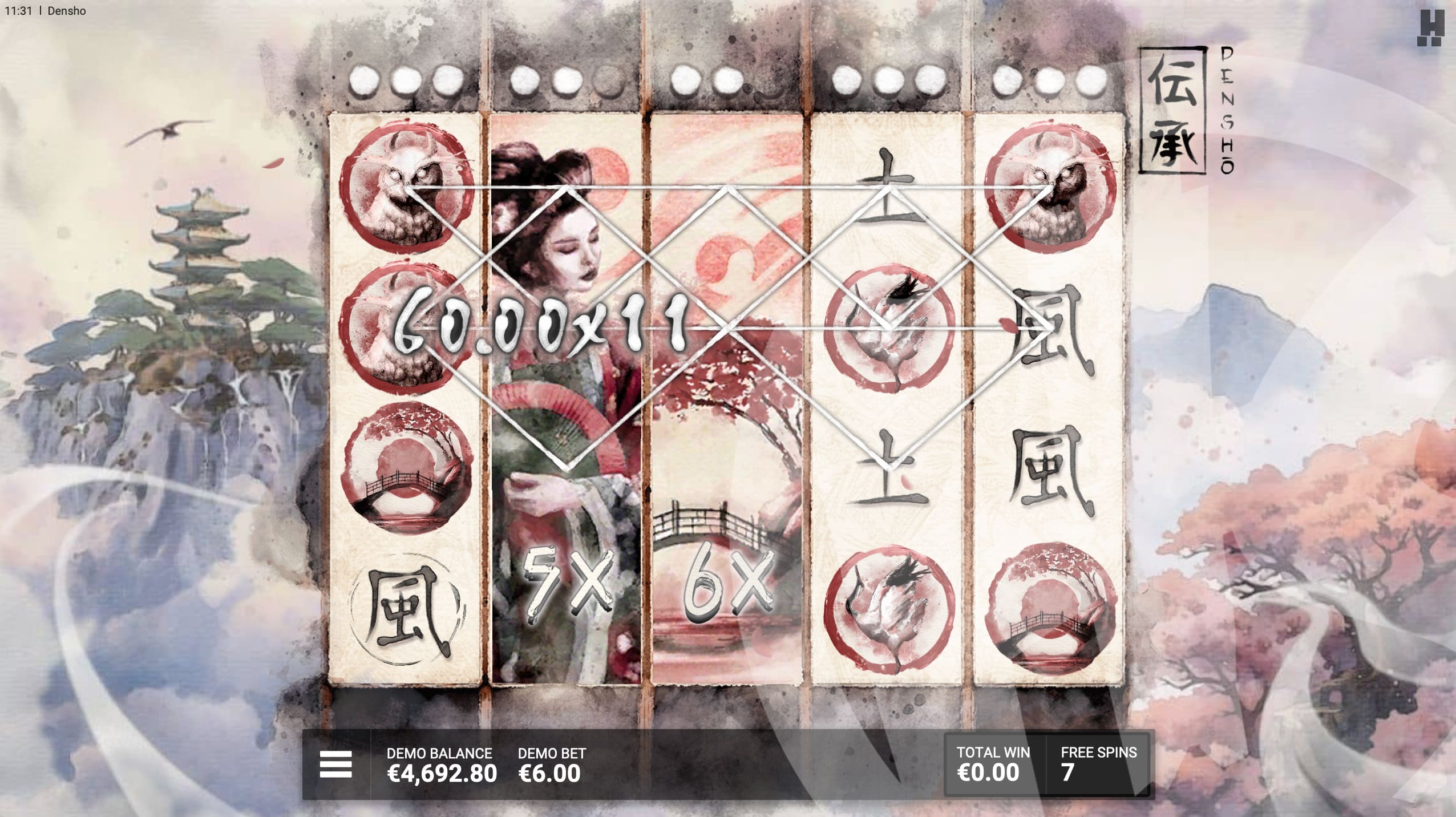 Buy Bonus
Players in appropriate regions can take advantage of the following Buy Bonus options.
Bonus Hunt FeatureSpins (5x more likely to trigger a bonus) – 3x bet (96.35% RTP)
Densho FeatureSpins (2 Densho symbols guaranteed) – 50x bet (96.34% RTP)
Free Spins – 100x bet (96.37% RTP)
Super Free Spins – 250x bet (96.33% RTP)
The volatility for Bonus Hunt FeatureSpins and Super Free Spins is high, whilst the volatility for Densho FeatureSpins and Free Spins is very high. The RTP values above are based upon the 96.40% RTP setting.
The maximum win available in Densho is 10,000x bet. If the sum of a single game round exceeds this, the game round will end and 10,000x bet will be awarded.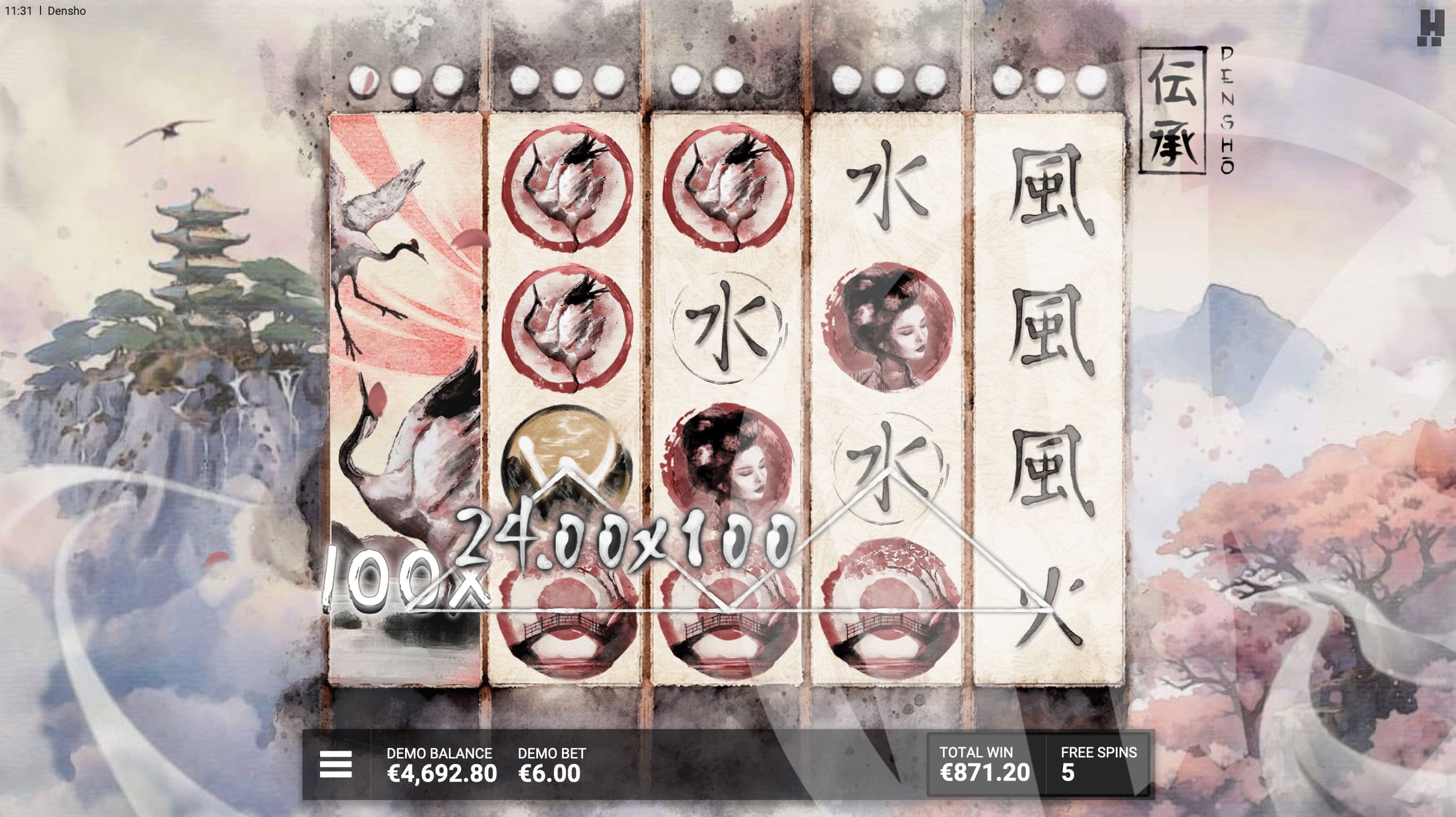 First Impression
It's always interesting to see just what certain studios are capable of – especially when it comes to pushing the boundaries of audiovisuals. There are plenty of examples of the two sides to Hacksaw Gaming – the bright side that brought us releases like Fred's Food Truck, Pug Life and Frank's Farm, and the darker side that brought us releases like Beast Below, Cursed Seas and Fear the Dark. Densho is a whole other idea altogether – delicate and soft, with graphics that transfix you, in a good way.
The gameplay, however, is more similar to what we expect – expanding multiplier reels are a staple of Hacksaw Gaming, so by now we're definitely used to them. Upgrading reel potential in Free Spins and Super Free Spins is what helps keep Densho feeling fresh, and when coupled with multipliers available up to 100x it's easy to see how this one will appeal to players. When the right combinations occur, wins are possible up to 10,000x bet.
Finally, maths is highly (4/5) volatile, and RTP options are available up to 96.33% (96.37% feature buy), so as always it's worth checking this. There's plenty here for die-hard fans of Hacksaw Gaming, but if you haven't been convinced by previous releases, the upgrade potential and captivating artwork might twist your arm.
*The screenshots taken of games reviewed on this site are taken from Demo Play, as reviews are often written before games are released for real play.