One in four Americans consider themselves to be superstitious, whilst a third of Brits would describe themselves in the same way. Me personally? Not really. I'm happy to fly on Friday 13th, happy to step on cracks in the pavement, happy to shatter a mirror and move on with my day. We have to draw the line somewhere though, and I think if I was going in for any sort of major surgery and the doctor introduced himself as 'Dr. Death', I might find that I'd have a problem with it. In classic Nolimit City fashion, they're tapping into our fears once again in their next release. This time, Nolimit City leave behind Larry, the chainsaw wielding murderer in Kiss My Chainsaw, to introduce us to Dr. Daniel Eath in his demented clinic, where 'top-quality service often leaves patients breathless', in Disturbed. With RTP options available up to 96.10% (up to 96.25% feature buy), this extremely (10) volatile release can produce wins up to 54,391x bet.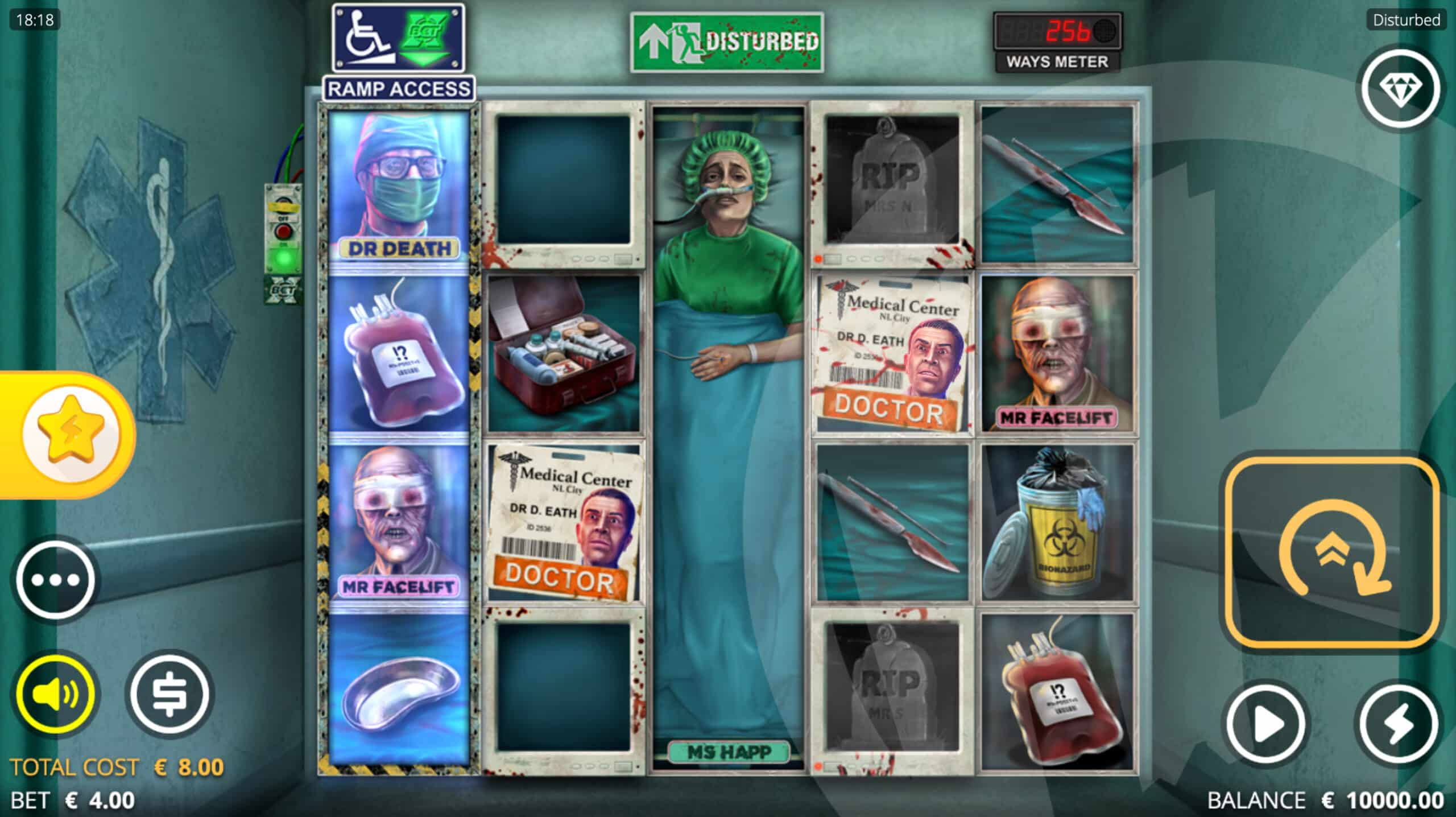 We're in a hospital today, with pale green walls and a faded Rod of Asclepius on the wall to the left. Other than that, all attention is focused on the reels, with an emergency exit sign displaying the game logo, a digital clock displaying the ways, and a ramp access sign to highlight reel 1 and xBet. Symbols consist of blood bags, an overflowing biohazard bin, and a gravestone, alongside various medical tools and equipment, patients, and Dr Death himself. Finally, a strange and eerie soundtrack comes in to tie it all together.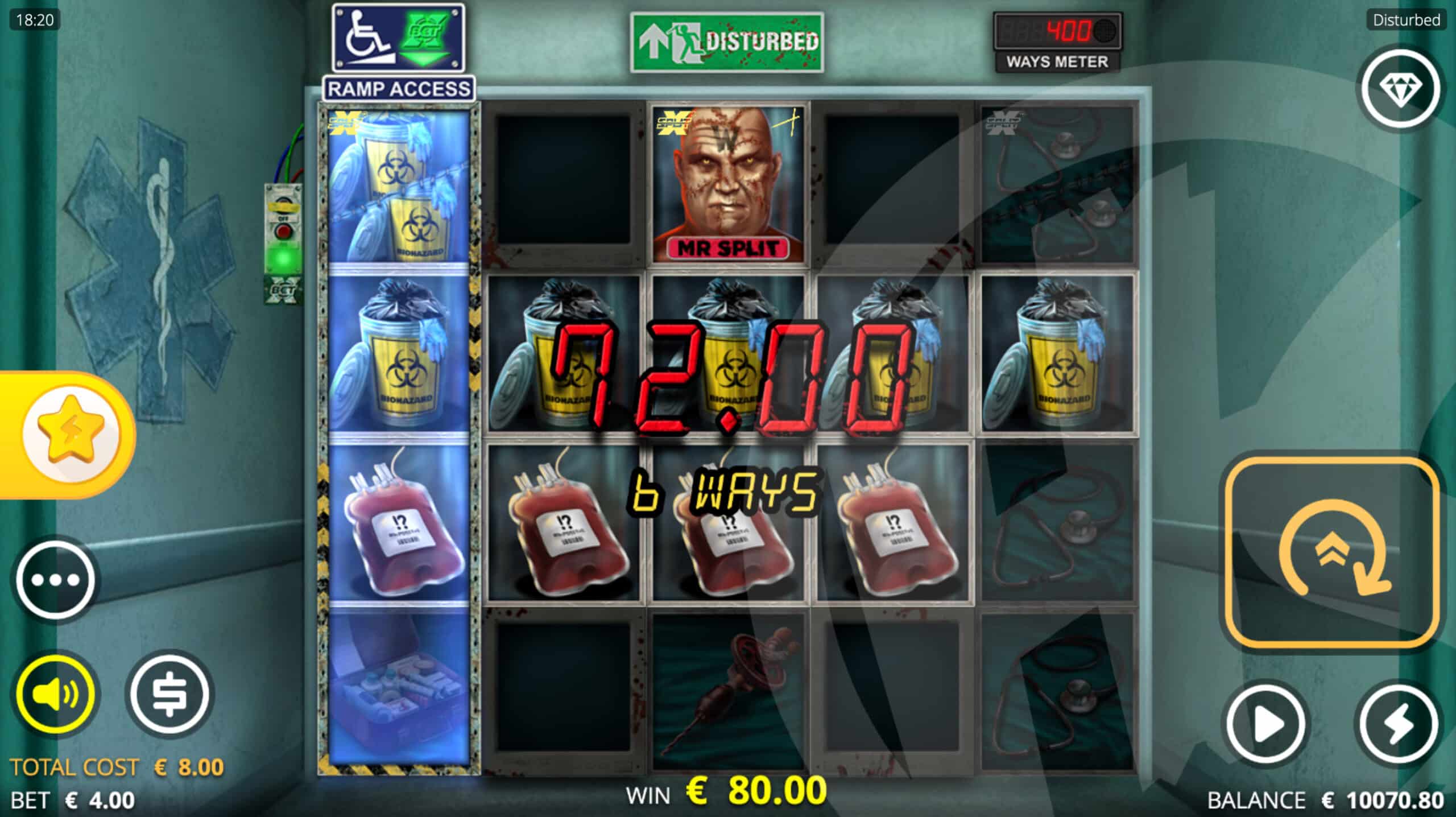 Disturbed Base Features
Taking place across 5 reels, wins are formed on Disturbed by matching at least 3 symbols on adjacent reels, beginning with the leftmost reel. The first thing to be aware of are the Enhancer Cells at the top and bottom of reels 2 and 4. We'll explain these soon, but you just need to know for now that they don't contribute to ways to win. Instead, reels hold 4-2-4-2-4 contributing symbols, producing 256 ways to win – although this can increase through xWays. Symbols available begin with non premiums, with stethoscopes, scalpels, bone drills, kidney dishes, and first aid kits, awarding wins between 0.25 and 2x bet for matches between 3 and 5 of a kind. At the premium end we have blood bags, biohazard bins, two patients (Ms Happ and Mr Facelift), and Dr. Death. Land 3 of a kind of any premium to see wins between 0.30 and 0.50x bet, increasing to values between 2.50 and 10x bet for 5 of a kind matches. Finally, Wild symbols are available through Enhancer Cells, and these will substitute for all symbols except Scatters.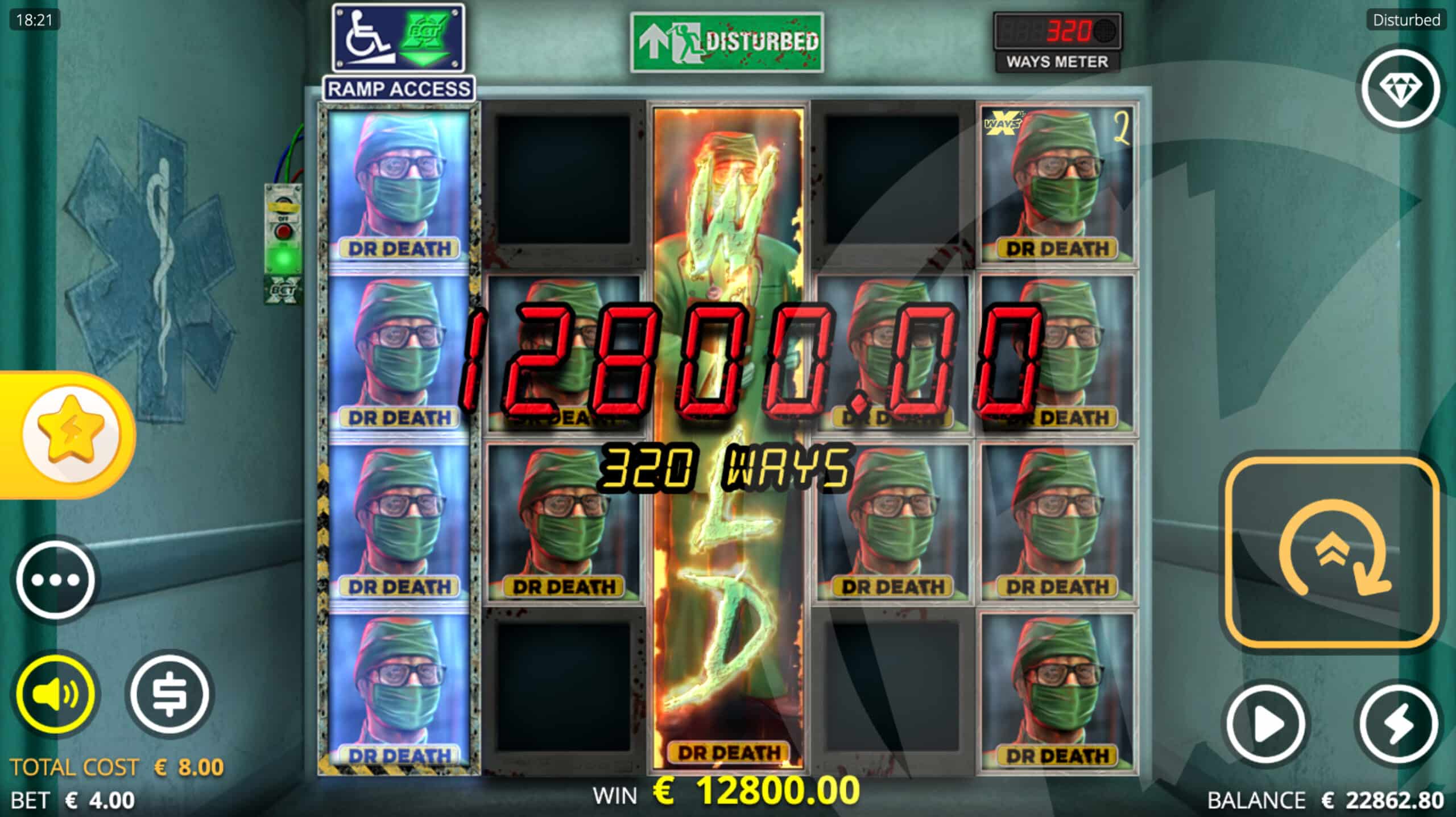 Alright, so the first thing to cover is Ramp Access, which is the xBet option on Disturbed. By betting an additional 100%, players can guarantee a Scatter symbol on reel 1, and unlock the first Enhancer Cell at the top of reel 2. Symbol payouts are not affected, but on the 96.10% setting, RTP increases slightly to 96.13%.
Next up are the Enhancer Cells. As mentioned above, there are 4 Enhancer Cells sitting at the top and bottom of reels 2 and 4. On each spin, any number of these cells can be lit. When an Enhancer Cell is lit, it will reveal one of the following features:
Wild – a random position will become a regular Wild symbol.
Gravestone – landing 4 gravestones may trigger Angel of Death.
xWays – a random symbol position will become xWays. If an xSplit position is chosen, all symbols will be affected and turned to xWays.
xSplit – a random symbol on reel 3 is chosen to turn into Mr Split, who is a Wild symbol. All other positions on the same row will then have an extra symbol added. If xSplit splits an xWays position, an additional xWays symbol will be added.
Disturber – each Disturber activates a respin, in which the activated features are re-triggered. Positions affected by xWays, xSplit, or Wild do not reset between respins.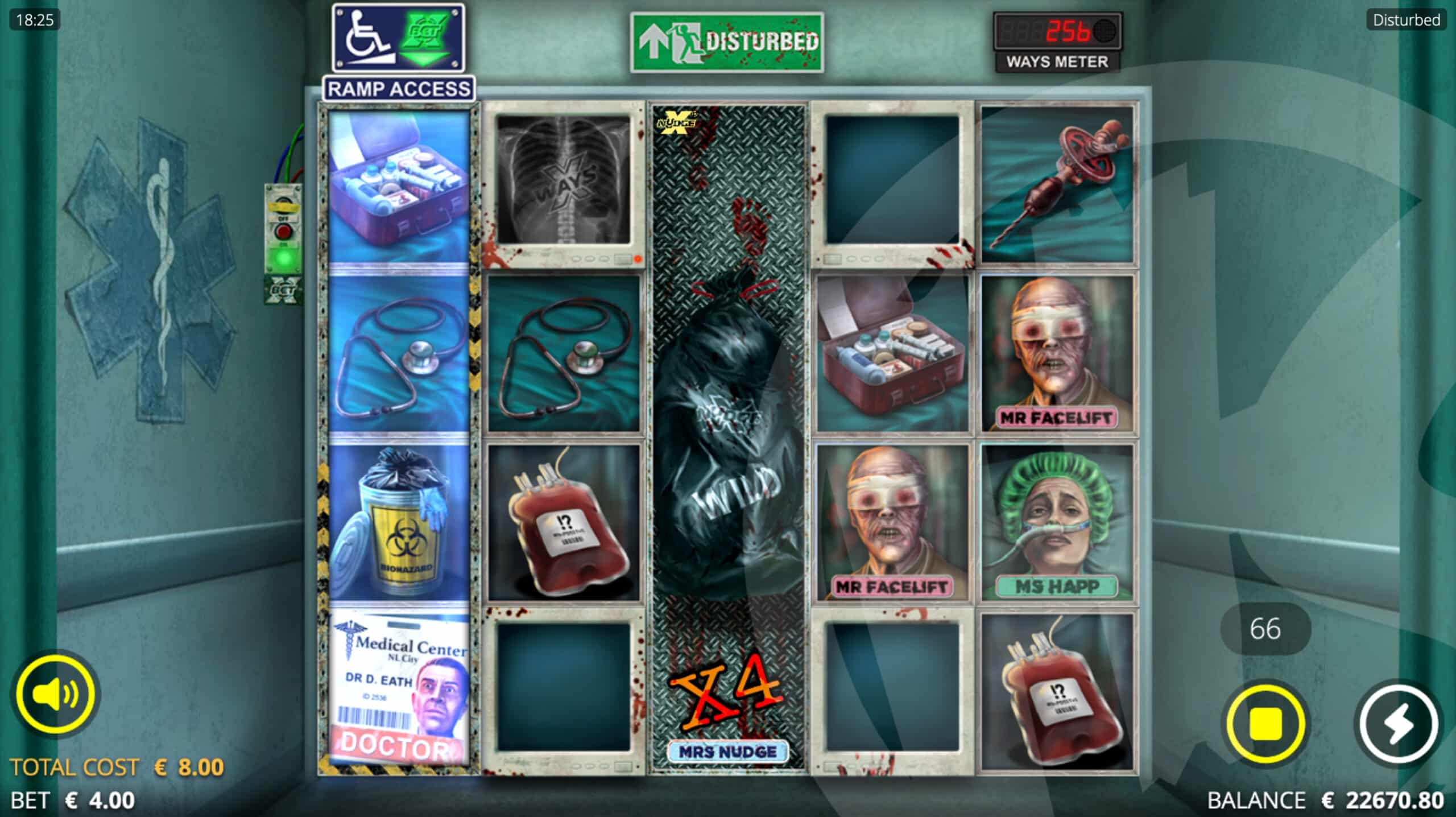 Next, Mrs Nudge can land on reel 3. When the Mrs Nudge symbol lands it will nudge to be fully visible, covering the entire reel. For each nudge, the win multiplier will increase by +x1. Additionally, any character symbol that lands in full view on reel 3 will also become a fully stacked Wild symbol.
Finally, if 4 gravestones land in the Enhancer Cells along with a stacked Dr Death symbol on reel 3 Angel of Death will be triggered, which leads to Six Feet Under – awarding the maximum win of 54,391x bet.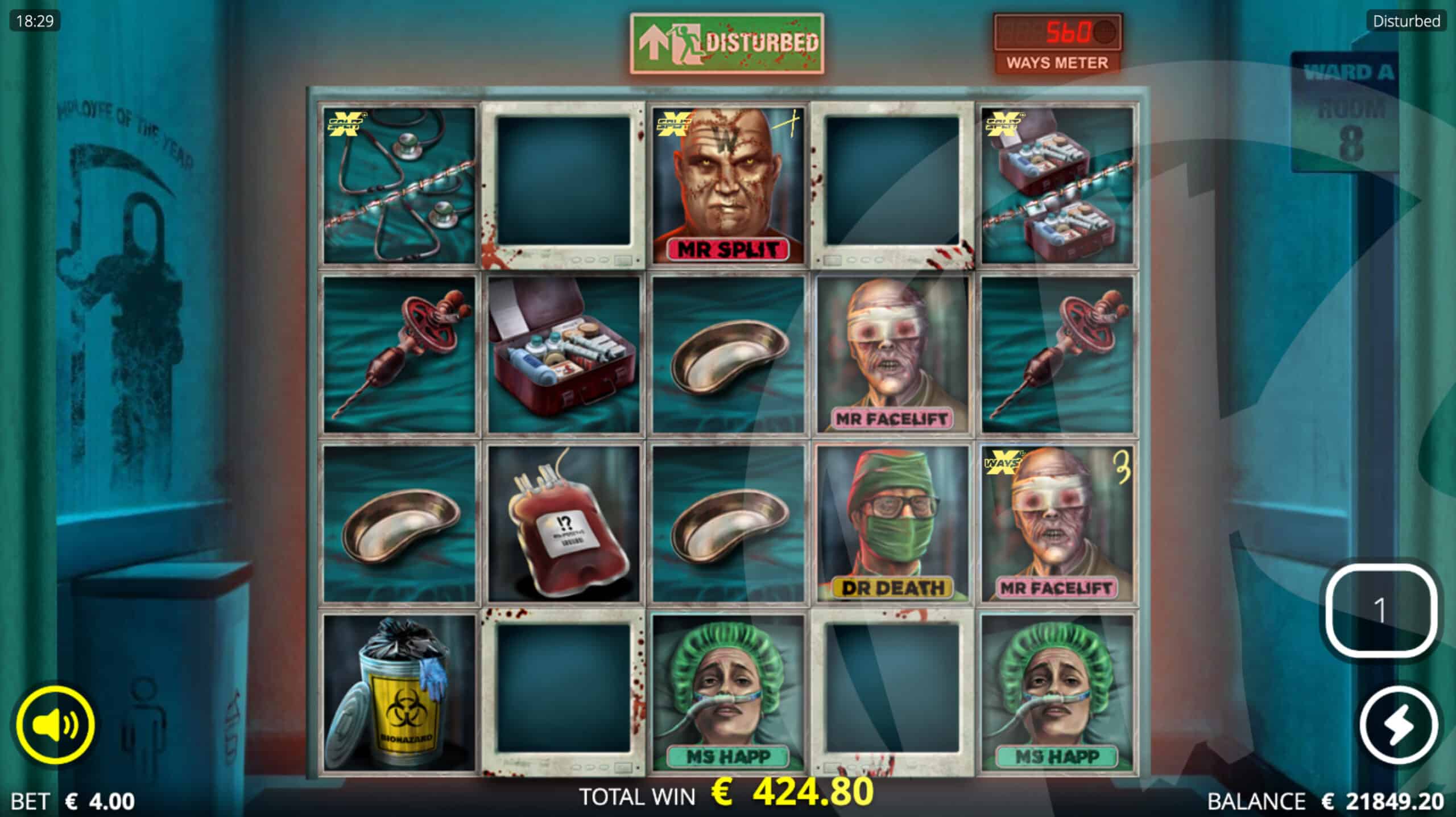 Disturbed Bonus
Land 3, 4, or 5 Scatter symbols to trigger 12, 15, or 20 Pre-op Spins respectively. During Pre-op Spins, one Enhancer Cell will always be lit. Activating a Disturber will also award an additional +1 spin.
Land 3, 4, or 5 Scatter symbols with all Enhancer Cells lit to trigger 12, 15, or 20 Annihilation Spins respectively. The same rules apply regarding Disturbers, but in Annihilation Spins all Enhancer Cells are lit on every spin.
It is possible that an Executioner Scatter will land on reel 3 during Pre-op Spins. When this happens, Pre-op Spins are upgraded to Annihilation Spins, and an additional +3 spins are awarded.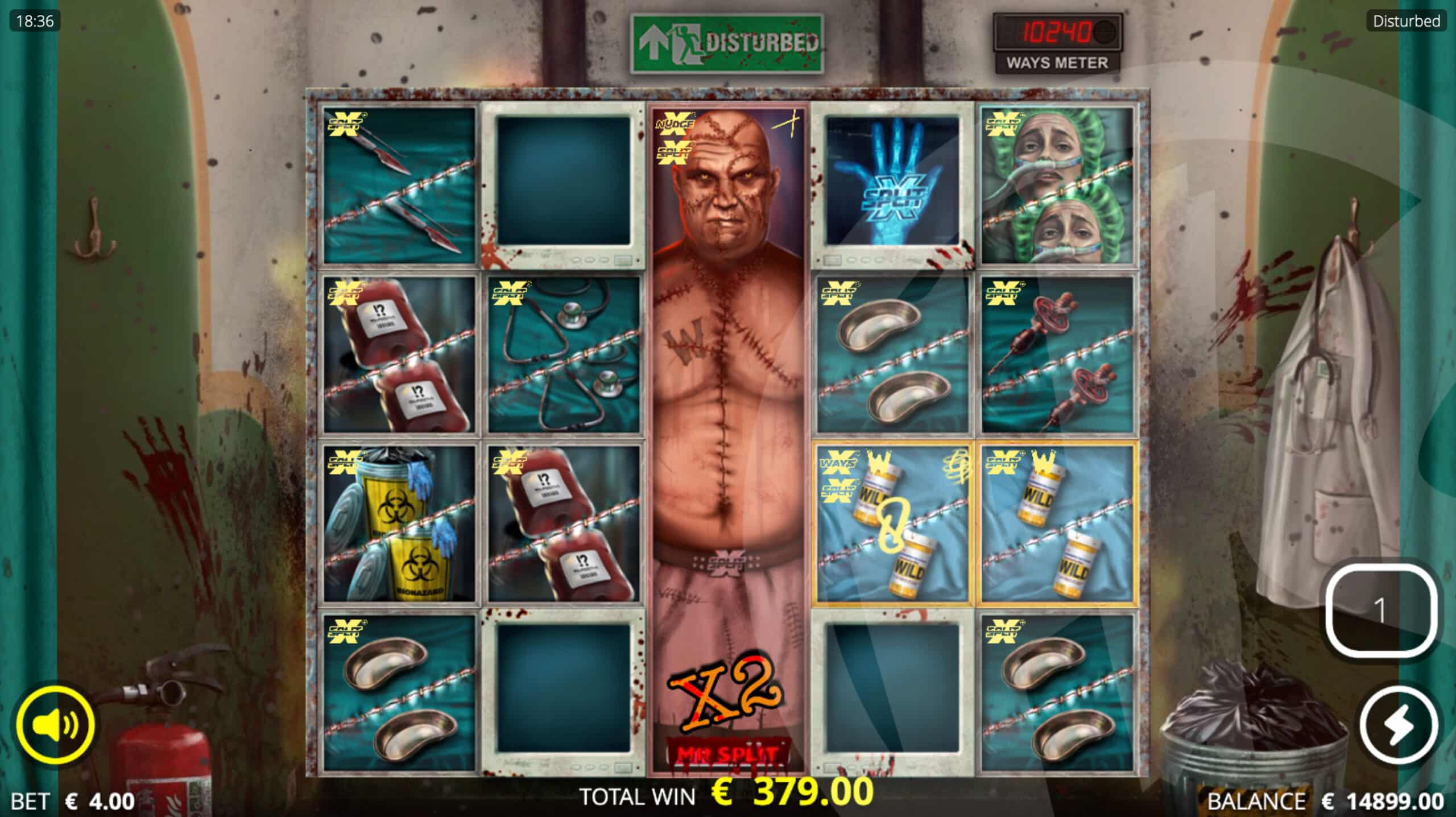 Players in appropriate regions can take advantage of the following Nolimit Bonus options:
12, 15, or 20 Pre-op Spins – 112x bet (96.12%)
12, 15, or 20 Annihilation Spins – 666x bet (96.21%)
Lucky Draw (3/4 Pre-op 1/4 Annihilation) – 250x bet (96.25%)
RTP values above are based on the overall RTP setting of 96.10%.
The maximum win available in Disturbed is 54,391x bet (Six Feet Under). If the sum of a single game round exceeds this, the game round will end and 54,391x bet will be awarded.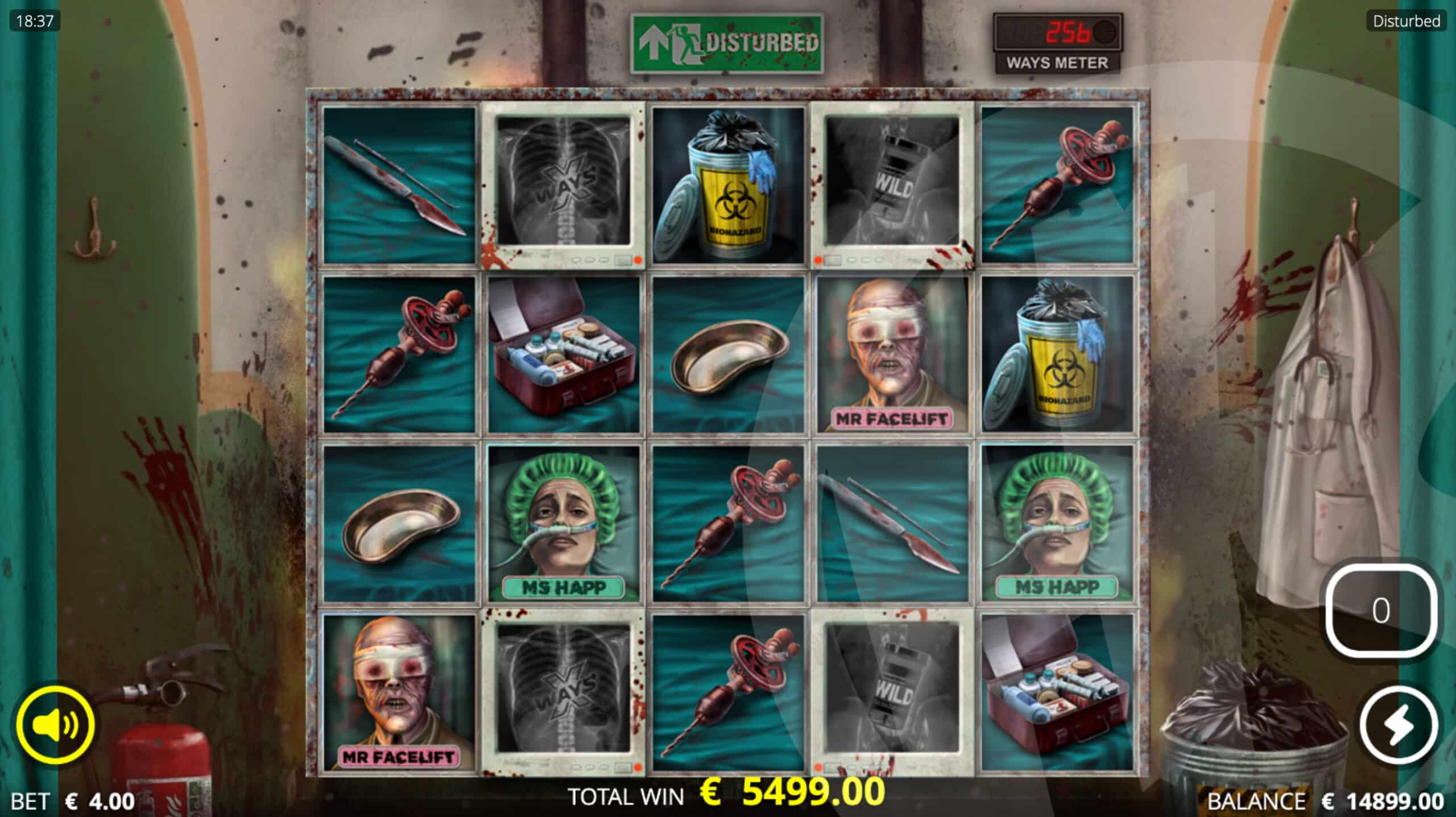 First Impression
For a Nolimit City release, there isn't too much happening in Disturbed – certainly not enough to find things overwhelmingly confusing. The main thing to get used to is that the Enhancer Cells aren't regular symbol positions contributing to ways to win. Once you've got that locked in, you're good to go. These cells, along with stacked character symbols on reel 3 and Mrs Nudge, all help to keep things ticking over in the base game – particularly with an opportunity to hit the maximum win through landing 4 gravestones in Enhancer Cells and a stacked Dr Death.
Free Spins kick things up a notch, with 1 guaranteed Enhancer Cell lit in Pre-op Spins and all 4 Enhancer Cells lit in Annihilation Spins. Offering xWays, xSplit, Wilds, Gravestones, and Disturber Respins all help to build anticipation – although the super bonus does hold nearly six times the value of the regular. In either instance though, wins are possible up to 54,391x bet when the right combinations land.
Finally, maths is extremely (10) volatile, and RTP options are available up to 96.10% (up to 96.25% feature buy), so as always it's worth checking this. If you're a fan of the gore that Nolimit City combine so well with online slot excitement, Disturbed is the perfect release for you.
Other maths information, for those who are interested, is as follows:
RTP: 92.10% – 96.10%
RTP Main Game: 68.49%
RTP Bonus: 26.43% (Pre-Op Spins) 1.18% (Annihilation Spins)
Volatility: Extreme (10)
Hit frequency: 32.96%
Free Spins: 1 in 398 spins
Free Spins with xBet: 1 in 143 spins
Win 100x bet: 1 in 1298 spins
Max win: 54,391x bet
Max Win Main Game: 1 in 10m spins (96.10% RTP)
Max Win Pre-Op Spins: 1 in 57k
Max Win Annihilation Spins: 1 in 1.5k
*The screenshots taken of games reviewed on this site are taken from Demo Play, as reviews are often written before games are released for real play.