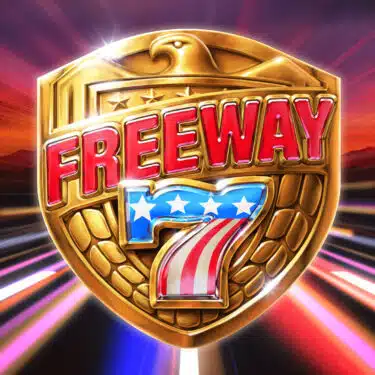 Freeway 7
Game Provider: ELK Studios
Release Date: Available Now
Freeway 7
Game Studio ELK Studios
Release date Available Now
RTP 94.0%
RTP Feature Buy 94.0%
Paylines 17
Volatility High
Min Bet 0.20
Max Bet 100
Max. Win 5,000x
Rating 7.9/10
ELK Studios are a provider where you never really know what you're getting next, but you know it's going to be pretty familiar. I don't mean that in a bad way, but they have a lot of series, don't they? There's the Toro series, the most recent of which was Buffalo Toro, their Gold releases, Nitropolis, and a few other sequels, like Cygnus 2. Either way, you usually get something good from them, and it's pretty cool that they've developed so many of these mini-series. Today, we're following on from Route 777 and Toro 7s, with Freeway 7 – a highly (8/10) volatile release, with a fixed RTP of 94.0%, and wins available up to 5,000x bet.
We're on a highway – or a freeway I guess – where Sgt. Henry Freeway is one of the officers in charge, as Badge #7 of the Freeway Patrol Unit. Known for his ruthless tactics, his aim is to keep the road safe from bad apples, so be sure not to get caught in his road block. Lights fly past at either side of the reels, and a beautiful sunset glows in the background. Tying it all together, rock music blares out, which seems fitting for the kind of scene we've got.
Freeway 7 Base Features
Taking place across 3 reels, wins are formed on Freeway 7 by matching at least 1 symbols on every reel, across 1 of 17 fixed win lines. Symbols available are pretty easy to cover given that they each hold only one value, but we'll start with non premiums – cherries, oranges, watermelon, and bars, awarding wins between 0.50 and 1.50x bet. When it comes to premiums, we have four 7s – blue, white, red, and American flag adorned, awarding wins of 2.50, 3.50, 5, and 7.50x bet, respectively. Finally, blue, starred Wilds are available – substituting for all symbols except Bonus symbols or Super Bonus symbols.
There's really only one feature to cover in Freeway 7 – the Road Block Nudge feature. If identical symbols land on reels 1 and 3, they will lock into place, and 5 re-spins are awarded. During re-spins, reels 1 and 3 will nudge down one position for each re-spin, and reel 2 will continue to spin as normal.
If reels 1 and 3 hold Bonus symbols or Super Bonus symbols during re-spins, they will nudge towards the centre, and lock into place for the duration of re-spins.
Freeway 7 Bonus
Land 3 Bonus symbols to trigger the Bonus. The number of spins remaining is displayed at the top of the reels, along with each of the available symbols – all of which have a multiplier beside them. Each time a symbol is involved in a win, additional spins are awarded. From my experience, this is usually 2 spins, but there's nothing in the game information to indicate this is fixed at 2 spins. Additionally, the symbol involved in the win will then add its' value to the overall win multiplier displayed in the middle, before being blacked out, meaning it is no longer possible to increase the win multiplier with this symbol – each symbol can only increase the multiplier once.
The win multiplier is applied to all wins for the duration of the Bonus. Land 3 Bonus symbols to re-trigger the feature, with additional spins awarded, and all symbols capable of being used to increase the multiplier once more.
Land 2 Bonus symbols and one Super Bonus symbol to trigger the Super Bonus. The Super Bonus works in the same way as the regular Bonus, except symbol multipliers start with higher values, and symbols can be used to increase the multiplier every time they are involved in a win. Again, landing 3 Bonus symbols will re-trigger the feature.
If either Bonus has been triggered during the Road Block Nudge feature, any remaining re-spins are awarded after the Bonus has finished.
Players in appropriate regions have the following X-iter options:
Bonus Hunt (double the chance to trigger the Bonus) – 2x bet
Chilli Spins (only 7s, cherries, Wilds, or either Bonus symbol) – 10x bet
Road Block Nudge – 25x bet
Bonus – 100x bet
Super Bonus – 500x bet
The maximum win available in Freeway 7 is 5,000x bet. If the sum of a single game round exceeds this, the game round will end and 5,000x bet will be awarded.
First Impression
You'd think there's nothing complicated in Freeway 7 – after all, there are only 9 symbols in view at any point. That wasn't the case though – it still took a little bit of time to wrap my head around. This is in part down to the game information/pay table, which really wasn't clear at all. I'm sure most players don't read it, but for those that do, I'm not sure it'll clear anything up – like knowing how many spins are awarded in the Bonus, or seeing what the 17 win lines are, for example.
I digress. The base game is fine, made slightly more interesting with the Road Block Nudge feature and the X-iter options that double the chance of triggering a Bonus, or remove some symbols from the reels. These actually work hand in hand – in buying the 10x bet Chilli Spin I triggered Road Block Nudge, and in buying the Bonus I also triggered it. Given that Bonus symbols then stick into place, I guess that means you could get 2 Bonuses for the price of 1, which would be pretty nice.
In either Bonus, things are about as exciting as you'd expect in this style of release, with some really potent combinations possible in landing the highest paying '7' symbols. Needless to say, things are highly (8/10) volatile, but wins up to 5,000x bet are possible – a little lower than ELK normally pitch it, but somewhere between the potential of Route 777 (4,000x bet) and Toro 7s (10,000x bet).
Finally, and this is really the only negative, RTP is fixed – but it's fixed at 94.0%, and much like ELK's latest release, Dropz, this is where this one loses points. I guess if you're not the sort of player to be bothered by that, and you liked Toro 7s, this one will suit you down to the ground.
*The screenshots taken of games reviewed on this site are taken from Demo Play, as reviews are often written before games are released for real play.