We all like to gorge from time to time – maybe you like to push the boat out on your birthday, maybe you go for 5 courses if you're celebrating a promotion at work, or maybe you spend 11 months of the year dreaming of your next Christmas Dinner. Every now and again, we all show signs of gluttony – something that is considered such a bad trait to possess that it is one of the 7 deadly sins.
In true Nolimit City fashion – pushing away any theme that could possibly ever be described as normal – their team are focusing on our food related greed in their upcoming release, Gluttony. As we leave behind the deserted land of Whacked!, Nolimit City are introducing us to a new character today – aptly, but harshly, titled 'Fat Bastard'.
With RTP options up to 96.09% (96.11% feature buy), this extremely (10) volatile release can produce wins up to 32,000x bet.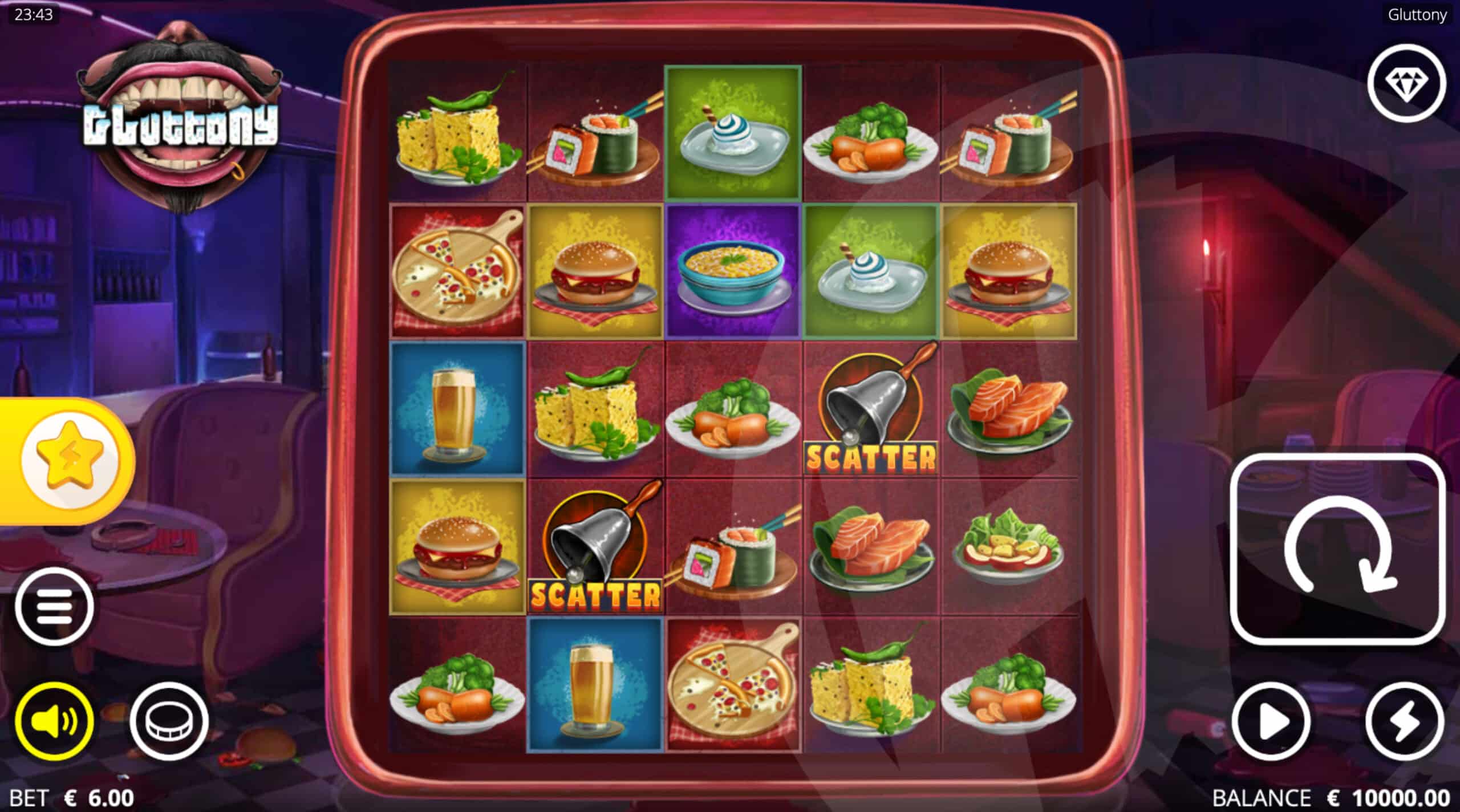 We're downstairs in a lounge-styled restaurant today, with comfy looking armchairs and small, round tables. A bar is visible in the background with neon blue lights, whilst the rest of the room is lit dimly by a small red candle. Plates are stacked high on tables and some have fallen on the ground, but most of the attention is drawn to the reels, which feature a variety of food items – pizzas, burgers, mac and cheese, desserts, sushi, fish, vegetables and even some beer.
This is everything for now, although we do meet Fat Bastard further on in the game. A jazzy tune comes through to tie it all together – perfectly fitting for the atmosphere.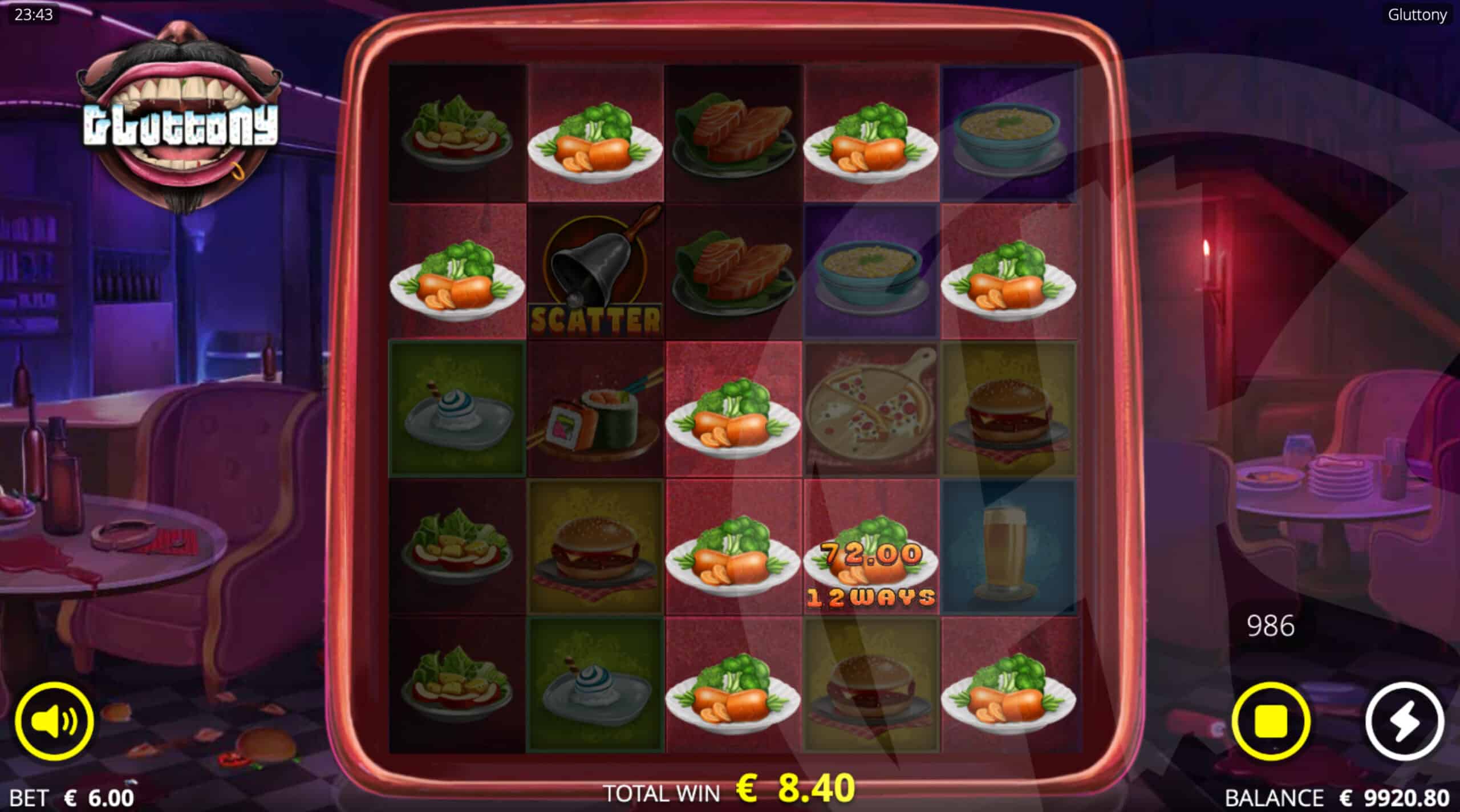 Gluttony Base Features
Taking place across 5 reels, wins are formed on Gluttony by matching at least 3 symbols on adjacent reels, beginning with the leftmost reel. Each reel holds 5 symbols, producing 3,125 ways to win. Symbols available begin with non premiums, with five healthy plates of food – a salad, salmon, sushi, vegetables, and what could be some sort of corn cake by the looks of it. Land 3 of a kind of any non premium to see wins between 0.10 and 0.30x bet, increasing to values between 0.40 and 1.20x bet for 5 of a kind matches.
At the premium end we have five much more unhealthy items – beer, dessert, mac and cheese, burgers, and pizza – awarding wins between 0.50 and 2.50x bet for 3 of a kind matches, increasing to values between 2 and 10x bet for 5 of a kind wins.
Finally, whole chickens are available to act as Wild symbols, substituting for all symbols except Scatters, Wild Pots, and xZone Sauces.
Each of the pay table symbols can also be upgraded throughout the game, at which point the symbols will change to show bigger portions. Bigger portions award bigger prizes, and these are all available in the pay table – but you can also multiply this in your head. A 10x bet symbol upgraded to x2 and then x4 will simply award 20x and 40x bet.
Upgraded symbols will have their value multiplied by 2 until a new game round begins.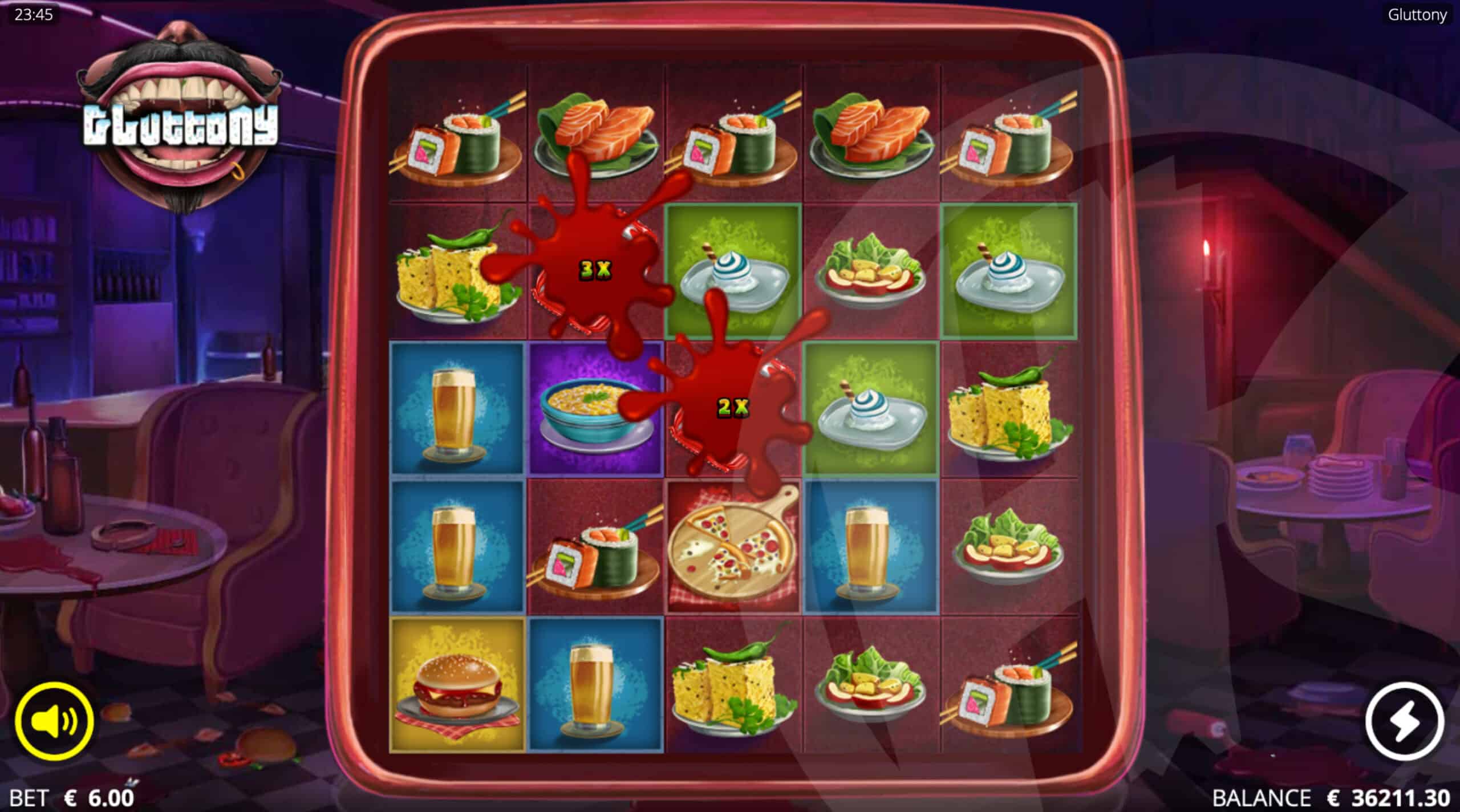 There are a couple of different things to cover in Gluttony, beginning with tumbles. On every spin, all symbols involved in a win will be removed from the reels. Remaining symbols will drop to the bottommost available position on their respective reels, and new symbols will then drop in from above to fill any remaining gaps.
Tumbles continue until no new wins are formed.
xZone Sauces
Next are xZone Sauces – which are little packets that look like ketchup. When one of these lands on the reels, it will increase the multiplier on every regular symbol or Wild symbol adjacent to itself – horizontally, vertically, or diagonally.
Multiple xZone Sauces can land on one row, but more than one cannot land on the same reel.
Golden Bell Spins
Finally for the base game, it's Golden Bell Spins. We'll explain the Scatters next, but for now you just need to know that landing 1 Golden Bell will activate Golden Bell Spins, wherein 2 respins are awarded with a x2 multiplier.
If a second Golden Bell lands, a further +2 respins are awarded and the multiplier is upgraded to x4. If a third Golden Bell lands, FEDCON 1 will be triggered, which is the super bonus round.
The multiplier will reset after each new bet. As these multipliers are increased, this is where you will notice the symbol portion size change – which means rather than visibly seeing your wins multiply by 2x, symbols values are doubled each time.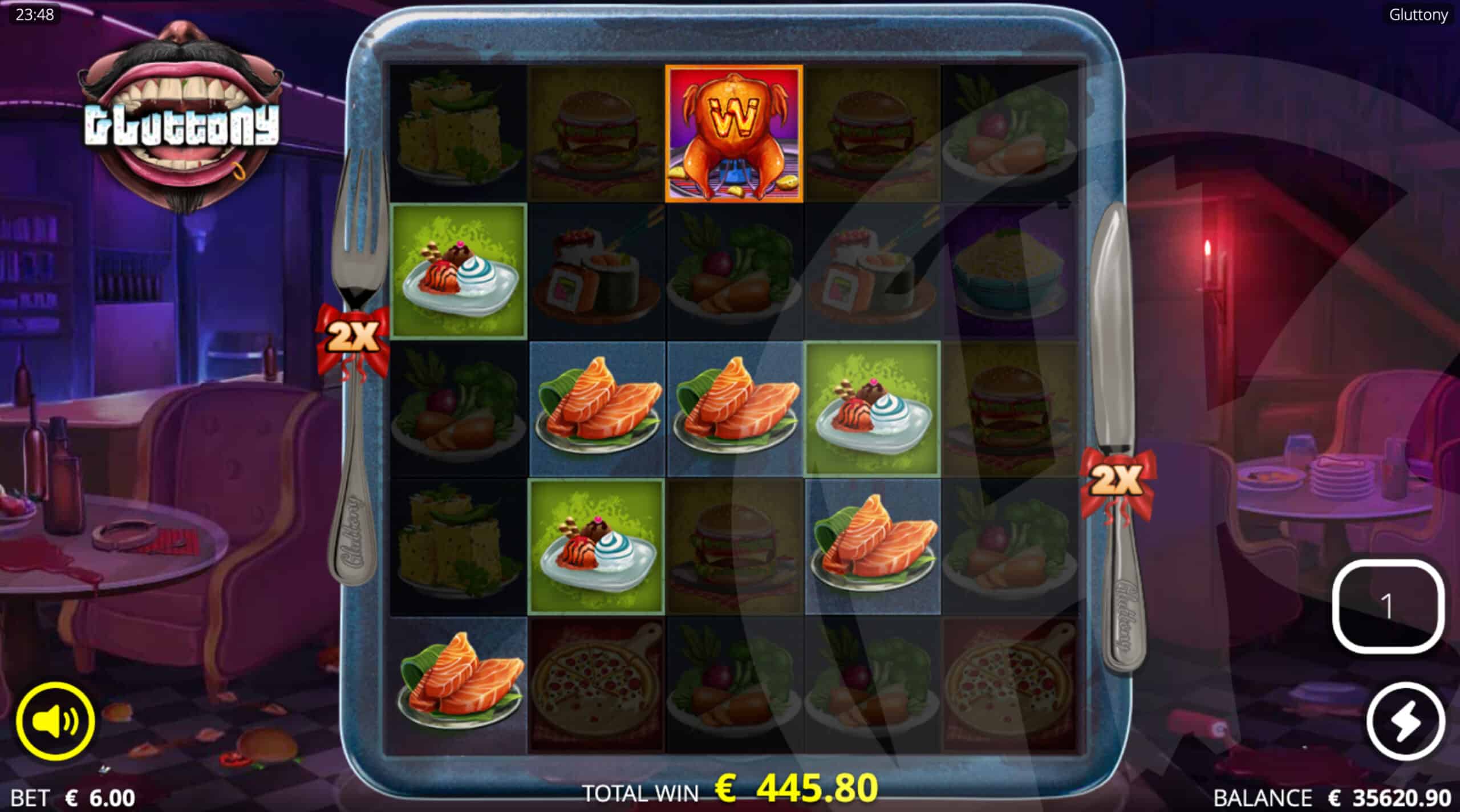 Gluttony Bonus
There are two types of Scatter in Gluttony – the Silver Bell Scatter, which can only land on reels 2-4, and the Golden Bell Scatter, which can only land on reel 3.
It is only possible to land 1 Golden Bell per spin. Combinations of these Scatters will trigger Free Spins.
3 Silver Bells – 8 spins of Order Up!
2 Silver Bells and 1 Golden Bell – 10 spins of Double Up! (x2 multiplier)
2 Golden Bells and 1 Silver Bell – 12 spins of Quadruple Up! (x4 multiplier)
3 Golden Bells – awards +6 spins and enters FEDCON 1
Every Golden Bell adds +2 spins and increases the multiplier by +x2. Golden Bell Spins will be played out when the first Golden Bell lands, but as soon as they have been upgraded at x4, players will begin FEDCON 1 immediately.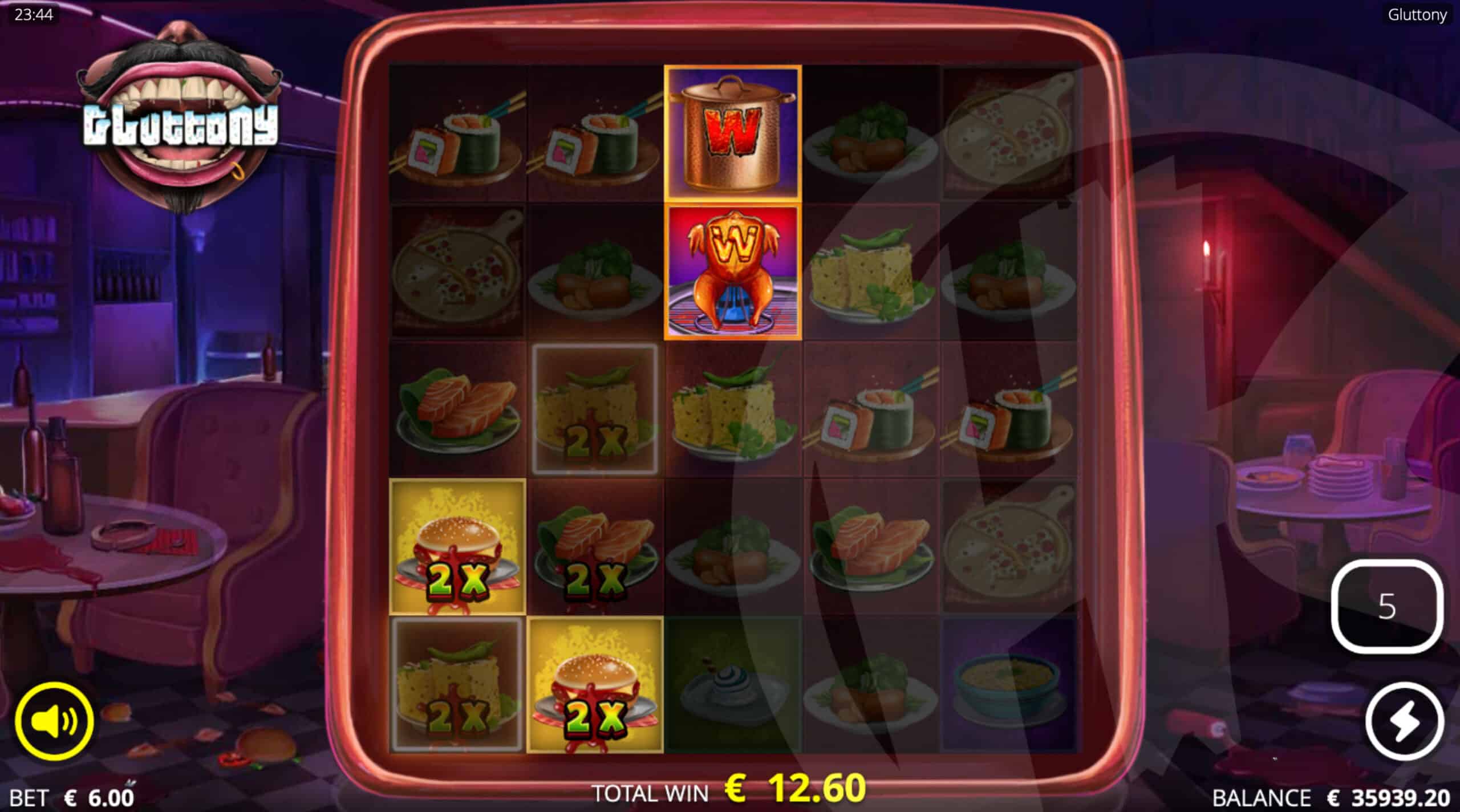 Wild Pot Symbols
Before explaining each feature, let's first cover a new symbol that will be available – Wild Pot symbols. These symbols can only land during a bonus round, on reels 2-5.
Wild Pot symbols act as Wilds, substituting for all regular pay symbols, but they also collect any winning symbols that are connected to themselves horizontally or vertically if they contribute to their wins.
Depending on the symbols collected, its multiplier will increase by a certain amount.
Low Paying Symbol – +1 per winning symbol
High Paying Symbol – +2 per winning symbol
Wild Symbol – +2 per winning symbol
If the Wild Pot collects at least 1 symbol, it becomes sticky as a Wild symbol with its new multiplier for one more symbol drop, otherwise it is removed.
Order Up!
Now onto the features, beginning with Order Up!. Each time a Golden Bell lands in Order Up! players will be awarded +2 spins, and the multiplier will increase by +x2 – this is how Double Up! and Quadruple Up! are triggered.
When the multiplier reaches x4, if a Golden Bell lands players will be upgraded to FEDCON 1, with +6 spins awarded.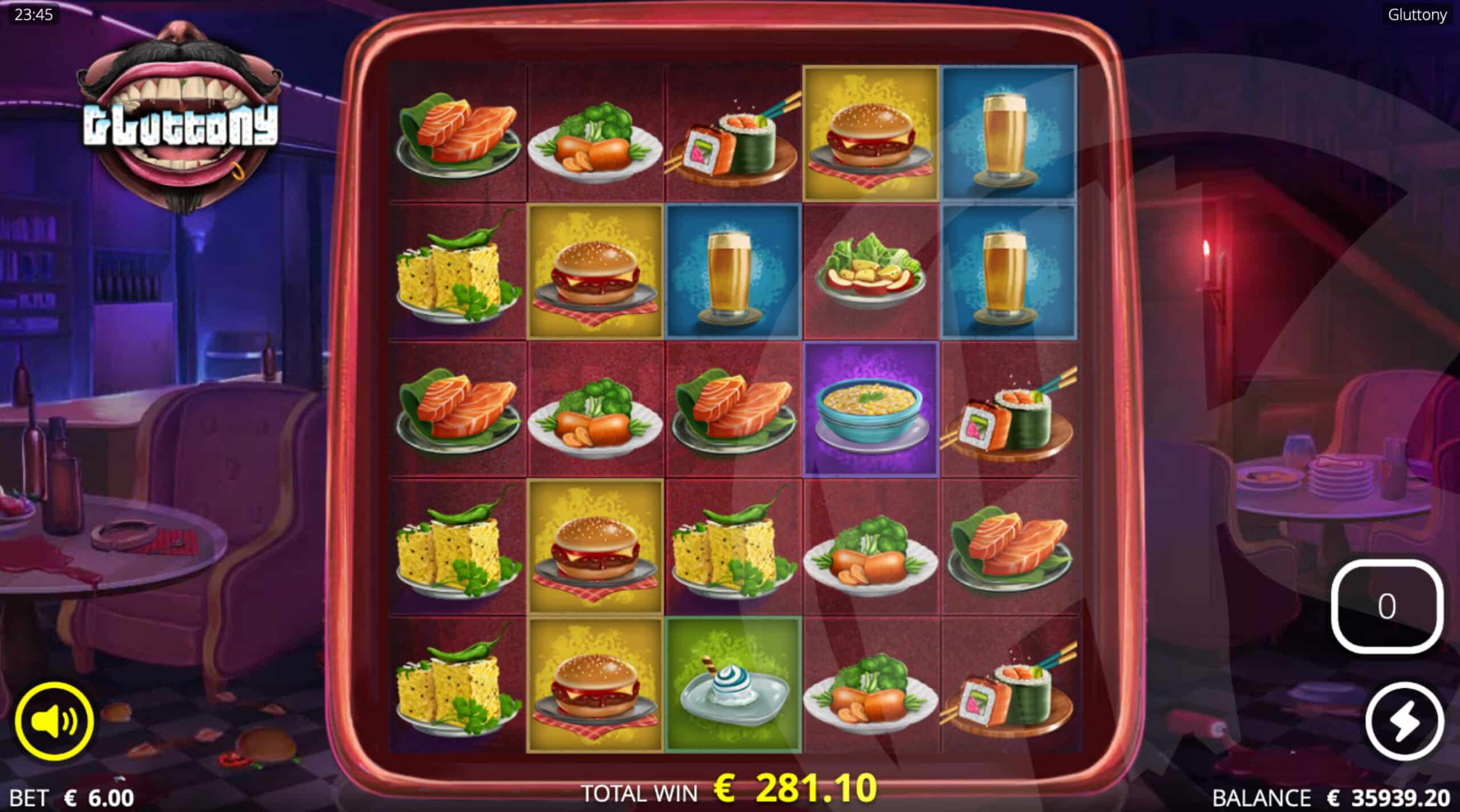 FEDCON 1
Things get distinctly more complicated in FEDCON 1, wherein Crosslink Wins are now used to calculate payouts. In this, the payout value is equivalent to the length of the amount of symbols won from each side individually.
In FEDCON 1, every win is paid from the Fat Bastard, a Wild symbol that sits in the middle of the reels with symbols spinning in around him on 4 outer reels and 4 inner reels.
All winning symbols are collected and added to the Fat Bastard. In turn, levels are upgraded.
Level 2 – 20 winning symbols required
Level 3 – 30 winning symbols required
Level 4 – 40 winning symbols required
Level 5 – 50 winning symbols required
If the progression is exceeded, extra symbols will carry over. Again, winning symbols increase this progression differently, depending on the type of symbol.
Low Paying Symbol – +1 per winning symbol
High Paying Symbol – +2 per winning symbol
Wild Symbol – +2 per winning symbol
Each time a new level is reached an additional +2 spins are awarded, the Fat Bastard multiplier is increased by +1, and a respin is triggered.
During FEDCON 1, Golden Bells can only land on the outer reels, which permanently multiplies all outer reel values by 2.
Additionally, Wild Pots can now only land on the inner reels, and will collect all food symbols on its connected outer reel, preventing these symbols from being added to the Fat Bastard's progression.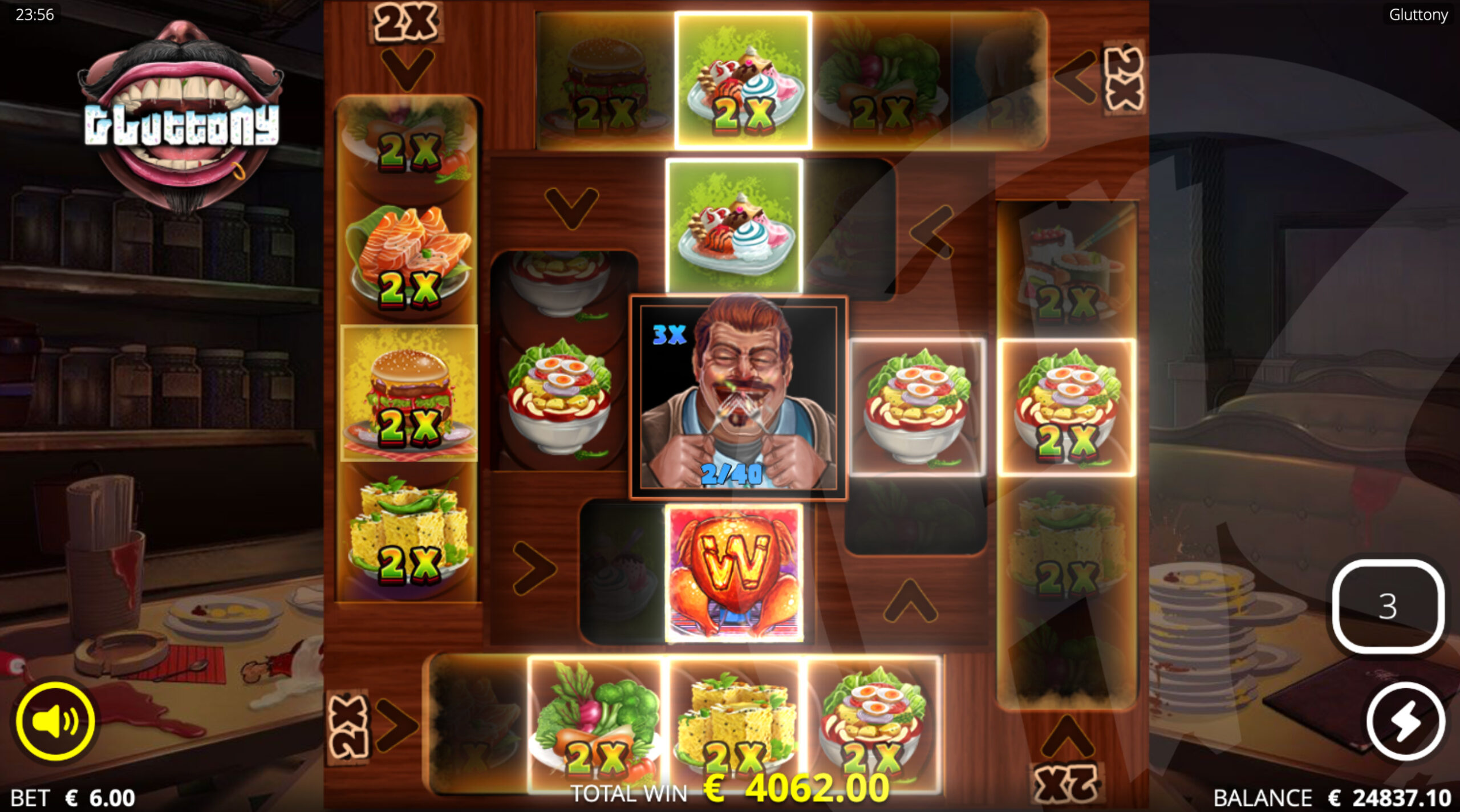 Nolimit Bonus
Players in appropriate regions can take advantage of the following Nolimit Bonus options:
Order Up! (8 Spins) – 100x bet (96.08% RTP)
FEDCON 1 (14 Spins) – 1,000x bet (96.09% RTP)
Super Lucky Draw (40% Order Up, 30% Double Up, 20% Quadruple Up, 10% FEDCON 1) – 300x bet (96.11% RTP)
RTP values above are based on the overall RTP setting of 96.09%.
The maximum win available in Gluttony is 32,000x bet (Heart Attack). If the sum of a single game round exceeds this, the game round will end and 32,000x bet will be awarded.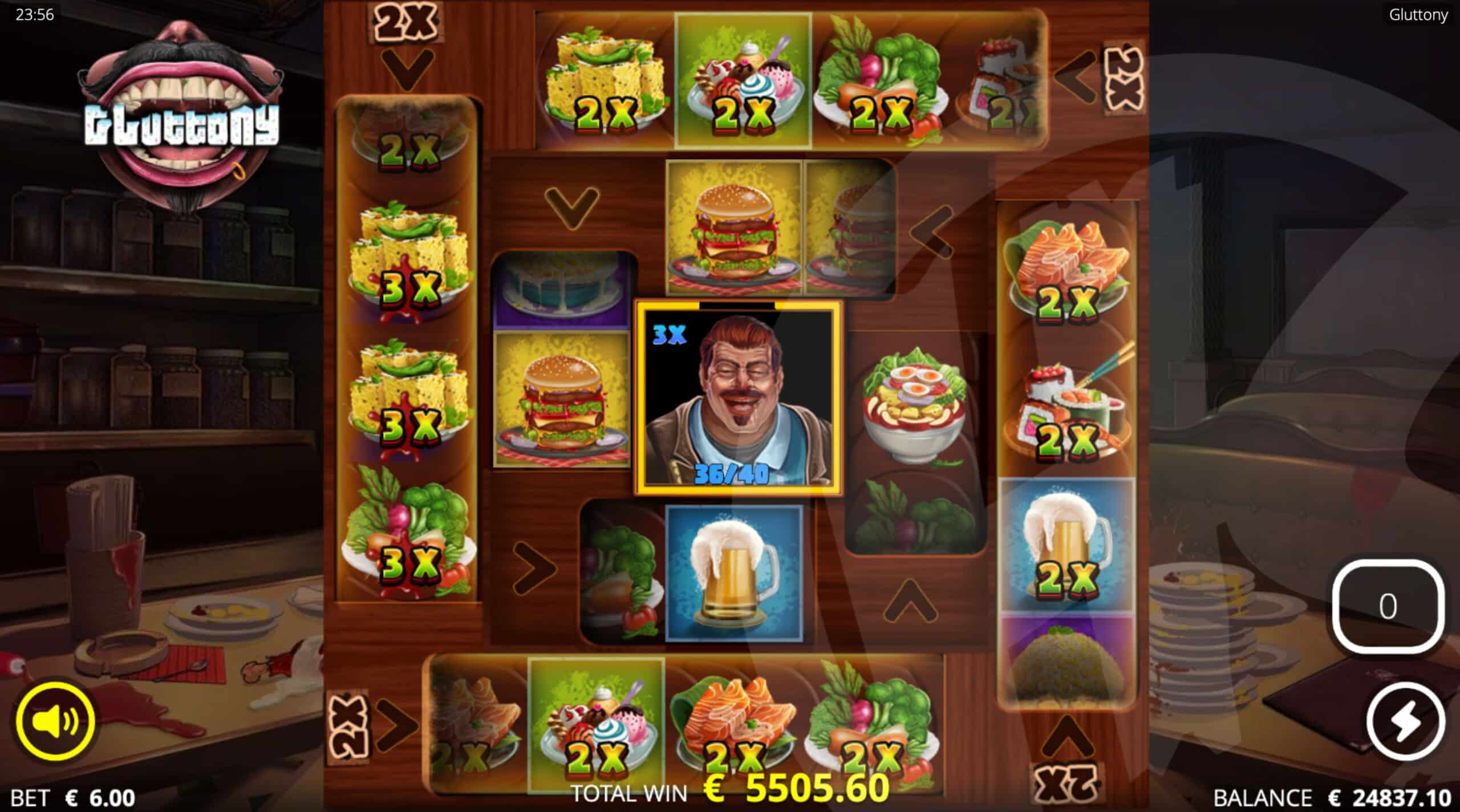 First Impression
There's more than enough happening in Gluttony to simultaneously pique your interest and spin your head, which in part is what makes it such an entertaining release. In the base game, xZone Sauces and Wilds keep things moving forward – offering just enough excitement to convince players to stick around for the main course.
When the bonus round comes, we have one fairly conventional option and one that is anything but. In the former it's quite simple – land Golden Bells to upgrade multipliers and watch wins clock up. In the latter, it's not so simple. Well, it is really. Match winning combinations and collect those symbols to upgrade the Fat Bastard multiplier.
Once you know what's happening, everything becomes quite easy to understand, but reel positions and symbol movements do all they can to stop this being the case – similarly to the somewhat badly positioned Enhancer Cells of Disturbed.
Between symbols getting their own multipliers alongside overall multipliers, and portion sizes changing, and symbols being collected, and reels spinning in different directions… Well, there's a lot happening. With that in mind, regardless of your level of understanding, wins are possible up to 32,000x bet when the right combinations occur.
Finally, maths is described as extremely (10) volatile and RTP options are available up to 96.09% (96.11% feature buy), so as always it's worth checking this.
Whether you're a Nolimit City fan or not, if you're looking for a release packed full of features and entertainment, Gluttony is the perfect option for overindulgence.
Other maths information, for those who are interested, is as follows:
RTP: 92.02% – 96.09%
RTP Main Game: 58.23%
RTP Bonus: 37.86%
Volatility: Extreme (10)
Hit frequency: 25.27%
Free Spins: 1 in 309 spins
Win 100x bet: 1 in 735 spins
Max win: 32,000x bet
Max Win Main Game: 1 in 52 million spins (96.09% RTP)
*The screenshots taken of games reviewed on this site are taken from Demo Play, as reviews are often written before games are released for real play.