The pop mechanic, first released by AvatarUX through PopRocks™ in April 2020, though innovative, didn't immediately capture the hearts of players worldwide. However, by the time CherryPop™ was released six months later, our interests were piqued. Capable of wins over 56,000x in size, this seemed to be the defining moment where players began to think "there just might be something here." Success seemed to follow like a storm, with BountyPop™ and TikiPop™ receiving the same acclaim from players who had previously found joy in this mechanic. Now, AvatarUX are taking advantage of this success, by treating us to the sixth in the PopWins series, with HippoPop, set for release in May 2021.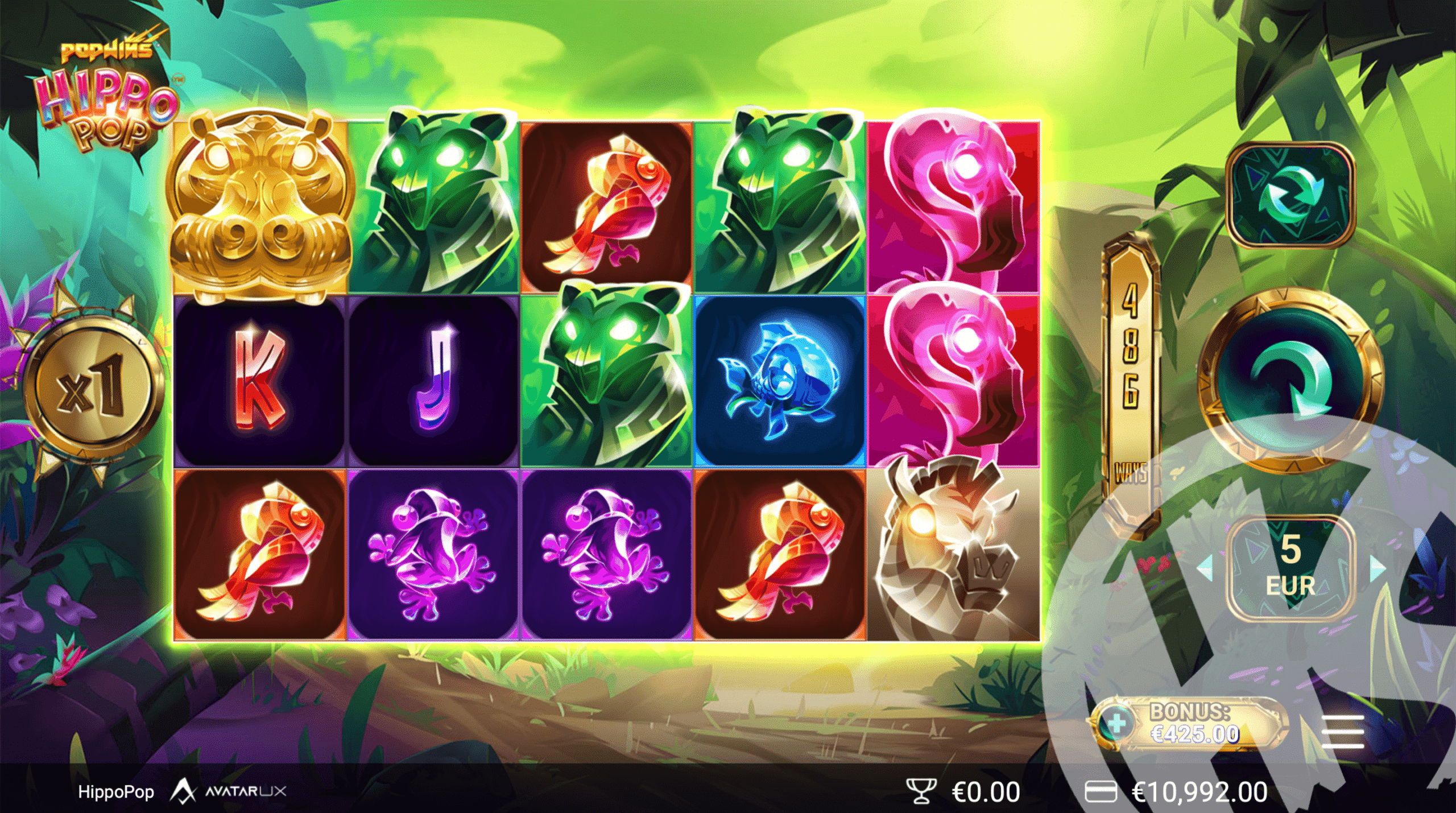 Unsurprisingly, AvatarUX have chosen a strong theme for HippoPop™, and they've stuck to it well. Players can take a trip into the abstract, colourful jungle to try their hand at this 5 reel, 96.10% RTP slot. Upbeat bongo beats ring through in the background; not subtle, but not useless either, instead adding to the feeling of visiting the hippo in its native African territory. With a hit frequency of 20.50% and high volatility levels, players should be prepared for extended periods of play without any action. When the action does hit, however, wins of up to 48,150x are possible, available on stakes ranging between 0.20 and 40.
HippoPop Base Features
The pay table of HippoPop is made up of 11 symbols. At the lower end, J, Q, K and A each pay 1x bet for 5 of a kind. Fish, birds and frogs award players with 1.5x bet for 5 of a kind, and zebras, cats and flamingos each pay 2x bet, again for 5 of a kind. The most lucrative symbol in play is the golden hippo, which pays 4x bet for 5 of a kind, however hippo pays are bigger as the reels increase. There is no wild symbol or scatter in play.
Play begins on 5 reels, each of which has 3 symbols. Under normal circumstances, we would expect this to be a total of 243 ways, however wins pay both ways on PopWins slots, and HippoPop is no different, meaning HippoPop begins with 486 ways to win. Wins are formed by matching 3 or more symbols either left to right from the first reel, or right to left from the last reel. Each winning combination is removed from the reels, and each individual symbol is replaced by two more symbols. This means each win increases the ways to win, up to a maximum of 6 symbols per reel, or 7,776 ways to win in the base game.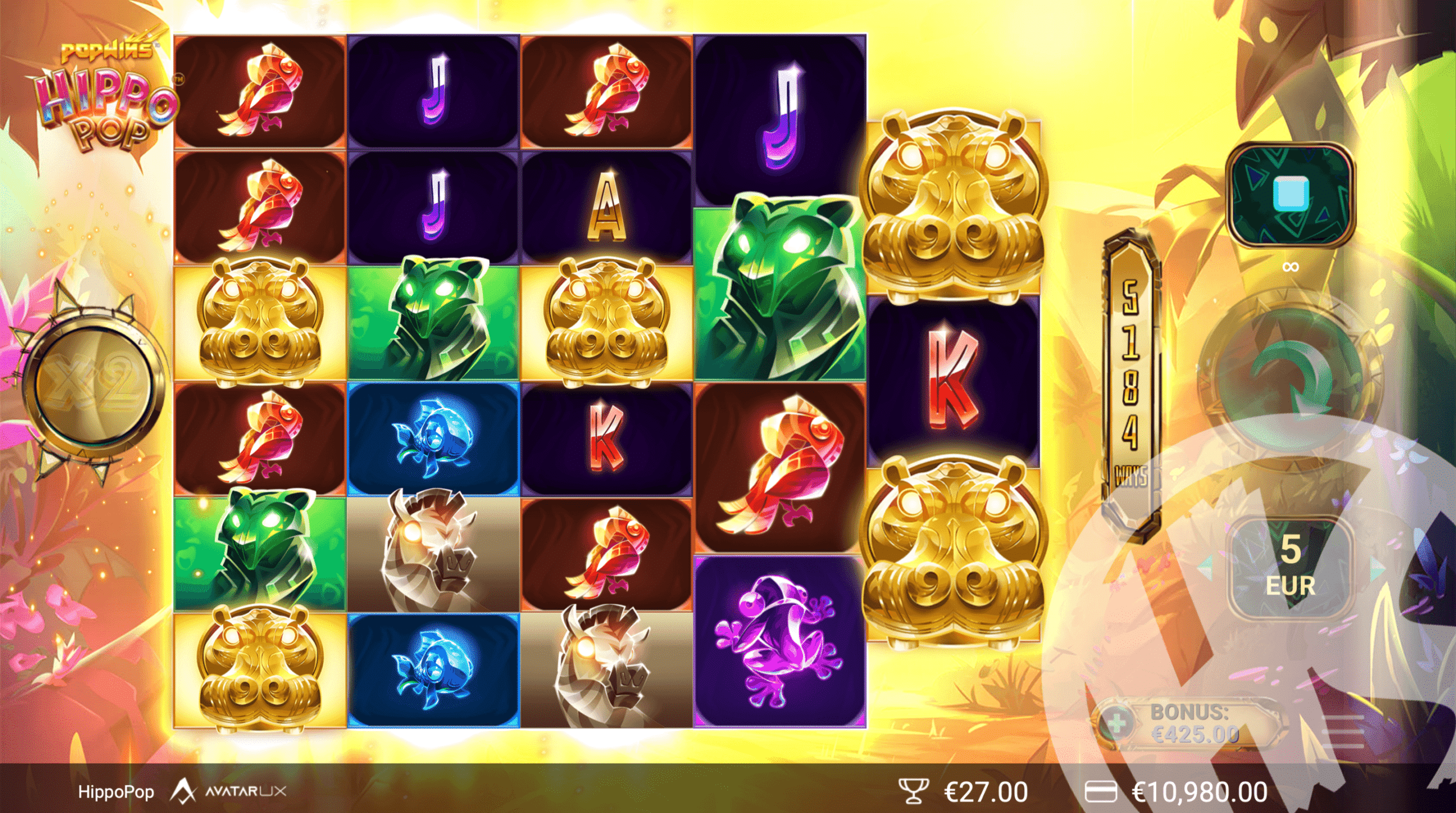 HippoPop Bonus
Expanding all reels to the maximum of 6 symbols in the base game also triggers 5 Free Spins. Once reels are at their maximum ways in the base game, a multiplier is triggered, incrementing by +1 for every additional win, lasting until no more wins remain in the base game. This multiplier is then transferred to the free spins as the starting multiplier, and continues to increment by +1 for every win.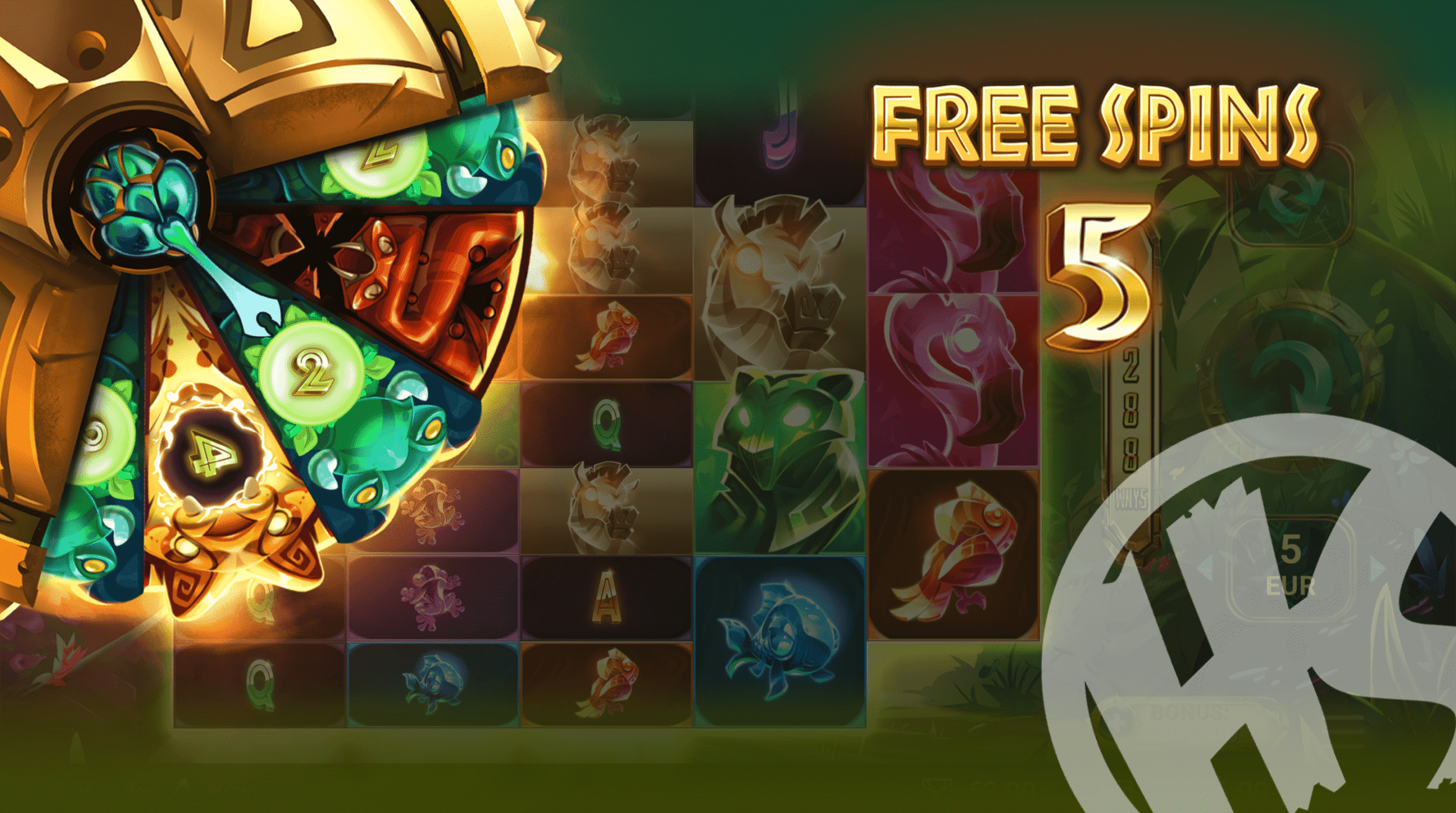 If you're feeling lucky, you can take the feature to the gamble wheel, for a chance to win up to 12 spins. The first wheel will reward players with either 2 extra spins, 4 extra spins, or nothing, meaning the entire feature is lost. The second wheel awards players up to 5 extra free spins, or nothing again. Players can collect without gambling, after the first wheel, or the second.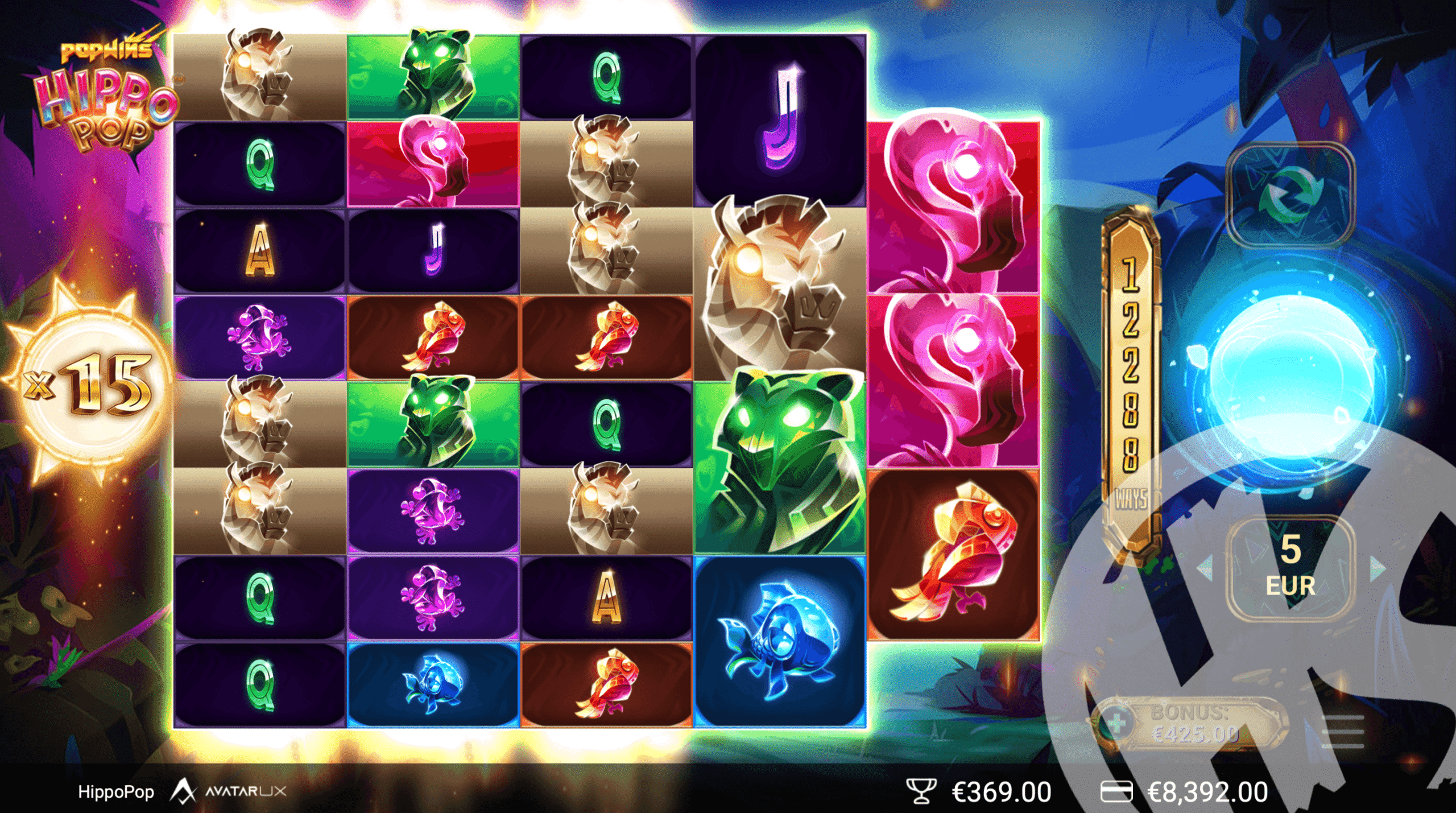 During free spins, reels begin at 3 symbols tall, but can increase to 8 symbols tall, for a total of up to 65, 536 ways to win. As reels unlock in free spins, the shortest reel carries over into the next spins, and all reels reset to this height, rather than resetting to 3 symbols high each time. Unlocking all reels to 8 symbols high awards 2 extra free spins, and unlocking all reels to various heights changes the hippo symbol payout:
All reels 6 symbols high: Hippos pay x2
All reels to 7 symbols high: Hippos pay x3
All reels to 8 symbols high: Hippos pay x4
A Feature Buy option is available for players in appropriate regions, costing 85x bet, where the gamble is also available. Depending on if the free spins are gambled, players are awarded:
5 Free Spins: 2-4x starting multiplier
7-9 Free Spins: 4-6x starting multiplier
9-12 Free Spins: 6-10x starting multiplier
As with landing the bonus organically, if players who buy the feature gamble and lose, they will be taken back to the base game, and receive no feature.
First Impression
HippoPop is admittedly quite similar to the releases in the PopWins series that came before, but it does offer a good player experience alongside a new feature to mix things up. Fans of the PopWins series will inevitably take to this slot like a hippo to water, with it offering much the same as those that came before, with a small amount extra. The addition of the premium symbol paying more as the reels increase is certainly a fun one, and something to look forward to, particularly when working alongside the incrementing multiplier. RTP is forgiving, and the maximum win sits at a generous 48,150x stake, but players will inevitably be left disappointed by gambling the feature and losing. As we've seen before in this series though, one spin can change the whole feature, and it isn't always necessary to gamble to set the potential of what these games can do. Overall, HippoPop is a solid addition to the PopWins catalogue, with AvatarUX keeping things interesting enough to avoid being branded a re-skin.
*The screenshots taken of games reviewed on this site are taken from Demo Play, as reviews are often written before games are released for real play.