Do you ever get asked the question 'if you could have dinner with one celebrity, dead or alive, who would you choose?' A huge number of people will respond with a musician when asked this – Jimi Hendrix, Kurt Cobain, you get the gist. But how about if you could play slots with five of these legends?
Thanks to Nolimit City, you can live this fantasy out for real now – as the saying goes, legends never die. Leaving behind the psychedelic nature of DJ Psycho, Nolimit City are bringing some of the greats back together for one last ride, producing one volatile banger, in The Crypt.
With RTP options up to 96.05% (96.21% feature buy), this extremely (10) volatile release can produce wins up to 27,000x bet.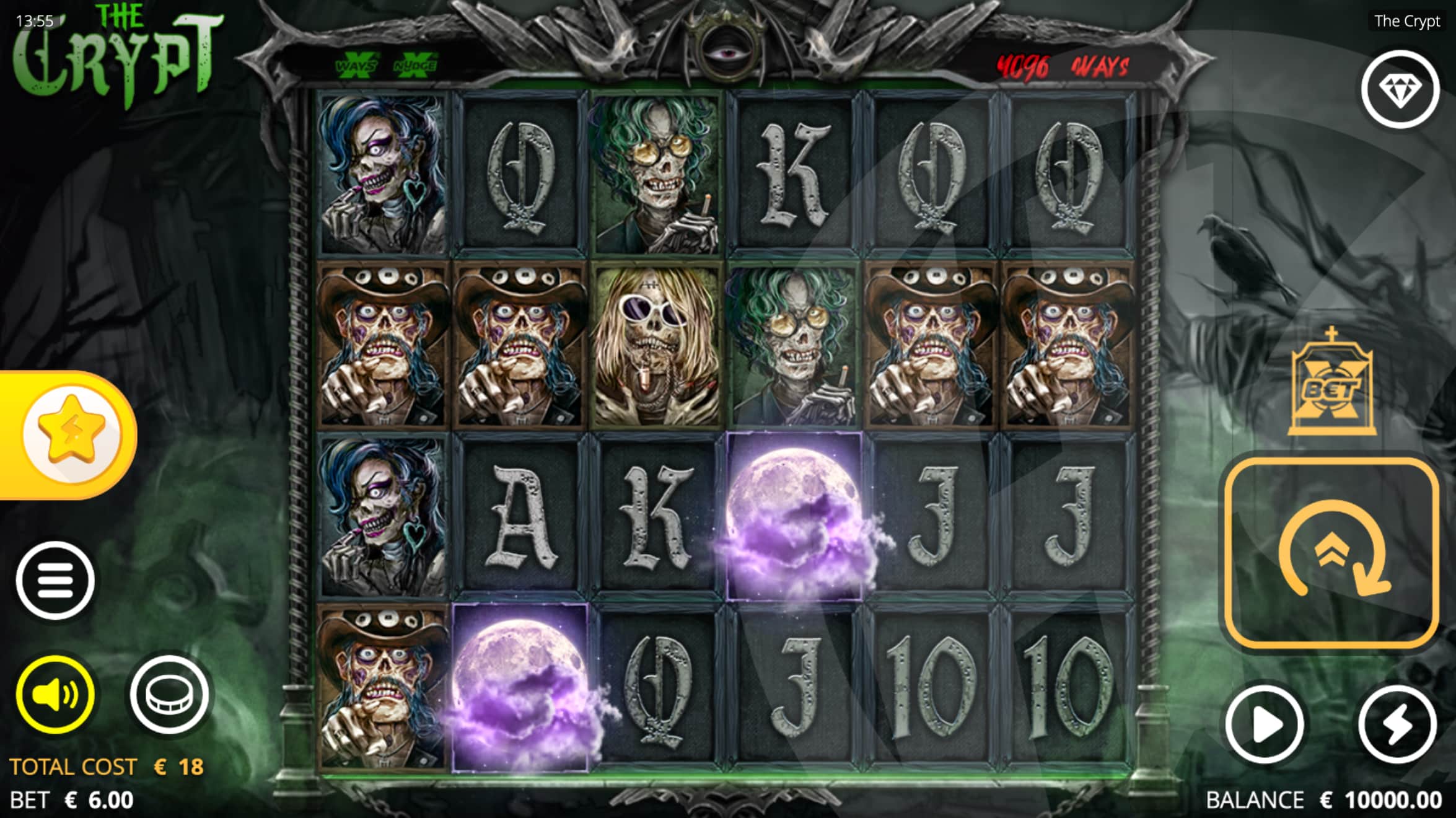 We've had plenty of rockstar styled releases before, like Spinal Tap and Gods of Rock. We've never had a rockstar release that combines heavy music with a zombie-esque theme. You know Nolimit City though – they like to do things their own way.
Since they've chosen to use stars that are no longer with us, we find ourselves in a cemetery at night, with a deep fog hanging over everything – leaving just enough visibility to spot gravestones, trees and a raven.
It's all very dark but allows us to give most of our attention to the reels, where we find five characters looking a little worse for wear – decomposed, as the team delicately puts it. An eerie soundtrack comes in to tie it all together, but when wins start rolling in, this soundtrack becomes the real star of this show.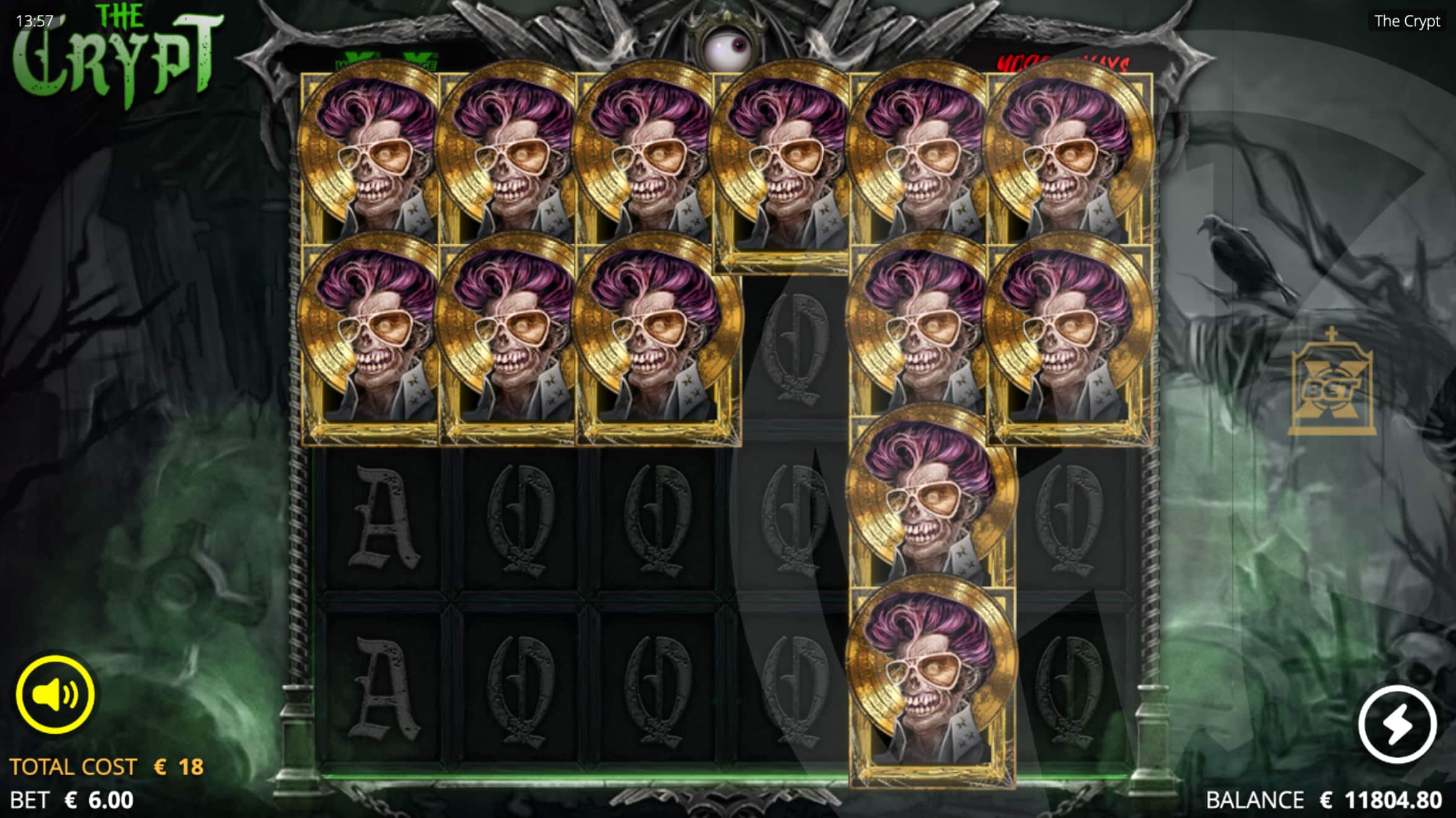 The Crypt Base Features
Taking place across 6 reels, wins are formed on The Crypt by matching at least 3 symbols on adjacent reels, beginning with the leftmost reel. Each reel holds 4 symbols, producing a default of 4,096 ways to win, but this can be increased through xWays with a potential 46,656 ways to win on offer. Symbols available begin with non premiums, with 9s, 10s, Js, Qs, Ks and As, awarding wins between 0.10 and 0.15x bet for 3 of a kind matches, increasing to values between 0.50 and 0.75x bet for 6 of a kind wins.
At the premium end, we meet our legends – Jimi Hendrix, Amy Winehouse, John Lennon, Kurt Cobain, Lemmy Kilmister and Elvis – each appearing in zombie form. Land 3 of a kind of any premium to see wins between 0.20 and 0.35x bet, increasing to values between 0.90 and 2.50x bet for 6 of a kind matches.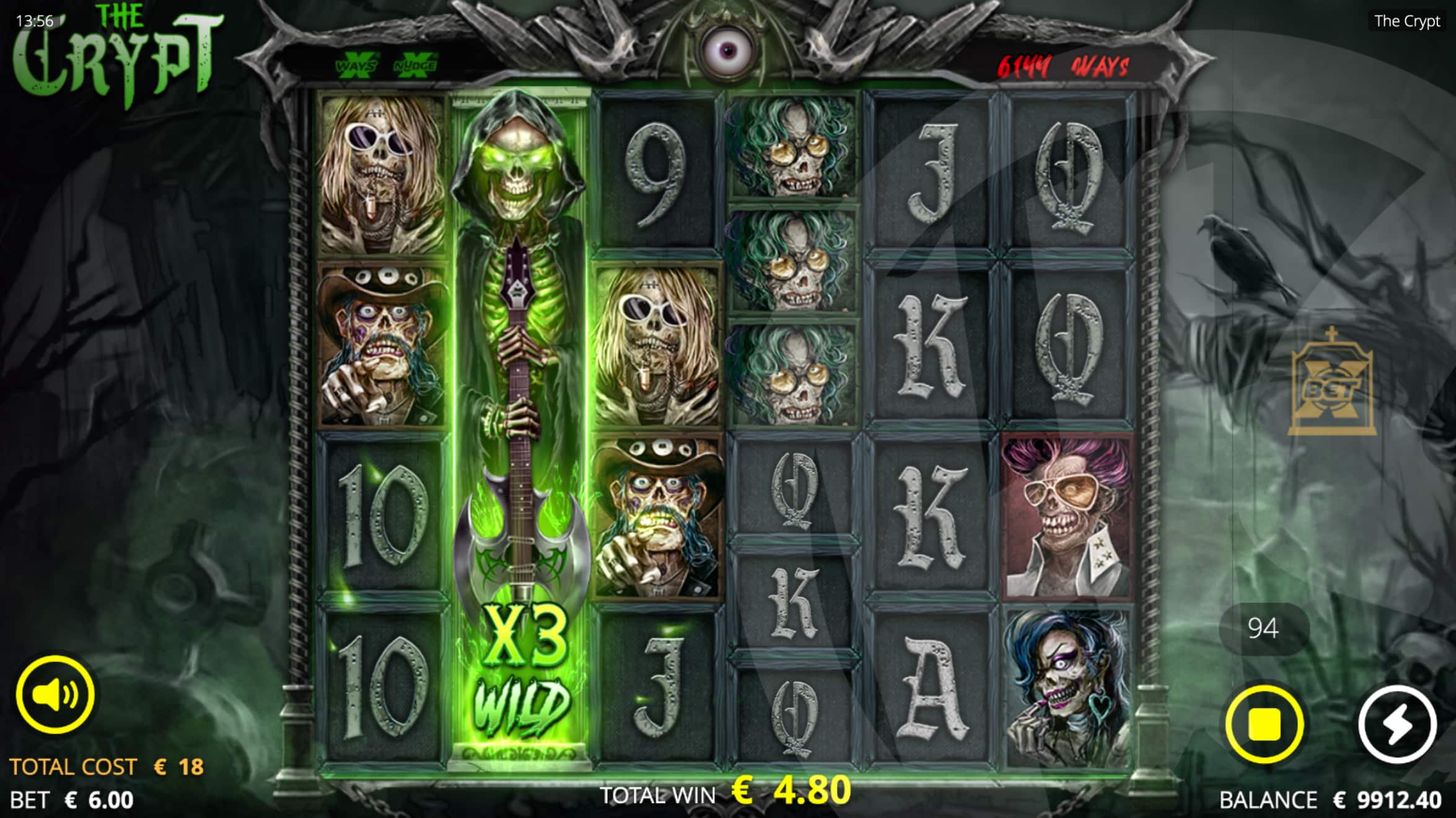 xBet
There are a few things to cover in The Crypt, beginning with xBet. By betting an additional 200% (3 times the base bet), it becomes more than 5 times more likely that Resurrection Spins will be triggered. When using xBet in the 96.05% setting, RTP dips slightly to 96.0%.
Next up are cascades. On every spin, all symbols involved in a winning combination will be removed from the reels, with all remaining symbols dropping to the bottommost available position on their respective reels. New symbols will then drop in from above to fill the remaining gaps, with cascades continuing until no new wins are formed.
xWays Symbols
Next are 2 features we've seen plenty of times before from this team – xWays and xNudge. When an xWays symbol lands on the reels, it will act as a mystery symbol, revealing 2 or 3 of the same symbol. Multiple xWays symbols can land in one spin, potentially landing on all reels and increasing each reel height to 6 symbols – producing the 46,656 ways to win we discussed above.
If more than one xWays symbol is in view they will all reveal the same symbol. After being removed through cascades, reel heights do not reset until the spin has ended.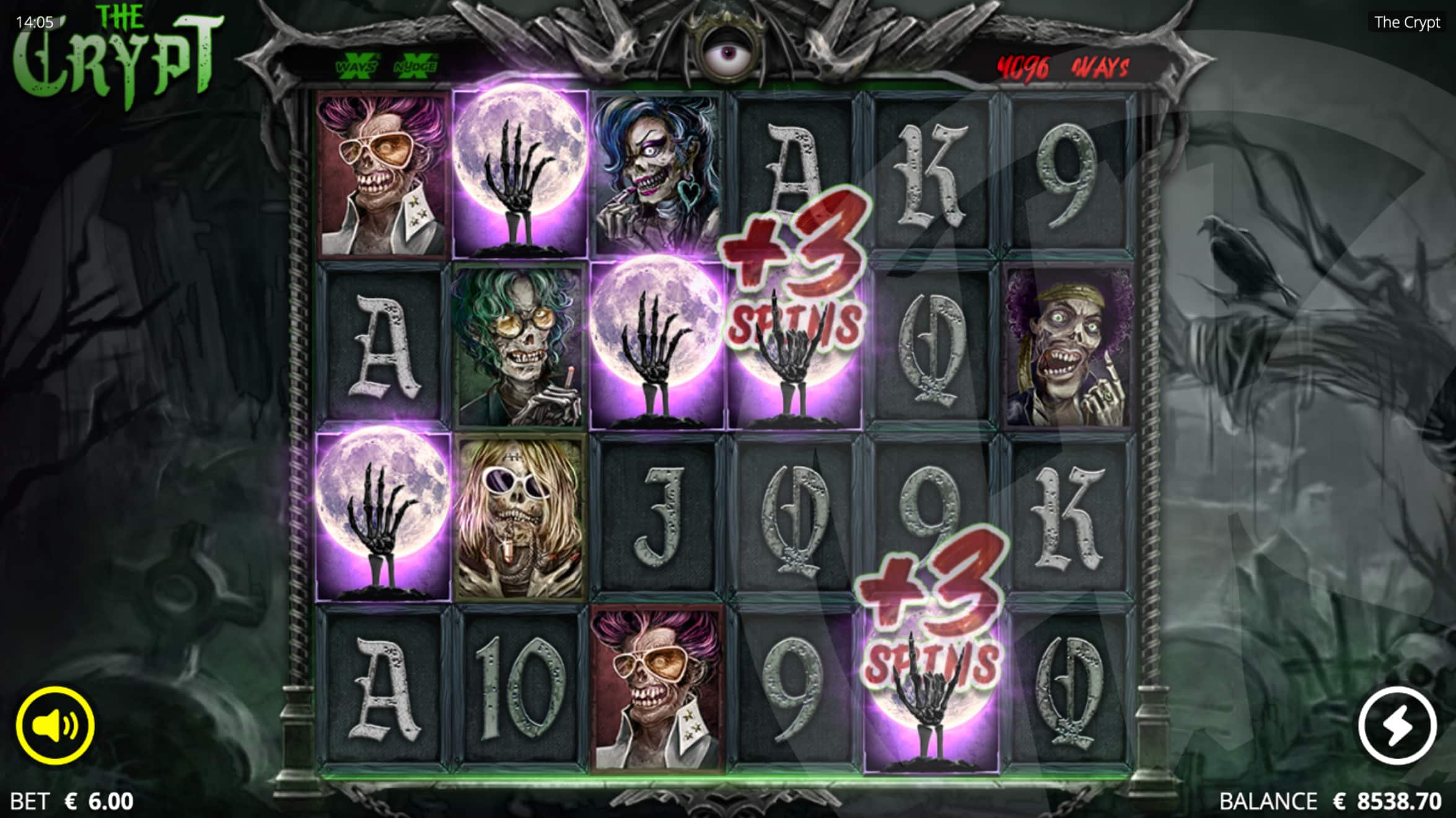 xNudge Wild Symbols
When an xNudge Wild symbol lands in view, it will drop to the bottom of its reel. For each step it drops, its multiplier will increase by +x1. After reaching the bottom, it will expand to cover the entire reel – becoming a full reel Wild that substitutes for all symbols except Scatters. Its multiplier will then be applied to any winning combinations it is used in.
Working with xWays symbols it is possible that xNudge Wild symbols can hold multipliers up to x6. xNudge Wild symbols can land on reels 2-5. When more than one lands in view, their multipliers are added together before being applied to any wins.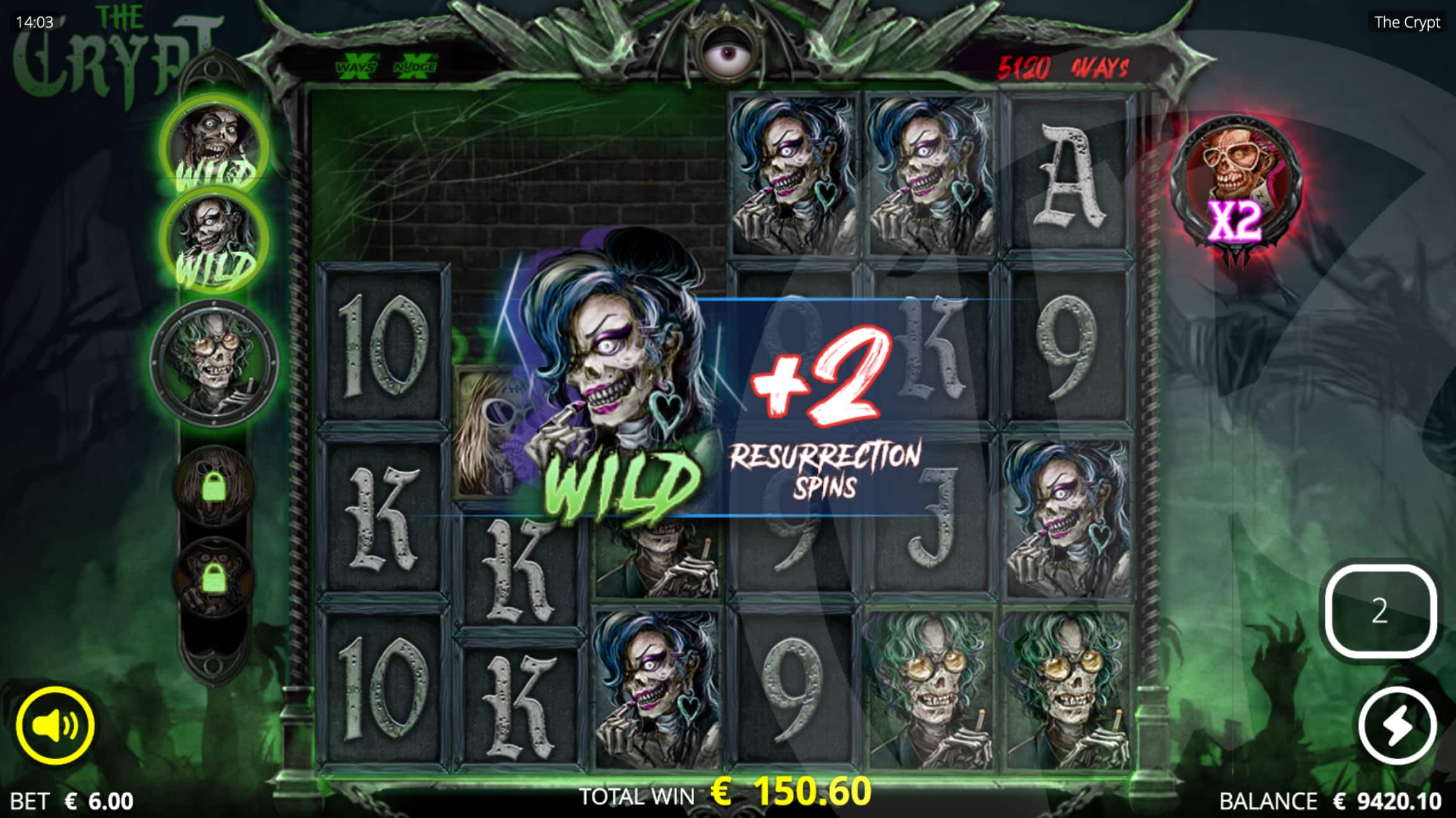 The Crypt Bonus
Land 3 or more moon Scatter symbols in view to trigger 10 Resurrection Spins, plus an additional +3 spins for each Scatter beyond the third. During the bonus, a minimum of 1 xWays symbol is guaranteed on each initial cascade.
To the left of the reels in Resurrection Spins sits each of the premium symbols – the dead legends. For each fourth winning cascade, a new legend is turned Wild for the remaining spins. Alongside this, an additional +2 spins are awarded each time this happens. All legends can be turned into Wild symbols.
Any win on the highest paying symbol (Elvis) during the bonus will award a +x1 increase on that symbol multiplier. Any winning combinations involving only this Elvis symbol will not contribute towards turning legends Wild – they will only increase the Elvis multiplier.
However, if a win occurs on the Elvis symbols and other symbols both the multiplier will be increased and progression will be made towards turning legends into Wild.
xNudge Wild symbols can continue to land in Resurrection Spins.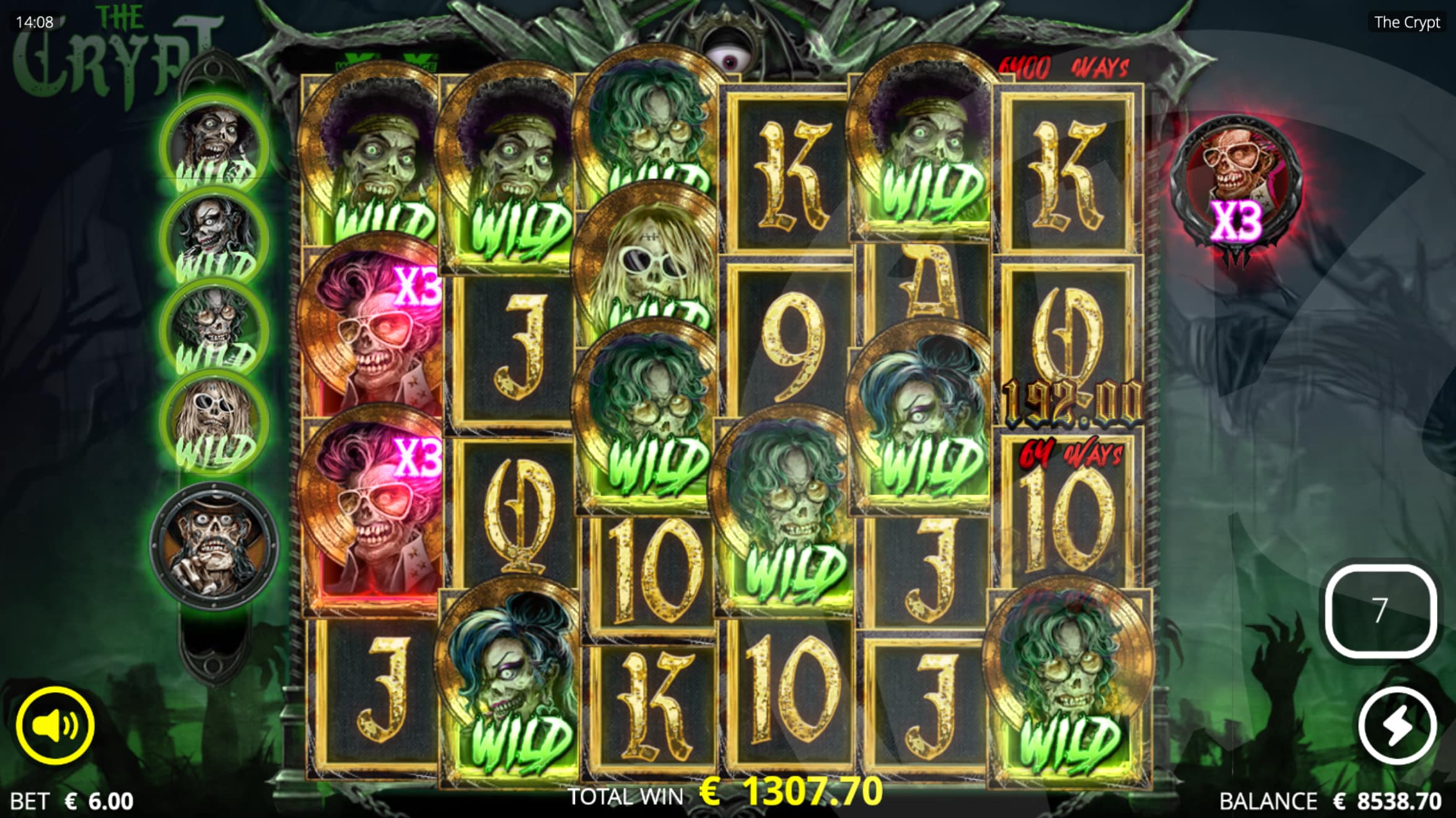 Nolimit Bonus
Players in appropriate regions can take advantage of the following Nolimit Bonus options.
10 Resurrection Spins – 100x bet (96.21% RTP)
13 Resurrection Spins – 200x bet (96.21% RTP)
16 Resurrection Spins – 500x bet (96.13% RTP)
Lucky Draw (35% 10 Spins, 45% 13 Spins, 15% 16 Spins, 5% 19 Spins) – 225x bet (96.03% RTP)
RTP values above are based on the overall RTP setting of 96.05%.
The maximum win available in The Crypt is 27,000x bet. If the sum of a single game round exceeds this, the game round will end and 27,000x bet will be awarded.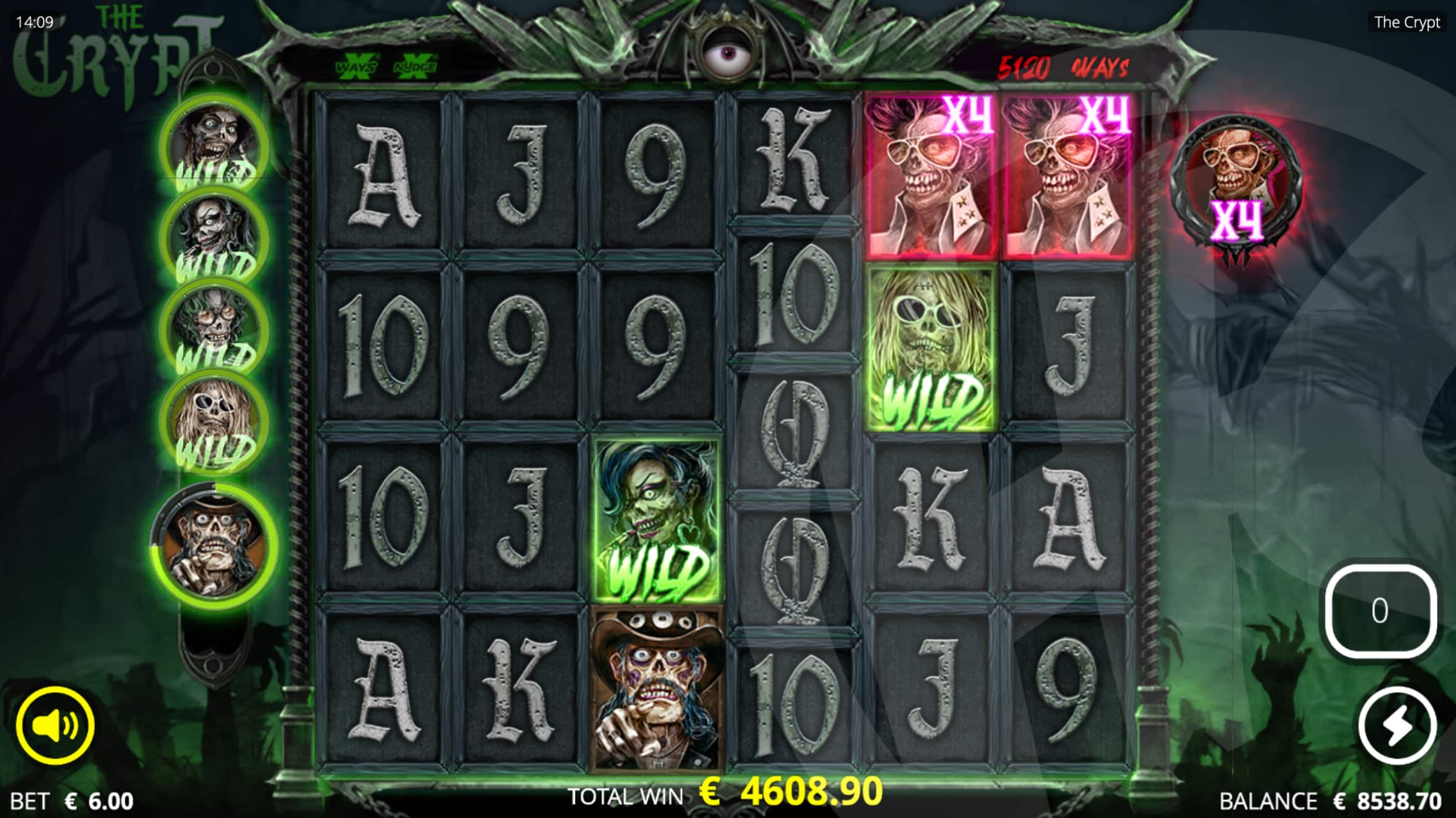 First Impression
There's no denying it – Nolimit City have their own style, and they stick to it. Like we said above, there are plenty of releases on the market with zombies, heavy soundtracks, or a rockstar theme – but none that encompass all of the above. Choosing to go with dead legends in a bid to create a deathly, strange atmosphere was an interesting choice, but one that has paid off – certainly in terms of audiovisuals. The real star of this show is the soundtrack, which fits perfectly with the theme and builds at just the right moments.
Gameplay is more simple than we're used to from this team – xWays and xNudge Wilds form the majority of the excitement in the base game, coupled with cascades and a pricey xBet to help move things along.
It's Resurrection Spins where things get exciting though, with a progressive feature turning legends Wild, guaranteed xWays on initial cascades, and multipliers on the highest paying symbol. It all forms into something similar to Pink Elephants or Dragon Tribe, with a much more interesting look to it. When the right combinations occur, wins are possible up to 27,000x bet.
Finally, maths is extremely (10) volatile and RTP options are available up to 96.05% (96.21% feature buy), so as always it's worth checking this. There's a high expectation from players when they see a new Nolimit game coming their way, but there isn't a great deal to say here – an extremely volatile maths model, a great soundtrack, an interesting theme, and a simple mechanic with a progressive element makes The Crypt a solid release from this team.
RTP: 92.15% – 96.05%
RTP Main Game: 65.03%
RTP Bonus: 31.02%
Volatility: Extreme (10)
Free Spins: 1 in 328 spins
Win 100x bet: 1 in 1,185 spins
Max win: 27,000x bet
Max Win Main Game: 1 in 17.7 million spins (96.05% RTP)
*The screenshots taken of games reviewed on this site are taken from Demo Play, as reviews are often written before games are released for real play.