For some people, visiting a nightclub or event where they can watch a DJ live is their idea of the perfect night out. For others (read: me), it's their idea of a nightmare. Now, whether intentionally or not, Nolimit City are great at tapping into our nightmares to show us just what they look like in an online slot format.
Now though, they'e introducing us to a new DJ in DJ Pyscho (DJ P5ychØ). According to Nolimit City, some believe this person to be a hallucinogenic dream, whilst others refuse to believe he even exists. What we do know, however, is that he offers a beautiful chaos, blasting the socks off anyone fortunate enough to be in his presence.
With a maths model rated medium (6) for volatility and RTP options up to 96.05% (96.33% feature buy), this release can produce wins up to 25,420x bet.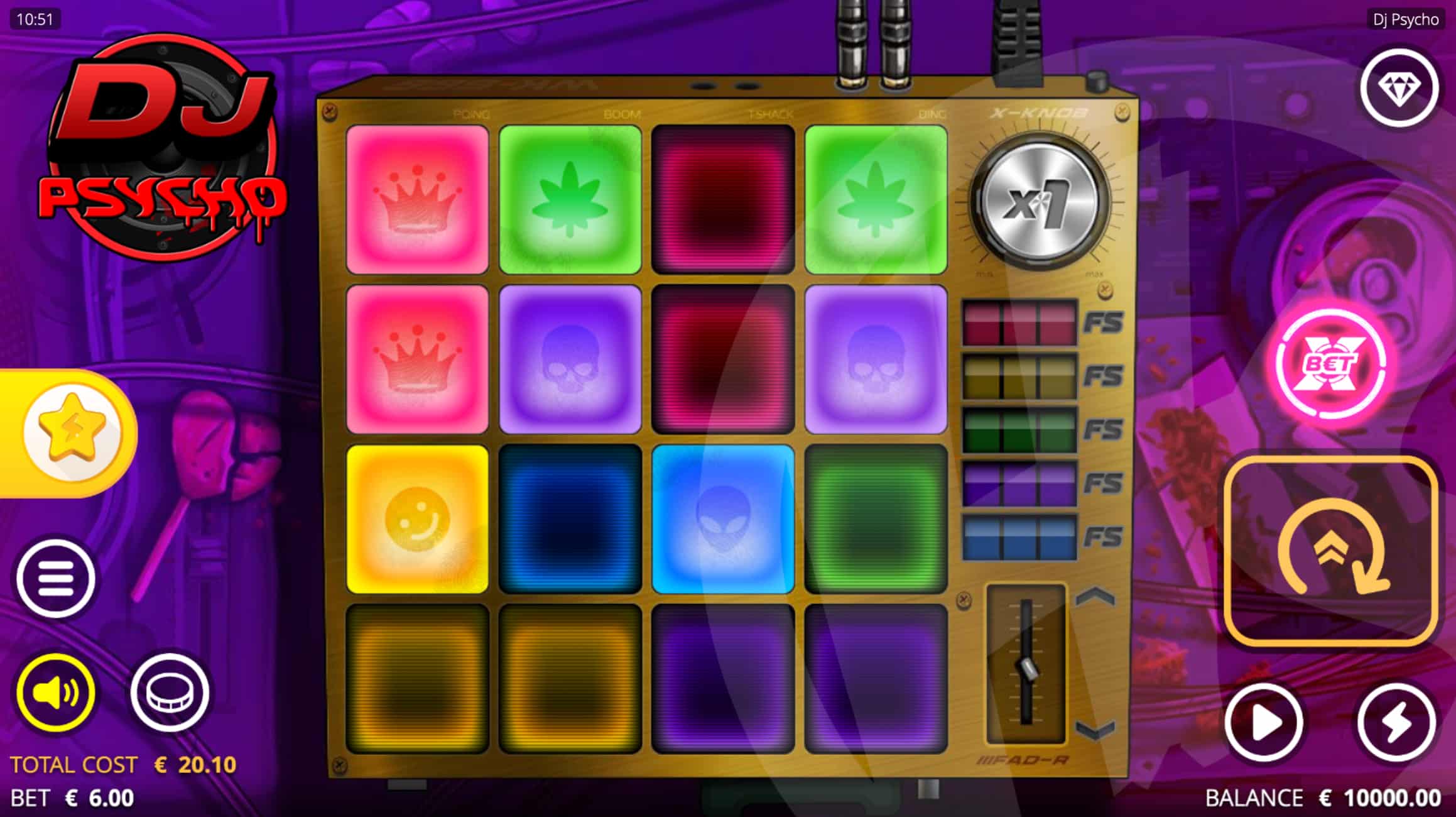 We've got a birds eye view of a DJ's table today, with trash littered throughout including a broken lollipop, a not-yet-rolled cigarette, drugs, and an open can of soda.
Other than this there are various wires running across the screen, connecting into circuit tracks, in which the reels are set. Symbols are fairly straightforward, but the whole thing is taken to a new level with the soundtrack – which just gets better the longer you listen.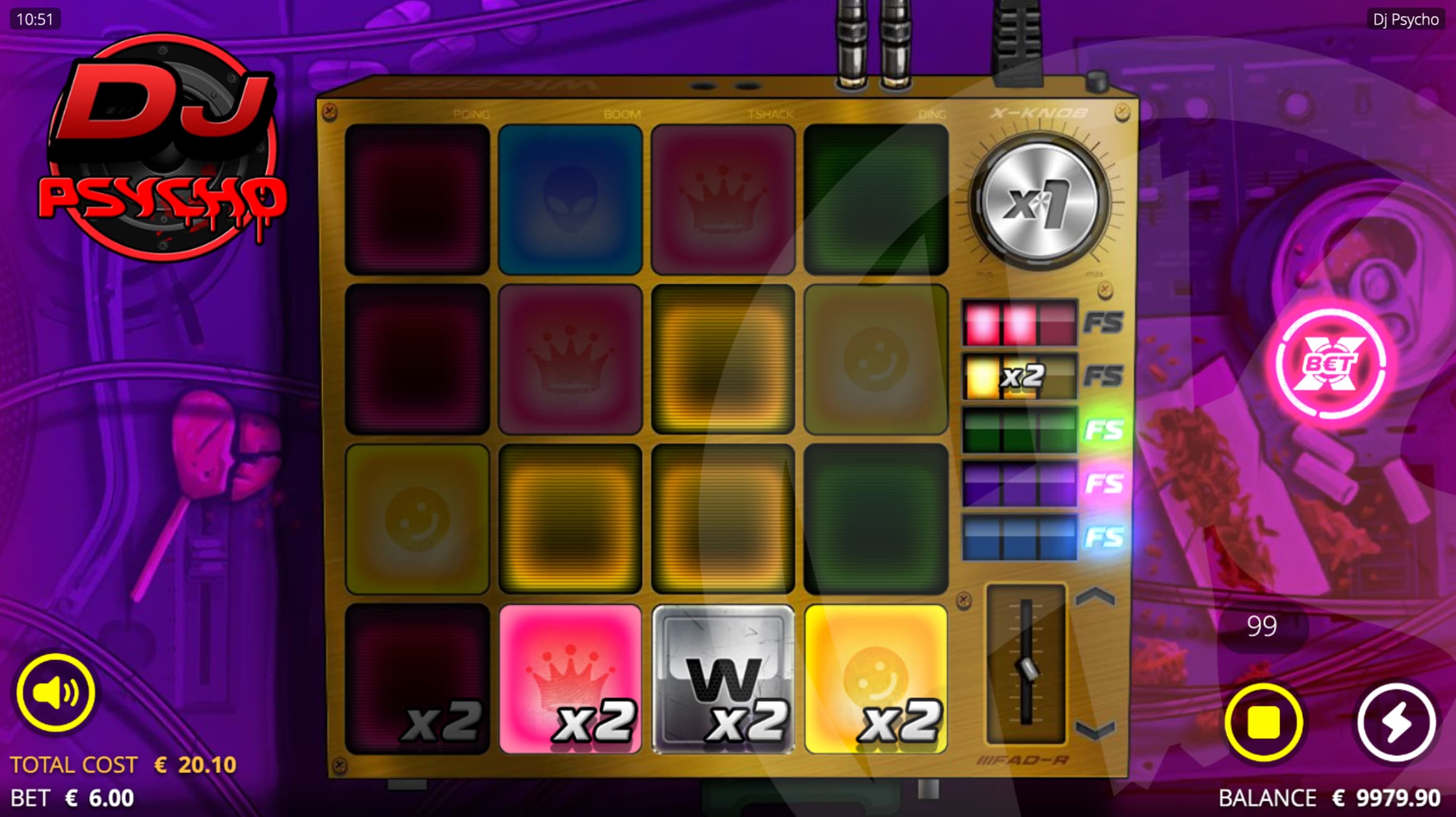 DJ Psycho Base Features
Taking place on a 4×4 grid, wins are formed on DJ Psycho by matching at least 3 symbols touching horizontally or vertically with xCluster Pay. Symbols award wins for clusters between 3 and 40+, but we'll explain more on this soon. For now, let's look at the payable starting with non premiums – blue, purple, green, yellow and pink buttons. Land 3 matching non premiums to see wins between 0.05 and 0.20x bet, increasing to values between 200 and 450x bet for clusters of 40+.
Premiums basically look exactly the same, except that the buttons are now lit up with a small motif on them – aliens, skulls, marijuana leaves, smiley faces and crowns. Land clusters of 3 matching premiums to see wins between 0.25 and 1x bet, increasing to values between 500 and 1,271x bet for clusters of 40+.
There are also a few different ways to see Wild symbols. When you do, they substitute for all symbols.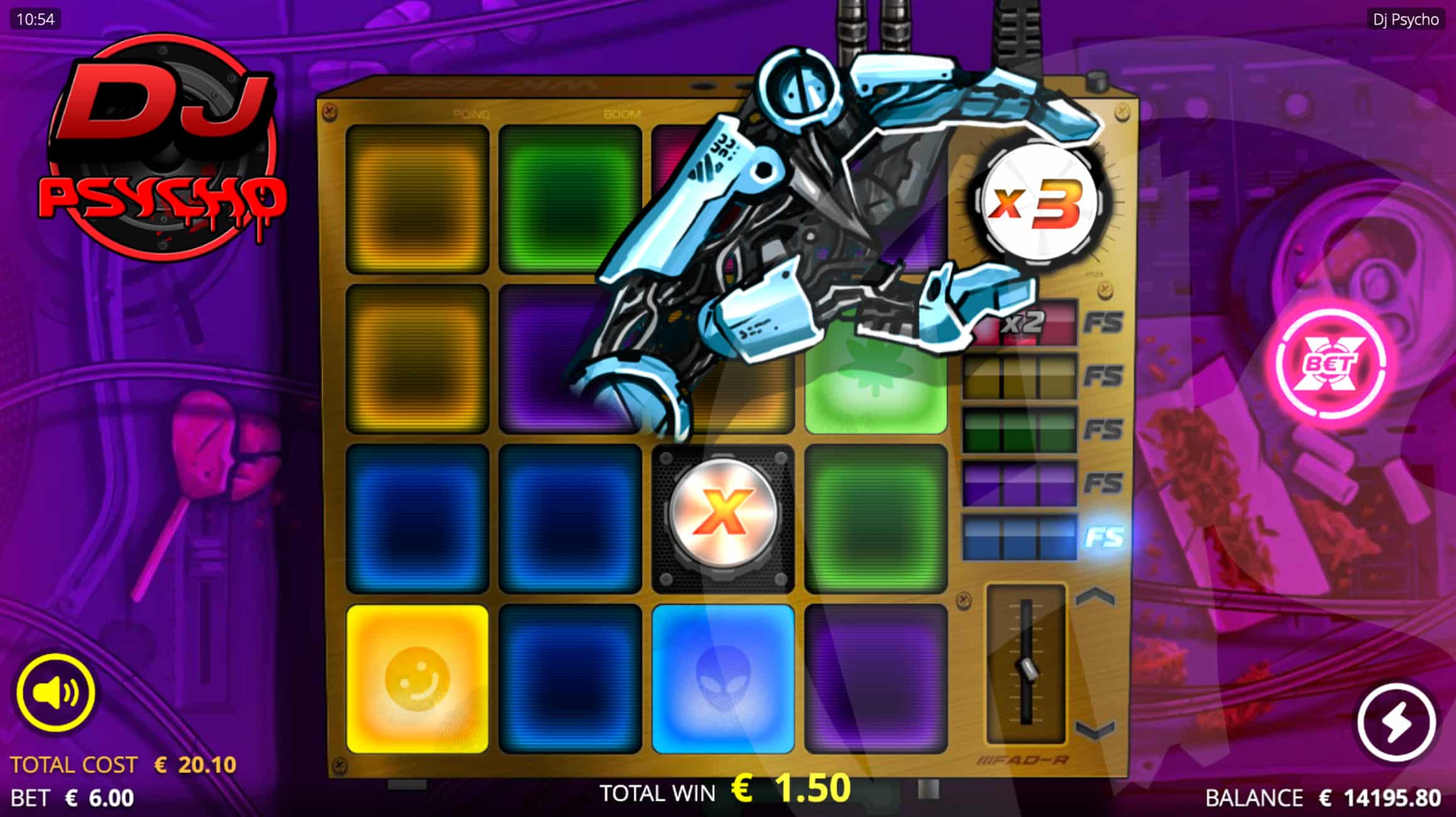 Boosted xBet
There are a few things to cover in DJ Psycho, beginning with Boosted xBet. By betting an additional 235%, it becomes 3 times more likely to trigger Gees! Spinz and 7 times more likely to trigger Psycho Spinz. When playing the 96.05% setting, RTP decreases slightly to 96.01% when using xBet.
Next up are avalanches. On every spin, all symbols involved in a win will be removed from the reels, although unlike we usually see in avalanches – remaining symbols do not drop down to the bottom of their reels. New symbols will then drop in to fill the gaps, with avalanches continuing until no new wins are formed.
Special Symbols
Now this is the part where things get a bit confusing, but stick with me. There are a number of special symbols that can land in DJ Psycho, altering symbols.
Break – gives itself and neighbouring symbols (above, below, left and right) additional symbol values, turning them into Crossed symbols.
Bite – gives itself and diagonally neighbouring symbols additional symbol values, turning them into Crossed symbols.
Drop – when 2 Drop symbols land on the reel area, the shortest path between them is selected, and all symbols on this path are transformed to a second symbol.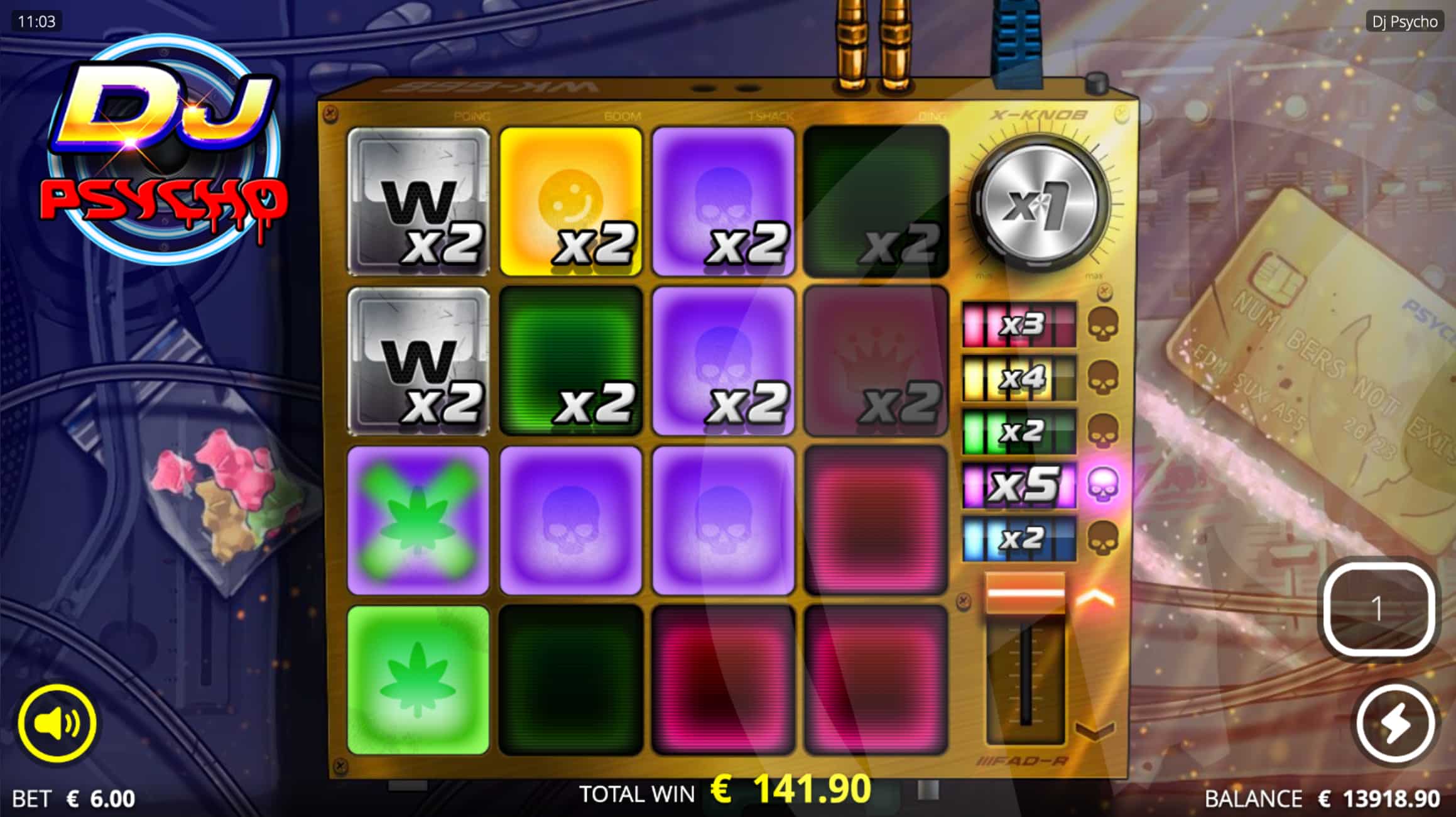 Crossed symbols are symbols that can count as 2 different symbols on the reels. When a non premium symbol becomes a Crossed symbol, it will have 2 non premium symbols within itself.
When a premium symbol becomes a Crossed symbol, it will have 2 premium symbols within itself. If a newly formed Crossed symbol gets transformed again, it becomes a Wild symbol.
Additionally, the following special symbols are possible.
xKnob – turns into a Wild symbol and adds a minimum of +1 to the overall win multiplier.
xBPM – turns into a Wild symbol and multiplies the symbol size by x2 for each symbol on its row.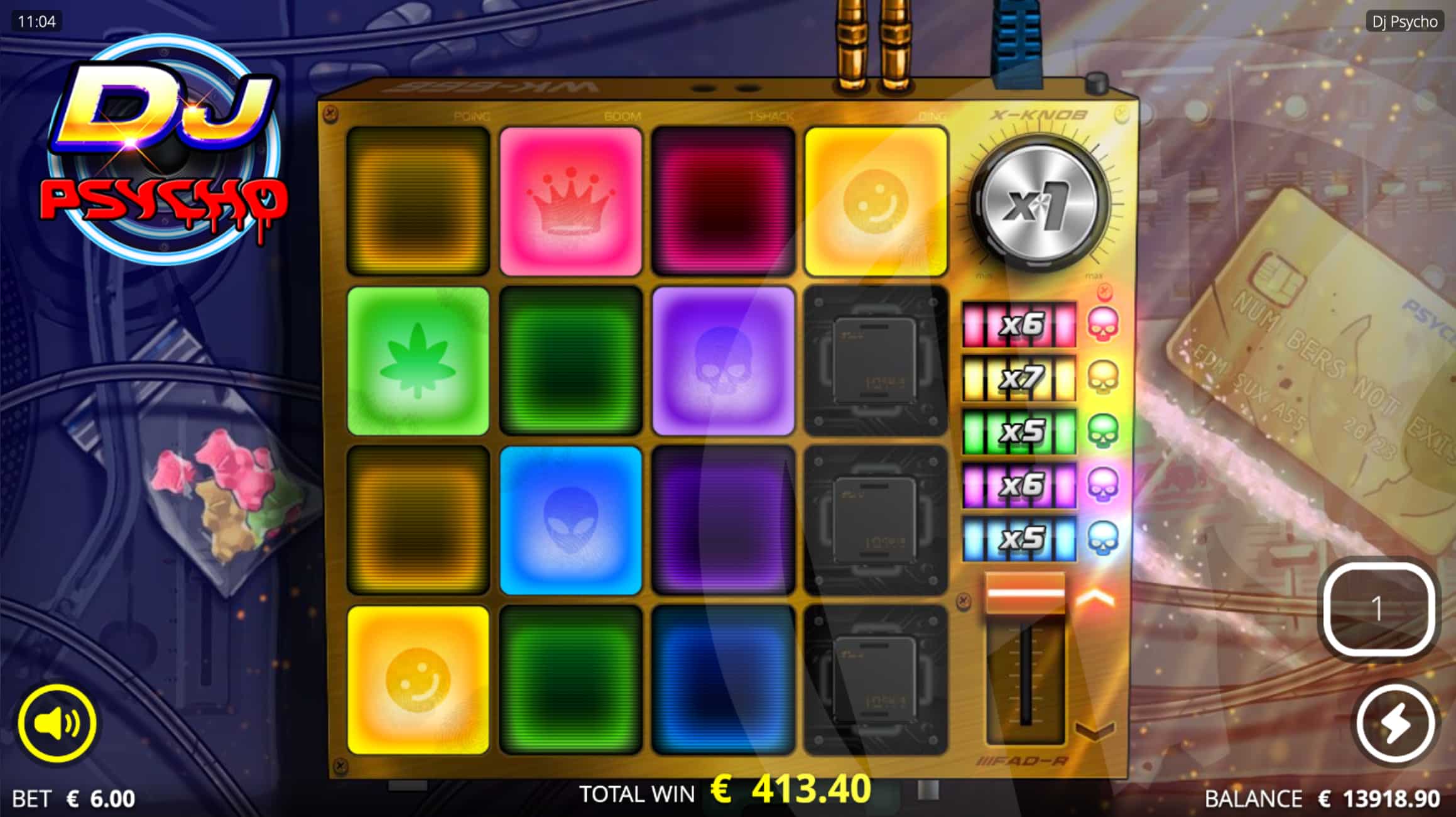 Beat Bar
Finally for the base game is the Beat Bar, which has every symbol colour on it. Since non premiums and premiums share colours, there are only 5 colours in total – blue, purple, green, yellow and pink.
Each time a coloured symbol connects, its meter on the Beat Bar increases by +1, thereby incrementing the multiplier of all instances of this symbol by +1. This is how symbols hold cluster size values up to 40+. There are never more than 16 symbols on the screen at a time, so we rely on multipliers to increase the potential cluster size.
Beat Bar progress is sticky during avalanches but resets ahead of each new spin in the base game.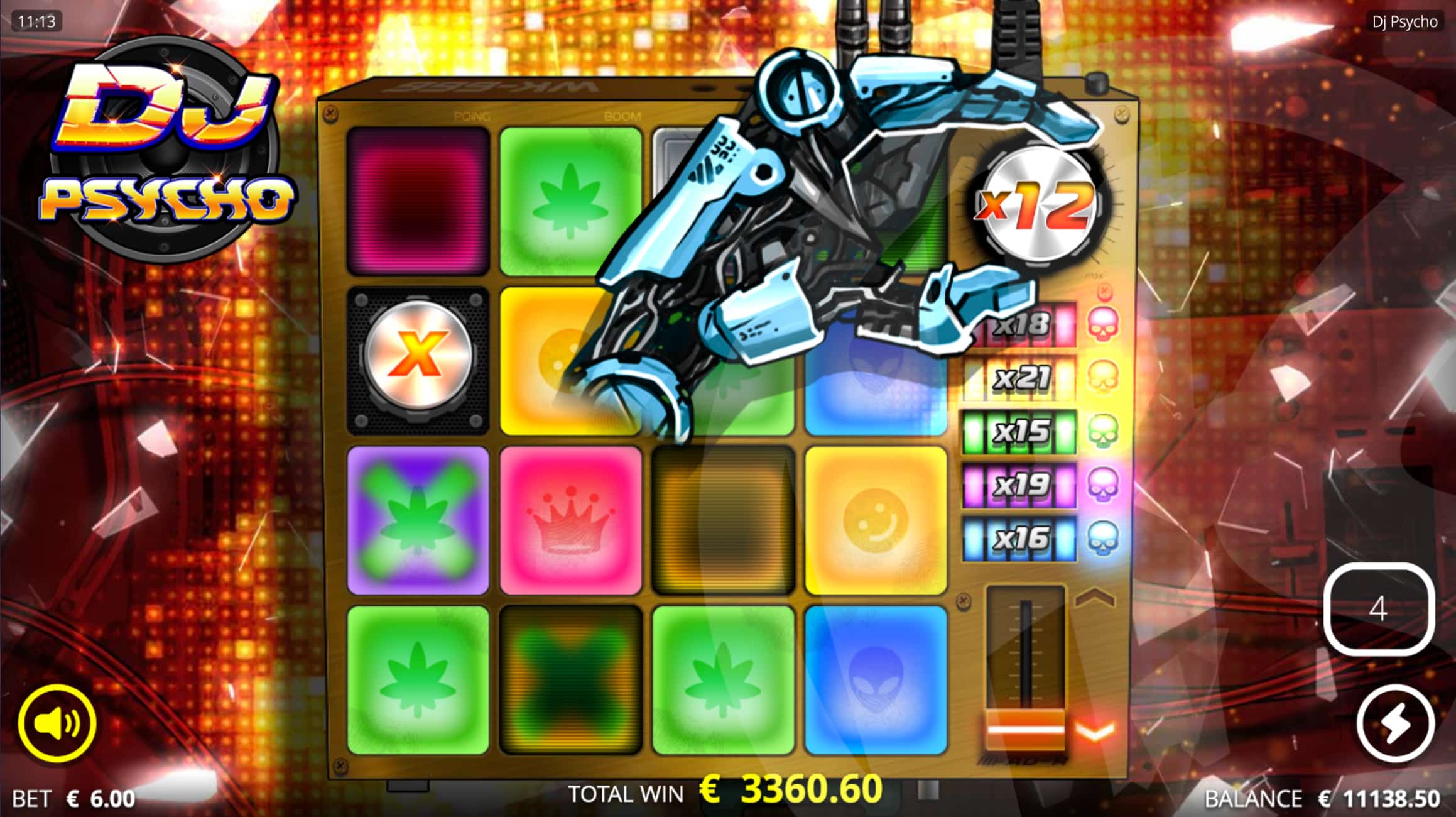 DJ Psycho Bonus
Each spin, colours are chosen on the Beat Bar to act as Freespins triggers – this can be only 1 colour, or all colours. If the multiplier of all of the chosen colours reaches x3 then 5 Gees! Spinz are awarded.
Things continue in the same way during Gees! Spinz except that each time a coloured symbol reaches x3 an additional +2 spins are awarded. Beat Bar multipliers carry over from the base game, so the triggering colour(s) will already have reached x3 and therefore cannot award additional spins.
Super Bonus
Reaching a x5 multiplier for all coloured symbols in Gees! Spinz will trigger Psycho Spinz for the remaining spins. If a x5 multiplier is reached for all symbols in the base game, 17 Psycho Spinz are triggered.
Each winning combination in Psycho Spinz will guarantee a feature symbol in the next avalanche.
In either Freespins mode the Beat Bar progress does not reset between spins. In Psycho Spinz, the overall win multiplier achieved through xKnob also does not reset between spins.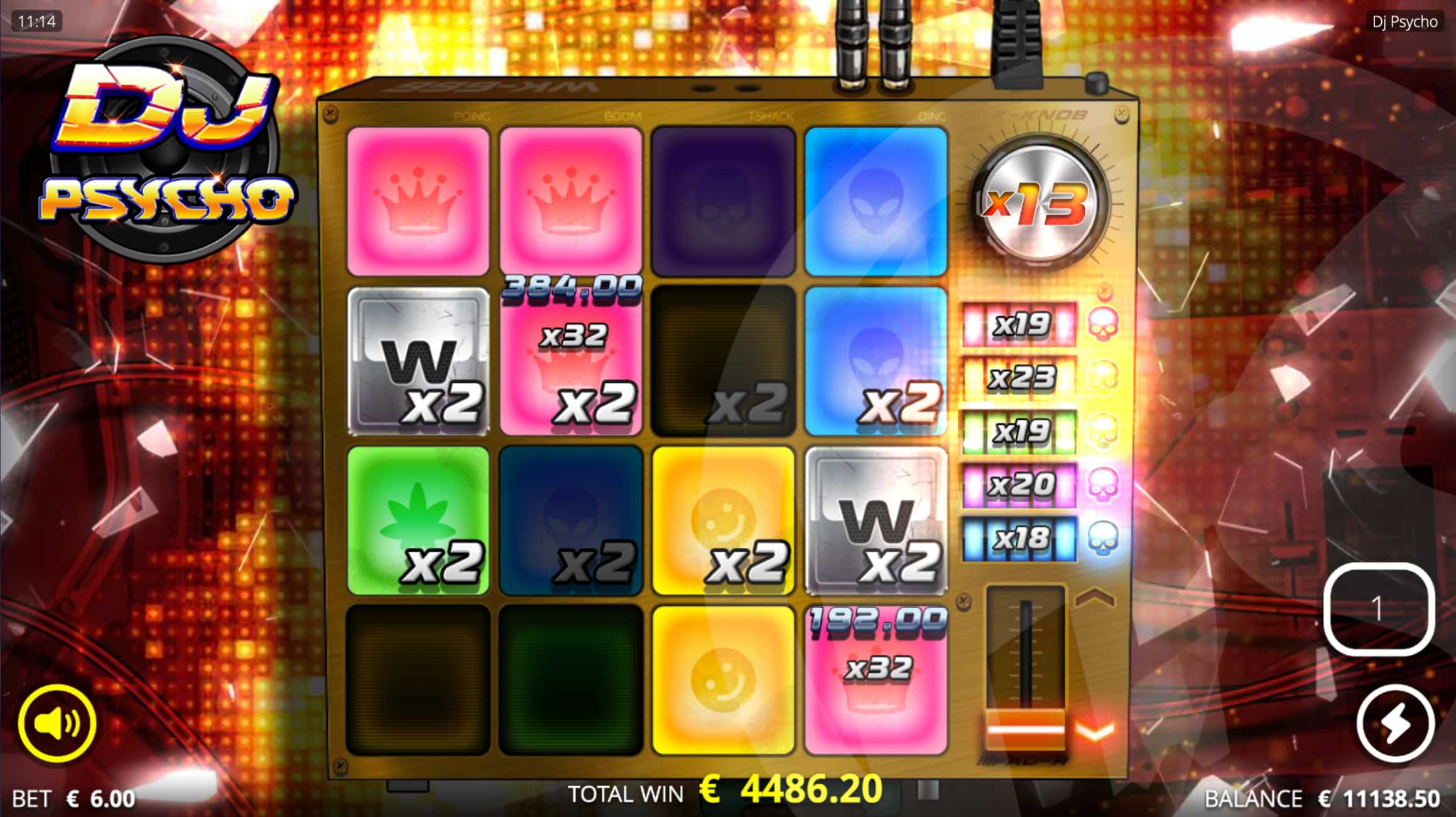 Nolimit Bonus
Players in appropriate regions can take advantage of the following Nolimit Bonus options:
7 Gees! Spinz – 50x bet (96.27% RTP)
15 Psycho Spinz – 420x bet (96.33% RTP)
Lucky Draw – 77x bet (96.21% RTP)
Lucky Draw 2 (40% Psycho Spinz, 20% Gees! Spinz, 20% Lucky Draw) – 209x bet (96.20% RTP)
RTP values above are based on the overall RTP setting of 96.05%.
The maximum win available in DJ Psycho is 25,420x bet (REMIXED). If the sum of a single game round exceeds this, the game round will end and 25,420x bet will be awarded.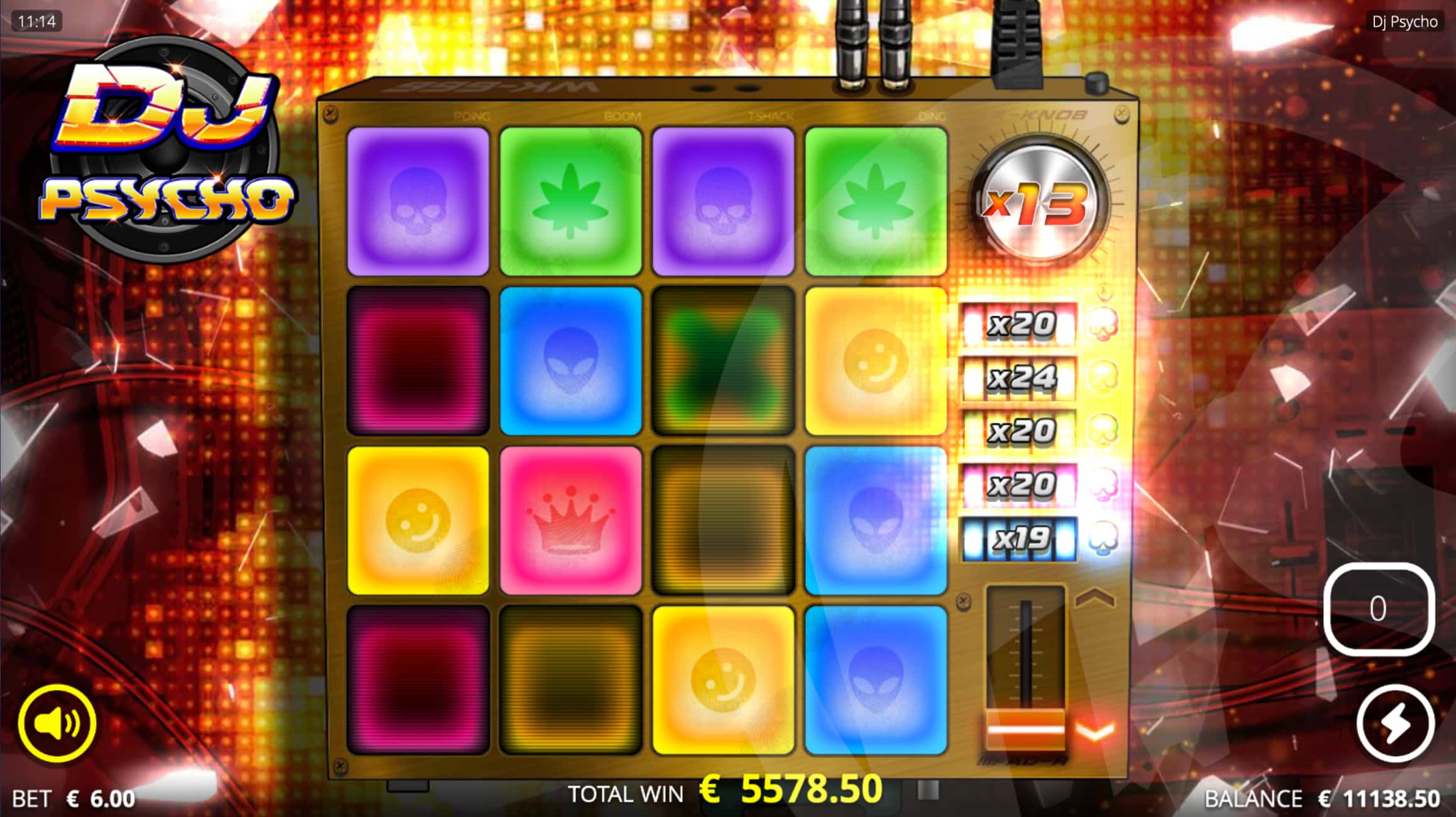 First Impression
Well, that was a lot. There's one thing that's clear – DJ Psycho screams Nolimit City. From the bold artwork (including drugs scattered throughout) to the intense soundtrack, it would be obvious to anyone who is behind this one. One of the ways in which this is the case is through the sheer volume of small features working together simultaneously – a bit like Mental.
Once you spend a bit of time playing it, it becomes simpler to understand – but there's definitely a (lengthy) period of time at the start where symbols are turning into dual symbols, upgrades are happening, multipliers are increasing, symbols are changing to Wilds, and the Beat Bar is tracking progress and you just sit there and think 'what is going on?'. Like I said, you get past it – especially if you take the time to read the game information.
That said, there are some players that aren't interested in having to think about what's going on. If you're one of those players, this one probably won't be for you.
When we move into either Freespins mode things definitely kick up a notch, with plenty of additional spins on offer as well as an increasing overall win multiplier that doesn't reset in Psycho Spinz. Combine that with symbol multipliers increasing through the Beat Bar and symbol values on offer up to 1,271x bet and you see what this release can really do. When the right combinations land, wins are possible up to 25,420x bet.
Finally, maths is rated only as medium (6) for volatility, which is a change, and RTP options are available up to 96.05% (up to 96.33% feature buy), so as always it's worth checking this. If you're prepared to spend a bit of time getting to grips with things, DJ Psycho is a great addition to the Nolimit City catalogue for any player. If you don't want to give it that time, you might find it all a bit too much.
Other maths information, for those who are interested, is as follows:
RTP: 92.08% – 96.05%
RTP Main Game: 54.35%
RTP Bonus: 41.70%
Volatility: Medium (6)
Free Spins: 1 in 147 spins
Win 100x bet: 1 in 997 spins
Max win: 25,420x bet
Max Win Main Game: 1 in 37 million spins (96.05% RTP)
*The screenshots taken of games reviewed on this site are taken from Demo Play, as reviews are often written before games are released for real play.