If there's one studio who like to reach outside of the gambling industry for inspiration on a new game, it's Big Time Gaming. Whether it's scouring the discography of The Cult for the perfect track in releases like Lil' Devil, Wild Flower, or Outlaw, tapping into the works of Boney M for a release like Rasputin Megaways, or reaching into the world of gameshows for releases like Wheel of Fortune and Who Wants To Be a Millionaire, the team at Big Time Gaming have all the bases covered when it comes to finding the right theme. It's the latter we return to today as we take on another game show release in The Race Megaways. With a fixed RTP of 96.27%, this highly volatile release can produce wins up to 24,070x bet.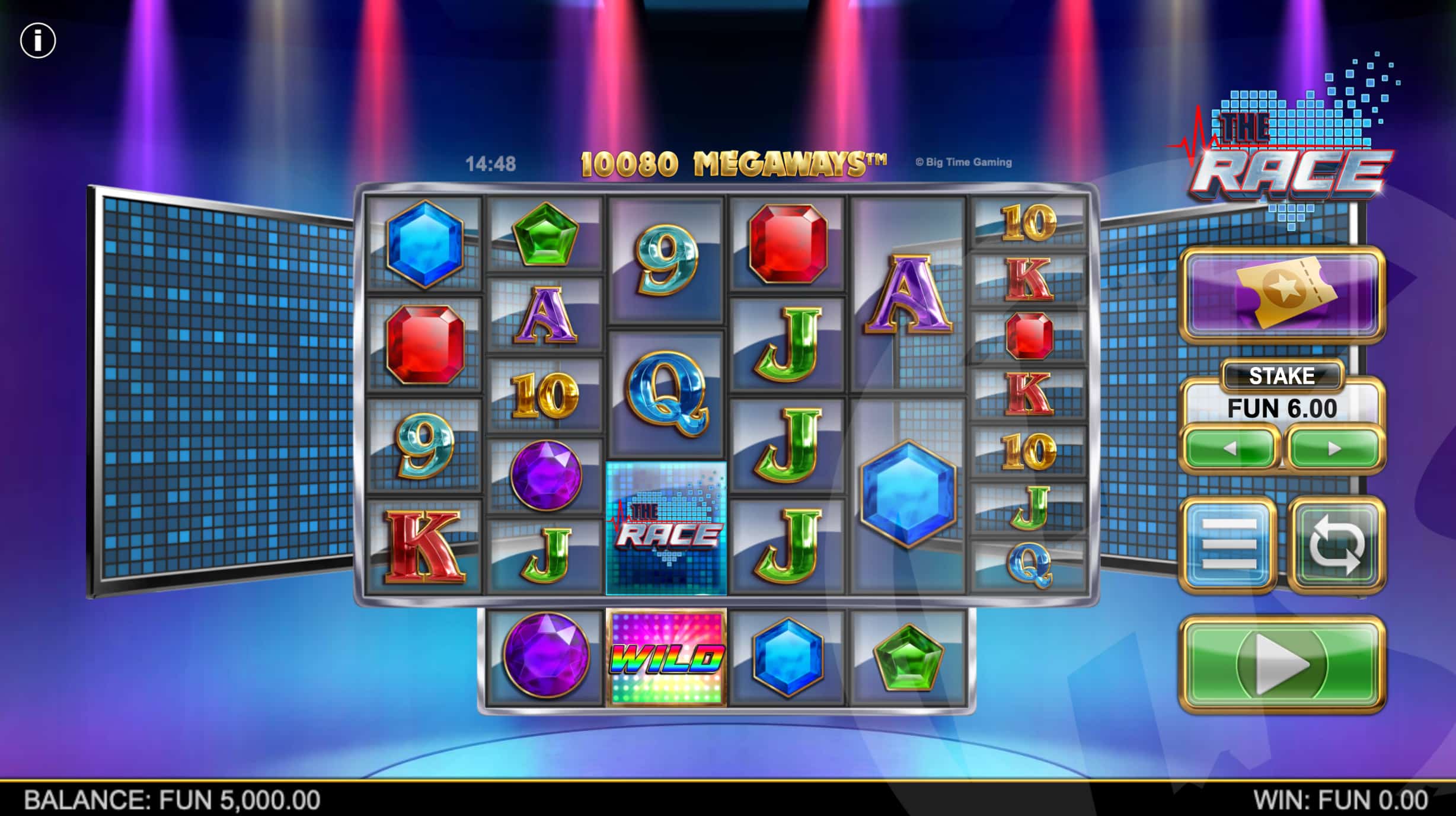 There isn't much room for comparison in this one. Far as I can tell, The Race Megaways is themed around The Race. Alright, I know that's obvious, but which 'The Race'? Anyway, I think it's a reality game show that aired in the UK in November 2006. It seems like the show, hosted by Denise van Outen, only ran for 1 season and a total of 7 episodes, and since 2006 wasn't exactly peak time for internet usage, there doesn't seem to be much information online. All this to say, this release could be absolutely bang on visually, or it could be completely unique, just borrowing the name. Either way, there's a clear game show kind of vibe going on with spot lights, light panels, and a logo that makes me think The Race had something to do with getting your heart racing. This deduction is only enhanced by the audio track – a classic Big Time Gaming style, with an added heartbeat.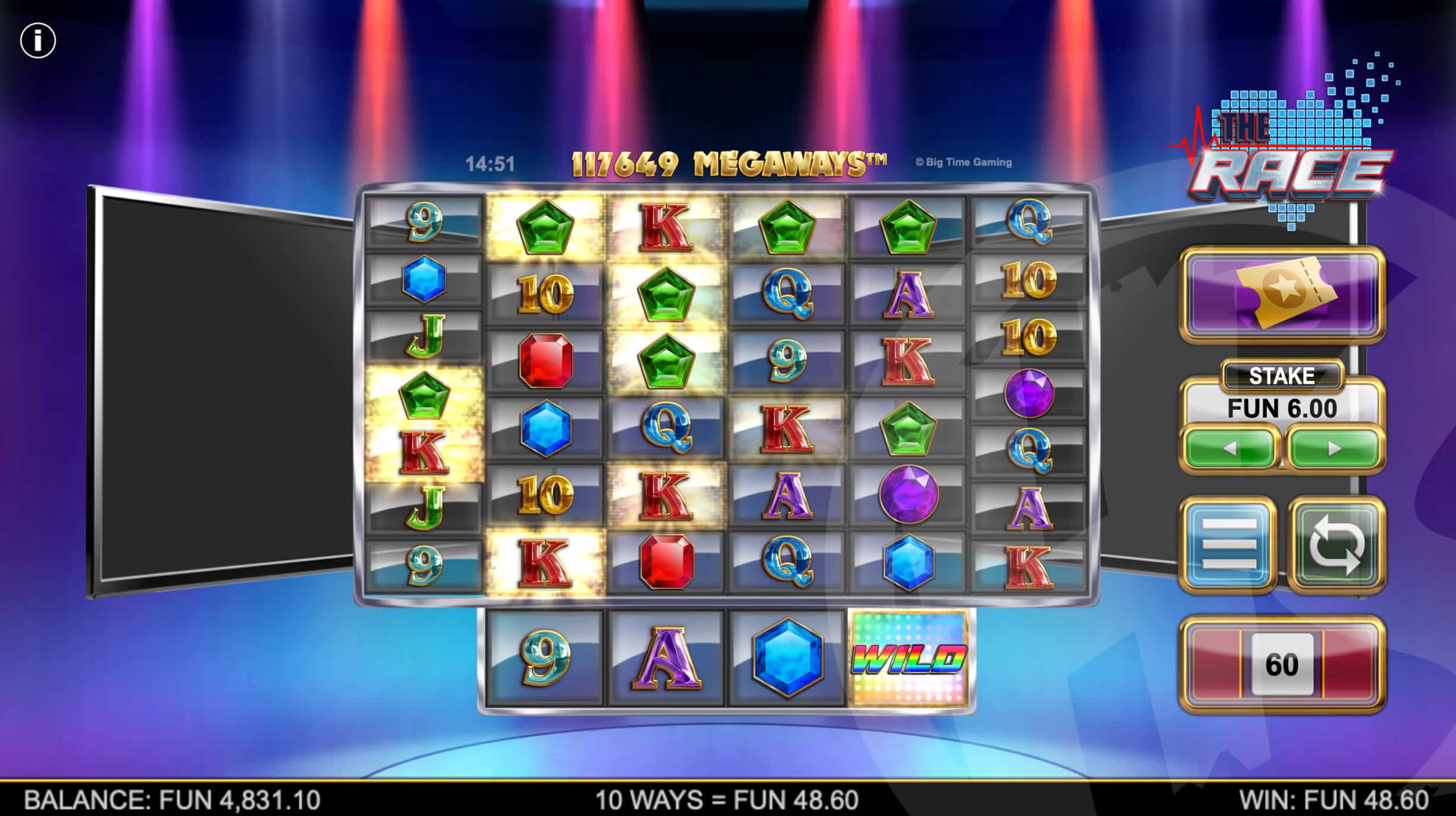 The Race Megaways Base Features
Taking place across 6 reels, wins are formed on The Race Megaways by matching at least 2 or 3 symbols on adjacent reels, beginning with the leftmost reel. Each reel can hold a maximum of 7 symbols, including the Extra Reel below reels 2-5, producing a maximum of 117,649 ways to win. Symbols available begin with non premiums, with 9s, 10s, Js, Qs, Ks, and As, awarding wins between 0.10 and 0.20x bet for 3 of a kind matches, increasing to values between 0.50 and 0.90x bet for 6 of a kind matches. At the premium end, it's the usual Big Time Gaming lineup, with green, blue, and red gems. Land 3 of a kind of any premium to see wins between 0.25 and 1x bet, increasing to values between 1 and 5x bet for 6 of a kind. Purple gems are the highest paying symbol and also the only symbol to pay for 2 of a kind. Land 2, 3, 4, 5, or 6 purple gems to see wins of 1.50, 3, 5, 7.50, or 12.50x bet, respectively. Finally, rainbow Wilds are available, substituting for all symbols except Scatter symbols and Terminator symbols.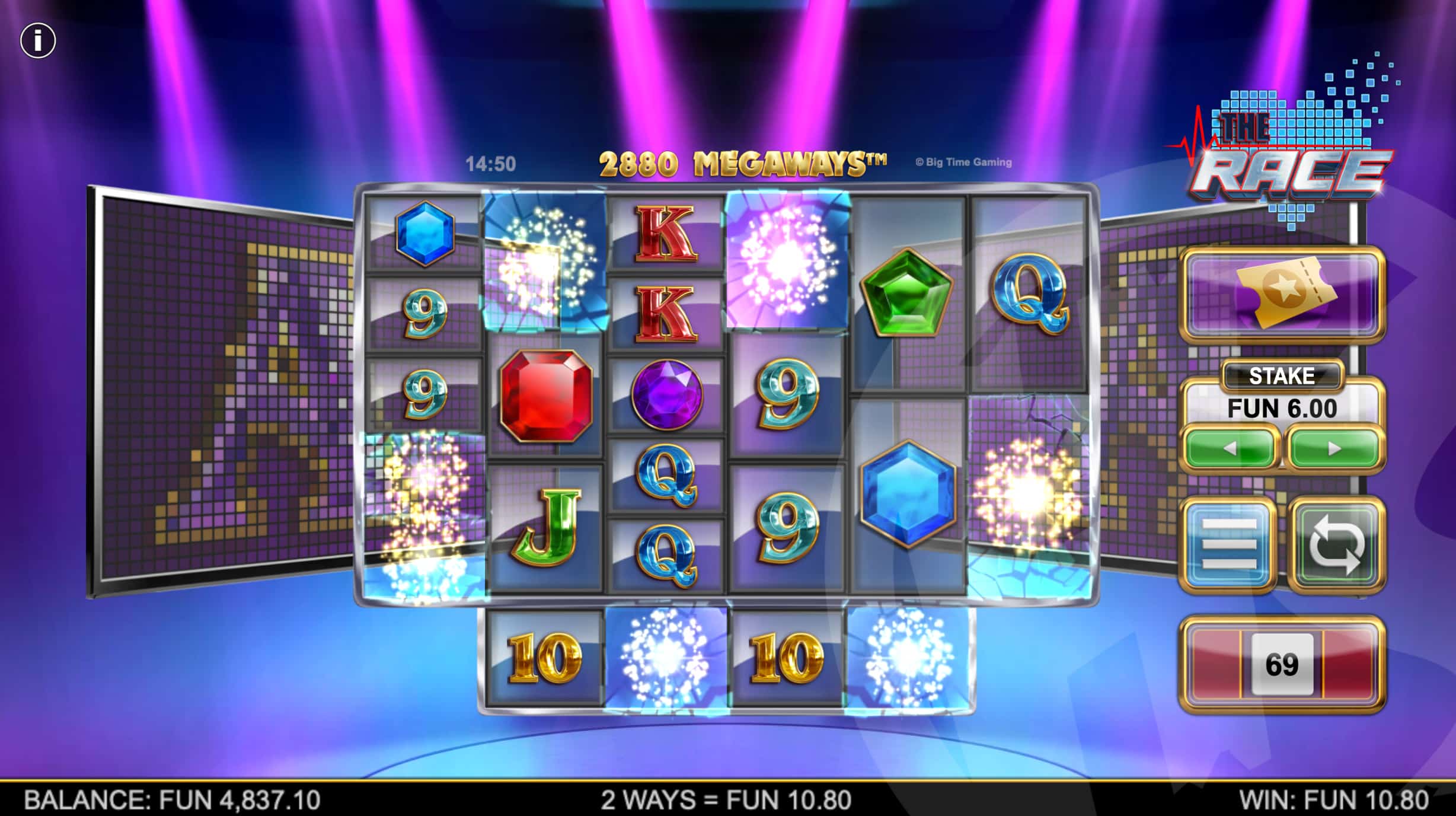 The first thing to cover in The Race Megaways is Reactions. On every spin, all symbols involved in a win will be removed from the reels. All remaining symbols will then drop down to the bottommost available position on their respective reels, with new symbols dropping in from above to fill any remaining gaps. On the Extra Reel below reels 2-5, symbols will move to the left and fill in from the right. Scatters are not removed through Reactions, which continue until no new wins are formed.
Next up are Wild symbols. Wild substitute for all symbols except Scatters and Terminators, and can appear on reels 2-5 only. After reels have stopped spinning, it is possible that one Wild symbol may duplicate. When this happens, all symbols on the respective reel will be replaced by Wilds, including the Extra Reel below reels 2-5.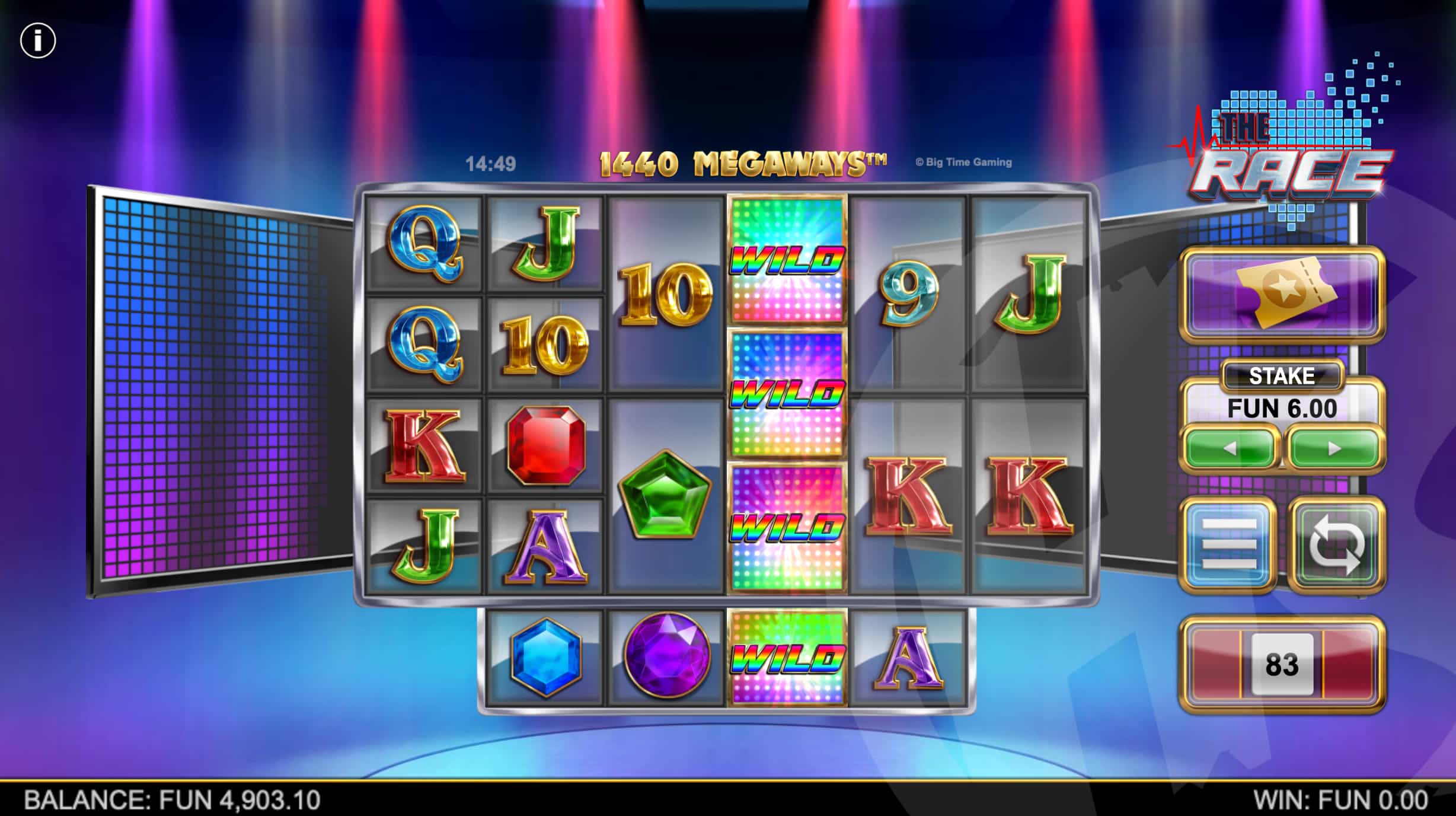 Finally, Win Exchange™ is available. With Win Exchange, whenever you win 100x bet or more, you have the option to exchange 100x bet for a Heart Bonus Round. If you have won more than 100x bet, only 100x bet will be exchanged, and the remainder will be added to your bonus win.
If you win between 25 and 99x bet, you have the option to exchange the entire win for a chance to be awarded a Heart Bonus Round – by gambling. The chance of winning the gamble is represented by green on the wheel, and the chance of losing is represented by red. The higher x bet the win, the more green will be present on the wheel.
The Race Megaways Bonus
Land 3 or more Scatters to trigger the Heart Bonus Round. During this feature, 3 respins are awarded and special reels are spun on a 4×5 grid that can award Hearts. Each time a Heart lands, respins will reset back to 3. The Heart Bonus will end when no respins remain, or when the maximum of 20 Hearts has been reached. Players will start the Heart Bonus Round with 3 or more Hearts – equal to the number of triggering Scatters.
There are no set number of spins awarded. Rather, unlimited Free Spins are awarded, with each Heart that has landed counting as a 'life'.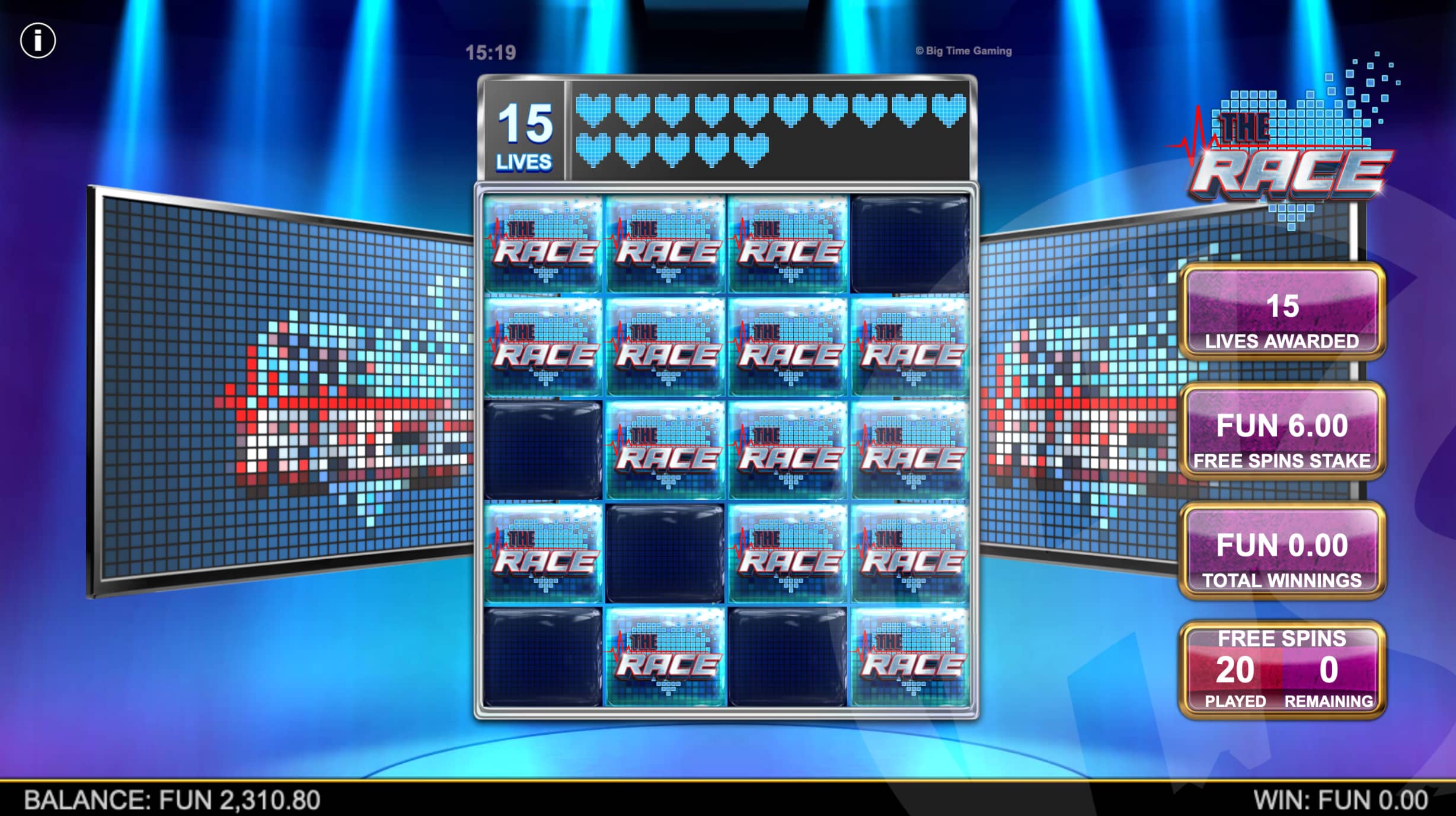 At this point, Free Spins begin. Players will start the Free Spins round with the number of lives they were awarded in the Heart Bonus Round.
There is an unlimited win multiplier active in Free Spins, which increments by +x1 for each reaction. Wild Duplication remains possible during Free Spins, although it is now possible that any Wilds added to the reels with Wild Duplication may have multiplier values of up to x5 applied.
Finally, a Terminator symbol may appear on reel 6 only. Each time a Terminator symbol lands, the lives remaining reduces by 1. Free Spins will end when no lives remain.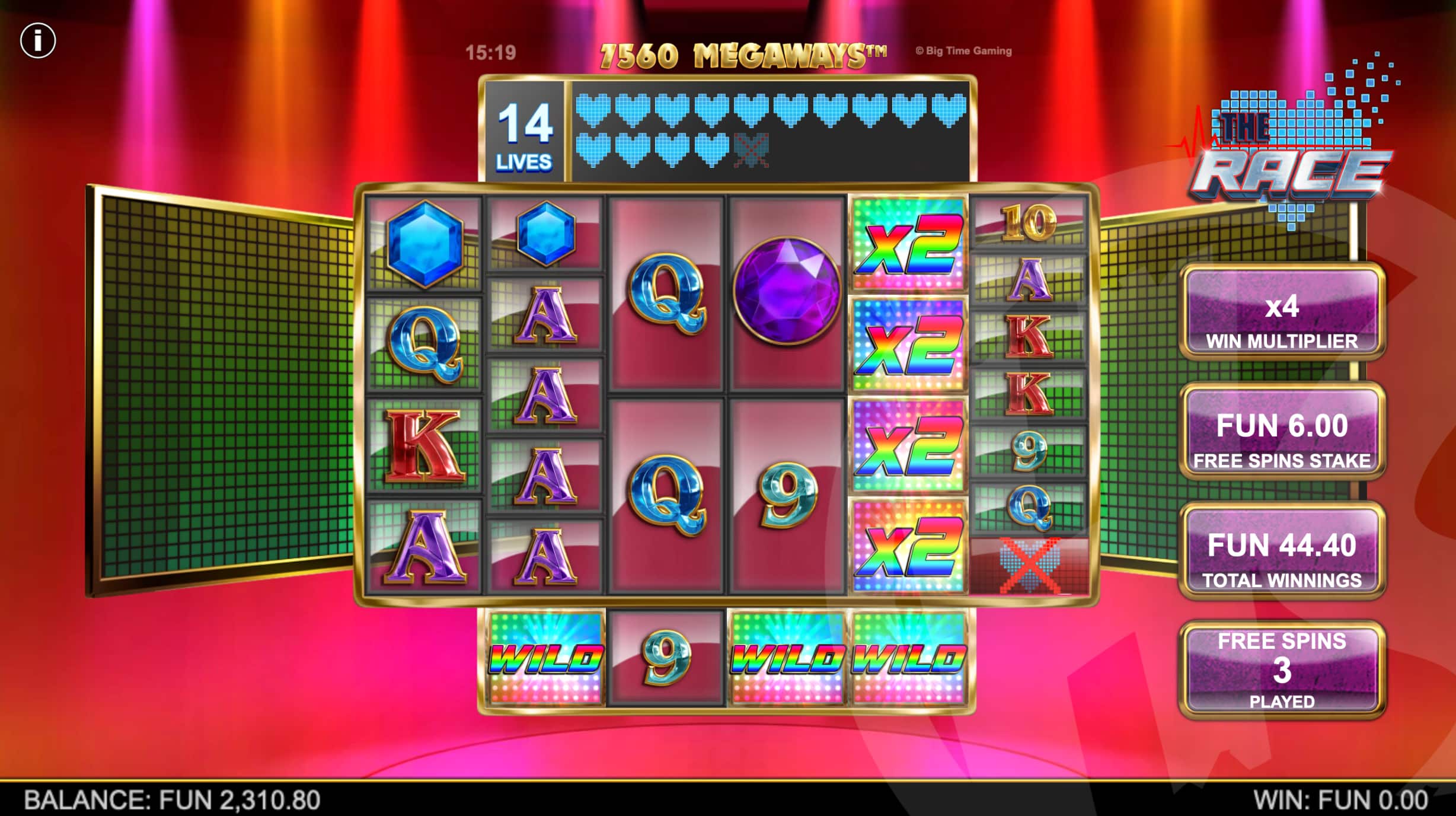 Players in appropriate regions can skip straight to the action with the Bonus Buy option. For a cost of 100x bet, players guarantee a Heart Bonus Round. When buying the Heart Bonus Round, players start with 3 Hearts.
Whilst Big Time Gaming usually opt not to place a win cap on their games, the maximum win so far in The Race Megaways has been 24,070x bet.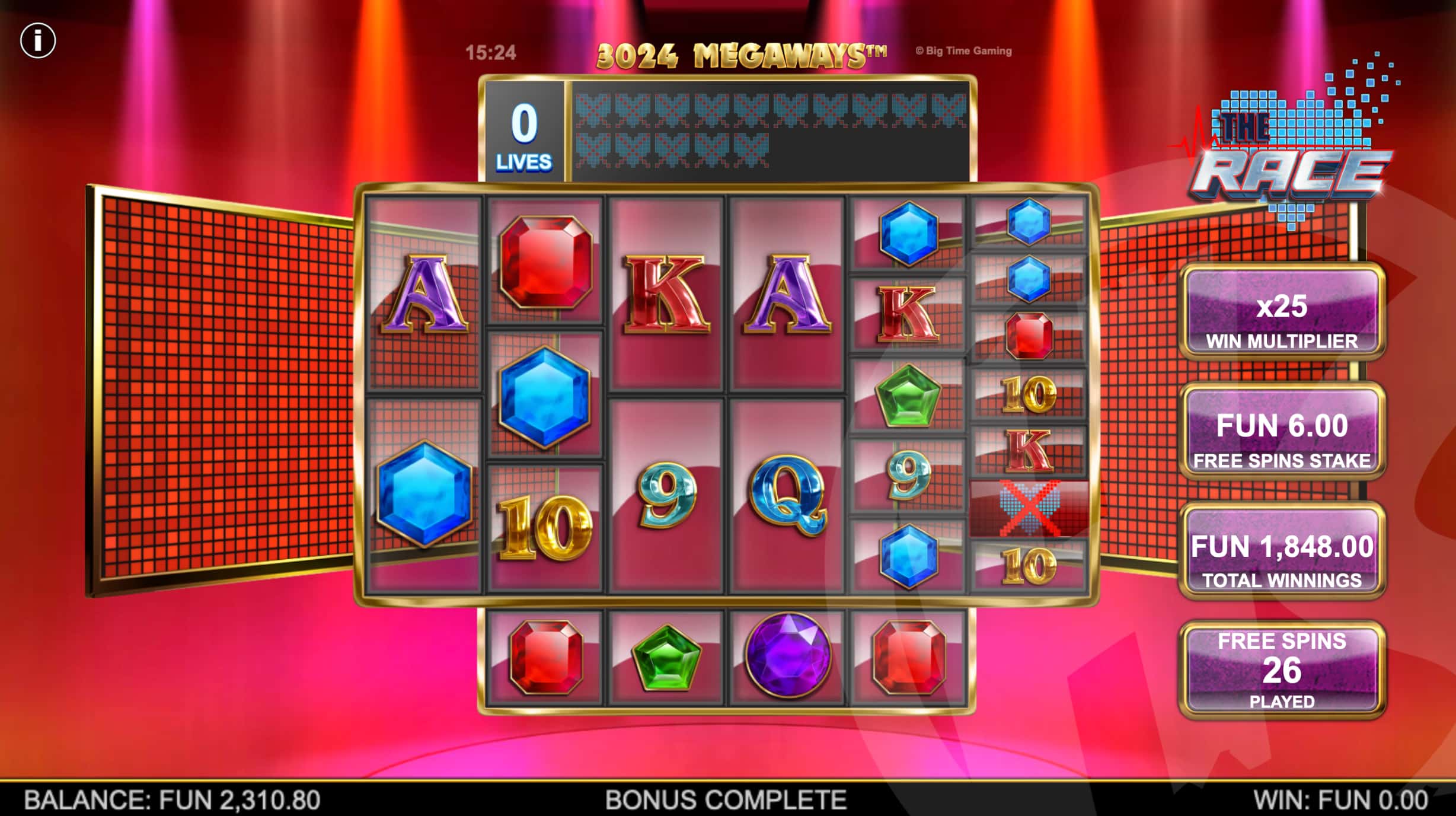 First Impression
The Race Megaways is certainly an interesting addition to the Big Time Gaming catalogue. There are a few new tweaks, but on the whole things are familiar, and comfortable. Base game play is enhanced with the possibility of triggering Wild Duplication or Win Exchange, but other than that Reactions carry the bulk of the weight. That said, Megaways has remained popular for so long in part because of its' ability to produce results in the base game, so for many players this mechanic alone will be enough to draw them in.
Free Spins are where things get slightly more interesting – particularly in the Heart Bonus Round where players are playing to activate lives, rather than spins. With unlimited Free Spins on offer, removing a life each time a Terminator symbol lands is an interesting twist on many of the hold and win features we know, wherein spins usually reset back to a fixed number for each win – like in the Heart Bonus Round. Either way, unlimited spins combined with an unlimited win multiplier and Duplicating Wilds that can contain multipliers up to x5 paves the way for impressive wins. When the right combinations land, wins are possible up to 24,070x bet.
Finally, maths is highly volatile and RTP is fixed at 96.27%, so no complaints there. If you're a fan of Megaways you'll probably like this one, but if you aren't a fan of the classic big ways and unlimited multipliers, it might not hold much appeal for you.
*The screenshots taken of games reviewed on this site are taken from Demo Play, as reviews are often written before games are released for real play.