Shinto, which translates as "the way of the gods", is a native belief system in Japan that has been around far longer than any of the records we hold. The gateway into a Shinto shrine is known as a torii, which is where we find ourselves today, courtesy of Relax Gaming. As we leave behind the laid back vibes of Sloth Tumble, Relax Gaming take us through the torii gates into Japan's dark underbelly for a feud of good and evil.
Whether you take the side of the samurai or the side of the oni after unsheathing your sword, there are plenty of peaks and pits to meet you along the way, in Torii Tumble.
With a fixed RTP of 96.10% (96.50% feature buy), this highly (5/5) volatile release can produce wins up to 20,000x bet.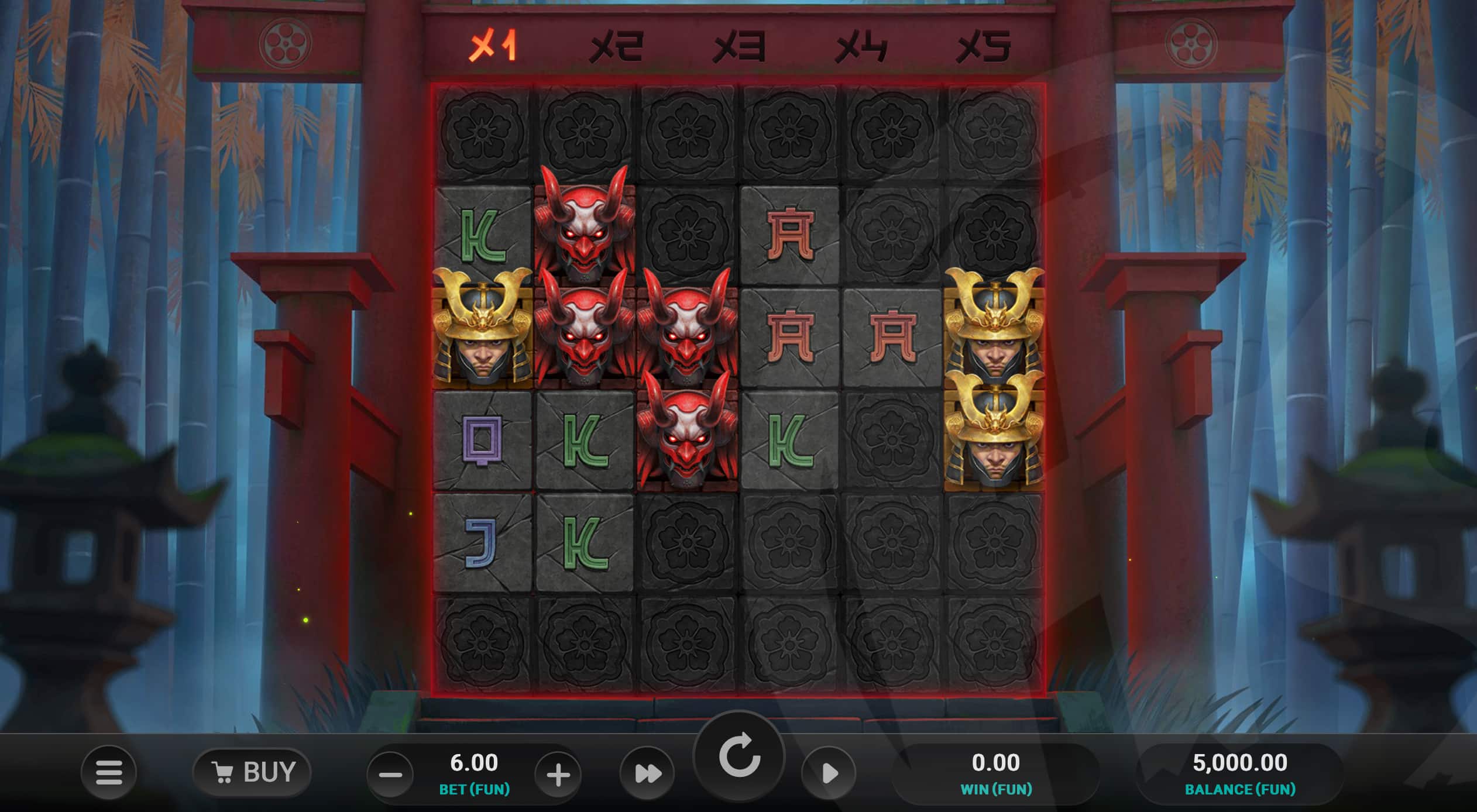 Everything in Torii Tumble screams 'Relax Gaming tumble release' in all the right ways. Stone blockers sit on the grid, which is set within a deep crimson torii. The background looks like some sort of bamboo forest, with a cool blue hue covering everything.
Visible to the front are a couple of lanterns, whilst the rest of our interest is given to the symbols on the grid, which contain a variety of Japanese imagery or symbols. All in all, it's a pretty picture, finished off with a subtle soundtrack to tie it all together.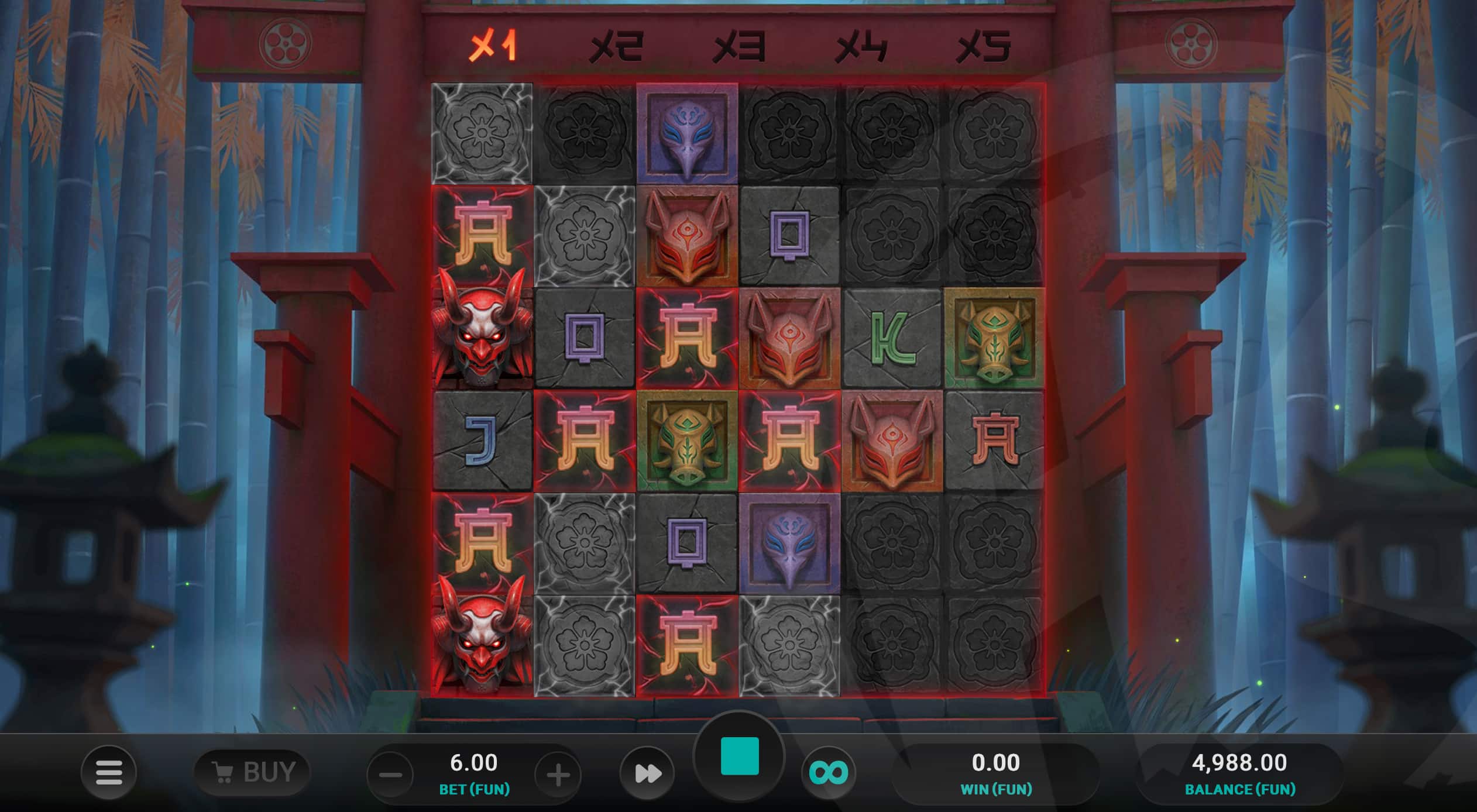 Torii Tumble Base Features
Taking place across 6 reels, wins are formed on Torii Tumble by matching at least 3 symbols on adjacent reels, beginning with the leftmost reel. Up to 6 symbols can land on each reel, producing 46,656 ways to win. Symbols available begin with non premiums, with Js, Qs, Ks and As, awarding wins between 0.05 and 0.20x bet for matches between 3 and 6 of a kind.
In the mid range, we have 3 masks in purple, green and red, awarding wins between 0.10 and 0.40x bet, again for matches between 3 and 6 of a kind. Premiums consist of an oni and a samurai, awarding wins of 0.20 and 0.30x bet respective for 3 of a kind matches, increasing to values of 0.60 and 1x bet respectively for 6 of a kind wins.
Finally, Wild symbols can land on reels 2-6 and substitute for all symbols except Bonus symbols.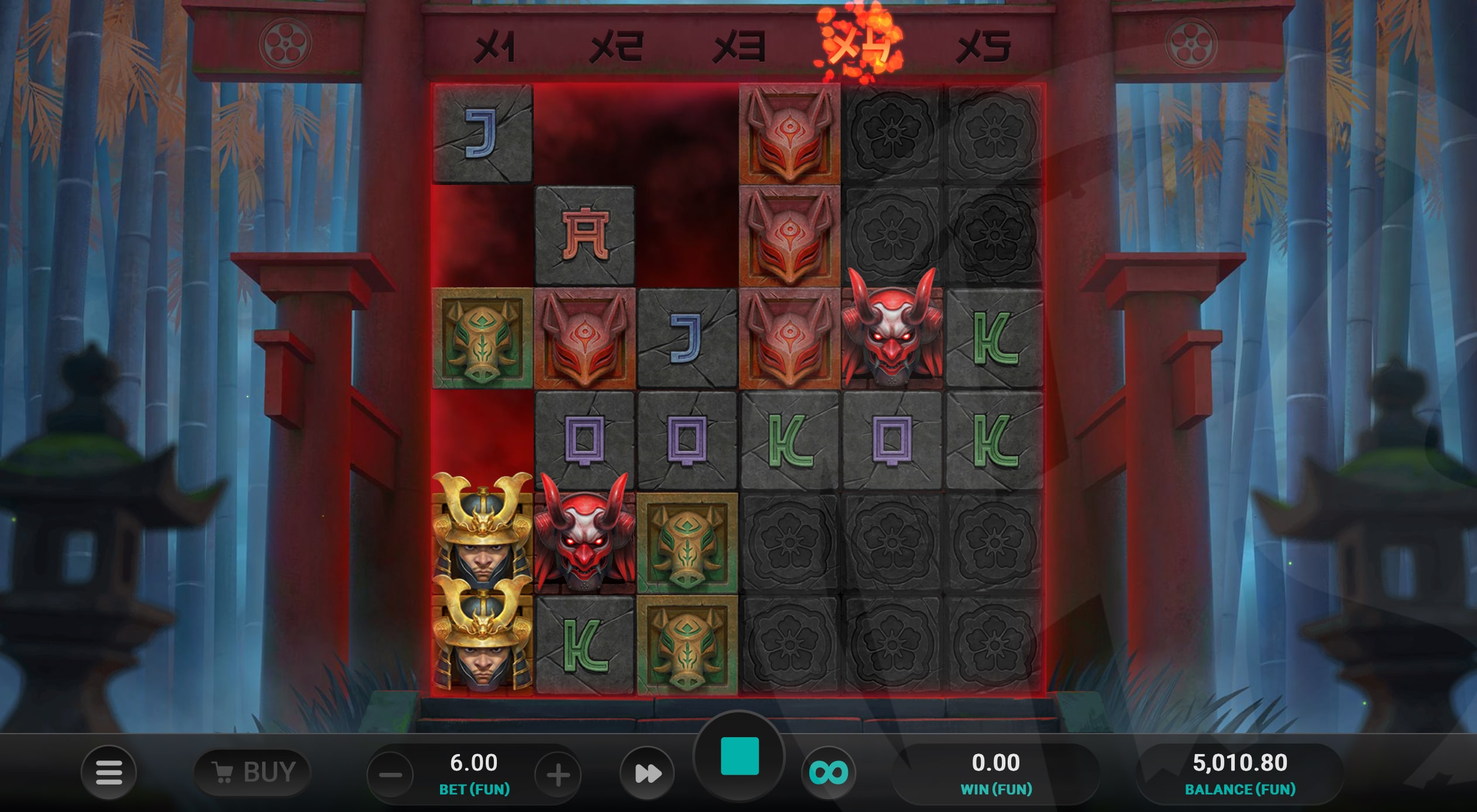 There are a few different features to cover in Torii Tumble, beginning with the actual tumbles. On every spin, all symbols involved in a win will be removed from the grid, with remaining symbols dropping to the bottommost available position on their respective reels.
New symbols will then drop in from above to fill the remaining gaps, with tumbles continuing until no new wins are formed.
Stone Blocks
Working alongside this is the fact that we have stone blocks on the grid.
Whilst each reel can hold up to 6 symbols, at the start of each spin a random number of positions on the grid will have stone blocks acting as blocker symbols. These positions will always be at the top or bottom of reels.
When tumbles occur, any winning symbols removed from the grid will also remove any stone blocks adjacent to them, thereby increasing the ways to win. It is not possible for new blocker symbols to fall in during tumbles.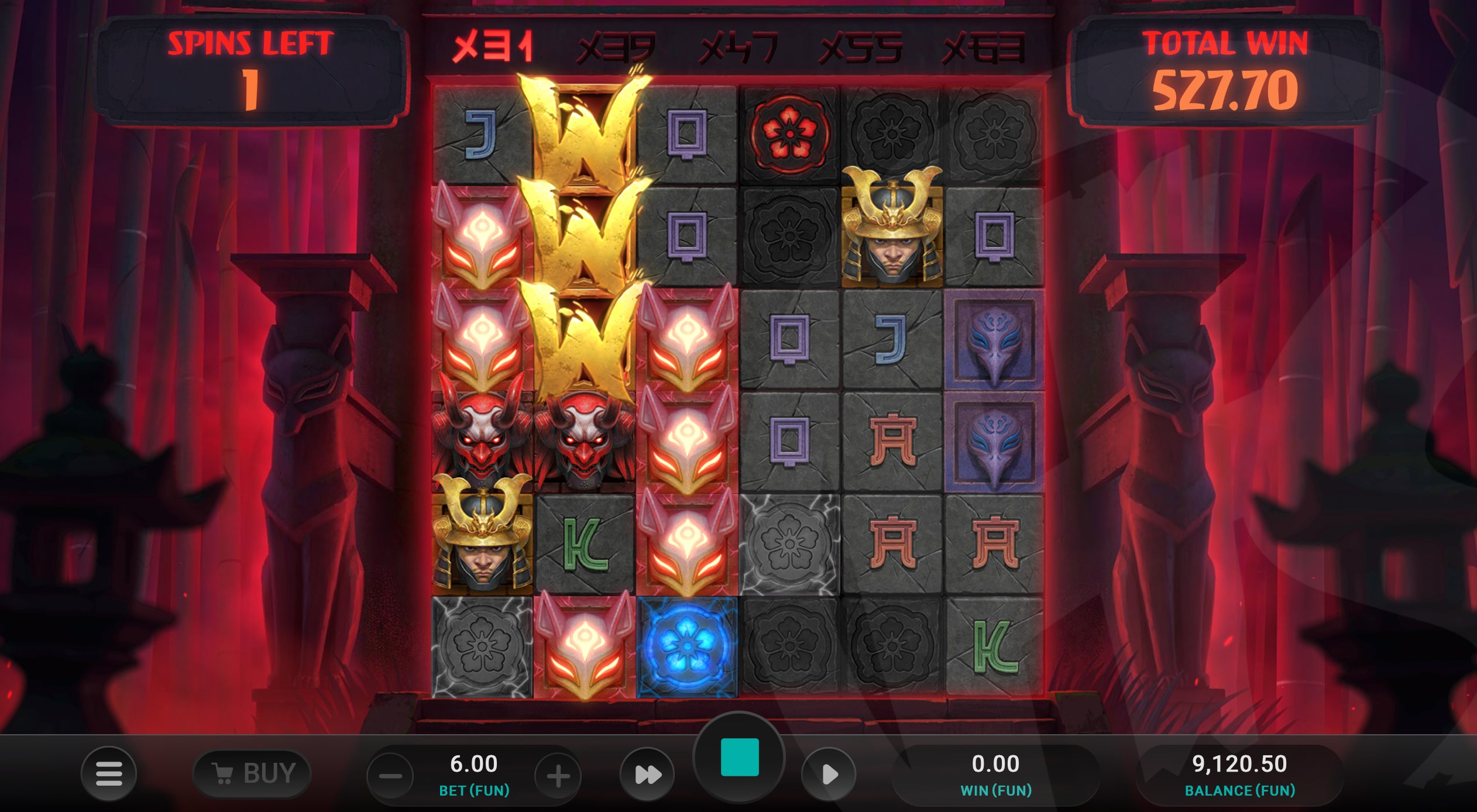 Special Stone Blocks
Alongside regular stone blocks, special stone blocks can land on the grid. When these stone blocks are removed, they reveal certain powers.
Multiplier Booster (Red Special Stone Blocks) – add +1, +2 or +3 to each of the multiplier ladder values.
Spin Saver (Green Special Stone Blocks) – when no more wins are formed, an active Spin Saver will remove all paying symbols from the grid and replace them with new ones for a chance of a new win.
The final feature is one we mentioned above – the multiplier ladder. Each time a winning tumble occurs, the multiplier ladder will increase by +1.
The active value will then be applied to all winning combinations that occur after it has been activated.
All values on the multiplier ladder will be doubled when all stone blocks have been removed from the grid.
The multiplier ladder progress resets back to the start when a new game round begins.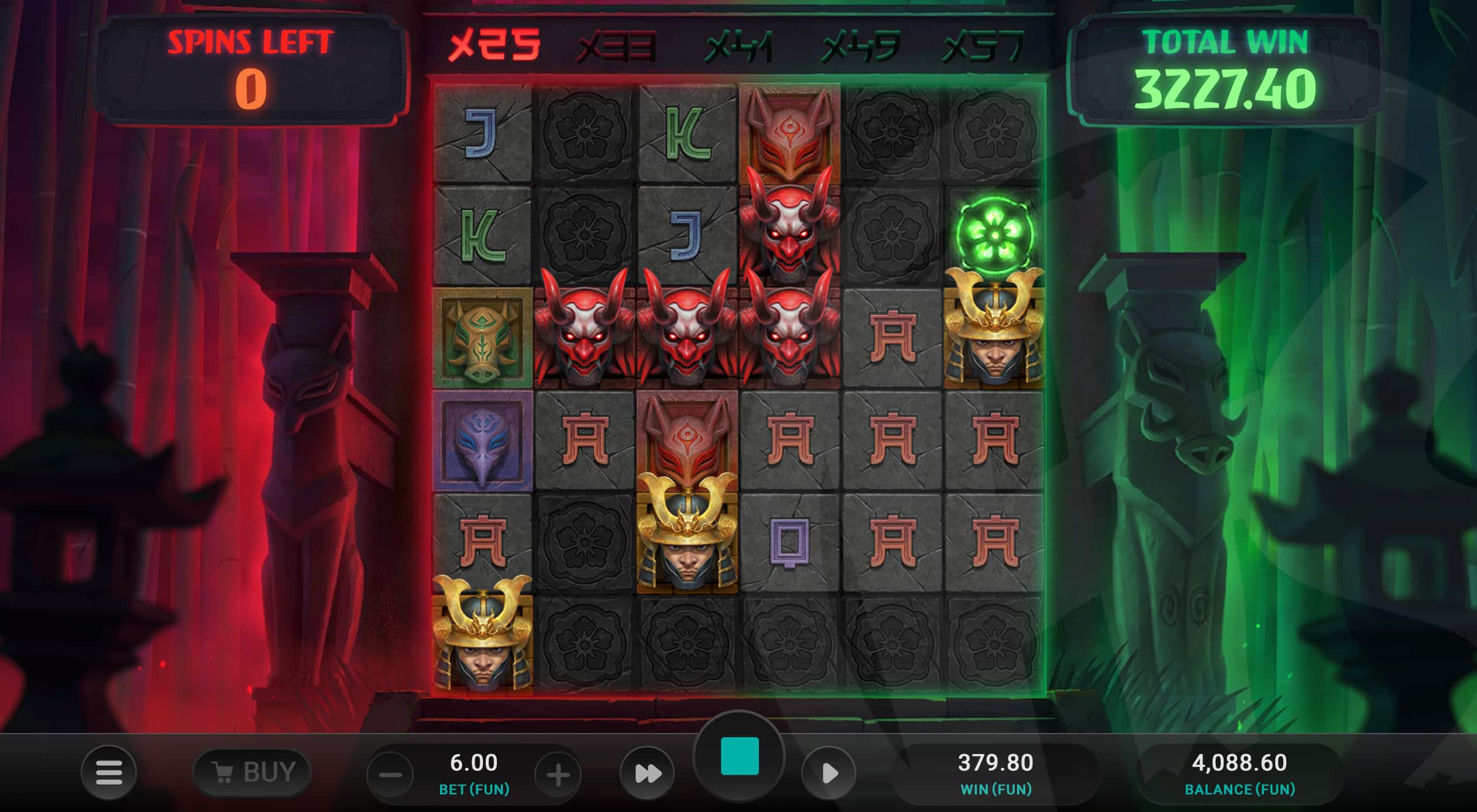 Torii Tumble Bonus
Land 3 or more Bonus symbols to trigger 8 Free Spins, plus an additional +1 spins for each Bonus symbol beyond the third. All multiplier ladder values will be doubled and then transferred into Free Spins.
Alongside the special stone blocks mentioned above, Free Spins will also contain blue special stone blocks, which reveal an additional +1-3 spins.
Destroying all stone blocks during Free Spins doubles the multiplier values and awards an additional +3 spins.
Free Spin Modes
There are 3 Free Spin modes for players to choose from, which dictate the special stone blocks available.
Multiplier Mode – special stone blocks contain +1, +2 or +3 multiplier boosters or additional spins.
Spin Saver Mode – special stone blocks contain spin savers or additional spins.
Mixed Mode – special stone blocks contain +1, +2 or +3 multiplier boosters, spin savers or additional spins.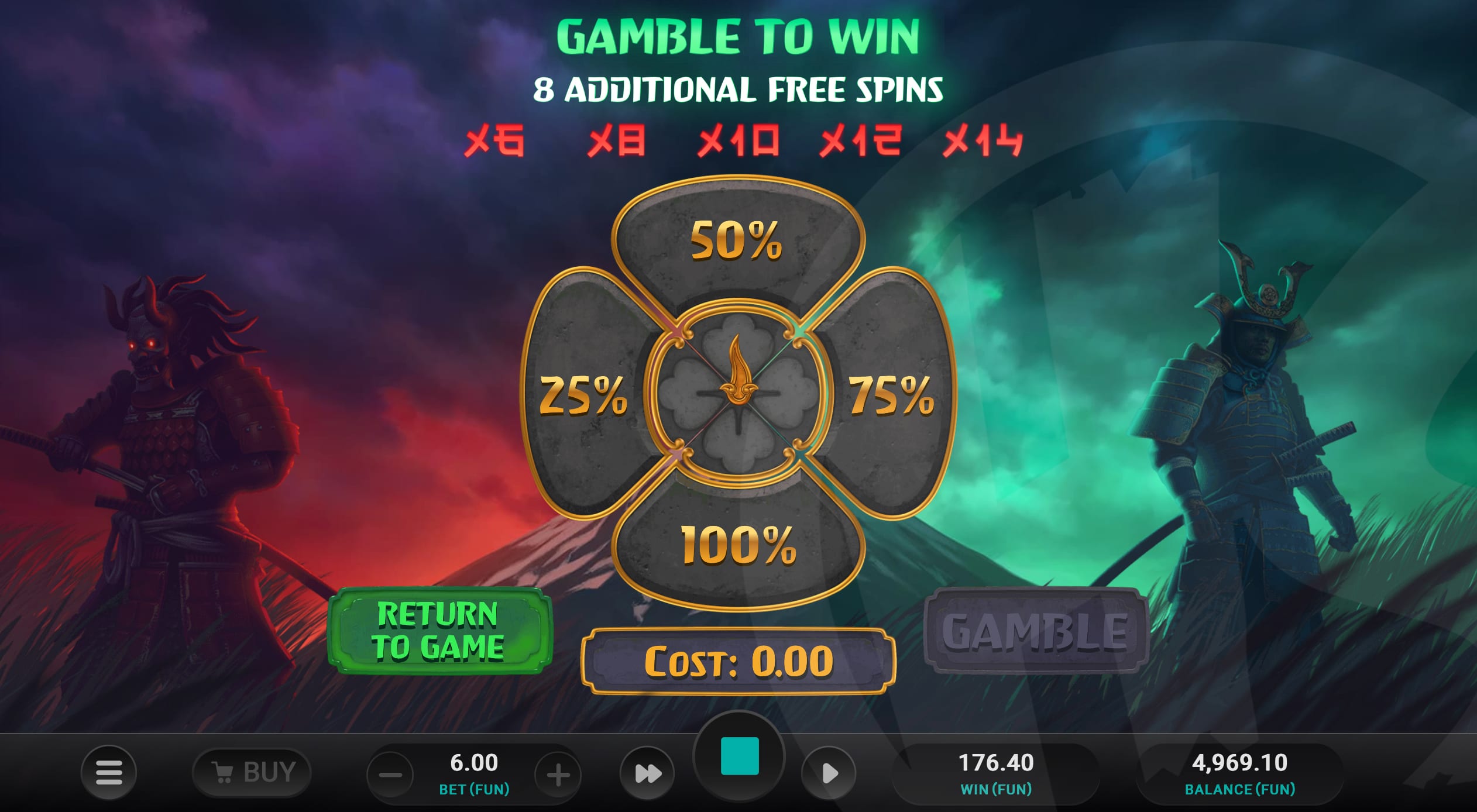 Gamble Feature
When Free Spins have ended a gamble feature is available, which gives players the chance to buy their way back into Free Spins for a set cost.
The multiplier ladder upgrades are kept between sessions when doing this, but players can choose any of the 3 modes for the next session.
Alternatively, players can gamble to win entry back to Free Spins for a fraction of the cost. The options are 100% (buy for full cost, guaranteed entry), or a 25%, 50% or 75% gamble, with costs calculated according to the chance of entry – the overall cost is determined by the amount of multiplier upgrades that have occurred thus far.
If a gamble loses it is no longer available, but players can still use the remaining options. When the highest multiplier reaches x100, the gamble feature is disabled.
Buy Feature
Finally, players in appropriate regions can buy their way straight into Free Spins for a cost of 70x bet with the Buy Feature option. When buying Free Spins, a spin is awarded guaranteeing at least 3 Bonus symbols, and RTP increases to 96.50%.
The maximum win in Torii Tumble is 20,000x bet. If the sum of a single game round exceeds this, the game round will end and 20,000x bet will be awarded.
First Impression
There's plenty happening in Torii Tumble to keep players interested – some old and some new. The tumble feature feels as exciting as it ever did, with stone blocks being removed to increase ways to win and reveal special features.
In the base game, the multiplier ladder coupled with Spin Savers and Multiplier Boosters help to keep things ticking over, but it's Free Spins where things really take off.
With 3 modes to choose from (a staple of many tumble releases), players can continue see Multiplier Boosters or Spin Savers, now accompanied by stone blocks revealing additional spins.
Combine this with an increasing multiplier ladder, the ability to double all multiplier ladder values, and the chance to return to these values with a gamble feature at the end of Free Spins, and it's easy to see how Torii Tumble can take off. When the right combinations occur, wins are possible up to 20,000x bet.
Finally, maths is highly (5/5) volatile and RTP is fixed at 96.10% (96.50% feature buy), so no complaints there. If you've been a fan of the tumble series so far, Torii Tumble offers just enough new features to keep you on your toes, whilst retaining all the comforts that made you a fan in the first place.
*The screenshots taken of games reviewed on this site are taken from Demo Play, as reviews are often written before games are released for real play.