Sloths are some of the slowest animals in the world – only moving an average of 123 feet per day. They spend most of their lives hanging on tree branches, but in spite of being slow, they're also one of the smartest animals around. They have employed a survival strategy for millions of years that works – a slow life, but a slow lifestyle to compensate, making sure they don't use up too much energy. The result is that we've had sloths for a long time – even predating the existence of dinosaurs.
If you're wondering why I'm giving you so many facts about sloths you can thank Relax Gaming, who are welcoming in the summer with another tumble release. This time around, we're leaving behind the underwater adventures of Shark Wash as Relax Gaming team up with CasinoDaddy to bring us Sloth Tumble – where players can join Chip, the drowsy but delightful sales sloth, as he serves up sweet tunes and epic wins.
With RTP options up to 96.11% (96.50% feature buy), this highly (5/5) volatile release can produce wins up to 100,000x bet.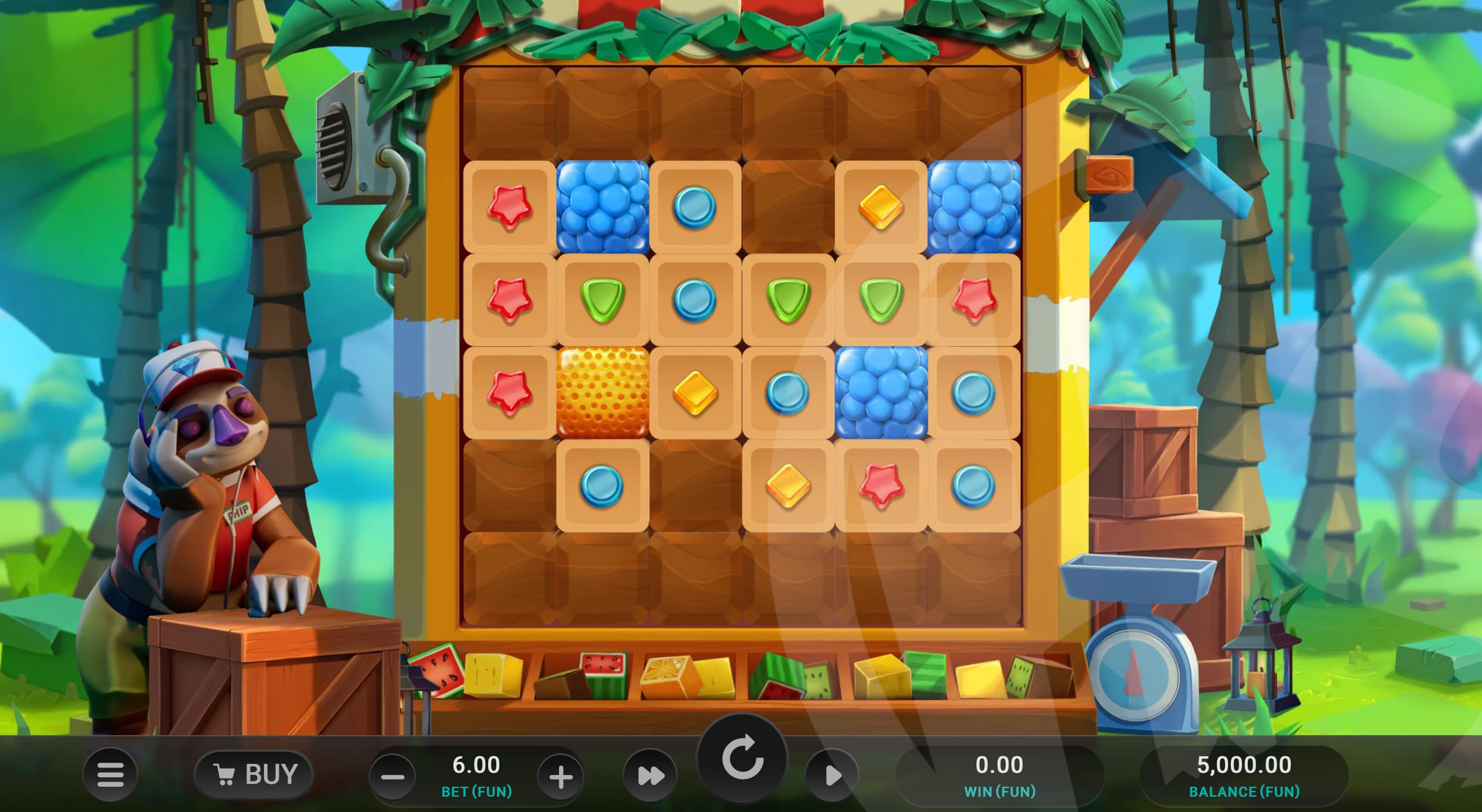 Fans of Relax Gaming's tumble series will immediately recognise that the setting looks familiar to that of Temple Tumble, Templar Tumble, Cluster Tumble… All the tumbles, really. We're outside today, on vibrant green grass under tall palm trees on a sunny day. Chip the sloth stands (well, leans, like any self-respecting sloth would) to the left of the grid, snoozing on a wooden crate as symbols fall onto the wooden-blocked reels.
Apart from this, we've got a red and white canopy, vents, scales and a variety of fruit on the reels, which probably means that Chip owns a little fruit shop in the middle of this bright rainforest. Finally, a laid-back summer soundtrack comes in to tie it all together.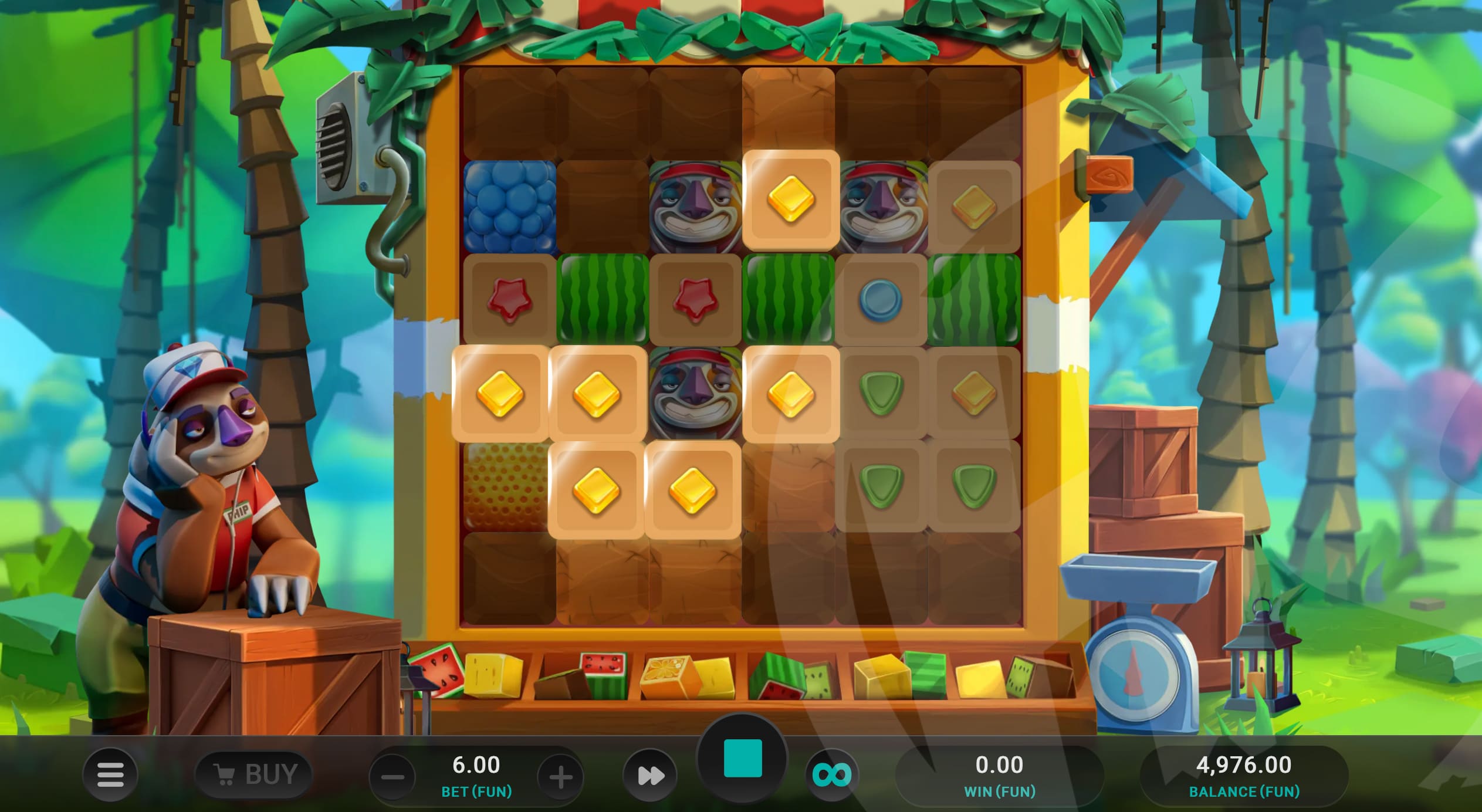 Sloth Tumble Base Features
Taking place across 6 reels, wins are formed on Sloth Tumble by matching at least 2 or 3 symbols on adjacent reels, beginning with the leftmost reel. Each reel can hold up to 6 symbols, producing 46,656 ways to win, although multipliers help to increase this further. Symbols available begin with non premiums, with circles, diamonds, triangles and stars, awarding wins between 0.05 and 0.20x bet for matches between 3 and 6 of a kind.
Premiums offer us a variety of fruit styled as cubes, similar to the look of Push Gaming's Giga Jar, with blueberries, watermelons, oranges and strawberries matching in colour with their non premium counterpart. Land 3 of a kind of any fruit to see wins between 0.10 and 0.25x bet, increasing to values between 0.40 and 0.75x bet for 6 of a kind matches.
Chip the sloth's face is our highest paying symbol and the only to pay for 2 of a kind, awarding wins between 0.25 and 2x bet for matches between 2 and 6 of a kind.
Finally, leafy Wild symbols can land stacked on the reels and substitute for all regular paying symbols – however these are only available during Free Spins.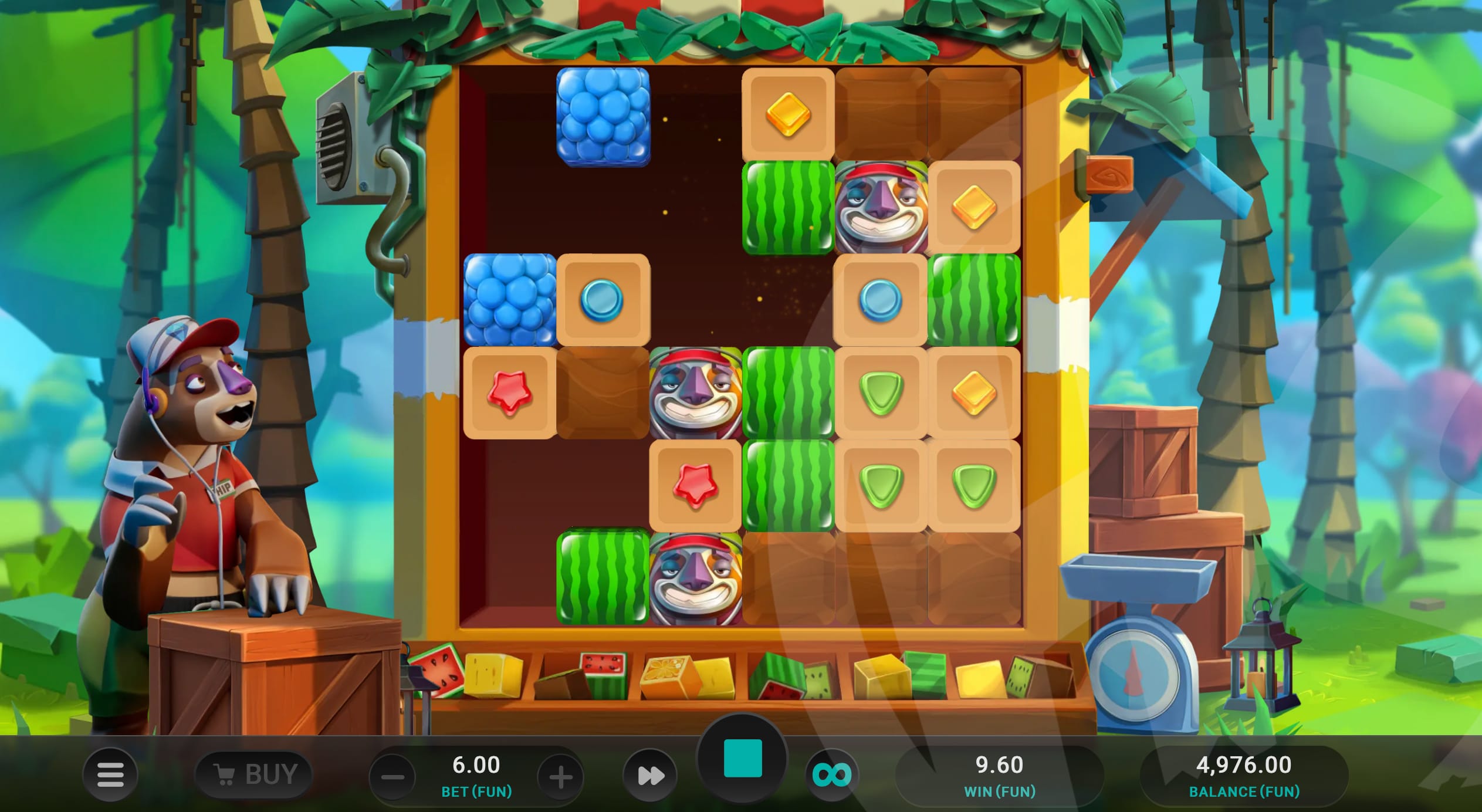 Tumbles
There are a few different things to cover in Sloth Tumble, beginning with tumbles themselves.
On every spin, all symbols involved in a win will be removed from the grid, with remaining symbols dropping to the bottommost available position on their respective reels.
New symbols will then drop in from above to fill the remaining gaps, with tumbles continuing until no new wins are formed.
Wooden Blocks
Working alongside this is the fact that we have wooden blocks on the grid. Whilst each reel can hold up to 6 symbols, at the start of each spin a random number of positions on the grid will have wooden blocks acting as blocker symbols.
These positions will always be at the top or bottom of reels. When tumbles occur, any winning symbols removed from the grid will also remove any wooden blocks adjacent to them, thereby increasing the ways to win.
It is not possible for new blocker symbols to fall in during tumbles.
Multipliers
A further way to increase the ways to win is through multipliers. At random, symbols may land with a multiplier value, which increases the ways to win.
There doesn't seem to any information available on how big these multipliers can be, or how many of them can occur, but they can definitely hold values up to x5.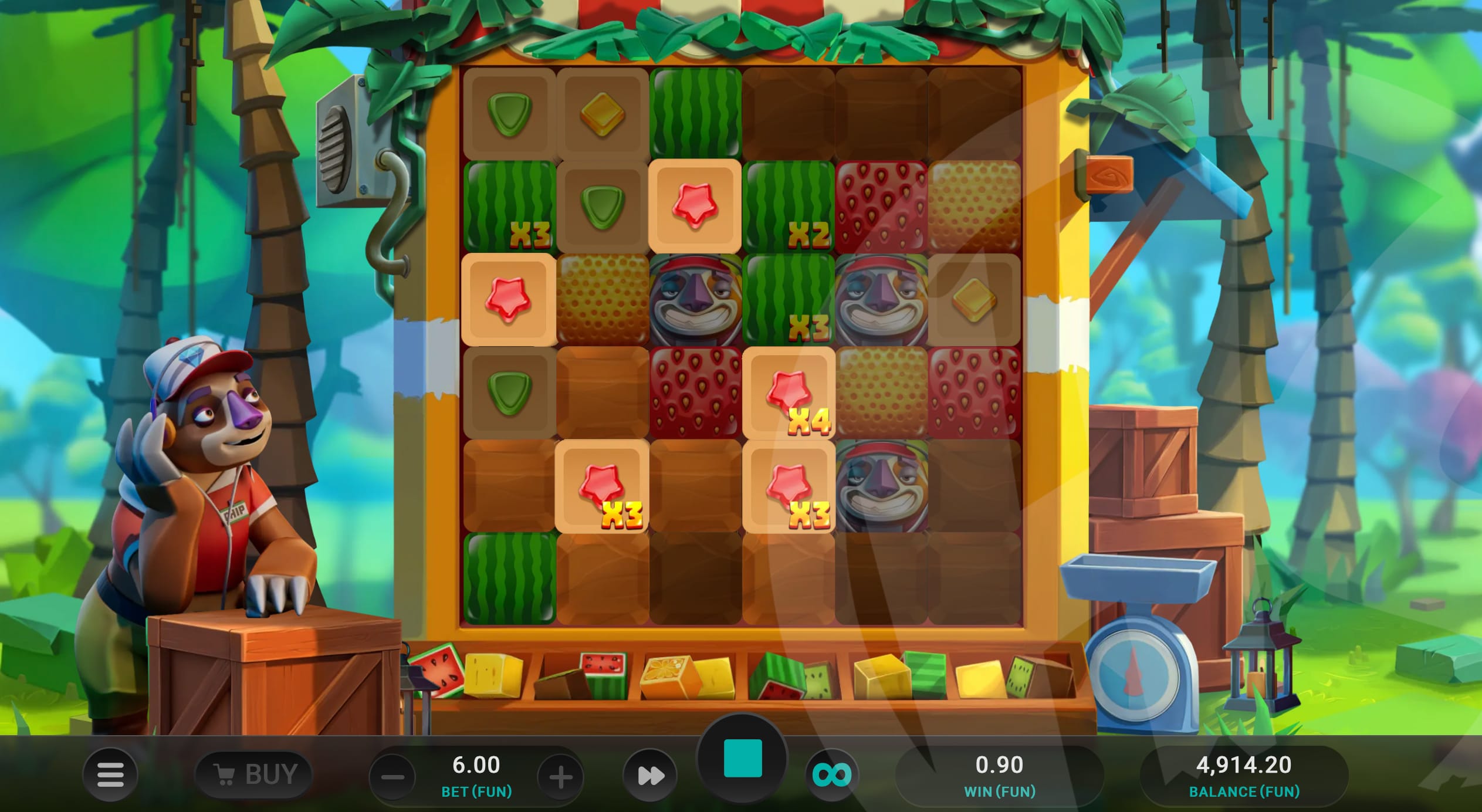 Sloth Tumble Bonus
When all wooden blocks in view have been destroyed, 6-12 Free Spins are awarded and Chip the sloth comes to life in the nighttime setting. Before every avalanche in Free Spins, any reels between reels 2-5 may turn into Wild Reels. This includes avalanches within one spin as a result of winning combinations.
When a reel turns Wild, it has a x6 multiplier applied to it, but it will also absorb any other multipliers on the reel it lands upon, increasing its value.
During Free Spins there are no wooden blocks on the reels, so all spins are played at 46,656 ways to win.
Finally, symbols awarding additional spins may land on reel 6 during Free Spins – these symbols will be removed along with any winning symbols if a win occurs.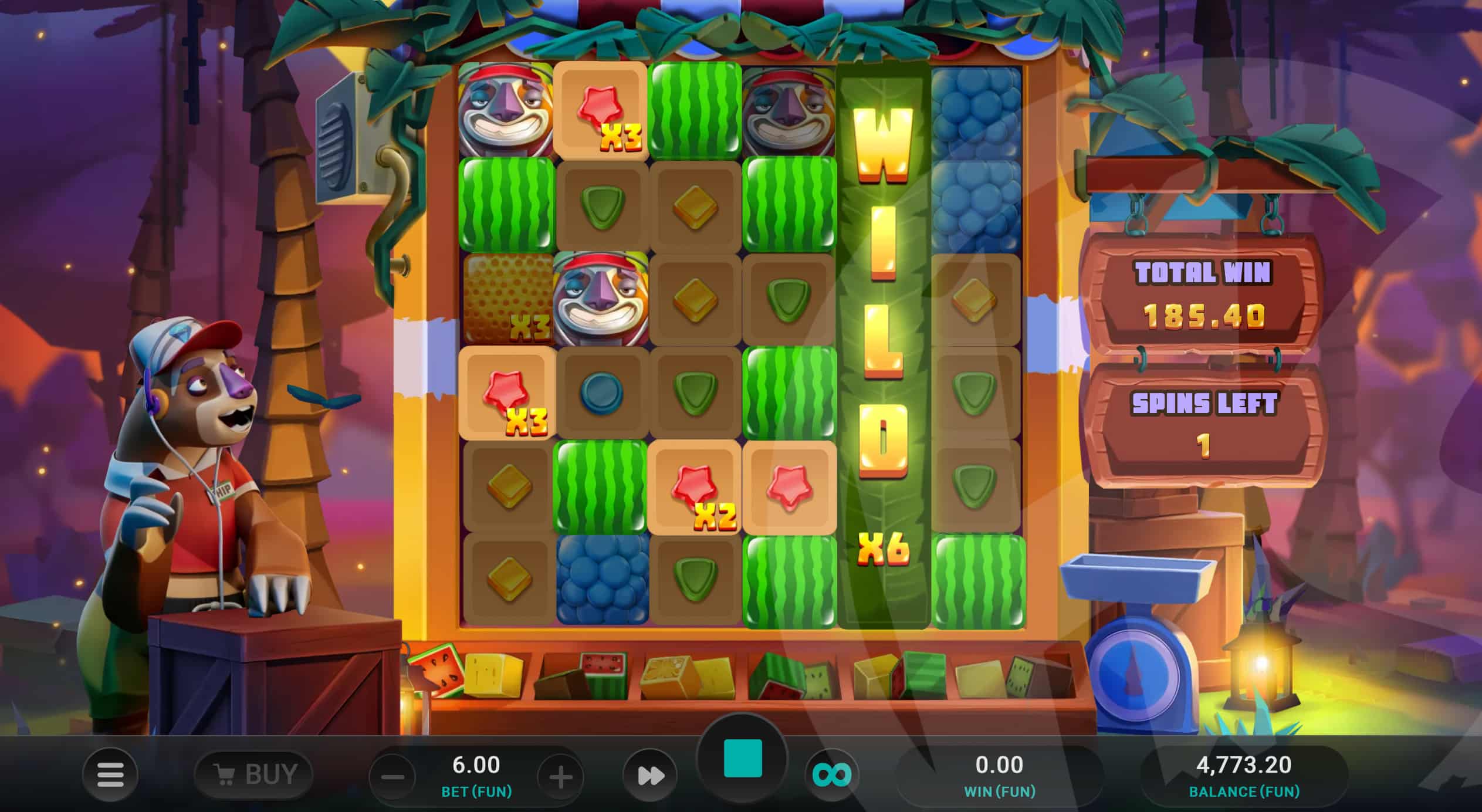 Super Free Spins
During the base game it is possible that on a spin at random, ice blocks may appear on the grid instead of wooden blocks. If all ice blocks are destroyed, Super Free Spins are triggered. Again, 6-12 spins are awarded at random.
Everything is the same in Super Free Spins, with the addition of one new feature – a progressive win multiplier.
On every spin, all symbols involved in winning combinations that hold multipliers will have their multiplier value added to the win multiplier, which does not reset between spins.
This progressive win multiplier is then applied to the total win at the end of every spin.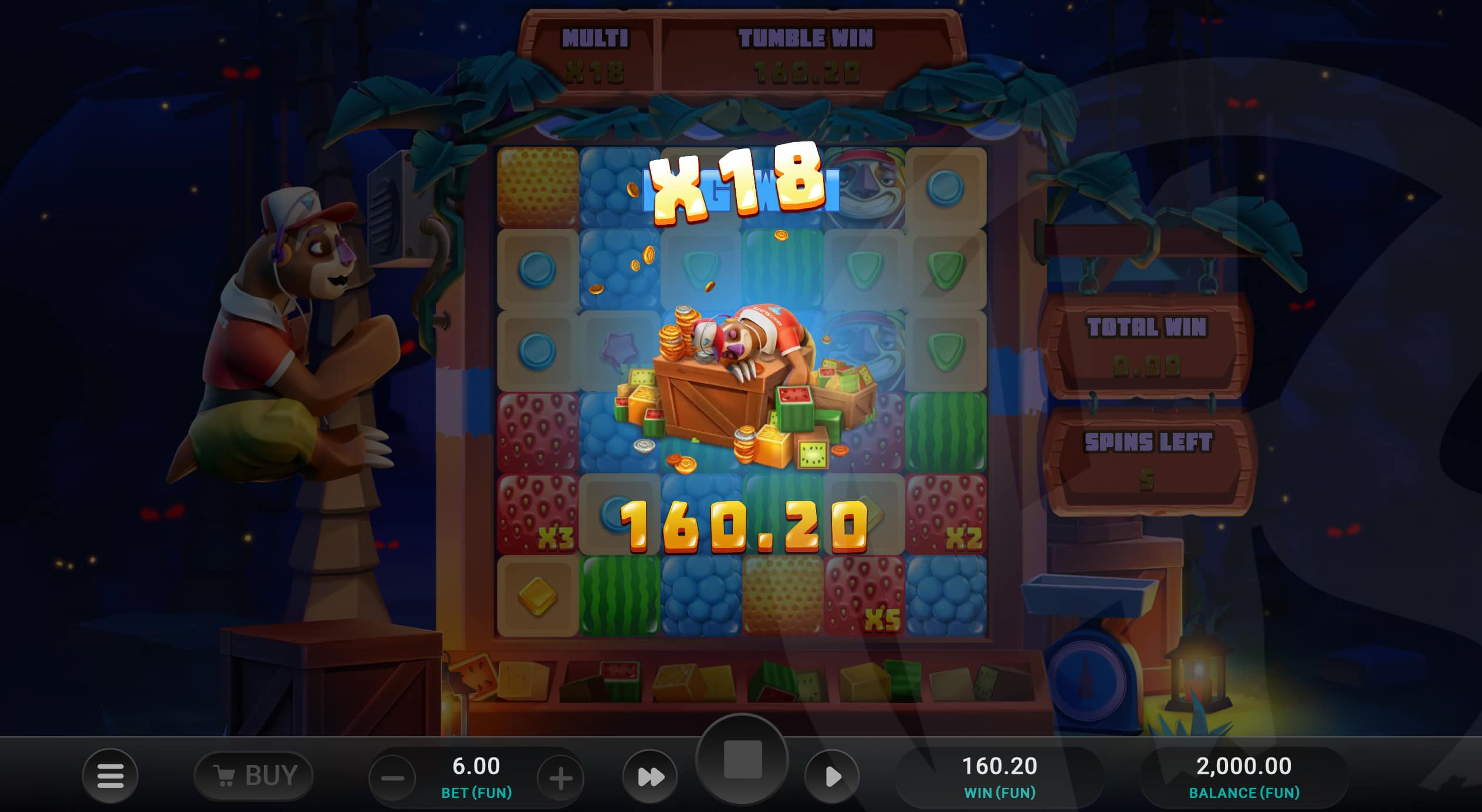 Buy an Extra Spin
Finally, at the end of any Super Free Spin round it is possible to buy an Extra Spin, where the progressive multiplier will be kept for one more spin. The cost will be calculated at the end of Super Free Spins, but will be equal to 90x plus 10 times the progressive multiplier value.
It is only possible to buy an Extra Spin if the progressive multiplier value is less than x200. After playing the Extra Spin, it is possible to buy another.
The cost to buy an Extra Spin must be available in your Super Free Spins total win – you cannot use your balance like was possible in Wild Yield, another Relax Gaming release that used this idea.
The RTP when buying Extra Spins is 96.50%.
Buy Feature
Players in appropriate regions can take advantage of two Buy Feature options.
Free Spins – 100x bet (96.50% RTP)
Super Free Spins – 500x bet (96.50% RTP)
The maximum win available in Sloth Tumble is 100,000x bet. If the sum of a single game round exceeds this, the game round will end and 100,000x bet will be awarded.
First Impression
There's plenty happening in Sloth Tumble to keep players interested and entertained. First of all, a fun, bright and colourful theme is half the battle, particularly in these summer months, and it's no surprise that Relax Gaming have once again nailed audiovisuals. However, there are a mix of features working at the core of Sloth Tumble – combining player favourites in a way that we haven't seen before.
In the base game, this works by using the usual tumble idea with wooden blocks and avalanches to create wins, but now we have the addition of symbol multipliers to increase ways to win even further.
In Free Spins, Wild Reels with x6 multipliers and the ability to absorb more multipliers and grow their value help to keep things exciting and fresh. In Super Free Spins, however, we have the same Wild Reels and avalanches now working alongside a Sweet Bonanza style feature – with a progressive win multiplier being applied to all wins.
Add onto this the ability to buy an Extra Spin and keep your win multiplier for one more spin, and it's easy to see how Sloth Tumble can lure you in. When the right combinations occur, wins are possible up to an impressive 100,000x bet.
Finally, maths is highly (5/5) volatile and RTP options are available up to 96.11% (96.50% feature buy), so as always it's worth checking this. If you're a fan of the tumble series and want a unique release to add to your favourites, Sloth Tumble is the perfect summer choice.
*The screenshots taken of games reviewed on this site are taken from Demo Play, as reviews are often written before games are released for real play.