What would you do if you won 1 million euros? It's a conversation we've all had, sitting around a dinner table with friends as we dream about which supercars we would buy, or which Spanish town would make the perfect holiday home location.
For online slot enthusiasts, progressive jackpots have long served as the bridge between this dream and our reality, offering life changing sums of money to those in the right place at the right time – or should we say, those on the right spin at the right time.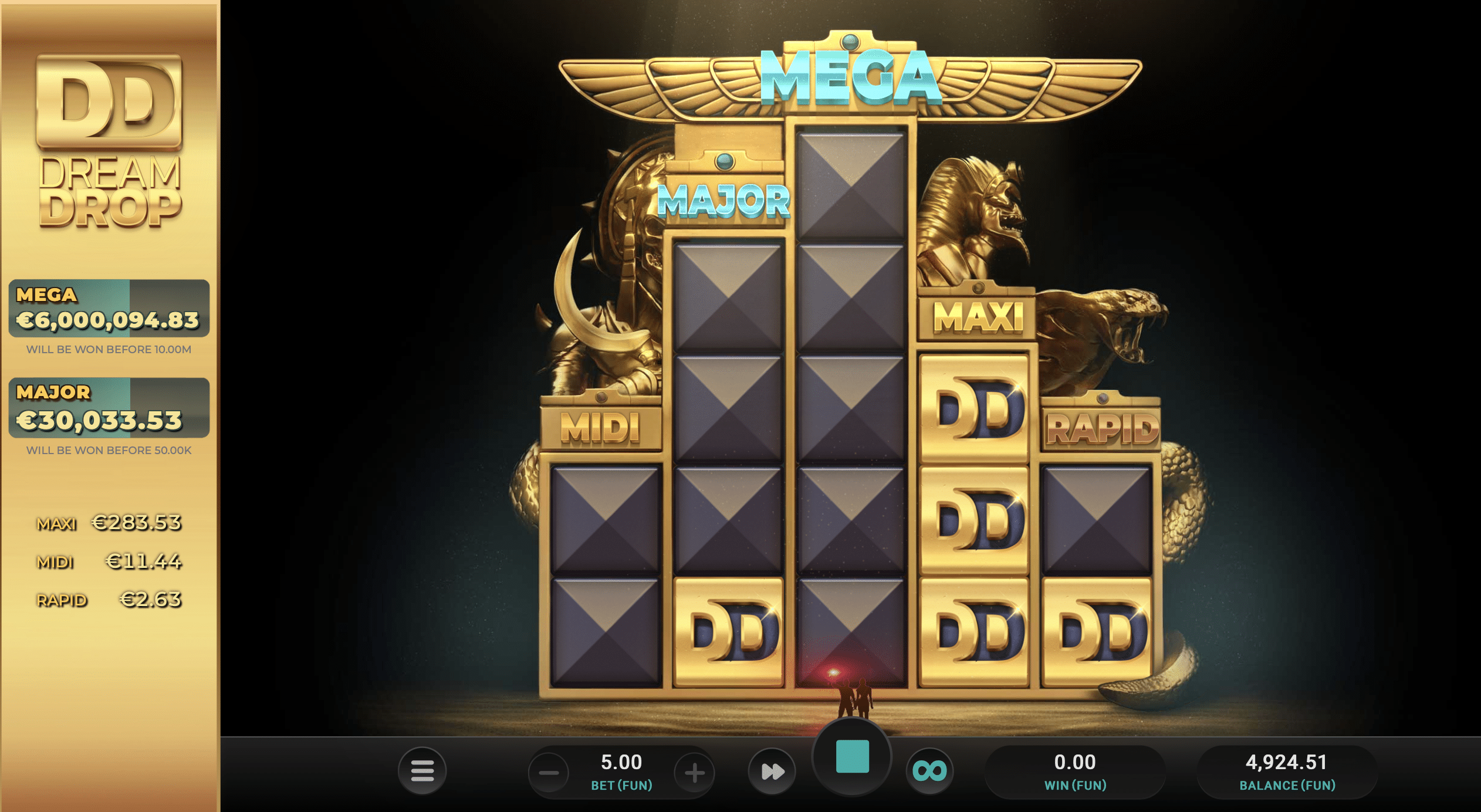 And yet, progressive jackpots have not always been the most sought after games. It could be because the titles that stood behind these vast sums didn't hold up to the expectations of an ever-changing industry, one filled with innovation and growth. Or maybe players felt, much like the lottery, the idea of a progressive jackpot was merely a pipe dream, something they would never personally achieve. Regardless of the reason, these releases, whilst popular, were seldom regarded as the best of the best.
"Dream Drop delivers an exciting product that is distinctive" —Relax Gaming
That is, until Relax Gaming stepped in. Launching their flagship Dream Drop Jackpots in May 2022, Relax Gaming presented this as a 'unique jackpot offering to the market, [delivering] an exciting product that is distinctive, giving players a guaranteed jackpot win every time they enter the Dream Drop jackpot feature within a game', and vowed to offer 'unique and diverse product additions all linking into the same jackpot pool.'
"It suddenly opens the door to life-changing Jackpots that can be won on any stake" — Henry McLean, Co-founder, commercial and marketing director at 4ThePlayer
Teaming the idea of a lucrative jackpot with some of their most popular releases certainly helped to pique players interest, but offering new releases, originally available in Dream Drop format, was what really sent things moving in the right direction. Temple Tumble 2, Grim the Splitter, and Beellionaires, to name a few, all proved to be popular with players across the globe. One key takeaway from these releases were the capabilities outside of jackpots – offering potent win potential meant players only hope wasn't pinned on a progressive value. The result? One year since launch, Relax Gaming have handed out 2 million individual jackpots. Let's take a look at the year in review.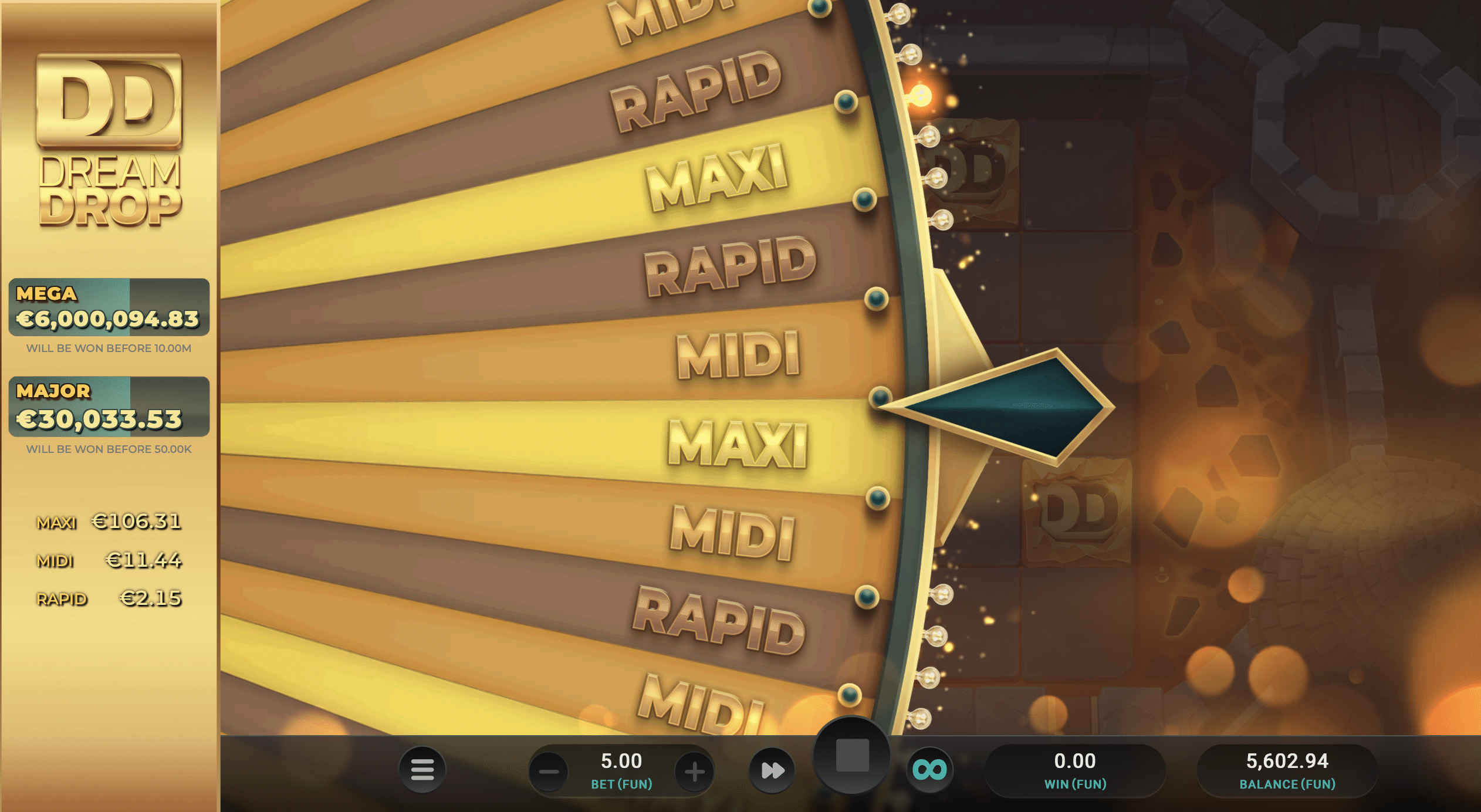 Dream Drop Jackpots
Before looking back at the past year, let's first look at what Dream Drop jackpots offer players. Dream Drop is a progressive jackpot, with five tiers – including Rapid, Midi, Maxi, Major and Mega jackpots, all of which lead to a guaranteed hit. Each tier features a balanced bet contribution proportionate to bet size, enabling players to unlock prizes relative to the amount staked, whilst offering wildly different average wins, rewarding high and low levels of participation. Since announcing these jackpots, Relax Gaming have produced 14 Dream Drop releases.
| Release | Max Win (Excl. Jackpots) |
| --- | --- |
| Temple Tumble 2 Dream Drop | 10,045x |
| Snake Arena Dream Drop | 2,758x |
| Volatile Vikings 2 Dream Drop | 10,000x |
| Wild Chapo Dream Drop | 10,000x |
| TNT Tumble Dream Drop | 12,278x |
| Neko Night Dream Drop | 20,000x |
| Dream Drop Diamonds | 10,640x |
| Templar Tumble 2 Dream Drop | 20,000x |
| Santa's Stack Dream Drop | 20,000x |
| Grim the Splitter Dream Drop | 10,000x |
| Beellionaires Dream Drop | 10,000x |
| Banana Town Dream Drop | 10,000x |
| Hellcatraz 2 Dream Drop | 10,000x |
Before the 2022 launch, Relax Gaming announced they would be levelling up the Dream Drop every two wins, increasing the overall maximum prize by €500,000 until the Mega jackpot reaches a maximum of €10 million. At the time of writing this, the Mega jackpot sits at a value just above €2 million.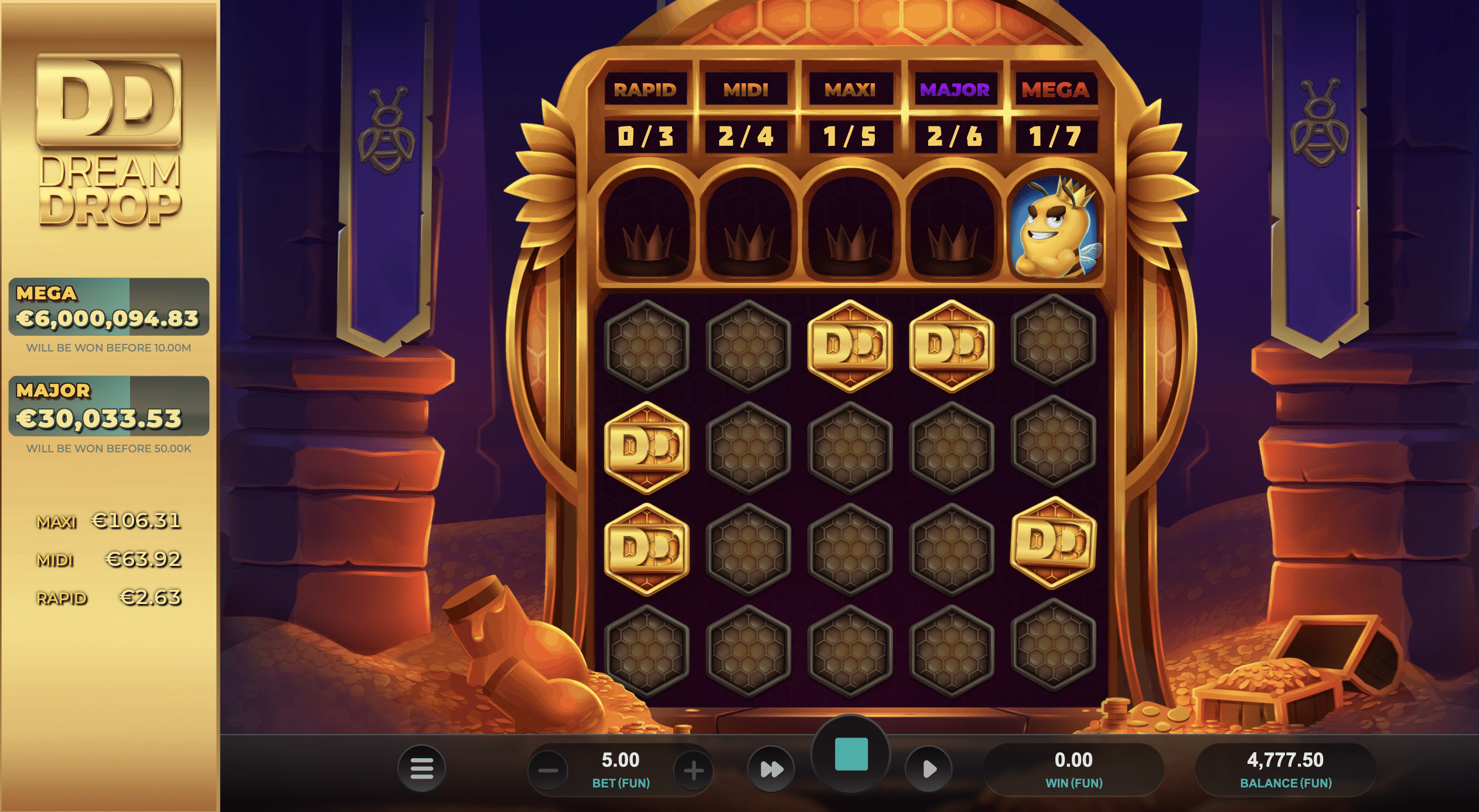 Temple Tumble 2 Dream Drop
Kicking the Dream Drop journey off with a highly anticipated release was the right choice, and what better way to create anticipation than with a sequel to one of your most popular games? Relax Gaming got the ball rolling on their jackpots with Temple Tumble 2 – a release which ultimately paved the way for 4 of Dream Drop's future Mega winners to be crowned. Those 4 winners went on to win a combined total of over €6.8 million in the 11 months that followed.
| Winner | Stake | Prize |
| --- | --- | --- |
| Mega Winner #2 | €20 | €924,386.51 |
| Mega Winner #3 | €2 | €1,486,291.47 |
| Mega Winner #6 | €2 | €1,992,581.58 |
| Mega Winner #7 | €1.27 | €2,408,389 |
The First Mega Winner
In any industry, the first milestone is always an exciting one, but the first Mega jackpot winner was a huge moment for the team at Relax Gaming – coming a mere 7 weeks after the launch of Dream Drop jackpots. This win came on Snake Arena Dream Drop, the second in the Dream Drop series. Playing on a €2 bet, this lucky player won just under €1 million.
| Winner | Stake | Prize |
| --- | --- | --- |
| Mega Winner #1 | €2 | €997,779.17 |
750,000 Individual Jackpots
Just 3 months after launching, Dream Drop Jackpots had crowned 500,000 individual jackpot winners. With Rapid, Midi, Maxi, Major, and Mega jackpots offering seed values of €1, €5, €100, €25,000, and €1 million respectively, it's no surprise that the vast majority of winners were on the lower end of the jackpot scale. The sheer volume of winners proved one thing though – Dream Drop was a popular concept. So popular, that just one month later, 750,000 individual jackpot winners had been crowned.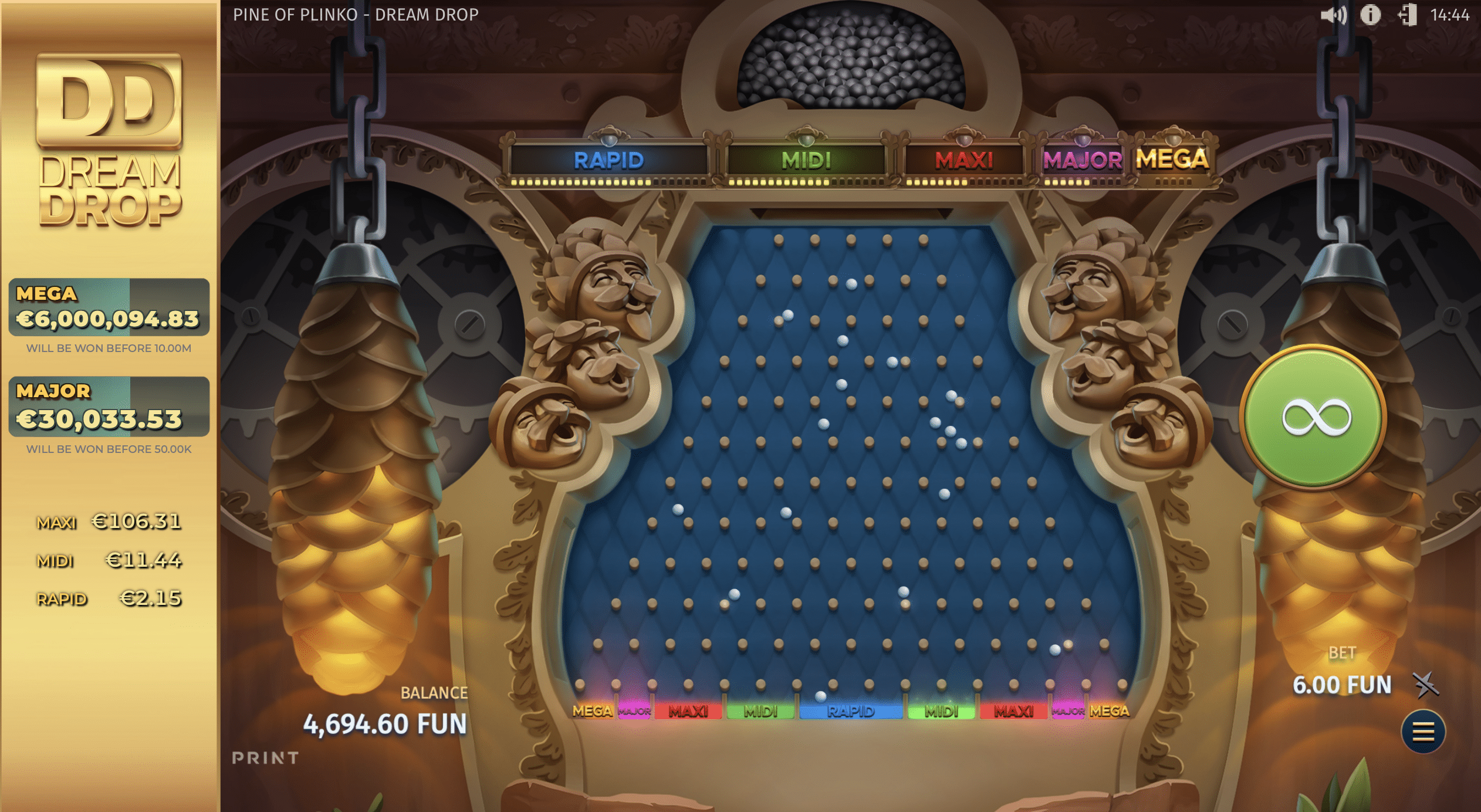 6 Months On
The 6 month mark was a big one for Relax Gaming and Dream Drop alike. In this month, the team celebrated 1 million individual jackpot winners, along with Mega Winner number 4 – awarded on Dream Drop Diamonds, another release offered specifically for this lucrative jackpot.
Relax Gaming weren't putting all of their eggs in the Dream Drop basket though, so they continued to build on their overall catalogue. In the same month the team celebrated 1 million individual jackpot winners and their fourth Mega winner, they also celebrated 66 max wins of 100,000x bet on Money Train 3.
| Winner | Stake | Prize |
| --- | --- | --- |
| Mega Winner #4 | €0.33 | €1,457,820.74 |
Major Winners
It isn't all about Mega winners in the Dream Drop landscape. Just 7 months after release, Relax Gaming celebrated their 5th Mega winner, awarded once again on Snake Arena Dream Drop, but they also celebrated their 50th Major winner. With the Major jackpot seeding at €25,000 that's a bare minimum of 1.2 million additional euros handed out to players across this platform. The Major winners didn't stop there, though. 11 months after release, as this team approach the Dream Drop one year anniversary, 100 Major winners have been crowned.
| Winner | Stake | Prize |
| --- | --- | --- |
| Mega Winner #5 | €100 | €1,886,174.63 |
Hideous Slots Major Winner
Across the Hideous Slots community we've had an immeasurable number of jackpots over the years, but it's not often we see one of the big ones. This changed recently, however, as one of our forum members was lucky enough to land a Major jackpot on Grim the Splitter Dream Drop. Jason McAllister was playing this release on 20p stake and landed a £41,614.82 win – an incredible 208,074x bet. We spoke to Jason and asked him how he felt when he landed this win.
"I had to restrain myself from shouting and running around the house."
Hi Jason. Did you play Grim the Splitter specifically to try to win a jackpot or just to try out the game in general?
Even though I enjoy the game, it is all about the jackpot. Playing on a 20p bet you don't really play for a big win, but rather to top up your balance and hope to build a bigger balance to play higher bets. 
How did it feel when you won the Major jackpot?
When the Dream Drop landed I just thought it was going to be the Rapid, but when the Major dropped I nearly fell out of my seat. I was playing at around midnight and my partner and children were asleep so I had to restrain myself from shouting and running around the house. The feeling of having that amount [of money] was an amazing feeling and the [feeling] of not having to worry about money.
Do you have any immediate plans to spend the money?
So far I have treated myself to a new car, bought the kids new computers, and upgraded [my partner's] ring. We are also planning a family holiday.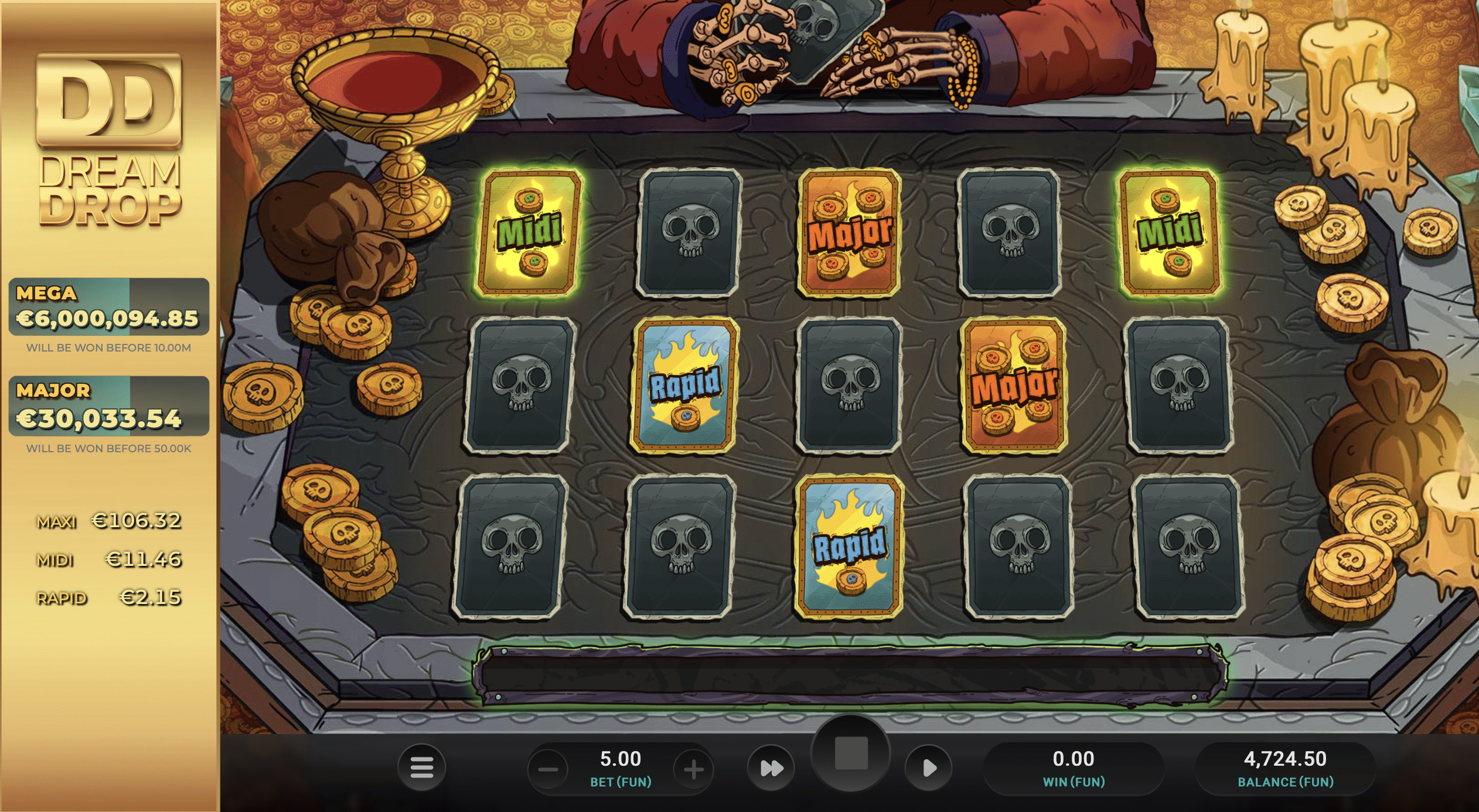 Dream Drop Collaborations
Alongside their work building their own catalogue, Relax Gaming also act as an aggregator for a number of the most popular studios on the market through their Silver Bullet program. As a result, a number of Silver Bullet studios have also released Dream Drop titles in collaboration with Relax Gaming, building on the strength of the Dream Drop name in conjunction with their own creativity.
Henry McLean, Co-founder, commercial and marketing director at 4ThePlayer said about the Dream Drop:
"At 4ThePlayer we are all about creating those wow and magical moments for players, a big part of that is of course winning and there is only so much you can do within the framework of a regular slot.
This is one of the reasons we wanted to work with Relax's Dream Drop Jackpots as it suddenly opens the door to life-changing Jackpots, that can be won on any stake!
5k Gold Mine Dream Drop offers exactly that, the perfect marriage of 4ThePlayer entertainment and Dream Drop potential!
We were also very impressed with the way the Dream Drop has been designed, this is not a jackpot that sits and gathers dust but one that pops regularly and reseeds quickly!"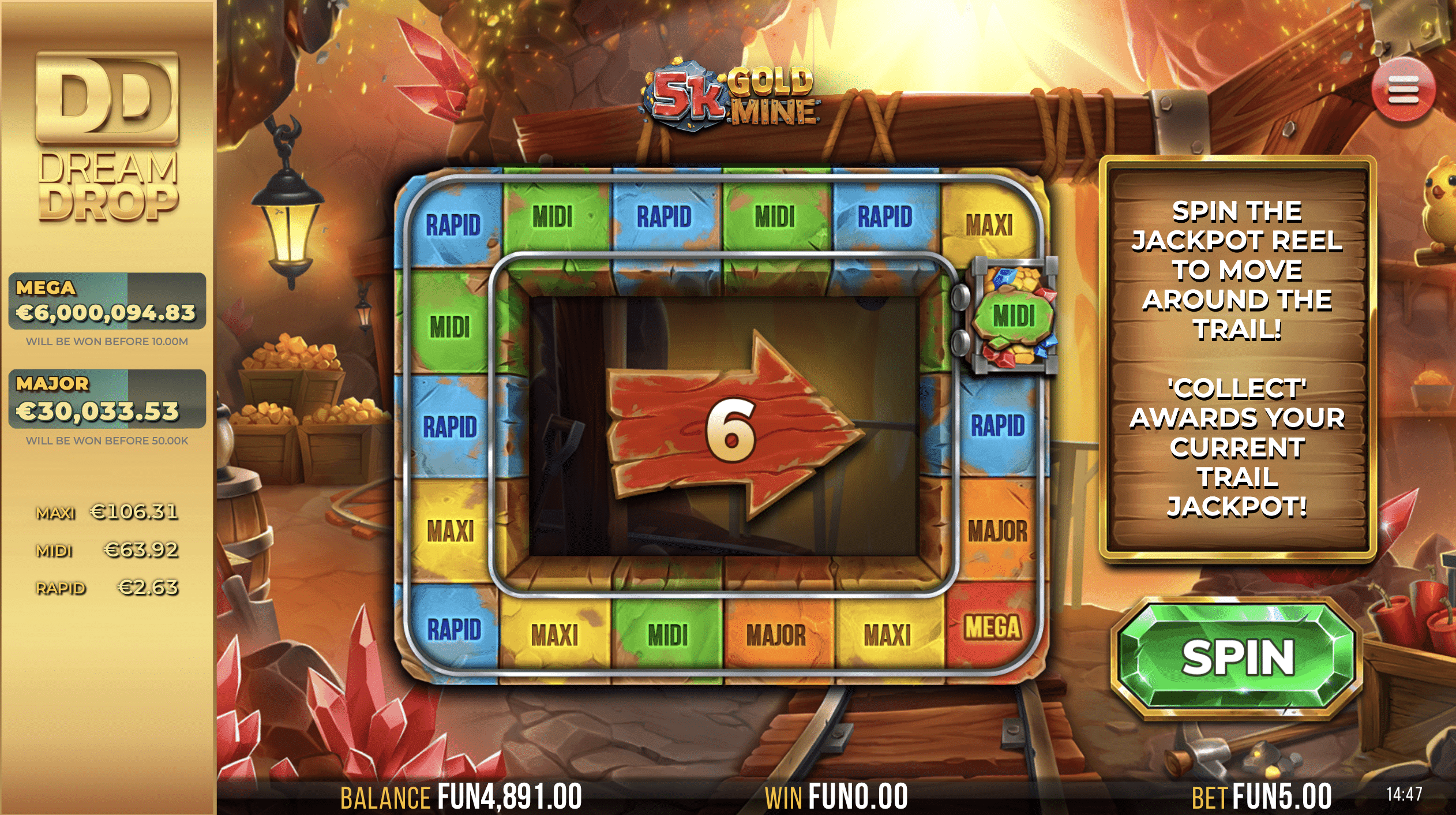 In an exciting twist, the eighth and latest Mega winner (at the time of writing this) saw their jackpot win come through a Silver Bullet game – none other than 4ThePlayer's 5k Gold Mine Dream Drop. Playing on a €0.60 bet, this lucky player walked away with over €2 million – just one day after the game's release.
You can read more about this win here.
| Winner | Stake | Prize |
| --- | --- | --- |
| Mega Winner #8 | €0.60 | €2,311,598 |
We also caught up with  Print Studios CEO Carl Wiggman to discuss his experience working with Dream Drop.
"Dream Drop does a couple of great things for the player experience; it adds an extra bonus to add variety to the gameplay, it gives players a reason to check back in (to see where the jackpot levels are) and opens up the possibility for a life-changing win. I think these are big factors in why Pine of Plinko Dream Drop still does so well for us."
Clearly the Dream Drop mechanic is also an exciting mechanic to incorporate for independent game providers, and we are sure to see more crossover games in the future!
The Future of Dream Drop
Far as we can tell, Relax Gaming are showing no signs of slowing down on the Dream Drop journey, and with over 2 million individual jackpots handed out, 4 millionaires, 2 winners of just under 1 million euros, and 2 millionaires twice over, why would they? As we approach the one year anniversary of this jackpot, we're able to look ahead to see some of what the team have in store for the future. This includes Fly Cats Dream Drop, Money Train Origins Dream Drop, and Cluster Tumble Dream Drop – three exciting upcoming releases that we expect will continue this tradition of success.
Still, after all of this recapping, I'm back to the start – wondering what I would spend 1 million euros on…