'Tis the season to be jolly – well, unless you're part of the Nolimit City team, that is. With a series of stellar releases under their belt so far in 2021, the team are closing the book on what has arguably been their biggest year so far with one final release, and there's no tinsel or holly in sight. Instead, we get a dark and atmospheric experience in True Grit Redemption, a western style release featuring some familiar mechanics and even more familiar faces, including a young female character strongly resembling activist Greta Thunberg, although this inspiration has been neither confirmed nor denied from the team. Drawing on some of their most popular releases to date, True Grit Redemption doesn't necessarily bring us anything entirely new, but it combines some of the most well loved mechanics within their portfolio to bring us a release that still feels new, aided of course by the stellar audiovisuals the team are famed for. With a Default RTP of 96.11%, this highly (10/10) volatile release can produce wins up to 20,220x bet. Let's take a closer look at Nolimit City's final chapter of 2021…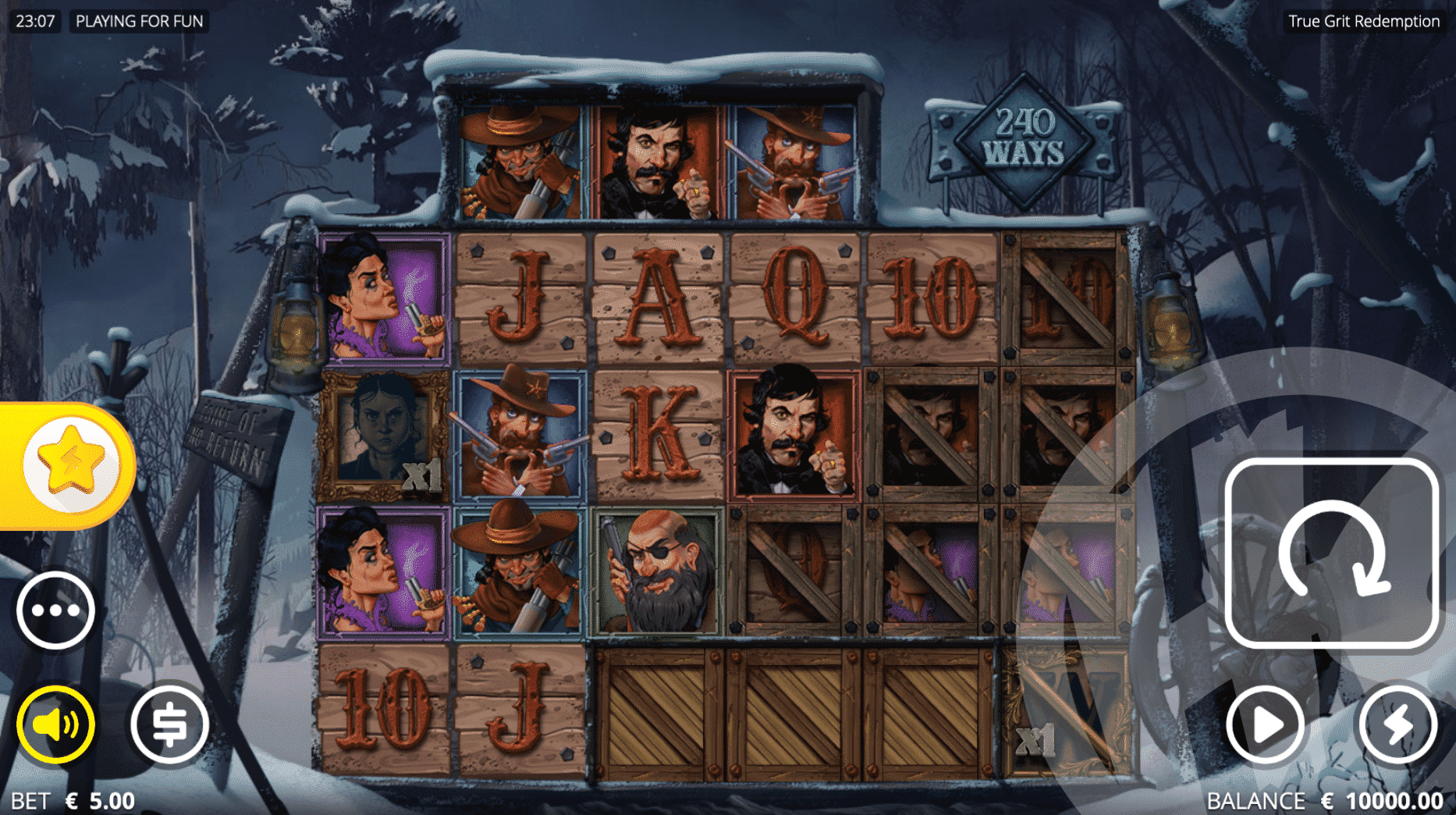 It's a cold and gloomy winters evening in – well, wherever we are. General base game visuals are some of the tamest from the team this year, although this naturally kicks up a notch when we move to big win cards and some of the features on offer. For now though, things are fairly regular, with a deep blue overall hue on this snowy landscape, and reels set atop a wooden cart, embossed with True Grit Redemption behind the reels – just noticeable in fleeting glances, but a testament to the thought that goes into their graphics. Audios are no more or less than you would expect from the team, and set the scene perfectly from beginning to end, particularly with animal sounds like owl hoots and horse whinnies scattered throughout to really make you feel like you're in the Wild West.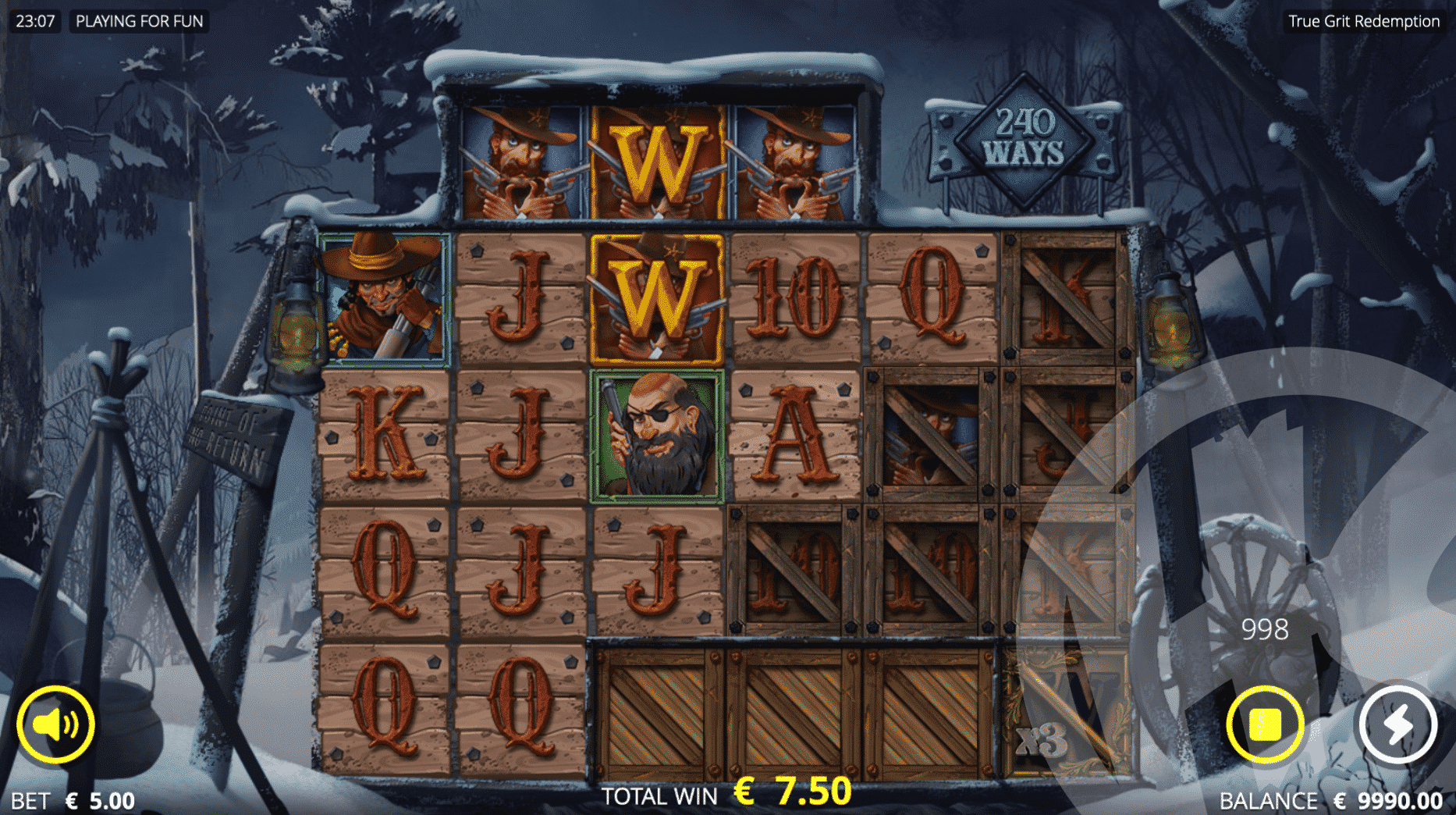 True Grit Redemption Base Features
There's a lot happening in True Grit Redemption, so let's begin with the basics – reel set up. The potential action takes place across 6 main reels, with an additional 3 symbols making up the top reel. However, the final sixth reel, the bottom three symbols of the fifth reel, the bottom two symbols of the fourth reel and the bottom symbol of the third reel are all closed off, and remain locked until they are blasted open (more on this below). This creates a diagonal space of locked positions, not unlike Fire In The Hole's locked off area, and leaves us with a default of 240 ways to win on every base spin, with wins formed by matching at least 3 symbols in any position on adjacent reels, beginning at the leftmost.
Symbols begin at the lower end of the pay table, with 10, J, Q, K and As awarding players with wins between 0.05 and 0.25x bet for 3 of a kind matches, increasing to values between 0.20 and 0.75x bet for 6 of a kind wins. At the premium end, we meet our 5 Characters – green, blue, teal, purple and red in colour, awarding players wins between 0.30 and 0.50x bet for 3 of a kind, up to wins between 0.85 and 1.75x bet for 6 of a kind. Finally, we have Grit Girl, our Greta-esque Character, awarding wins of 25 and 500x bet for 4 or 5 of a kind. Of course, working alongside these symbols are a host of modifiers including xWays, xNudge, Reel Split and Wild Transform, so let's take a closer look at what really sets True Grit Redemption apart.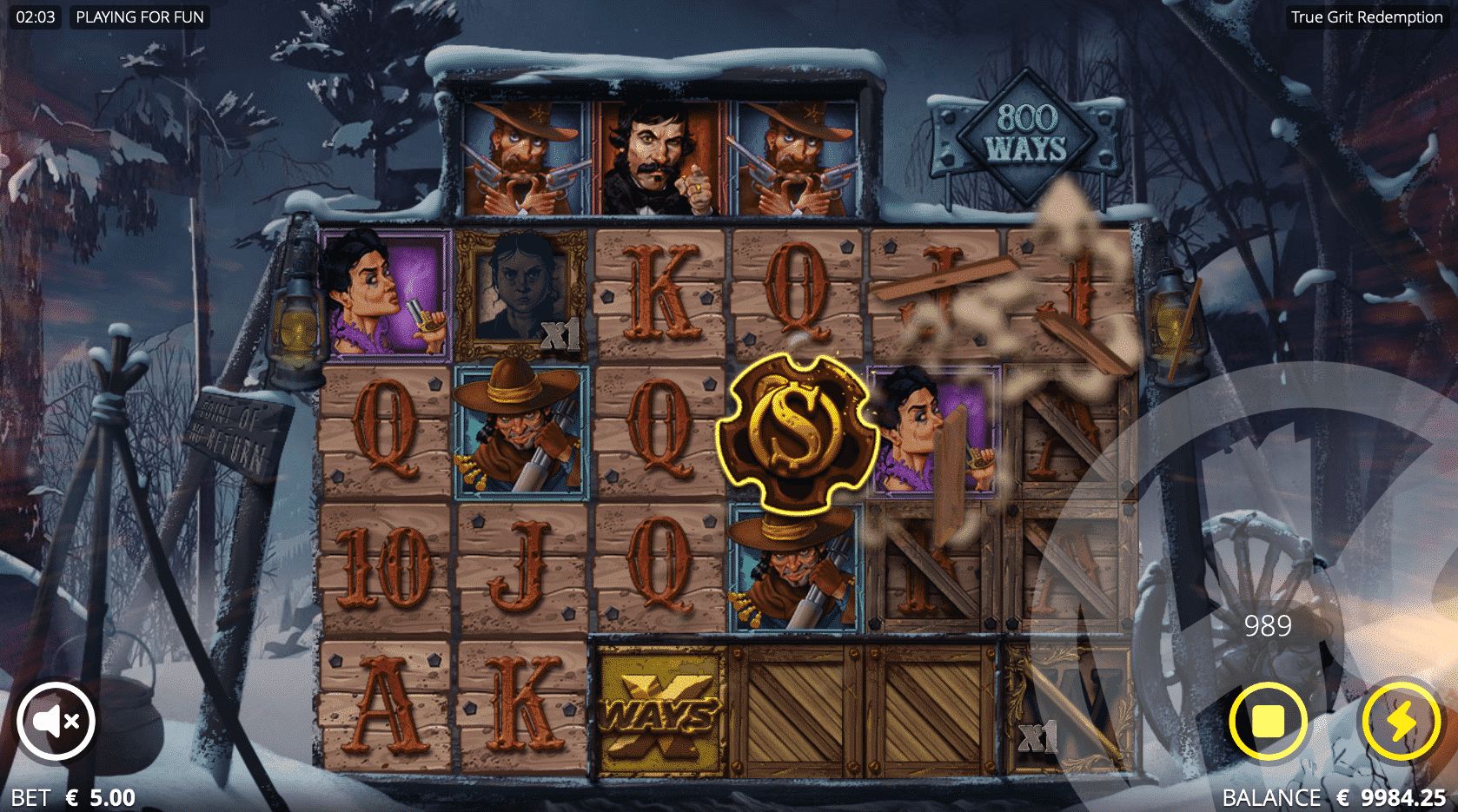 First up, you should know that the top row of 3 symbols will only ever contain Character or Wild symbols. Alongside this, if the symbol in one of the top reel positions matches a symbol in the reel directly below, both symbols will turn into Wild symbols – a nod to Evil Goblins xBomb's Goblin Sacrifice Feature.
In the main reel space, regular symbols, Wild symbols, Scatter symbols and Grit Girl symbols can all land. Symbols in the main reel space will be affected by Special symbols in the top and bottom reel – the bottom reel consists of the bottom symbol on reels 3-6, all of which are locked at the beginning of each spin. Trust me, once you press spin this all begins to make a lot more sense, and fairly quickly.
To open up the locked positions, you'll need to land Scatters. As you land Scatters, the locked space will open in diagonal lines – landing 1 Scatter will open the first 4 positions diagonally, whilst landing 2 or 3 Scatters will further open up the next 3 and 2 positions diagonally, respectively. A fourth Scatter symbol will open the final locked position – the bottom symbol on reel 6.
As positions are unlocked, most will just contribute in a regular way to the reel space, with the exception of the bottom 4 symbols that make up the bottom reel we mentioned above. The 4 locked positions on the bottom reel can contain Character symbols or Special symbols. The final locked position in the rightmost position will always contain a locked Sticky Wild symbol with a multiplier. Aside from this, the other 3 positions can reveal any of the following Special symbols:
xNudge Wild
Transform 'Em
Reel Split
Wild symbol
xWays
Infectious xWays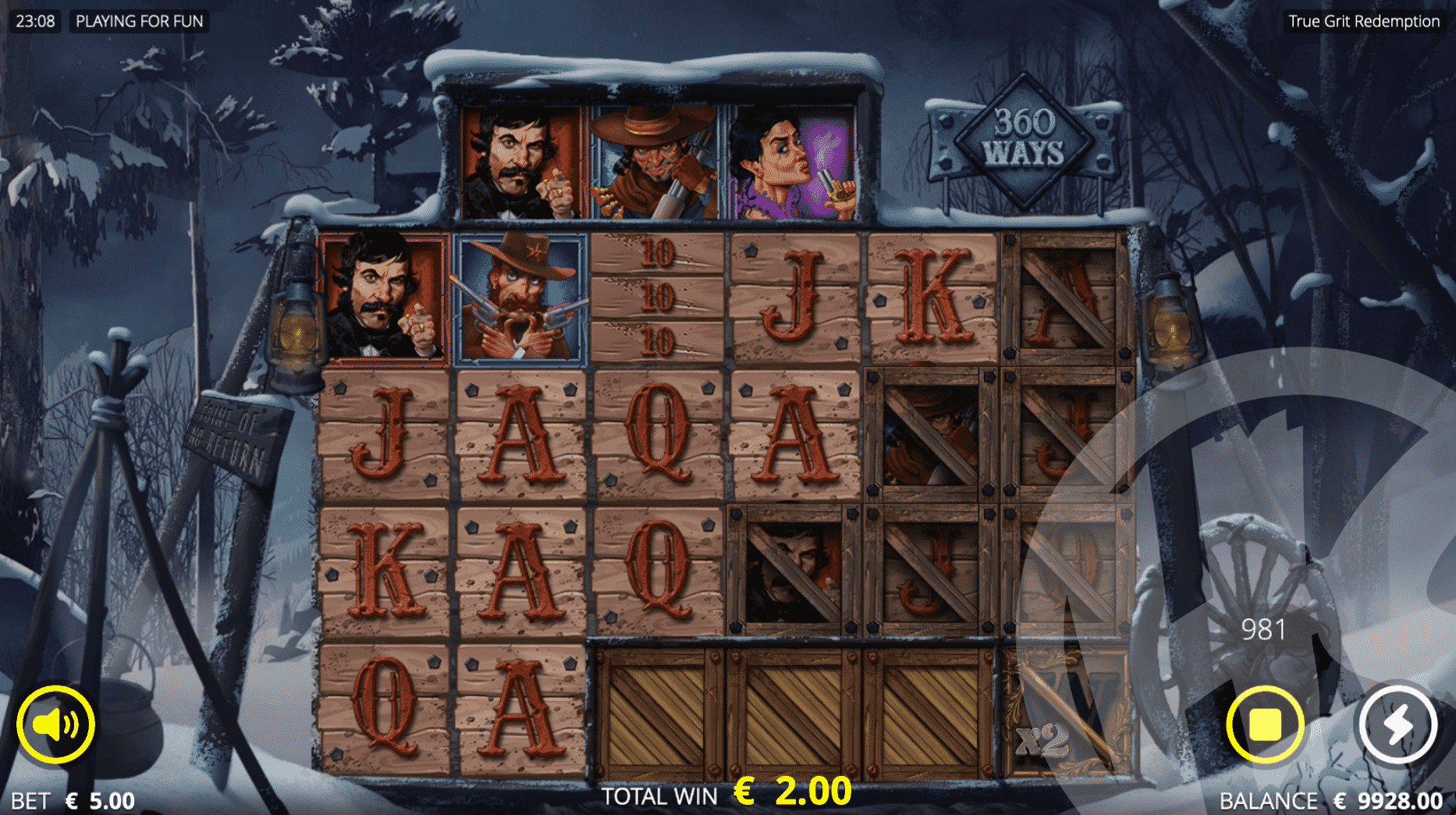 xNudge symbols work just like we have seen before in releases like Legion X or Deadwood – a Wild symbol will land in view, and will nudge to be fully in view, with the multiplier incrementing by +1 for every nudge. If it nudges over a Wild symbol, an additional +1 will be added to the multiplier. If the xNudge Wild is not used in a win, it will fold back down, and then nudge up again during the next cascade for another chance to use it, this time with an even higher multiplier. Several xNudge Wild multipliers add together for a total multiplier.
Transform 'Em symbols can only land in the bottom reel positions. This symbol transforms a group of symbols into the same one – so it will transform all Character symbols into the same Character, or all low paying symbols into the same low paying symbol. It will then transform into this symbol itself.
Reel Split will double all symbols on the reel above, increasing the ways to win before disappearing and causing the bottom reel symbols to then move over to the left. Reel Split symbols will only appear in the bottom reel positions, and all reels can be split a maximum of 2 times. Reel Split does not split the Grit Girl symbol, and instead doubles its multiplier.
xWays symbols can land anywhere except the top reel, whilst Infectious xWays symbols can only land in the bottom reel positions. xWays symbols will reveal 2-3 instances of the same symbol, therefore increasing the amount of ways to win. Infectious xWays will only reveal 2 symbols, however any other instances of the revealed symbol on the reels will then also be infected and increase to 2 high, increasing the ways to win even further. Symbols can only be affected once – multiple Infectious xWays symbols do not affect each other, and can only affect the revealed symbol once per avalanche.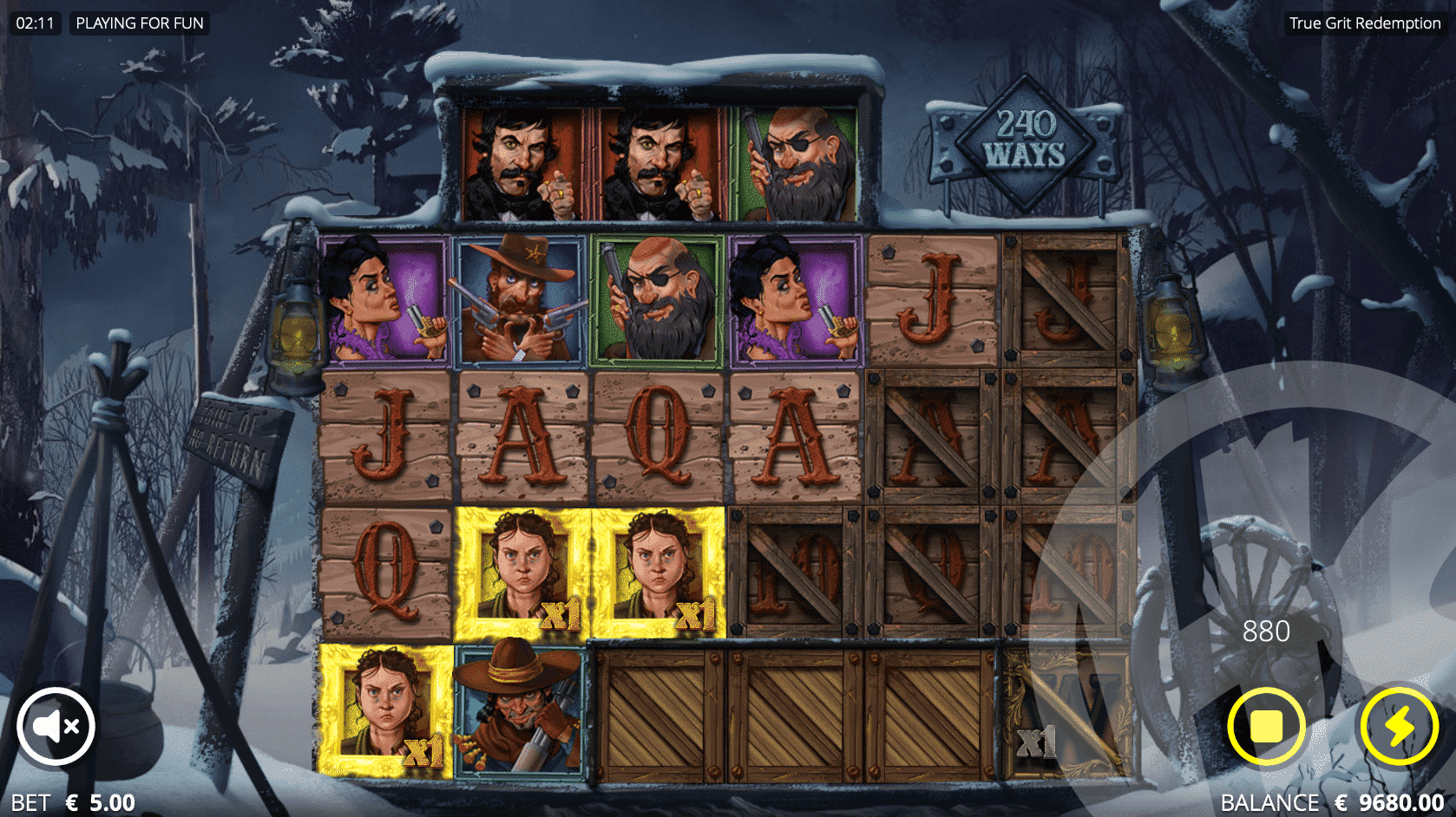 Grit Girl symbols can only land on reels 1-4 of the main reels. The Grit Girl symbol does not pay in ways to win as other symbols do – instead, a single win of 25x or 500x bet is awarded for landing 3 or 4 in view, respectively. Any Grit Girl wins are multiplied by the sticky wild multiplier in the bottom right position, whether it is locked or not. Split Reel symbols do not split Grit Girl symbols, and instead double the payout multiplier.
When multiple Special symbols are triggered in one avalanche the order they would be played out would be: Reel Split, xWays/Infectious xWays, Wild Transform, xNudge Wild, Transform 'Em.
True Grit Redemption Bonus
Scatter symbols can only land on reels 1-4, and landing 3 Scatters will trigger 8+ Torture Spins, whilst also unlocking all but the bottom right position on the reels. Any triggering Scatters affected by Reel Split awards +1 additional spins per extra part of the split symbol. Scatters can only be split by Reel Split if both symbols land together in the same avalanche – Reel Split symbols landing after Scatters have already landed will not split Scatters.
The active game area unlocks during Torture Spins, as mentioned above, and remains unlocked for the duration of spins. The sticky wild multiplier in the bottom right position remains locked, but will come into play for wins involving Grit Girl.
Landing a fourth Scatter symbol upgrades to Dead Spins, awarding +2 spins, plus an additional +1 spins for each extra split part of the Scatter, if appropriate.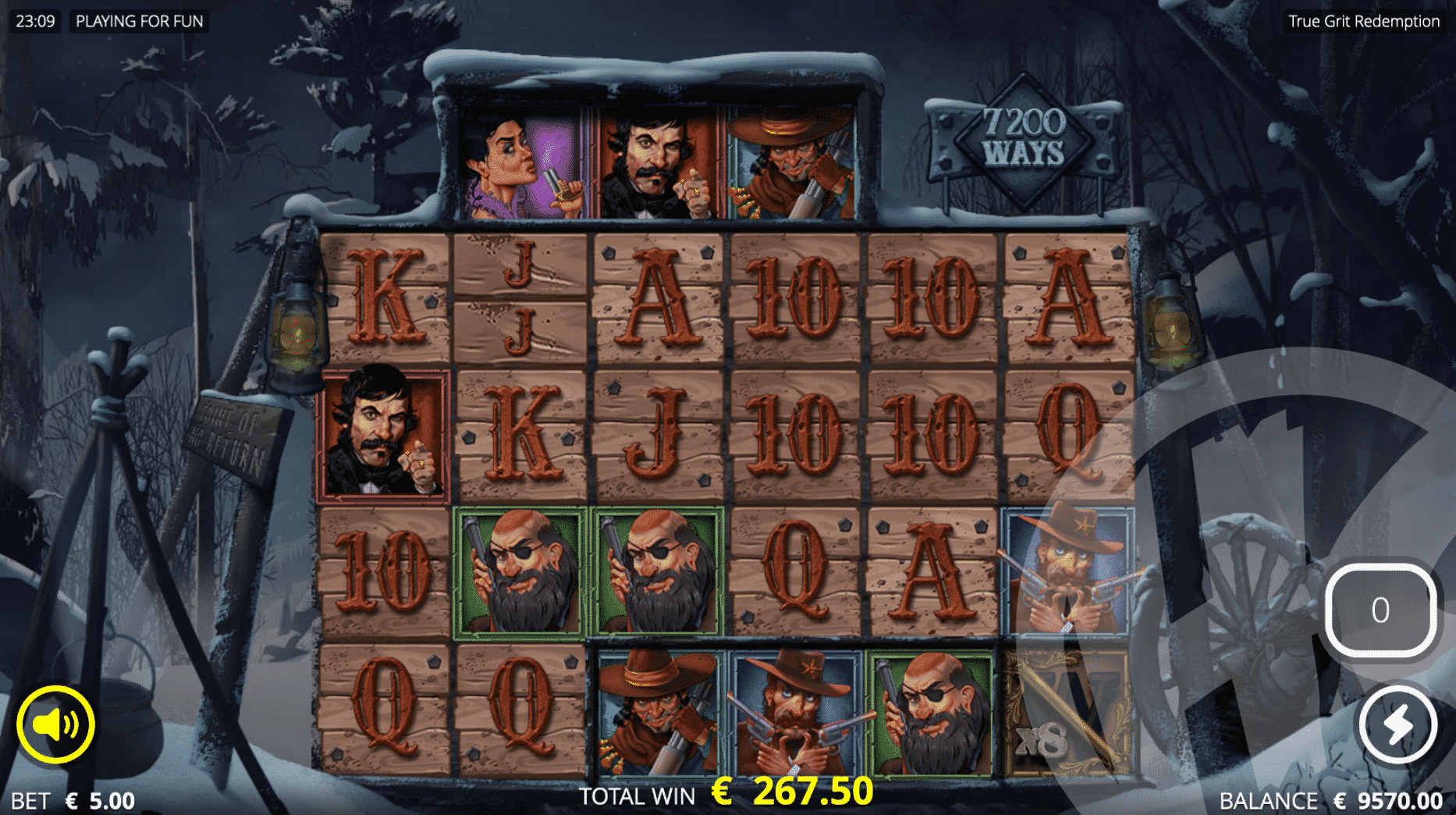 Landing 4 Scatter symbols triggers 10+ Dead Spins, with any Scatters affected by Reel Split triggering an additional +1 spin per extra part of the split symbol. All positions on the reels will be unlocked, including the bottom right Sticky Wild symbol with a multiplier – this multiplier increments by +1 for each and every cascade.
It wouldn't be a Nolimit release with Nolimit Buy options, which are as follows:
Torture Spins: 69x bet (96.56% RTP)
Dead Spins: 669x bet (96.91% RTP)
Lucky Draw: 189x bet (96.81% RTP)
Lucky Draw has an 80% chance of triggering Torture Spins, and a 20% chance of triggering Dead Spins. RTP values noted above are based on the default base game RTP of 96.11%. A lower setting of 94.04% is available and the above RTPs would therefore also be lower.
No More Grit to be Found refers to the maximum win available in True Grit Redemption – 20,220 times the base bet. If the total win of a single game round exceeds this amount the game round will end and 20,220x bet will be awarded. The probability of this is 1 in 6,000,000 spins.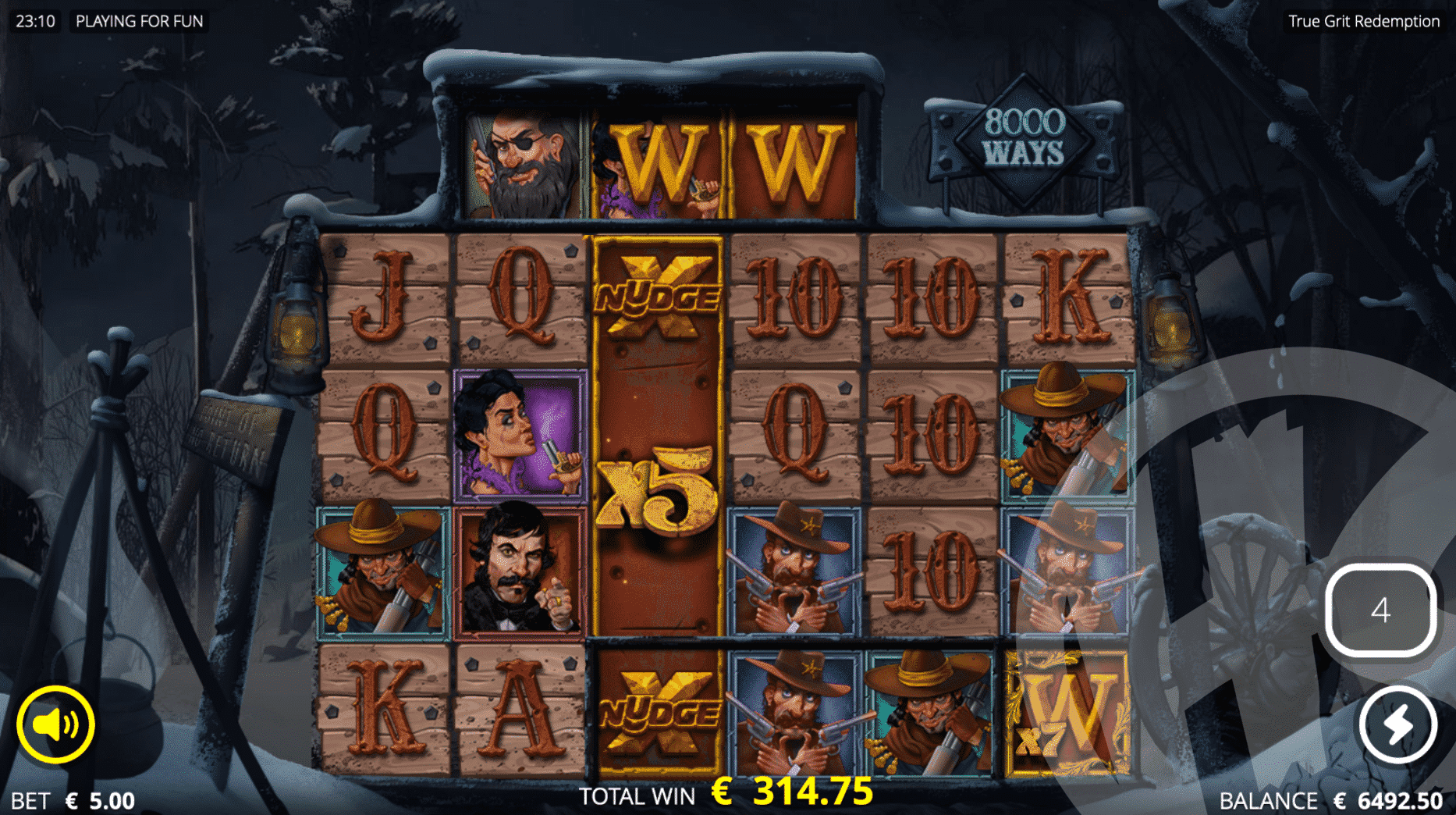 First Impression
It's certainly easy to see where the team have taken their inspiration for True Grit Redemption from – and thankfully it's their own catalogue, so we get even more of the mechanics players across the globe have come to love. It seems for the final release of 2021 the team have cherry picked players' favourite features from the past 12 months, combining into a highly volatile release filled to the brim with action and excitement. We have almost enhancer cell-like bottom and top reels paying homage to San Quentin, the Goblin Sacrifice moment we mentioned above, and we have Split Cells to double all symbols and award additional spins if they work alongside Scatters – not unlike the Fire Frames of Mental. This is a team that know what they're doing and what their style is, so it's no wonder these features can move freely between releases.
Considering the experience of playing, this is the closest to 'normal' a release has ever felt from the team. Looking at the reels, the ways to win, cascading symbols and the possibility for win multipliers, this seems to be the most simple things have ever felt in a Nolimit release, edging so closely to the host of 'ways to win' releases already available – but this is merely on the surface. Once you add in the host of modifiers available things take a sharp turn back into the overwhelming excitement that we're used to from this developer. The point remains, though – for those who prefer a relaxing, easy release this one could still be perfectly suitable. Whilst the Special symbols each add something they aren't distracting, and if you don't understand them you could still completely appreciate the game itself. If you're the sort of person who wants to know what's happening at all times, however, I recommend giving the info a quick read through.
Speaking of Special symbols, and in my experience they weren't as common as you would think – in my time on demo (100s of spins) there were certain Special symbols I didn't see once, and the others were few and far between. This could just be the luck of my demo session rather than indicative of how often all players should expect to see them, but let's remember volatility is rated high (10/10) in this release, so buckle in for what could either be an incredibly rewarding, or sufficiently rough ride. Potential matches the risk though, with wins on offer up to 20,220x bet in size, expected on average 1 in 6m game rounds, making this a softer option than the likes of San Quentin, but still harsher than a lot of other options available – sort of in the xWays Hoarder region. Default RTP is 96.11%, with a lower setting of 94.04% available.
True Grit Redemption ends the year for Nolimit City on a high, perfectly summing up how 2021 has been for them – almost like the Netflix captions below your favourite series:
Critically Acclaimed • Gritty • Irreverent
*The screenshots taken of games reviewed on this site are taken from Demo Play, as reviews are often written before games are released for real play.