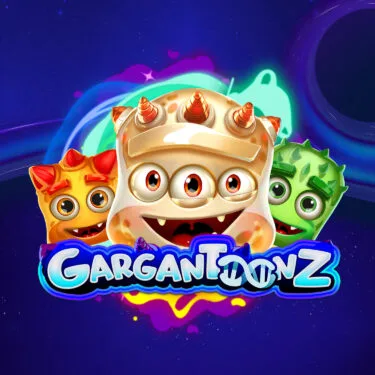 Gargantoonz
Game Provider: Play'n GO
Release Date: Available Now
Gargantoonz
Game Studio Play'n GO
Release date Available Now
RTP 91.20% - 96.20%
RTP Feature Buy N/A
Paylines Cluster Pays
Volatility High
Min Bet 0.10
Max Bet 100
Max. Win 7,000x
Rating 8.3/10
It's time to say hello to our favourite aliens again as Play'n GO invite us back into the intergalactic adventure that is the Reactoonz series. Starting off with Energoonz in 2013, this team got the ball rolling on their revered cluster series, but it wasn't until the release of Reactoonz in 2017 that people really started to pay attention.
Followed by Reactoonz 2 in 2020, Dr Toonz in 2021 and Gigantoonz in 2022, this series has been around the galaxy twice over – always accompanied by the same little creatures. Now, it's time for Play'n GO to bring us back to the fold as they bring us the fifth in this series with Gargantoonz.
With RTP options available up to 96.20%, this highly volatile release can produce wins up to 7,000x bet.
It's classic Reactoonz style art in Gargantoonz as we find ourselves floating through a deep navy sky scattered with twinkling stars in front of a black hole. That's pretty much it for the background which is kept simple to allow our alien friends to stand out. The other attention this release commands is for Gargantoon floating to the bottom right of the screen and a meter directly above him, which fans of this series will know tie in together.
Apart from that, we focus on the grid, which contains the usual assortment of aliens in a variety of colours. We do see a return of the red alien from Gigantoonz in this release maintaining its spot as the highest paying symbol, so keep an eye out for him. Finally, a sci-fi styled tune comes in to tie it all together. All in all, a nice and familiar picture.
Gargantoonz Features
Taking place on a 7×7 grid, wins are formed on Gargantoonz by matching clusters of at least 5 symbols touching horizontally or vertically. Symbols pay for clusters of 5, 6, 7, 8, 9, 10+, 12+, 15+ or 18+ and begin with non premiums, with yellow, green, red, purple and blue one-eyed aliens. Land clusters of 5 of any of these creatures to see wins between 0.10 and 0.20x bet, increasing to values between 20 and 40x bet for clusters of 18+.
At the premium end we meet a variety of two-eyed aliens – blue, orange, green and pink. Land clusters of 5 of any premium to see wins between 0.50 and 0.80x bet, increasing to values between 250 and 500x bet for clusters of 18+. The red alien is the highest paying symbol, awarding wins between 1 and 1,500x bet for clusters between 5 and 18+. Finally, there are a variety of Wild symbols that can land on the grid, and each of them will substitute for all symbols.
Cascade
First things first, cascades.
On every spin, all symbols that are involved in a win will be removed from the grid, with all remaining symbols dropping down to the bottommost available position of their respective columns.
New symbols will then drop in from above, with cascades continuing until no new wins are formed.
Fluctuate
There are a number of different features to cover in Gargantoonz, but we'll start with the most simple – fluctuate, which will be recognised by fans of these series.
On every spin, a non premium one-eyed symbol type is chosen to fluctuate on each round. These symbols will have a glow around them.
If a win is formed that includes fluctuating symbols then 1-2 Quantum Wilds will appear in any spots where a fluctuating symbol was removed.
Discharge
On any spin that does not create any win, it is possible that 4-8 Quantum Wilds will be added to the grid in random positions.
Quantum Wilds are one of many Wild symbols that appear in this game, and will substitute for all symbols to form wins.
It is also possible that Wilds will just land in the initial symbol drop.
Experiment Charger
If no experiments (which we'll get to soon) are ongoing, any winning clusters that are formed in Gargantoonz charge the experiment charger.
The experiment charger requires 20 symbols to charge it up. Once fully charged with 20 symbols, an experiment is chosen at random after all winning cascades have completed.
Experiments
At the start of any experiment unique Wild symbols are added to the grid, and any existing Wilds will also be changed to match.
When an experiment is ongoing, only Wilds can charge the experiment charger with their values.
In this state, 40 symbols charge the charger.
If the charger is overcharged by an additional 40 symbols the Gargantoon multiplier is increased by +1.
If the chosen experiment is successful, another experiment will follow until all 3 have been completed – each experiment can only occur once in a game round.
If the chosen experiment is not successful, the experiment cycle concludes and a new spin begins with the charger reset back to 0.
Supernova
In this experiment, 3 to 5 Wilds are added to the grid.
If these Wilds are involved in winning combinations, they will count the number of symbols in their winning clusters, remain on the grid and move one position diagonally if possible – but they cannot intersect.
When all winning cascades have been completed, Wilds move 8 steps in any direction, collecting symbols in their path, and then leave to charge the charger.
If 3 or more Wilds start in the same cluster they will trigger their effect immediately and leave the grid to charge the charger.
Gamma Ray Burst
In this experiment, 7 to 9 Wilds are added to the grid.
If these Wilds are involved in winning combinations, they will count the number of symbols in their winning clusters before removing and counting all additional symbols of the same type.
Any additional symbols that are removed are only counted once, so matter how many initial winning clusters they occurred in.
When the symbols are counted the Wilds leave the grid immediately and charge the charger before any cascade initiates.
Black Hole
In this experiment, 4-6 Wilds are added to the grid.
If these Wilds are involved in winning combinations, they will count the number of symbols in their winning clusters and remain on the grid.
When all winning cascades have finished Wilds collect all symbols that are horizontally, vertically or diagonally adjacent and then leave to charge the charger.
If multiple Wilds share an adjacent symbol the symbol is only counted once.
If 3 or more Wilds are in a cluster they trigger their effect immediately, counting adjacent symbols and charging the charger.
Gargantoon Charger
Each successful experiment will charge the Gargantoon charger, which in turn makes the Gargantoon evolve.
The Gargantoon charger starts with a multiplier of x1, but this can be increased by +1 each time the experiment charger is overcharged by 40 symbols during an experiment.
Is it possible for the Gargantoon charger to end with a multiplier of x1, x2, x3 or x4.
If all 3 experiments are successful (by charging with a minimum of 40 symbols) the Gargantoonz feature is triggered.
Gargantoonz Feature
Similarly to many releases in this series, the Gargantoonz feature plays out in 3 steps.
Firstly, 8 1×1 Gargantoon Wilds appear on the grid in random positions and substitute for all symbols.
After any wins are formed, the 1×1 Gargantoon Wilds will merge into 2 2×2 Gargantoon Wilds ahead of the next cascade.
The 2×2 Gargantoon Wilds will then merge into a 3×3 Gargantoon Wild after wins are counted but ahead of the next cascade.
After forming wins, the 3×3 Gargantoon Wild is removed with all winning symbols.
There is no feature buy available in Gargantoonz.
The maximum win available in Gargantoonz is 7,000x bet. If the sum of a single game round exceeds this, the game round will end and 7,000x bet will be awarded.
First Impression
Gargantoonz is about as fun as you'd expect a new release in this series to be, with enough tweaks to keep it feeling fresh but not so many that it feels like a different series. At the time of the Gigantoonz release, which personally I'm a big fan of, many players felt let down by what they deemed to be too many changes. We moved to needing 6 symbols to form wins, and multipliers didn't help symbols to count for additional symbols, which meant mega symbols didn't serve the purpose you imagined. It wasn't a bad release, but drawing on the Reactoonz name meant players had certain expectations, and they couldn't separate these in their head.
Gargantoonz shares none of the same problems. We have the same core mechanic we've always had – charging meters to release Gargantoon Wilds, although now they release smallest to biggest, which is an interesting change. Along the way, a host of experiments help things to feel like they're moving in the right direction, along with actually producing some nice wins.
In this release, experiments are all about Wild symbols, with these taking on the bulk of the weight in keeping excitement levels high. In spite of this, each experiment does feel unique to the last, and each have shown – as least in our testing – that they're capable of doing what you need, and then some.
With the potential to trigger Gargantoon Wilds with a multiplier up to x4, it's clear to see what this release can do. We didn't see the x4 multiplier, but we did see x2 a fair few times, so that seems achievable if nothing else. Ultimately you're playing for the Gargantoon feature, which is as quick as ever and over before you know it – but the build up is half the joy. When the right combinations occur, wins are possible up to 7,000x bet.
Finally, maths is highly volatile and RTP options are available up to 96.20%, so as always it's worth checking this. It's simple really – if you've been a fan of this series, Gargantoonz offers you everything you could want. If you haven't been convinced so far, there might be enough tweaks, like the hyper focus on Wilds, to twist your arm.
*The screenshots taken of games reviewed on this site are taken from Demo Play, as reviews are often written before games are released for real play.
Highest Rated Play'n GO Slots