It's time to revisit one of our favourite secret agents, as Big Time Gaming leave behind the dusty plains of Big Bad Bison and gear up to bring us a sequel to their 2022 release, Max Megaways. Let's face it, being a spy would be a pretty sweet job that would take you to some extremely cool locations – and what location could be cooler than the moon, where Max finds himself jetting off to today.
After defeating the evil Dr Fudge Indare in the first of this 3 part series from Big Time Gaming, Mr Megaways returns now to attempt to defeat all evil in zero-g, in Max Megaways 2.
With a fixed RTP of 96.65%, this highly volatile release can produce wins up to 147,620x bet.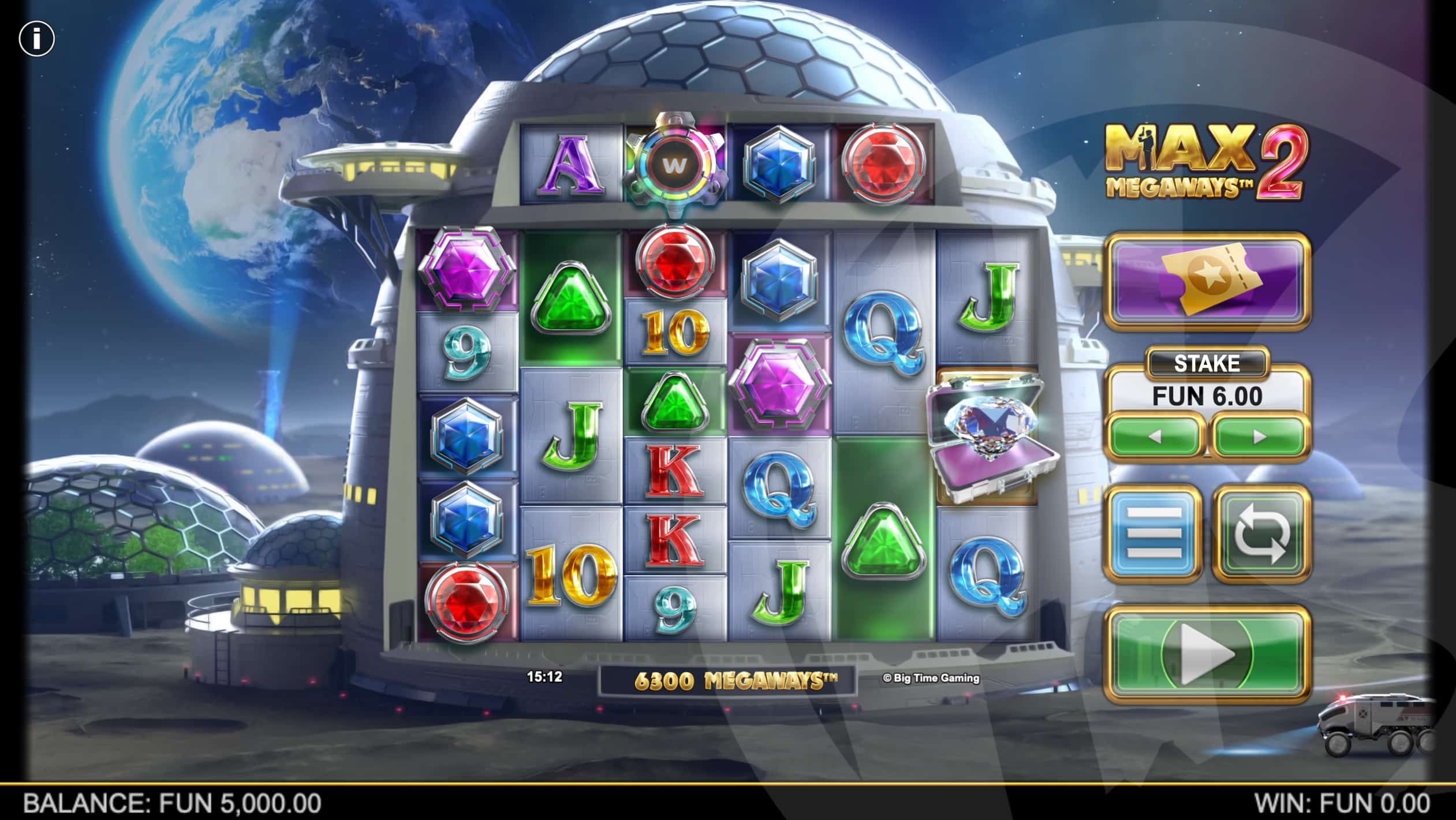 The thing about spys, as they have usually been depicted, is that they tend to have an endless stream of money to ensure they get the job done, and the same seems to be true for Max Megaways, who has set up some sort of base camp on the moon – complete with a greenhouse growing trees, balconies, spotlights, and vehicles – nicer than many houses on earth.
Our regular home sits in the background to remind us just how far away we are, whilst the deep navy sky is speckled with stars. Apart from this, all of the action sits on the reels which are contained within a silver dome. It's all finished off with the same bond-styled thrilling soundtrack from the original, helping to tie it all together.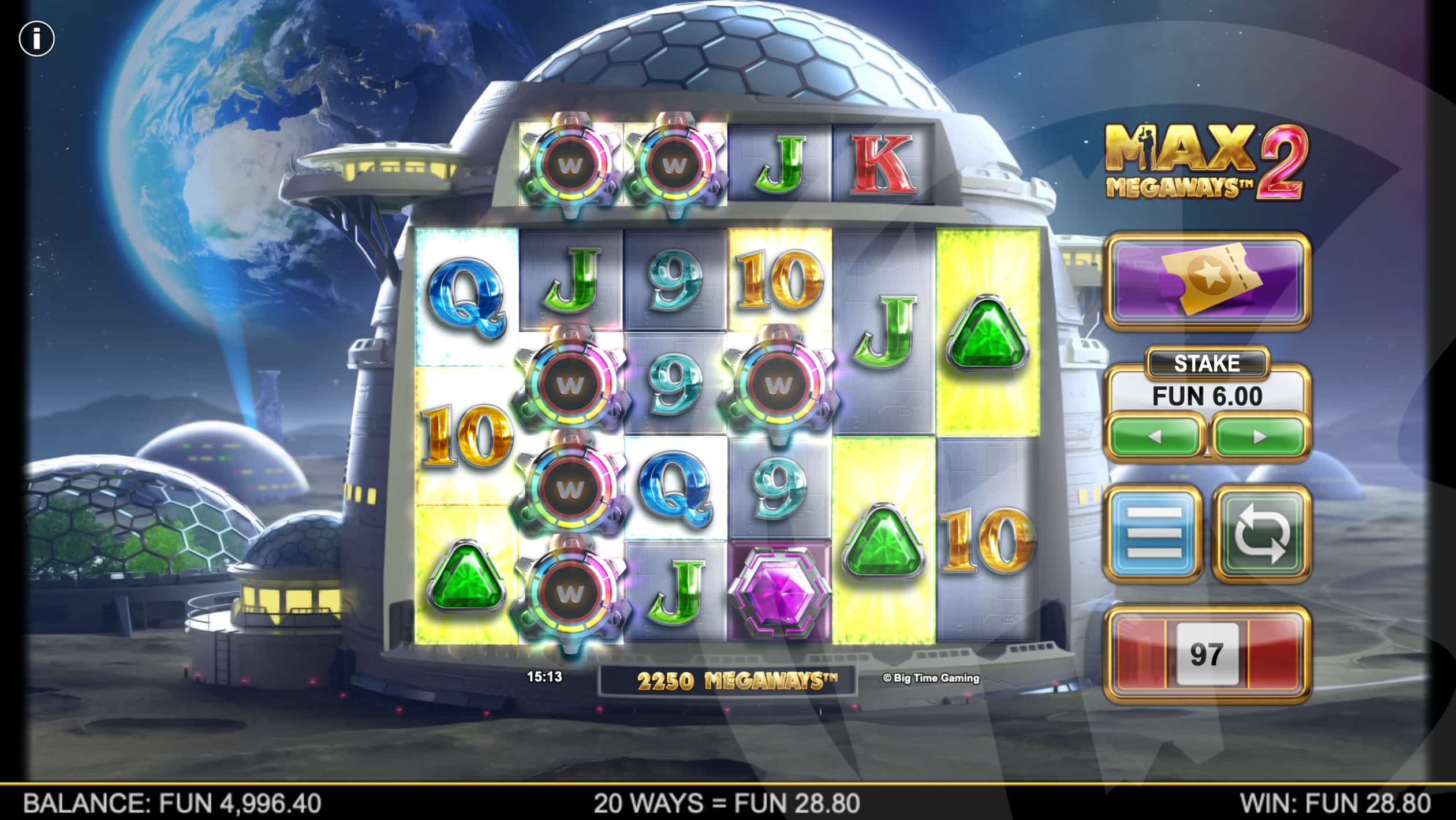 Max Megaways 2 Base Features
Taking place across 6 reels, wins are formed on Max Megaways 2 by matching at least 2 or 3 symbols on adjacent reels, beginning with the leftmost reel. Each reel can hold up to 7 symbols, including the Extra Reel above reels 2-5, producing a maximum of 117,649 ways to win – also known as 'Max Megaways'.
Symbols available are suitably BTG, beginning with non premiums – 9s, 10s, Js, Qs, Ks and As, awarding wins between 0.10 and 0.20x bet for 3 of a kind matches, increasing to values between 0.25 and 0.40x bet for 6 of a kind wins.
At the premium end we have the usual coloured gems – starting with green, blue and red. Land 3 of a kind of any gem to see wins between 0.25 and 0.30x bet, increasing to values between 0.50 and 0.60x bet for 6 of a kind matches. Purple gems are the highest paying symbol and the only to pay for 2 of a kind, awarding wins between 0.50 and 5x bet for matches between 2 and 6 of a kind.
Finally, rainbow Wild symbols substitute for all symbols except Scatters.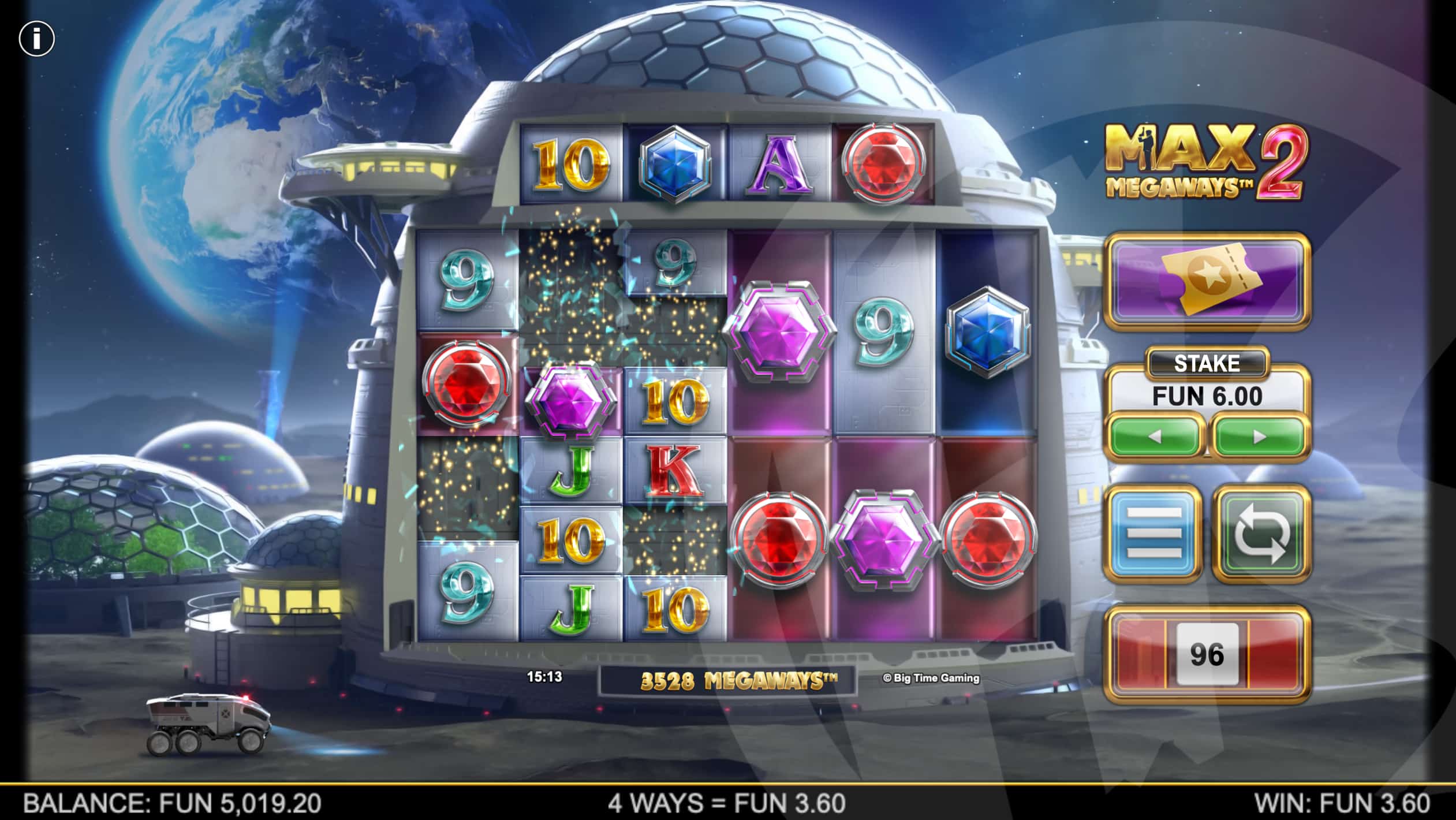 There are a few different features to spice up the base game of Max Megaways 2, beginning with reactions. On every spin, all symbols involved in a win will be removed from the reels, with all remaining symbols dropping to the bottommost position on their respective reels – or moving to the left on the Extra Reel.
New symbols will then drop in from above or from the right on the Extra Reel to fill all remaining gaps, with reactions continuing until no new wins are formed.
Base Game Bonuses
Alongside this, there are 4 Base Game Bonuses that can be triggered randomly on any spin or reaction.
Maximum Megaways – a spin is played with all reels at 7 symbol height, producing 117,649 ways to win.
Multiplier Wild – a Wild symbol with a multiplier up to x10 is added to the Extra Reel.
Horizontal Wild – all symbols in the Extra Reel are replaced by Wild symbols.
Symbol to Wild – all instances of a randomly chosen symbol are replaced by Wild symbols on reels 2-5.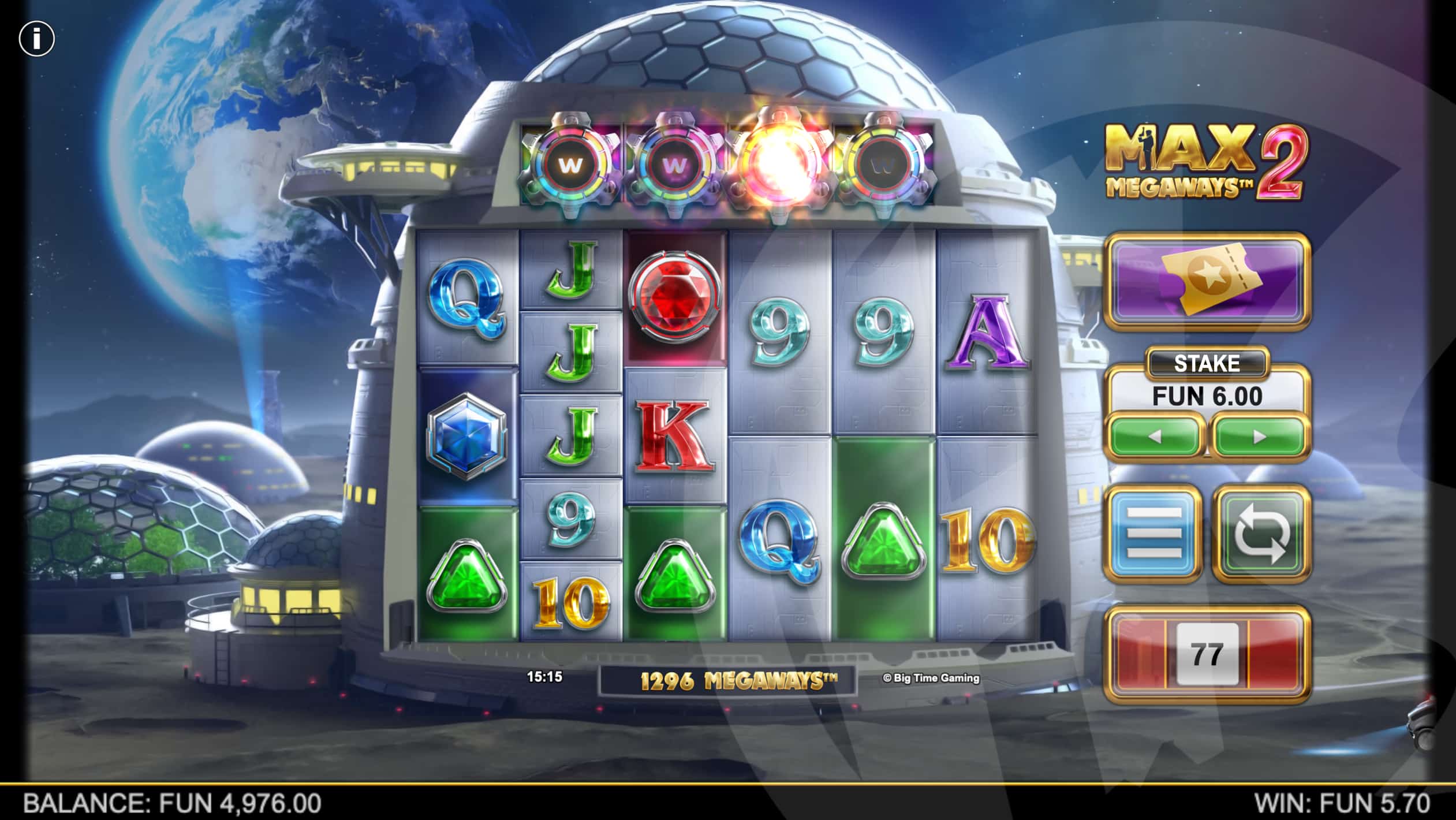 Win Exchange
Finally, Win Exchange™ is available in the base game. With Win Exchange, whenever you win 100x bet or more, you have the option to exchange 100x bet for 10 Free Spins.
If you have won more than 100x bet, only 100x bet will be exchanged, and the remainder will be added to your bonus win.
If you win between 25 and 99x bet, you have the option to exchange the entire win for a chance to be awarded 10 Free Spins – by gambling.
The chance of winning the gamble is represented by green on the wheel, and the chance of losing is represented by red.
The higher x bet the win, the more green will be present on the wheel.
Enhanced Win Exchange
After winning Free Spins through a Win Exchange gamble players have the opportunity to win Enhanced Free Spins, represented by purple on a second wheel.
This second gamble awards either Enhanced Free Spins or normal Free Spins – you do not lose the feature.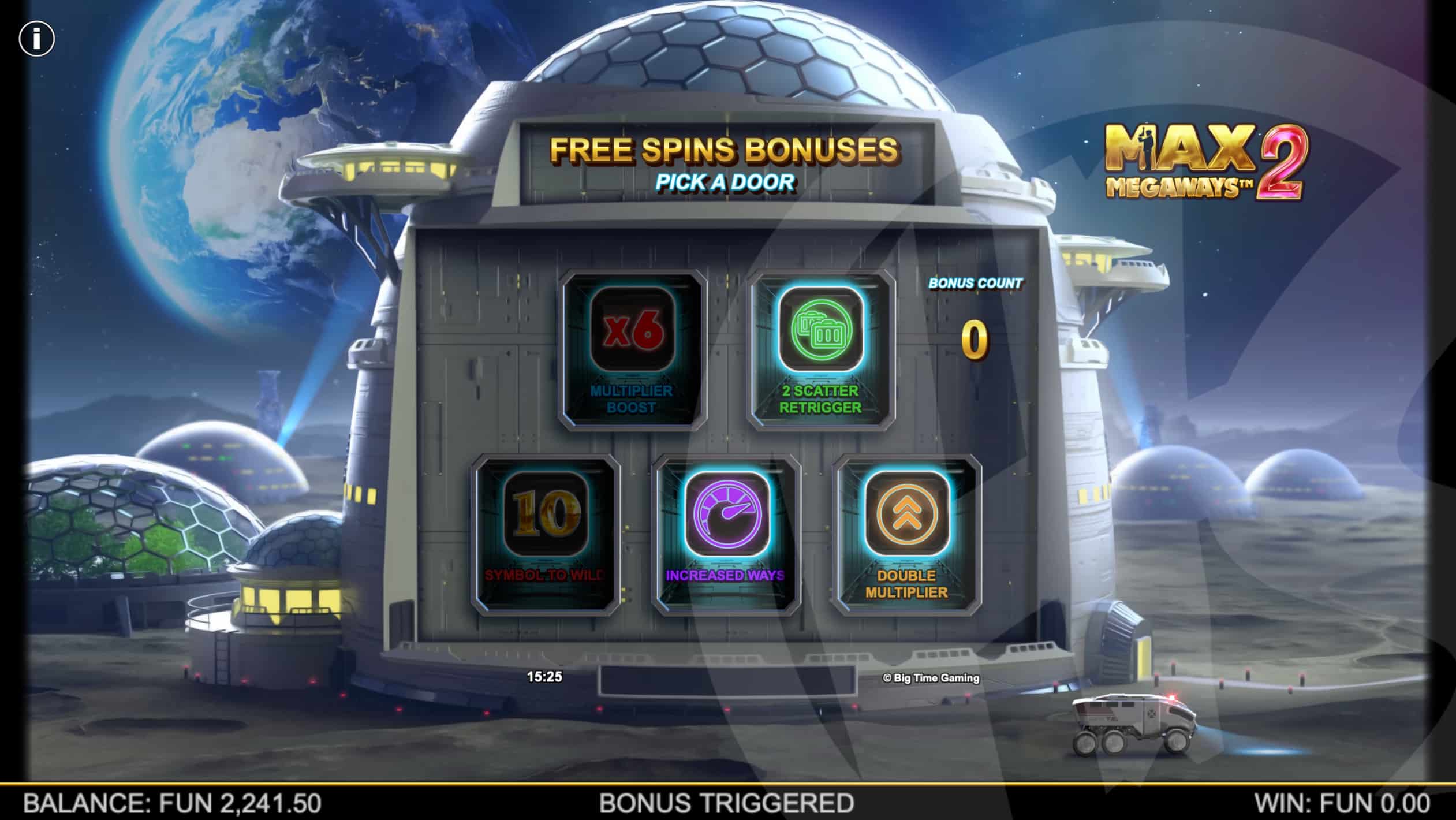 Max Megaways 2 Bonus
There are 2 Scatters in Max Megaways 2 – the regular Gold Scatter and the Diamond Megascatter.
Land 3 or more Scatters in view to trigger 10 Free Spins, plus an additional +2 spins for each Scatter beyond the third. If one of the triggering Scatters is a Megascatter, Enhanced Free Spins are awarded.
In either instance, we move inside the dome.
Free Spin Doors
Before Free Spins begin, players must choose a certain number of doors to reveal Free Spins Bonuses. If Free Spins have been awarded 2 doors are chosen, but if Enhanced Free Spins have been awarded 3 doors are chosen.
Multiplier Boost – the win multiplier will start at x6.
Symbol to Wild – all instances of the revealed symbol on reels 2-5 will be replaced by Wild symbols.
Double Multiplier – the win multiplier will increase by +2 after each reaction.
2 Scatter Retrigger – 2 or more Scatters will award a retrigger.
Increased Ways – at least 5 symbols will occur on every reel, guaranteeing a minimum of 15,625 ways to win.
During Free Spins there is a win multiplier active, beginning at x1 and increasing by +1 for each reaction. Landing 3 or more Scatters will award +5 spins, plus an additional +5 spins for each Scatter beyond the third.
Each of these features can be improved depending on the Free Spins Bonuses revealed.
Bonus Buy
Players in appropriate regions can skip straight to the action with 2 Bonus Buy options.
10 Free Spins – 75x bet
10 Enhanced Free Spins – 200x bet
RTP decreases ever so slightly for both bonus buys, from 96.65% to 96.64%.
Whilst Big Time Gaming usually opt not to place a win cap on their games, the maximum win observed so far in Max Megaways 2 has been 147,620x bet.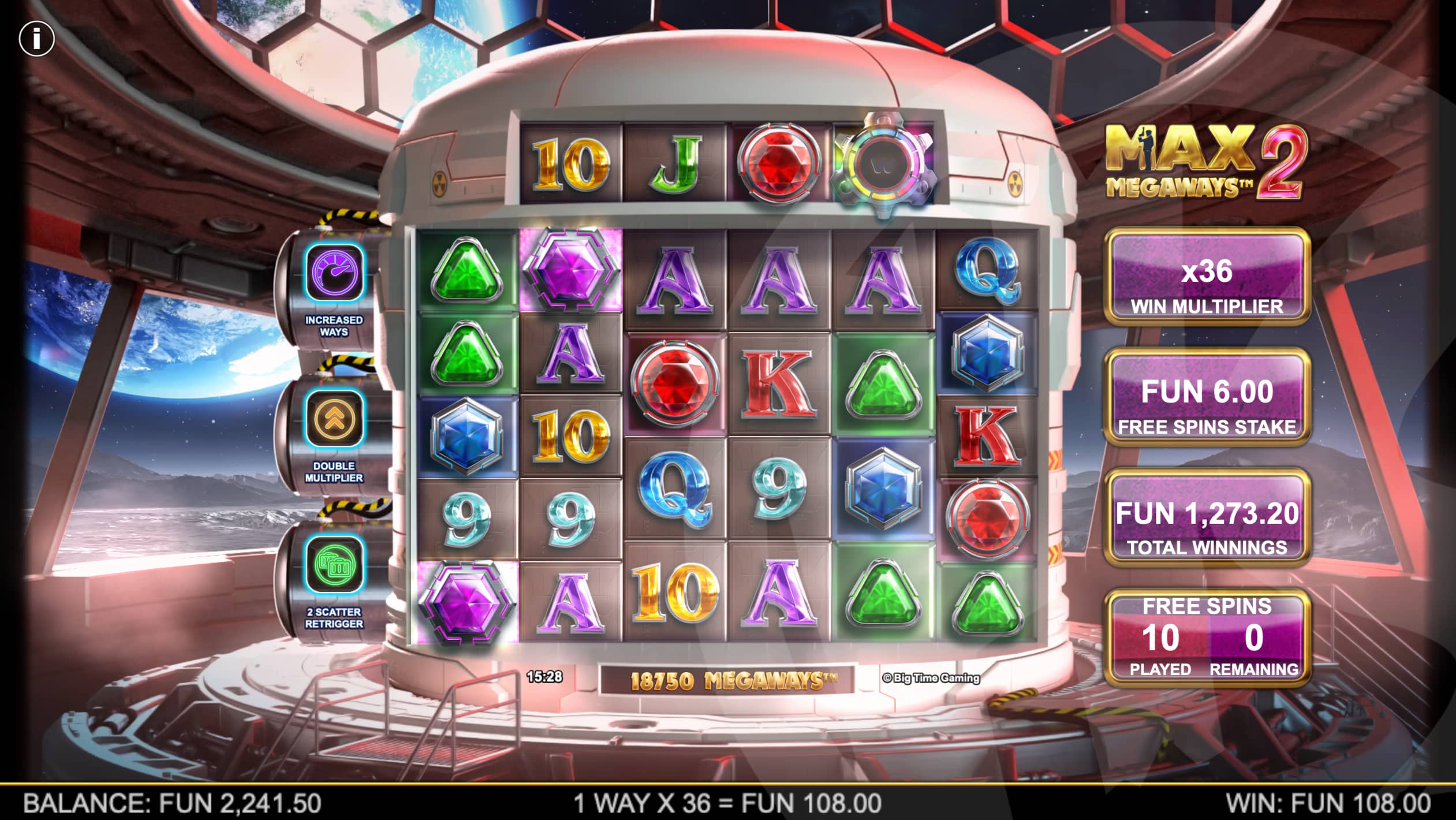 First Impression
Max Megaways proved to be one of the more popular releases for Big Time Gaming in 2022. A combination of Megaways, which has always been a popular mechanic, and a variety of bonuses, features, and picks led to players favouring it over some of the other Megaways offerings on the market. Whether the team knew this would be the reception or not, they had already decided that this would be a 3 part series before the first was even released.
Big Time Gaming have already been responsible for another series with their Cult Trilogy (Lil' Devil, Wild Flower and Outlaw), and the differences between the two couldn't be more stark. Max Megaways (both 1 and 2), feels more gimmicky, less volatile, and aimed more toward the casual player – perhaps the reason the original was so popular.
We aren't here to compare across series though, so I digress. Max Megaways 2 picks up where the original left off, offering a variety of features and bonuses that, in many ways, are the same as its predecessor, but in some ways are different.
Wild Multipliers in the base game and Multiplier Boost and Symbol to Wild in the bonus have all been new additions, at a loss of Wild Bombs, Duplicating Wilds and No Lower Symbols – it'll be up to you to decide which you prefer. Aside from this, general improvements have been made in art and scenery, whilst music has stayed the same.
The other change has been in win potential – the original boasted wins of 100,000x bet plus, but now we have a more specific number – wins are possible in Max Megaways 2 up to 147,620x bet. The biggest change of all? You can now skip the big win count up in the bonus!
Finally, maths is highly volatile and RTP is fixed at 96.65% – again an improvement. There's plenty within Max Megaways 2 to keep players interested and excited, but arguably not enough to twist the arm of those who weren't convinced the first time around. If you were a fan, this sequel was quite literally made for you.
*The screenshots taken of games reviewed on this site are taken from Demo Play, as reviews are often written before games are released for real play.