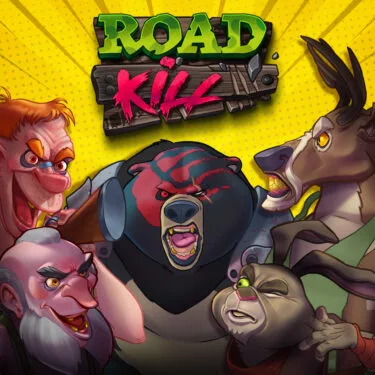 Roadkill
Game Provider: Nolimit City
Release Date: Available Now
Roadkill
Game Studio Nolimit City
Release date Available Now
RTP 92.07% - 96.05%
RTP Feature Buy 96.21%
Paylines 99
Volatility High
Min Bet 0.20
Max Bet 100
Max. Win 11,091x
Rating 8.4/10
Did you know that you're three times more likely to have an accident when driving at night? An estimated 40% of road traffic collisions happen at nighttime and an alleged 12 million drivers in the UK fear driving after dark. It's not just humans who are in danger during these hours though. Hundreds of thousands of foxes, deer, rabbits, squirrels and raccoons are killed each year, known grimly as 'roadkill'.
Now, it's time for these animals to take a stand as Nolimit City invite us off the beaten track to meet Papa Bear, Fred the Rabbit and Deer Joe – who aren't taking any sh!t from anyone.
Preparing to standoff against duo Hilly and Billy, these animals are taking things into their own paws as Nolimit City leave behind the lakeside of Ugliest Catch to bring us Roadkill.
With RTP options available up to 96.05% (96.21% feature buy), this highly (8) volatile release can produce wins up to 11,091x bet.
Stylings are unique in Roadkill but immediately similar to that of Road Rage, which makes sense given that this seems to be something of an unofficial sequel. We find ourselves on a dirt track through a forest, looking down from above with grassy banks and sweeping trees above and below the reels.
Most of the excitement comes from the symbols on the reels – a variety of feisty looking animals, a couple of hillbilly characters and an assortment of amusing items, including a red MAGA hat caught in a bear trap. It's all finished off with a unique and upbeat soundtrack, littered with topical sounds.
Roadkill Base Features
Taking place across 5 reels, wins are formed on Roadkill by matching at least 3 symbols on adjacent reels, beginning with the leftmost reel. Much like Road Rage, there are neither fixed win lines nor ways to win active in Roadkill. Instead, it utilises connected win ways where symbols must land on adjacent reels in positions equal to, or one row above or below, the previous.
Symbols available begin with non premiums, with black garbage bags, acorns, bear traps, tyres and barrels. Land 3 of a kind of any non premium to see wins between 0.10 and 0.25x bet, increasing to values between 0.50 and 1.50x bet for 5 of a kind matches.
At the premium end, players meet 3 animal characters – G.Coonie, Love-Nut and El Zorro, who are a raccoon, squirrel and fox. There are also 2 human characters – Hilly and Billy, who presumably are father and son. Land 3 of a kind of any premium to see wins between 0.30 and 0.50x bet, increasing to values between 1.50 and 7.50x bet for 5 of a kind matches.
Jumping Wilds
Before we cover any of the features in this release, you must first understand some mechanics, beginning with Jumping Wilds.
There are 3 kinds of Jumping Wilds, and they can only land and move in the Battle Area (reels 2-4).
Papa Bear
When Papa Bear is active, a general multiplier is activated.
Tries to move 1 step in any direction every second spin.
Can block a car once from left or right by damaging it for two hit points.
When a car is stopped, the general multiplier is increased by +x1 to a maximum of +x5.
When a car is stopped, Papa Bear's Collector increases by 1.
If the Collector reaches the cap a permanent x2 multiplier is applied to the Jumping Wild.
Fred the Rabbit
Fred the Rabbit acts as a Trapper.
Moves to any position within the Battle Area on every spin.
Can block a car multiple times from left or right by damaging it for one hit point.
When a car has been stopped Fred the Rabbit will leave behind a Wild in its current position before jumping to a new one.
If the Collector reaches the cap Fred the Rabbit will apply a trap on its starting position, which can block and damage a car once and turn itself into a Wild symbol if the car is stopped. Alternatively, if the Trap doesn't stop or hit any car it is removed before the spin stops.
Deer Joe
Deer Joe acts as a Split Wild, triggering only if it blocks a car.
Moves 1 step in any direction on every spin.
Can only block a car once from left or right by damaging it for one hit point.
When a car is blocked, Deer Joe splits all the symbols on the same row and direction where the car came from.
If the Collector reaches the cap, the Split feature will slice all rows instead of just one.
Collectors
When a Jumping Wild animal is in play the Collector is enabled. Collectors are displayed in a way that matches the corresponding Jumping Wild.
When a car is stopped by a Jumping Wild, the corresponding Collector value increases by +1.
Each Collector can have its value increased up to a maximum of 5, at which point the upgrade feature is triggered.
This enhances the Jumping Wild and upgrades a normal heart to become an armoured heart, or adds a new armoured heart.
Hilly and Billy Cars
When Jumping Wild animals are in play, Hilly and Billy cars are enabled and triggered between hits.
There are two cars.
Green (Hilly's Car) – comes in first every round, requiring to be hit once (1 hit point) in order to be stopped.
Red (Billy's Car) – comes in on every fifth round during Team Assemble or every round during Junkyard Assault, requiring to be hit twice (2 hit points) in order to be stopped.
When any car is in play it will travel across the reel area from right to left on a random row. If a Jumping Wild blocks the car, one hit point is removed from it.
If a car's hit-point reaches zero the car is stopped.
If a car moves from right to left without being stopped it will move back again from the left side on a random row. If it travels back and forth successfully it will either damage an armoured heart or remove a normal heart.
Any feature ends when no hearts remain.
Call to Arms
So that's everything you need to know about the mechanics and elements in play, so let's move on to Call to Arms now – which is triggered when 2 Scatter symbols appear.
During this feature, 2 Jumping Wilds are added to the reels, along with 2 hearts, and only the green car (Hilly's) will be in play.
Landing a third Scatter symbol during this feature will trigger Team Assemble Freespins and restore any hearts which have been lost.
Call to Arms ends when no hearts remain.
Roadkill Bonus
Land 3 Scatter symbols in the base game or upgrade Call to Arms to trigger Team Assemble Freespins.
Once triggered, this feature will apply 3 hearts and add all 3 Jumping Wilds to the Battle Area. Additionally, the red car (Billy's) is enabled and comes in with the green car every fifth spin.
Super Bonus
Upgrade all 3 Jumping Wilds to trigger Junkyard Assault Freespins with 3 hearts applied or any missing normal hearts restored.
During this feature, both cars will now be enabled on every spin.
Alongside this, the Jumping Wilds individual Collectors are now replaced by one Total Collector which starts from 0.
Both bonus modes end when no hearts remain.
Roadblock
When 20 hits are collected in the Total Collector Roadblock is triggered.
All normal hearts are restored and the Jumping Wilds are transformed to cover an entire row within the Battle Area each.
Hilly and Billy's cars come into play and hit one row each randomly, triggering a feature based on the row they hit.
Top Row – adds a Wild on reel 5.
Middle Row – splits all rows on reel 5.
Bottom Row – multiplies the 3×3 Battle Area Wild by x2.
This order does not change and each row can be hit twice.
When both cars have been stopped the rows now convert into a 3×3 Battle Area Wild, paying as normal, before splitting back into the 3 Jumping Wilds with the Total Collector reset back to 0.
Nolimit Bonus
Players in appropriate regions can take advantage of the following Nolimit Bonus options.
Team Assemble Freespins – 60x bet (96.15% RTP)
Junkyard Assault Freespins – 500x bet (96.21% RTP)
Lucky Draw (40% Team Assemble, 30% Team Assemble with 1 armoured heart, 20% Team Assemble with 2 armoured hearts, 10% Junkyard Assault) – 200x bet (96.19% RTP)
RTP values above are based on the overall RTP setting of 96.05%.
The maximum win available in Roadkill is 11,091x bet (Kings of the Road). If the sum of a single game round exceeds this, the game round will end and 11,091x bet will be awarded.
First Impression
Well, that was complicated. Interestingly, Road Rage was one of the more simple releases from this team – although this was more because they chose to leave out all of their 'x' mechanics, rather than actually being truly simple. Roadkill takes things to another level, though. It took a good few goes of not only playing the game but buying the bonus and reading the game sheet to really get to grips with this one. Is it needlessly complicated? Well, that remains to be seen.
You kind of need to know everything before you start this one, because it can be difficult to learn as you go along. Get to grips with the concept of cars and Jumping Wilds before getting started – which means reading the game information for most players.
If you can do that, then you can sit back and (kind of) follow what's happening with up to 3 Jumping Wilds, the potential for a 3×3 Wild, along with a hold and win aspect, upgrading hearts, hit points on cars, and everything else in between. When the right combinations occur, wins are possible up to 11,091x bet.
Finally, maths is highly (8) volatile and RTP options are available up to 96.05% (96.21% feature buy), so as always it's worth checking this. There's lots happening in Roadkill – some you'll get and some you won't. But like with many Nolimit City releases, if you can put aside your need for full understanding, you might just enjoy yourself.
RTP: 92.07% – 96.05%
RTP Main Game: 64.18%
RTP Bonus Modes: 31.87%
Volatility: High (8)
Free Spins: 1 in 239 spins
Win 100x bet: 1 in 734 spins
Max win: 11,091x bet
Max Win Main Game: 1 in 25 million spins (96.05% RTP)
*The screenshots taken of games reviewed on this site are taken from Demo Play, as reviews are often written before games are released for real play.
Highest Rated Nolimit City Slots