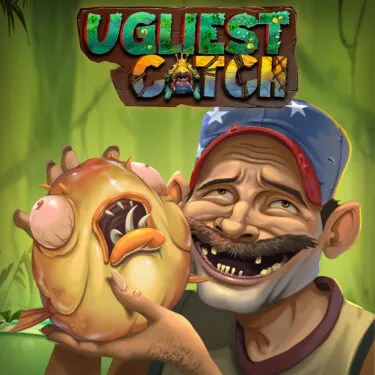 Ugliest Catch
Game Provider: Nolimit City
Release Date: Available Now
Ugliest Catch
Game Studio Nolimit City
Release date Available Now
RTP 92.37% - 96.11%
RTP Feature Buy 96.44%
Paylines 243+
Volatility Extreme
Min Bet 0.20
Max Bet 175
Max. Win 50,000x
Rating 8.2/10
It's time to tackle (pun intended) yet another fishing release, except this time the usual suspects are taking a backseat and giving Nolimit City the space to show us what they can do with this popular mechanic. Given the number of possible titles (fish, bass, trawler and so on), it's difficult to nail down just how many fishing games exist but one things for sure – we aren't short of options.
Yet that hasn't stopped Nolimit City from inviting us to join them in their approach, in which they try to maintain their quirky style despite the idea being far from original. According to the team, we're heading to the dirty and slimy depths of a lake plagued by years of illegal and toxic dumping, in Ugliest Catch.
With RTP options available up to 96.11% (96.44% feature buy), this extremely (10) volatile release can produce wins up to 50,000x bet.
Dirty and slimy was an understatement. Things really are filthy in Ugliest Catch, and with the amount of toxic dumping that would be required to create this environment, you can only imagine what the fish that could survive this will look like – although that's kind of the whole point. In spite of being noticeably different, the overall approach to artwork in this one is the same as most of the fishing games we're used to. Most of the action takes place underwater, although we do see the surface of the lake towards the top of the screen.
Aside from that, some greenery, a boat, a drunken fisherman and a collection of fishing related symbols and ugly fish make up the rest of the picture – along with some multiplier values to remind us that we're not venturing too far beyond the known here. It's all tied together by an interesting soundtrack with a southern twang.
Ugliest Catch Base Features
Taking place across 5 reels, wins are formed on Ugliest Catch by matching at least 3 symbols on adjacent reels, beginning with the leftmost reel. 3 symbols can land on each reel initially, producing 243 ways to win, but Enhancer Cells and xWays symbols help to increase this.
Symbols available begin with non premiums, with a fish hook, a bucket of bait, a frog, a cinder block with a dead foot attached, and a pair of red welly boots. Land 3 of a kind of any of these symbols to see wins between 0.25 and 0.40x bet, increasing to values between 0.50 and 0.70x bet for 5 of a kind matches.
At the premium end, we have an assortment of brightly coloured yet deformed fish, awarding wins between 0.60 and 1.20x bet for 3 of a kind matches, increasing to values between 1.80 and 5x bet for 5 of a kind wins.
Boosted xBet
Alright, so the first thing to cover in Ugliest Catch is Boosted xBet.
By activating Boosted xBet, players can bet an additional 75% to guarantee a Scatter will land on reel 2, opening the Enhancer Cells of that reel. Additionally, Freespins are two times more likely to be triggered when Boosted xBet is activated.
RTP does not change when Boosted xBet is activated.
Enhancer Cells
Speaking of Enhancer Cells, there is one of these at the top and bottom of every reel. Only the middle 3 symbols on every reel will be active unless the Enhancer Cells are opened.
To open Enhancer Cells, players need to land a Scatter on the respective reel.
Once they are triggered to open, Enhancer Cells can reveal one of the following.
Fisherman Wild.
Big Berta.
Regular Paying Symbol.
xWays Symbol (reveals 2-4 of the same symbol).
xWays symbols can only land in locked positions.
Fish Trophy & Big Berta
Much like we're used to from fishing games, Ugliest Catch offers players cash values, although it does so in 2 forms – the Fish Trophy and Big Berta.
Fish Trophy – possible values of 2x, 5x, 25x, 100x, 250x, 1,000x or 5,000x bet.
Big Berta – possible values of 100x, 250x, 1,000x or 5,000x bet.
Kill N' Grill Wild Fishing
This feature is triggered when a golden Fisherman Wild symbol is revealed behind an Enhancer Cell. Alternatively, it is triggered by landing a Fisherman Wild in any reel position during Freespins.
During Kill N' Grill Wild Fishing the values of any Fish Trophy or Big Berta symbols are collected and awarded.
Ugliest Catch Bonus
Land 3 or more Scatter symbols to trigger Freespins.
3 Scatter symbols – 8 Lunker Spins with 6 opened Enhancer Cells.
4 Scatter symbols – 9 Hawg Spins with 8 opened Enhancer Cells.
5 Scatter symbols – 10 Honey Hole Spins with 10 opened Enhancer Cells.
During Lunker and Hawg Spins landing a Scatter symbol will award an additional +1 spins and open the Enhancer Cells of the respective reel.
Troll Level
During Freespins, the Troll levels displayed on the boat above the reels become active. Each time a Fisherman Wild symbols lands on the reels, it is collected on this display.
The Troll level increments with every fourth Fisherman Wild that is collected.
Freespins begin at x1 and move through x2, x3 and x10. Each time a new Troll level is reached the multiplier upgrades for the remainder of spins and additional +2 spins are awarded.
The Troll multiplier is applied to the value of any Fish Trophy symbols collected.
Nolimit Bonus
Players in appropriate regions can take advantage of the following Nolimit Bonus options.
8 Lunker Spins – 94x bet (96.44% RTP)
9 Hawg Spins – 300x bet (96.22% RTP)
10 Honey Hole Spins – 866x bet (96.34% RTP)
Lucky Draw (25% Lunker, 25% Hawg, 50% Honey Hole) – 390x bet (96.36% RTP)
RTP values above are based on the overall RTP setting of 96.11%.
The maximum win available in Ugliest Catch is 50,000x bet (Kiss My GO-TO-HELL). If the sum of a single game round exceeds this, the game round will end and 50,000x bet will be awarded.
First Impression
There's something interesting about Ugliest Catch, but most of that comes from the distinctive choice of audiovisuals. Unlike previous releases from Nolimit City, where both the theme and mechanics were a completely unique attempt, we've seen all of the features within this one before – either from this team or from someone else.
Taking on a fishing game will never be an easy feat. Being one of the most popular mechanics widely available makes it a sensible choice, but a difficult one to impress with. Where other providers, like 4ThePlayer and Push Gaming have kept the theme straightforward and altered mechanics, Nolimit City have tried to impress this mostly through artwork and the addition of things like xWays, Enhancer Cells and increasing ways to win.
Are they enough to stand it apart from competitors? Maybe not, but with maximum wins on offer up to 50,000x bet – far in excess of most fishing games – there's definitely something here for fishing fans. Let's not forget, however, that most of the popularity with fishing games revolves around the maths models and frequent bonuses. We already know Ugliest Catch offers free spins 1 in 252 spins without Boosted xBet (a far cry from the 1 in 113 statistic of some Big Bass releases), so only time will tell how this maths stacks up against other releases.
Finally, maths is extremely (10) volatile and RTP options are available up to 96.11% (96.44% feature buy), so as always it's worth checking this. And that's all she wrote. If you're already a fan of fishing games the unique twist on the theme and impressive maximum win might reel you in. If you're not a fan, adding Nolimit City into this mix might be enough to get you interested.
RTP: 92.37% – 96.11%
RTP Main Game: 56.22%
RTP Lunker Spins: 35.58%
RTP Hawg Spins: 4.04%
RTP Honey Hole Spins: 0.27%
Volatility: Extreme (10)
Free Spins: 1 in 252 spins
Win 100x bet: 1 in 609 spins
Max win: 50,000x bet
Max Win Main Game: 1 in 20 million spins (96.11% RTP)
*The screenshots taken of games reviewed on this site are taken from Demo Play, as reviews are often written before games are released for real play.
Highest Rated Nolimit City Slots