Well, it's hardly been a few weeks and we're back with another fishing game – and this time it's courtesy of Push Gaming. Although this team have taken us underwater twice before in Razor Shark and Razor Returns, and even offered us the classic fishing mechanic in Goat Getter, this is the first time Push Gaming have offered us a fishing game, with fishing mechanics, and a fishing theme.
Yet it's not the first time we've seen it. Fishing games are some of the most popular on the market, second only to book games, which makes them a difficult concept to tackle (pun intended). It takes some hard work and imagination to create something new from this idea, but let's see if the team have managed it in Fish 'n' Nudge.
With RTP options up to 96.40% (96.99% feature buy), this medium volatility release can produce wins up to 10,000x bet.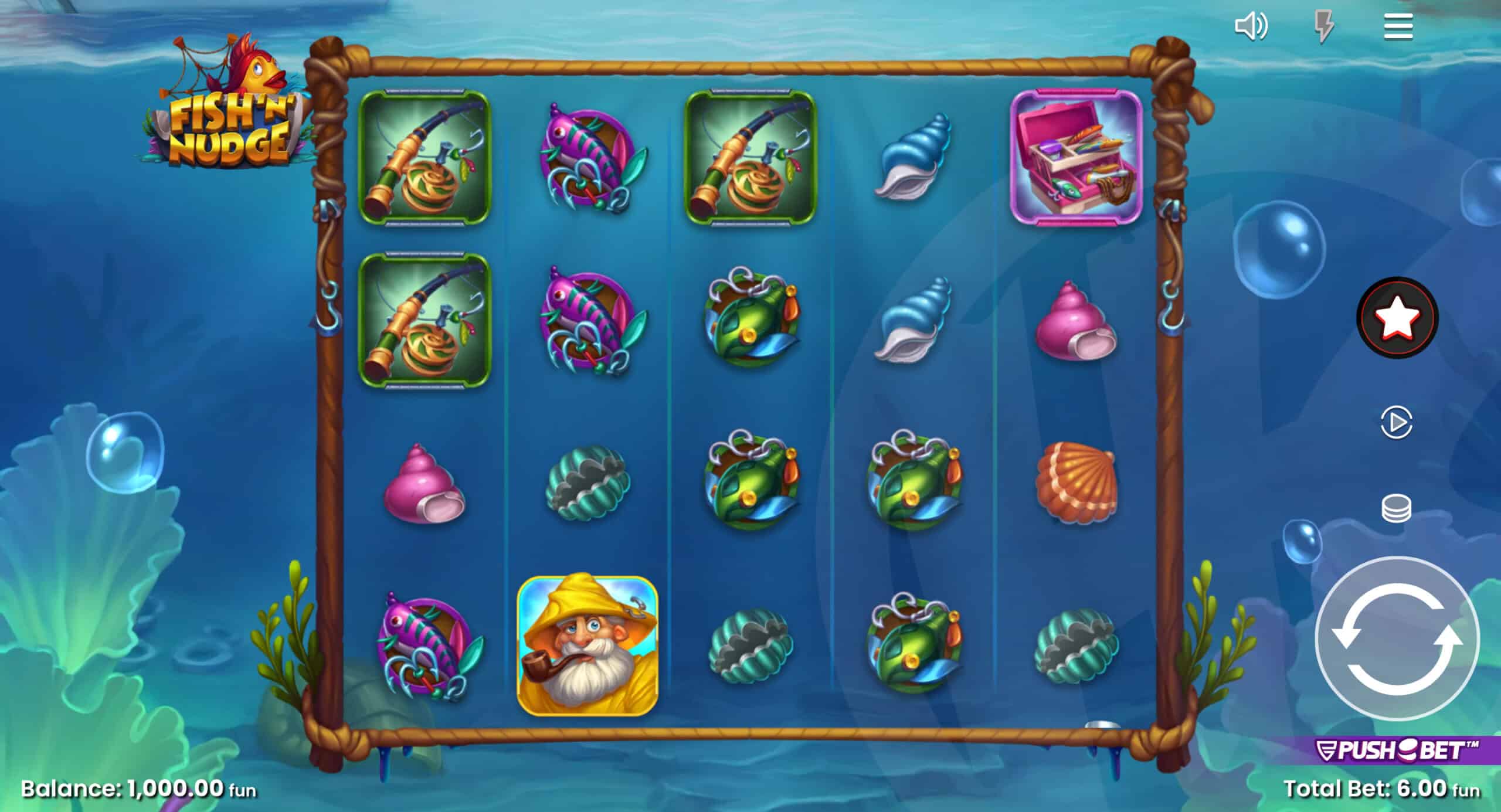 Well, unsurprisingly we find ourselves under the sea today. It's quite a subtle and almost plain background – floating beneath the water with little company other than some bubbles and coral. On the reels, which are bordered by wooden pieces, we find a variety of shells, some molluscs, a fisherman in a bright yellow coat, and some vibrant fish.
It might not pack the same visual punch as Razor Returns, but Fish 'n' Nudge is a pretty enough picture – and it's complimented by an upbeat and friendly soundtrack.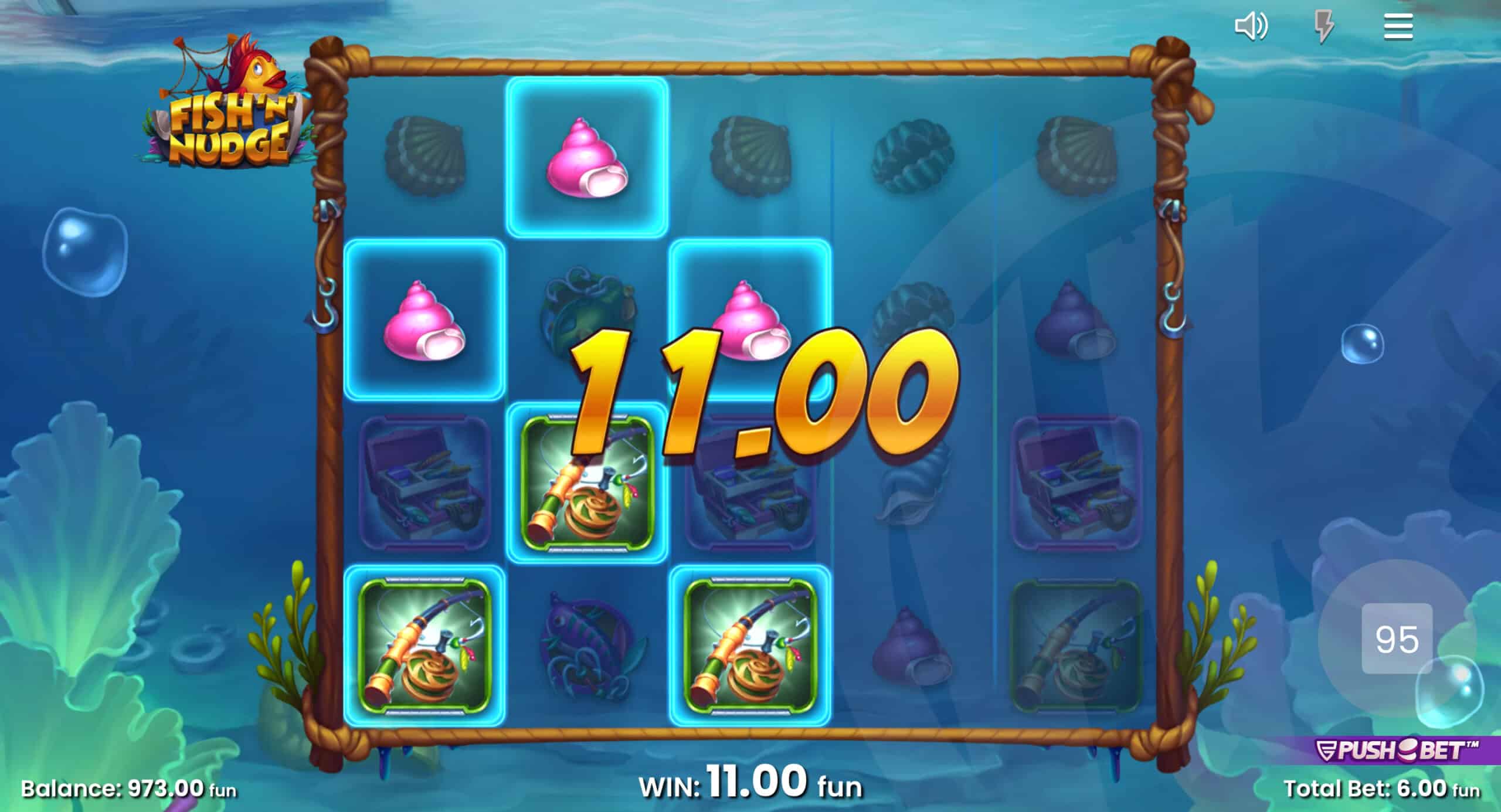 Fish 'n' Nudge Base Features
Taking place across 5 reels, wins are formed on Fish 'n' Nudge by matching at least 3 symbols on adjacent reels, beginning with the leftmost reel, across 1 of 20 fixed win lines. Symbols available begin with non premiums, with blue, teal, orange and pink shells, awarding wins of 0.20x bet for 3 of a kind matches, increasing to values between 1 and 1.50x bet for 5 of a kind wins.
In the mid range, we have purple and green molluscs, awarding wins between 0.60 and 0.80x bet for 3 of a kind matches, increasing to values between 7.50 and 10x bet for 5 of a kind wins. Premiums consist of a variety of Fish Symbols, fishing rods and tackle boxes. Land 3 of a kind of any premium to see wins between 1 and 2.50x bet, increasing to values between 20 and 40x bet for 5 of a kind matches. Finally, Fisherman Symbols are Wild Symbols which substitute for all symbols except Bonus Symbols and Net Symbols. Land between 3 and 5 Fisherman Symbols across a win line to see wins between 2.50 and 40x bet.
Push Bet
There are a couple of features to look out for in Fish 'n' Nudge, beginning with Push Bet, in which increasing the bet by 20% will increase the chance of triggering Free Spins by 42%.
When using Push Bet wins are calculated according to the base bet. In the 96.40% setting, RTP increases slightly to 96.41% when using Push Bet, however RTP can increase or decrease depending on the setting.
Net Symbols
Next up are Net Symbols. Net Symbols are an overlay that appear on the reels in 4-high stacks. They can land during the base game or Free Spins on any reel.
When Net Symbols have landed in view, after all wins have been calculated and the spin button is pressed again, they will nudge down by 1 position. This continues until no more Net Symbols are in view.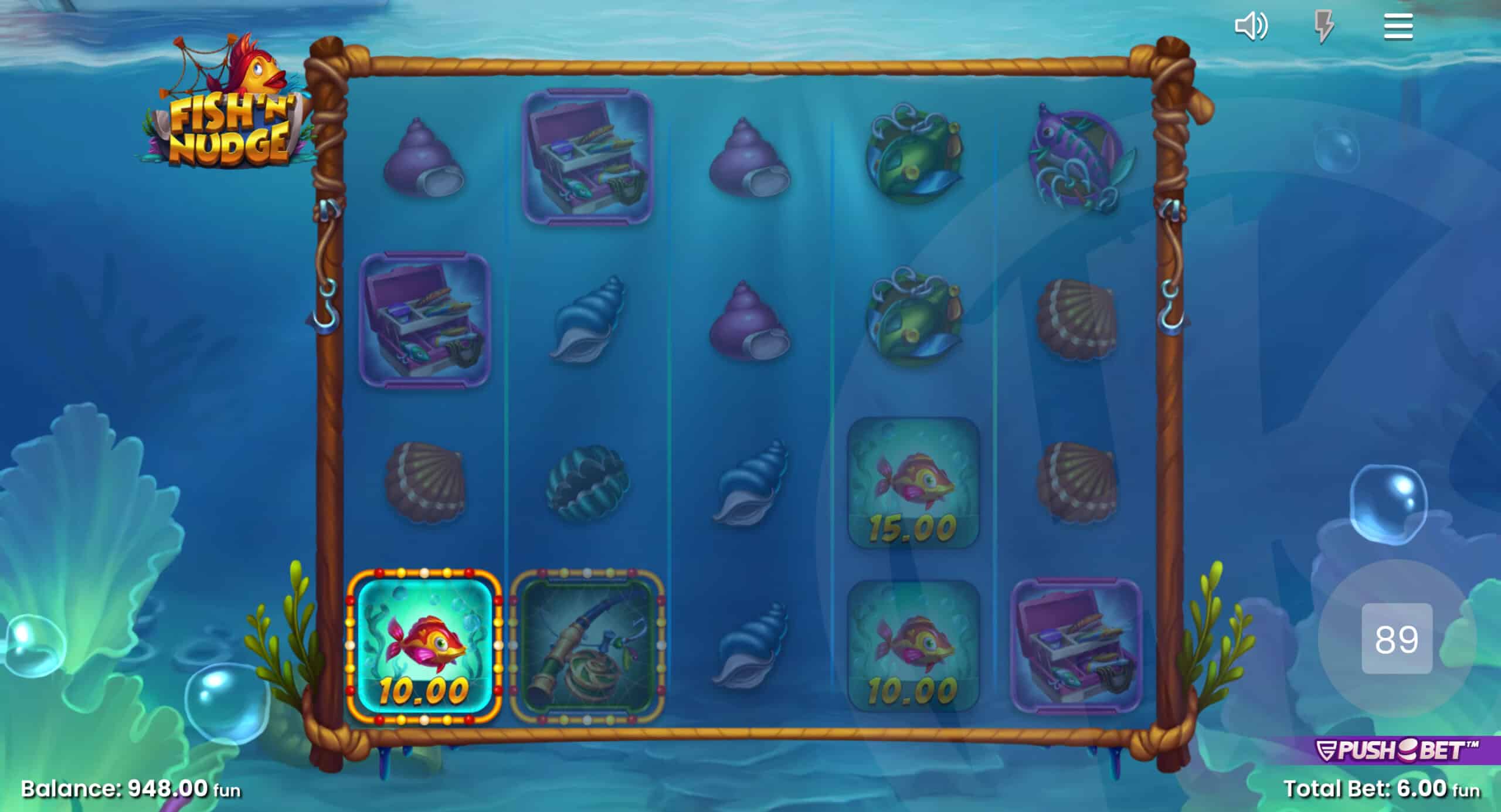 Fish Symbols
Working hand in hand with Net Symbols are Fish Symbols. As mentioned above, if 3 or more Fish Symbols land in view across a win line, they pay regularly.
However, Fish Symbols also hold Instant Prize values. Each Fish Symbol can hold the following values – 0.50x, 1x, 2x, 3x, 5x, 10x, 25x, 50x, 100x, 250x, 500x or 1,000x bet.
If a Fish Symbol lands inside a Net Symbol, its Instant Prize value is awarded.
Fisherman Symbol
Alongside being a Wild Symbol that substitutes for all symbols except Bonus Symbols and Net Symbols, the Fisherman Symbol is an Instant Prize collector.
If the Fisherman Symbol lands inside a Net Symbol, it will collect the Instant Prize value of all Fish Symbols in view and award the total value.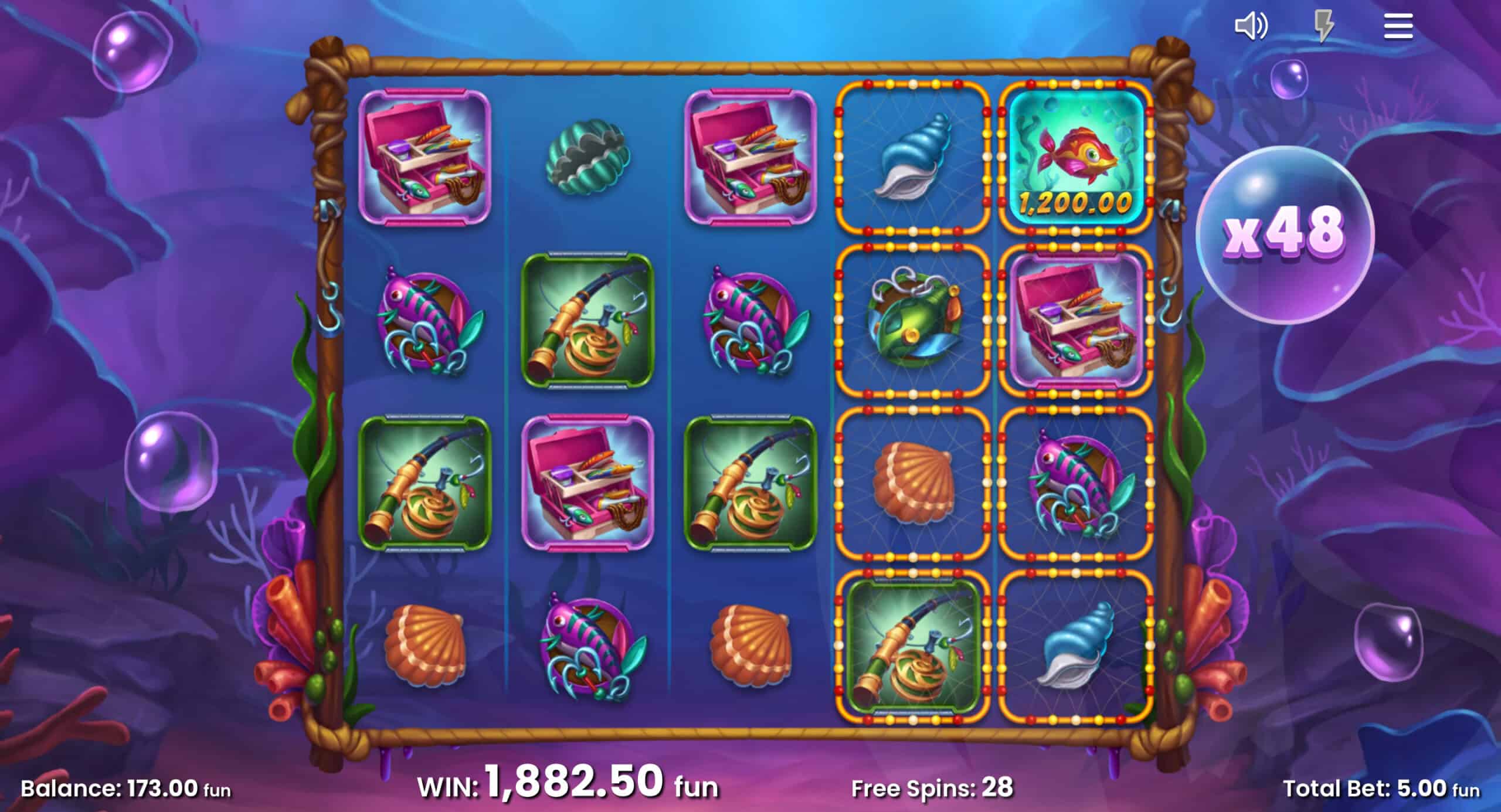 Fish 'n' Nudge Bonus
Land 3 or more Bonus Symbols to trigger Unlimited Free Spins.
3 Bonus Symbols – 1x initial Total multiplier
4 Bonus Symbols – 10x initial Total multiplier
5 Bonus Symbols – 25x initial Total multiplier
Free Spins start with reels 2 and 4 filled with Net Symbols. For each spin that occurs, any Net Symbols in view will nudge down by 1 position. Each time they nudge, the Total multiplier is increased by +1. When no Net Symbols remain on the reels, Free Spins will end.
The Total multiplier during Free Spins is only applied to Fish Symbol Instant Prize values when they are collected – by landing inside Net Symbols or by landing Fisherman Symbols inside Net Symbols.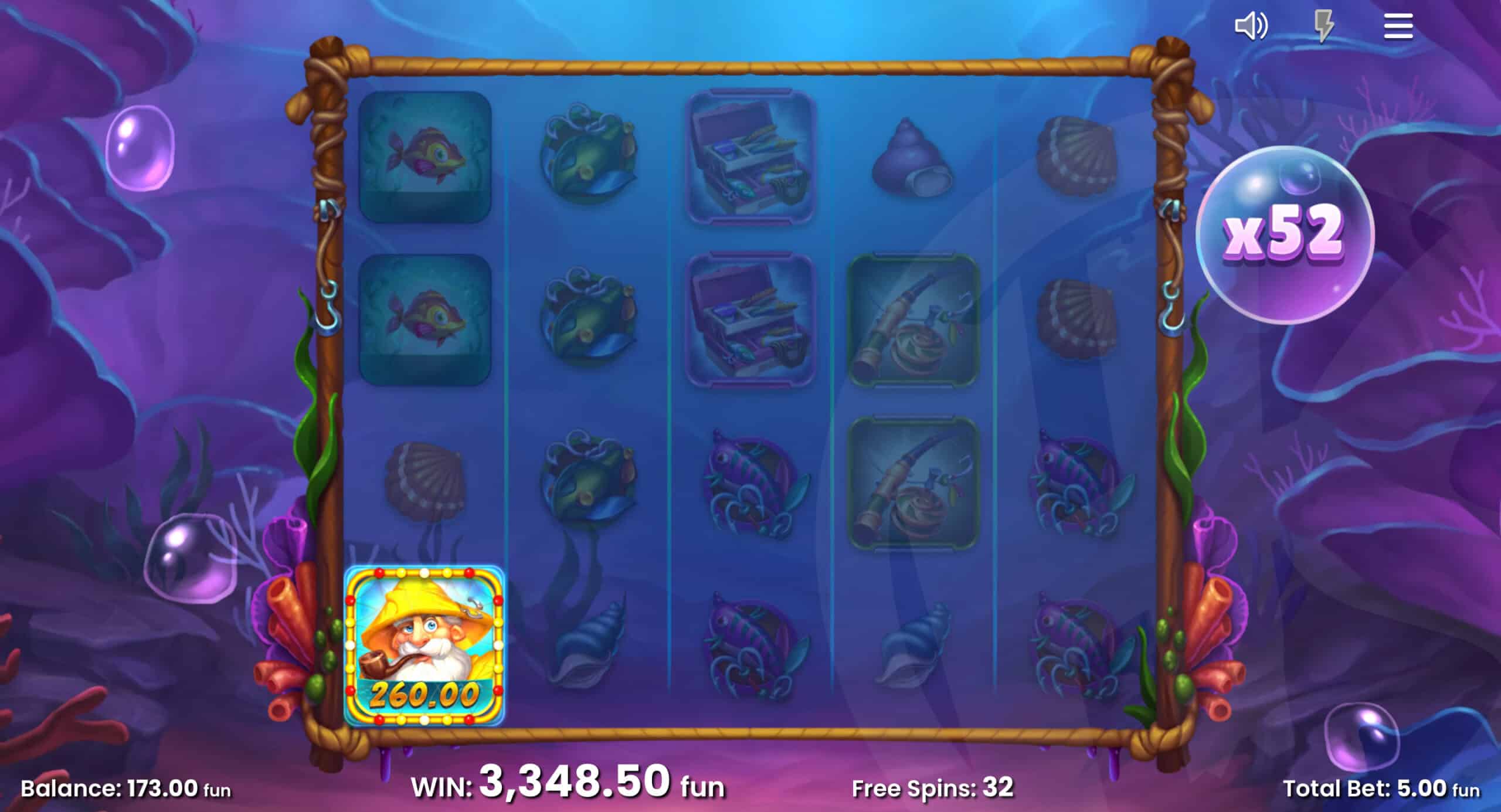 Bonus Buy
Players in appropriate regions can skip straight to the action with 4 Bonus Buy options.
3 Bonus Symbols – 42x bet (96.23% RTP)
4 Bonus Symbols – 87x bet (96.99% RTP)
5 Bonus Symbols – 163x bet (96.25% RTP)
Random Free Spins (3, 4 or 5 Bonus Symbols) – 100x bet (96.70% RTP)
The above RTPs are based on the overall RTP setting of 96.40%.
The maximum win available in Fish 'n' Nudge is 10,000x bet. If the sum of a single game round exceeds this, the game round will end and 10,000x bet will be awarded.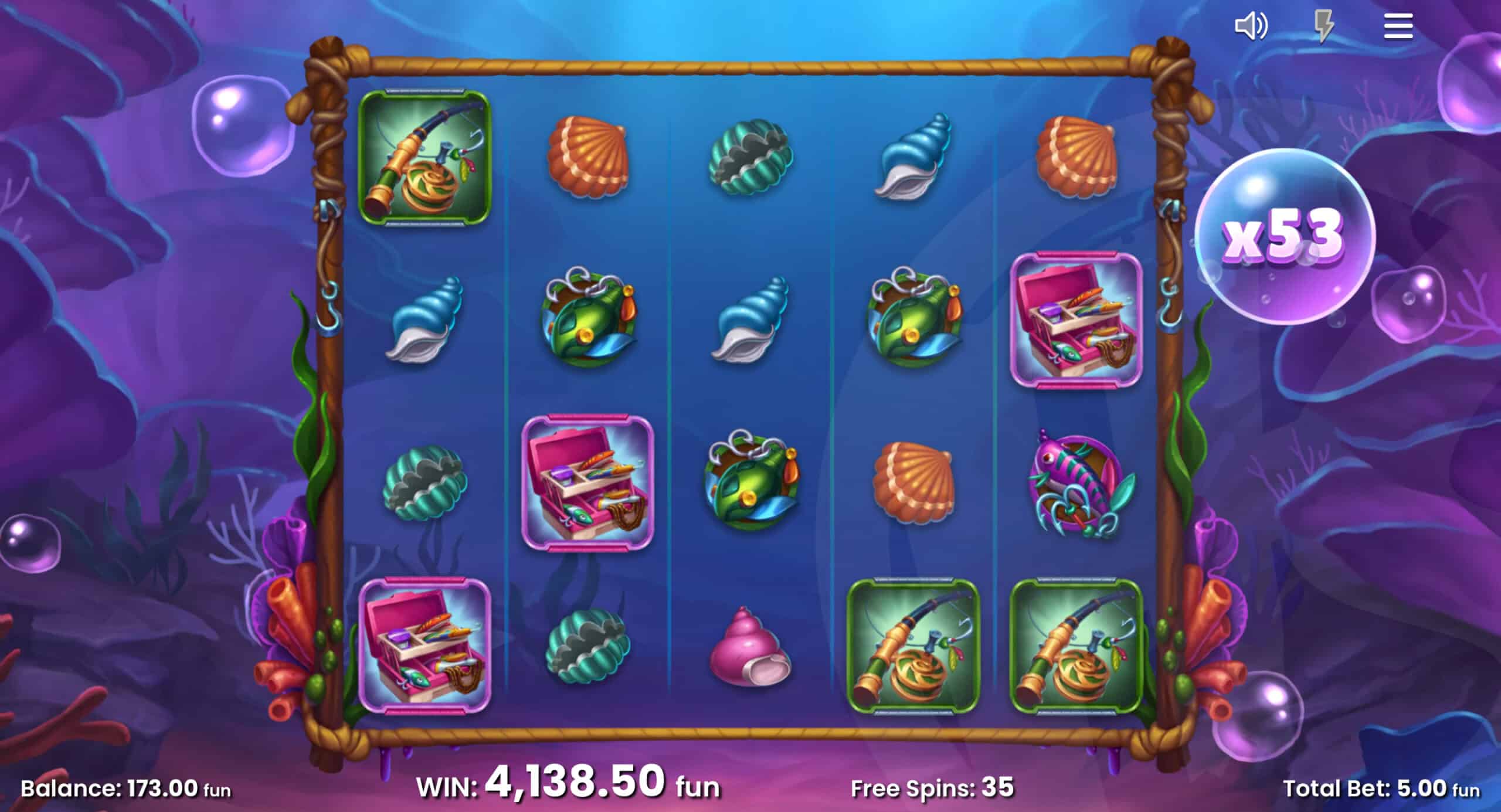 First Impression
Well, we said at the start that finding a new twist on a familiar concept can be an arduous task, but it seems Push Gaming have managed it in Fish 'n' Nudge. The ideas here aren't wholly unique, with many of them having been borrowed from the likes of Razor Shark, but still for a 'fishing game' they feel fresh.
In the base game the aim is simple – land Fish Symbols inside Net Symbols to collect values up to 1,000x bet, or land Fisherman Symbols in Net Symbols to collect all values in view. In Free Spins the aim remains the same, except now you want to keep Net Symbols on the reels for as long as possible to build up good multipliers.
You can see above that we reached x53 and although this was from a x25 start, thats still a massive climb – leading to a massive win. In an unlikely turn from the team there's no gamble though, so if you find you want a higher multiplier to start you'll simply have to play until you get it. In any feature, wins are possible up to 10,000x bet.
Finally, maths is rated medium for volatility and RTP options are available up to 96.40% (96.99% feature buy), so as always it's worth checking this. If you're a fan of fishing games and want to try out a new twist, Fish 'n' Nudge is a perfect option with just the right level of potency.
*The screenshots taken of games reviewed on this site are taken from Demo Play, as reviews are often written before games are released for real play.