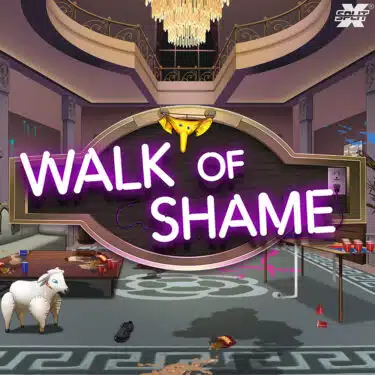 Walk of Shame
Game Provider: Nolimit City
Release Date: Available Now
Walk of Shame
Game Studio Nolimit City
Release date Available Now
RTP 92.12% - 96.04%
RTP Feature Buy 96.45%
Paylines Up To 1,280
Volatility Medium
Min Bet 0.20
Max Bet 100
Max. Win 9,822x
Rating 8/10
We're probably all familiar with the concept of the 'walk of shame'. Coined on college campuses in the 90s, the walk of shame refers to seeing someone walking home, looking a bit worse for wear, probably wearing their clothes from the night before, and usually accompanied by the assumption from onlookers that they haven't spent the night alone. The team at Nolimit City are certainly comfortable with the idea, as this forms the basis of their next release – aptly titled Walk of Shame. According to them, we've been invited to 'join the insanely opulent Mr E and his gang of eccentric guests on (sic) the ultimate house party where nothing is off-limits'. The offer is said to be an irresistible one, but one that will no doubt lead to the infamous walk of shame and a host of questions, beginning with 'what the hell happened?' With RTP options up to 96.04%, this medium volatility release can produce wins up to 9,822x bet.
I'm already thinking of Road Rage with this one, and you know what that means. Walk of Shame is a fine looking release, and one that certainly stands up against many of its peers, but there's something missing. Given the team we're dealing with here, who have brought us releases like San Quentin and xWays Hoarder, it feels like Walk of Shame is quite a timid attempt. There are some interesting characters for sure, but with a concept like 'the walk of shame' you either need to go all out or leave it alone, and this feels like they went halfway out. I digress though – everything takes place in a luxurious room (presumably Mr E's home), with some dirty glasses, some whips and handcuffs, a video camera, and various other unique items littered throughout. The soundtrack is upbeat, but again not one of the standouts from the Nolimit City catalogue. All this to say, it looks and sounds fine, but nothing that's getting your heart pumping straight away.
Walk of Shame Base Features
Taking place across 5 reels, wins are formed on Walk of Shame by matching at least 3 symbols on adjacent reels. Reels contain 3-4-4-4-4 symbols, producing 768 ways to win. Symbols available begin with non premiums, with shot glasses, pint glasses, cocktail glasses, a fourth glass, and a whiskey glass. Land 3 of any non premium to see wins between 0.20 and 0.25x bet, increasing to values between 1 and 1.25x bet for 5 of a kind wins. At the premium end we have four characters. Land 3 of a kind of any character to see wins between 0.30 and 0.75x bet, increasing to values between 1.50 and 5x bet for 5 of a kind matches.
The main feature driving Walk of Shame forward comes in the form of Loaded Wilds. On any spin, if a stack of premium symbols (4 symbols high) land to cover the entire reel, they will convert into a Loaded Wild and receive a x4 multiplier. This can only happen on reels 2-5.
Working hand in hand with Loaded Wilds is the Walk of Shame feature. By landing a Loaded Wild on reels 2-5 and a Mr E symbol (more on these below), Walk of Shame will be triggered. During this feature all Loaded Wilds will take a step to the left for the next spin. The feature will end when a Loaded Wild is present on reel 2.
Additionally, when a Mr E symbol lands in the base game, it will turn into an xSplit symbol, splitting all symbols into 2 on either the reel above it or the row to the right of it, and increasing the number of ways to win. The xSplit symbol cannot split other Scatters.
Walk of Shame Bonus
There are two Scatters available in Walk of Shame – Invitation Scatters and Mr E Scatters – with different spins awarded depending on the combination:
3 Invitation Scatters – 10 One More!!! spins
4 Invitation Scatters – 15 One More!!! spins
3 Invitation Scatters and 1 Mr E Scatter – 10 All Nighter Spins
4 Invitation Scatters and 1 Mr E Scatter –  15 All Nighter Spins
During One More!!! spins, every Loaded Wild that lands on the reels will add +x1 to the win multiplier. Landing a Mr E Scatter will activate All Nighter spins and award an additional +3 spins.
During All Nighter spins things are the same, except as well as increasing the win multiplier by +x1, every Loaded Wild that lands has a chance of triggering Walk of Shame. The Mr E symbol that triggered the feature will also remain on the reels and continue to act as an xSplit symbol on every spin, splitting all symbols into 2 on either the reel above it or the row to the right of it, and increasing the number of ways to win.
It is possible to re-trigger either feature by landing Invitation Scatters:
1 Invitation Scatter – +1 spin
2 Invitation Scatters – +3 spins
3 Invitation Scatters – +5 spins
4 Invitation Scatters –  +7 spins
Players in appropriate regions can skip straight to the action with the following Nolimit Bonus options:
One More!!! Spins – 69x bet (96.18% RTP)
All Nighter Spins – 314x bet (96.45% RTP)
Lucky Draw (75% One More!!! 25% All Nighter) – 131x bet (96.32% RTP)
RTP values above are based upon the 96.04% Walk of Shame setting.
The maximum win available in Walk of Shame is 9,822x bet (Happily Ever After). If the sum of a single game round exceeds this, the game round will end and 9,822x bet will be awarded.
First Impression
The expectation we have from different studios is interesting. I've previously remarked that many other studios do their best work when they keep things simple, yet potent. This doesn't seem to be the case with Nolimit City. This is the second release from the team (as mentioned above, Road Rage is the other) where they've stripped nearly all of their xFeatures away, and kept things very straightforward, and in neither instance have the results been particularly impressive compared to their other work. Both releases are still solid examples of game development (Walk of Shame has scored an 8, for example), but like I said above, there's something missing. It may not be the simplicity and rather the execution but no matter what, in comparison to some of the other releases from the team and how far they went with the theme – Mental, Dead Canary, East Coast vs West Coast, Infectious 5, Tombstone RIP, Das xBoot… Well, you see the difference.
Let's put that to one side though and cover the positives. Gameplay, as mentioned, is simple, but there is still an opportunity for some impressive wins through Loaded Wilds and the Walk of Shame feature, including Mr E acting as an xSplit symbol. When you move into free spins things continue in much the same way – the only obvious enhancement is the win multiplier, or the persistent xSplit if you're lucky enough to trigger super free spins – which incidentally are only worth 314x bet in this release. However, when the right combinations hit, wins are possible up to 9,822x bet. Finally, maths is only rated as medium (6) for volatility, which is definitely a change for this team, and RTP options are available up to 96.04%, so as always it's worth checking this.
Not the strongest start to 2023 for Nolimit City, but if you're one of the players who complains about their games being too volatile, Walk of Shame might be for you.
*The screenshots taken of games reviewed on this site are taken from Demo Play, as reviews are often written before games are released for real play.