It's time to visit one of the most recognisable mythological creatures with Big Time Gaming. Described as a beast with one single horn protruding from its forehead, unicorns were previously depicted as a woodland creature, and a symbol of grace and purity. Some said a unicorn's horn had the power to heal sickness – even in the Harry Potter series, unicorn blood is described as having the power to sustain someone who is only an inch from death.
Now, Big Time Gaming are giving us their view on the unicorn, as they leave behind the secret lair of Max in Max Megaways 2 to introduce us to Wild Unicorns.
With a fixed RTP of 96.53% (96.55% feature buy), this highly (5/5) volatile release can produce wins up to 56,800x bet.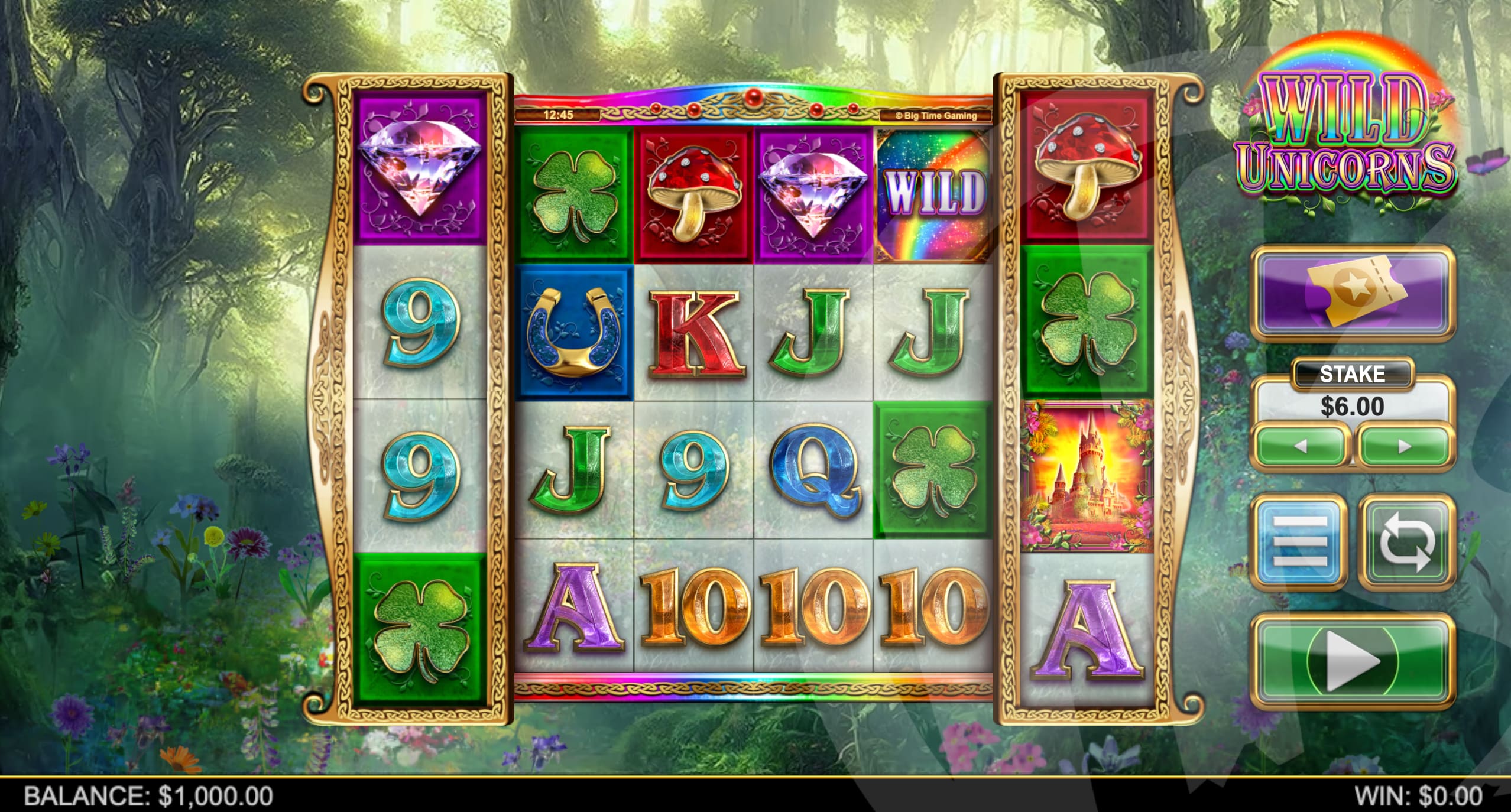 We're in a field today, with everything looking very realistic. Sunlight breaks through in the background, whilst everything else is covered in a dense layer of trees. At the front, a variety of wild flowers sprout from the ground, helping to make it quite a nice picture.
All other attention is given to the reels which are encased in gold. Detailing within this gold along with the symbols on the reels are Celtic in nature, so I can only assume this forest is somewhere either in Ireland, or with Irish roots. Finally, an almost ethereal soundtrack comes in, littered with drums and flutes, to help tie everything together.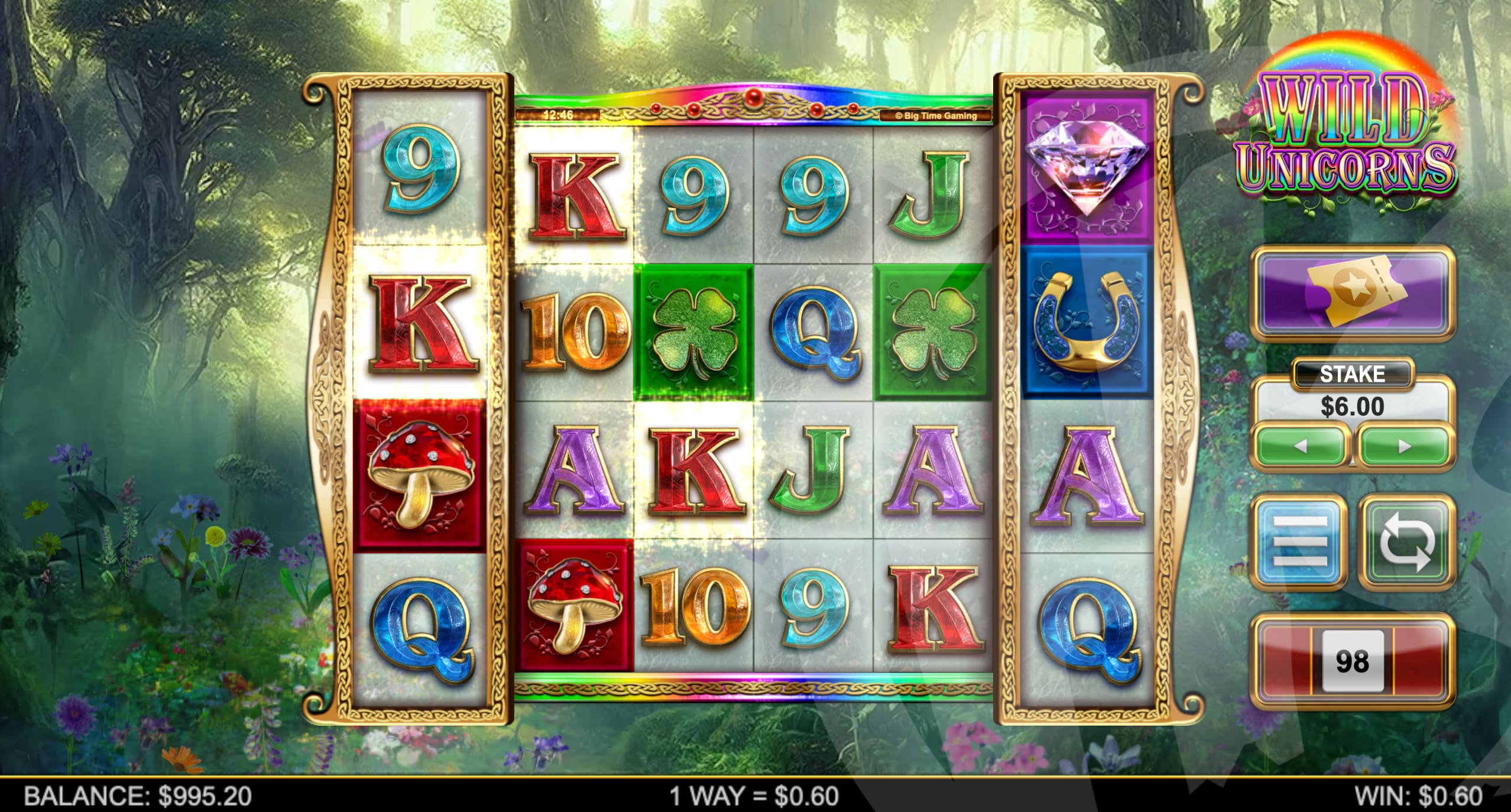 Wild Unicorns Base Features
Taking place across 6 reels, wins are formed on Wild Unicorns by matching at least 2 or 3 symbols on adjacent reels, beginning with the leftmost reel. Each reel holds 4 symbols, producing a total of 4,096 ways to win. Symbols available begin with non premiums, with 9s, 10s, Js, Qs, Ks and As, awarding wins between 0.05 and 0.10x bet for 3 of a kind matches, increasing to values between 0.20 and 0.25x bet for 6 of a kind wins.
At the premium end it's the usual story with a green, blue, red and purple symbol, starting with clovers, horseshoes and mushrooms. Land 3 of a kind of any premium to see wins between 0.10 and 0.20x bet, increasing to values between 0.30 and 1x bet for 6 of a kind matches. Finally, purple diamonds are the highest paying symbol and the only to pay for 2 of a kind. Land between 2 and 6 of a kind diamonds to see wins between 0.20 and 5x bet.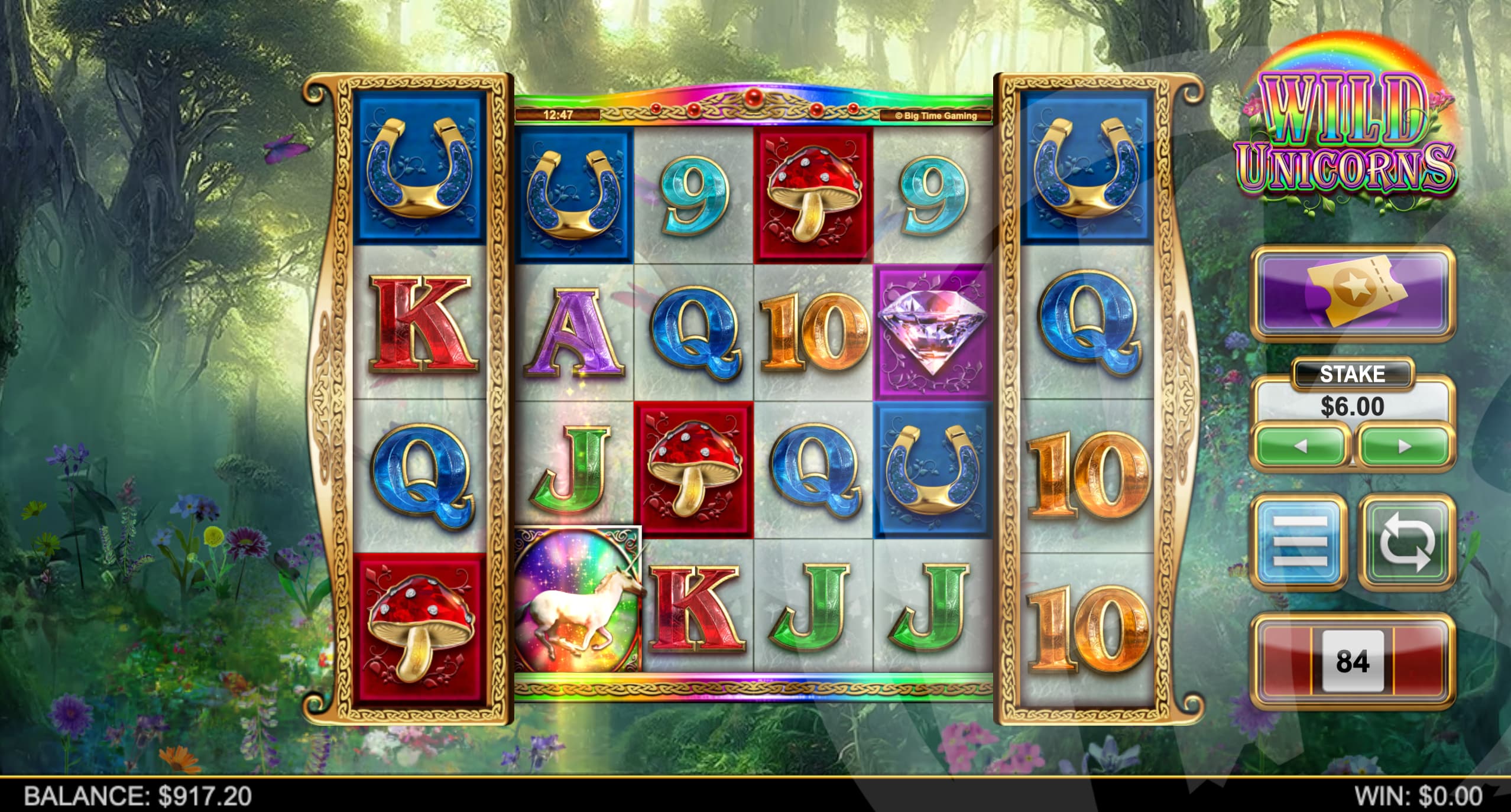 Alright, so the first thing to cover in Wild Unicorns is reactions. On every spin, all symbols that are involved in a win are removed from the reels, with all remaining symbols dropping down to the bottommost available position on their respective reels. New symbols will then drop in from above to fill the remaining gaps, with reactions continuing until no new wins are formed.
Unicorn Symbols
The rest of the excitement falls upon the shoulders of the Unicorns, which act as Wild symbols and substitute for all symbols except Scatters. Every Unicorn that lands on the reels will move up, down, left or right and will add Wild symbols in all available positions in that direction – excluding reels 1 and 6.
Up to 3 of the Wilds that are added to the reels can be multiplier Wilds, carrying a multiplier value up to x10.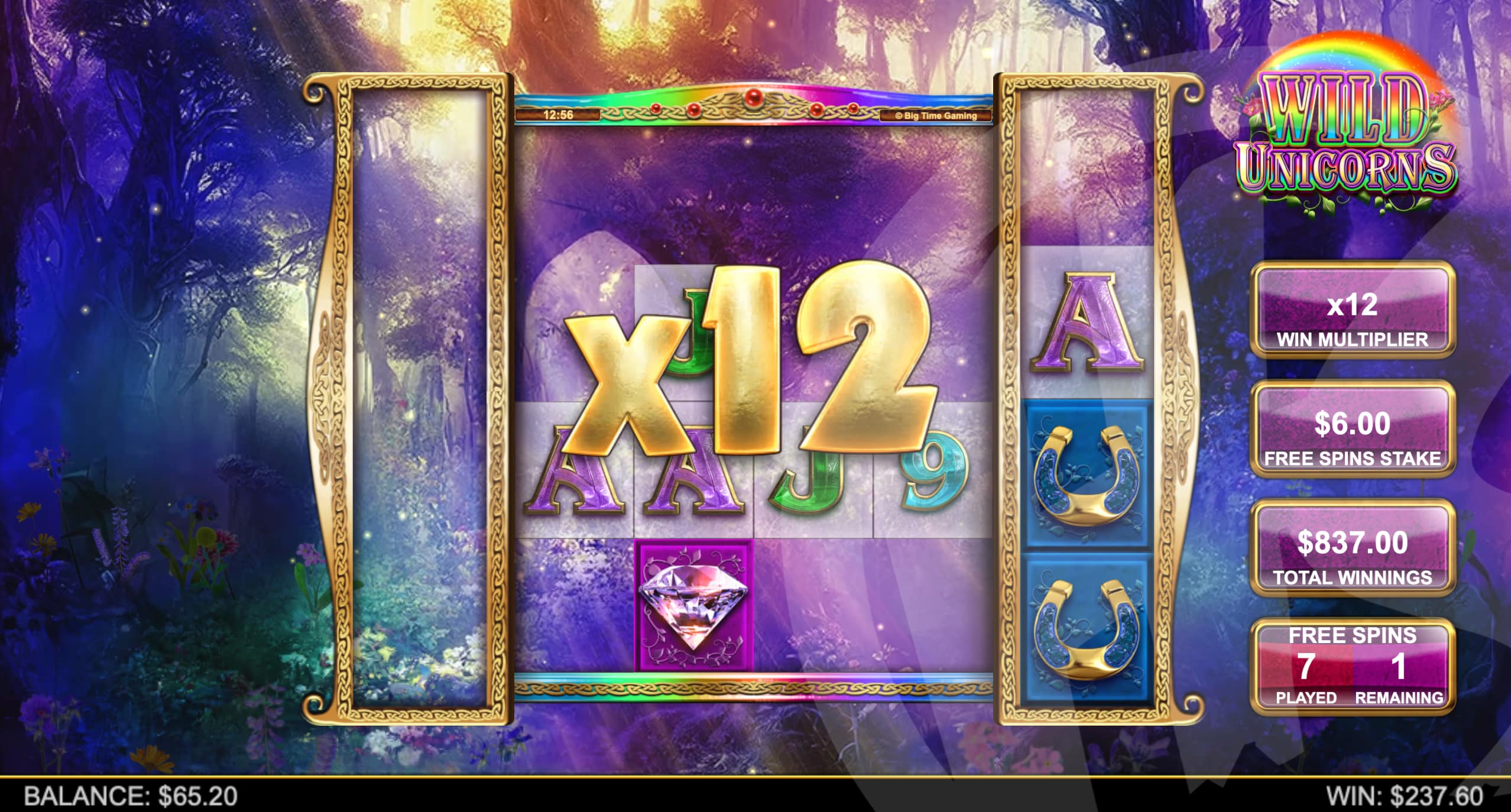 Win Exchange
Finally, Win Exchange™ is available in the base game. With Win Exchange, whenever you win 75x bet or more, you have the option to exchange 75x bet for 8 Free Spins. If you have won more than 75x bet, only 75x bet will be exchanged, and the remainder will be added to your bonus win.
If you win between 25 and 74x bet, you have the option to exchange the entire win for a chance to be awarded 8 Free Spins – by gambling. The chance of winning the gamble is represented by green on the wheel, and the chance of losing is represented by red.
The higher x bet the win, the more green will be present on the wheel.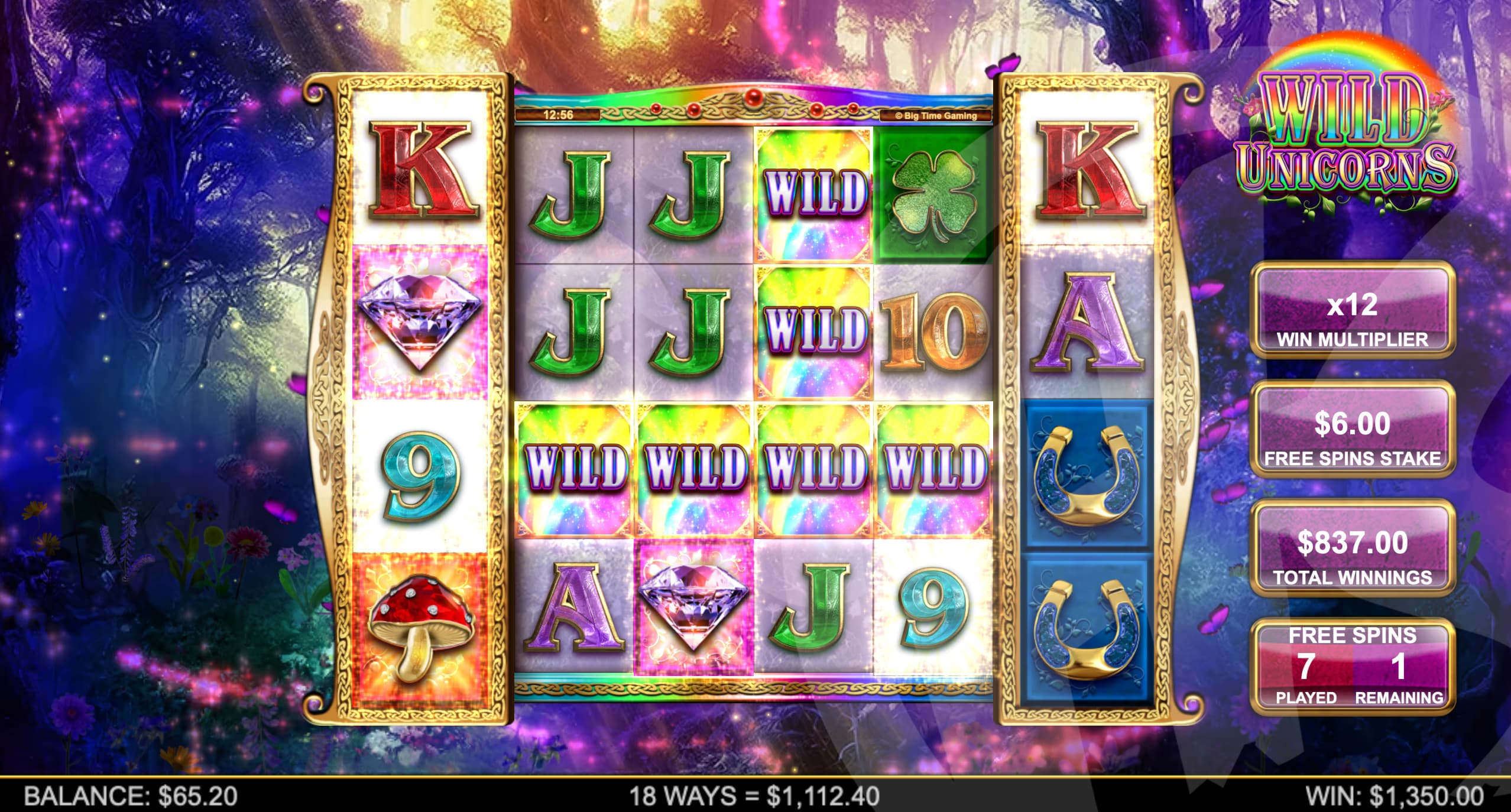 Wild Unicorns Bonus
Scatter symbols can land on reels 1 and 6. Land 2 or more in view to trigger 8 Free Spins, with an additional +4 spins awarded for every Scatter beyond the second.
During Free Spins a Unicorn is guaranteed on every spin. More than 1 Unicorn can land per spin, but if they overlap they don't automatically create multipliers – multipliers can only be revealed randomly as mentioned above.
Alongside this, an unlimited win multiplier becomes active, increasing by +1 after every reaction. Land 2 or more Scatters during Free Spins to trigger an additional +4 spins, plus 2 spins for every Scatter beyond the second.
Bonus Buy
Players in appropriate regions can skip straight to the action with the Bonus Buy, whereby paying a cost of 75x bet will guarantee 8 Free Spins are awarded. RTP increases ever so slightly when using Bonus Buy, to 96.55%.
Whilst Big Time Gaming usually opt not to place a win cap on their games, the maximum win observed so far in Wild Unicorns has been 56,800x bet.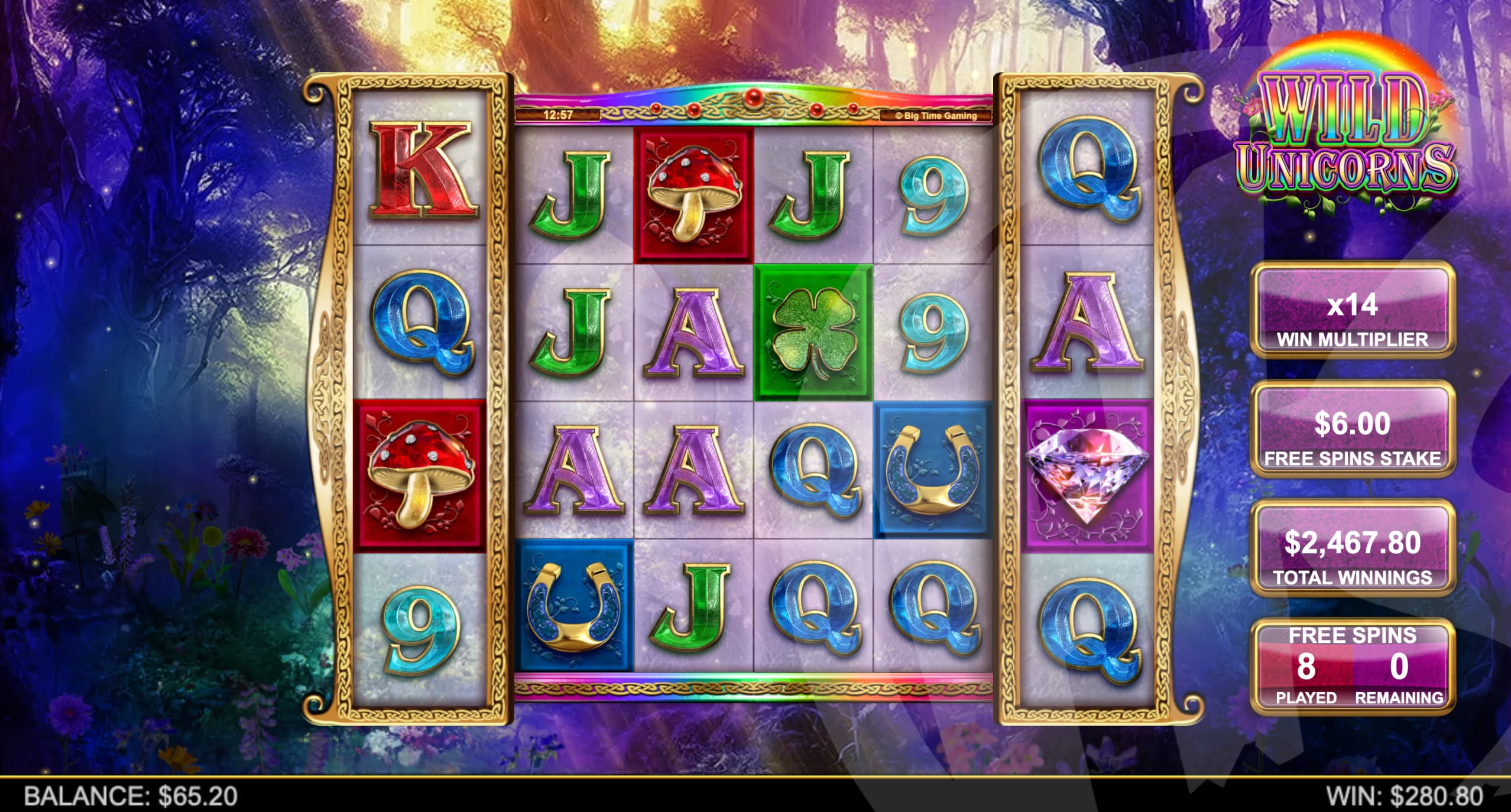 First Impression
Wild Unicorns is quite a simple release from this team, relying only on Unicorns to produce the majority of excitement. Of course, Unicorns can move in any direction and lead to Wilds that can land with multiplier values up to x10, but that's really all of it covered. In the base game this helps things to move forwards, especially when combined with Win Exchange, but there's no denying that dull periods do exist.
In Free Spins, at least 1 guaranteed Unicorn on every spin and an incrementing win multiplier increasing by +1 after every reaction helps to kick things up a notch, but again – there isn't much else to discuss or consider. Regardless though, when the right combinations land, wins are possible up to 56,800x bet.
Finally, maths is highly (5/5) volatile and RTP is fixed at 96.53% (96.55% feature buy), so no complaints there. It's not one of the best, but Wild Unicorns is a decent addition to the BTG catalogue – well suited to players who look for a simple release.
*The screenshots taken of games reviewed on this site are taken from Demo Play, as reviews are often written before games are released for real play.