If you could return to any time period, where would you go? You might say that you would return to see the signing of the Declaration of Independence or the Moon Landing. Maybe you'd like to head back to the Battle of Waterloo or the 1896 Opening Ceremony of the Olympic Games. There's no doubt about it, there's plenty of historical moments we would all love to see if given the chance.
But how about going back a bit further than any of these, back to see some interesting creatures instead? 4ThePlayer have been doing some thinking about this so they're continuing their recent trend of animalistic releases and leaving behind 5 Doggy Dollars and 4 Fantastic Fish in Egypt to take us back to the Ice Age, in 10000 BC DoubleMax.
Combining the heart of 4ThePlayer with two mechanics made famous by Yggdrasil Gaming, 10000 BC DoubleMax is a medium-highly volatile release, offering RTP options up to 96.0% and win potential up to 10,000x bet.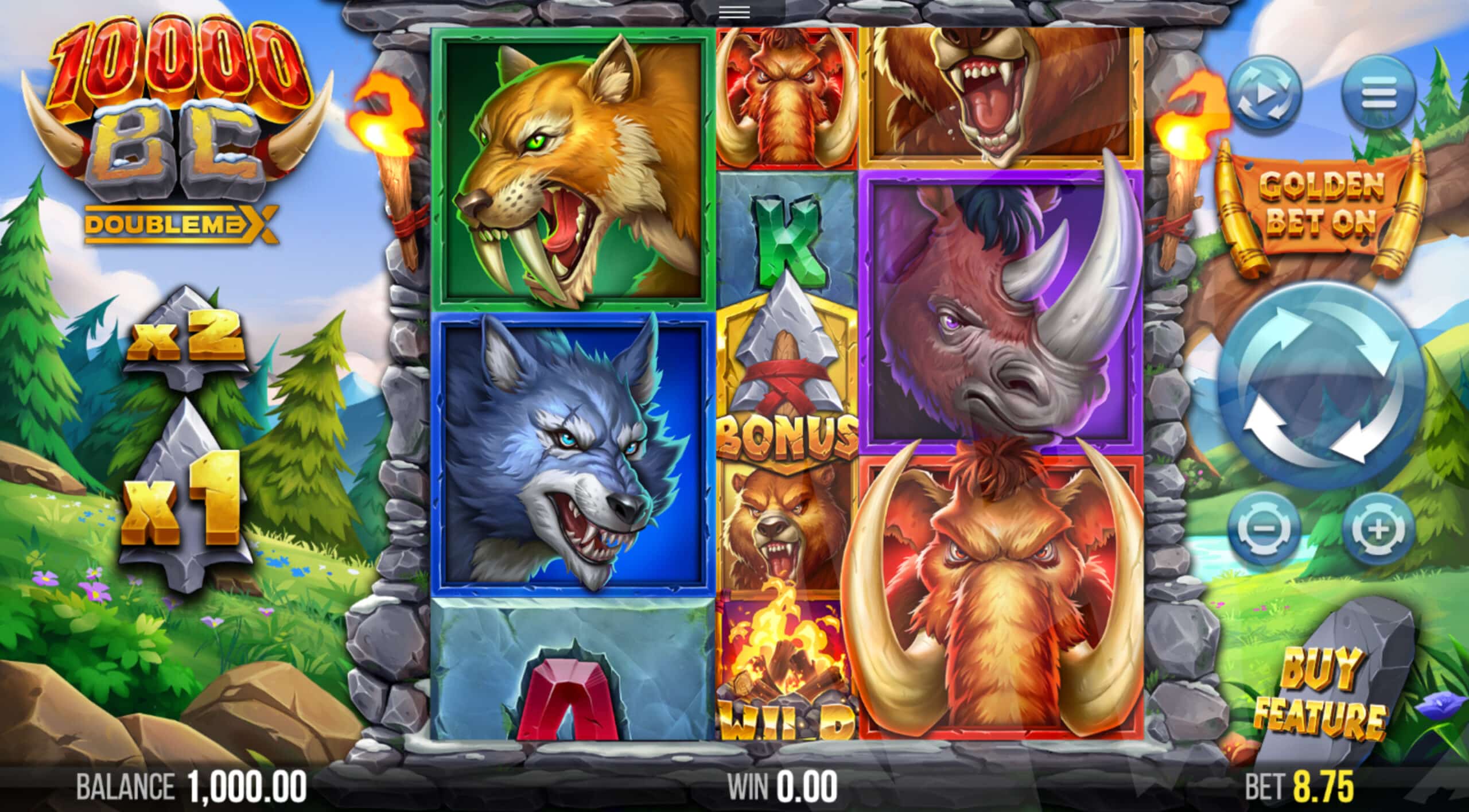 If you're familiar with your history you'll know that the entire earth was not in fact covered in Ice during the Ice Age, which is where we find ourselves today – on what looks to be a fairly sunny day. There's nothing to tell us exactly where in the world we are but, judging by the volcano in the distance and some of the creatures on the reels, we might find that we're in Northern Eurasia.
Regardless of the location, things are looking bright and pleasant – if you can forget the smoking volcano spilling lava, that is. Most of the action is on the reels, where we find a variety of creatures including wolves, woolly rhinos, bears and sabre-toothed tigers.
An interesting soundtrack comes in to tie it all together, littered with roars of the various animals we see. All in all, a nice picture.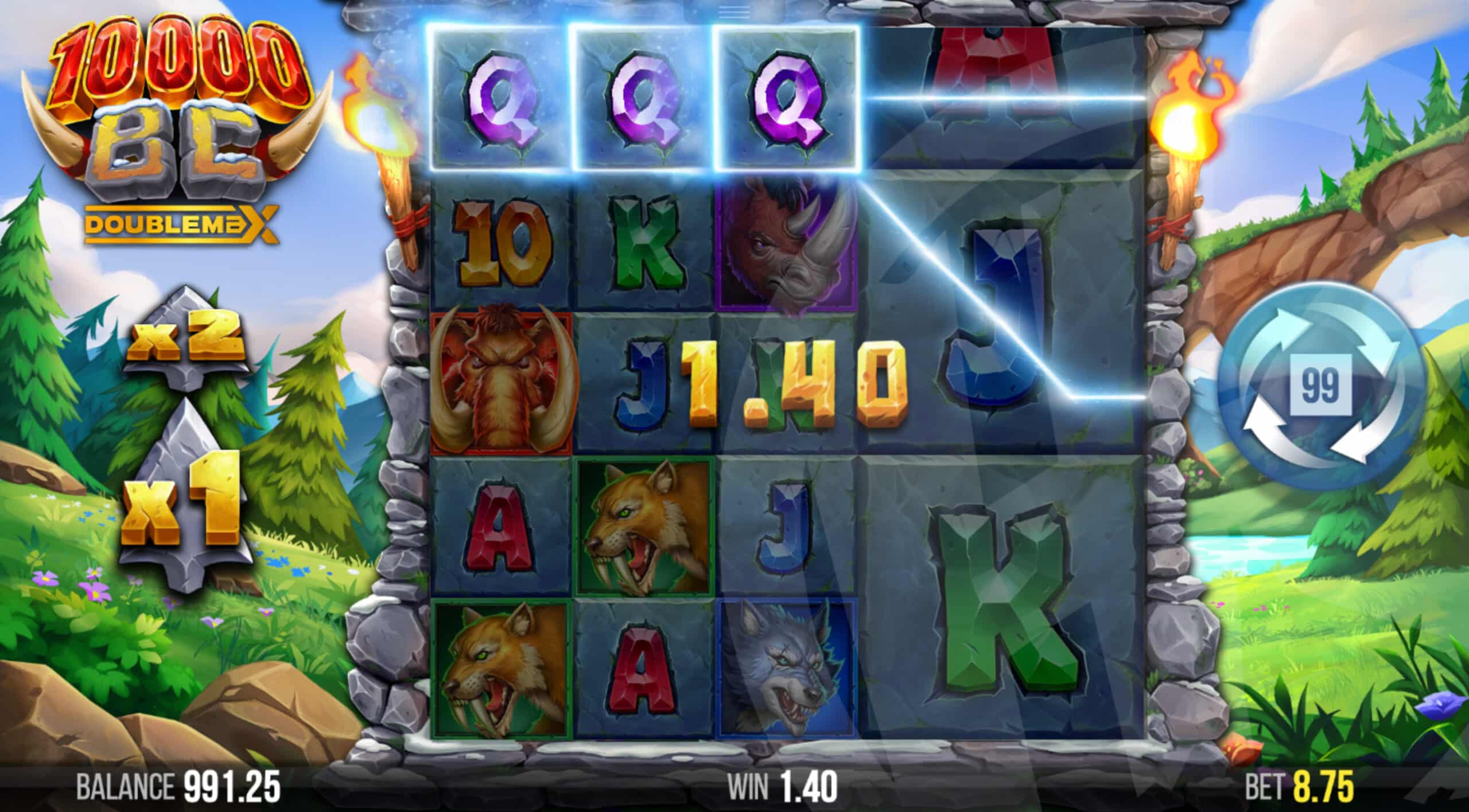 10000 BC DoubleMax Base Features
Taking place across 5 reels, wins are formed on 10000 BC DoubleMax by matching at least 3 symbols on adjacent reels, beginning with the leftmost reel, across 1 of 50 fixed win lines. Symbols available begin with non premiums, with 10s, Js, Qs, Ks and As, awarding wins between 0.10 and 0.15x bet for 3 of a kind matches, increasing to values between 0.30 and 0.35x bet for 5 of a kind wins.
At the premium end we have bears, wolves, woolly rhinos, sabre-toothed tigers and mammoths. Land 3 of a kind of any premium to see wins between 0.20 and 0.50x bet, increasing to values between 0.40 and 1.50x bet for 5 of a kind matches.
Finally, campfire Wild symbols exist to substitute for all symbols except Bonus Scatters.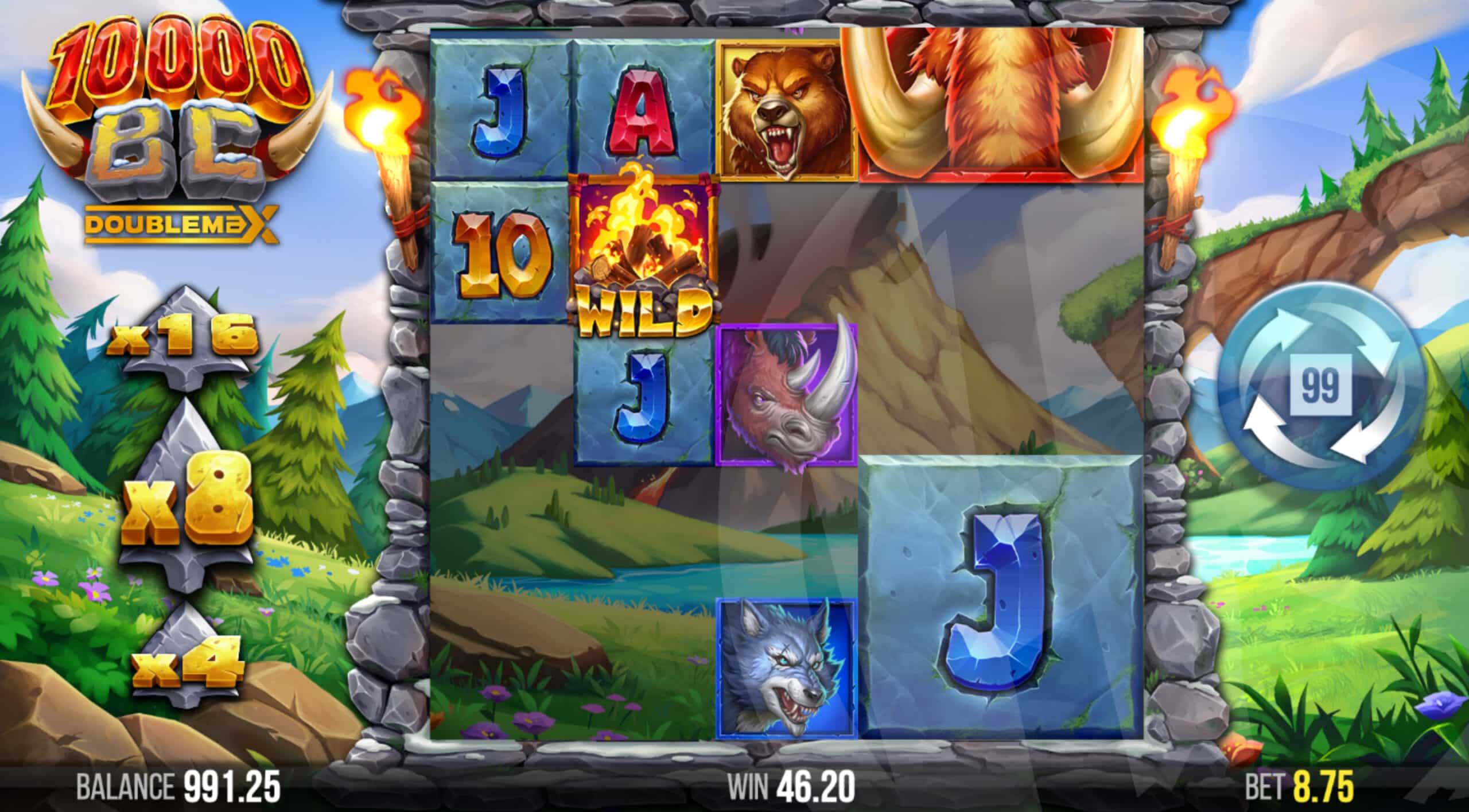 Golden Bet
There are a few things to cover in 10000 BC DoubleMax, beginning with Golden Bet.
By betting an additional 25% per spin, players can double their chance of triggering Free Spins.
Gigablox
Next up is the Gigablox mechanic. Gigablox appear as larger than usual symbols that are either 2×2 or 3×3. Once landed, Gigablox symbols will be counted as 1×1 symbols in order to pay wins.
DoubleMax
As mentioned, 10000 BC DoubleMax combines two famous Yggdrasil mechanics, the second of which being DoubleMax. There is a win multiplier to the left of the reels, which starts at x1.
For every winning Mammoth Ram Cascade that occurs, this multiplier will double with no upper limit.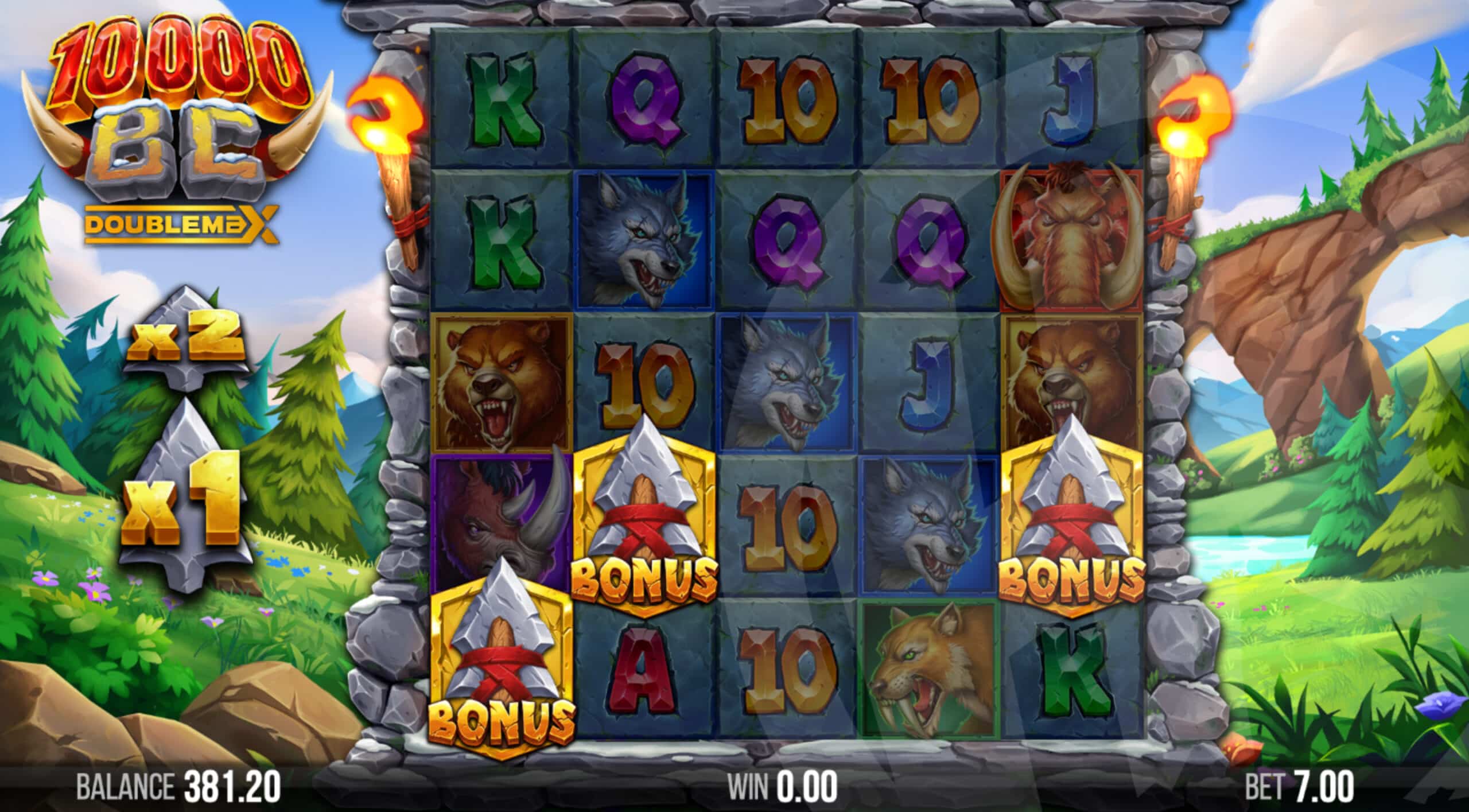 Speaking of Mammoth Ram Cascades – on every spin, all symbols involved in a winning combination will be removed from the reels, with all remaining symbols dropping down to the bottommost available position on their respective reels.
New symbols will then drop in from above to fill the remaining gaps.
When winning symbols have been removed one position at random will be chosen to turn wild – this can be any position.
If a Wild has already been added and not used, the new Wild may be added in the same position. Mammoth Ram Cascades continue until no new wins are formed.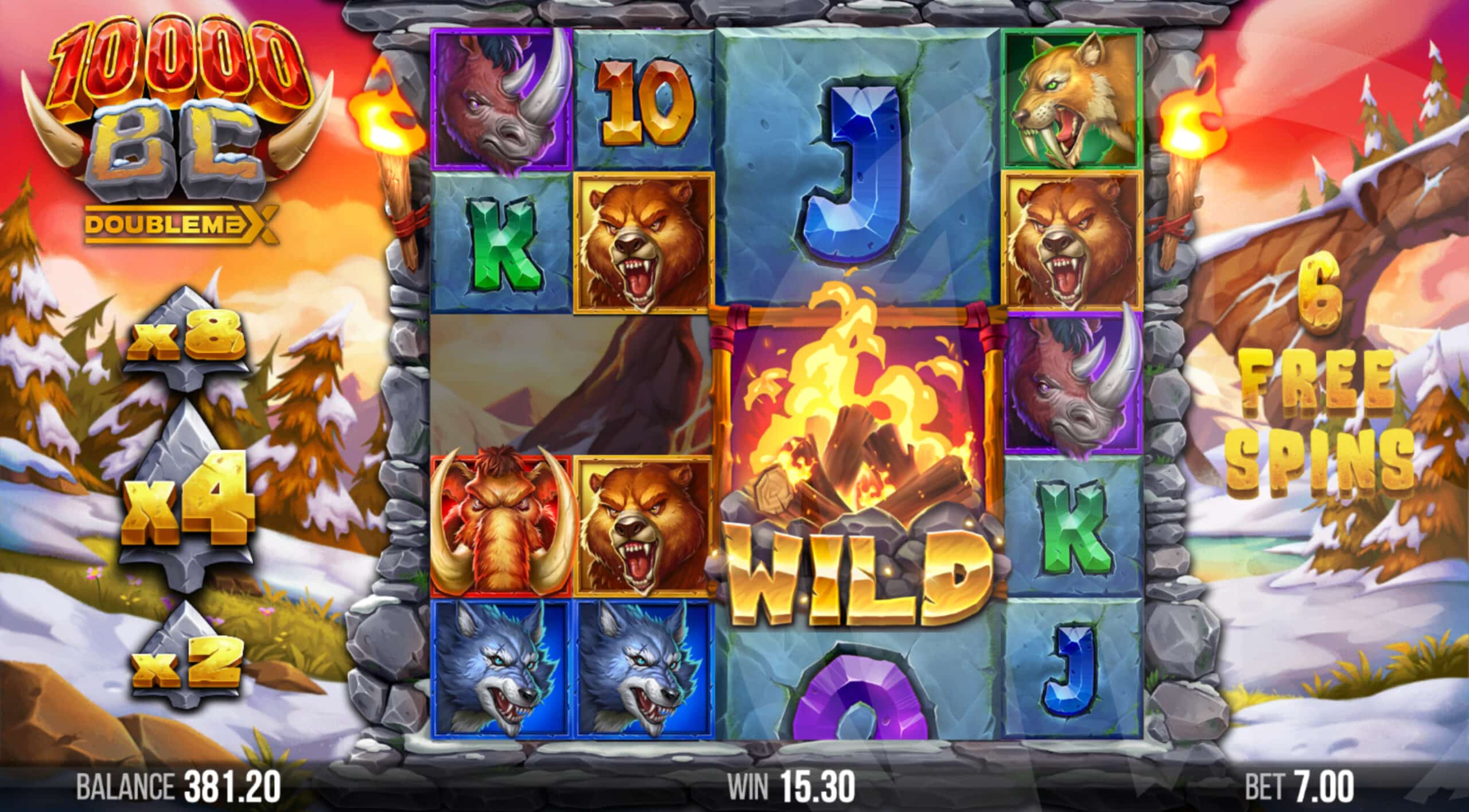 Alongside these mechanics, there are two features in 10000 BC DoubleMax, which can occur at random after any losing spin.
Mammoth Explode – symbols are destroyed and remaining symbols are dropped down to guarantee a win.
Mammoth Shuffle – if a Gigablox reel is on the righthand side, it may be moved to the left to guarantee a win. After the win occurs, the reel moves back to the righthand side by moving one reel per dropdown.
In either instance, a win guaranteed through a feature will increment the DoubleMax multiplier.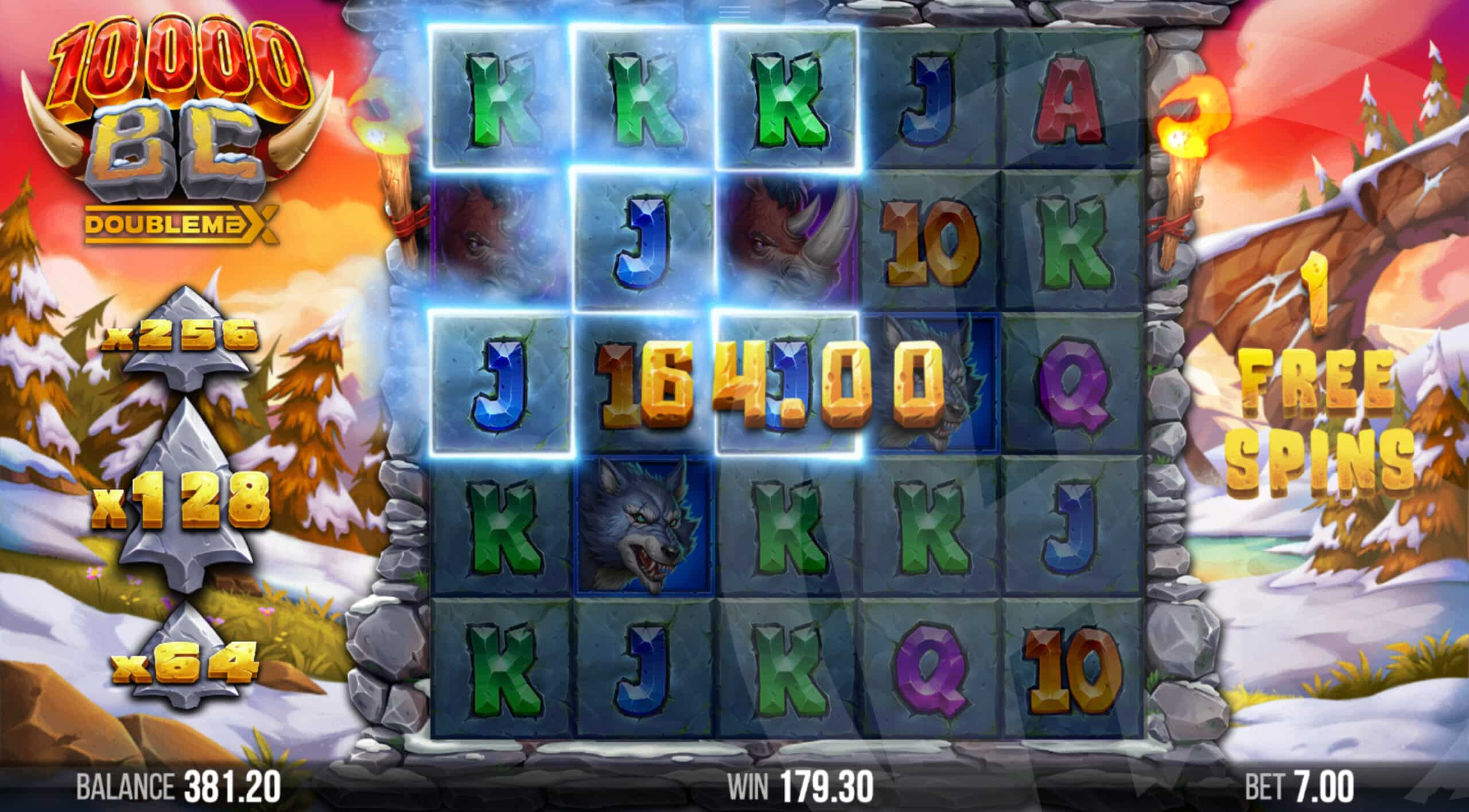 10000 BC DoubleMax Bonus
Land 3 or more spear Bonus Scatters to trigger 7 Free Spins.
Everything continues as normal during Free Spins, with the exception that the win multiplier does not reset between spins. Additionally, players are guaranteed a Mammoth Feature – Mammoth Explode or a Mammoth Shuffle.
These features may land more than once. There is no opportunity to retrigger Free Spins.
Buy Feature
Players in appropriate regions can take advantage of a Buy Feature option, wherein for a cost of 100x bet 3 Bonus Scatters are guaranteed to land, triggering 7 Free Spins.
The maximum win available in 10000 BC DoubleMax is 10,000x bet. If the sum of a single game round exceeds this, the game round will end and 10,000x bet will be awarded.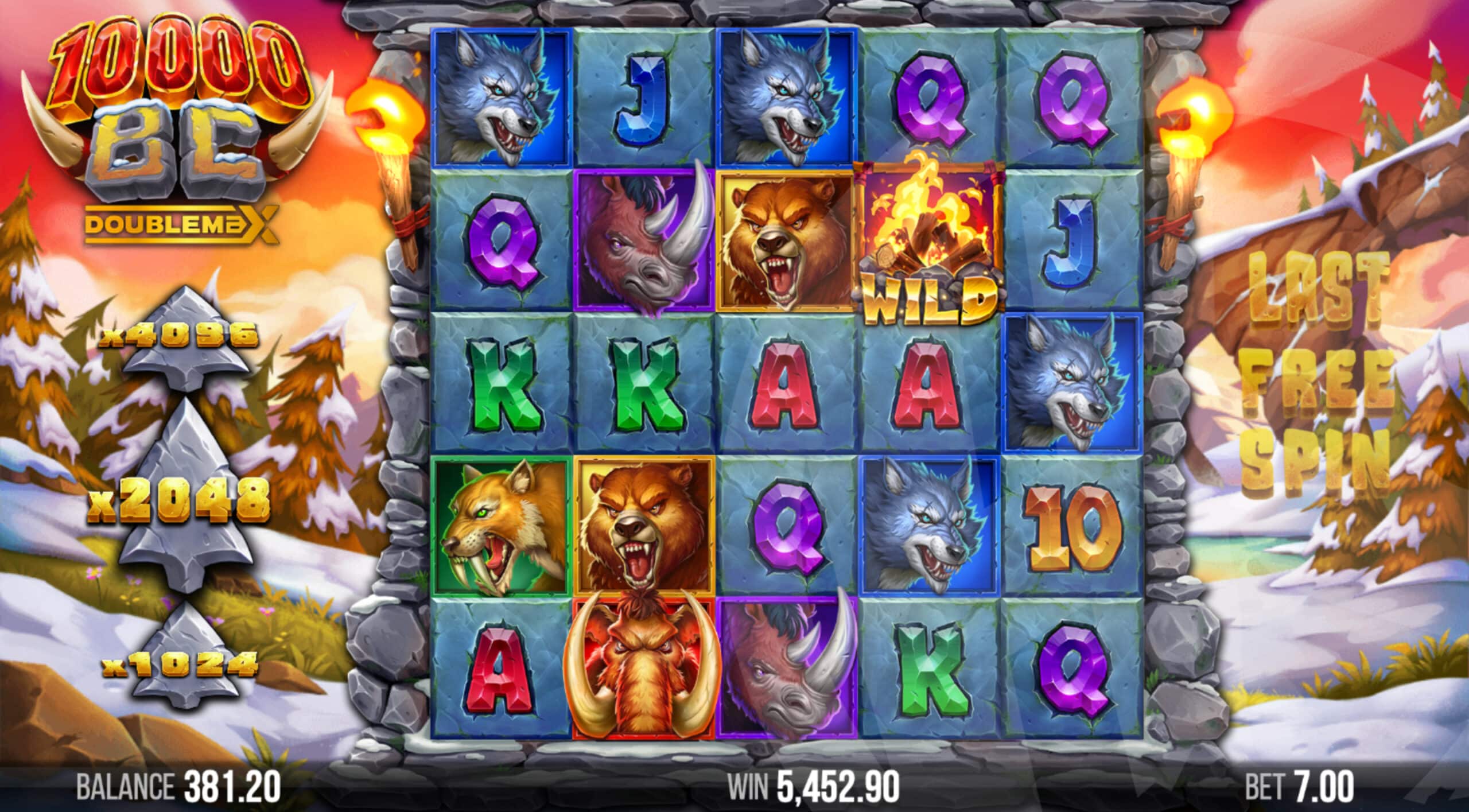 First Impression
There's plenty happening in 10000 BC DoubleMax, with many of the features bringing back memories of 90k Yeti Gigablox or 7 Gold Gigablox – two previous releases in which 4ThePlayer used this mechanic from Yggdrasil Gaming.
This is the first time however, that the team have turned their attention to DoubleMax, and what better way than by combining it with one they've already shown they're comfortable with.
In the base game, Mammoth Ram Cascades, Mammoth Features, Gigablox and the DoubleMax multiplier all help things to tick over, doing their job of keeping players interested until Free Spins come along.
When Free Spins are triggered, things are kicked up a notch with guaranteed Mammoth Features and the multiplier not resetting between spins – leading to values in excess of x2000. When the right combinations occur, wins are possible up to 10,000x bet.
Finally, maths is rated as medium-high for volatility, and RTP options are available up to 96.0%, so as always it's worth checking this.
If you're a fan of Gigablox and DoubleMax and have always found yourself wondering what their hybrid would look like, 4ThePlayer have answered your question in 10000 BC DoubleMax – and the answer is good.\
For those interested, Slot Stats are provided for 10000 BC DoubleMax. The average best win after 100 spins is:
All players – 55x bet
1 in 10 players – 231x bet
1 in 100 players – 810x bet
1 in 1000 players – 2,278x bet
*The screenshots taken of games reviewed on this site are taken from Demo Play, as reviews are often written before games are released for real play.