If there's one thing goats are good at, it's climbing. Whilst that might be fairly obvious for the aptly named mountain goat, it's also true for a variety of goats – including the domestic goat. Goats aren't exactly one of the most popular choices for an online slot release, although there have been a few – including Holy Hand Grenade by Print Studios earlier this year.
This time around though, Push Gaming are making sure the goat is front and centre. Following a successful trip underwater in Razor Returns and an adventure in the factory setting of Rat King, it's time to scale the summit in Goat Getter.
With RTP options up to 96.40% (96.80% feature buy), this medium to highly volatile release can produce wins up to 10,000x bet.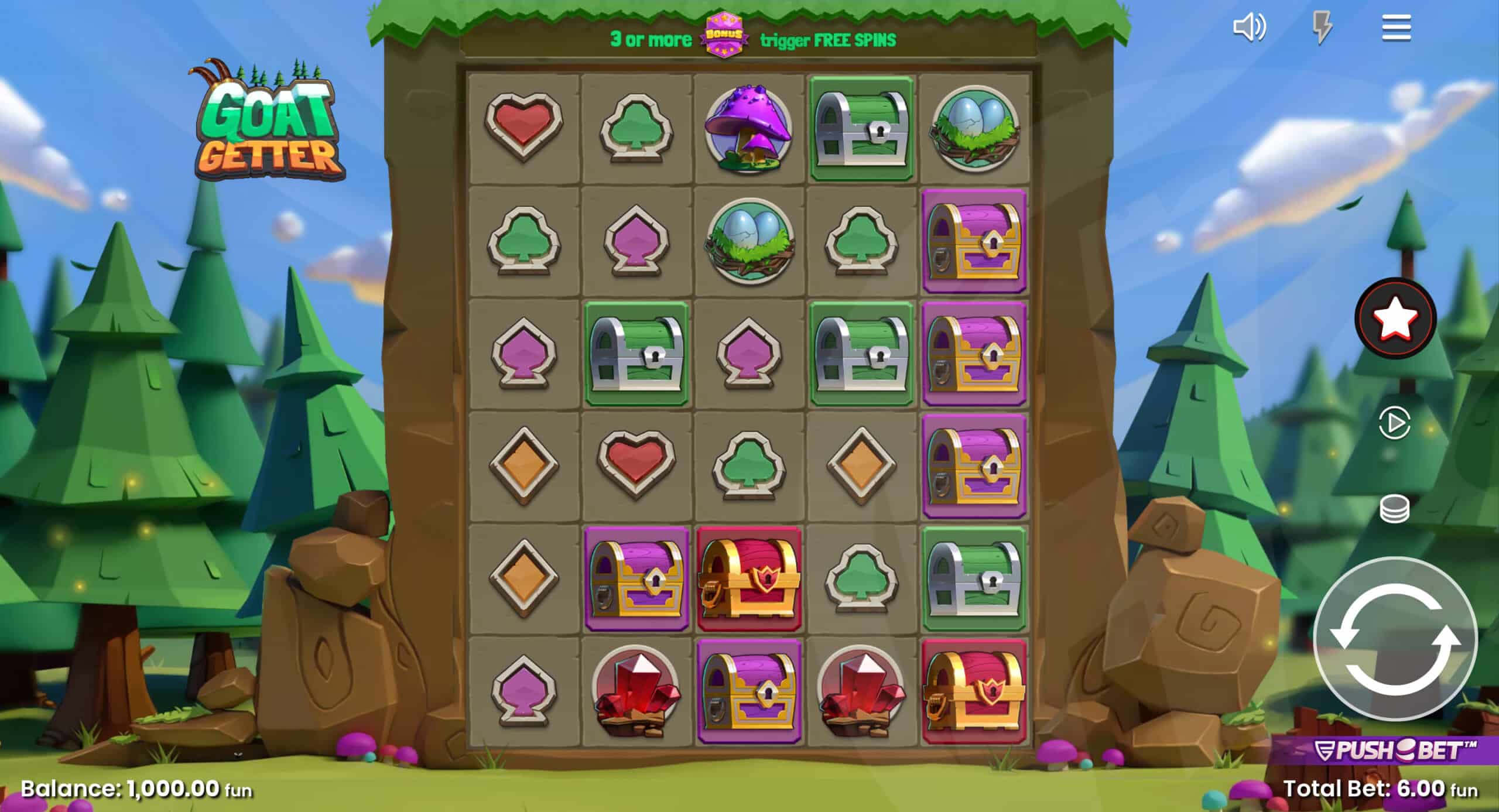 We're outside on a sunny day in Goat Getter, with bright blue skies littered with fluffy white clouds. To the sides of the reels are some trees, drawn with the unique style of art we've come to expect from many of Push Gaming releases. The reels themselves are under grass, in some sort of dirt/soil/stone type combination.
Apart from this things are kept fairly simple with some coloured mushrooms scattered throughout and bold symbols on the reels. It's all finished off with an upbeat and slightly mystical soundtrack which helps to tie everything together. All in all, a nice picture.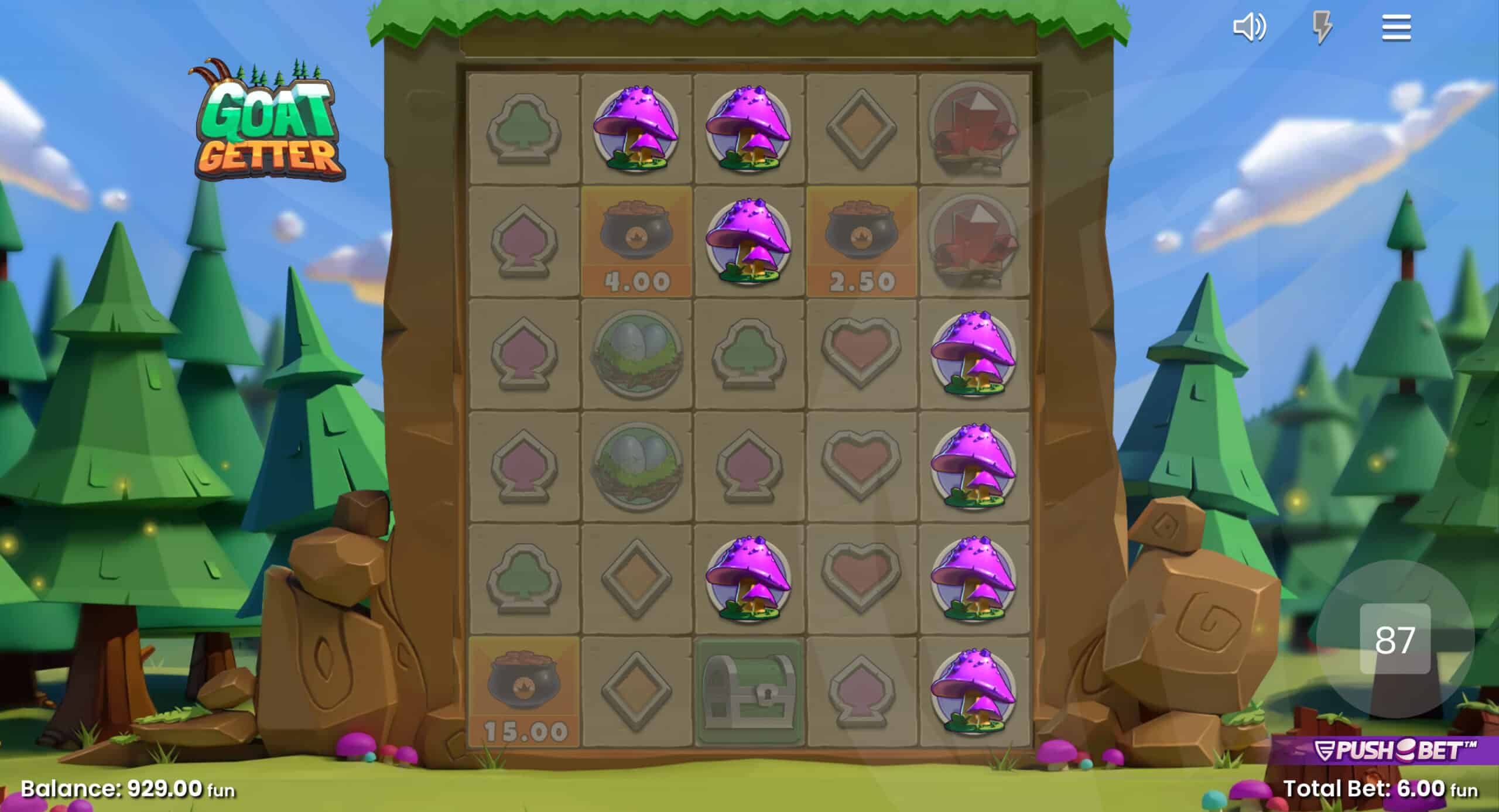 Goat Getter Base Features
Taking place across 5 reels, wins are formed on Goat Getter by matching at least 6 symbols anywhere in view through scatter pays. Symbols pay for 6-8, 9-11, 12-14, 15-17 and 18+ in view, and begin with non premiums, with diamonds, clubs, spades and hearts. Land 6-8 of any non premium in view to see wins between 0.30 and 0.60x bet, increasing to values between 15 and 30x bet for 18+ in view.
In the mid range we have eggs, mushrooms and crystals, awarding wins between 0.80 and 1x bet for 6-8 in view, increasing to values between 45 and 75x bet for 18+ in view.
Premiums consist of 3 chests – green, purple and red. Land 6-8 of any premium in view to see wins between 2 and 5x bet, increasing to values between 200 and 500x bet for 18+ in view.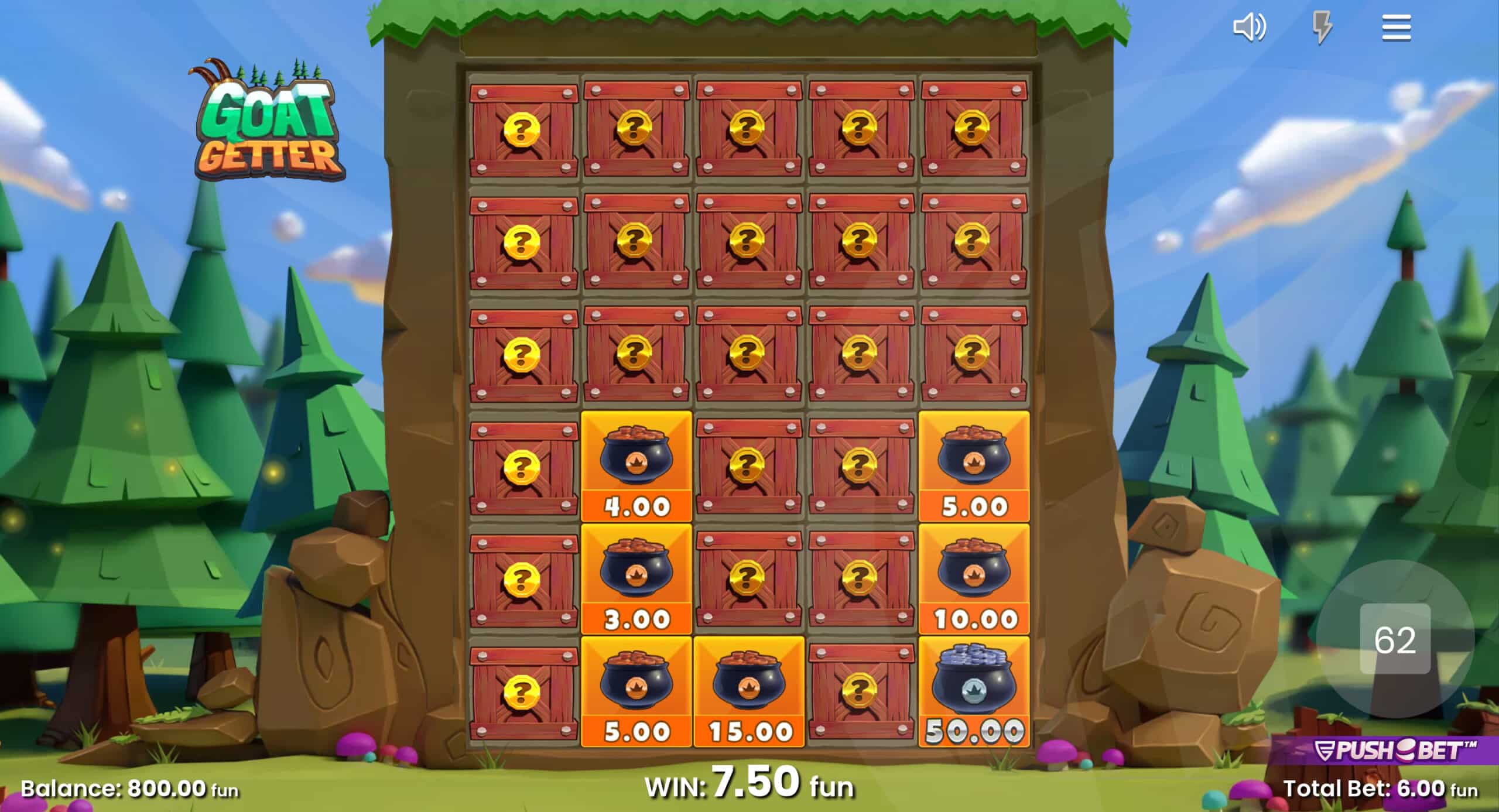 Push Bet
There are a few different things to cover in Goat Getter, beginning with Push Bet, in which increasing the bet by 20% will also increase the chance of triggering Free Spins. When using Push Bet wins are calculated according to the base bet. In the 96.40% setting, RTP increases slightly to 96.44% when using Push Bet.
Next up are cascades. On every spin, all symbols involved in a win will be removed from the reels, whilst all remaining symbols will collapse down to the bottommost available position on their respective reels. New symbols will then drop in from above to fill any remaining gaps, with cascades continuing until no new wins are formed.
Coin Pot Symbols
Coin Pot Symbols are next – the Instant Prize symbols Push Gaming are famous for.
When Coin Pot symbols land on the reels they will have an Instant Prize value attached to them.
Possible cash values are 0.50x, 0.60x, 0.80x, 1x, 2x, 3x, 5x, 10x, 25x, 50x, 100x, 250x, 500x, or 1,000x bet. However, these Instant Prize values are not always paid out.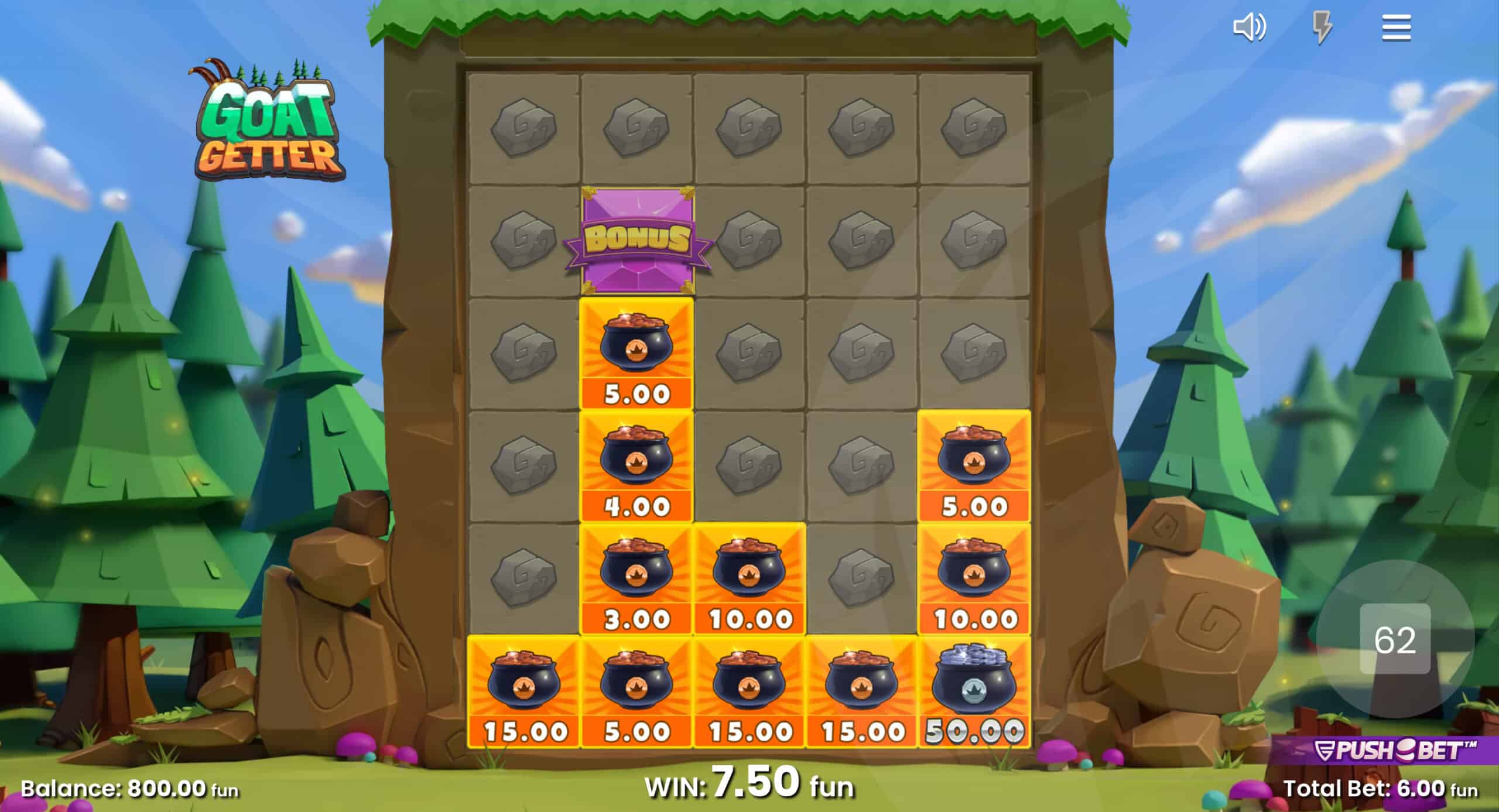 Coin Drop Feature
When 6 or more Coin Pot symbols land in view and cascades have finished, the Coin Drop Feature is triggered. All regular symbols will be removed from the reels and all Coin Pot Symbols will drop to the bottommost positions of their respective reels. Mystery Boxes will then fall into every empty position on the reels. Mystery Boxes can reveal one of the following:
Dud Symbols
Coin Pot Symbols
Bonus Symbols
For as long as Mystery Boxes reveal Coin Pot Symbols or Bonus Symbols, this process will repeat. Once no new symbols (other than Dud Symbols) have been revealed, the Coin Drop Feature will end. If 6, 7, 8 or 9 Coin Pot Symbols are in view at the end, players are awarded 0.50x, 1x, 2x, or 4x bet respectively.
If 10 or more Coin Pot Symbols are in view, each of their Instant Prize values are awarded as cash values.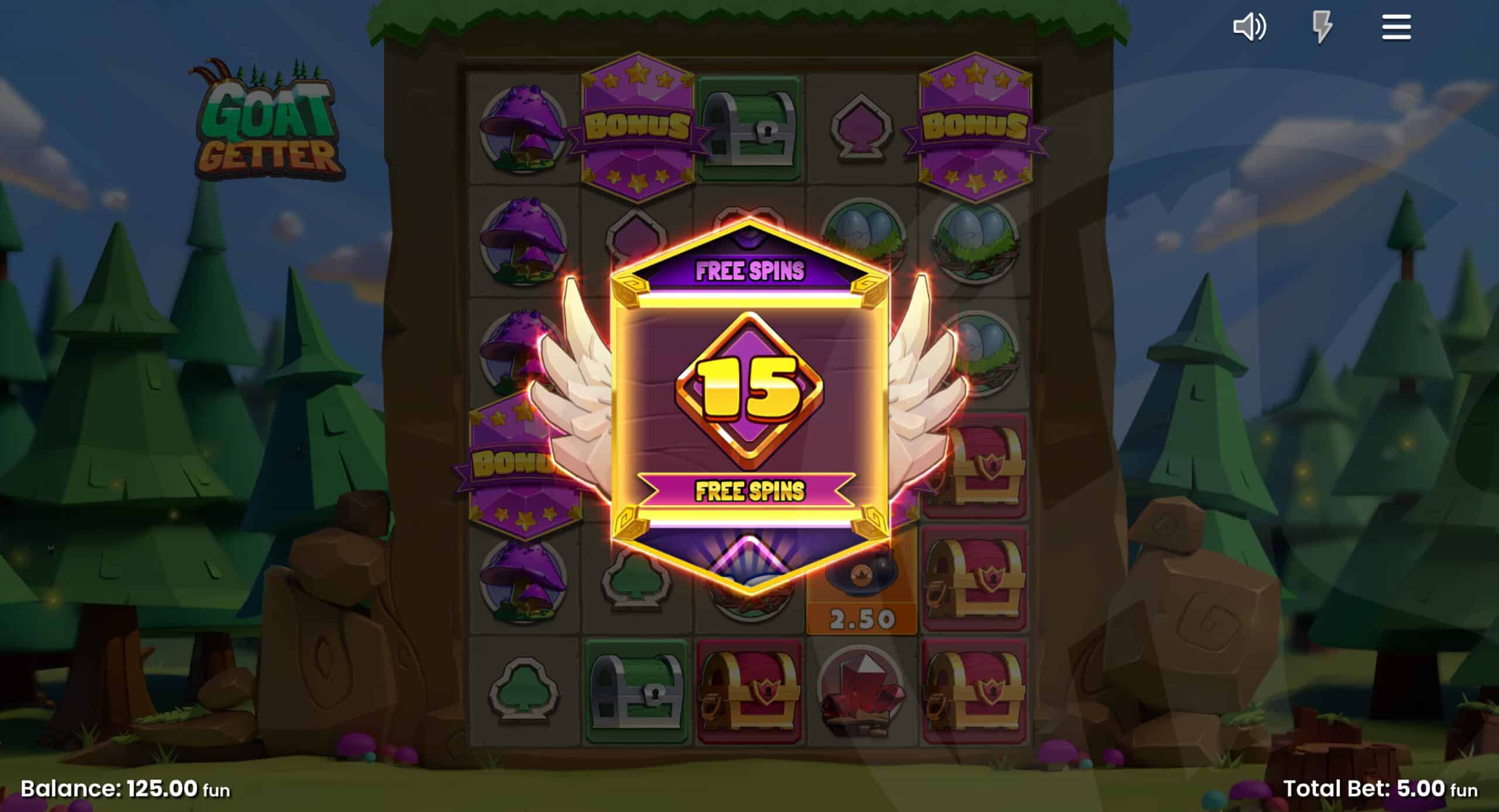 Goat Getter Bonus
Land 3 or more Bonus Symbols (landing naturally or through the Coin Drop Feature) to trigger Free Spins.
3 Bonus Symbols – 6, 7, 8, 9, 10 or 11 Free Spins
4 Bonus Symbols – 10, 11, 12, 13, 14, 15 or 16 Free Spins
5 Bonus Symbols – 14, 15 or 16 Free Spins
Gamble Feature
After triggering Free Spins, players have an opportunity to use the Gamble Feature to attempt to win more spins. The Gamble Wheel will have segments with higher prizes and also segments with no prize. When gambling, any prize higher than the current prize can appear on the wheel.
After successfully winning a higher prize, players can gamble again – until they reach a Gold Free Spins mode (14, 15 or 16 Free Spins). If the gamble finishes on a segment with no prize, no Free Spins are awarded.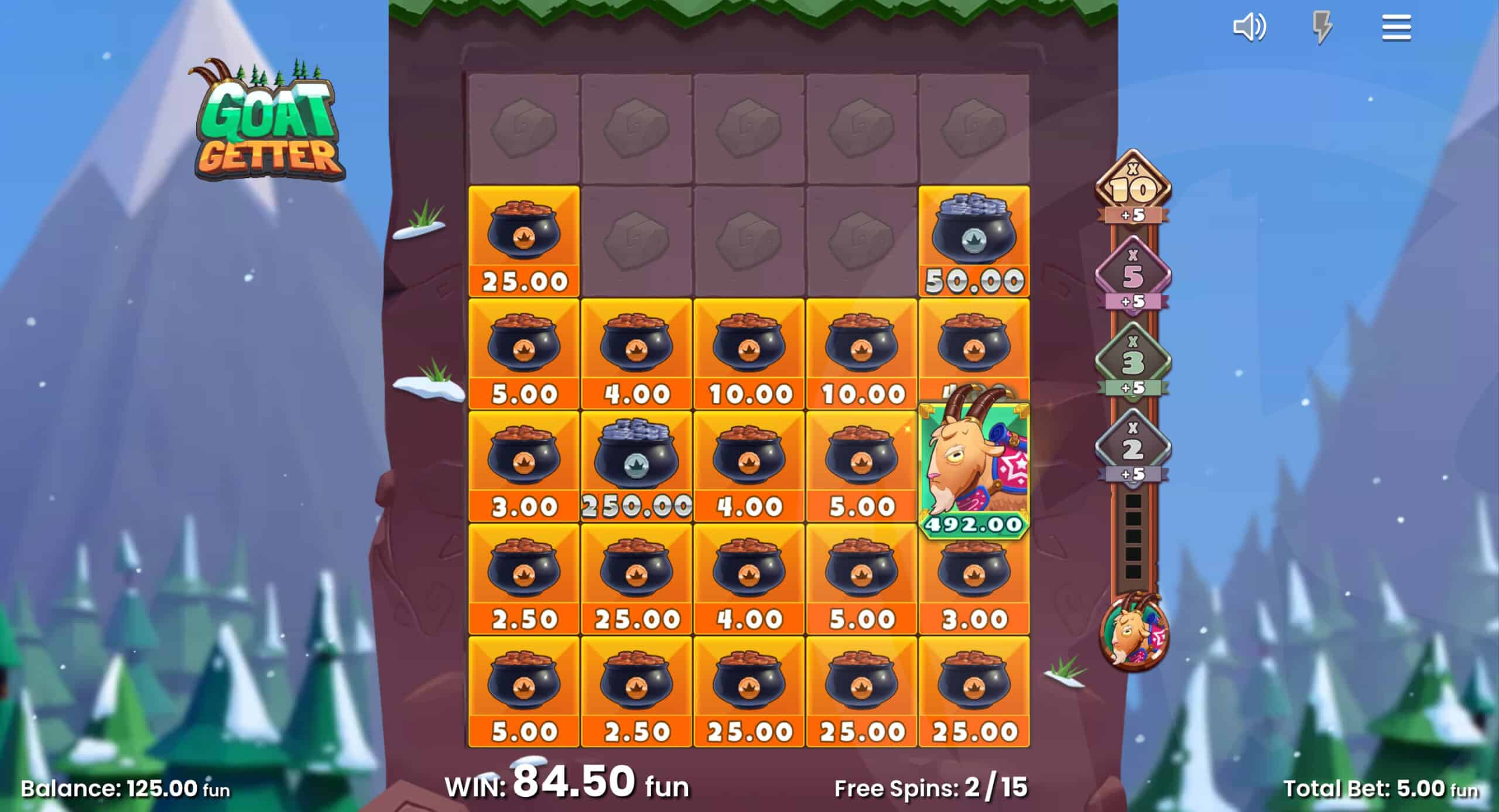 A new symbol comes into play during Free Spins – the Goat Symbol. When the Goat Symbol lands on the reels, it will collect and award the Instant Prize value of any Coin Pot Symbols in view.
Alongside this, the Goat Symbol will be added to the meter to the right of the reels, regardless of whether it collects Instant Prize values or not.
Collect 5 Goat Symbols: +5 spins x2
Collect 10 Goat Symbols: +5 spins x3
Collect 15 Goat Symbols: +5 spins x5
Collect 20 Goat Symbols: +5 spins x10
The active multiplier is applied to any Instant Prize values collected.
The Coin Drop Feature continues to be active during Free Spins and works in the same way, except Mystery Boxes can no longer reveal Bonus symbols. Instead, they can reveal Goat symbols.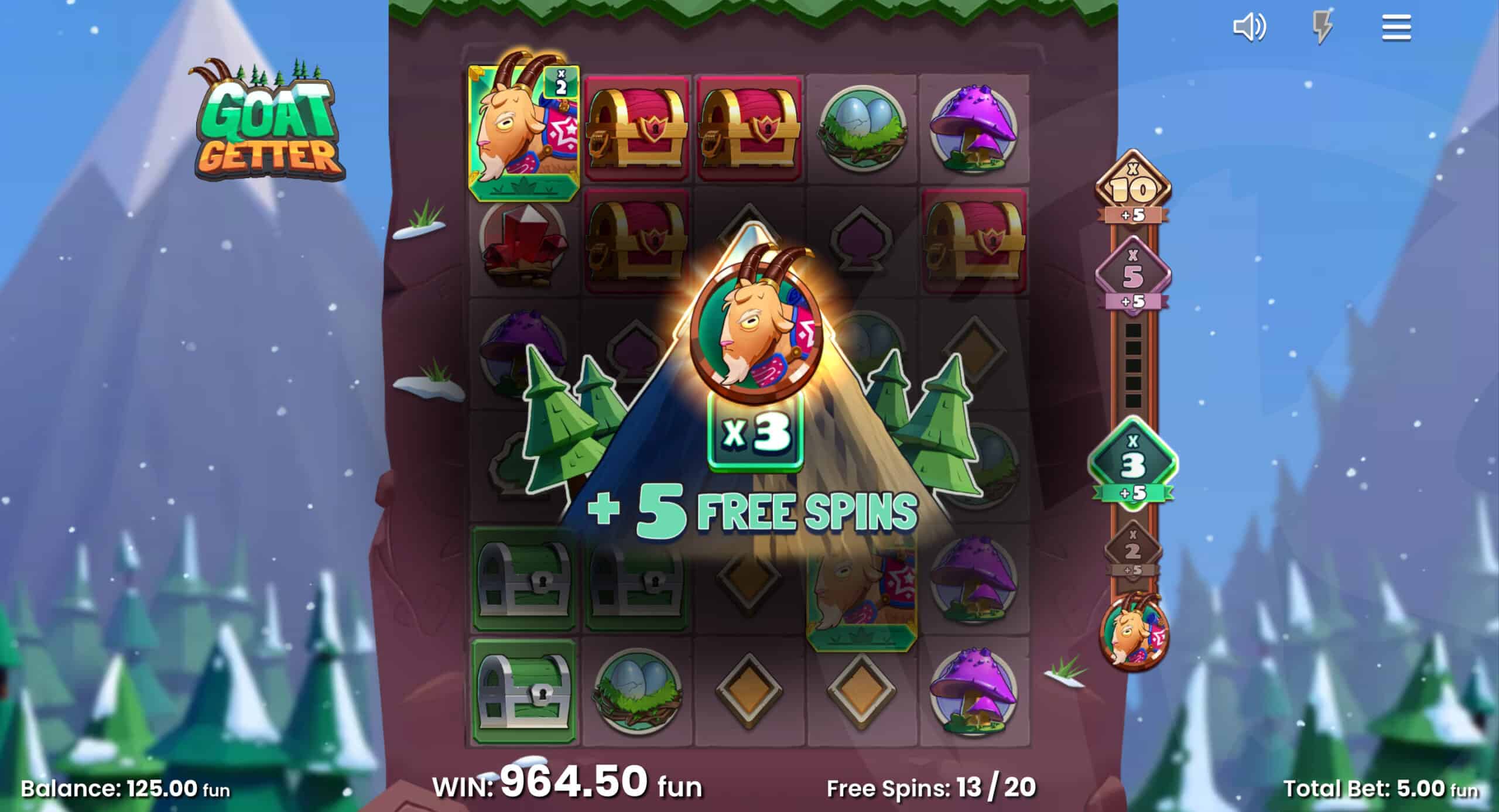 Bonus Buy
Players in appropriate regions can skip straight to the action with 4 Bonus Buy options.
3 Bonus Symbols – 100x bet (96.24% RTP with Gamble Feature, 96.41% without)
4 Bonus Symbols – 200x bet (96.31% RTP with Gamble Feature, 96.60% without)
5 Bonus Symbols – 400x bet (96.80% RTP)
Random Free Spins (3, 4 or 5 Bonus Symbols) – 175x bet (96.60% RTP with Gamble Feature, 96.78% without)
The above RTPs are based on the overall RTP setting of 96.40%.
The maximum win available in Goat Getter is 10,000x bet. If the sum of a single game round exceeds this, the game round will end and 10,000x bet will be awarded.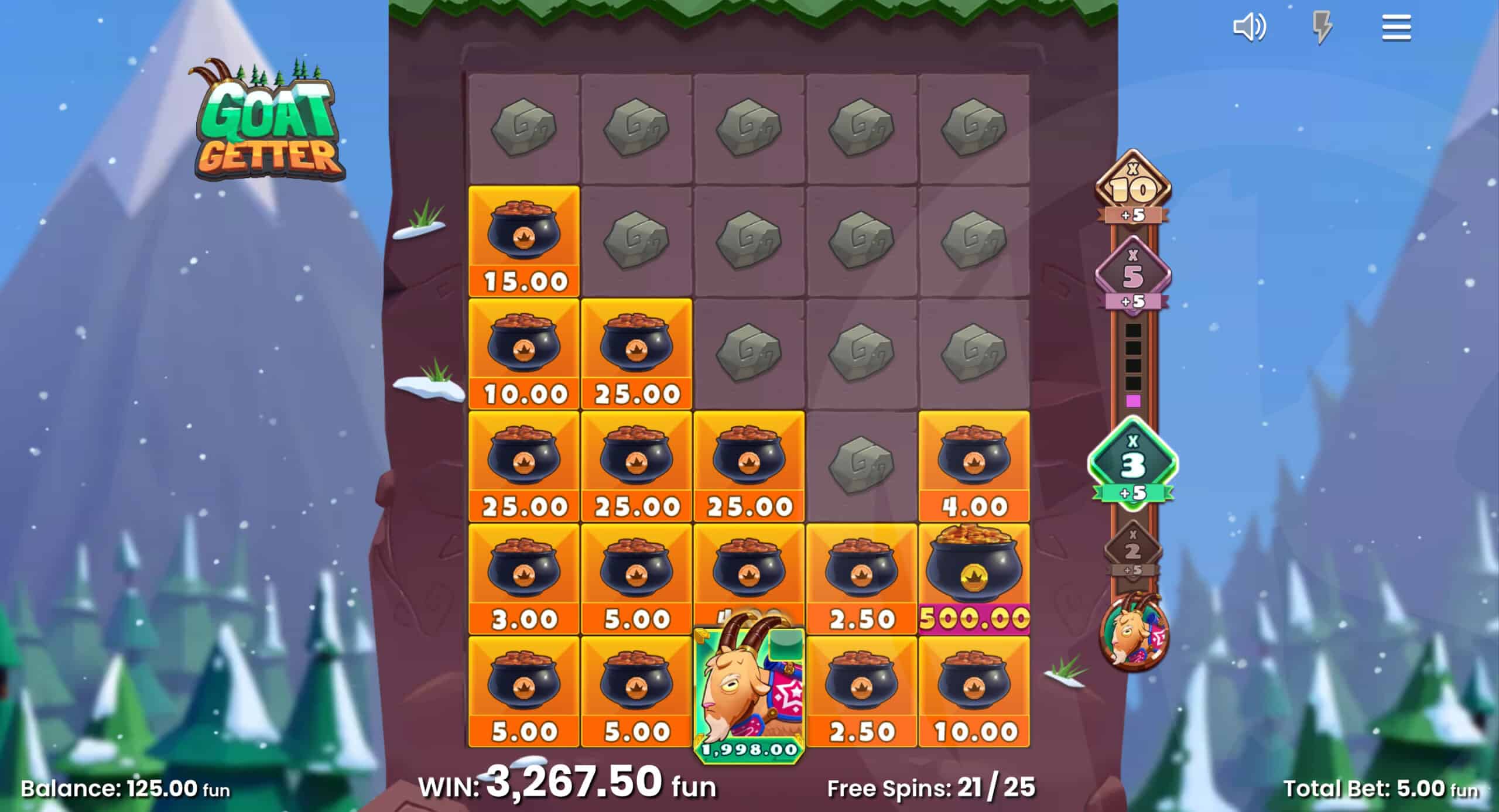 First Impression
Goat Getter encapsulates a lot of things players love about Push Gaming – vibrant and interesting artwork, a nice maximum win, a great maths model and a simple, easy to understand mechanic. What it also encapsulates however is one of the most popular mechanics on the market – the fishing mechanic.
Okay, there's no fish or fisherman as far as the eye can see, but the premise is the same – collector symbols (in this case, the Goat symbol) land and collect cash values (in this case, Instant Prize values). 
This isn't too noticeable in the base game, where the Coin Drop Feature carries most of the weight and may not always award Instant Prize values, but in Free Spins it's pretty much the whole idea. By collecting Goat symbols players can climb their way to x10 multipliers, picking up an additional +20 spins along the way.
Add in the Gamble Feature, the Coin Drop Feature and Instant Prize values up to 1,000x bet and it's easy to see how things can go big. Indeed, when the right combinations land wins are possible up to 10,000x bet.
Finally, maths is rated medium to high for volatility, and RTP options are available up to 96.40% (96.80% feature buy), so as always it's worth checking this. If you're a fan of the plethora of fishing games on the market and you fancy a change of scenery and provider, Goat Getter is perfect for you.
*The screenshots taken of games reviewed on this site are taken from Demo Play, as reviews are often written before games are released for real play.