Somewhere right now, your favourite snacks are being made. There's a factory creating our favourite chocolate bars, cakes, sweets, donuts – you name it, there's somewhere making it. What isn't so nice to think about is that when the lights go out, creatures have free rein to run amok in said factory – including rats.
Well, blame Push Gaming for putting this thought into our heads as they introduce us to their newest release, leaving behind the shark infested waters of Razor Returns to bring us Rat King – where the rats rule all in this retro adventure.
With RTP options up to 96.30% (96.93% feature buy), this medium volatility release can produce wins up to 10,000x bet.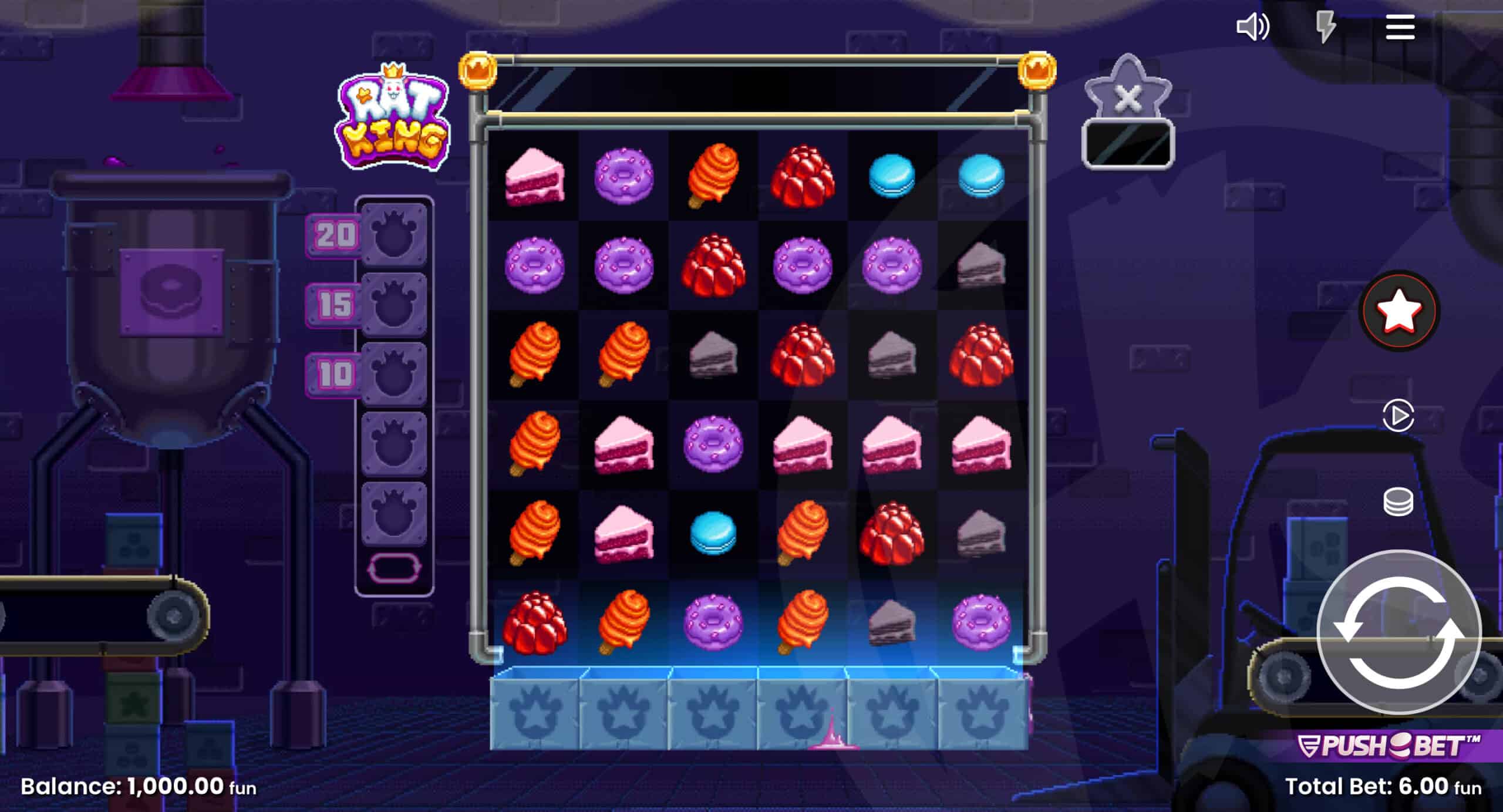 When they said retro, they meant it. We're in a factory today where everything is covered by a deep purple hue and contains a pixelated look – similar to Relax Gaming's Banana Town, Thunderkick's Flame Busters or even Push Gaming's own Fat Rabbit to an extent.
This 8-bit art style carries most of the responsibility in making Rat King interesting to look at, complimented by a variety of machinery in the background, sweet treats on the reels and a video-game styled soundtrack. All in all, a nice picture.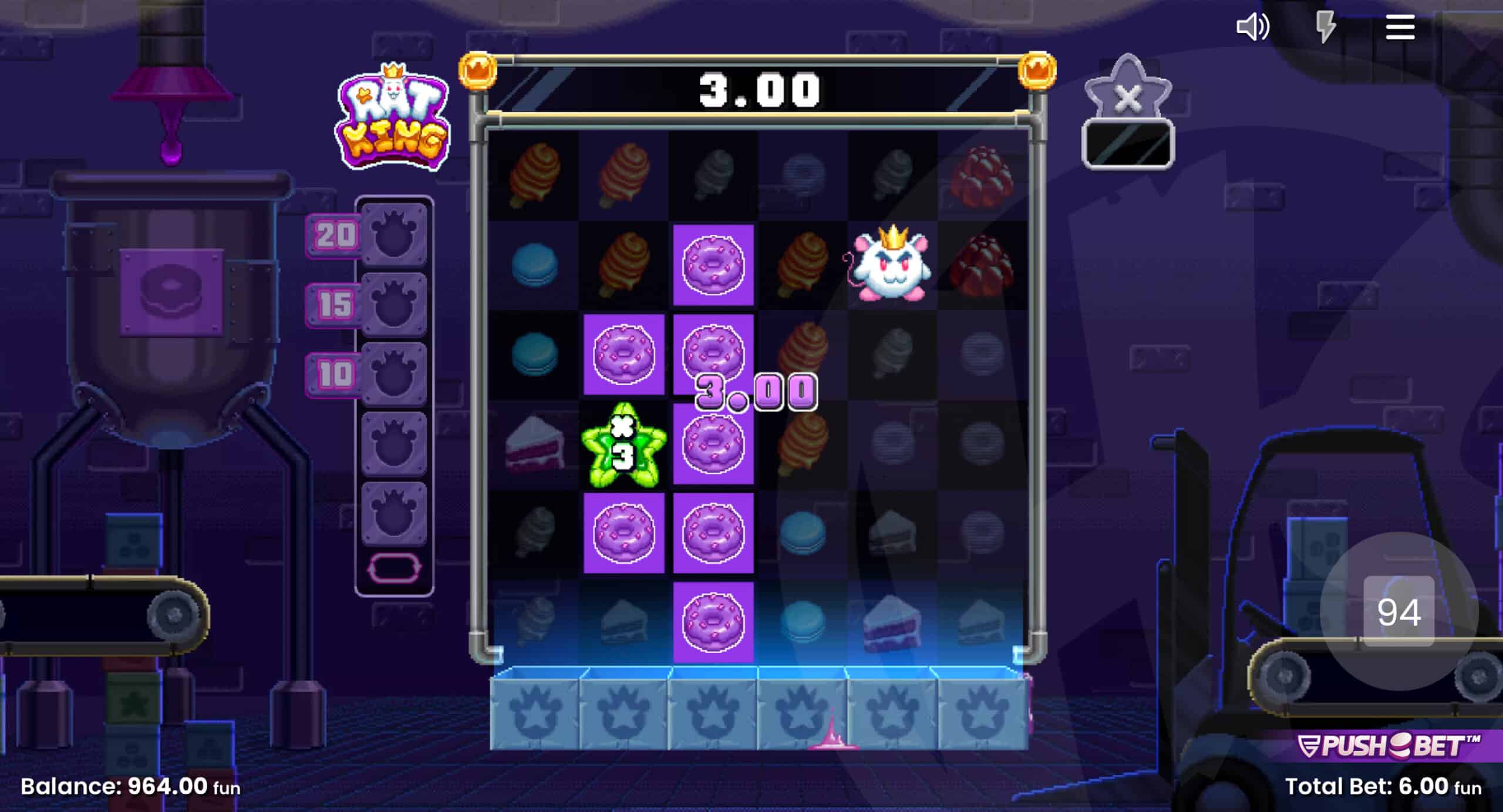 Rat King Base Features
Taking place across 6 reels, wins are formed on Rat King by landing 7 or more matching symbols anywhere on the reels. Scatter Pays are used to calculate wins, which means there are no ways to win or fixed lines – symbols just need to land in view to be counted towards a win. Symbols pay for 7-8, 9-10, 11-14, 15-19 or 20+, and come in 6 forms.
Not easily separated into non premiums and premiums, the 3 lowest paying symbols are macaroons, donuts and lollipops, awarding wins between 0.50 and 0.70x bet for 7-8 in view, increasing to values between 7.50 and 12.50x bet for 20+ in view.
The 3 highest paying symbols are more treats, with what looks like some sort of custard cake, a slice of cake and some jelly. Land 7-8 of any of these in view to see wins between 1 and 2x bet, increasing to values between 25 and 50x bet for 20+ in view.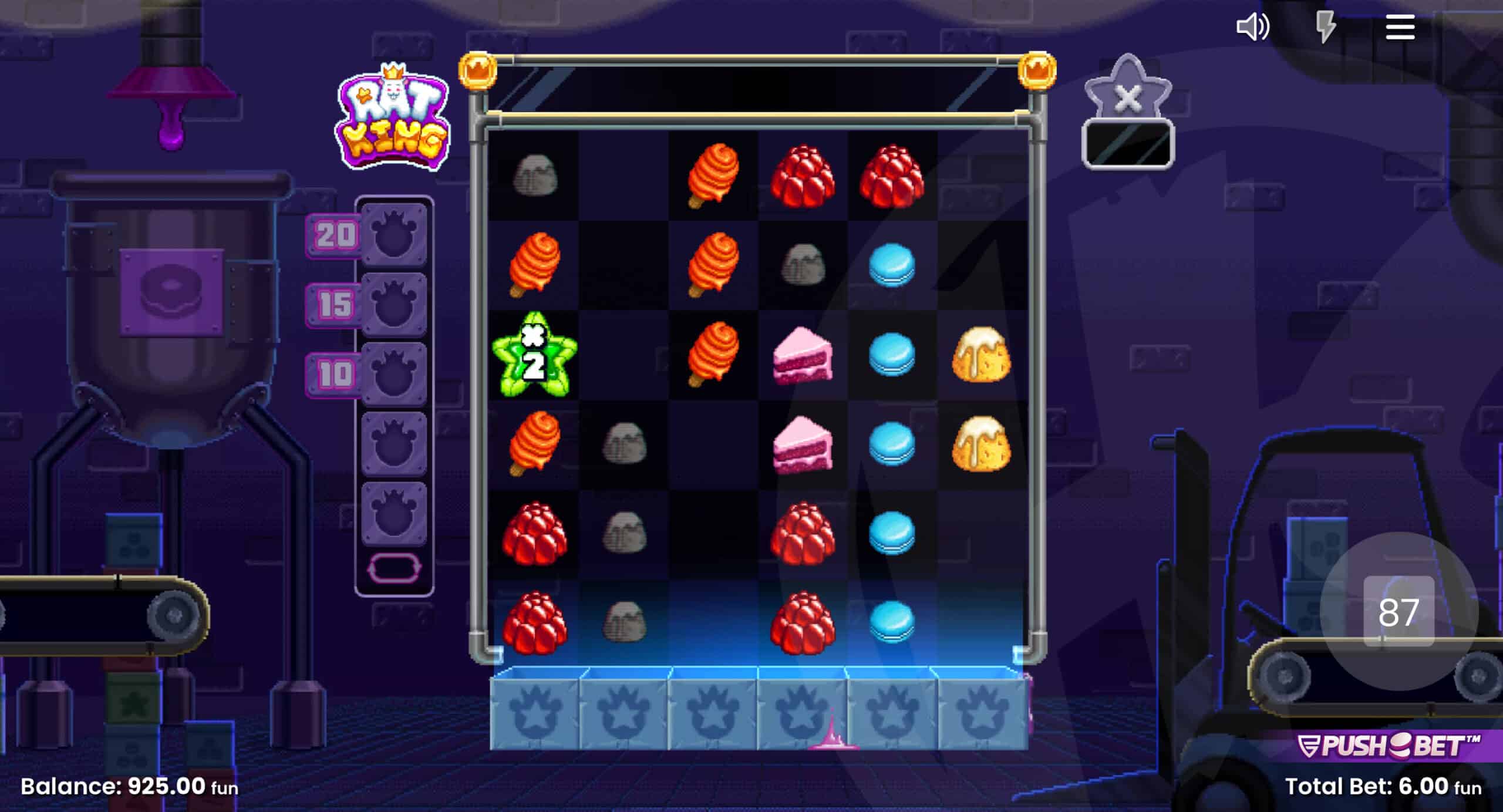 Push Bet
There are a few different things to cover in Rat King, beginning with Push Bet, whereby betting an additional 20% the chance of triggering Free Spins is increased.
When using Push Bet wins are calculated according to the base bet. In the 96.30% setting, RTP increases slightly to 96.34% when using Push Bet. In all other RTP settings, the value will either increase or remain the same.
The probability of triggering the 10,000x bet maximum win on any stake without Push Bet is 1 in 11,235,955.06, whilst the probability when using Push Bet is 1 in 8,333,333.33.
Dud Symbols
Next up are Dud Symbols. Dud Symbols look the same as regular symbols, except they are smaller and greyscale.
When 7 or more matching Dud Symbols land anywhere in view, they will be removed from the grid – although no win is awarded.
Cascade and Collapse
This is similar to the cascade and collapse mechanic.
On every spin, all symbols involved in winning combinations will be removed from the grid whilst all remaining symbols collapse to the bottommost available position on their respective reels.
New symbols will then drop in from above to fill the remaining gaps, with cascades continuing until no new wins are formed.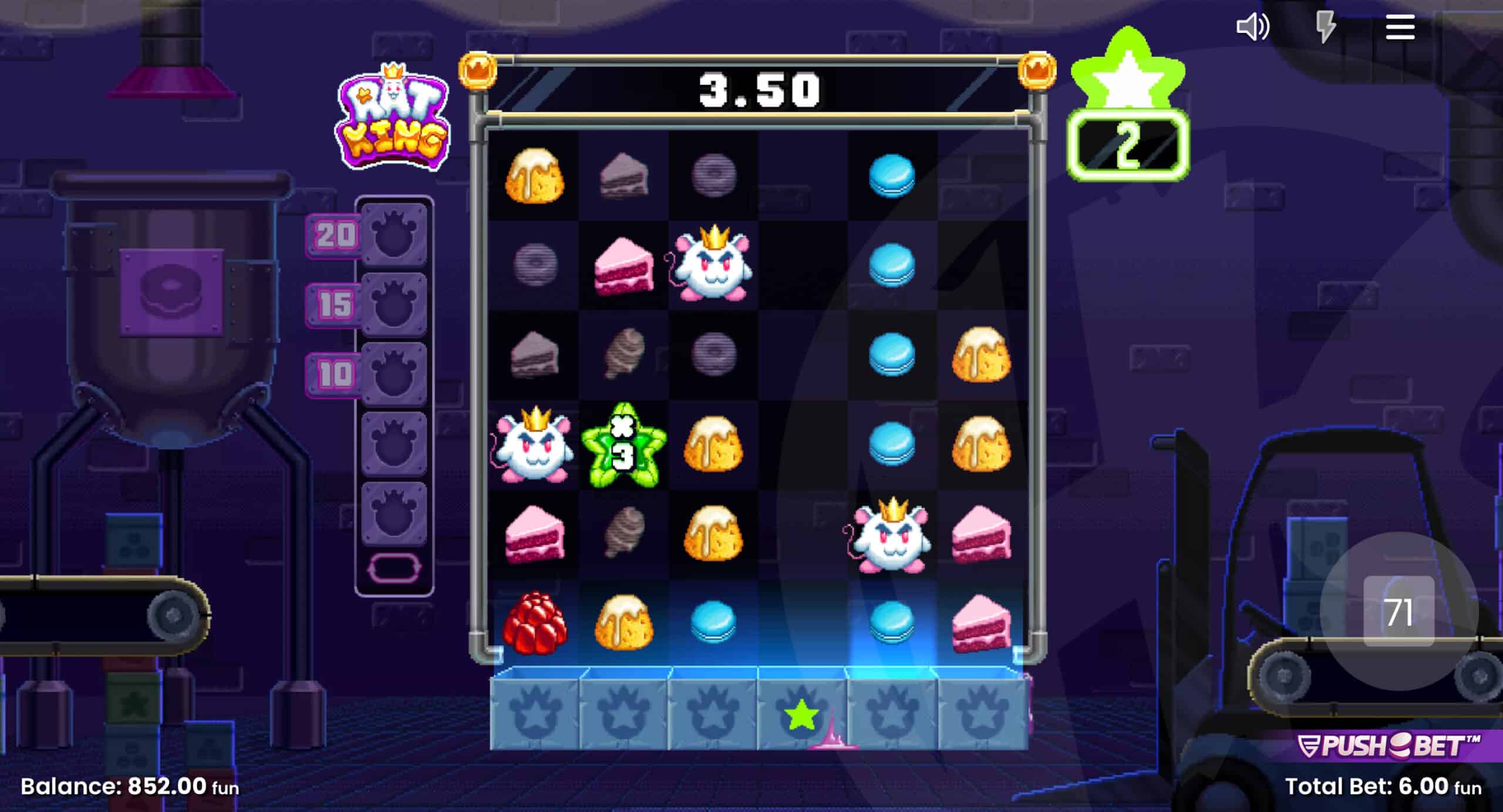 Star Symbols
On every spin, it is possible to land Star Symbols at random, which are symbols with a multiplier attached.
When a Star Symbol is collected, its multiplier is added to the multiplier counter at the top right of the grid. It is possible to land more than one Star Symbol per spin – their values are always added to the multiplier counter, they never multiply it.
The multiplier counter is an overall win multiplier. The total win of each game round will have this value applied to it, and it will reset back to x1 ahead of the next paid spin.
Possible Star Symbols values are – 2x, 3x, 5x, 7x, 10x, 25x, 50x, 100x, 250x and 500x.
Collection Boxes
At the bottom of each reel is a Collection Box.
In order for a Star Symbol to be collected it must land in the bottommost available position above a Collection Box.
This is achieved through cascades and collapses, which help to move symbols down the grid.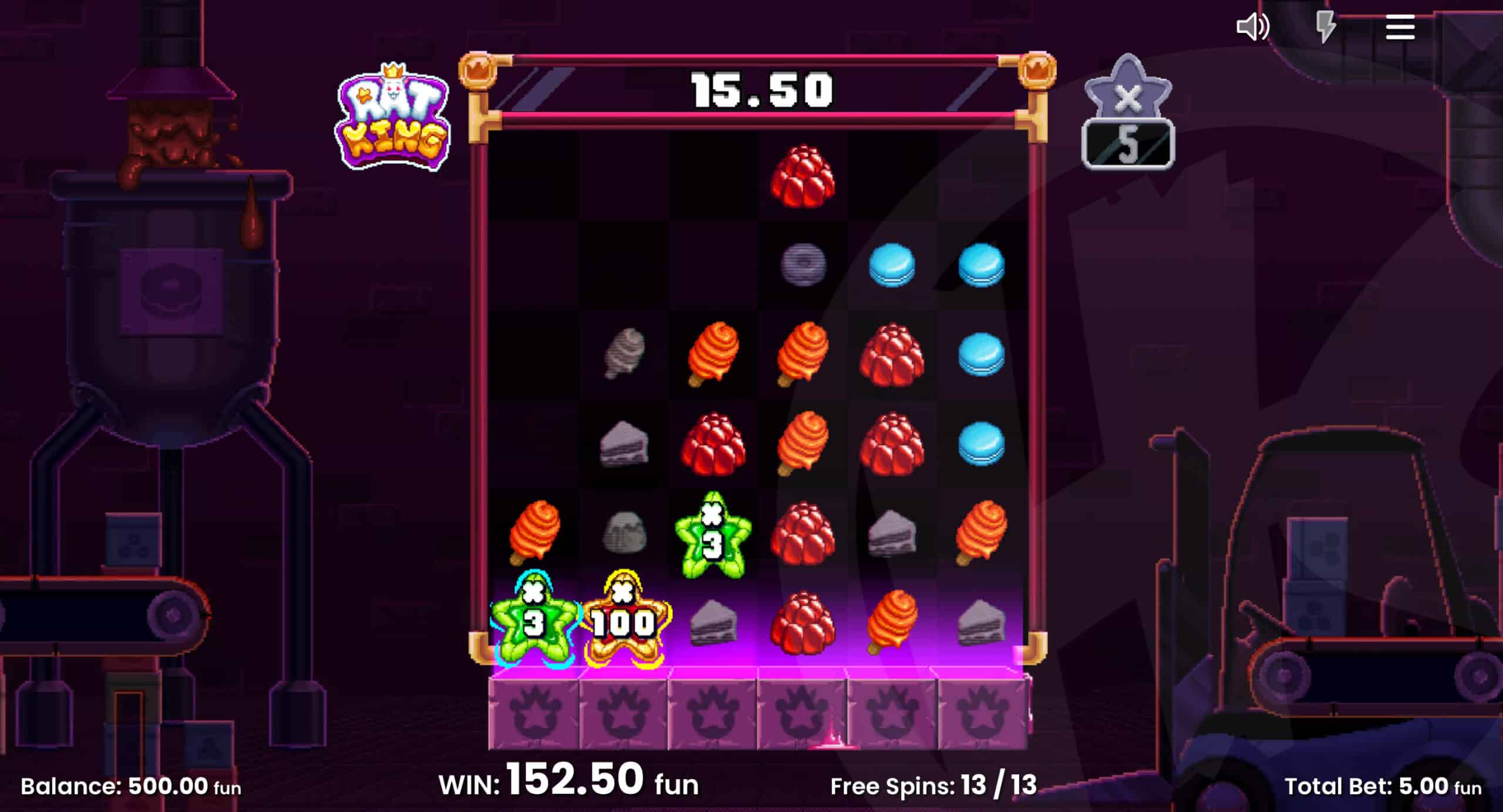 Rat King Bonus
The Rat King Symbol acts as the Scatter Symbol, and is collected in the same way as Star Symbols – through Collection Boxes. Collect 3 or more Rat King Symbols in one spin to trigger the Free Spins Feature.
3 Rat King Symbols – 10 Free Spins
4 Rat King Symbols – 15 Free Spins
5 Rat King Symbols – 20 Free Spins
Everything continues as normal during the Free Spins Feature, with a couple of tweaks. Firstly, when Star Symbols are collected and added to the multiplier counter, they do not reset between spins – they simply become inactive.
This means that the next time a Star Symbol is collected, it will add to the previous multiplier counter value, rather than starting from x1 each time.
Alongside this, collecting any Rat King Symbol through Collection Boxes will award an additional +3 spins.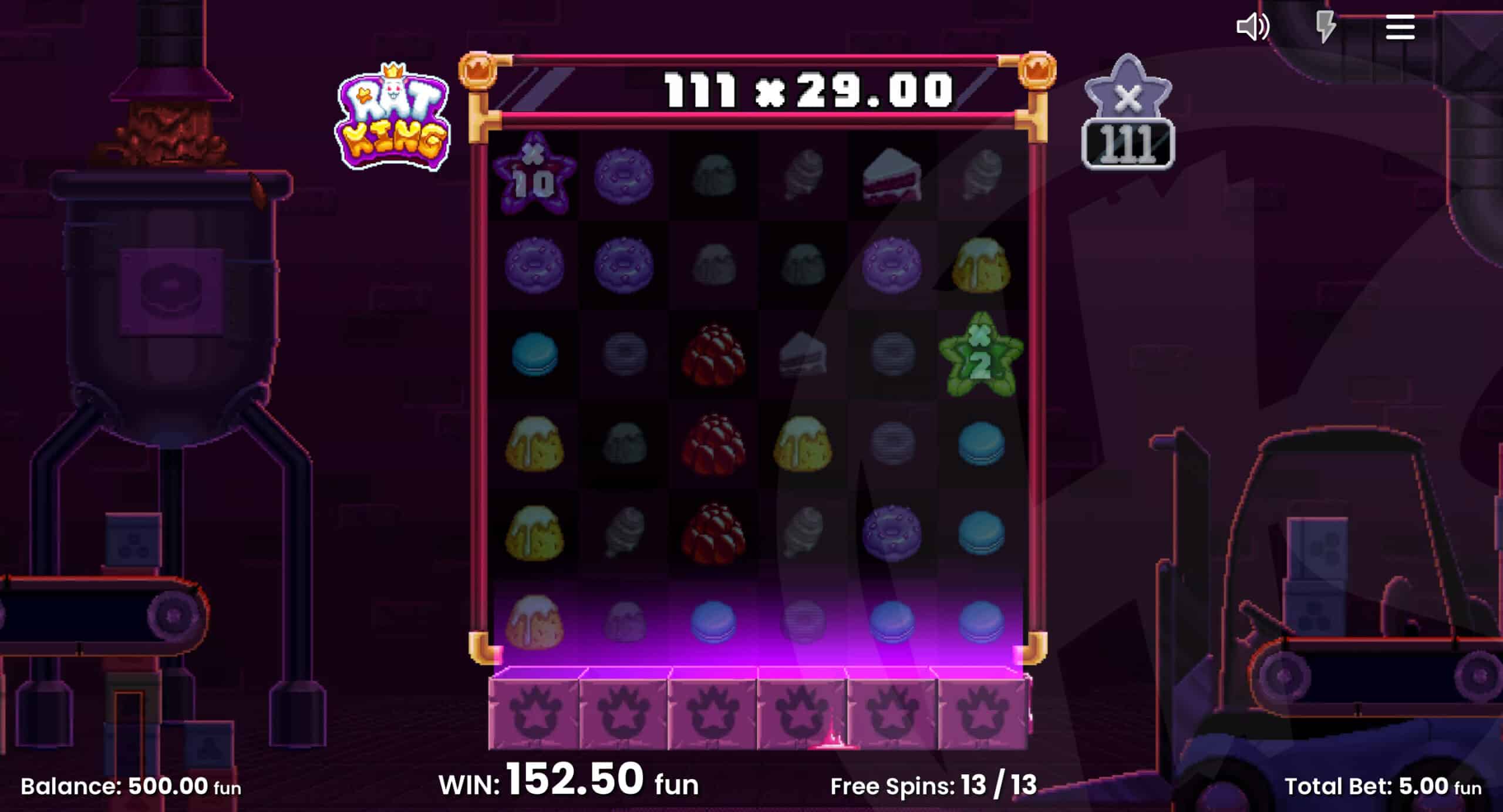 Bonus Buy
Players in appropriate regions can take advantage of 3 Bonus Buy options:
3 Scatters – 100x bet (96.58% RTP)
4 Scatters – 250x bet (96.63% RTP)
5 Scatters – 500x bet (96.93% RTP)
The above RTPs are based on the overall game setting of 96.30% RTP.
The maximum win available in Rat King is 10,000x base bet. If the sum of a single game round exceeds this, the game round will end and 10,000x base bet will be awarded.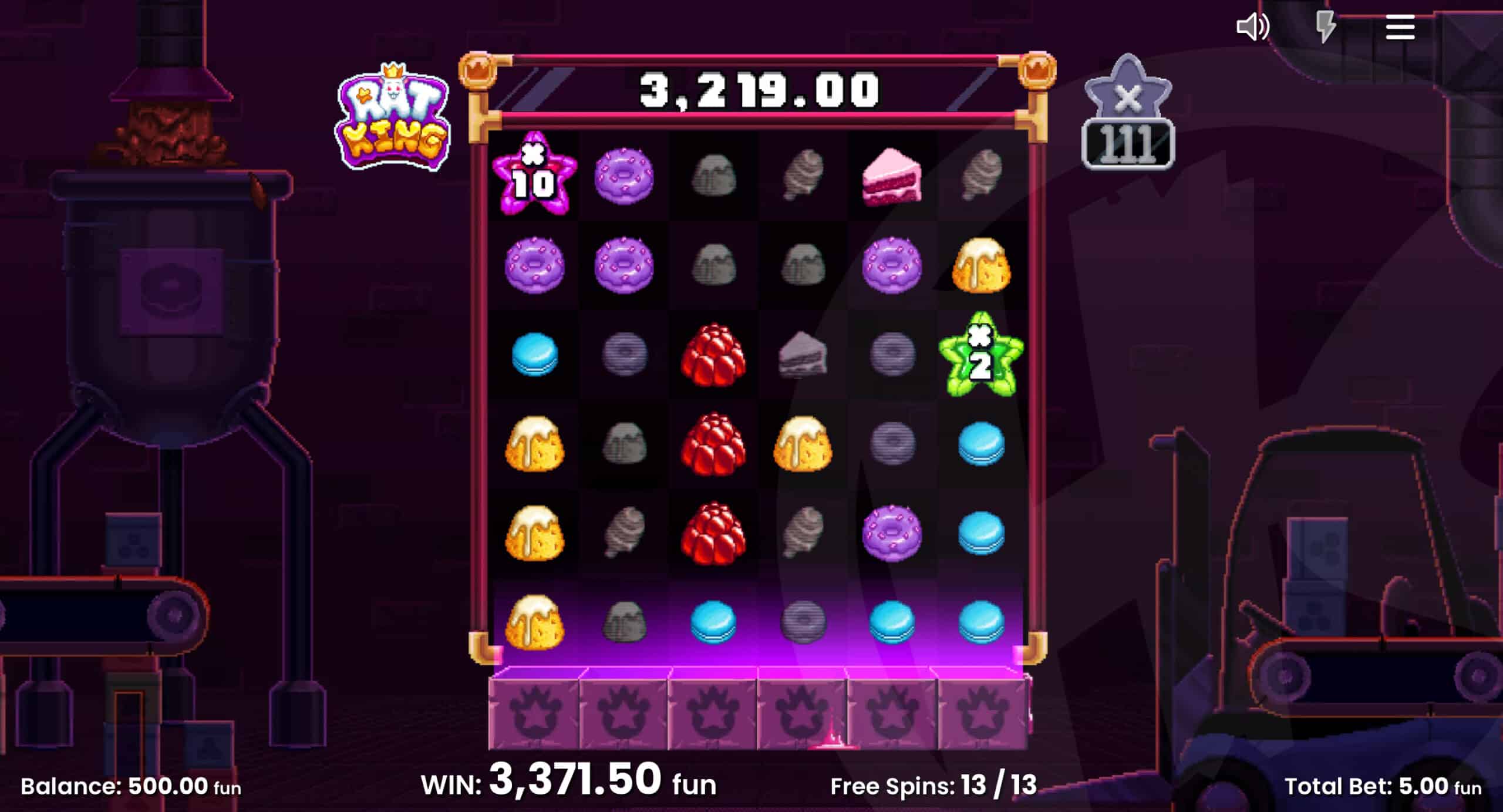 First Impression
Rat King is one of the more fun games to come so far this year, combining an 8-bit video game feel to an interesting mechanic and a potent maths model – culminating in something that begs you to return for more.
In the base game, Star Symbols are collected by Collection Boxes in order to increase the multiplier counter, with Rat King Symbols collected in the same way. What this means it that you can have 5 Scatter Symbols in view, but if they haven't been collected they don't mean anything – reminiscent of the frustration we remember from Mad Cars.
In Free Spins, the multiplier counter not resetting between spins keeps things feeling fresh, and brings us into that kind of Sweet Bonanza territory that is so popular with players, especially with multiplier values up to 500x on offer. When the right combinations occur, wins are possible up to 10,000x bet.
Finally, maths is rated as medium for volatility, and RTP options are available up to 96.30% (96.93% feature buy), so as always it's worth checking this. If you're a fan of a retro theme and increasing win multipliers, Rat King will suit you just fine.
*The screenshots taken of games reviewed on this site are taken from Demo Play, as reviews are often written before games are released for real play.