There's been a lot of chatter in recent months regarding the possibility to extraterrestrial life. Between military personnel testifying that UFOs do indeed exist to a Mexican journalist presenting two bodies unrelated to any life on earth, aliens – and the idea of them – have been front and centre for a while now.
Now, we're getting ELK Studios' take on this as they say goodbye to their Gold series and give us their interpretation of what might be out there, inviting us to journey to Jellon.
To provide some additional context, inhabitants of Jellon use portaloos as their entry point to earth. According to the team, these creatures are so fascinated by human life that they gather and master any item of importance, using them as part of their vibrant rituals, which we're going to witness in J-POP.
With a fixed RTP of 94.0%, this medium (7/10) volatility release can produce wins up to 25,000x bet.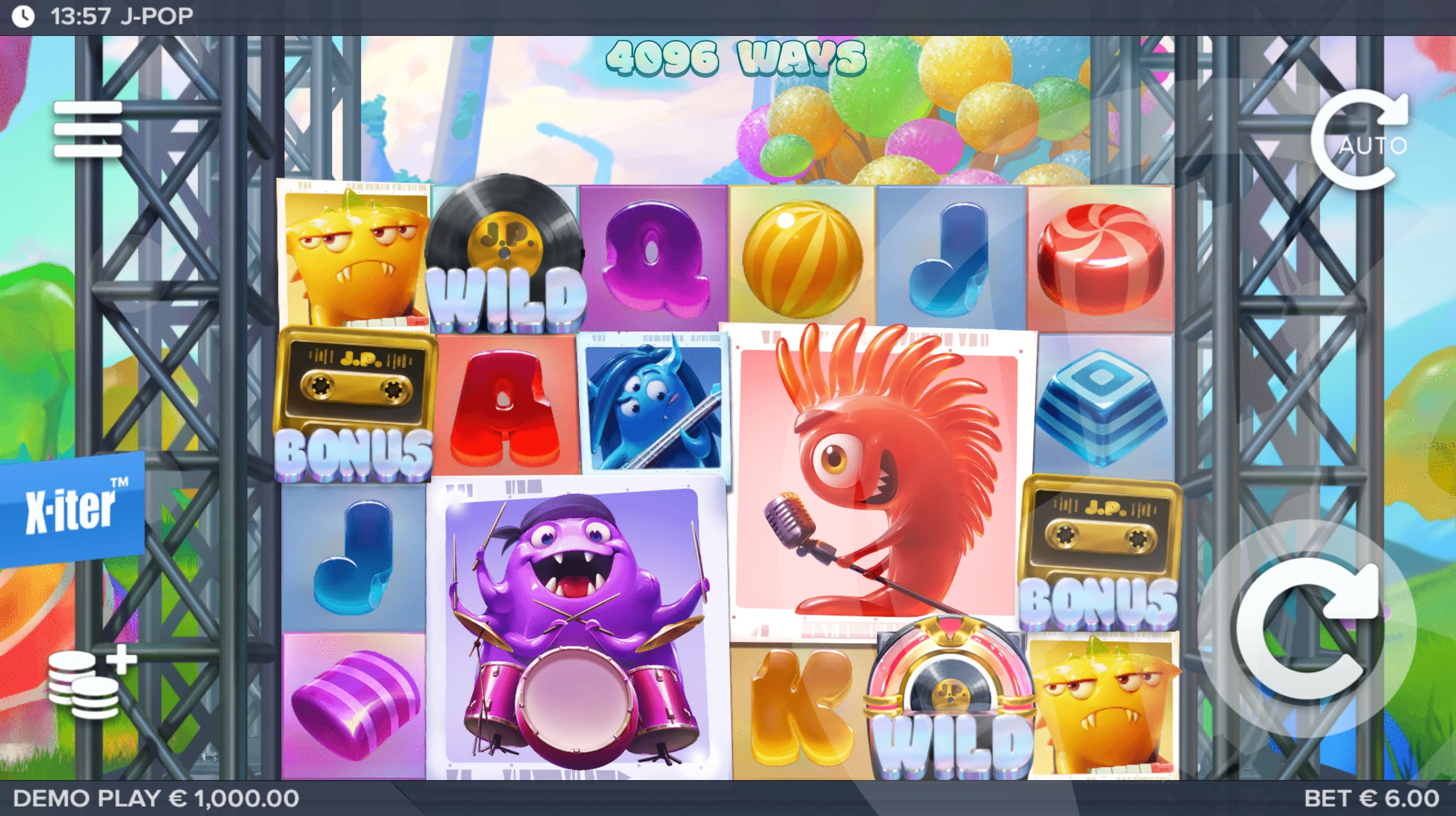 Well, they said vibrant, and vibrant it is. Jellon is nice looking place, with bright blue skies, lively green grass and pink trees that look somewhat like candy floss. The creatures that reside here are a mixture of cute and interesting, with nothing really scary coming across. What we do know is that they're musical – which probably ties into the rituals and the game title, a play on k-pop?
Aside from the landscape and the creatures, all of our attention in J-POP is given to the grid, which sits upon a large stage. The symbols on the reels are a strange assortment, but that checks out since we know these creatures grab whatever they can get their hands on when they visit earth – plus it works for ELK Studios, who have then been able to create something truly quirky with this mixture. It's all finished off with a jazzy and upbeat tune which comes in to tie it all together.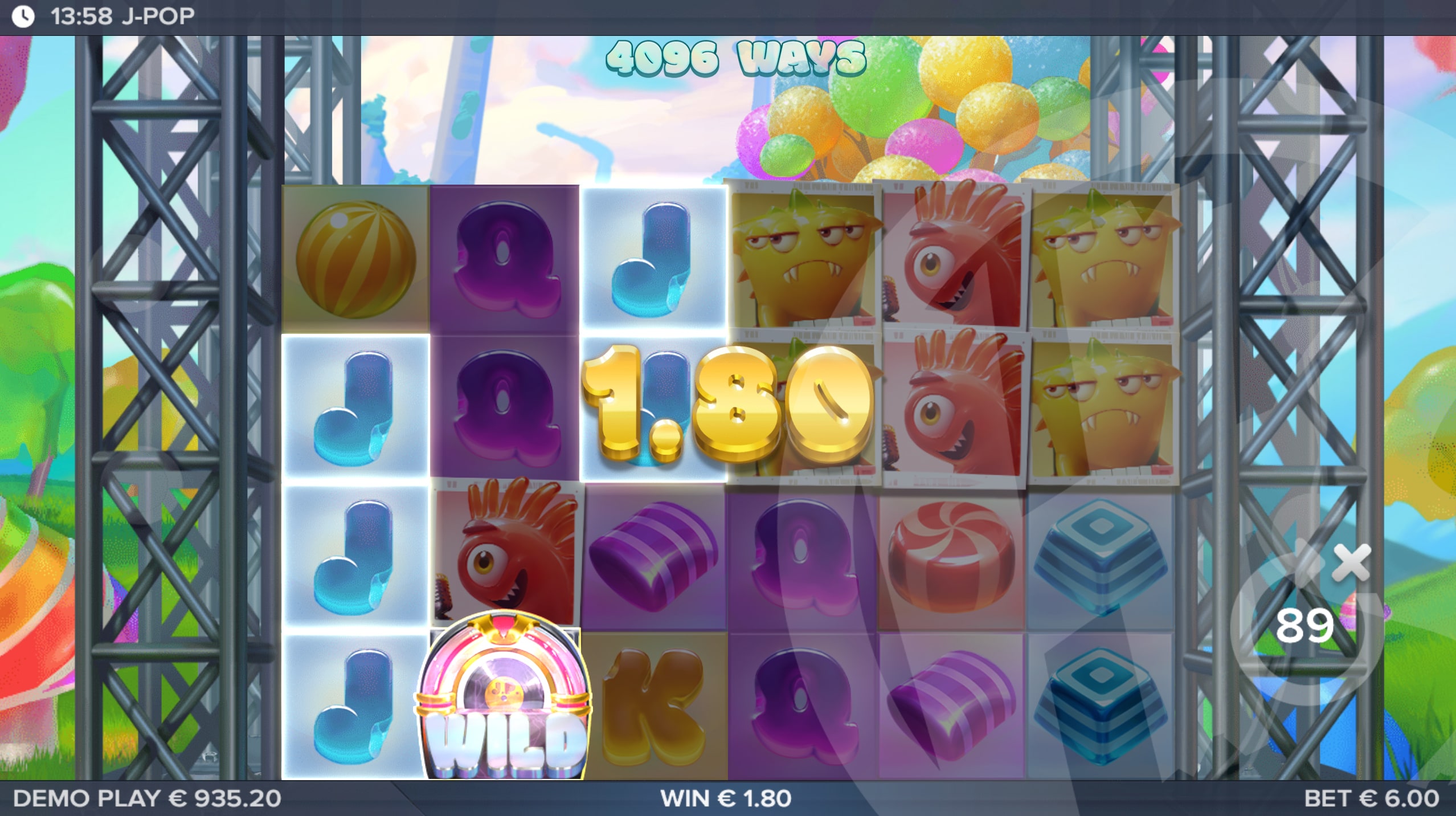 J-POP Base Features
Taking place across 6 reels, wins are formed on J-POP by matching at least 3 symbols on adjacent reels, beginning with the leftmost reel. Each reel initially holds 4 symbols, producing 4,096 ways to win, but this can increase as high as 262,144 ways to win thanks to the variety of features available.
Symbols available come in groups of non premiums, mid range symbols and premiums – each split into blue, purple, yellow and red. Non premiums come as Js, Qs, Ks and As, awarding wins between 0.05 and 0.20x bet for matches between 3 and 6 of a kind. Mid range symbols are a variety of candies, awarding wins between 0.10 and 0.25x bet for 3 of a kind matches, increasing to values between 0.25 and 0.50x bet for 6 of a kind wins.
Finally, premium symbols are four aliens. Land 3 of a kind of any premium to see wins between 0.30 and 1x bet, increasing to values between 1 and 5x bet for 6 of a kind matches.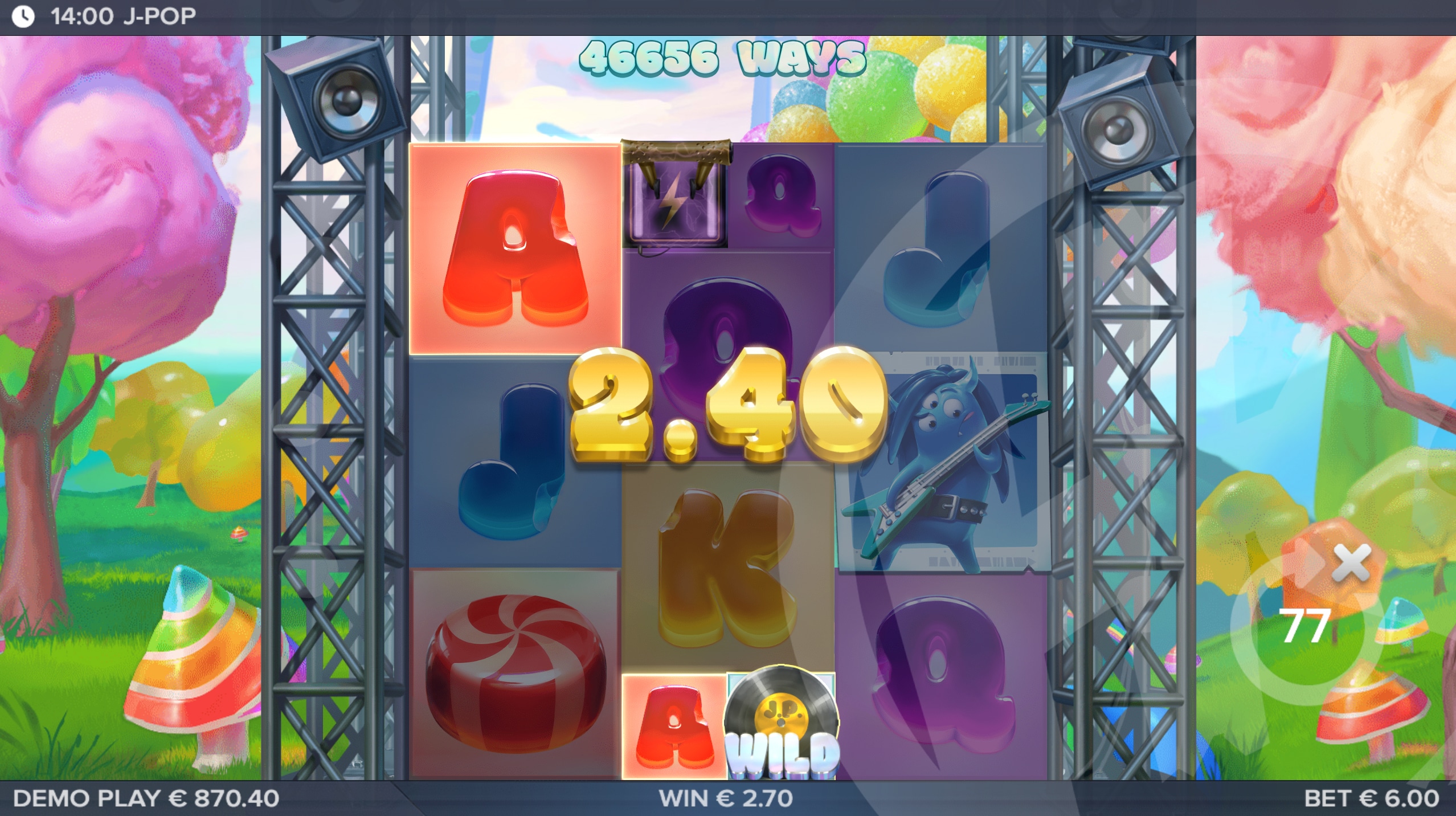 Avalanches
There are a few features to cover in J-POP, beginning with avalanches. On every spin, all symbols involved in a winning combination will be removed from the grid, with all remaining symbols dropping to the bottommost available position on their respective reels.
New symbols will then drop in from above to fill the remaining gaps, with avalanches continuing until no new wins are formed.
Ways to Win
Working hand in hand with avalanches are increasing ways to win. Each time an avalanche occurs, when new symbols are added to the grid an extra row of symbols is added, thereby increasing to number of ways to win.
Up to 8 rows of symbols can land in view at once, producing a maximum of 262,144 ways to win.
Big Symbols
It is possible that any symbol can land as Super, Mega or Epic symbols of size 2×2, 3×3 or 4×4. When these symbols are in view, they will fill any spaces underneath with 1×1 versions of themselves. This will also occur when these symbols are left on the grid during avalanches.
If Big Symbols land on the initial symbol drop and surpass the top row of symbols, additional symbols will be added to the grid to level things off, increasing the ways to win without the need for avalanches.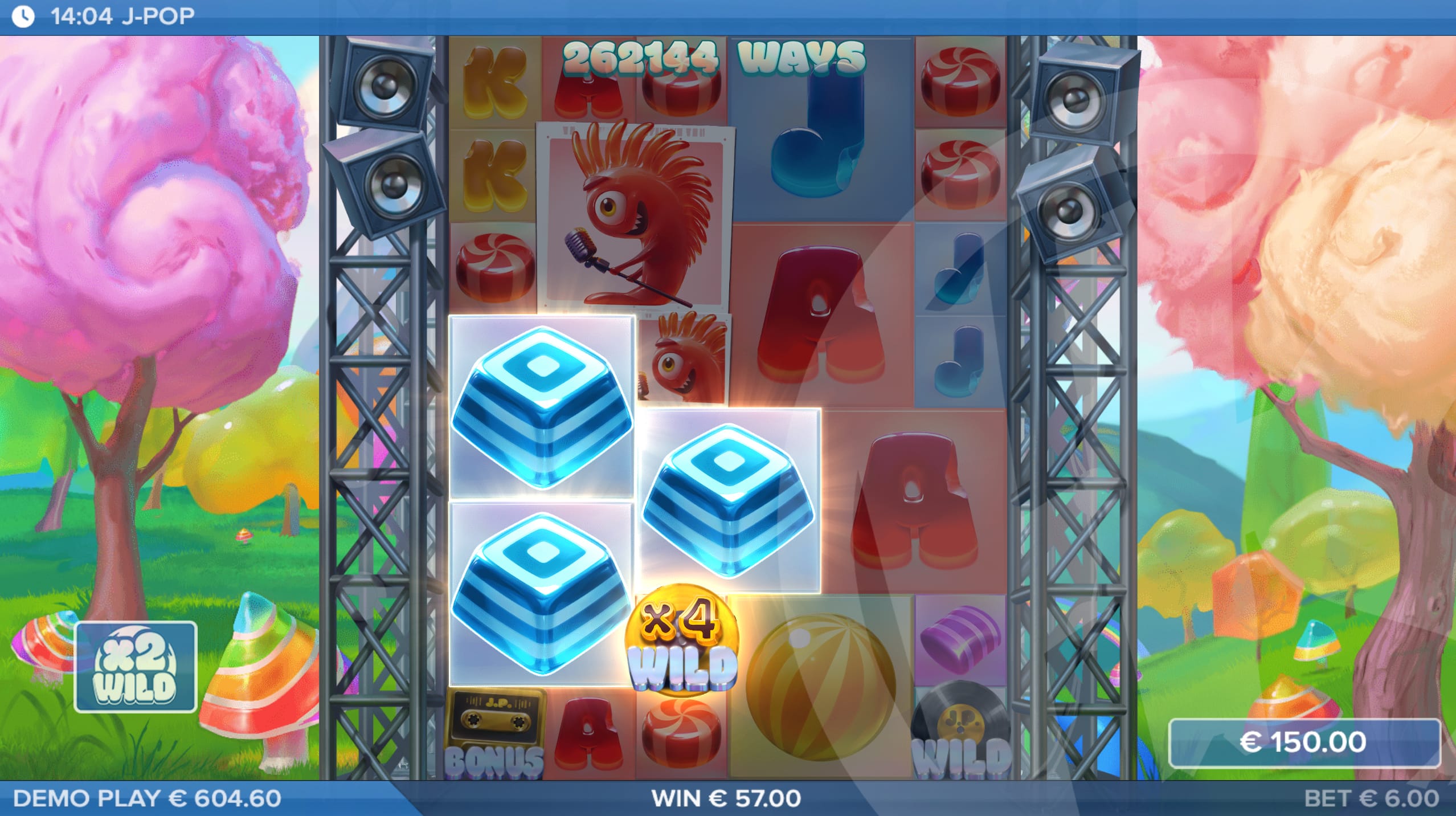 Wild Symbols
Wild symbols can land in a variety of forms in J-POP.
Wild symbol – substitutes for all regular pay symbols.
Wild Box – places a random amount of Wild symbols on the grid replacing regular pay symbols or empty spaces.
Walking Wild – walks 1 place to any adjacent position and increases its multiplier by +1 for each winning avalanche it is involved in. Walking Wilds are not removed during avalanches.
Any instance of Wild symbol substitutes for all regular pay symbols.
Big Drop
When a Big Drop symbol lands in view it triggers a drop of Big Symbols. These symbols will drop in and crush any 1×1 symbols in view. Big Symbols can be 2×2, 3×3 or 4×4 in size.
The Big Drop symbol then becomes a Wild symbol.
Grid Flip
When a Grid Flip symbol lands in view the grid will flip horizontally, moving reel 1 to the position of reel 6 and vice versa. All reels and the symbols upon them are flipped.
The Grid Flip symbol then becomes a Wild symbol.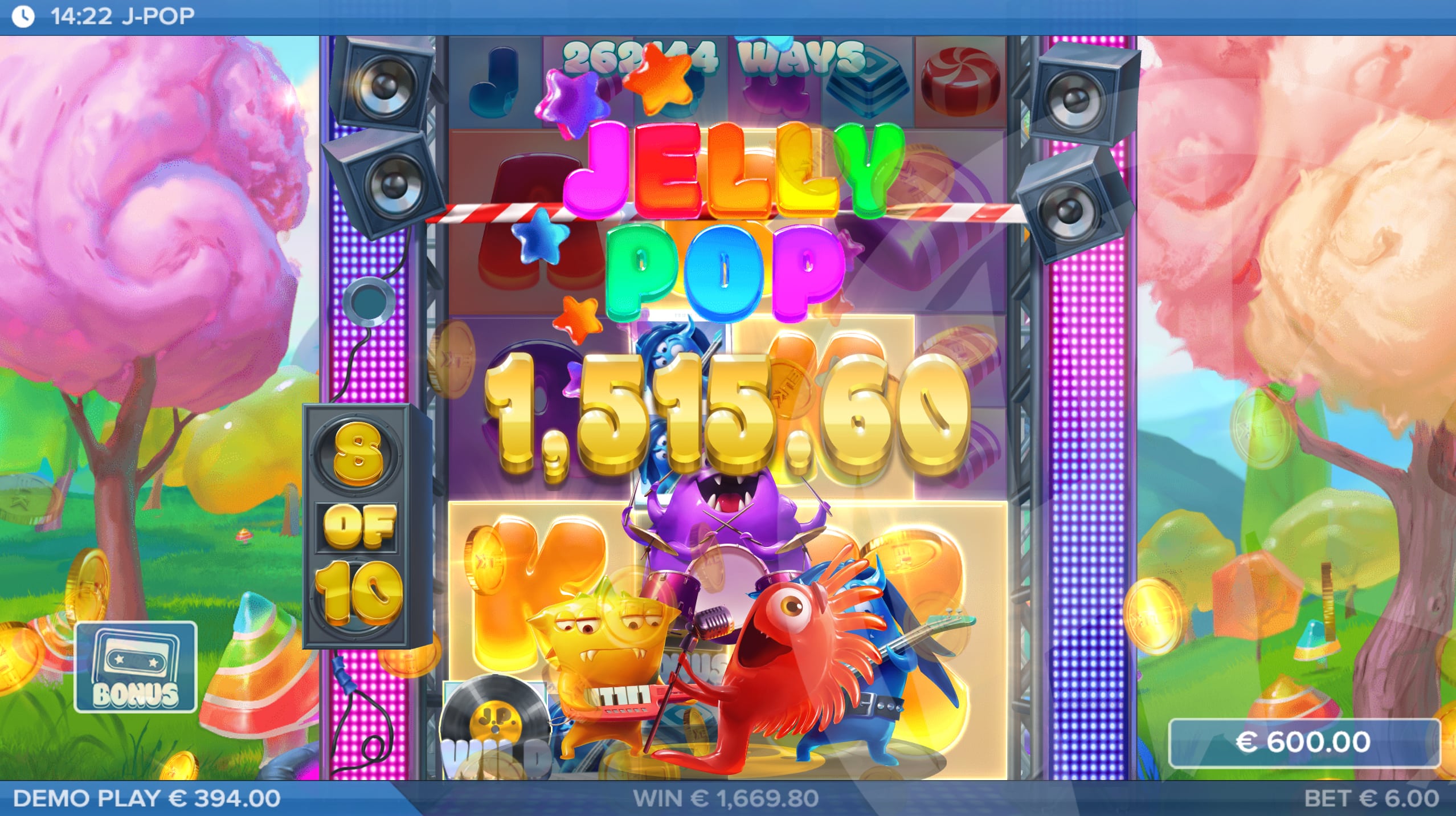 J-POP Bonus
Land 3, 4, 5 or 6 Bonus symbols to trigger 10, 12, 15 or 20 Free Drops respectively.
During Free Spins each drop that results in a winning combination will advance the safety level by 1. The safety level is the minimum number of rows that can land on future spins. The safety level can be advanced to 8 rows, awarding the maximum of 262, 144 ways to win.
Alongside this, any Walking Wild symbols are persistent during Free Drops.
Land 3, 4, 5 or 6 Bonus symbols to trigger an additional +10, 12, 15 or 20 Free Drops respectively.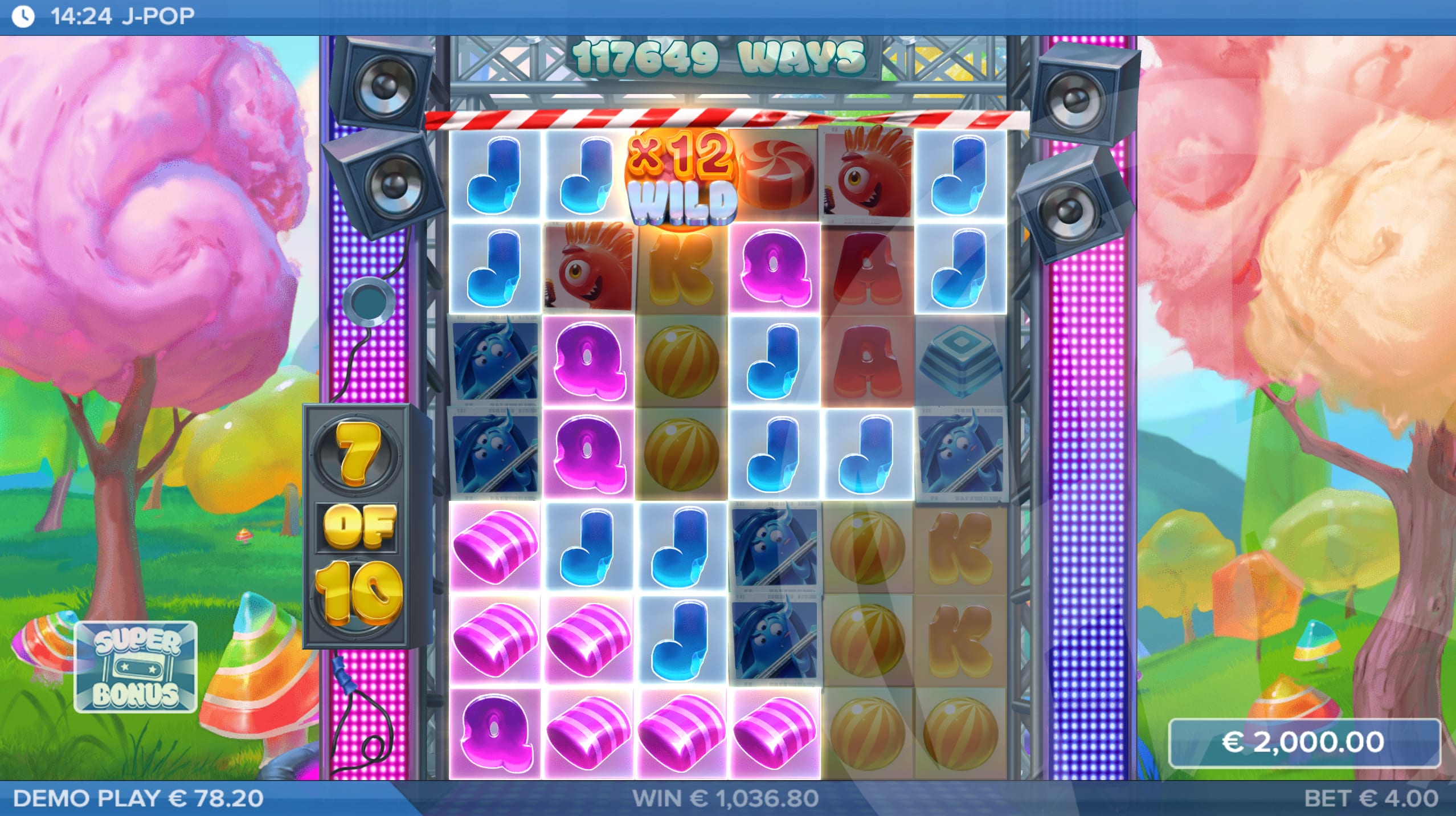 X-iter
Players in appropriate regions can take advantage of the following X-iter options:
Bonus Hunt (increased bonus chance) – 3x bet
Big Drop (guaranteed Big Drop symbol) – 10x bet
Walking Wild (guaranteed Walking Wild) – 25x bet
Bonus Game – 100x bet
Super Bonus Game (guaranteed Walking Wild) – 500x bet
The maximum win available in J-POP is 25,000x bet. If the sum of a single game round exceeds this, the game round will end and 25,000x bet will be awarded.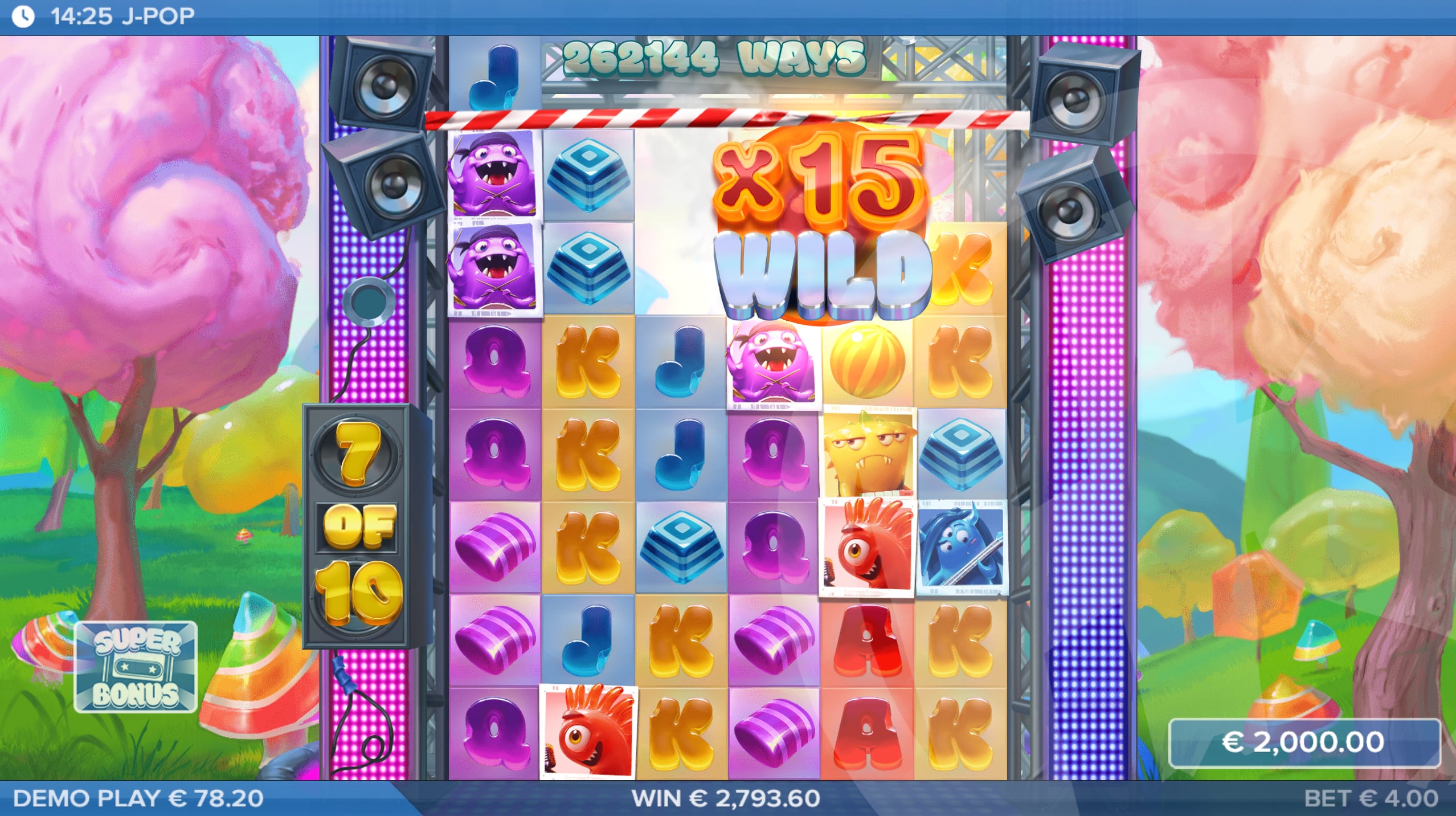 First Impression
There's plenty happening in J-POP to keep players interested, and much of it occurs in the base game too. This has become something of an ELK Studios staple, where they give us base games packed with all the same features that appear in the bonus game, simply enhancing them in the latter.
In J-POP, this comes in the form of Big Symbols, Wild symbols, Wild Boxes, Walking Wilds, Big Drop symbols and Grid Flip symbols – more than enough to keep things ticking over. When it comes to Free Drops, increasing safety levels and persistent Walking Wilds carry most of the weight, helping things to feel exciting and somewhat fresh despite using well established mechanics and features from this studio.
The same features from the base game continue to make an appearance in Free Drops  – helping in many ways but hindering in others, like when a Walking Wild gets Grid Flipped and stuck somewhere you can't use it. When the right combinations occur, wins are possible up to 25,000x bet.
Finally, maths is rated as medium (7/10) volatility and RTP is fixed at 94.0% – lower than we'd like, but we've talked this to death already. If you like a release thats packed to bursting with features and comes with a quirky theme, J-POP is the perfect option for you.
*The screenshots taken of games reviewed on this site are taken from Demo Play, as reviews are often written before games are released for real play.