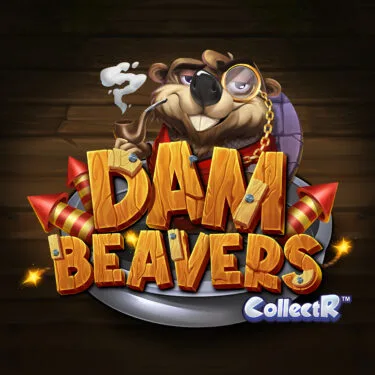 Dam Beavers
Game Provider: ELK Studios
Release Date: 05 Dec 2023
Dam Beavers
Game Studio ELK Studios
Release date 05 Dec 2023
RTP 94.0%
RTP Feature Buy 94.0%
Paylines CollectR
Volatility High
Min Bet 0.20
Max Bet 100
Max. Win 10,000x
Rating 9.2/10
ELK Studios are known for many things. They're the team behind the Gold series that follows intrepid explorer Kane across the world in search of treasure, peace and serenity. They're also the team behind some pretty unique series, including Nitropolis and Cygnus.
Perhaps what they've become really popular for though is creating Pirots – both the original and Pirots 2, released just this month. Using their trademarked CollectR mechanic, Pirots shot straight into the slot charts – or it would have, if that was actually a thing. Now, ELK Studios are back with another CollectR release, as quirky as you'd expect, packed full of potential and interesting features, in Dam Beavers.
With a fixed RTP of 94.0%, this highly (7) volatile release can produce wins up to 10,000x bet.
It's hard to really say where we are today, but it seems like we're on some sort of wooden porch area outside, looking down from above. Trees sit to the far edges of the screen, along with a ladder, a red sofa, purple rug, and what looks to be a bookcase, a pot of strawberries and an oven with some strawberries in a saucepan – so I think we're making a pie.
It starts to make sense when you check in with the creators and see that the beavers are building more than just regular dams in this release – they're building a lavish four-storey dream dam, so they have somewhere to host the best disco parties.
Once you stop peering around the background you can give your attention to the wooden-lattice reels, complete with our four beavers and a variety of fruits. It's all finished off with a suspenseful yet upbeat soundtrack to tie it all together – something ELK have always done well.
Dam Beavers Base Features
Much like Pirots, win formation takes a few spins to wrap your head around but it really is quite simple. There are four different fruits on the reels – blueberries, watermelons, oranges and strawberries. Each fruit has 8 levels, each of which hold a different payout value. Blueberries pay between 0.05 and 5x bet, watermelons pay between 0.05 and 7.50x bet, oranges pay between 0.05 and 10x bet and strawberries pay between 0.10 and 50x bet.
There are no win lines or ways to win. Instead, we use the CollectR mechanic. The four beavers match in colour to the fruits – blue, green, orange and red – and will collect any fruit symbols that match in colour to their own. Beavers will move across the grid, only collecting a fruit if it is in a vertically or horizontally adjacent position to itself on the grid.
Beavers can move back on themselves if they cannot collect all adjacent symbols in one movement, and will also collect all Feature symbols, which have no colour. Since there are no win lines, the win values for fruits is the value per fruit collected. Finally, Wild symbols can be collected by any beaver as they also have no colour.
CollectR
The first thing to cover in Dam Beavers is CollectR and symbol removal, which acts in a similar way to ELK Studios' avalanches. On every symbol drop, any symbols collected by beavers are removed from the grid.
After all beavers have collected as many fruit symbols as they possibly can, all remaining symbols will drop to the bottommost available position on their respective columns.
New symbols will then drop in from above to fill the remaining gaps, with this process continuing until no new collections are made.
Floorboards
This works hand in hand with the floorboards that are available in Dam Beavers.
Each time a symbol is collected from a new position on the grid, the floorboard underneath that position is removed.
Removing floorboards can reveal cash prizes or trigger features.
Multi-Level Dam
There are four levels to journey through in Dam Beaver.
To unlock a new level, players need to collect all symbols and remove the floorboards on top of the breaking point on the grid – this is a cracked area.
Each new level is bigger than the last.
Level 1 – 5×5 symbol grid.
Level 2 – 6×6 symbol grid.
Level 3 – 7×7 symbol grid.
Level 4 – 8×8 symbol grid.
Once level 4 has been reached there is no breaking point or further levels.
Instead, a hidden treasure of a max win coin is hidden underneath the grid to be uncovered by removing all floorboards.
Feature Meter
With the exception of Bonus symbols, all symbols collected on the grid will also be added to the feature meter at the top of the grid.
At the end of the meter are 3 Feature Reward Cards. Once this meter has been filled a new card will flip over to show the reward. When no more collections are possible on the grid any face up cards will trigger their feature one after another.
There are 3 possible features.
Refresh Symbols – replaces all current symbols on the grid.
Symbol Swap – two random symbol types swap all positions on the grid.
Wild Scatter – replaces a random number of paying symbols with Wilds.
Feature Symbols
There are a number of feature symbols that may be present on the grid.
The following feature symbols can be collected by beavers:
Blender Symbol – maxes out the feature meter instantly.
TNT Symbol – blows away random floorboards.
Firework Symbol – beavers set off fireworks to upgrade their symbol payouts.
Wild Symbol – substitutes for all paying symbols.
The following feature symbols can be revealed by removing floorboards:
Coins – pay out when fully revealed.
Passage – emerge in a random spot or swap places with a beaver.
Max Win – awards the maximum win.
Coin Symbols
Let's focus a bit more on coins, which are instant prizes.
Coins will be revealed underneath removed floorboards, but all floorboards covering the coin must be removed to award their value.
Additionally, if a coin has been overlapped by a second coin the one that is on top must be fully uncovered and awarded before the one underneath can be awarded.
Coins hold values between 5x and 10,000x bet – the maximum win.
Beaver Night Fever
If all floorboards are removed from a level the mini-bonus Beaver Night Fever will be triggered after all available symbols have been collected.
In this feature the grid will be cleared and new symbols will drop in, upgraded in payout value according to the current level.
Level 1 – symbols upgraded to payout level 5.
Level 2 – symbols upgraded to payout level 6.
Level 3 – symbols upgraded to payout level 7.
There is no Beaver Night Fever once level 4 is reached as removing all floorboards awards the maximum win.
If any symbol is at a payout level higher than it would be given during Beaver Night Fever, it will stay at its higher level.
Beaver Night Fever ends when no further progression on the grid is possible and there are no pending feature reward releases.
Dam Beavers Bonus
Collect 3 pie Bonus symbols to trigger the Bonus Game, with 5 Free Drops awarded.
The Bonus Game begins at the triggering floor level.
Everything else remains the same as it does in the base game, except progression of the feature meter, floor levels and symbol payouts does not reset during Free Drops.
Collect 3 pie Bonus symbols during the Bonus Game to trigger an additional +5 drops.
X-iter
Players in appropriate regions can take advantage of the following X-iter options:
Bonus Hunt (more than four times the chance of triggering a Bonus) – 3x bet
Eager Beaver (one drop starting at floor and symbol level 2) – 10x bet
Dam Buster (one drop starting at floor and symbol level 3) – 25x bet
Bonus Game (starting at floor level 1) – 100x bet
Super Bonus Game (starting at floor and symbol level 3) – 500x bet
RTP is unchanged when using X-iter.
The maximum win available in Dam Beavers is 10,000x bet. If the sum of a single game round exceeds this, the game round will end and 10,000x bet will be awarded.
First Impression
It's always fun when a provider does something new, and Dam Beavers is no exception to this rule. A bit like Pirots if you turned things up a bit more, Dam Beavers is kept exciting with floor levels, more symbol payout levels than ever before, hidden treasures, feature symbols and mini bonuses.
Avid fans of Slotmill might draw similarities between the chests in Lucy Luck and the Crimson Diamond and the hidden treasure coins in this one, except we get to see exactly what we're trying to uncover in Dam Beavers.
In the base game the main goal is to collect as many feature symbols as possible and uncover breaking points to increase grid size and potentially see bigger rewards. Moving into the Bonus Game things get distinctly more exciting with symbol payouts, feature meter progression and floor levels not resetting between drops.
Get through to the final level and remove all the floorboards and you're walking away with the maximum win of 10,000x bet. You can see in the image above just how close we got to this.
Finally, maths is highly volatile and RTP is fixed at 94.0%. If you're a fan of the CollectR mechanic, huge coin values or progressive features, Dam Beaver is the perfect option.
*The screenshots taken of games reviewed on this site are taken from Demo Play, as reviews are often written before games are released for real play.
Highest Rated ELK Studios Slots