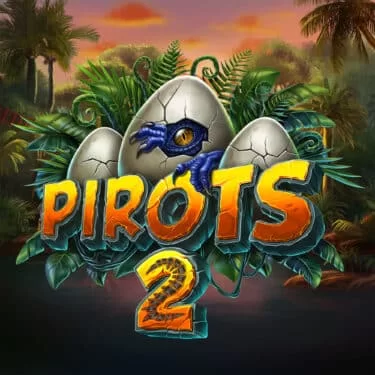 Pirots 2
Game Provider: ELK Studios
Release Date: Available Now
Pirots 2
Game Studio ELK Studios
Release date Available Now
RTP 94.0%
RTP Feature Buy 94.0%
Paylines CollectR
Volatility High
Min Bet 0.20
Max Bet 100
Max. Win 10,000x
Rating 8.4/10
Earlier this year, ELK Studios introduced us to four birds that were aptly titled the Fearful Four – a group of parrots so clever they managed to outsmart the pirates that ruled the high seas and wreak some havoc in Pirots. Having conquered their first target, these birds are now taking on a new location.
Think Jurassic Park if it had been taken over by some rowdy parrots and you'll get a good feel for where ELK Studios are taking us today, as we gear up to hunt for some sweet rum in Pirots 2.
With a fixed RTP of 94.0%, this highly (8/10) volatile release can produce wins up to 10,000x bet.
Visually, Pirots 2 is quite similar to the original, although like I said – we're in a new location that is quite similar to the likes of Jurassic Park. We're in front of a lake with a triceratops on the other side, whilst the rest of the screen is covered in exotic shrubbery, some wooden bridges, tracks, and a few dinosaur eggs.
Most of the attention is given to the reels, upon which we find our four Pirots and a selection of gem symbols (growing to contain the mosquito inside that most of us will recognise). All in all, very similar to its predecessor with a few tweaks to help it feel new. It's all finished off with a soothing soundtrack littered with wildlife sounds.
Pirots 2 Base Features
Forming wins can seem confusing at first, much like it did with the original, but it's simple once you know more. Let's start with symbols. There are four coloured gems – blue, green, purple, and red – and each gem has 7 levels, each of which holds a different payout value. Blue gems hold winning values between 0.05 and 10x bet, green gems hold values between 0.05 and 15x bet, purple gems hold values between 0.10 and 20x bet, and red gems hold values between 0.10 and 50x bet.
There are no win lines or ways to win. Instead, we use the CollectR mechanic. The four Pirots (the birds) – which again are blue, green, purple, and red – will collect any symbols that match in colour to their own. Birds will move across the grid, only collecting a symbol if it is in a vertically or horizontally adjacent position to itself on the grid.
Birds can move back on themselves if they cannot collect all adjacent symbols in one movement, and will also collect all Feature symbols, which have no colour. Since there are no win lines, the win values for gems is the value per gem collected.
CollectR
Alright, so the first thing to cover is CollectR and symbol removal, which is a bit similar to the avalanches that we often see from ELK Studios. On every symbol drop, any symbols collected by birds are removed from the grid.
After all birds have collected as much as they possibly can, all remaining symbols will drop to the bottommost available position on their respective columns.
New symbols will then drop in from above to fill the remaining gaps, with this process continuing until no new collections are made.
Feature Meter
With the exception of Bonus symbols, all symbols collected on the grid will also be added to the feature meter at the top of the grid.
Once this meter has been filled, three chests will be added to the grid in random positions. Chests reveal Feature symbols, which can also land on the reels normally.
It is possible to land the following Feature symbols in Pirots 2.
Regular Symbol Upgrade – upgrades all gems of the colour of the bird that collected it by 1-3 steps, up to a maximum of level 7.
All Symbol Upgrade – upgrades all gems by 1-3 steps, up to a maximum of level 7.
Coin Win – when collected by a bird, their value will be awarded as a times bet win. Coins can hold values up to 1,000x bet, or can award the maximum win.
Wild – substitutes for any gem at the current respective win level. Once collected, Wilds remain on the grid and can then be collected by a new bird that is adjacent.
Red Button – triggers a meteor strike that explodes symbols and expands the game grid up to a maximum size of 8×8.
Egg Symbol – hatches a dinosaur at the end of the game round, which scares the Pirots off the game grid and forces them to drop back in new positions.
Popcorn Symbol – fills empty spaces with popcorn when it is collected by a bird, allowing other birds to cross the empty spaces to reach additional clusters of symbols.
Mushroom Transform Symbol – transforms a cluster of symbols next to the bird into the same colour as the bird that collected it, or converts them into Feature symbols.
Bonus Symbol – awards a Bonus symbol.
Pirots 2 Bonus
Collect 3 Bonus symbols to trigger the Bonus Game with 5 Free Drops starting on the triggering grid size.
During the Bonus Game the grid size, progress of the feature meter, payout level of symbols and collection of additional Bonus symbols are all persistent.
Collect 3 Bonus symbols during the Bonus Game to trigger an additional +5 drops.
X-iter
Players in appropriate regions can take advantage of the following X-iter options:
Bonus Hunt (more than quadruple the chance of triggering a Bonus) – 3x bet
Popcorn Fiesta (one drop with the Popcorn feature activated from the start) – 10x bet
Maximum Grid Size (one spin on an 8×8 grid) – 25x bet
Bonus Game – 100x bet
Super Bonus Game (maximum grid size and all upgrade symbols upgrade all symbols) – 500x bet
RTP is unchanged when using X-iter.
The maximum win available in Pirots 2 is 10,000x bet. If the sum of a single game round exceeds this, the game round will end and 10,000x bet will be awarded.
First Impression
Much like its predecessor, there's plenty happening in Pirots 2 to keep players entertained, and whilst there haven't been any major changes, we have a few upgrades and tweaks – arguably the best way to approach a sequel. In the base game, Feature symbols awarding anything from Wild symbols and max win coins to the new Popcorn feature help to keep things ticking over, especially with the grid able to increase to 8×8 and symbols now having 7 payout levels.
It's the Bonus Game where things get really exciting though, especially with the progress of Bonus symbol collection, symbol payouts and the Feature meter progress all persistent. Once again the Super Bonus Game offers players an immediate start at the biggest grid size and the ability to always upgrade all symbols, but this comes at a cost of 500x bet if you're able to buy it. When the right combinations occur, wins are possible up to 10,000x bet overall – the same as Pirots.
Finally, maths is highly (8/10) volatile and RTP is fixed at 94.0% – low, but it's been discussed to death already. Pirots 2 offers enough tweaks to keep things feeling fresh, so if you were a fan of the original this should be a great option for you.
*The screenshots taken of games reviewed on this site are taken from Demo Play, as reviews are often written before games are released for real play.
Highest Rated ELK Studios Slots