It's that time of the month again – PopWins time. AvatarUX have achieved global popularity with their PopWins mechanic, and the result is that we now have 19 releases in this series.
Today we welcome number 20 as AvatarUX leave behind the grandeur of Kitty POPpins to take us on a trip into an enchanted forest to experience a blend of mystical features in PixiePop.
With a fixed RTP of 96.0%, this highly volatile release can produce wins up to 20,000x bet.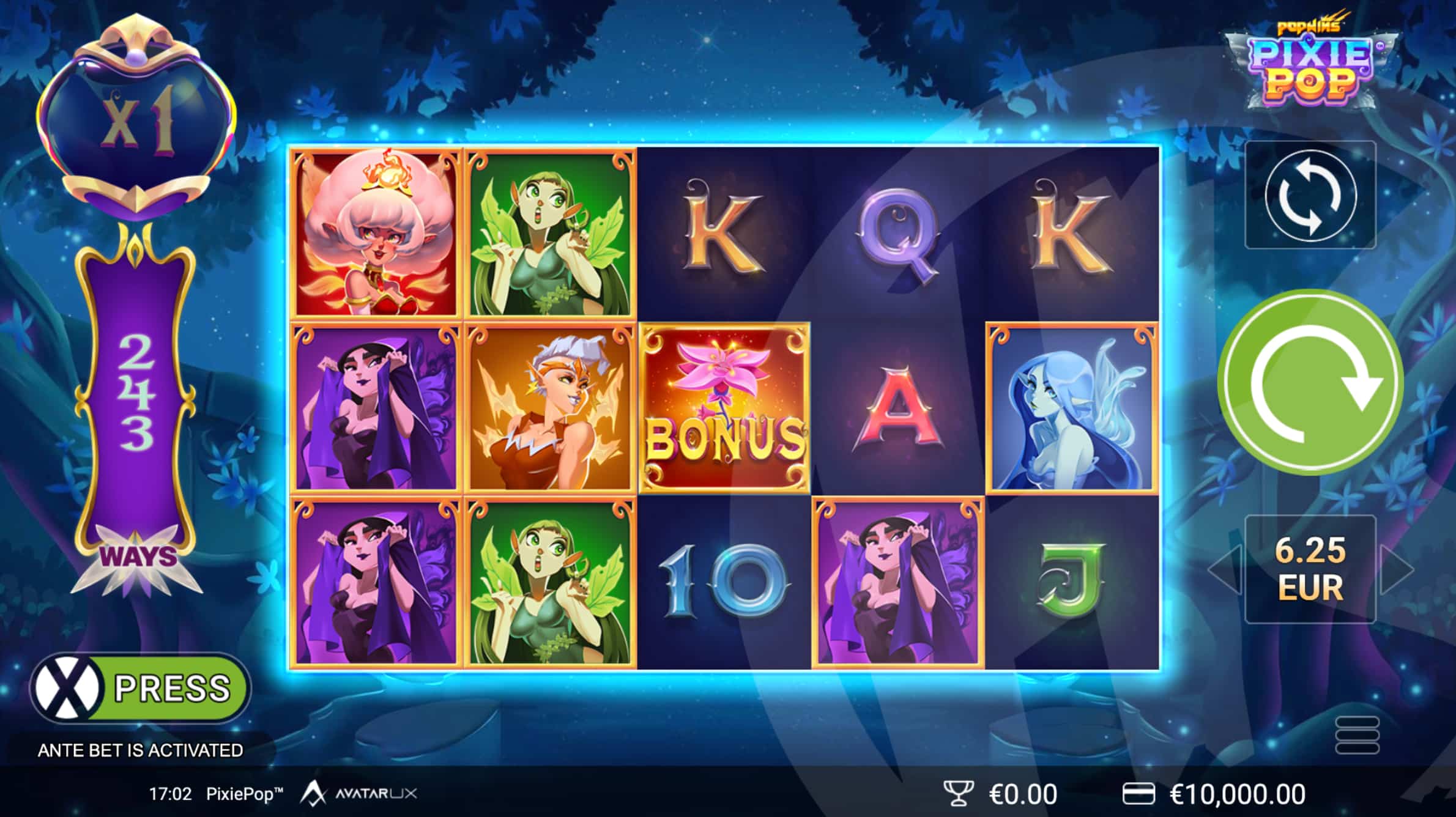 Like I said, we're in a forest today, with a bright blue hue covering the atmosphere, along with twinkling lights. Trees sit to the sides of the reels, whilst a lake glows underneath, but the majority of the focus sits on the reels themselves upon which we have a variety of pixie characters.
The whole thing looks quite distinctively AvatarUX, from the layout of the screen to the design of each character. Finally, a light and ethereal tune comes in to tie it all together.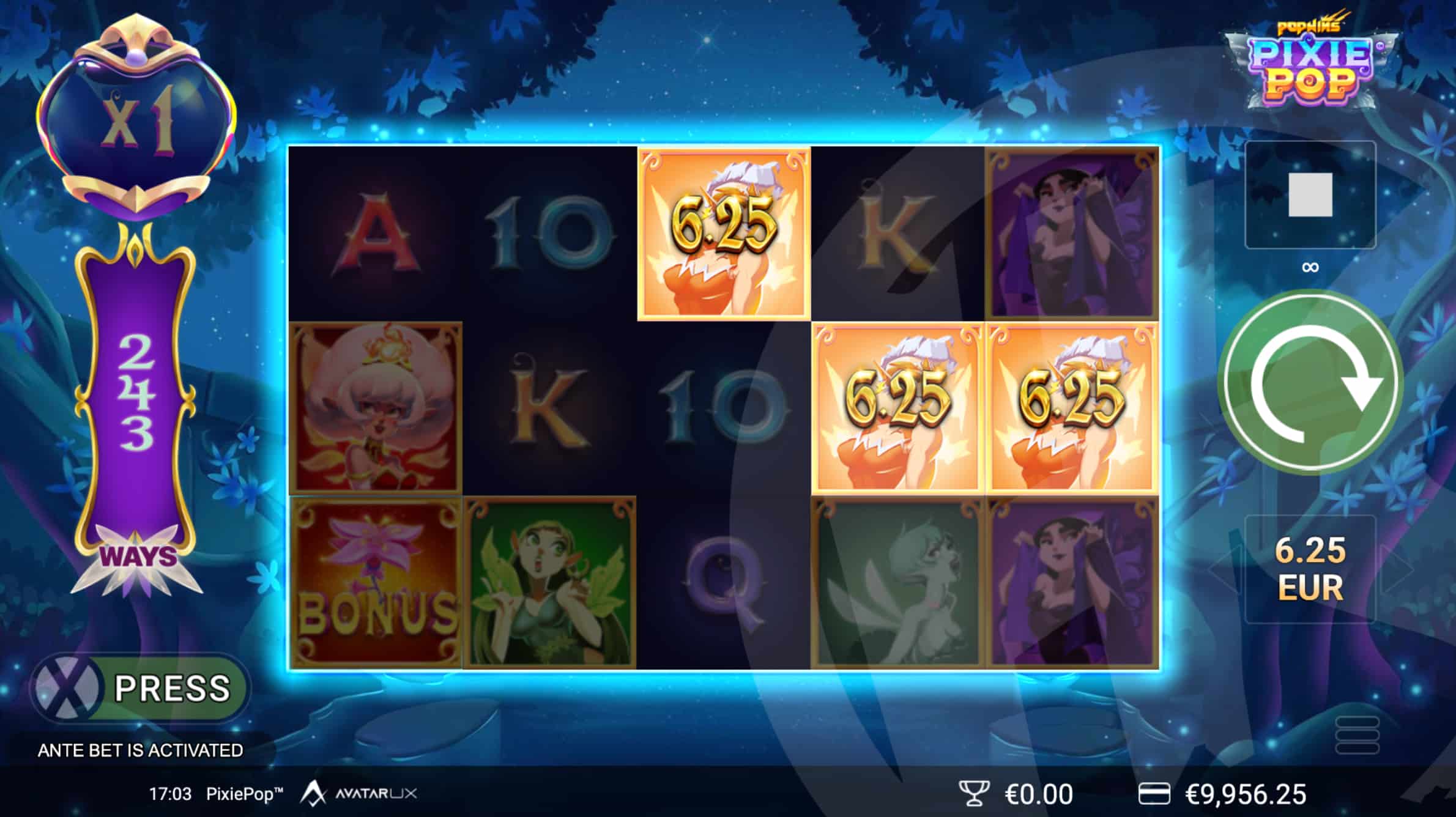 PixiePop Base Features
Taking place across 5 reels, wins are formed on PixiePop by matching at least 3 symbols on adjacent reels, beginning with the leftmost or rightmost reel – as wins pay both ways. Each reel begins with 3 symbols, producing 243 ways to win, although players can see up to 32,768 ways to win throughout the game. Symbols available begin with low paying symbols, with 10s, Js, Qs, Ks and As, awarding wins between 0.20 and 0.30x bet for 3 of a kind matches, increasing to values between 1 and 1.50x bet for 5 of a kind wins.
High paying symbols introduce 6 pixie characters, awarding wins between 0.50 and 1.50x bet for 3 of a kind matches, increasing to values between 2 and 6x bet for 5 of a kind wins.
Finally, Wild symbols are available on reels 2, 3 or 4, and substitute for all symbols except Bonus symbols or multiplier special symbols.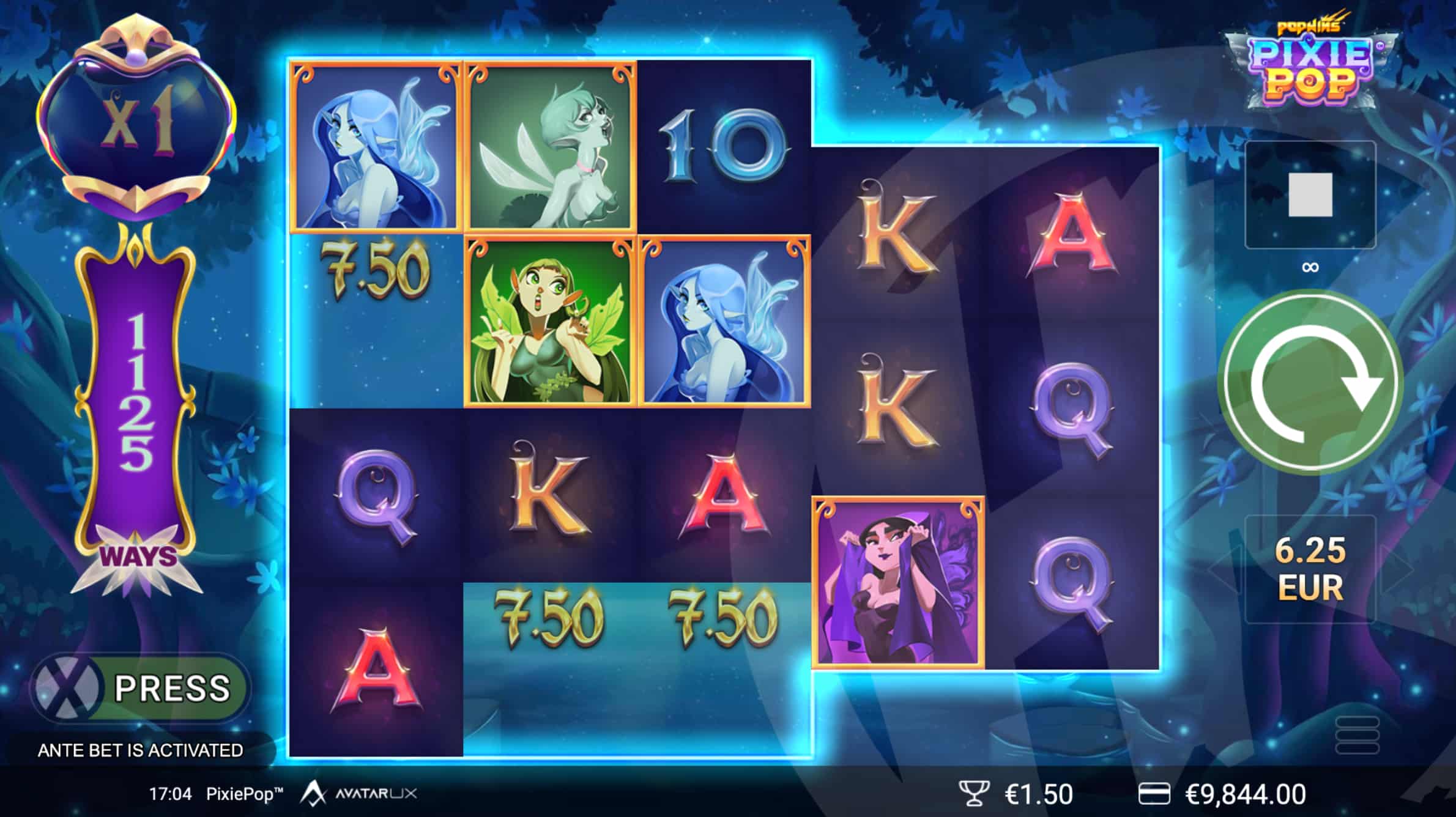 There are a few things to cover in PixiePop, beginning with the Ante Bet. By betting an additional 25%, players can double their chance of entering Free Spins.
PopWins
Next is the PopWins mechanic itself. On every spin, all symbols involved in winning combinations are removed from the reels.
Each symbol will then be replaced by 2 new symbols, thereby increasing the reel height by +1 for each winning symbol removed. As a result, the ways to win are also increased.
Reels can increase to hold a maximum of 6 or 8 symbols respectively in the base game or Free Spins, producing a maximum of 32,768 ways to win. When the maximum reel height has been reached, winning symbols continue to be removed but are replaced by only one symbol.
PopWins continue until no new wins are formed, and when they have finished reels will reset to their original height ahead of the next paid spin.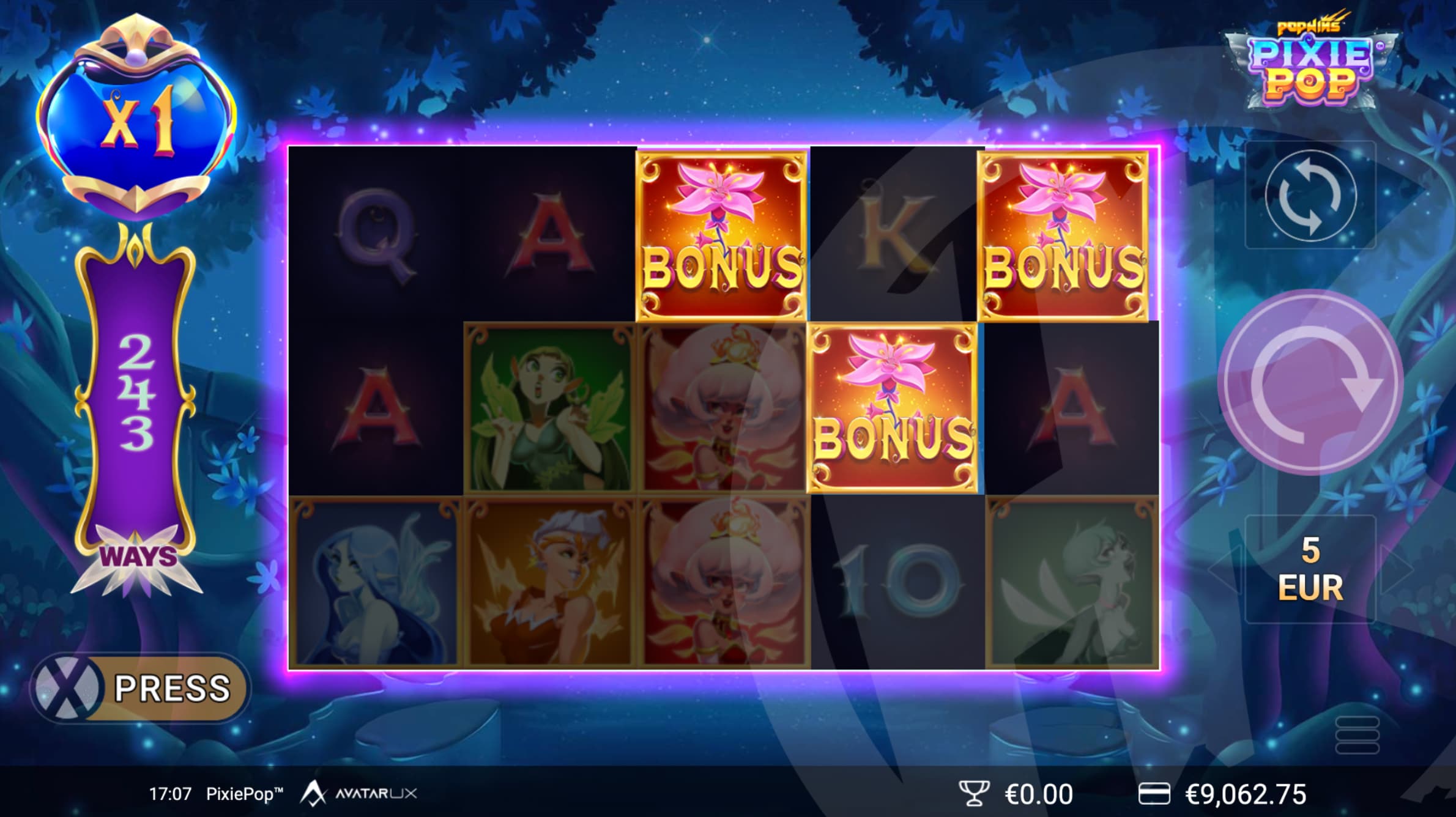 Nudge Feature
A new feature comes into play in PixiePop – the Nudge feature.
Nudges are random bumps which can occur on reels, bumping them up or down to improve your win.
Examples of nudges include:
Nudge of a Bonus symbol to trigger Free Spins from the base game.
Nudge of a Bonus symbol to trigger additional spins during Free Spins.
Nudge of a symbol to trigger higher reel height.
Nudge of a Pay Anywhere symbol.
Nudge of a Wild symbol.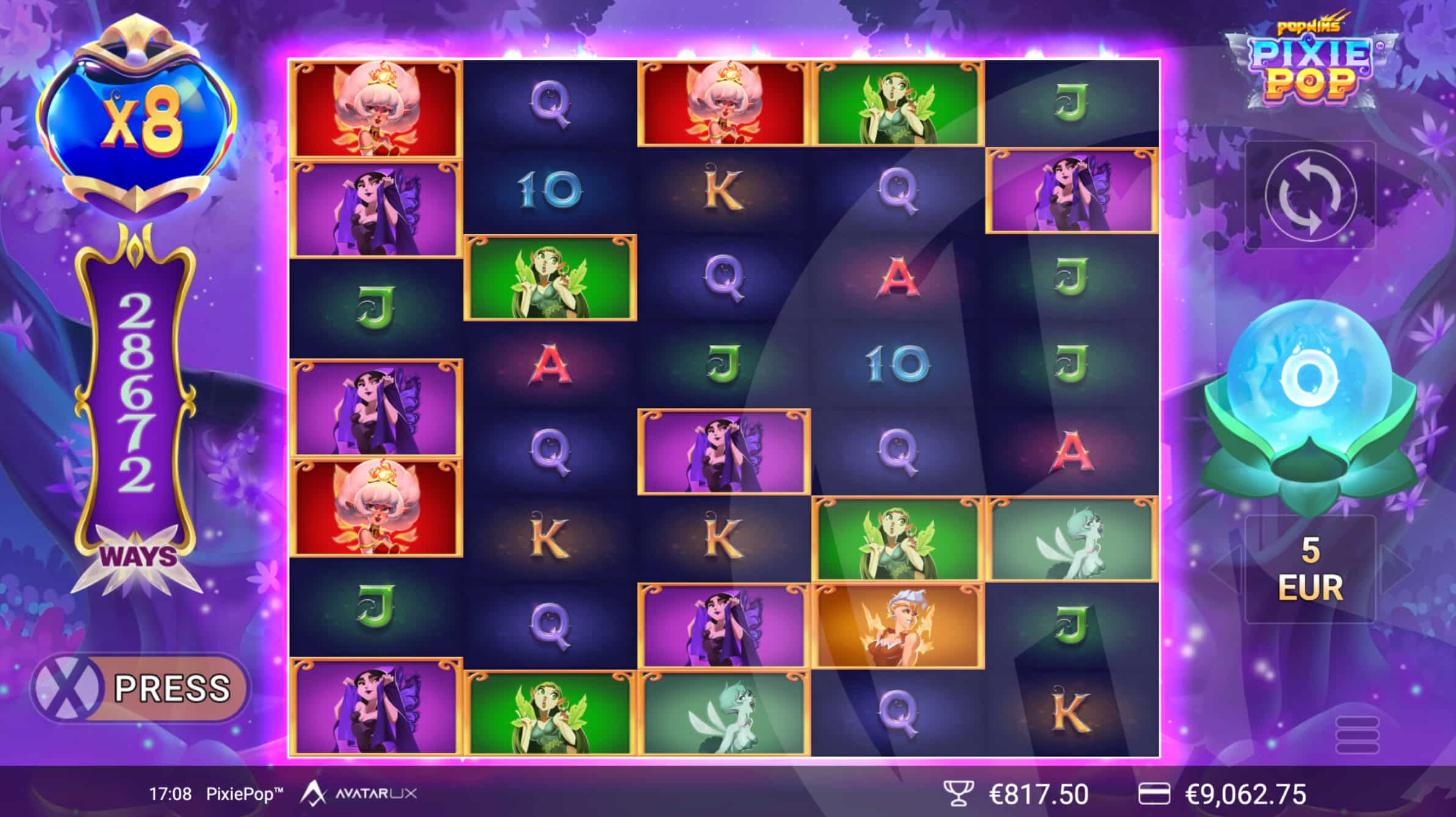 PixiePop Bonus
Only 1 Bonus symbol can land per reel. Land 3 or more Bonus symbols to trigger Free Spins.
3 Bonus symbols grants 5-7 spins with reels 4 high.
4 Bonus symbols grants 6-8 spins with reels 5 high.
5 Bonus symbols grants 7-9 spins with reels 6 high.
Before Free Spins begin, one of the high paying pixie symbols is revealed at random to act as the pay anywhere symbol.
Anytime 5 or more of this revealed symbol land during Free Spins (on at least 3 individual reels), it awards a win.
Regardless of the symbol revealed, the payout is always the same – offering 12.50x, 25x, 50x, 100x, 125x, 200x, 400x or 500x bet wins for between 5 and 30 in view.
Unlike many previous PopWins releases, there is no gamble in PixiePop, however many of the other Free Spins features remain the same. During Free Spins, reels do not reset between spins.
Instead, they will only reset to the height of the shortest reel.
Aside from this, symbols continue to pop off the reels and be replaced by two more symbols, helping to increase reel height and ways to win. Each reel can expand to hold 8 symbols on each, producing 32,768 ways to win.
When all reels reach a height of 8, an additional +2 spins are awarded. Alongside this, a persistent and increasing win multiplier is active during Free Spins, increasing by +1 for each winning symbol drop or nudge.
Multiplier Symbols
There are also 2 new symbols in play to help increase the multiplier – multiplicative multiplier symbols and additive multiplier symbols, which multiply the win multiplier by their value or add their value to the win multiplier respectively.
In either instance, the symbol value is only applied only if a win also happens. Possible values are:
Bonus: x2-5 or +5-20
Bonus Plus: x2-7 or +10-40
Bonus Premium: x2-10 or +20-50 
Bonus Max: x2-11 or +30-50
The active win multiplier is applied to all wins for the duration of spins.
Finally, landing 1, 2 or 3 Bonus symbols during Free Spins awards an additional +1, 2 or 3 spins respectively.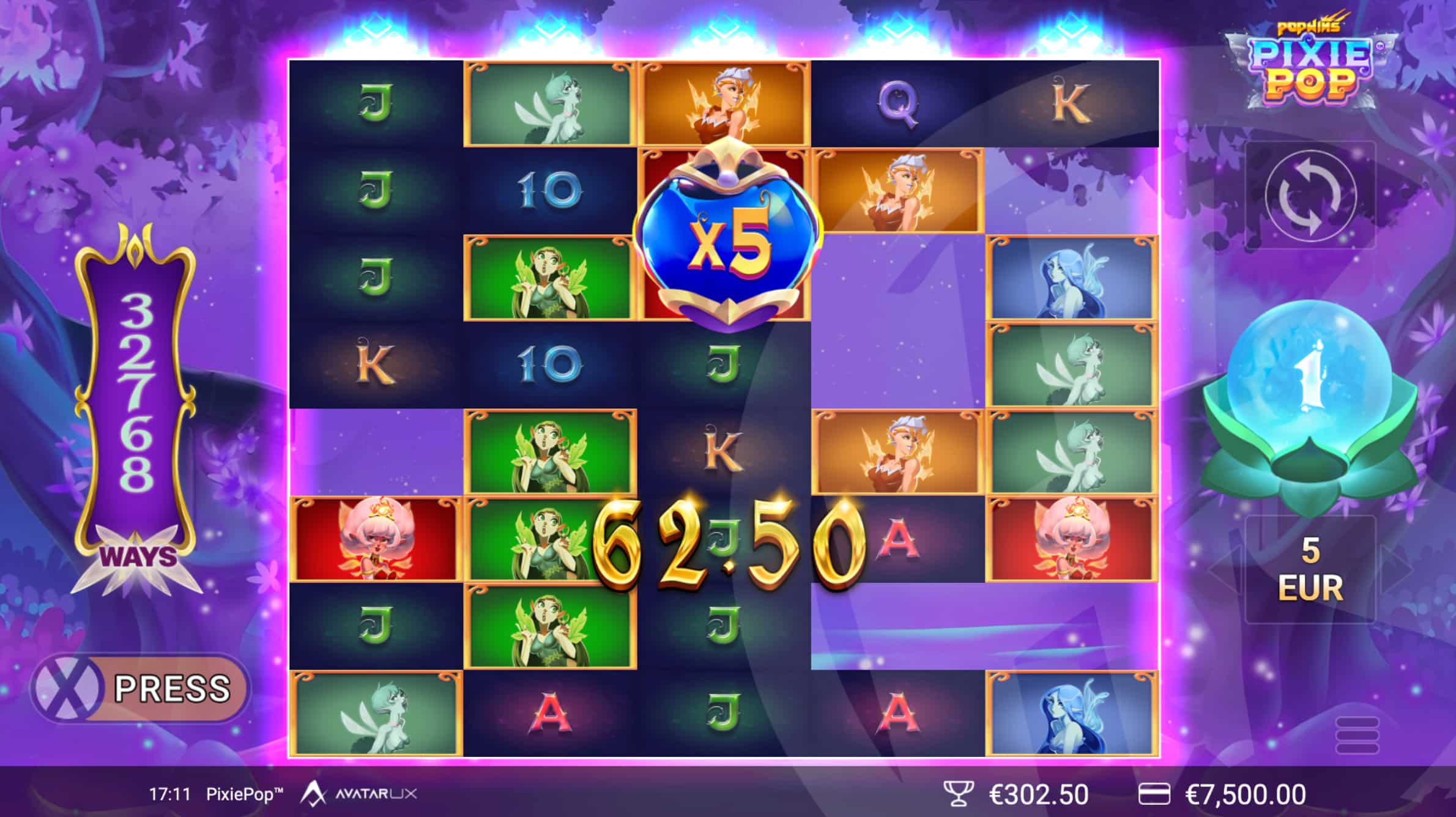 XPress
Players in appropriate regions can take advantage of the aforementioned Ante Bet, along with 4 additional game modes with XPress.
Buy Bonus (5-7 Free Spins with 1,024 ways to win) – 125x bet
Buy Bonus Plus (6-8 Free Spins with 3,125 ways to win) – 250x bet
Buy Bonus Premium (7-9 Free Spins with 7,776 ways to win) – 500x bet
Buy Bonus Max (8-10 Free Spins with 7,776 ways to win) – 1,000x bet
The maximum win available in PixiePop is 20,000x bet. If the sum of a single game round exceeds this, the game round will end and 20,000x bet will be awarded.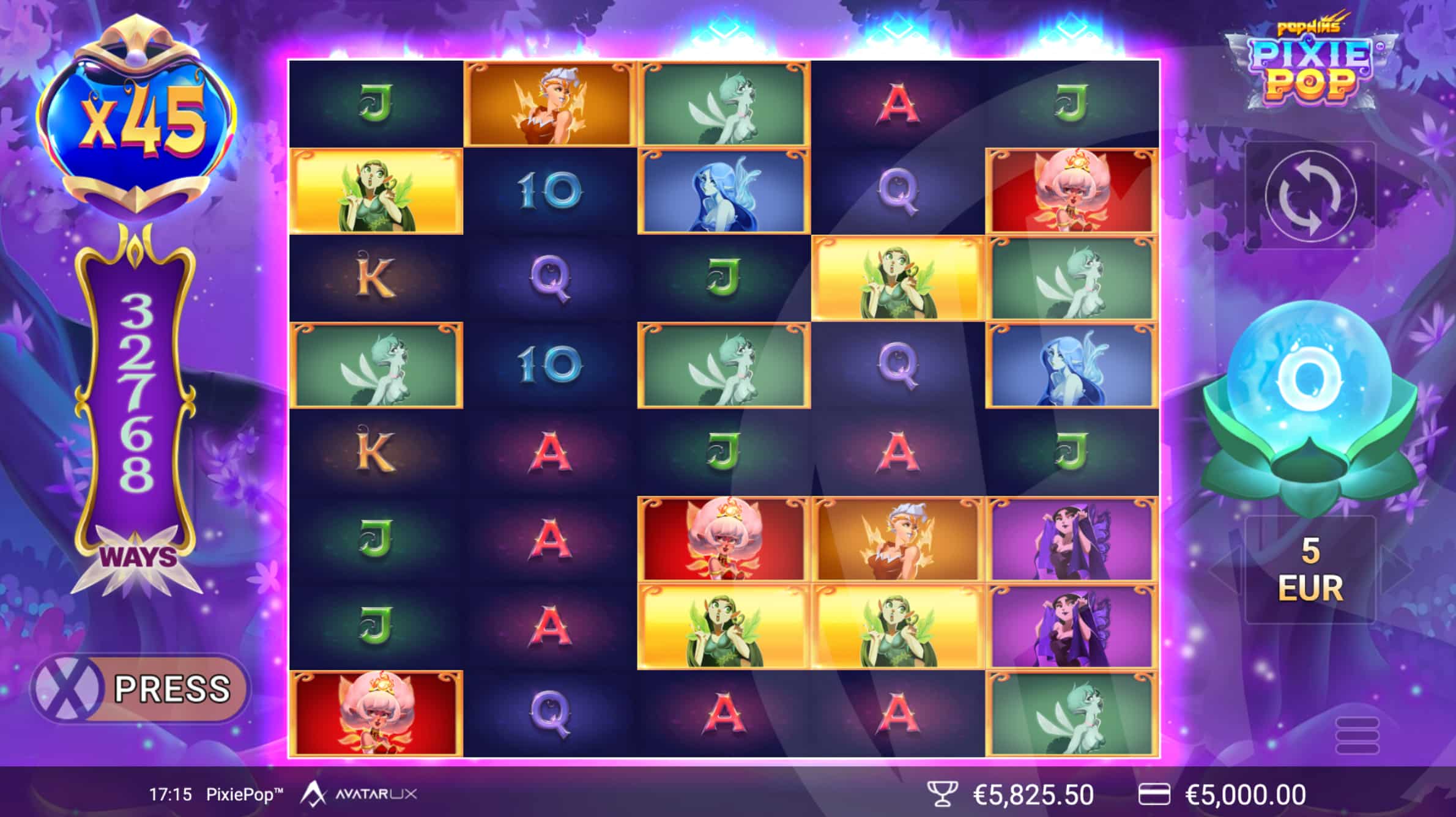 First Impression
I'm fast running out of opinions to have on the PopWins series, since the changes we're starting to see in these releases are more subtle. That said, there are definitely some tweaks in PixiePop which help it stand out from its competitors, and some familiarities. The removal of the gamble is new for a PopWins, but we did see this in Kitty POPpins.
Instead of including the gamble it looks like the team are starting to offer multiple ways into Free Spins and multiple bonus buy options instead, to give players an opportunity to see these features for a set cost rather than a gamble.
Nudges, pay anywhere symbols and multiplier modifiers are the most unique feature of this one, helping to facilitate more frequent or higher value wins.
As usual most of the excitement lies in Free Spins, where players can multiply their multipliers by up to x11 or add up to +50 to them. Combine this with pay anywhere symbols holding value up to 500x bet and it's easy to see how things can kick off. When the right combinations occur, wins are possible up to 20,000x bet.
Finally, maths is highly volatile and RTP is fixed at 96.0%.
There isn't much more to say on this one – fans of the PopWins series would be hard pressed not to enjoy it, whilst those that haven't yet been convinced will need to decide for themselves if the changes are enough to sway them.
*The screenshots taken of games reviewed on this site are taken from Demo Play, as reviews are often written before games are released for real play.